Investing in the stock market or, say, any financial market has the potential to give you intense profit, but the challenging part is always to decide how to start.
S&P 500 is a famous index investors prefer investing in. Going back to the data, if you invested in this index at any point in the past 90 years and held on for roughly 30 years, the worst you would have made is an 8% annual return on average.
If you desire to choose the S&P 500 index as an investment asset, understanding the technicals and why investing in the S&P 500 will boost your confidence as an investor.
Look into this article and learn everything you need to know before investing in the S&P 500.
What is the S&P 500?
This index stands for the Standard & Poor's 500 index and tracks the largest publicly traded US companies.
The S&P 500 is a market-capitalization-weighted index, measured by the total market value of the listed companies' outstanding shares. This index is considered to be the best one to gauge large-cap US equities.
The S&P 500 is among the most commonly followed indices making the invested amount more than $4.5 trillion as of Dec 31, 2020.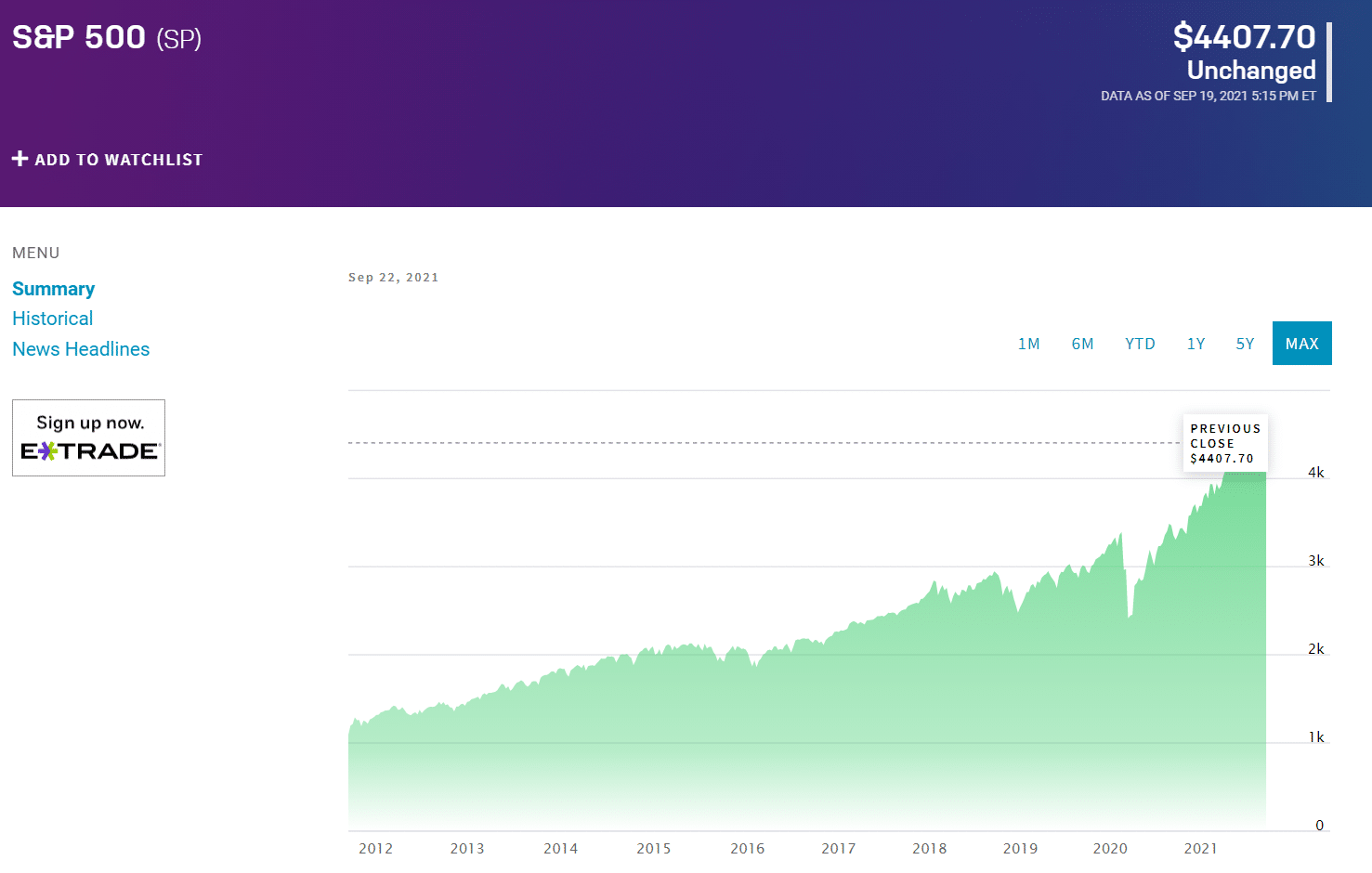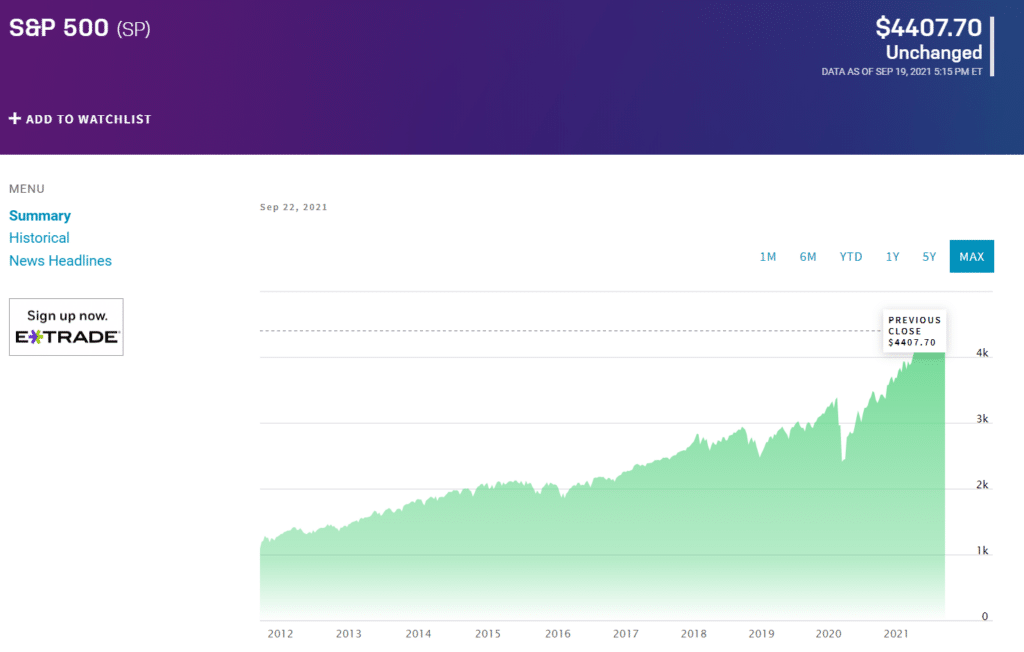 5 reasons for investors to choose S&P 500
1. Major companies listed
Among so many indexes, this is one of the strongest. It is being constructed with some of the most influential and powerful companies. These companies consist of big names that everyone is already aware of, including Apple, Amazon, Facebook, etc.
Investing in S&P 500 means you will be investing in all companies listed in the index.
2. Likely to recover from market downs
The fact is no market asset is immune from crashes or drawdowns, but the focus should be on which asset can recover the crash faster.
But talking about the S&P 500, it is more likely to recover from the crashes or drawdown than other assets. Over the years, the S&P 500 has been experiencing a decent portion of volatility.
The S&P 500, over the years, has seen a lot of dips. They include the dot-com bubble burst, the Great Recession, terrorist attacks, wars, civil and political unrest, and a global pandemic. However, it has always stayed in the benchmark and can jump back.
3. Long-term track record
There is no certainty that a stock will exist forever or even long-term. However, the S&P 500 has been in existence for a long time and has a long history and track record.
Notwithstanding the changes worldwide, it has always tarried between approximately 7% and as high as around 16% going back to 1926.
4. Active trading
Majorly for new investors, they hardly know when and which asset to invest in. In this case, S&P 500 can be a good choice. Here you do not need to do much research as you are already investing in the best companies.
Also, S&P 500 is actively traded and receives moderate volatility, making it more suitable.
5. They provide instant diversification
If you want to keep your invested money safe, you must know and keep it diversified, as diversification is the key to keep your risk in check.
The S&P 500 index comprises approximately 500 of the biggest and most popular US public companies, and when you invest in this index, you're directly investing in all 500 listed companies.
It is possible that some companies will be in green and some will be in red. But whatsoever the price movement is, S&P 500 keeps your investing diversified.
Investing in S&P 500 10 years ago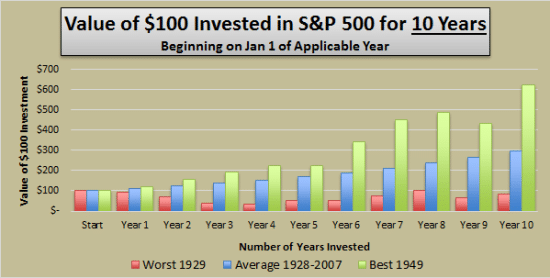 As we mentioned, the S&P 500 is a popular index among investors since it tracks the performance of the leading 500 US-listed companies.
Many financial experts and economists use the S&P 500 to gauge the overall health of the US economy instead of the Dow Jones. The index was trading at around $1040 and $1373 in 2011, and since then, it has been on a bullish run.
If you had invested in the S&P 500 in 2011 and held through highs and lows, you could have made a potential fortune.
Let's say you invested $500 in 2011 when the price was trading at around $1030, which was in August 2021, and held it until 2021. Thus, you would have made a profit, which excludes any brokerage fees and taxes.
[($4454 – $1030) x $500] $1,712,000
S&P technical analysis
By using technical analysis and by looking into the price highs and lows formation and breakouts, you can see the S&P 500 gave various buying opportunities.
The 200 moving average here shows the bullish momentum. In 2011, when the price crossed the moving average from down to moving up, it gave a good buying signal. Furthermore, the price also took the support three times.
The price currently looks too bullish, and a buy position may be risky. The market will surely not come down too much as a drastic pullback does not happen in the index but waiting for a small pullback and then investing would be a great play.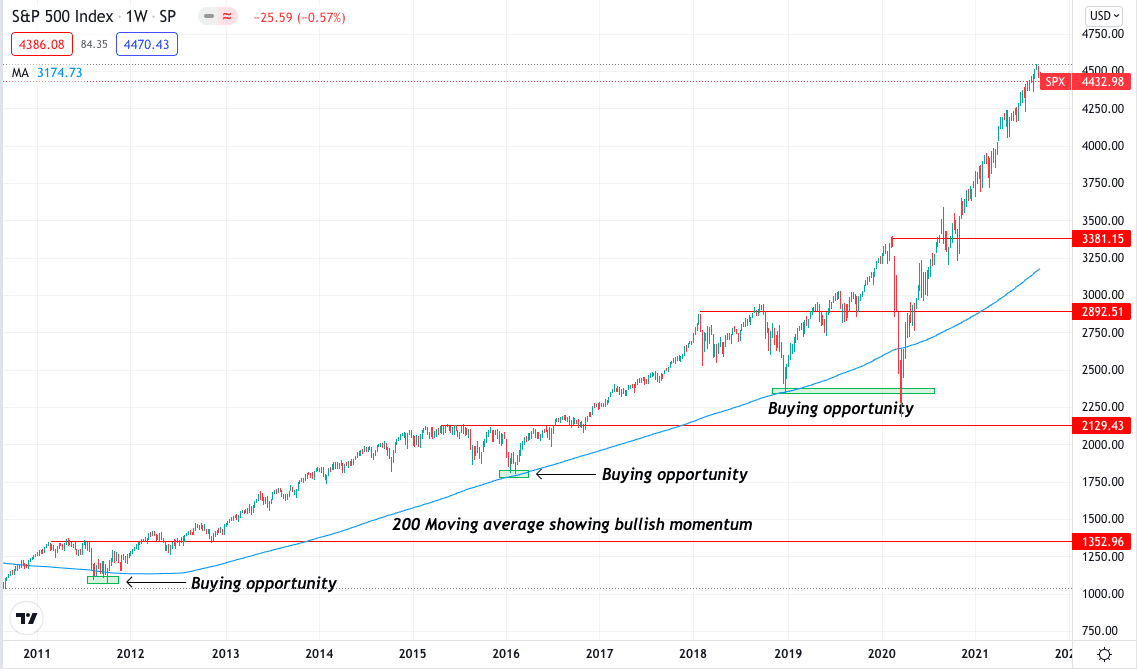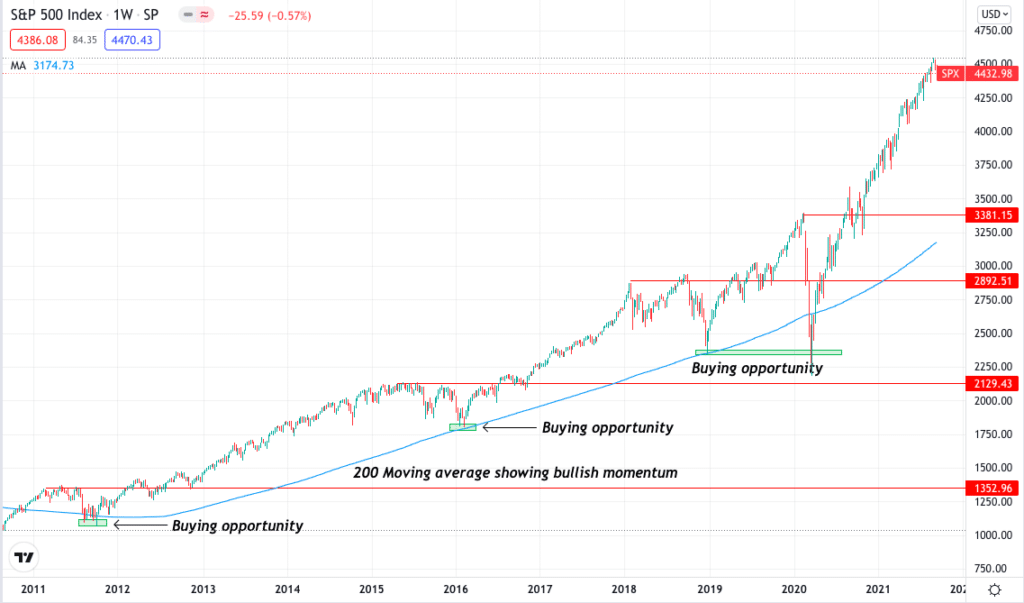 Pros & cons
S&P 500 is an excellent asset to invest in with many advantages, but it also has some disadvantages, and you must consider keeping that in mind.
Pros
Cons
Good leverage
You have the benefit of using high leverage while investing in the S&P 500.
Inaccurate measures
It sometimes makes it difficult for the investors to maintain an accurate return portfolio.
Flexible
Even low-income investors can participate and invest in the S&P 500 as it allows you to invest as little as one share.
High fees
Comparing the company's portfolio against the market peers may be expensive due to higher fees than the regular index funds available.
Constant updates
The index segments are updated quarterly, giving you an accurate idea for making a better investment portfolio based on your current economic status.
Sector risk
The listed companies and the sectors listed in the index grow in value and, in return, affect the S&P 500 index.
Final thoughts
Investment is always risky, and investing in S&P 500 is not any different. But looking at the historical data, the S&P 500 is worth your investment. As it has delivered annualized total gains of 9% to 10%, and you can easily invest in a passive S&P 500 fund for virtually no cost.
No one can predict the future performance of the S&P 500, but there is still a chance of investing and holding your capital for the next coming years.
If you follow the great investor Warren Buffett, you must also know his views on the S&P 500. According to him, the low-cost S&P 500 index fund is the best investment most people can make.