Every article you read, every video you watch, every forum you visit, there's this question that catches most eyeballs, "Can you day trade stocks"?
The idea of day trading stocks allures everyone. But let's stop there. First, we need to define what day trading is, and then we can move to the question of day trading stocks.
Day trading explained
Day trading involves buying and selling stocks or other financial assets like forex, commodities, and bonds. The whole idea is to enter and leave the trading position within a day. Now, you can take one position or take multiple positions within 24 hours.
For instance, let's say you want to day trade Apple stocks. You'll set the time frame anywhere between 5 minutes to 4h. You'll go long or short depending on the market condition and exit the trade profitably. You'll also place a stop-loss as part of your risk-management strategy.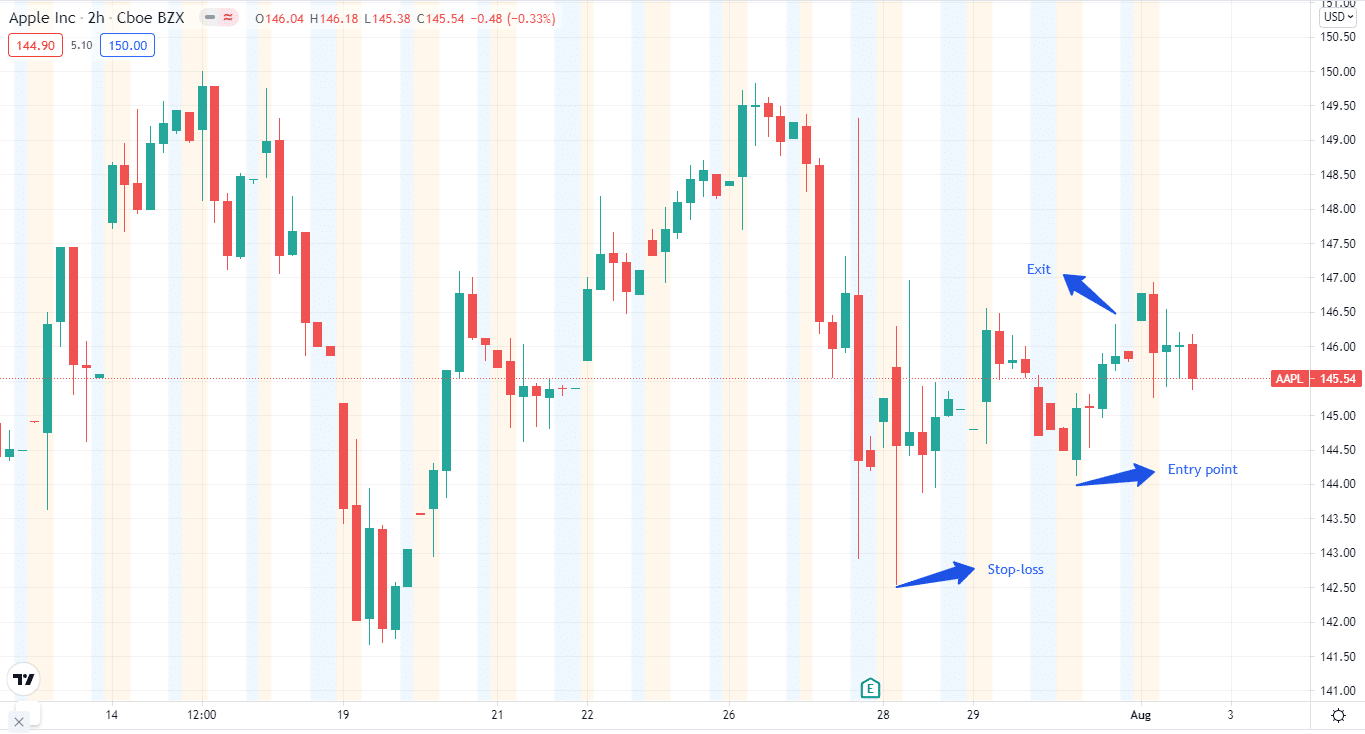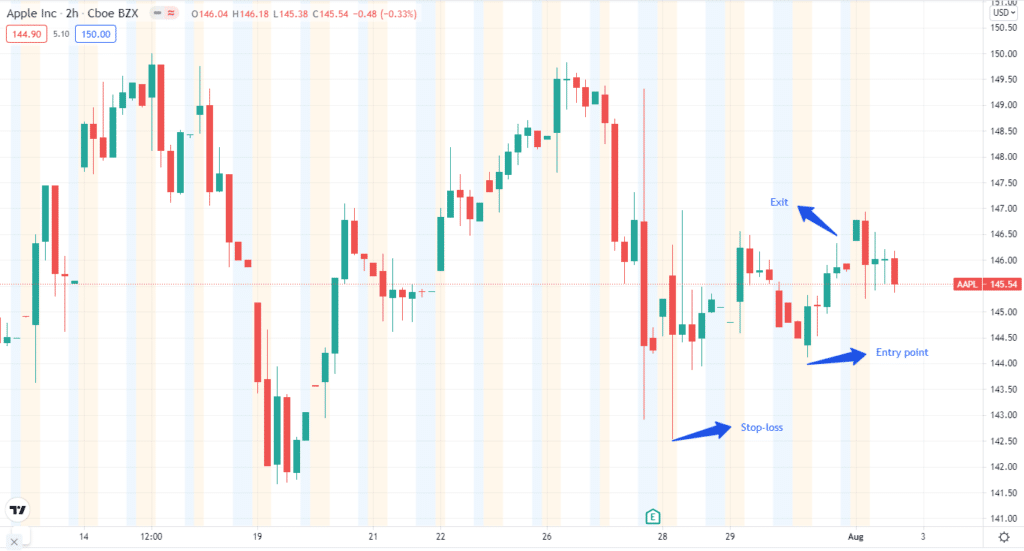 As you can see, we enter the trade on July 31. The Apple stock went up and gave us a healthy return. With apps like Robinhood, WeBull, TradeStation, and others, day trading has become accessible.
If you are not living under a rock, you probably have heard about the GameStop saga. The price skyrocketed in January this year and crossed above the 480-mark when many Redditors decided to chime in. Robinhood and others cancel the orders because of high volatility.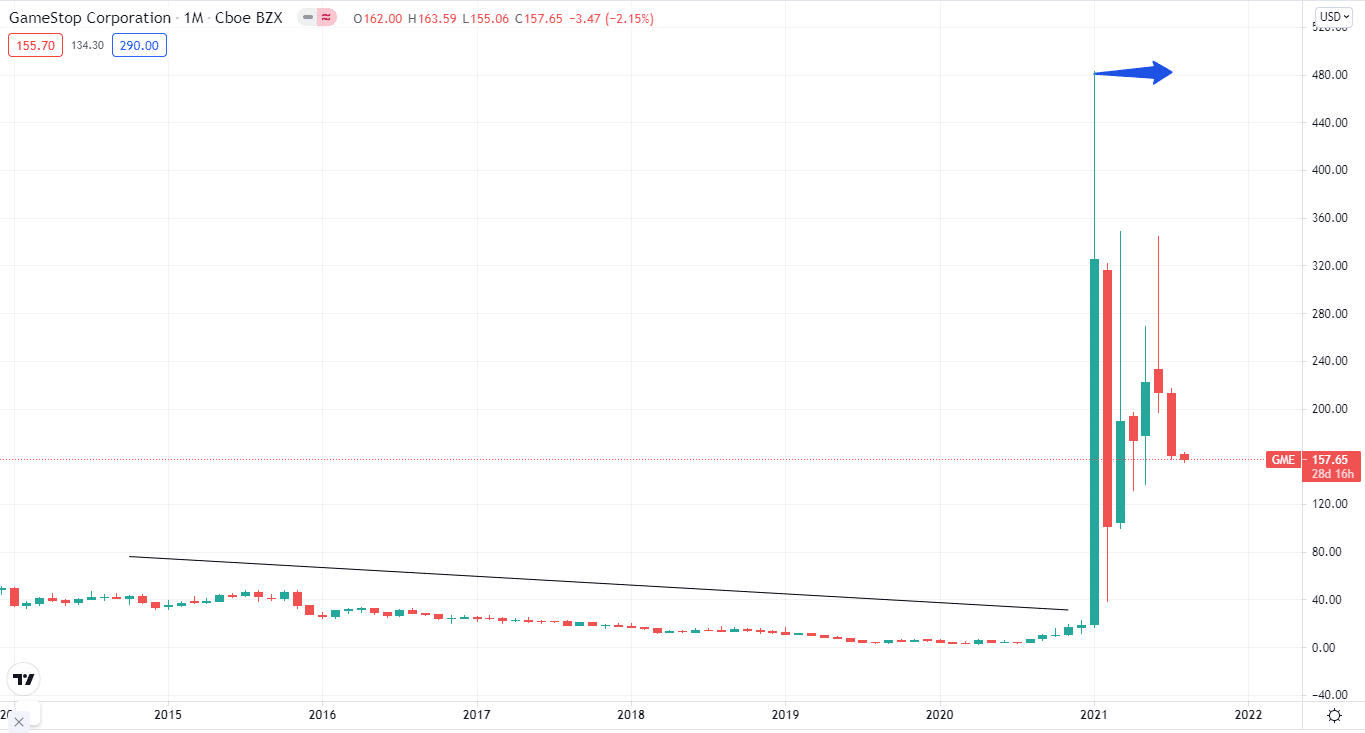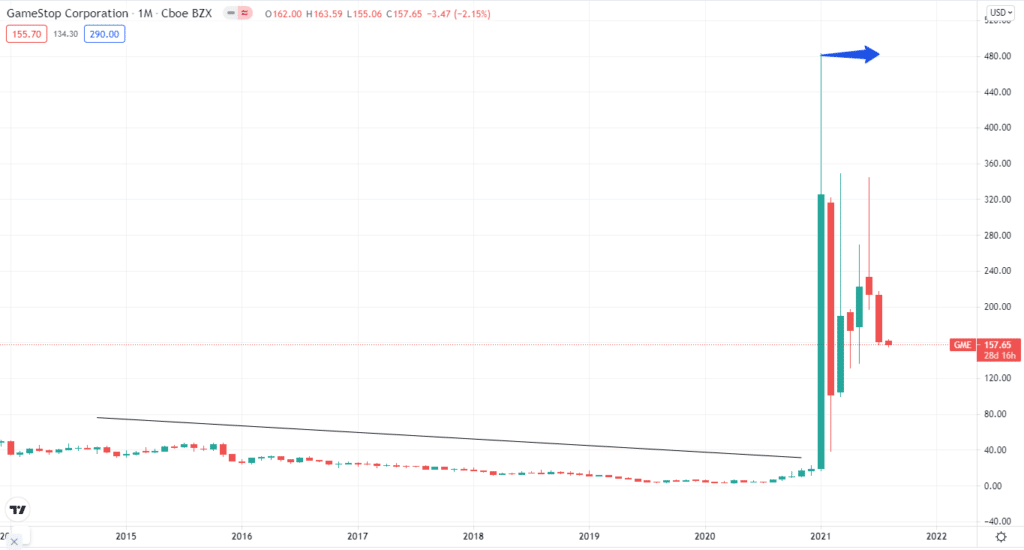 Sometimes, this is what day trading can look like. Now that you know what day trading is, let's find out how you can do it effectively.
Day trade stocks with these seven steps
Step 1. Learn as much as you can
When you are day trading, you need to keep an eye on the market news. You'll never hear a trader say: "I made millions of dollars in stocks, but I don't know anything about trading." Significant events, certain news, and economic outlooks can affect the stock price. The pro tip is to make a wish list of stocks you want to trade and keep up with their news and events.
Step 2. How many funds do you have?
Consider your financials before jumping into the day trading pool. Risking no more than 1 or 2% of your account will keep your funds balanced. For instance, if you have a $1000 account, you will risk $10 or $20 on each trade.
Step 3. How much are you willing to spend?
Let's face it if you are day trading; you have to be on edge every time. You have to give time because anything can happen in a blink of an eye. If you are doing a 9 to 6 job, then day trading is not for you.
Step 4. Don't bite more than you can chew
Don't go all Yahoo on your trading account. Instead, you need to focus on one or two stocks for a day. It is easier to track one or two stocks than 10 or 15 stocks in a day. Also, it can impact your whole account. You don't want that.
Nowadays, you can buy a fraction of a stock instead of buying it entirely. So, for example, you can buy $10 worth of Apple stock even though the current price is $145.
Step 5. Keep it real
You are not going to win every time. Your strategies won't give you 100% profits every time. The whole idea is to have more winners than losers. So even if you lose the trade, your winners will compensate for it. For instance, if you lose $5 on one trade but make $10 on another, your profit for the day is 10 – 5 = $5. So, you have to keep it accurate about your earnings.
Step 6. Keep calm
This is the most crucial step. Sometimes the market will make uncertain moves. Only those who have strong nerves will survive it. Irrational and emotional decisions will take you nowhere. So, throw those emotions out of the window and be logical.
Step 7. Stick to the plan
Day trading is fast, but you don't have to think fast. Just stick to the plan, follow your strategy, stay calm, and trust the process.
Pros of day trading
You are always in complete control of your investments and, ultimately, profit. As a day trader, you set your hours, control your activities, and only do what's best for you. One of the primary reasons people are drawn to investing as a full-time job is a complete control over their day.
Multiple trading strategies
You can use a myriad of day trading methods to discover the correct one for you. This allows for greater flexibility.
Long-term traders must be concerned about the stock market collapsing and losing thousands of dollars in a matter of hours. However, day traders never have to be concerned about overnight fluctuations. You will eliminate one of the most significant sources of stress that long-term traders encounter regularly.
Whether it's an economic downturn, political unrest, or a business scandal that causes a company's stock to plummet, you'll be able to make swift judgments without losing big holdings in the process.
Cons of day trading
Think again if you picture your first-day trading experience as lying on a hammock with a margarita in one hand and your phone in the other. Every day, you'll spend hours in front of the computer watching the market and planning your next move.
Requires a lot of practice
Day trading takes a great deal of skill and knowledge, and various elements might make the process difficult. At first, you won't make much, and that's why many people leave the bandwagon.
Final thoughts
So, the answer is yes; you can day trade stocks. However, it is not a get-rich-quick scheme. Before hopping on the day trading bus, you need to outline your risk, profits, and trading plan.