If you are familiar with the trading chart, you probably have seen a market gap. The gap is the point on a chart where the open price differs considerably from the preceding closure, resulting in a visible gap between the open and close of separate candles.
They're more frequent in traditional marketplaces that aren't open 24 hours a day. However, even if the crypto exchanges do not close, gaps can grow as traders adjust their bids and offer based on market sentiment.
This guide will talk about the crypto market gaps and how you can trade them.
What is a crypto gap trading method?
A gap on a chart is an empty area that surfaces by an abrupt move in either direction. A gap occurs in an uptrend trend when the highest price of one candle is lower than the lowest price of the subsequent candle. A gap pops up in a downward trend when the lowest price of any candle is greater than the highest price of the next candle.
Like any other market trend, a gap in a longer time frame is typically more noticeable than one in a shorter time frame. Gaps are uncommon in crypto markets, but they may reveal a lot when they appear.
A basic concept to remember is that gaps are frequently filled, which means that the price is expected to go back to cover the developed gap.
How to trade using the crypto gap trading method?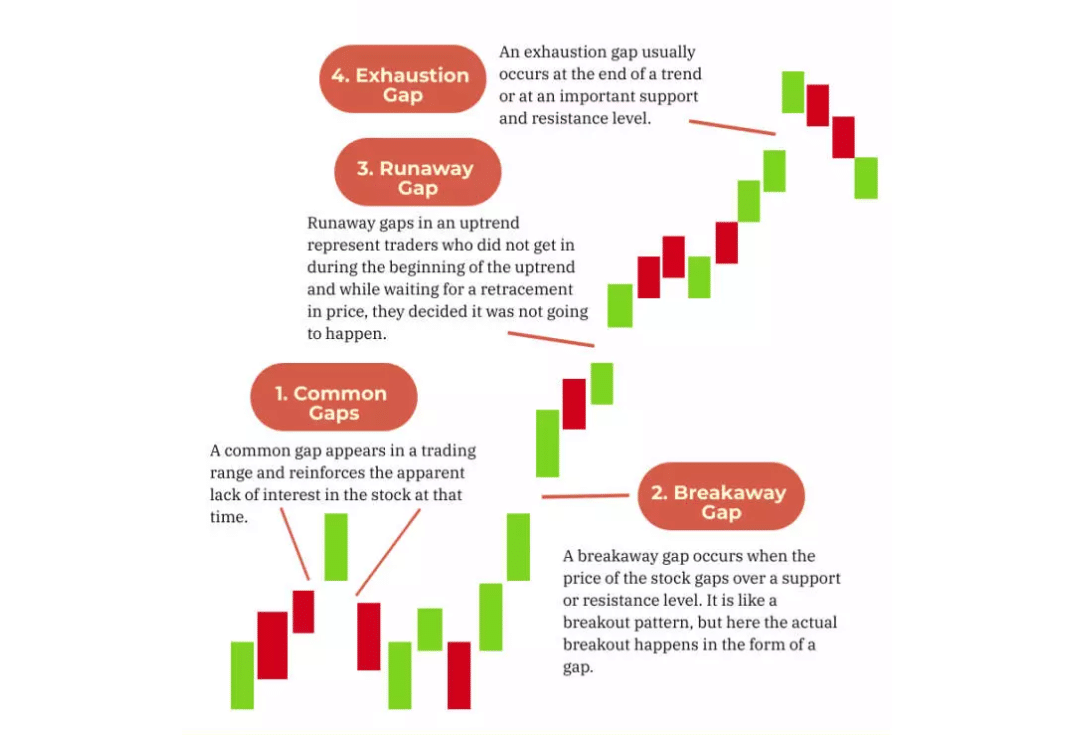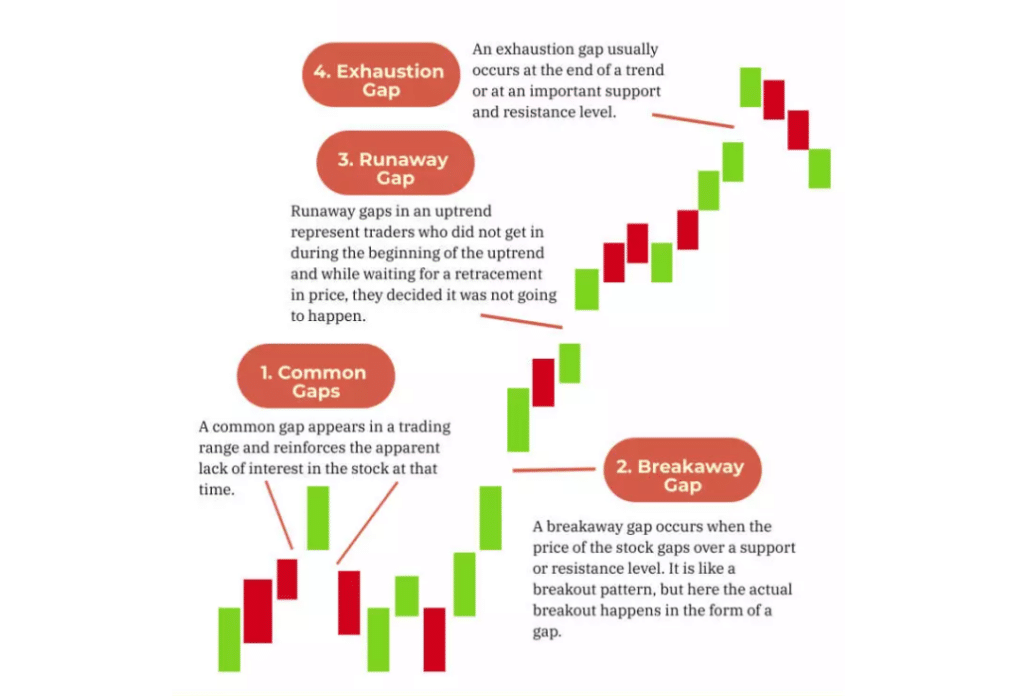 To trade the crypto market gaps, first, you need to look at the types of gaps:
A common gap in price activity is unrelated to any critical event. A frequent gap is short in length. There is less analysis based on this gap's magnitude and location in the price movement. When a trader sees a common gap, it can fill quickly, generally faster than any other form of a gap.
It marks the beginning of a new directional trend. This gap develops after a price consolidation or in the opposite direction of the overall trend.
It happens in the middle of a trend and indicates that the price is going smoothly in one direction. Runaway gaps are also known as measuring gaps.
When the price creates a succession of price gaps late in a trend, this is an exhaustion gap.
It is possible to mix up exhaustion and runaway gaps when trading gaps. It can result in incorrect positioning and missed trade ideas during the last part of a large rally. Maintaining an eye on the volume might assist you in identifying runaway and exhaustion gaps. Normally, a considerable increase in volume precedes the appearance of an exhaustion gap.
To apply the crypto gap trading strategy, you need to open the BTC CME chart; as the crypto market runs 24/7, gaps are a rare occurrence. In 2017, the Chicago Mercantile Exchange offered BTC futures trading.
You can use indicators like the RSI or moving averages and the types of gaps for bullish and bearish setups.
Bullish trade setup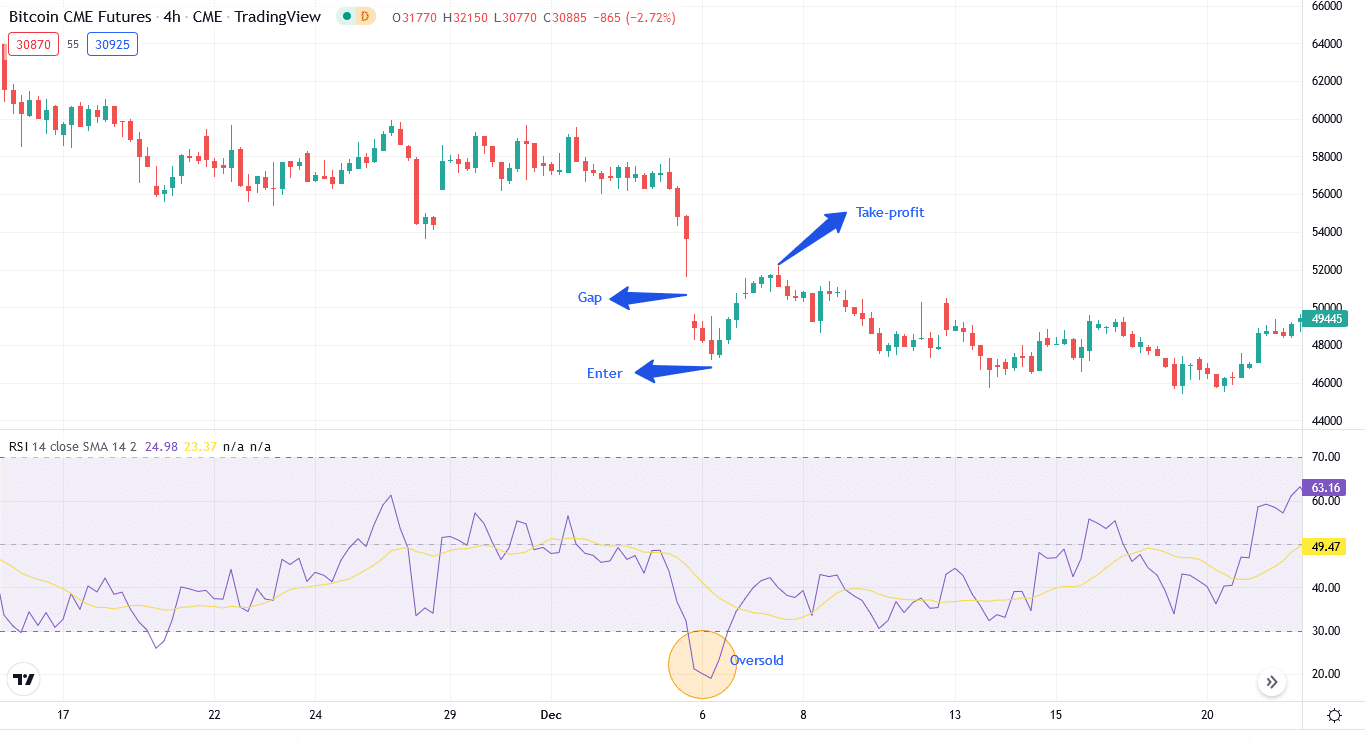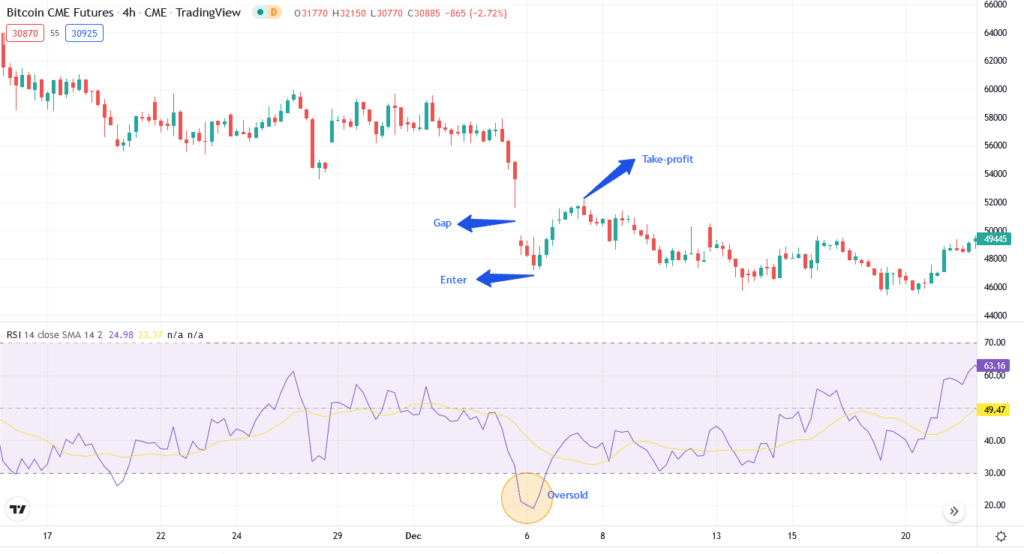 To find the bullish trade setup, we will use the RSI. First, you need to identify the gap, and the RSI should be in an oversold condition. The RSI indicates an oversold level when it is below or at 30.
Entry
You need to enter after the market gap and when the RSI satisfies the oversold condition. It's best to wait for the price action to continue its path and then enter the trade.
Stop loss
You can place a stop-loss near the recent low.
Take profit
For TP, you can place it near the recent high or when the RSI changes into the overbought zone.
Bearish trade setup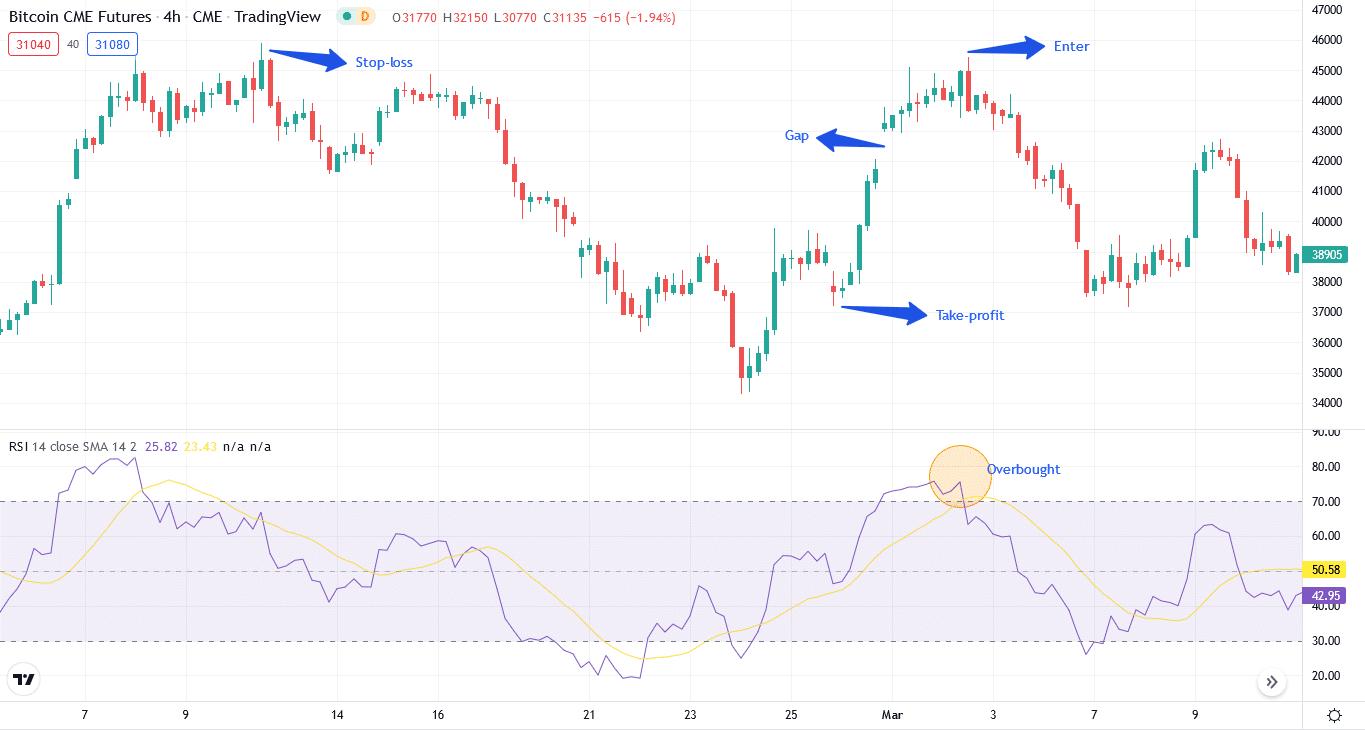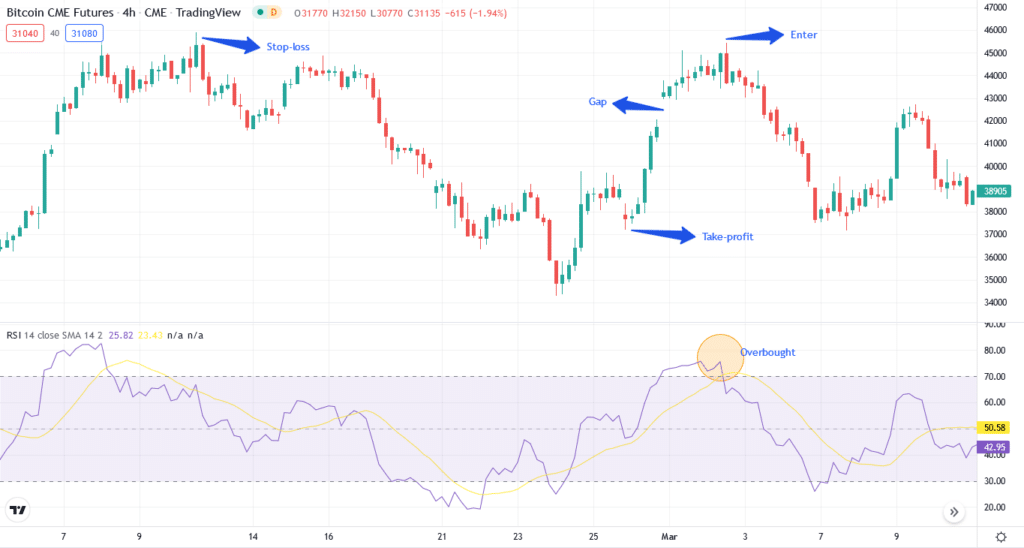 You need to identify the gap for the bearish setup, and the RSI should be in an overbought condition. When the RSI is or above 70, it signifies an overbought level.
Entry
You need to enter the trade after the market gap. Wait for the price action to continue its path and then enter.
Stop loss
You can place the stop-loss near the recent high.
Take profit
You can set the TP at the recent low from the entry point or when the RSI moves into the oversold territory.
How to manage risks?
A trading paradox is that focusing on risk rather than profit leads to higher long-term profits. Your trading risk increases when the market gaps against you. As a result, your reward-to-risk ratio quickly decreases. However, if you take transactions with a better reward-to-risk ratio, the increased trade risk is less of an issue.
For example, suppose your reward-to-risk ratio is 1; your risk doubles when you have a gap against you. Your reward-to-risk ratio falls to 0.5. Unless your trading technique has an extraordinarily high success rate, this ratio is too low for positive expectations.
Consider a reward-to-risk ratio of 5 instead. If your risk doubles, the ratio drops to 2.5, requiring just a win rate of more than 29% to provide positive expectations.
So, that's how you can manage risks with crypto gaps.
How to make $500 per day with this strategy?
To trade crypto gap strategy profitably, you need to look for volume. Typically, a lack of volume indicates weakness. It might indicate that a present trend is weakening and that a reversal is imminent.
Weakness for a gap up or down indicates that the market will likely fill the gap. However, if there is a significant volume present on the other side, the crypto has a better probability of continuing the trend.
Final thought
Trading gaps is a profitable crypto trading strategy. It's important to remember how to identify different types of market gaps and the volume.