Arbitrage is not a new concept, as traders have long utilized this trading strategy in various asset classes and financial securities. Cryptocurrency arbitrage has gained momentum in recent years as these tokens exhibit high volatility and trade on multiple exchanges 24/7.
In particular, Bitcoin arbitrage allows traders to capitalize on the price differences of BTC across various market platforms. However, utilization of arbitrage opportunities necessitates an active and quick response by the arbitrageur.
Moreover, although arbitrage appears as a simple strategy to acquire profits, it involves certain risks and limitations. In this article, we have explained the methodology, types, and risks.
What is Bitcoin arbitrage?
It is an excellent technique to profit from the Bitcoin domain with low risks. It is a trading strategy where investors profit from the BTC price disparities between different exchanges, markets, or platforms. Investors simultaneously buy the assets at a lower price on one exchange and sell them at a higher price on the other, generating gains in the process.
The Bitcoin price discrepancies can appear due to a variety of reasons. The reasons may include varied supply and demand across different countries, different withdrawal and deposit times across exchanges, and intrinsic differences of exchanges.
How is Bitcoin price determined?
Unlike traditional currencies, Bitcoin is a decentralized digital currency that utilizes blockchain technology. Therefore, the regular monetary rules and government economic policies cannot determine the valuation of this coin.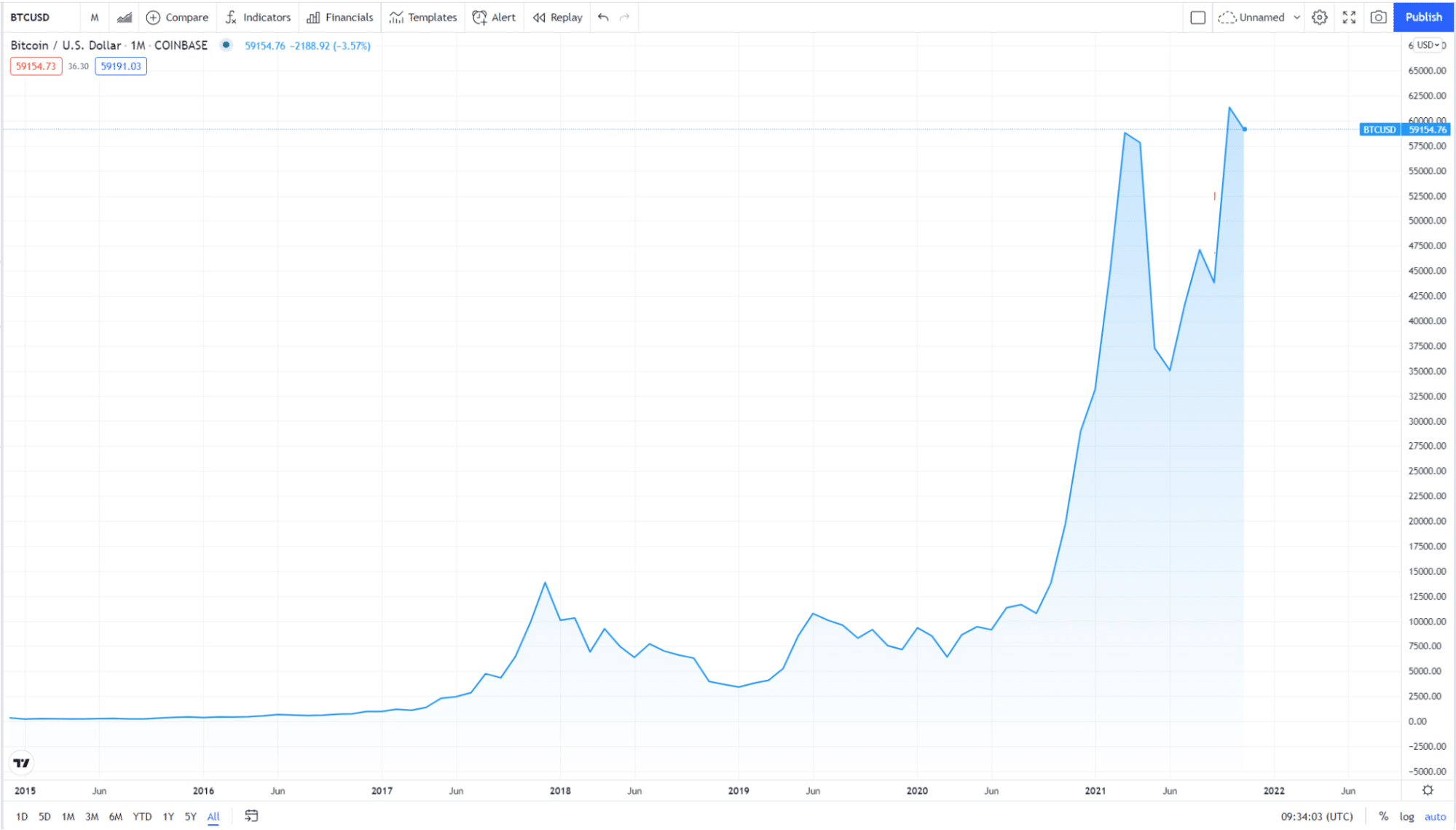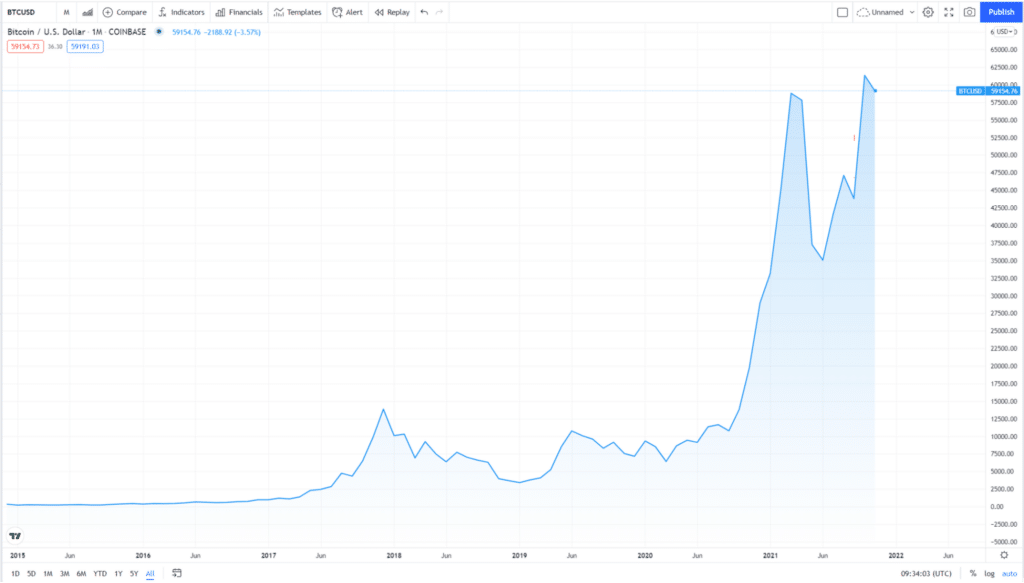 However, the supply and demand factors of traditional markets also apply to cryptocurrencies or Bitcoin. A less supply and increased demand can boost the prices, whereas a high supply and low demand cause prices to fall.
It is essential to know that Bitcoin's supply reduces every four years, resulting in rocketing prices. Moreover, the number of competitive cryptos, Bitcoin mining costs, and regulating policies also influence its prices.
Types of Bitcoin arbitrage strategies
Spatial arbitrage
It is the most common and primary type of arbitrage where an investor benefits from the price discrepancies across different crypto exchanges.
The traders acquire BTC from one exchange at a lower price and sell them on a different exchange at higher costs. The net profit would be the Bitcoin price difference between two exchanges.
Overview of a Bitcoin spatial arbitrage example
In this illustration, we have taken into account the price of Bitcoin on two different exchanges, namely EXMO and Bitstamp, simultaneously (10:00, 16th November 2021).
Bull trade setup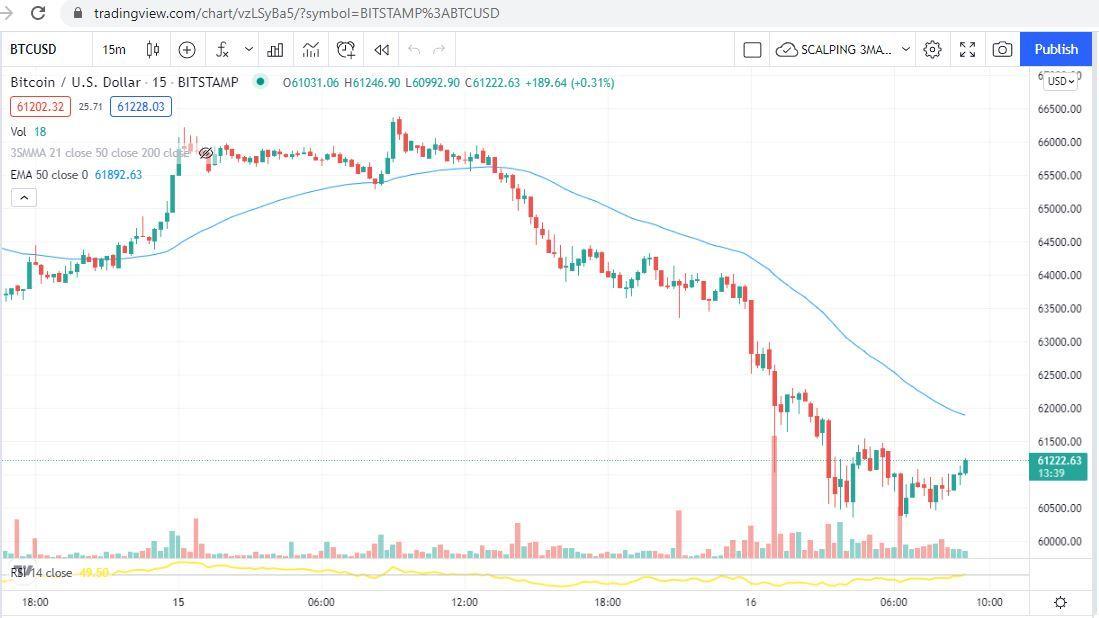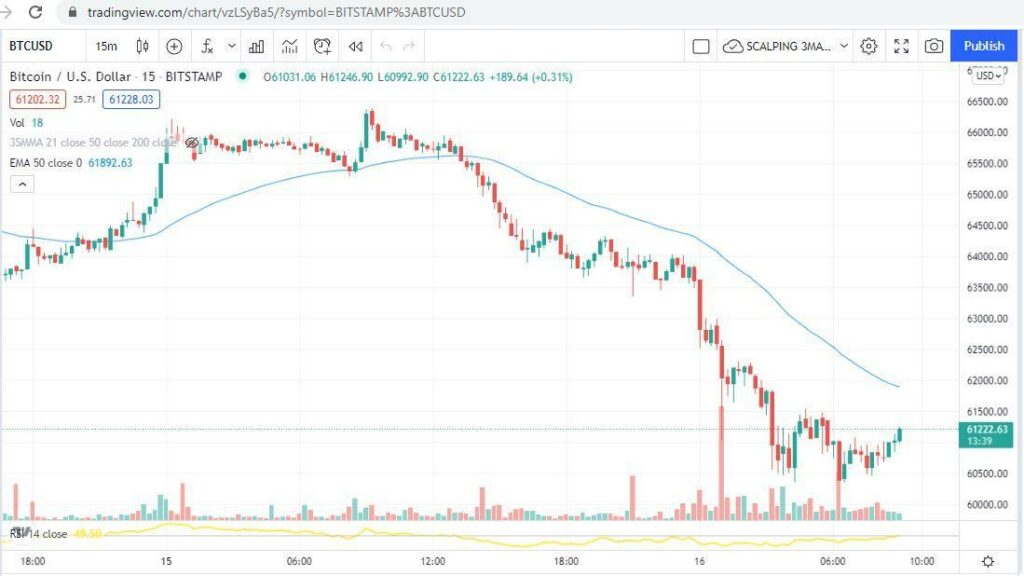 We noticed that BTC was trading for $61,222 on the Bitstamp exchange. Suppose a spatial arbitrageur purchases five Bitcoins from Bitstamp at $61,222 each, as the chart indicates a bullish opportunity here.
Bear trade setup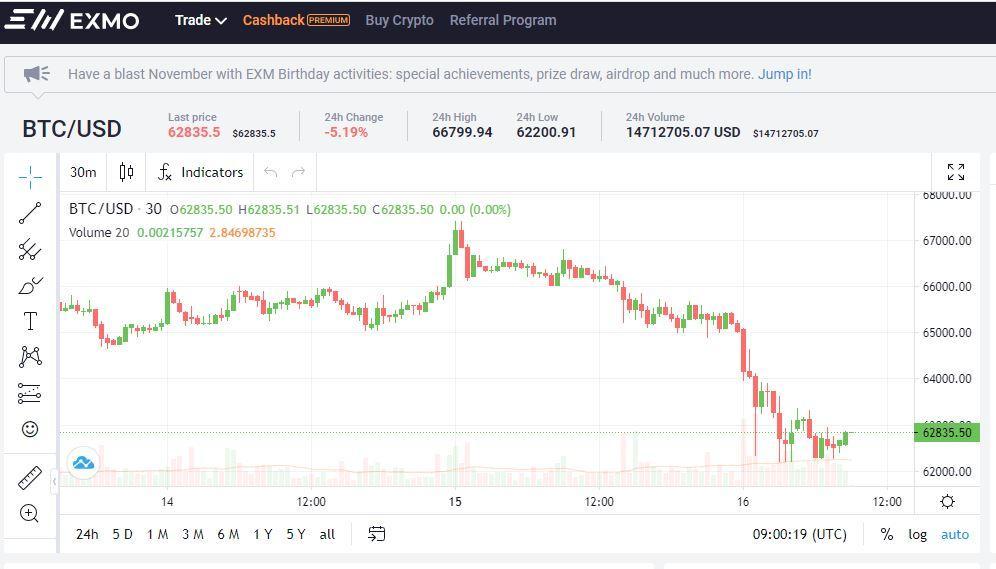 Immediately, the trader will now sell those five Bitcoins acquired from Bitstamp at the EXMO exchange, each for $62,835.
His profit without deduction of any fees and charges would be calculated as follows:
5 x $61,222 = $306,110 (bought at Bitstamp)
5 x $62,835= $314,175 (sold at EXMO)
Profit generated = $314,175 – $306,110 = $8,065

Triangular arbitrage
In a triangular arbitrage, the trader forms a trading triangle between three cryptocurrencies on the same exchange platform, making profits from their price differences.
For example, a trader can utilize this strategy by exchanging Bitcoin for Cardano, trading ADA for Tether, and finally converting Tether to BTC. A correctly executed trade would provide more Bitcoins at the end of this loop.
Overview of a Bitcoin triangular arbitrage example
The method requires a significant price difference between three or more currencies at the same exchange platform to be successful.
You can detect a triangular trade opportunity either by deducing the cross rate of the triangle or directly calculating it by the bid and ask prices.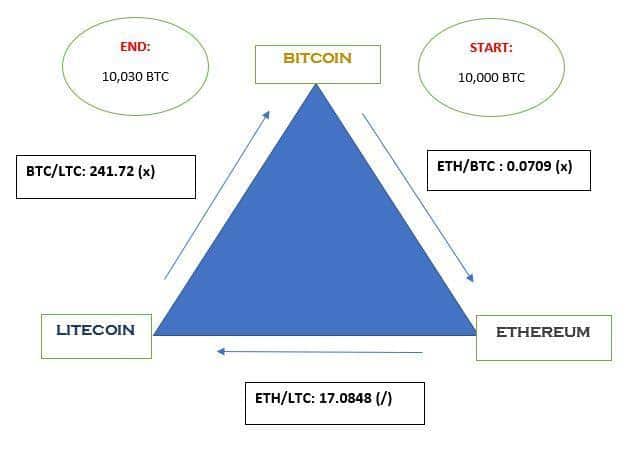 Let us look at the above illustration. We will start and end this loop in the same currency, BTC.
As a first step, we will begin with 10,000 Bitcoins and trade them with Ethereum. Then, we will exchange this second asset with a third asset, Litecoin, in this case. We will trade Litecoin with Bitcoin in the last step, which would give us a higher number of Bitcoins than the initial value, i.e., 10,030 Bitcoins.
Going around this triangle, we have to multiply and divide the figures as indicated in this figure. In this specific example, we calculated the arbitrage opportunity as follows:
10,000 x 0.0709 / 17.0848 x 241.72 = 10,030 BTC.
Statistical arbitrage
It involves utilizing sophisticated algorithms, quantitative analysis, and computational or automated trading bots to profit from Bitcoin price disparities across various exchanges.
Barriers to Bitcoin arbitrage
Though Bitcoin arbitrage appears as a low-risk strategy, certain factors can lead to hefty losses. Here, we have listed some barriers that you may face while implementing this method.
Exorbitant fees
Transfer and trade of Bitcoins from one exchange platform to another imparts significant withdrawal, deposit, and trading fees. It would help if you look for exchanges with competitive rates, or else these lofty charges can engulf your profits.
Trading volumes
Arbitrage strategy generates non-existent gains if a trader partakes in it with inadequate capital. Hence, investors need a large or reasonable amount of Bitcoins to profit from this strategy.
Timing and volatility
An ideal Bitcoin arbitrage requires a prompt transfer of BTC from one crypto exchange to the other. As the crypto market is highly volatile, slow action or long waiting times for transactions can lead to a price shifting against you.
Scam exchange platforms
As arbitrage requires large deposits on exchange wallets, a wrong exchange platform can expose you to security risks, exit scams, or hacking threats.
Is the arbitrage trade strategy profitable?
Arbitrage trading does work, but it requires sufficient expertise and research to profit from this method. A trader must explore various exchange markets with minimum transaction fees to pick out the best ones.
Moreover, a trader must have a keen eye and fast execution skills to detect and seize arbitrage opportunities. Also, your funds should be sufficient enough to generate a substantial profit.
Final thoughts
Bitcoin arbitrage is a commendable way to obtain profits without engaging in speculative and predictive trading of BTC. Automated arbitrage bots and institutional investors have also entered the arbitrage game due to its appealing concept.
Moreover, though arbitrage has several associated risks, a focused, knowledgeable, and quick approach can be a key to succeeding in this arena.