The first thing that might come to mind when we hear 'uranium' is the disaster at Chernobyl in 1986 when a nuclear accident caused the whole town to evacuate.
The most recent nuclear incident was in Japan at the Fukushima nuclear power plant in 2011 when a tsunami caused an earthquake that damaged its reactors.
Naturally, people associate uranium with disasters. However, uranium has been an alternative and preferred commodity used in power generation. And these incidents were singular occurrences that governments have learned from to identify preventative measures.
The worldwide coal consumption since 2016 is about 8,561,852,178 tons. The world is running out of fossil fuels, but the amount of polluting fossil fuel processing contributes to the environment is even more concerning.
The move towards greener energy has picked up momentum, and there was a surge in uranium demand which pushed the value of uranium stocks higher.
This is good news for investors, and you should read further to discover the best uranium stocks to invest in.
What are uranium stocks?
Uranium is a commodity, and it fuels nuclear power plants. Two-thirds of the world's explorable uranium is in Kazakhstan, Canada, and Australia.
Cameco is the world's largest uranium mining company. Lately, there has been an increasing demand for uranium due to countries looking to replace fossil fuels with alternative energy like nuclear power.
Uranium stocks are companies that mine and process uranium, whose shares are available for purchase by the public. Therefore, these companies trade on global stock exchanges like the NYSE, Nasdaq, Tokyo, Hong Kong, etc.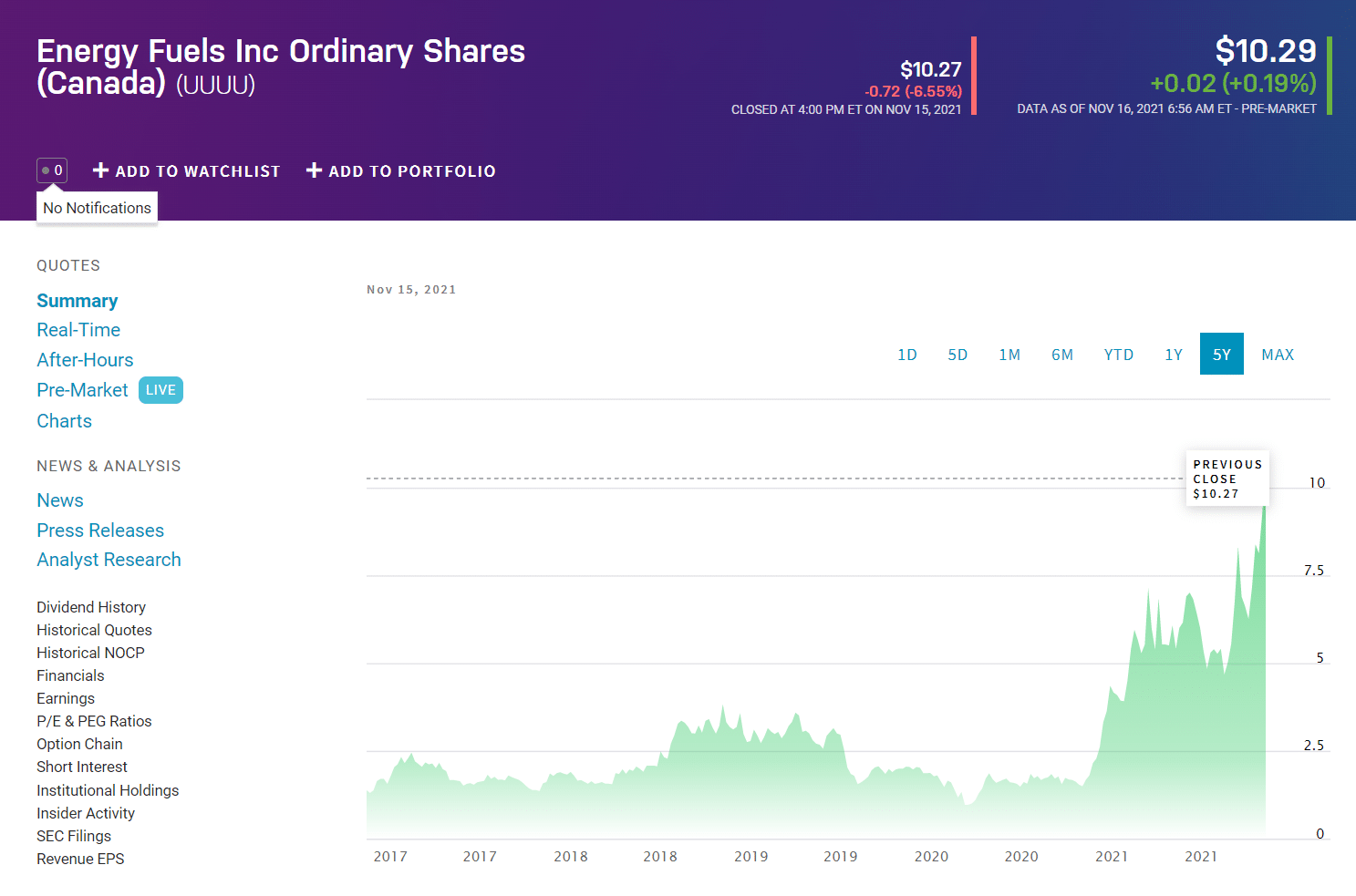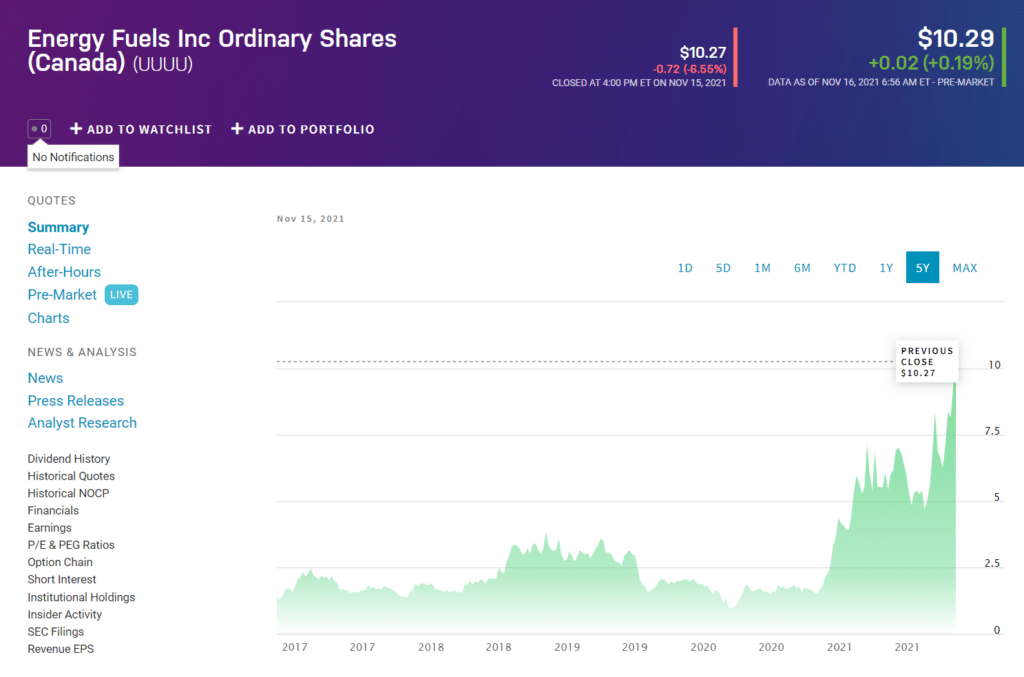 Energy Fuels Inc. is a uranium producer whose base is in the US. The company is publicly trading on the NYSE Arca stock exchange.
How to invest in uranium?
There are three ways of investing in uranium:
Purchase stocks of uranium companies
Invest in uranium ETFs
Buy uranium futures contracts
Uranium stocks
The first option to invest in uranium is to purchase stocks of companies that mine and process uranium. These companies publicly trade on the global stock exchanges, and investors can buy stocks through a broker or venture capital firm.
Uranium ETFs
ETFs provide diversification into multiple assets and are ideal if you want to avoid investing in a single security. However, there are only four uranium ETFs available on the market.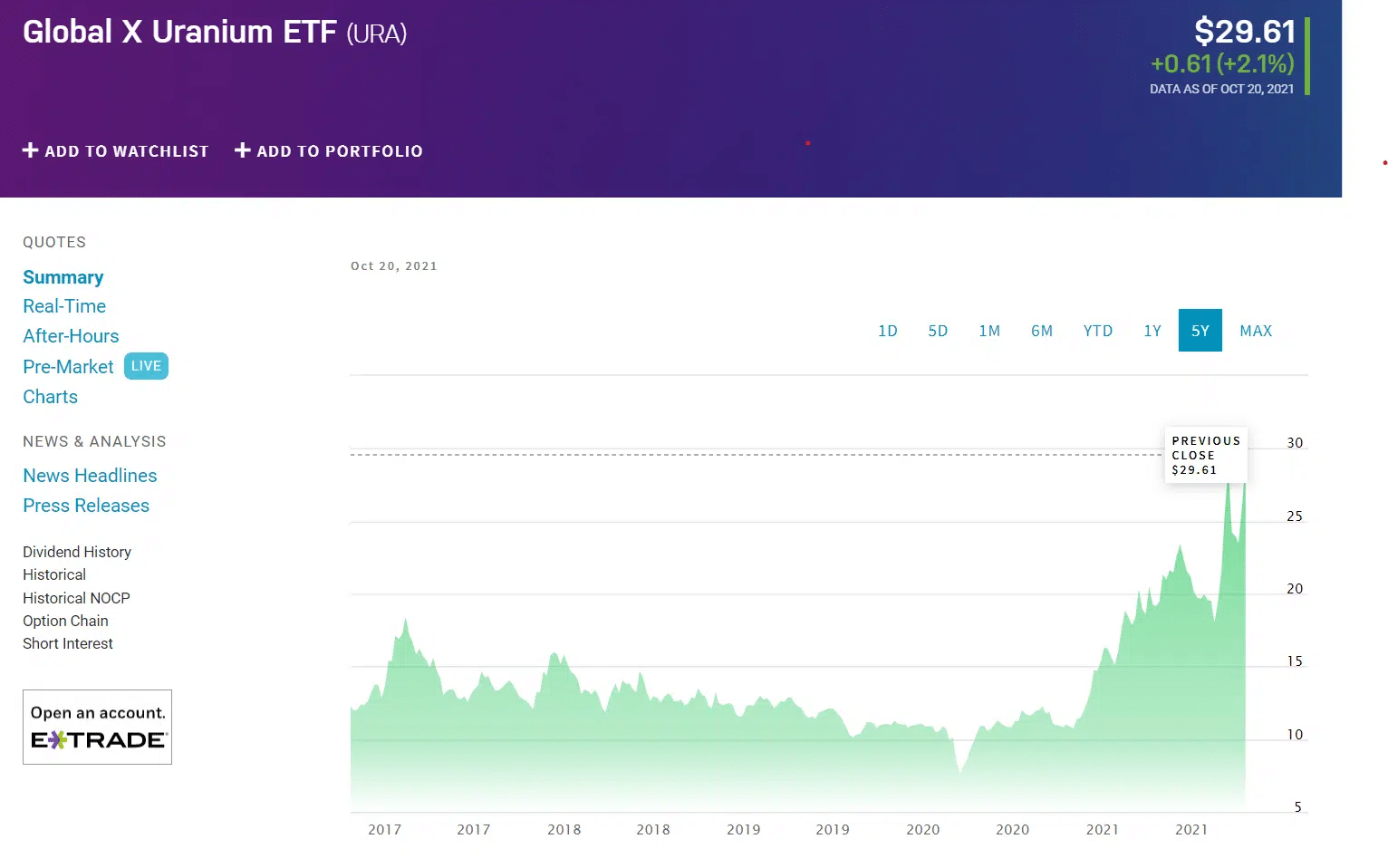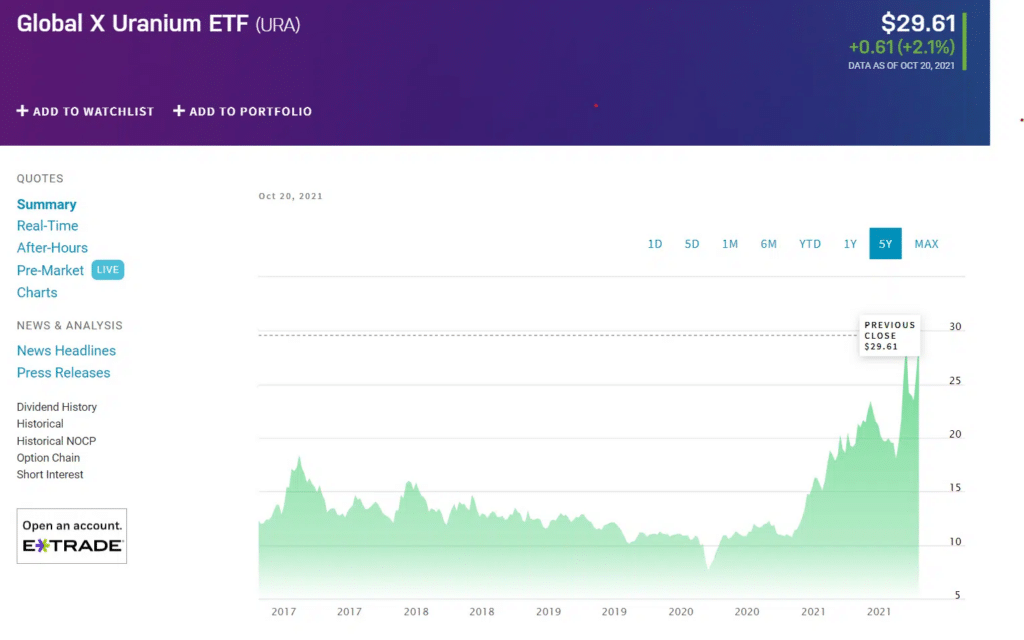 Global X is a uranium ETF fund that tracks a group of international uranium miners and producers.
Uranium futures
Futures contracts are the third option when investing in this asset. Futures contracts allow you to buy the contract at a current price and sell the contract at a predetermined price and date in the future.
Again, like with ETFs, there are only a limited number of futures contracts options to choose from.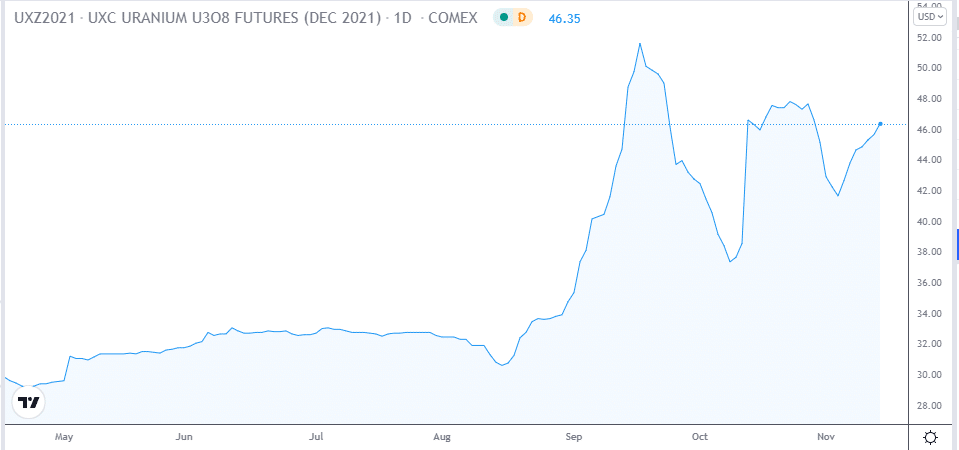 The above chart is a futures contract which the CME Group offers of UxC uranium U308. The contracts track U308, which represents 250 pounds of nuclear fuel. The above futures contract expires December 2021.
What to consider when buying uranium stocks?
Before going ahead and buying stocks, there are a few things to consider concerning uranium stocks.
The companies that specialize in uranium production are mining corporations. Therefore, most of them explore other metals and minerals.
Investors should note that if uranium is not the largest payable resource, the share price might not be affected significantly, even if the demand for uranium increases. It would be advisable to invest in a company whose primary interest is uranium production.
You need to consider the trading price of the stock and determine if you can afford to invest at the current trading price. Therefore, the below list is the best performing uranium stocks, and at least 3 of these companies specialize in uranium production.
1. Cameco Corporation (CCJ)
Price: $27.59
EPS: -0.06%
Market capitalization: $10.966 B
Dividend yield: 0.23%
The Cameco Corporation explores and processes uranium. The company is in Canada, and they are in existence since 1988.
Their mining activities make them the second-largest producer of uranium, which accounts for 18% of global uranium production. Besides Canada, Cameco Corporation also has mines operating in Kazakhstan.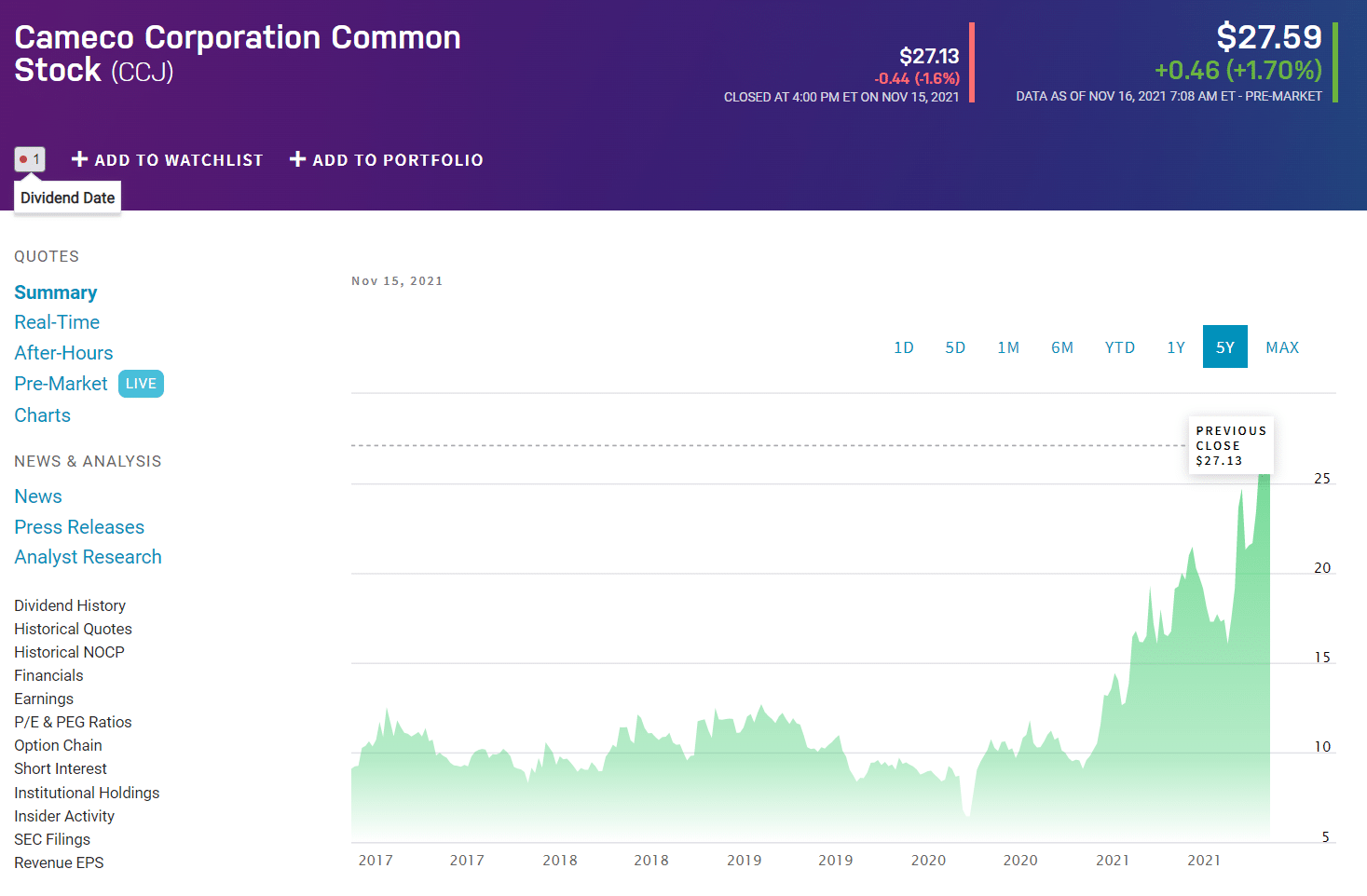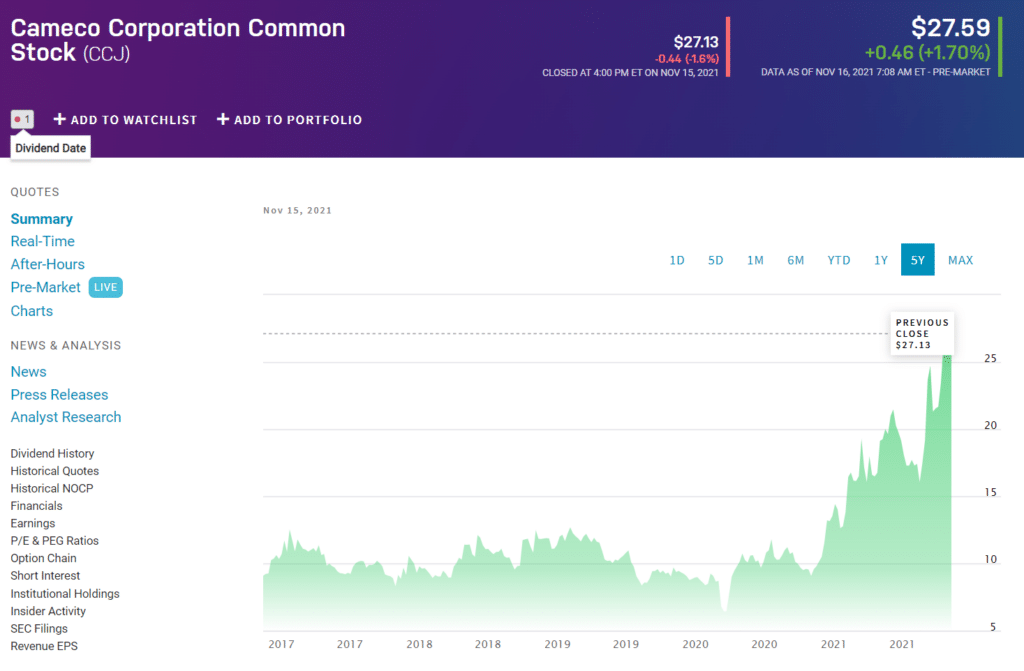 Cameco Corp. is the largest publicly trading uranium company worldwide. They are a component on the New York stock exchange and trades under the ticker symbol CCJ.
2. Ur- Energy Inc. (URG)
Price: $1.92
EPS: -0.15%
Market capitalization: $388.87 M
Ur-Energy Inc. is a US uranium mining company. They specialize in the exploration, development, and production of uranium mineral resources. The company returned 152% to investors in the last year.
The majority of its mining operations are in the Great Divide Basin, Wyoming. The company trades publicly on the New York Stock Exchange under the symbol URG.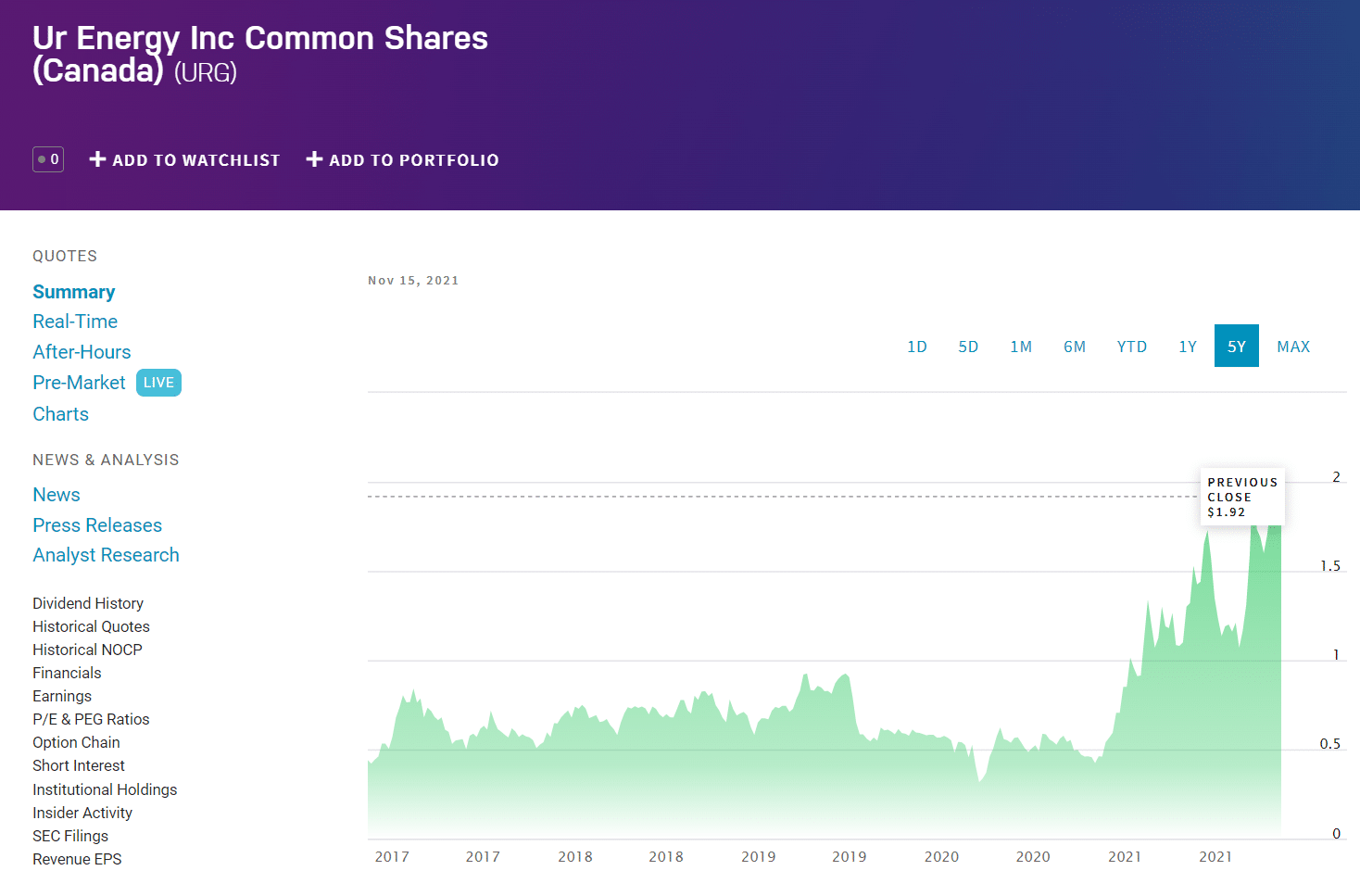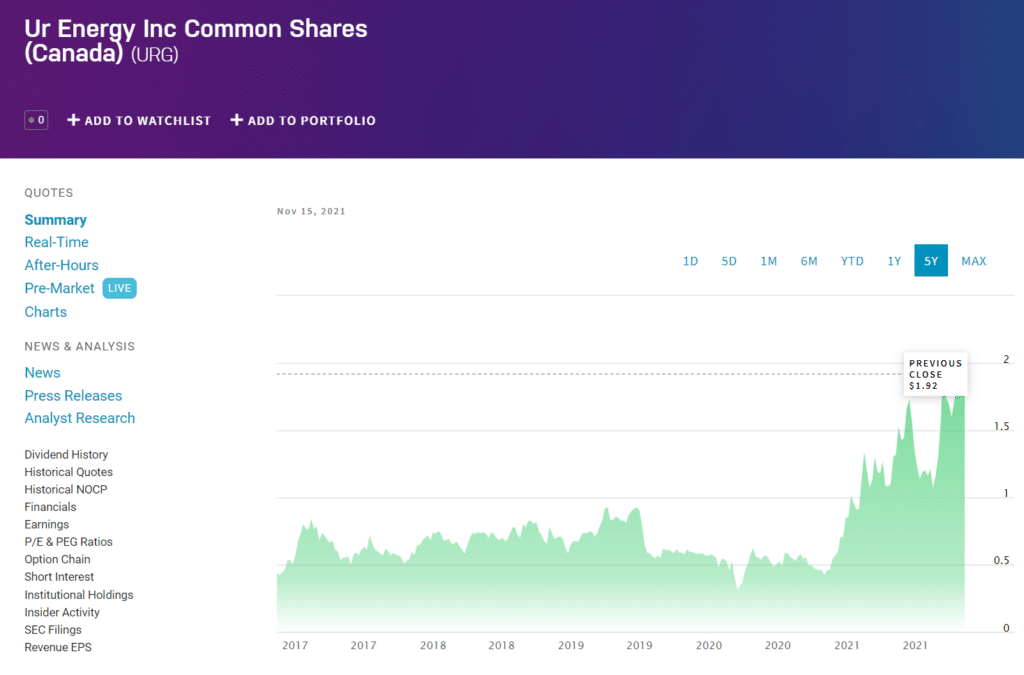 3. NexGen Energy Ltd. (NXE)
Price: $5.58
EPS: -0.04%
Market capitalization: $3.462 B
Dividend yield: 0.00%
Another Canadian-based company, NexGen Energy Ltd., was founded in 2011. NexGen Energy Ltd develops, explores, and acquires projects related to uranium minerals. Their operations are in the Athabasca Basin of the Saskatchewan region in Canada.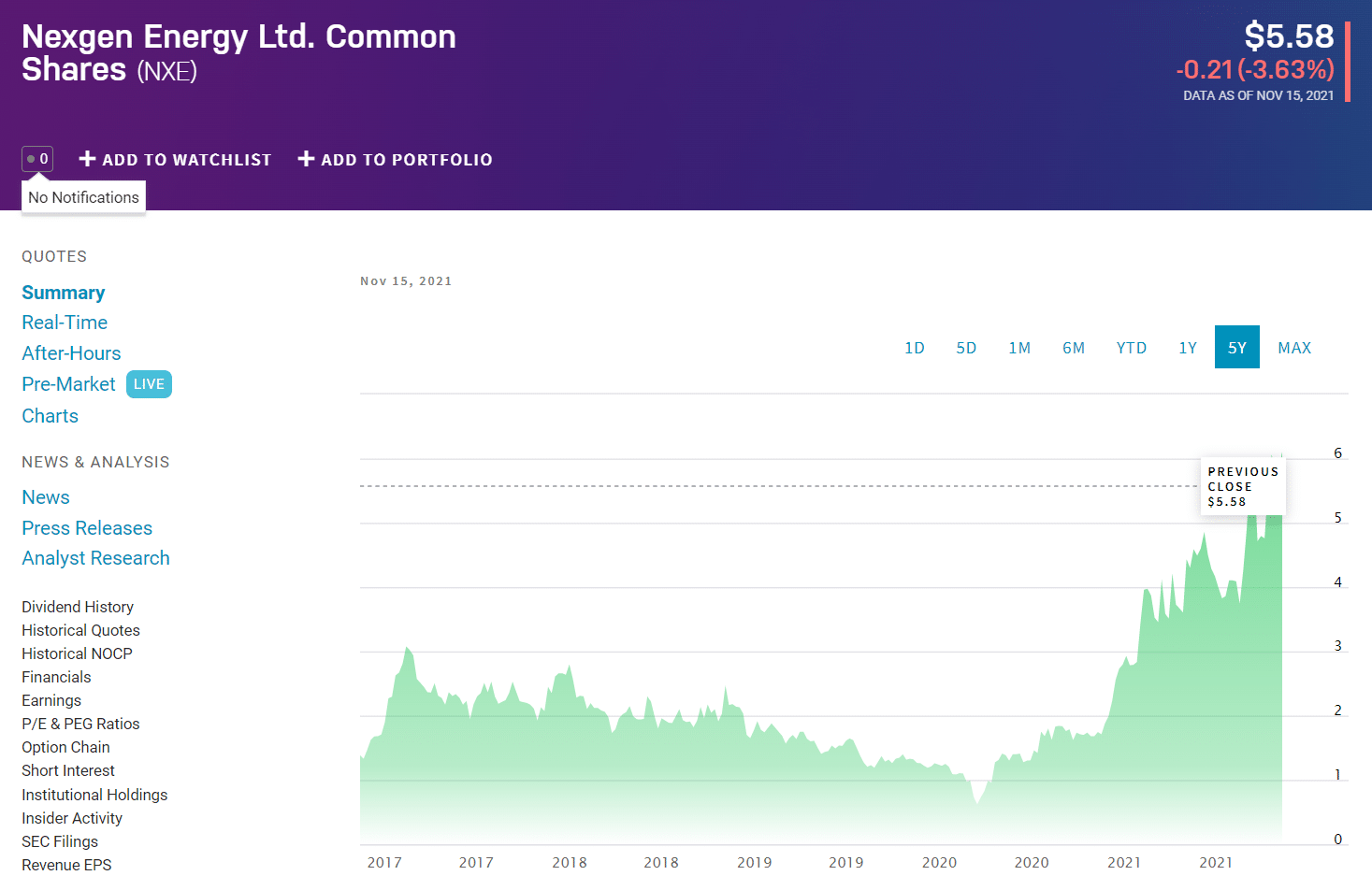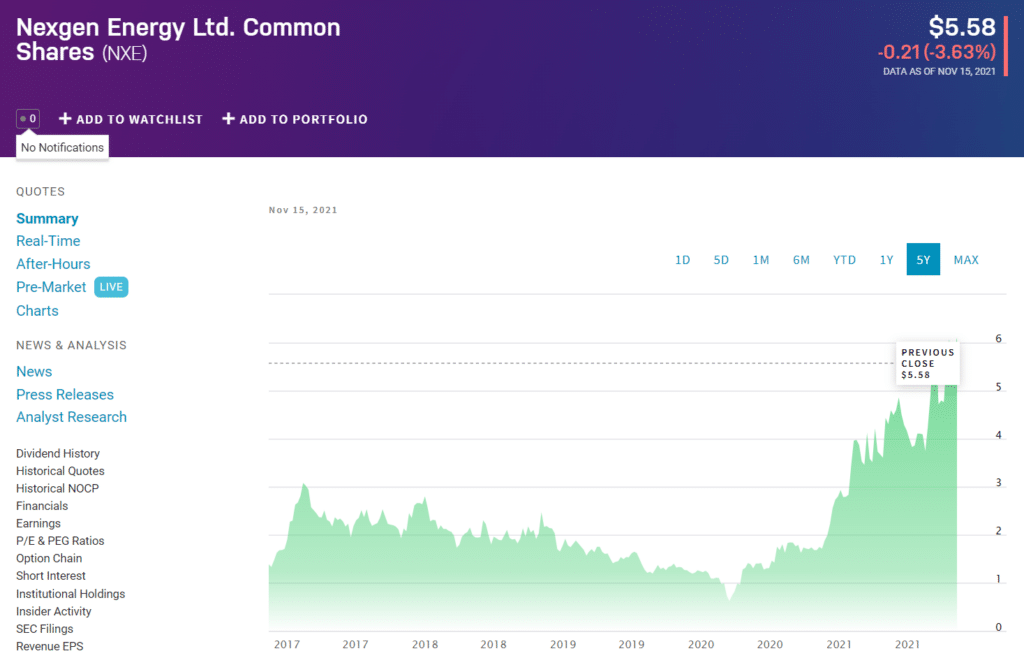 The company's stocks have returned 222% over the last year. Falcon Edge Capital is a New York-based hedge fund that owns 6.2 million shares with NexGen Energy.
4. Rio Tinto Group (RIO)
Price: $61.51
EPS: 5.41%
Market capitalization: $100.943 B
Dividend yield: 12.06%
Rio Tinto Group is an Anglo-Australian multinational company. They are the most significant metals and mining company, after BHP. They produce uranium and other metals, including copper, iron ore, diamonds, and gold.
A consortium of investors purchased a mining complex in Rio Tinto, in Huelva, Spain, from the Spanish government in 1873, which was the start of numerous acquisitions over the decades.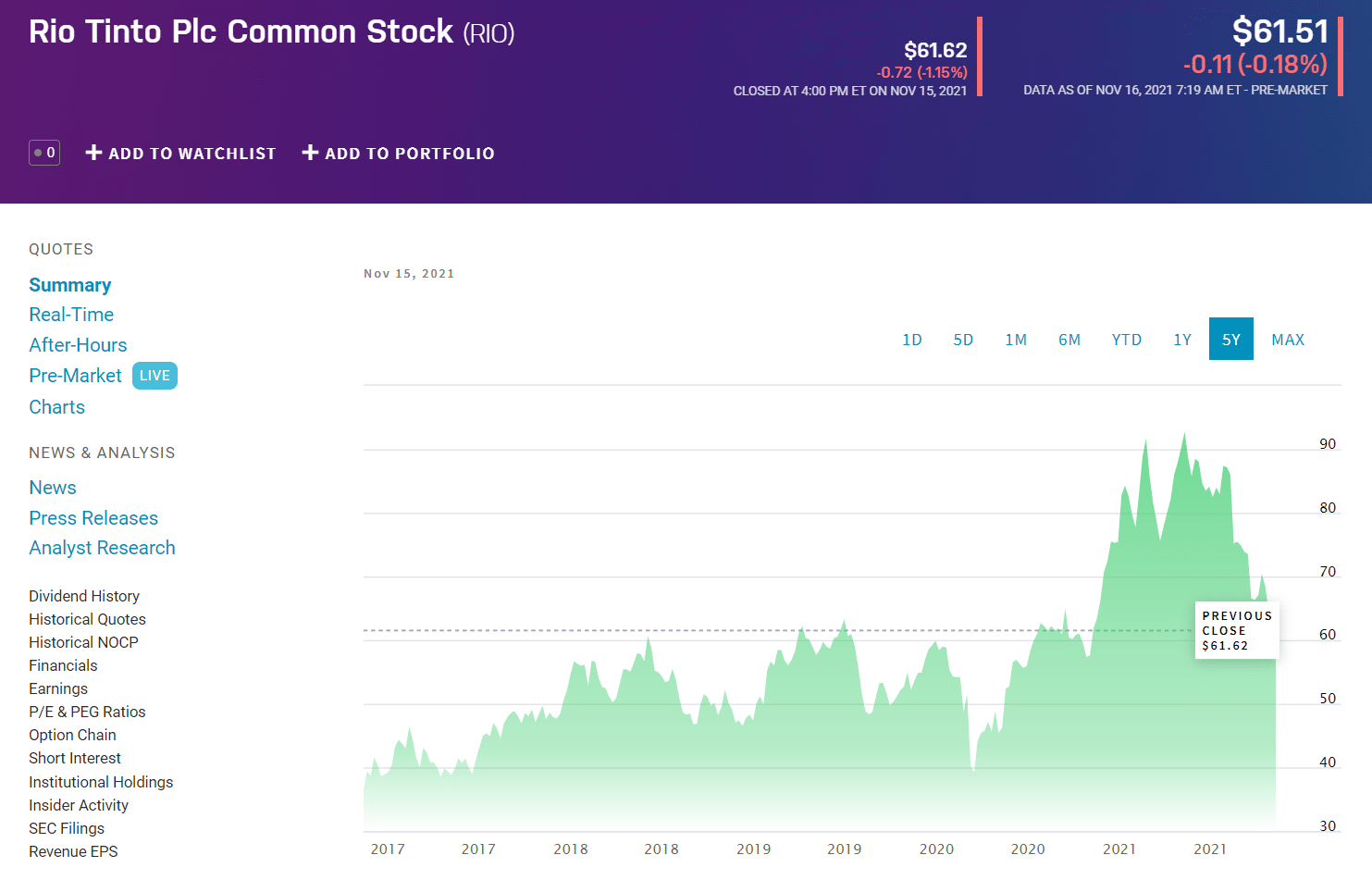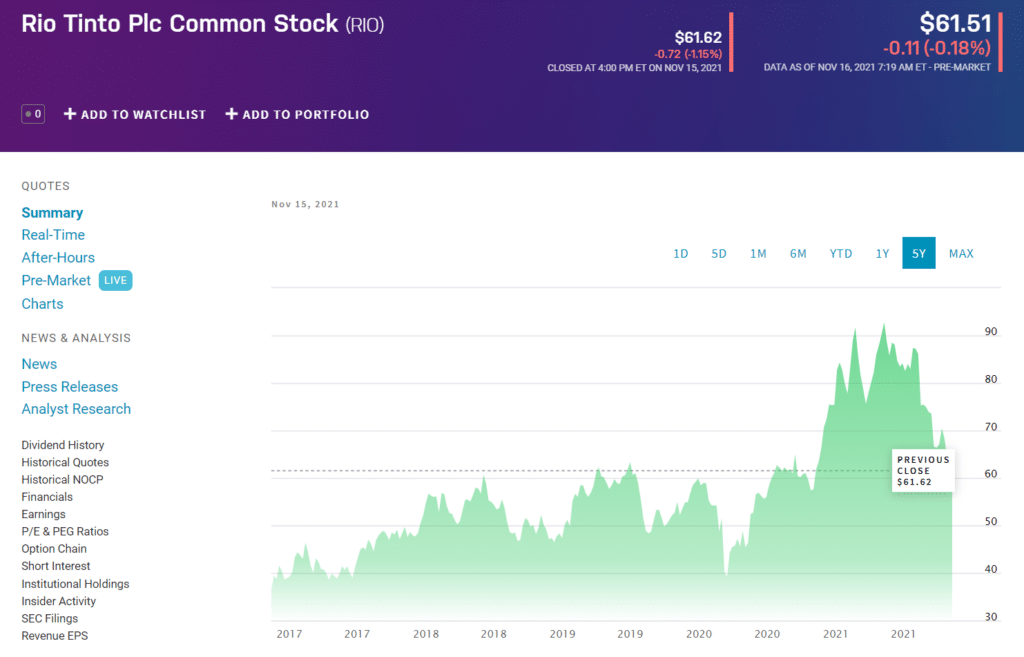 5. BHP Group (BHP)
Price: $53.90
EPS: 3.15
Market capitalization: $139.067 B
Dividend yield: 6.02%
BHP Group Limited, one of the world's leading mining companies, explores and processes uranium. BHP's location is in Australia, and they have been in existence since 1885. Their mining interests include oil, gas, copper, silver, zinc, and uranium. The company generated 3,678 metric tons of payable uranium concentrate in 2020.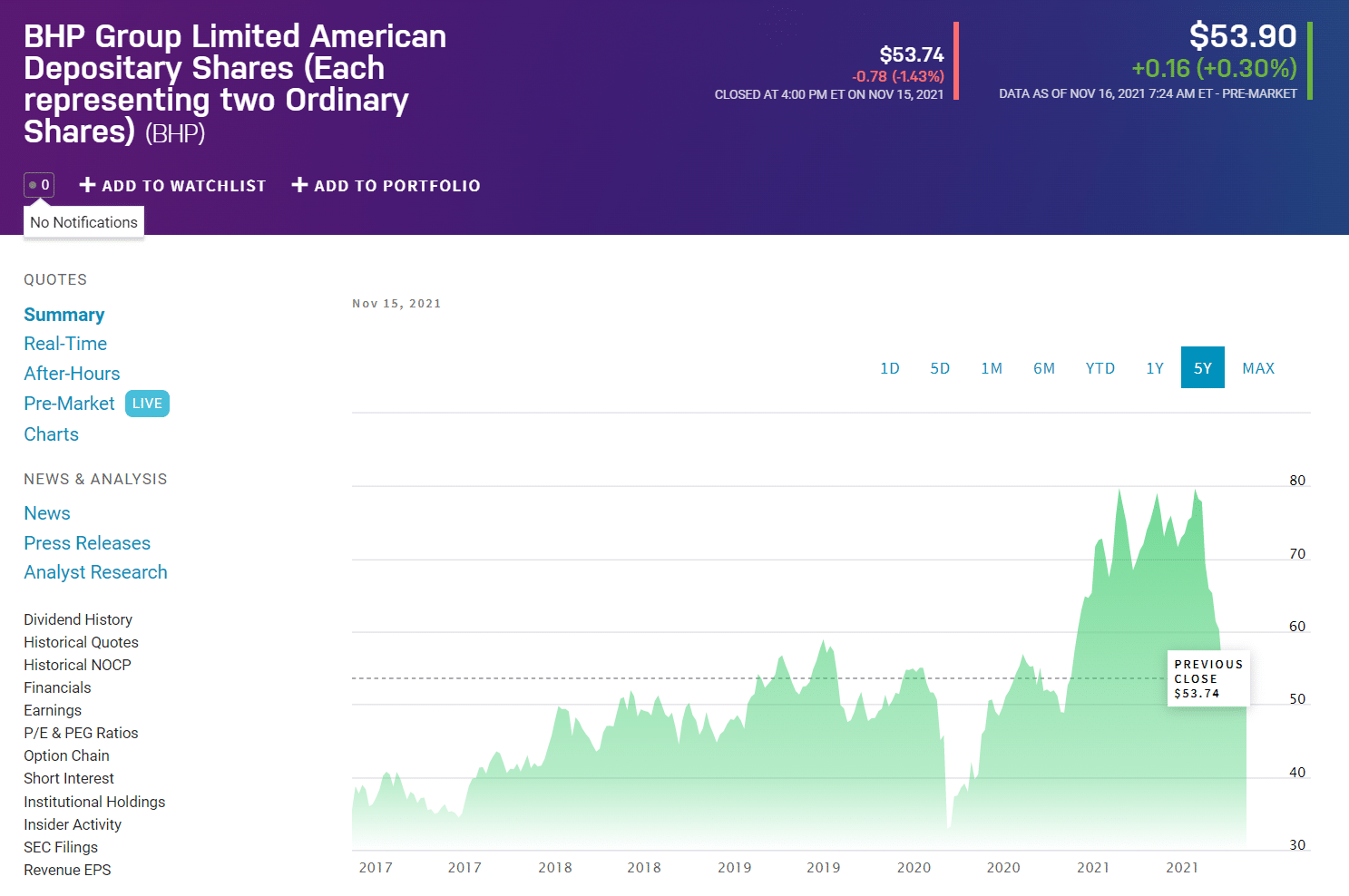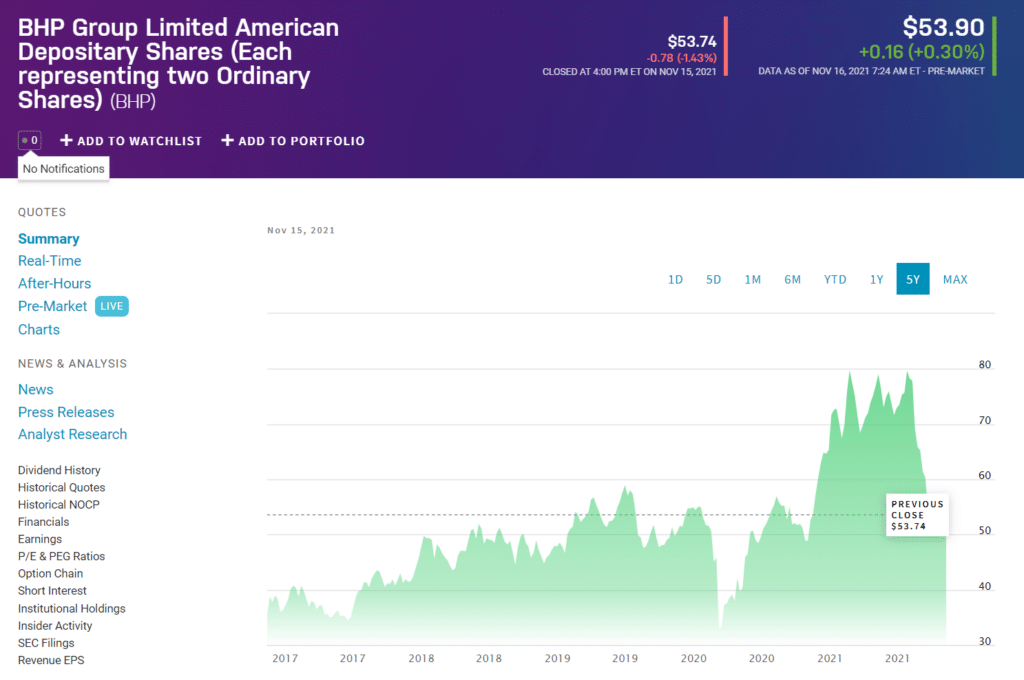 Pros & cons
Pros
Cons
High returns
The five companies have made high returns for investors. 
Stock market risks
The stock market's volatility contributes to risks which investors should not overlook.
High demand
 The demand for uranium is increasing, and therefore an excellent mid-term investment option.
Price at an all-time high
Most of these stocks are already at an all-time high. Therefore, an immediate buy might not be wise. 
Green energy
Investing in uranium stocks allows investors to promote greener energy production.
Lower yields
The more expensive stocks are offering lower yields because uranium is not their primary focus. 
Final thoughts
Investing in uranium sounds like a viable option, especially with the demand on the increase. However, the price has already moved quite a bit over the last few years. The companies with the highest yields are all trading in the lower tens per share. However, they reached a significant high.
Therefore, investors should not hurry to buy stocks right now but wait until the market pulls back to lower prices. The consensus is that the demand will continue until 2040 since the move towards renewable energy sources mainly drives it. Therefore, opportunities to invest in uranium in the next year or two will be plenty.