One of the best times to invest in an asset is during a bull market, also called a bull run. Volatility, demand, and market value are just a few of the factors driving up prices. A "bullish crypto market" or "crypto bull run" refers to a period in which the price of cryptocurrencies has risen continuously and without interruption.
Let's take a closer look at what constitutes a bull run and which of the top five cryptocurrencies will see one in 2022.
What is crypto bull run?
During a crypto bull run, the market's value of all cryptocurrencies rises gradually over time. Demand for a particular asset rises sharply when investors express an intense desire for it. There is also a strong demand for the following mentioned crypto assets in the next sections, which indicates a good sentiment among investors.
It's also an indication of a positive trend when the price of a crypto asset rises steadily over time. For the price of a crypto asset to grow, investors must have a positive outlook. For example, "a positive feedback loop occurs that tends to attract additional investment, driving prices to continue to rise,"
How to earn with a bull run?
There are several ways to earn profit with a bull run like long positions, long ETFs, call options, etc. They can help you make a significant profit in a crypto bull run.
Top 5 cryptocurrencies poised for a bull run in 2022
Let's look at the top five cryptocurrencies poised for a bull run in 2022.
Solana (SOL)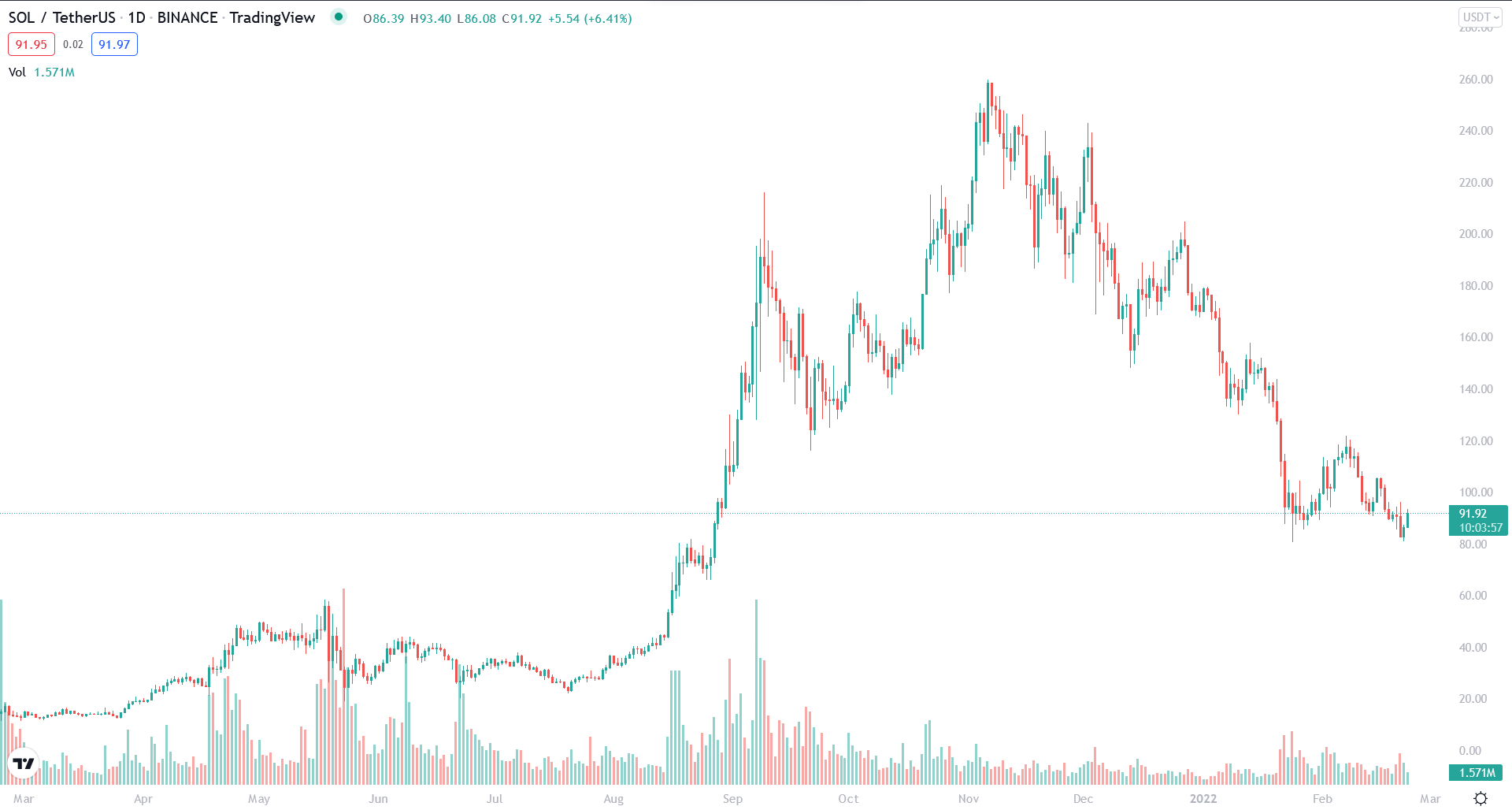 Summary
The present crypto bear market may not end soon. Solana seems to be on the edge of a bull run even if sentiment improves based on its substantial technical advantages. Therefore, investors should focus on assets that can gain when the market does.
With a transaction throughput of 50,000 per second, Solana outperforms Ethereum and Cardano, two of its biggest rivals, which handle 15 and 250 transactions per second, respectively. Furthermore, with the ability to handle 24,000 transactions per second, it competes with established payment networks like Visa.
SOL price forecast 2022
With several partnerships and alliances, we expect that the Solana coin will achieve a price of $250 by 2022. The SOL has been an independent blockchain, picking up fame due to its privacy and smart usage.
SOL price forecast 2025
Solana may also see some cloudy days with any government rules and regulations changes. However, Solana coin pricing should remain stable at $440 or max bow down to $415, allowing it to play steadily rather than fall. In addition, the popularity of NFTs and smart contracts may help the coin attract more bids.
Aave (AAVE)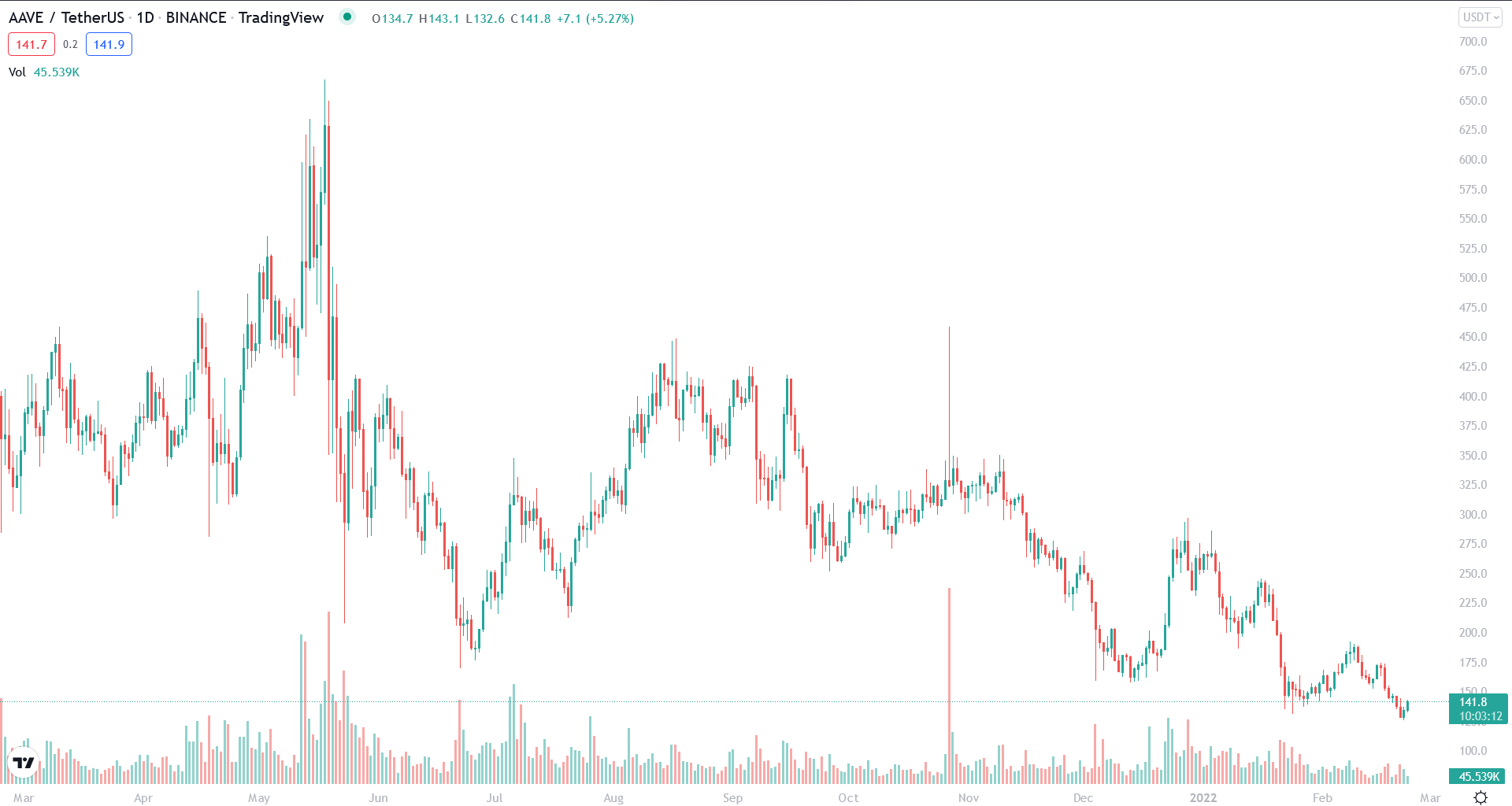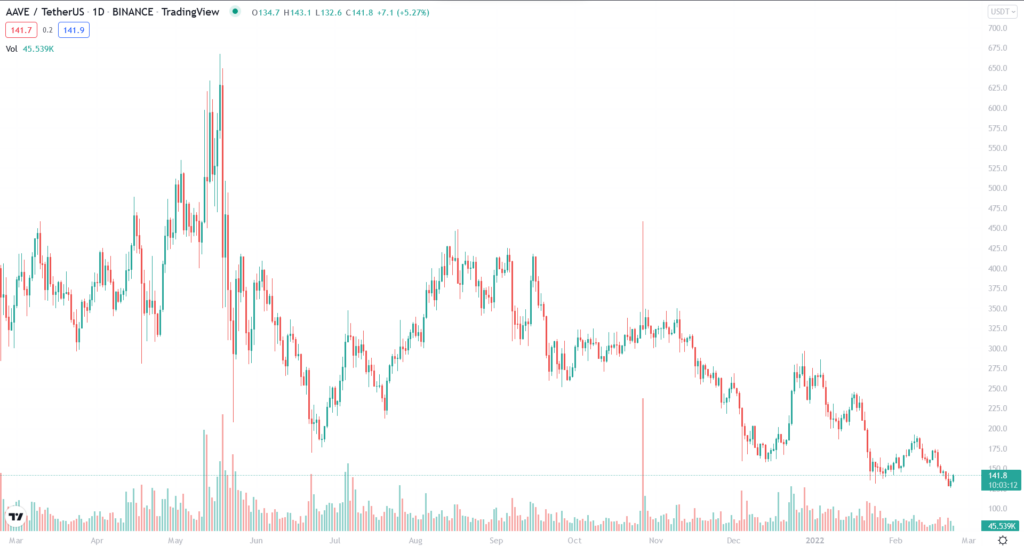 Summary
Unlike Solana, Aave is an Ethereum-based currency built on a separate blockchain. As a result, this decentralized financial platform makes investing in blockchain technology's real-world use easier.
While Aave is only offered online, it provides investors with a low-interest-rate alternative. In addition, liquidity pools allow users to lend their digital assets for interest that fluctuates based on demand.
Once the loan is paid back, the user's cryptocurrency investment may be converted into fiat money without the user having to liquidate their original stake. Investors who need cash but don't want to miss out on the potential gains of their crypto assets may find this helpful.
AAVE price forecast 2022
An average of $950 is what the market expects Aave to achieve with the help of partnerships, alliances, and community financing in 2022. In addition, AAVE provides a facility of the lending pool to stake crypto and pay transaction fees.
AAVE price forecast 2025
Due to this approach, Aave's rivals may find it challenging to keep up with the increased volume of transactions that will be handled. Nevertheless, Aave has a bright future in terms of pricing. It doesn't depend just on decentralization to function. According to our estimates, by the end of 2025, AAVE might be valued at about $1750.
The Sandbox (SAND)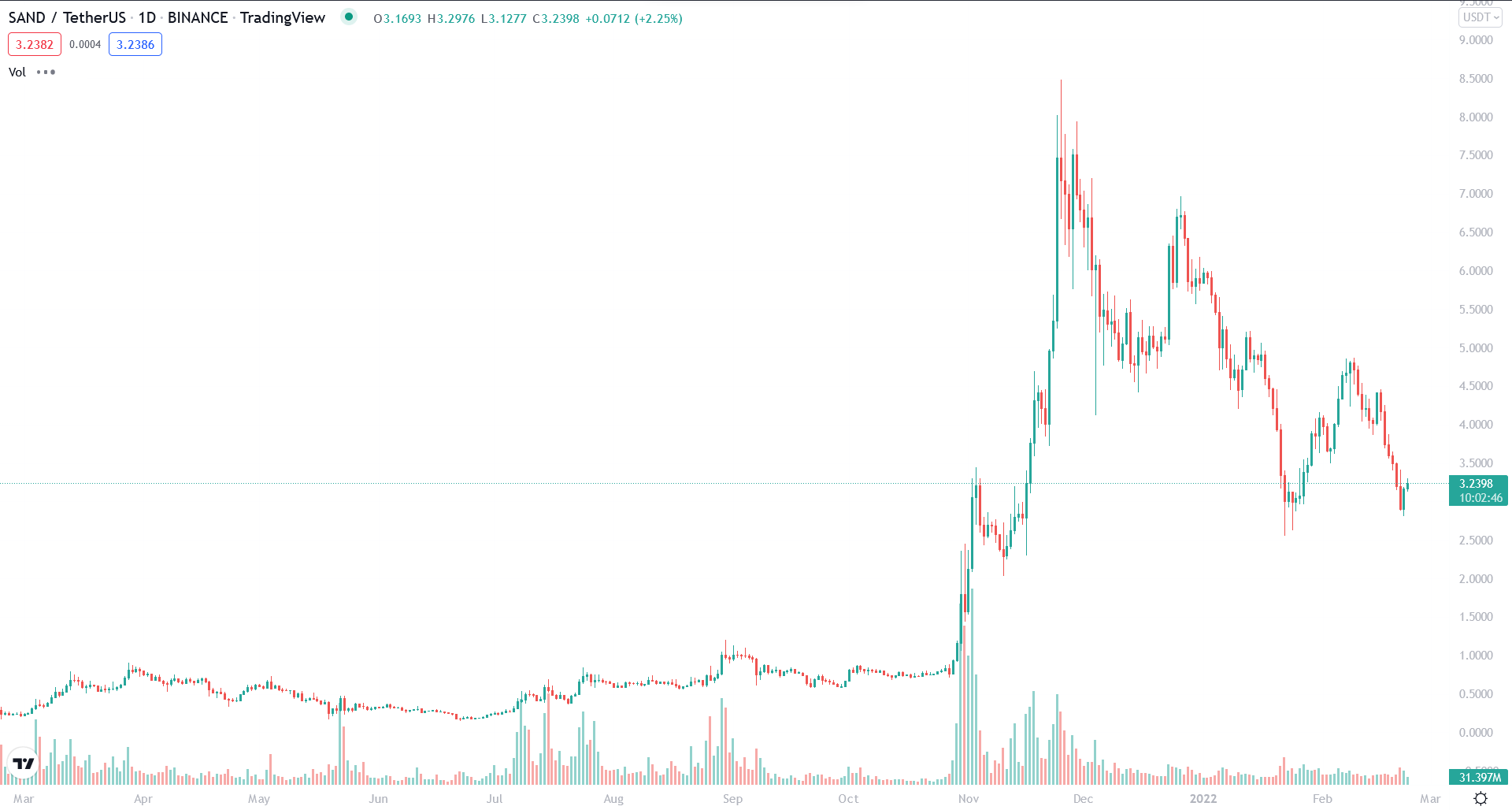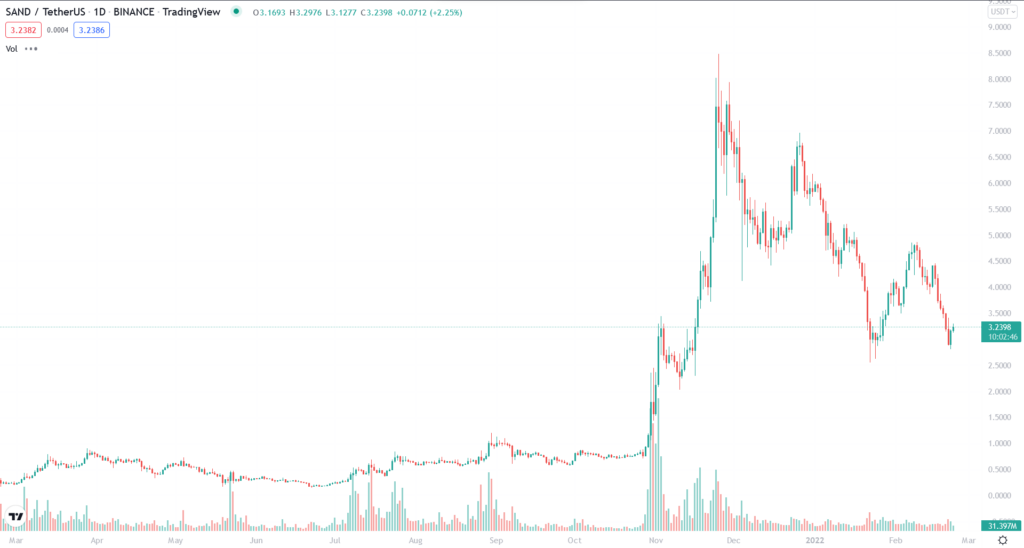 Summary
With a market value of only $4.2 billion, the Sandbox is an affordable way to bet on the blockchain Metaverse. In addition, the platform has an edge because of its focus on user-generated content and growing popularity.
Several successful websites on the internet have profited from the user-generated content model, such as YouTube and Roblox. In this way, development costs are kept to a minimum while still providing the intended audience with information that is more current and relevant to their needs.
SAND price forecast 2022
The price of a sand token might be as high as $12 by the end of the year. It's an excellent long-term investment since it's a complete game. The game is a better opponent than MANA or any other gaming entity.
SAND price forecast 2025
By the end of 2025, we may predict the coin price to be about $24. Because it's a complete game, it's a significant long-term investment. The game is a more formidable foe than MANA or any other gaming company.
Decentraland (MANA)
Summary
With Decentraland, user social interactions are more important than the gaming portions of Metaverse development. With a market value of only $5.9 billion, it's a low-risk way to bet on this fast-growing company's future success.
Decentraland was formed in 2017 and will open to the public in early 2019. Decentraland focuses on non-fungible tokens digital evidence of ownership recorded on the blockchain for virtual real estate. A wide range of options is available for customizing a user's land. There is a bevy of goods that might pay off nicely in 2022, as well.
MANA price forecast 2022
If there are no significant market shocks soon, the Decentraland (MANA) token is expected to continue its position as a key attraction for many investors and traders. According to our estimate, the price of Decentraland MANA is likely to rise over $4.8 on the crypto market in 2022.
MANA price forecast 2025
Decentraland is also involved in community initiatives. As a result, we are optimistic about the token's future growth in terms of various factors such as prices, volume, upgrades. The trend is also positive amid their continued momentum and significant market capitalization and their initiatives focusing on education, outreach, and innovations. According to Decentraland's long-term price estimate, the MANA token may reach a noticeable amount of $10 after clearing the psychological barrier level in 2025.
Ethereum (ETH)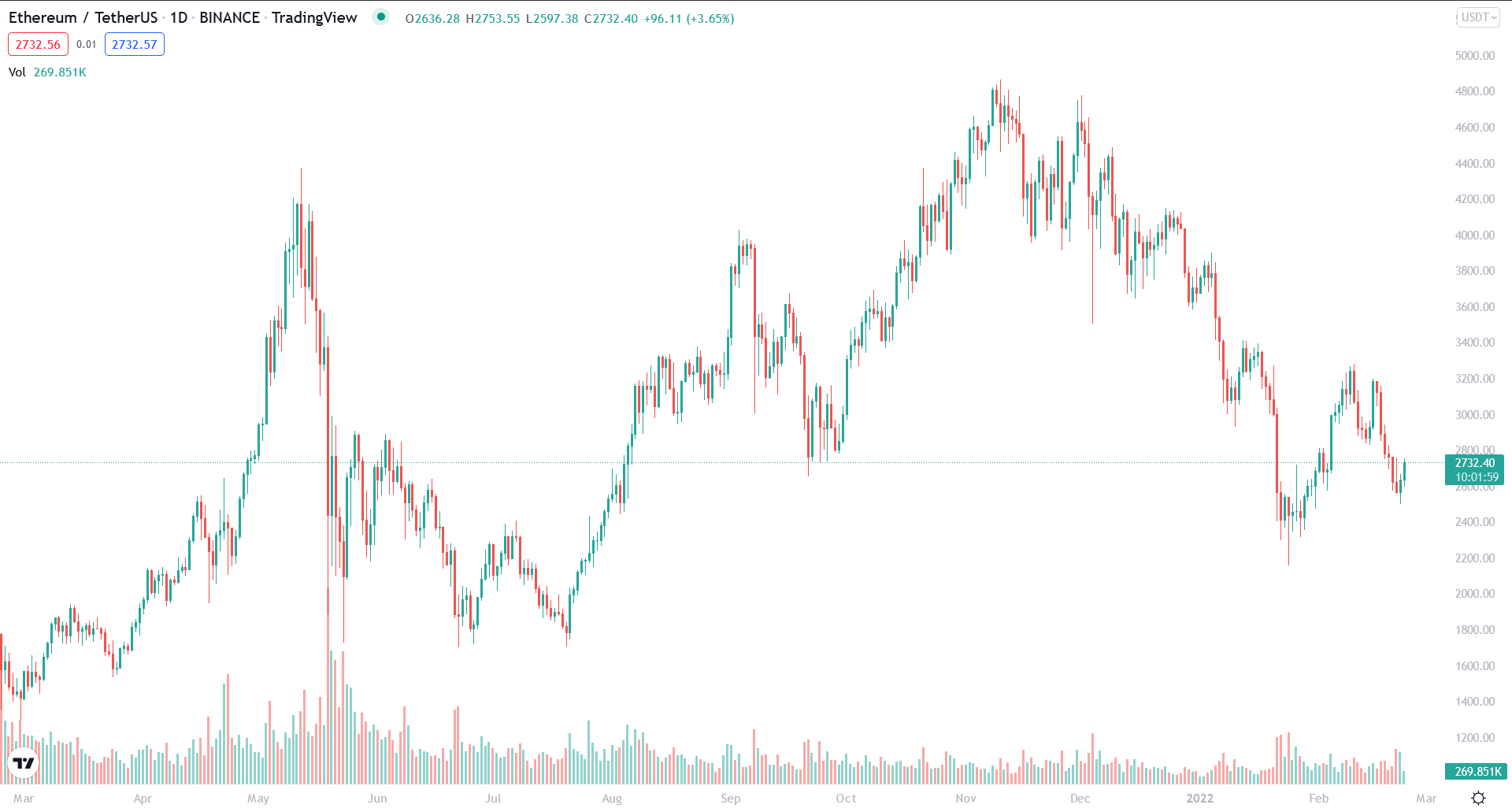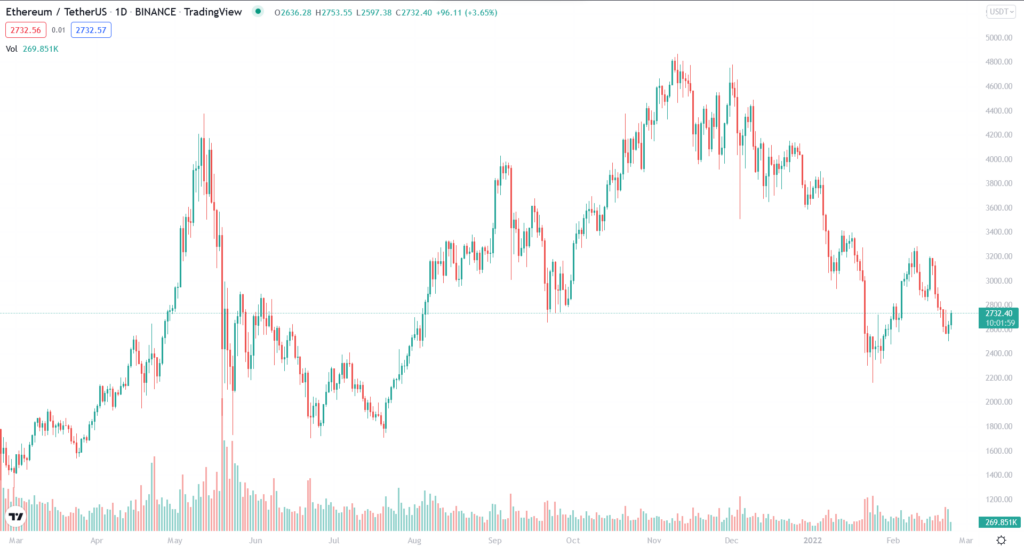 Summary
Ethereum has traditionally trailed behind Bitcoin in the cryptocurrency industry, but 2022 might be the year it starts its march to the top.
In addition to keeping money, it regulates all financial activity and payments in all sectors and provides the foundation for numerous DeFi protocols. It has a 20 percent share of the whole market.
ETH price forecast 2022
While $7500 may seem like a tall price target, the market expects Ethereum's cryptocurrency to do well soon, with the help of partnerships, integrations, and community investment.
ETH price forecast 2025
Ethereum's average price is expected to rise beyond $3,200 by early 2025, according to market analysts. Considering the introduction of Ethereum 2.0, the price is expected to grow to $5,800 by the year's end. For short-term investments, the expected price rise is +81 percent.
Pros & cons
Let's look at some pros and cons of crypto bull run.
| | |
| --- | --- |
| Pros | Cons |
| The increase in the value of Bitcoins for holders is one of the bull run's earliest and most visible benefits. | It is difficult to predict the consistency of the bull market trend. |
| In the long run, long-term investors will profit, and more cash will be invested in the region than has ever previously been done. | There are no specific parameters to identify bull market trends. |
| A boost of confidence in Bitcoin is expected as it continues to set new milestones and smash records. | Demand and supplies for the assets are not sure. |
Final thoughts
In 2022, Bitcoin and other cryptocurrencies are predicted to have another intriguing year. So keep track of the market, buy BTC, or stick to a more traditional asset portfolio with handy tools.