The world is undergoing a technological and digital transformation with outstanding innovations. This era has seen the development of many novel concepts that intrigue the young generation, millennials, executives, gamers, and investors.
Metaverse, a sort of virtual world, is gaining prominence due to its captivating idea of amalgamating the digital and real worlds. This design of the virtual universe has gathered the attention of many tech giants like Facebook and Microsoft.
In addition, individual investors have also joined this course to secure a place in this forthcoming revolution. So, are you pondering about the regulation procedure of this imminent world of Metaverse? To some extent, the answer lies in digital assets.
Virtual coins or cryptocurrencies would most likely settle as a central monetary part of this digital world. This article lists some of the most promising Metaverse coins that can build their value in the coming years.
What is Metaverse?
It is a vast and abstract idea with no specific boundary to its meaning. Generally, Metaverse points to a confluence of virtual or digital reality with our physical lives. It is an online experience that incorporates concepts of augmented reality, virtual space, and online world ideas where people can interact.
Moreover, there is an increasing consensus that this virtual experience may shape our future world. Due to the booming potential of the Metaverse, many significant corporations have begun investing and working in this arena.
Furthermore, if you own non-fungible tokens, cryptocurrencies, online games lands, or weapons, it depicts your participation in this virtual universe to some extent. Nonetheless, there is no defined rule to specify the margins of this virtual environment.
Best Metaverse crypto coins you should know
The recent change of Facebook's name to "Meta" signifies this platform's shifting ideology and interest in this virtual domain. Relatively, Metaverse coins have gained significant attention as they are an integral part of this digital world. Here we have listed the top five Metaverse coins you should know about.
1. Decentraland (MANA)
Price: $2.597
It is the digital token of Decentraland, a "virtual reality world" based on the Ethereum blockchain. People can buy or sell digital land plots, arrange exhibitions or events, trade goods, and interact with other users in the world of Decentraland.
Moreover, it is a decentralized virtual space that is free from the influence of central authorities. Users own and operate this three-dimensional network, imitating the real world.
The currency of Decentraland, MANA, displayed a significant spike at the start of November 2021. The price has shown an increase of more than 300%, from $0.7 to around $2.9. The maximum supply of MANA is about $2.6 billion, which means that the circulating coins cannot exceed this limit at a given time.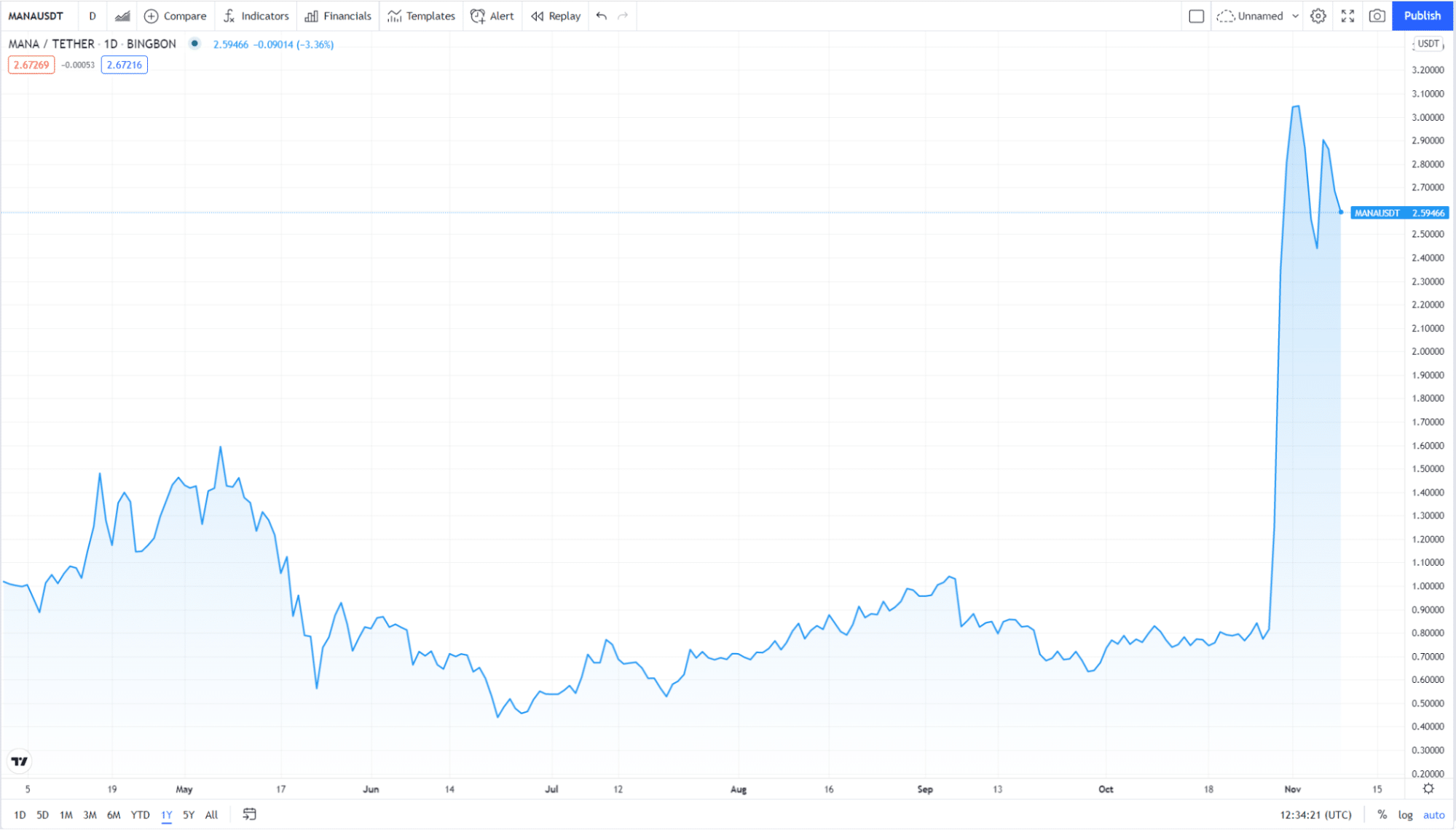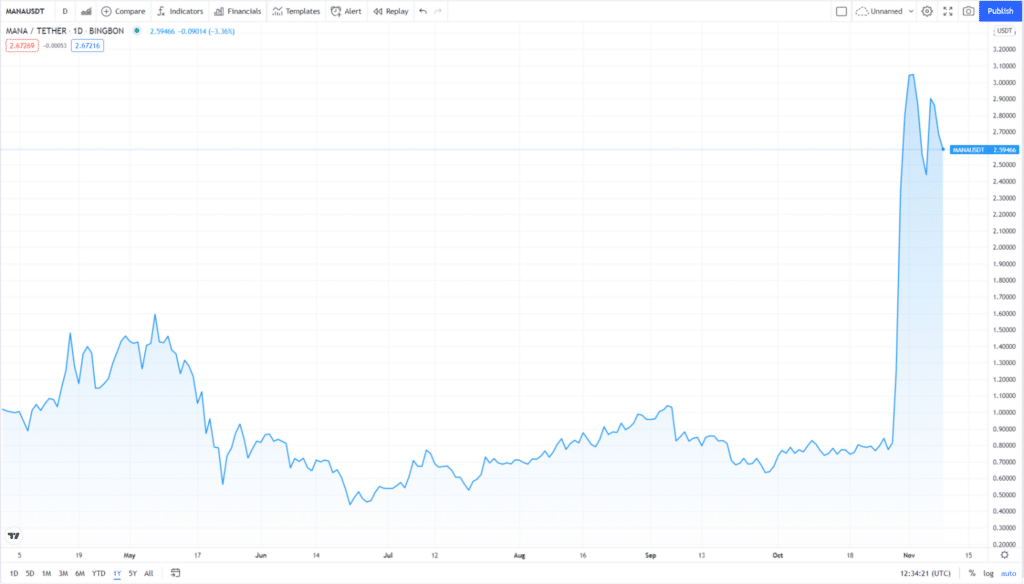 What is the Decentraland (MANA) price prediction in 2022?
MANA has already crossed the price that it was supposed to reach at the start of 2022. Realistically this coin is predicted to reach $3.18984 by the end of March 2022.
2. The Sandbox (SAND)
Price: $2.447
Sandbox is a Metaverse platform that allows users to trade assets (non-fungible tokens) and digital lands. This virtual world uses the Ethereum blockchain technology with SAND as its native digital token.
Participants utilize this ECR-20 token for doing transactions and transfers within the Sandbox world. This decentralized virtual world lets the participants enjoy user-generated experiences without any external influence.
The coin has exponentially surged in value with Facebook's recent rebranding, crossing the $2.5-$3 mark. The total market capitalization of SAND is around 2.24 billion, with a maximum supply limit of three billion.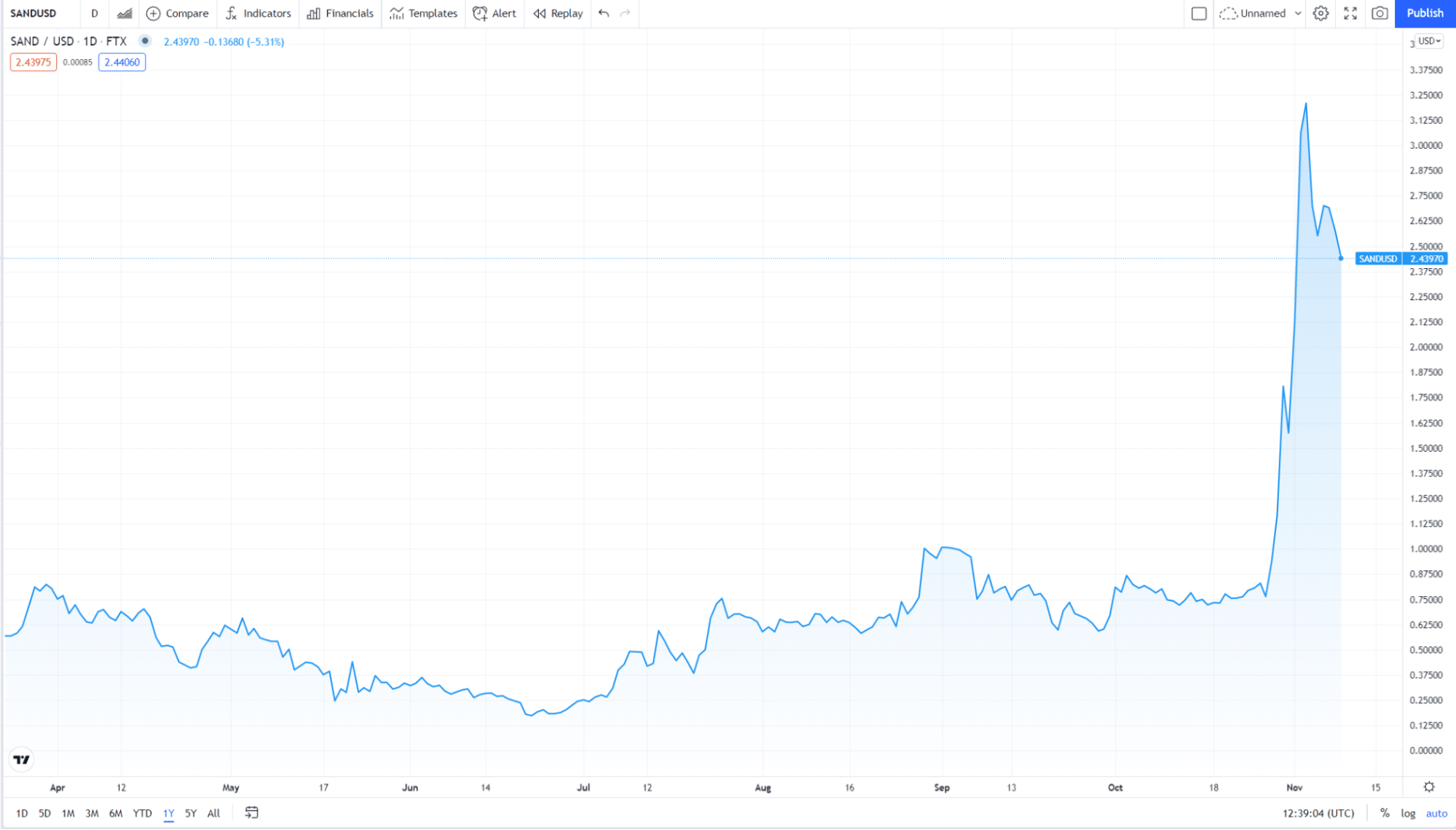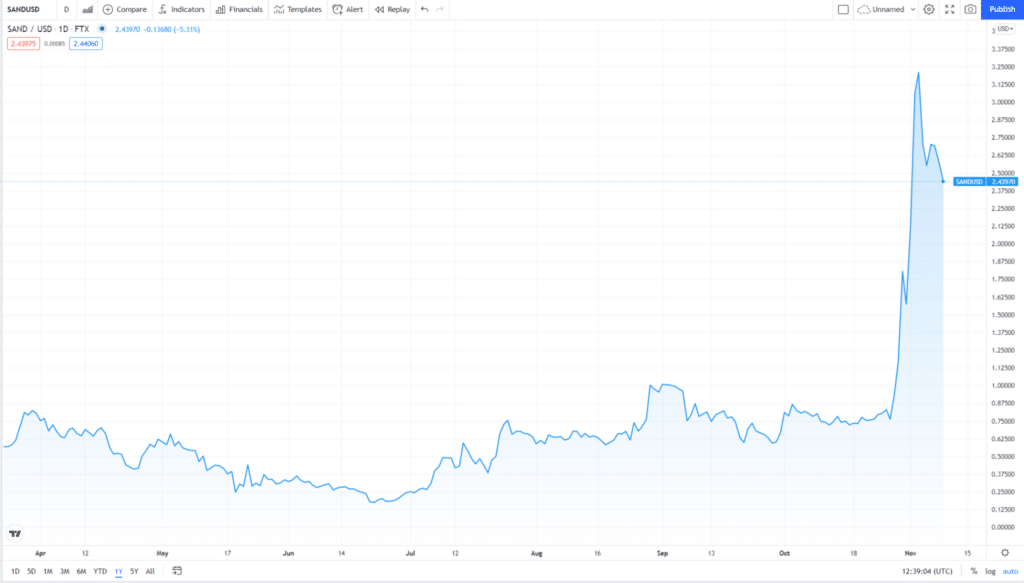 What is the Sandbox (SAND) price prediction in 2022?
The Sandbox is predicted to reach $3.72 to $5.50 by mid-2022 with the rise of the Metaverse.
3. AxieInfinity (AXS)
Price: $152.53
Axie Infinity is a decentralized, online video game where participants design and shape this virtual world. This NFT based game involves the breeding and battles of digital animals known as "Axies" and generates real-life income.
AXS is the digital token of this blockchain game, which governs the transactions within this Metaverse. The coin holds significant value with a market capitalization of 9.3 billion and a total supply limit of 270 million. At the time of writing, AXS's price is around $153.90.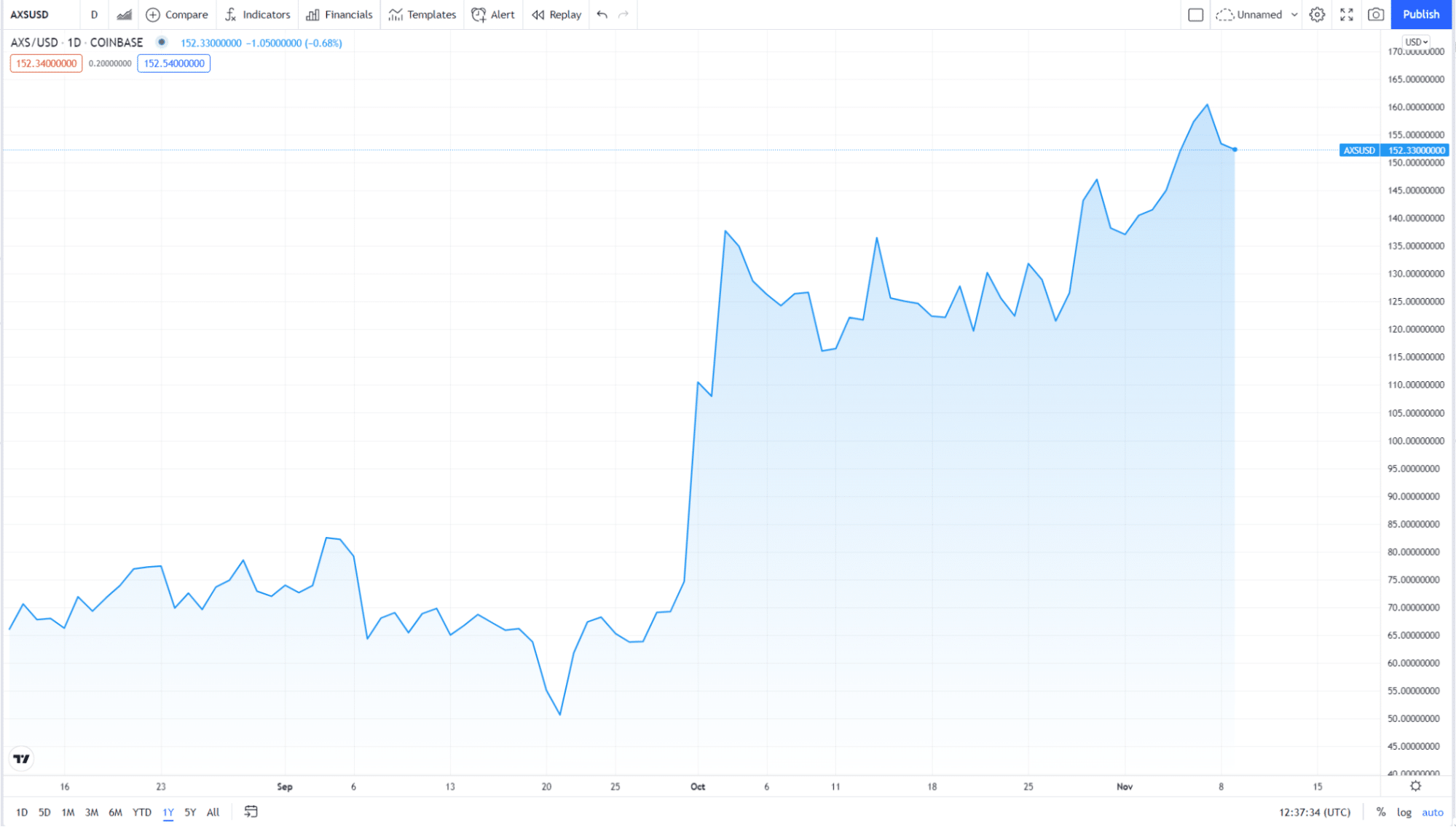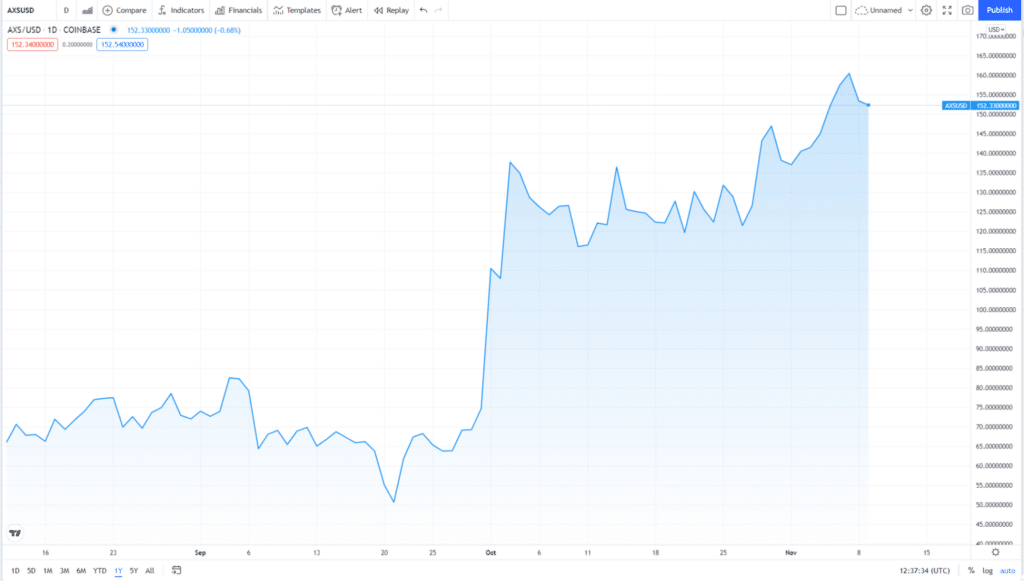 What is the AxieInfinity (AXS) price prediction in 2022?
AxieInfinity has jumped too high, currently pricing at $152.53; it could see some downward movement to fill the orders and would trade around $173 to $180 by mid-2022.
4. Star Atlas (ATLAS)
Price: $0.182
Start Atlas lets you experience a universe of the far future. It is a cinematic, multi-player video game in which the Star Atlas citizens participate in conquests, battles and strive for resources collection.
This role-playing game runs on the Solana blockchain with ATLAS as its native coin. Gamers utilize this token for buying assets such as weaponry, equipment, crew, and plots. Moreover, users can earn rewards in this space-simulating game in the form of ATLAS coins.
This token has a maximum supply of 36 billion with a market capitalization of 400,406,794. Currently, the price of this coin is $0.18.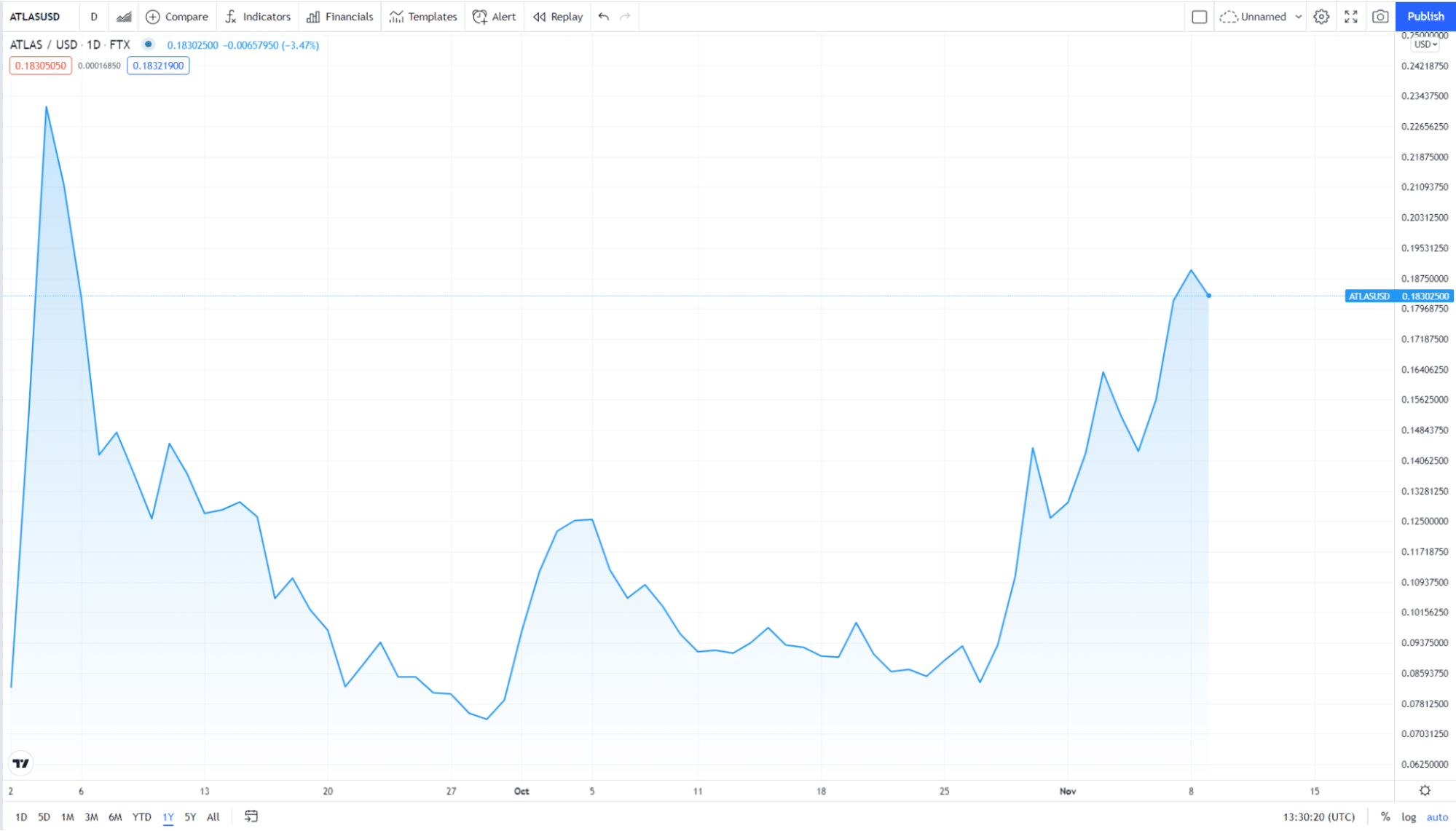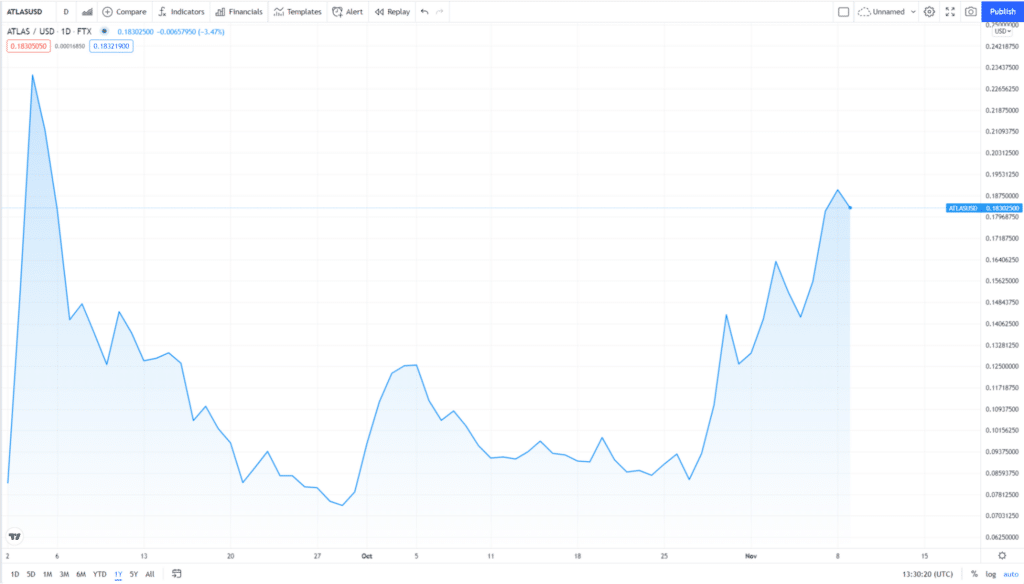 What is the Star Atlas (ATLAS) price prediction in 2022?
Star Atlas will see an increase in its price and trade somewhere near $0.2981874069 in mid-2022.
5. Enjin Coin (ENJ)
Price: $3.06
Enjin is a platform that has given developers, brands, and institutions the ability to create and handle digital assets (NFTs). It utilizes the Ethereum blockchain technology to mint various NFT items with customized properties.
ENJ is the native digital coin of this software, with a total supply of 1 billion. This token facilitates transparent and secure transactions of virtual goods and assets. Enjin Coin has the current price of $3.14 with a total market capitalization of 2.56 billion.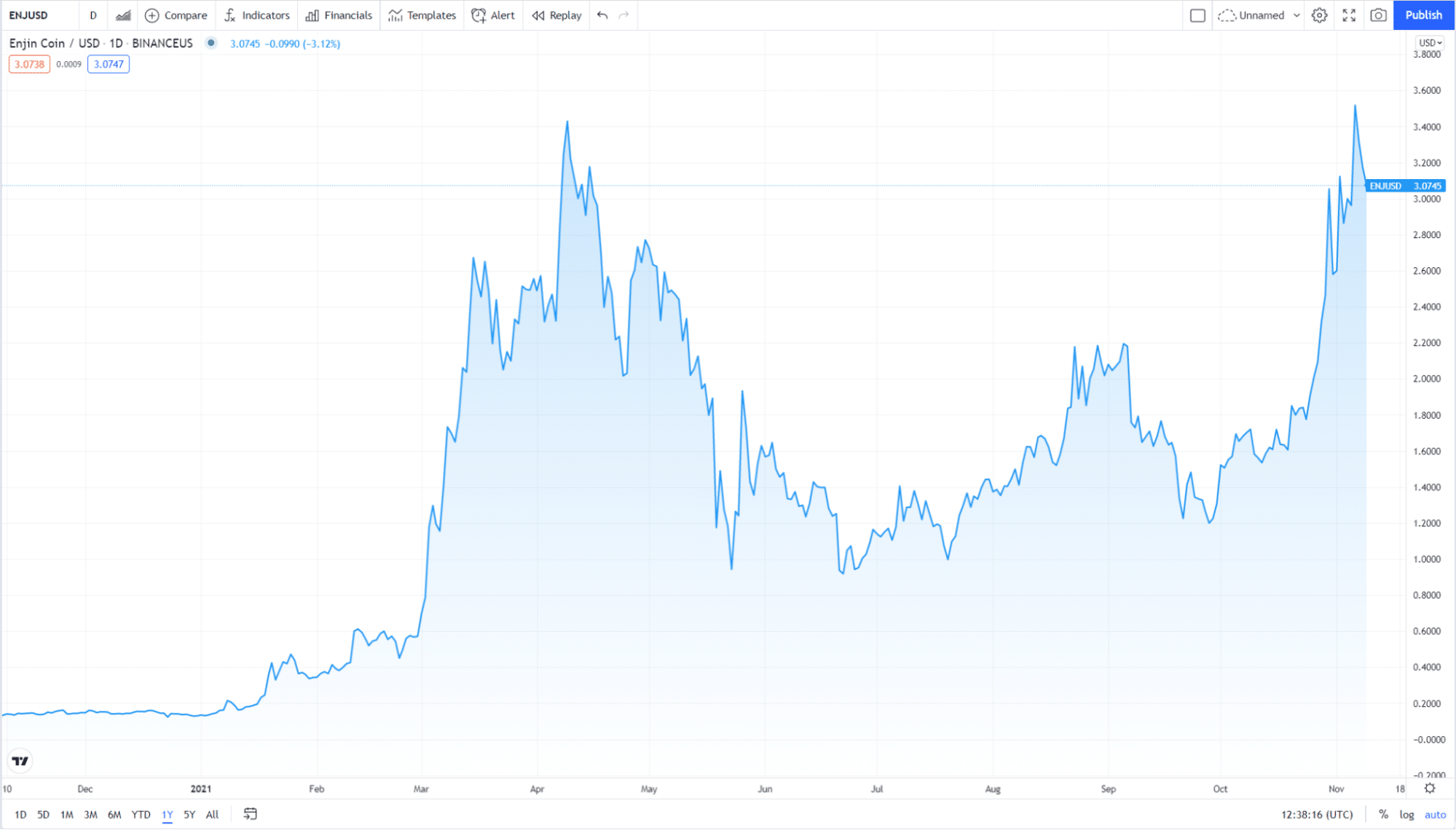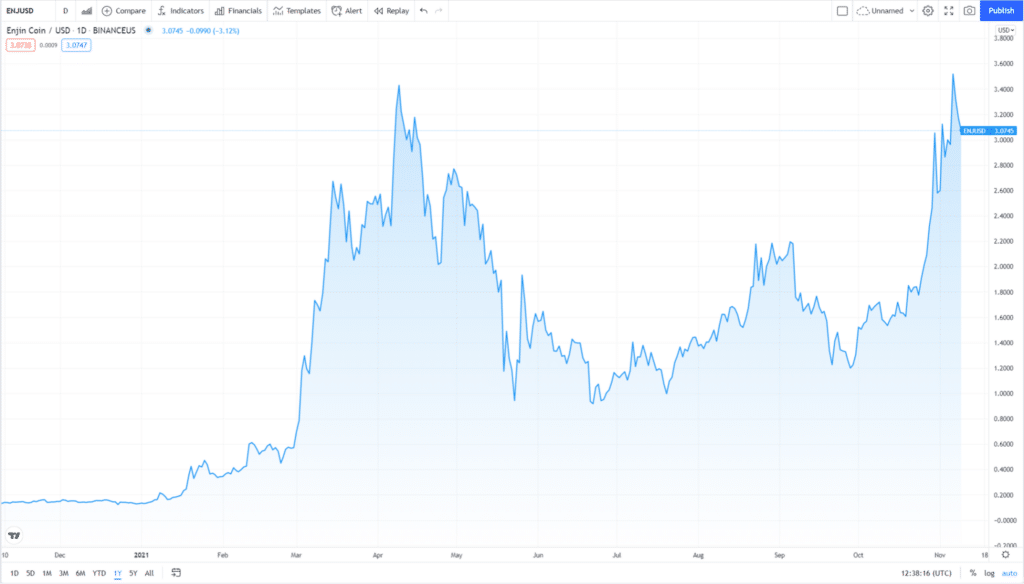 What is the Enjin Coin (ENJ) price prediction in 2022?
Enjin coins are unique and can be a profitable investment due to their usage in NFT and gaming. Enjin price is predicted to be somewhere near $5.74.
Pros & cons
Metaverse is an intriguing and fascinating world; however, there are some reservations regarding its utilization. Let us have a look at some of the pros and cons of this digital space.
Pros
Cons
Immersive and enjoyable interaction
People can effectively interact with each other, buy virtual assets and enjoy a real-life-like world by immersing in the digital realm of the Metaverse.
Addiction
Over-reliance on Metaverse platforms can produce an addiction to remaining in this virtual world.
The creation of a digital economy
Metaverse has promoted the use of cryptocurrencies and NFTs, which can boost the digital and real-world economy.
Blurring boundaries of a real and imaginary world
Metaverse can erode and disrupt real word human relationships, social norms, and cultural values.
Suitable for virtual meetings and education
This technology can create virtual meeting rooms for business and educational purposes, where individuals can interact through avatars and role-playing.
Security and privacy risk
Meta platforms have long faced criticism for identity theft and security issues. Moreover, this digital technology is prone to cyber-attacks.

Final thoughts
The concept of Metaverse isn't brand new, but the term has recently gained popularity with various technological developments. Metaverse envisions a future where individuals could experience an imaginary space distinct from the physical world.
Correspondingly, Metaverse coins have secured a place in this emerging online world as its regulatory currency. In a nutshell, the surging interest in the 3D virtual space, Metaverse, is the benchmark of an upcoming digital revolution.