Forex Combo System is a trading solution that can be used on Forex to make profits. The system belongs to FXAutomater. The devs claimed that it's "The new features IMPROVE the overall PERFORMANCE of the Forex COMBO System!" We have a Christmas sale in addition.
Is Forex Combo System good?
We can't say for sure because the system has both pros and cons. So, the final decision is up to you.
Features of Forex Combo System
We have many features explained in the presentation. We have grouped them up in the following list.
We can try on automatic trading when we'd like to use it on our terminal.
The system can provide us with accurate and stable profits.
It can work with various market conditions.
There should be solid strategies applied.
One of them is scalping.
It can cut out profits when the market goes wild.
There's another strategy "spotting trend opportunities and open a trade in the trend direction. As well, it can find reversal moments when a trend goes down."
The third strategy worked based on "market correction when a trend hits so many pips it's time to get the market corrected."
There's a range detection feature applied to the system.
Trading is allowed with EURUSD, GBPUSD, EURAUD, and EURCAD symbols.
Trading is allowed 24/7 on the market.
The system places SL and TP levels to protect orders on the market.
There's money-management that helps us with calculating lot sizes.
The system avoids executing orders during high-volatility periods.
It has been stress-tested on 10 years of data.
There are various notifications applied.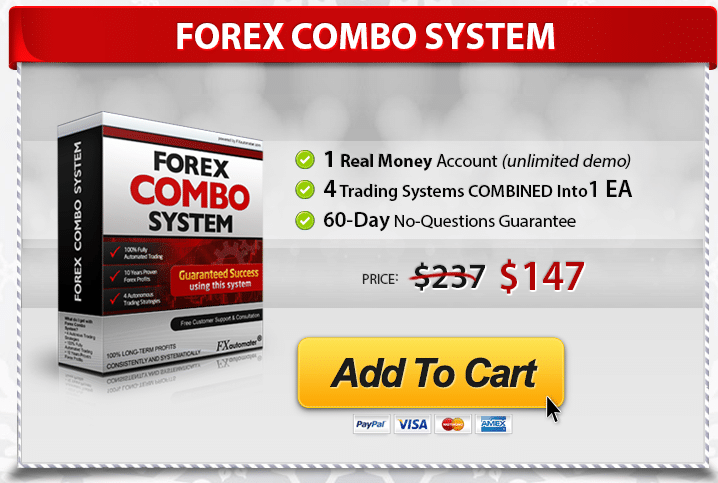 The current price after a discount is $147. The main price was $237. We remember it was $197. We can have some features in the pack: a single real account, an unlimited number of demo accounts, and four strategies on the board. There's a 60 day refund policy.
| | |
| --- | --- |
| Trading Terminals | MT4 |
| Strategy | Scalping, Trend, Countertrend, Range trading |
| Timeframe | N/A |
| Price | $147 |
| Money Refund | Yes |
| Recommended Deposit | N/A |
| Recommended Leverage | N/A |
| Money Management | Yes |
| Customer Reviews | Yes |
What strategy does Forex Combo System use?
The robot works with four strategies on the market: scalping, trend, countertrend, and range trading approaches.
We can work with EURUSD, GBPUSD, EURAUD, and EURCAD cross pairs.
The devs didn't disclose time frames.
Backtesting vs live trading results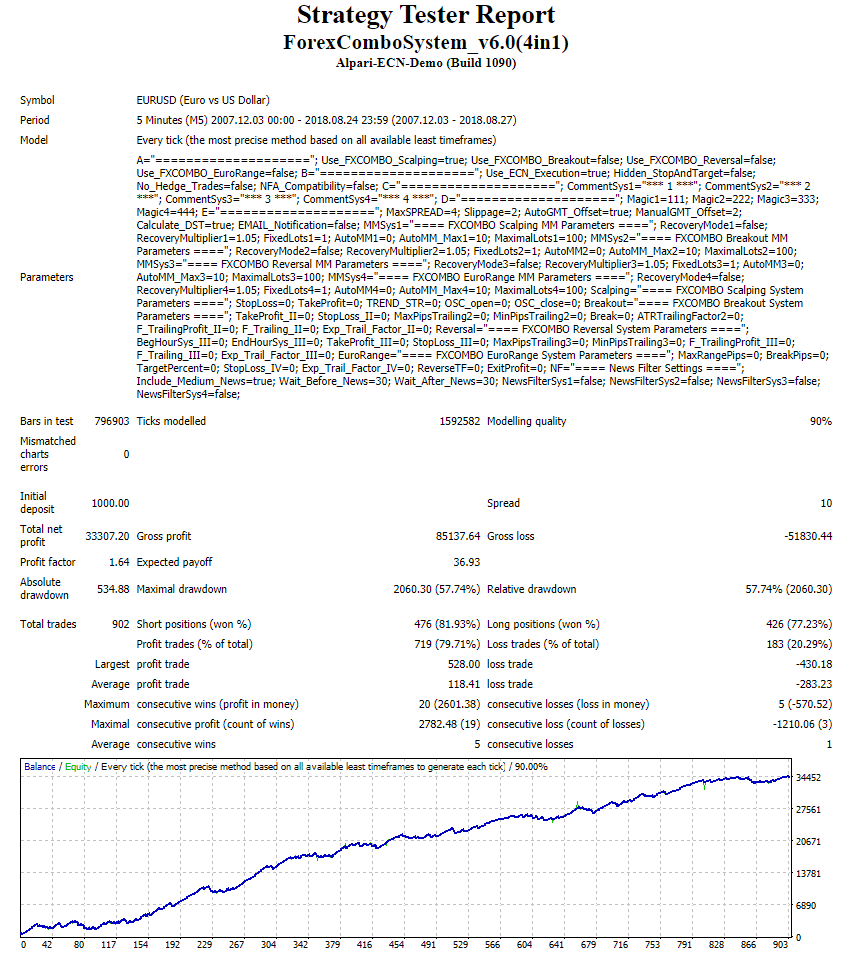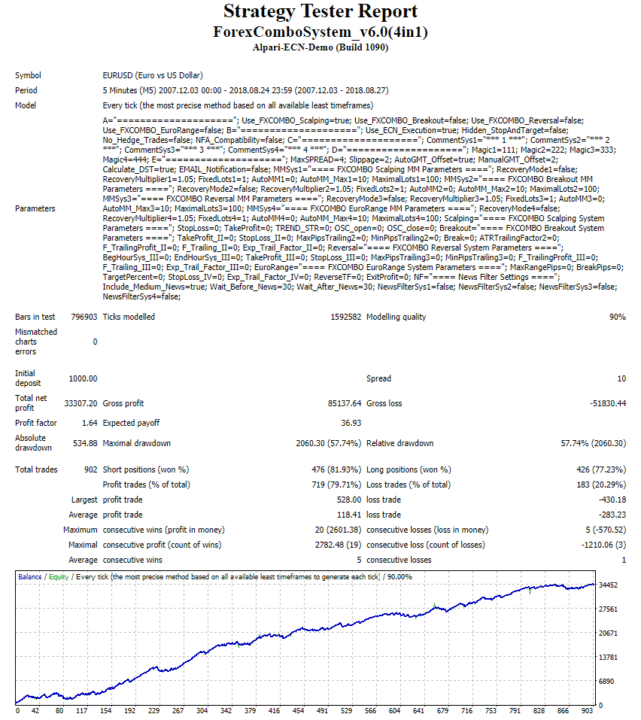 There's a backtest report of EURUSD on M5. The data period was eleven years. The modeling quality was 90.00%. An initial deposit was $1,000. It has become $33,307 of the total net profit. The profit factor was 1.64. The maximum drawdown was 57.74%. There were 902 orders executed with an 81.93% accuracy rate for shorts and 77.23% for longs.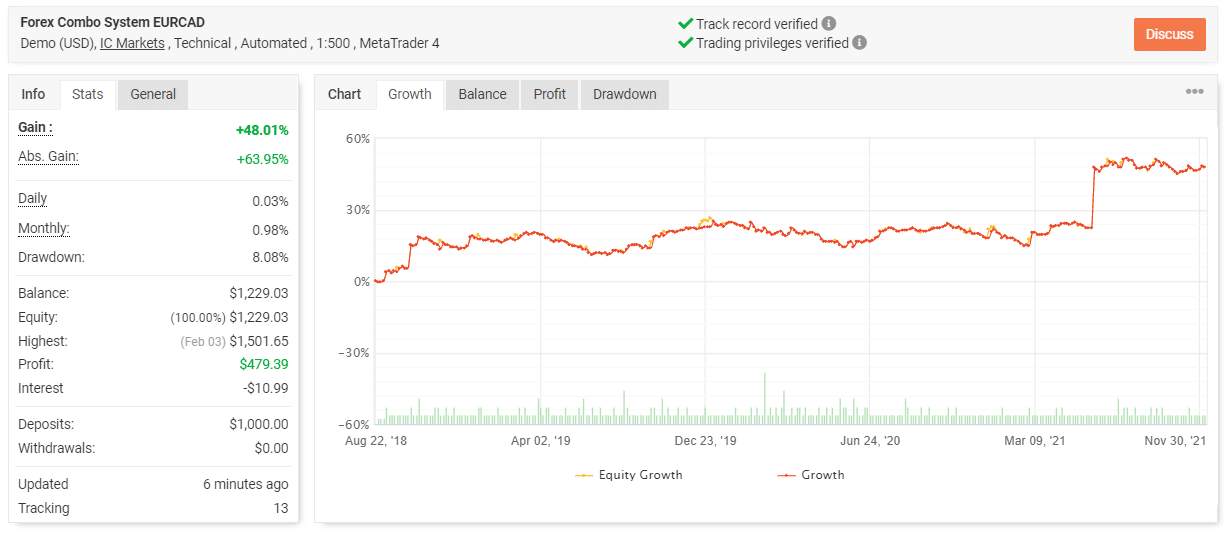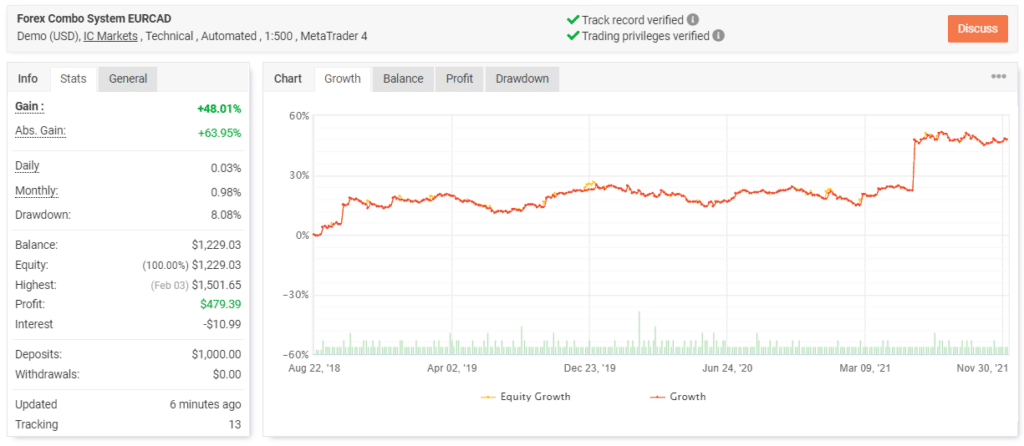 Forex Combo System has been running only a demo account on IC Markets with 1:500 leverage. It trades on the MT4 platform automatically. The account has a verified track record. So, the data should be relevant. It was created on August 22, 2018, and deposited at $1,000. The absolute gain has become 48.01%. An average monthly gain is 0.98%. The maximum drawdown is 8.08%.


The system has traded 395 deals with 1407.1 pips. An average win is 31.13 pips when an average loss is lower, -27.73 pips. The win rate is 55% for longs and 50% for shorts. An average trade length is 13 hours 43 minutes. The profit factor is 1.40.


The long direction was traded a bit more frequently than the short one.


The advisor trades several hours a day during various sessions.


Friday and Monday are the less traded days.


The risk of losing 10% of the account is medium.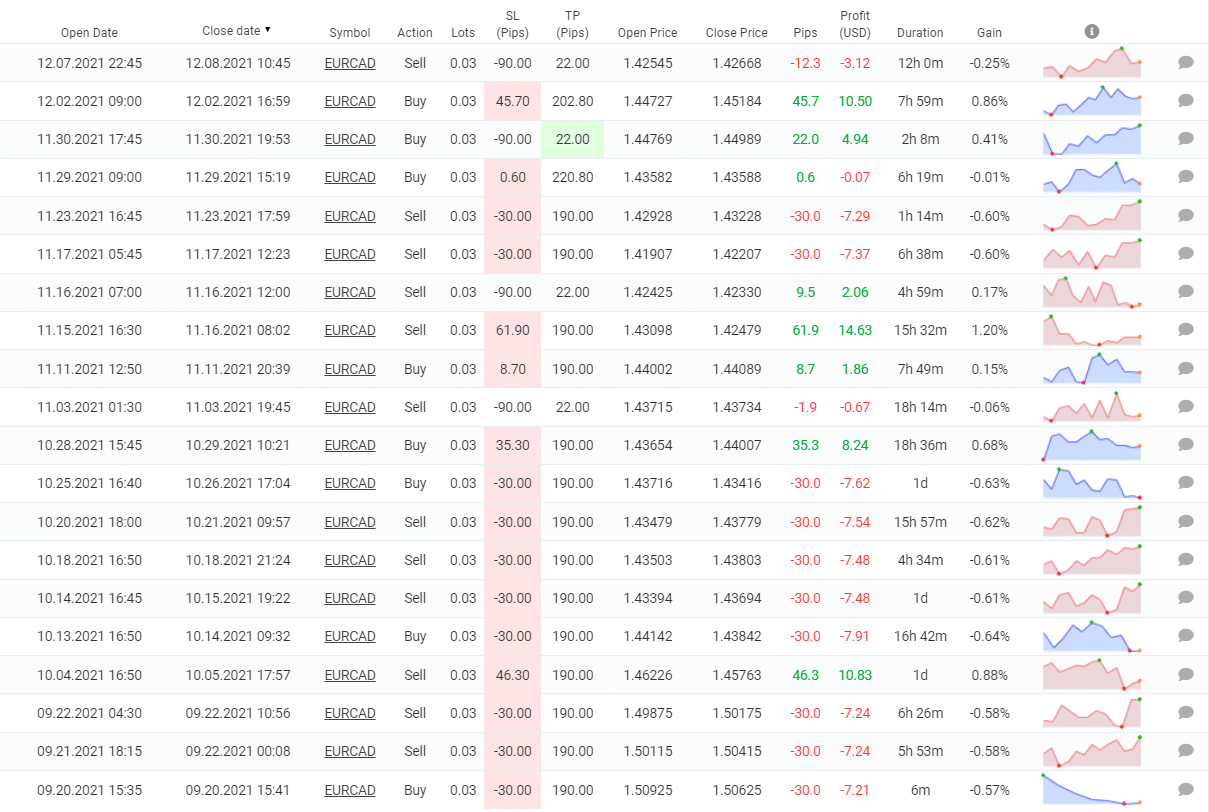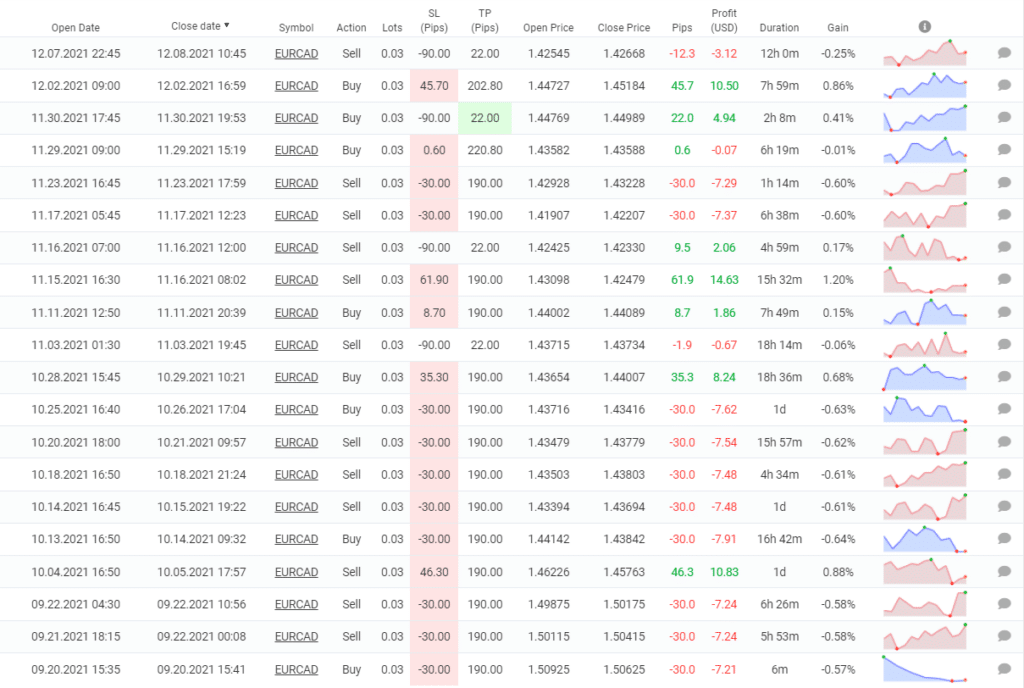 The last time the system worked with a low win rate. There are more losing than winning deals.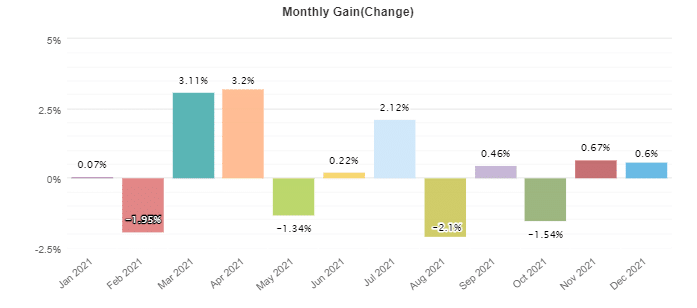 The monthly gain chart shows us that the system trades completely unpredictable.
The core team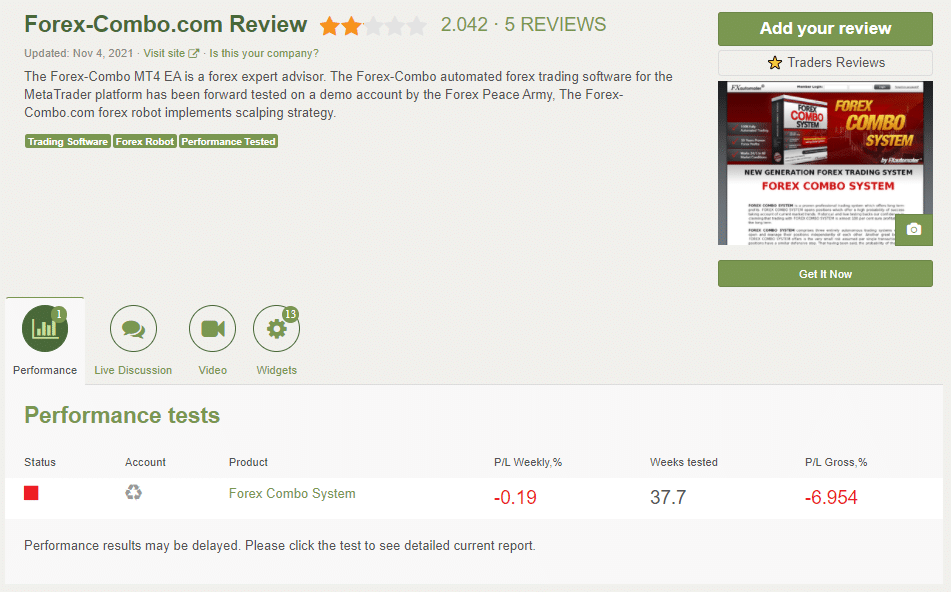 The robot has its own page on Forex Peace Army deployed. Five testimonials formed a 2.042 rate.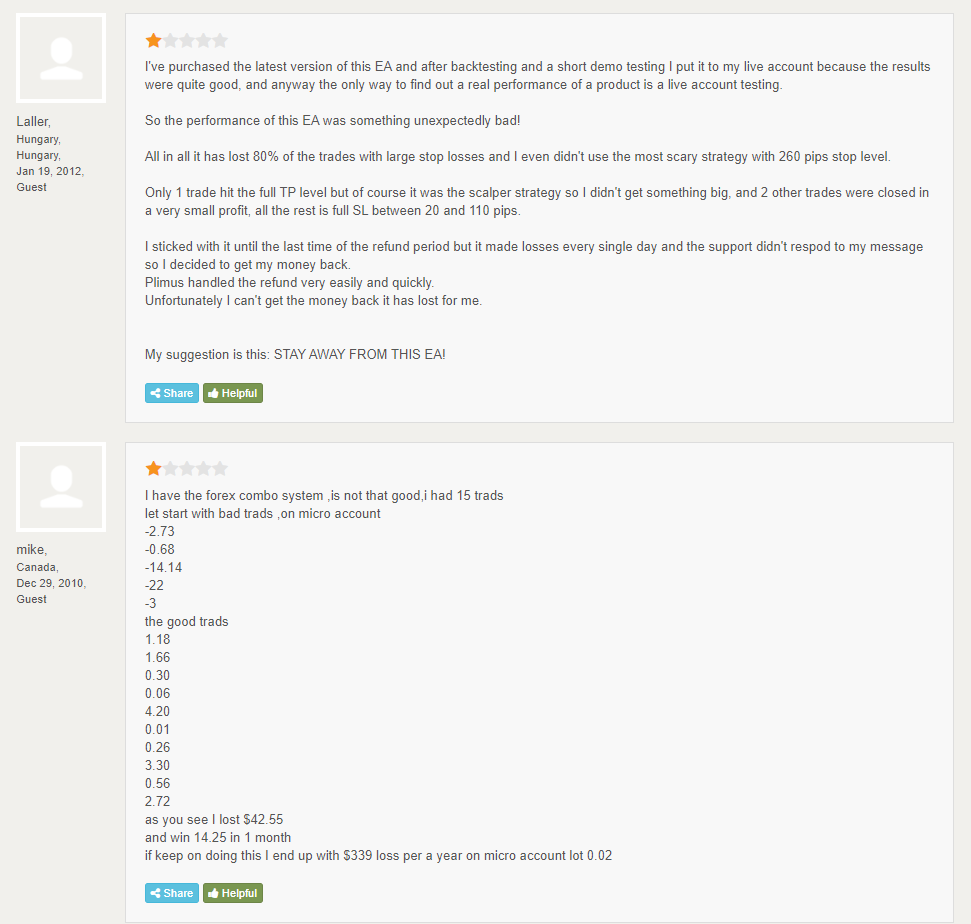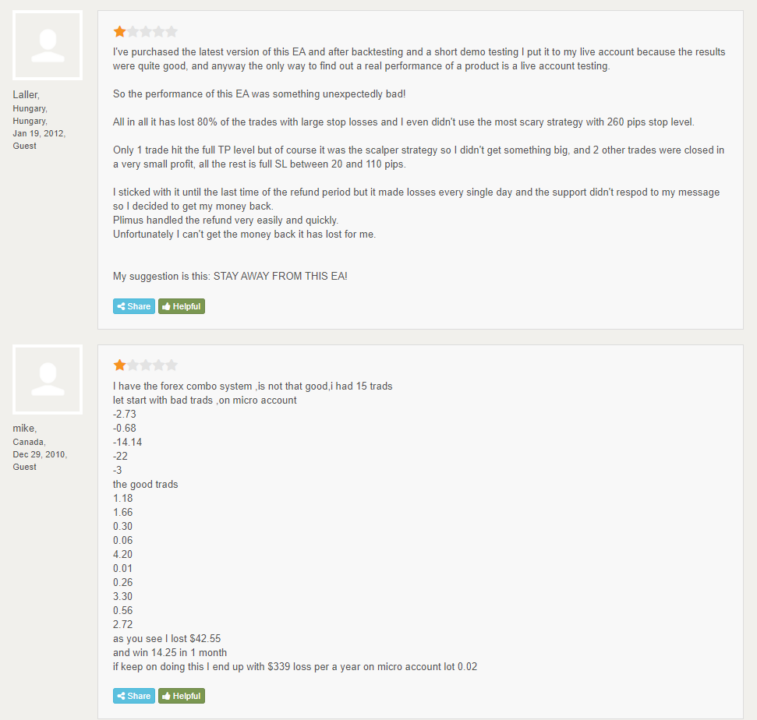 People weren't satisfied with this robot. The reason is that they have lost much more than won.