Belkaglazer EA is a Forex expert advisor that is based on multiple logical models. According to the developer, it allows you to build diverse trading strategies in the Forex market. The MT4 version of this robot was launched on April 6, 2017, while the MT5 version was launched on November 23, 2019.
You can purchase this EA for the price of $19,999. This makes it one of the most expensive EAs on the market. On top of that, the vendor does not have a money-back guarantee policy.
Is Belkaglazer EA good?
The EA suffers from a lack of vendor transparency. While it has a decent win rate, the high drawdown tells us that it follows a risky strategy. Also, without a refund policy, your investment is not protected.
Features of Belkaglazer EA
The four logical models for this EA are namely PriceChannel, Pivot, PRNG, and PriceAction. It supports limit/stop/market orders and supports instant execution. The EA can also adjust automatically for 4 and 5-digit quotes. Belkaglazer EA contains a CBOE VIX filter and an advanced news filter that lets you backtest the market impact of news events. It can automatically detect the GMT Offset parameter.
You can make the EA work with different types of money management techniques. For each trade, it uses stop-loss as a protective measure. You can create a FIFO-compliant portfolio with this expert advisor.
The vendor recommends using a VPS and a 5-digit broker with low spreads that closes daily bars at 17:00 New York time. You can get 24-hour day candles from such a broker on a weekly basis.
| | |
| --- | --- |
| Trading Terminals | MT4, MT5 |
| Strategy | Breakout, Momentum, Mean Reversion |
| Timeframe | M30 |
| Price | $19,999 |
| Money Refund | No |
| Recommended Deposit | N/A |
| Recommended Leverage | 1:50 |
| Money Management | Yes |
| Customer Reviews | N/A |
What strategy does Belkaglazer EA use?
There are three main strategies used by this EA, namely Breakout, Momentum, and Mean Reversion. For the breakout strategy, the EA enters the market during high-volatility periods. Momentum strategy involves buying or selling a pair after a major upward or downward surge. The Mean Reversion strategy is based on the assumption that the price returns to the mean value following a strong movement.
Backtesting vs live trading results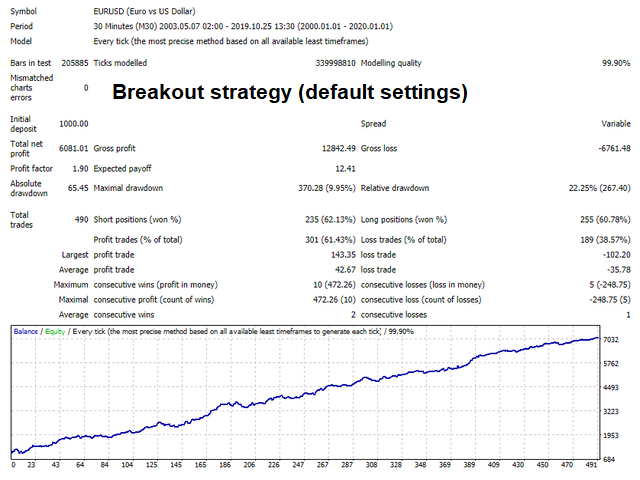 For this backtest, the EA conducted 490 trades, winning 61.43% of them. The win rate was quite decent and so was the profit factor of 1.90. Looking at the high relative drawdown of 22.25%, we can tell that the trading strategy used was slightly risky. There were 10 maximum consecutive wins and 5 maximum consecutive losses.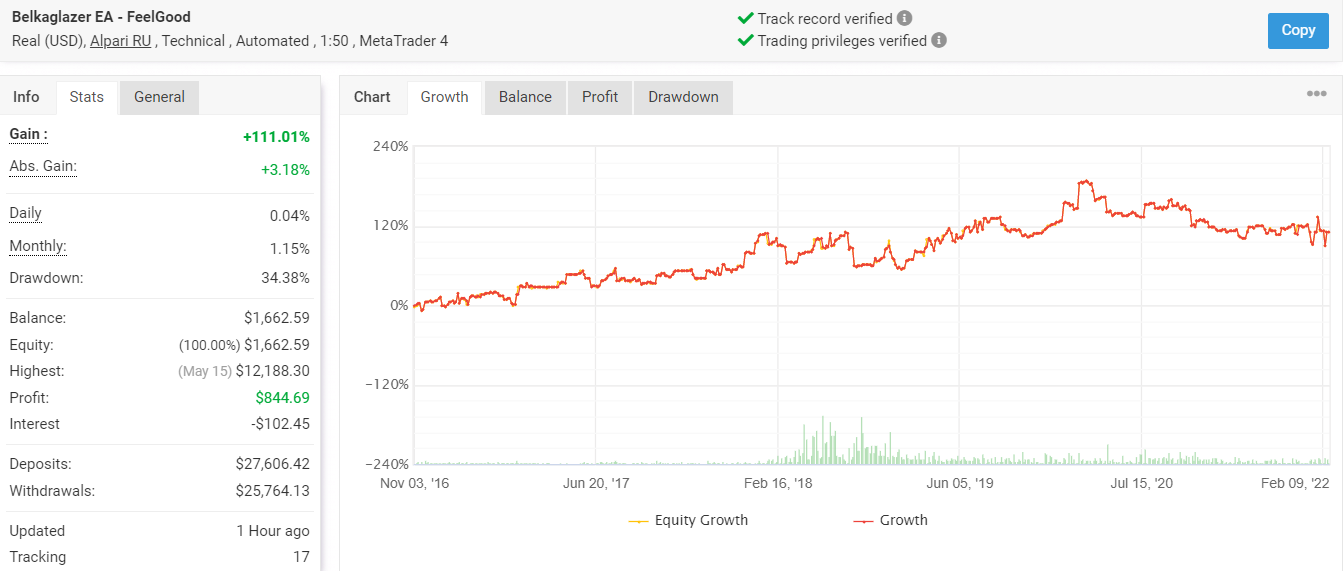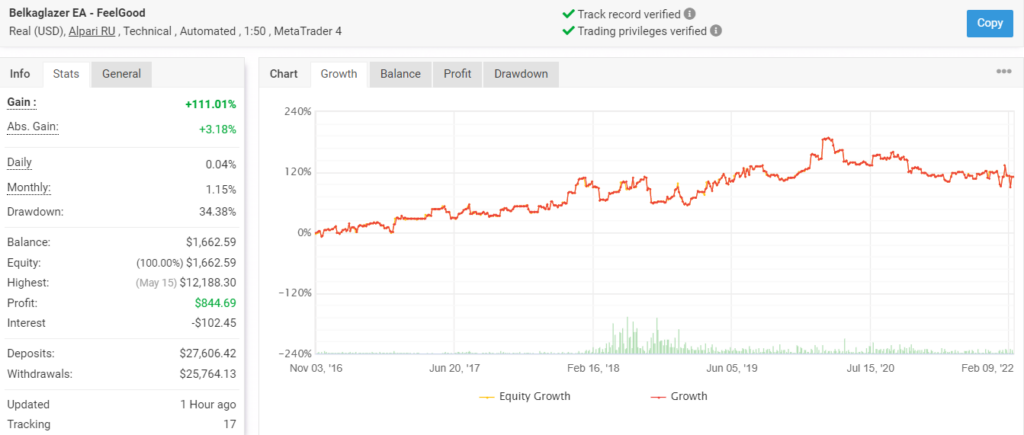 Here we have a live trading account on Myfxbook that was launched on November 3, 2016. To date, the EA has conducted 1157 trades through this account, winning 63% of them. Although the win rate is slightly higher compared to the backtest, the profit factor is lower at 1.08. Here also, we can see that the drawdown is quite high at 34.38%, indicating a high risk of ruin.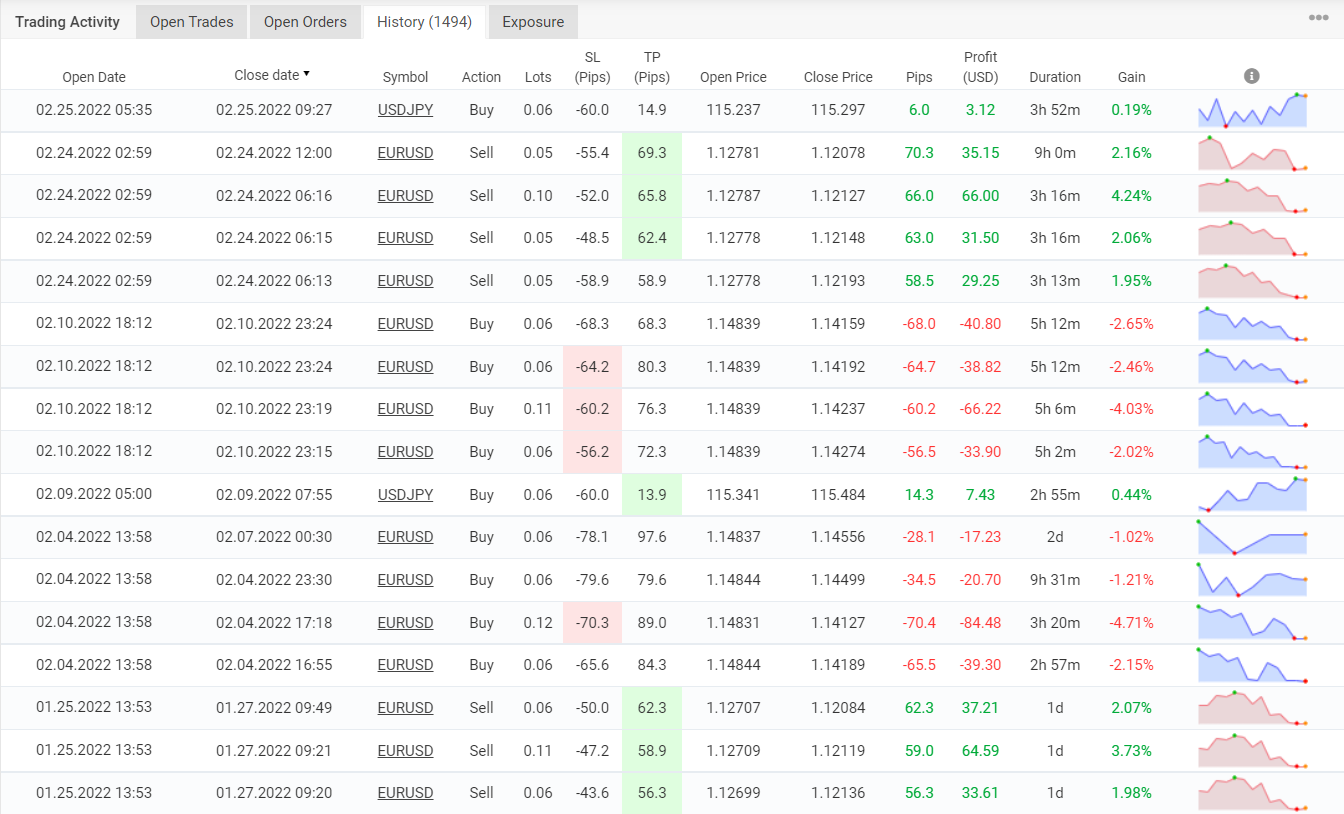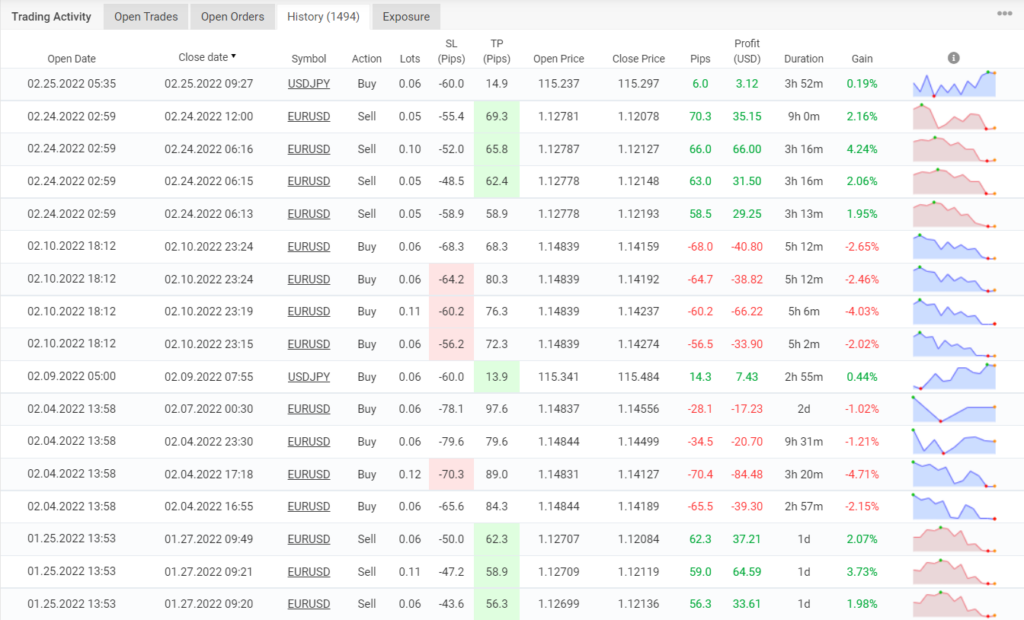 As you can see from the recent trading history, the EA is prone to suffering consecutive losses. For the last 20 trades, it has used a lot size of 0.05-0.12. The average trade length is 8 hours and 17 minutes, while the average win and loss are 15.39 pips/$16.40 and -21.21 pips/-$25.46, respectively.
The core team
Belkaglazer EA is a product from Dmitriy Shal, a Russian developer. This person is a full-time trader with programming skills and a bachelor's degree in economics. They started trading in 2006 and spent more than a decade developing an algorithmic approach to researching markets and building strategies and trading models. On the official website, there is an email address through which you can get in touch with the developer. We don't know whether they have other people working alongside them.