Golf is one of the most popular sports globally, particularly in the United States. Every year, tens of millions of people come to nearby golf courses to play a game or two.
But what about golf stocks? Are they worth your time and money? This guide will try to answer these questions and tell the top five golf stocks to consider in 2022.
Can you make real money with golf stocks?
Golf is a flourishing sector, so you might consider investing in it. According to Statista, income from golf courses and country clubs in the United States is expected to reach $24.6 billion by 2024, implying that businesses will thrive. It's also worth noting that golf is a sport enjoyed by people of all ages, which means that these things can be offered to almost everyone.
How to earn with golf stocks?
Given the sport's continuous expansion, golf is one of the more undervalued sectors to search for investment opportunities right now.
Sports are back and as popular as before the Covid-19 pandemic lockdowns. It may be an excellent time to take a swing at golf stocks.
How to start with golf stocks?
Considering how expensive golf equipment and gear are and how prevalent the sport is in countries worldwide, investing in stocks with golf exposure could be a hole-in-one opportunity.
We've compiled a list of five golf stocks that appear great right now. So you may become acquainted with the companies that are prepared to benefit from the industry's sustained expansion.
Top five best golf stocks
Here are the top five golf stocks worth watching.
Callaway Golf Co (ELY)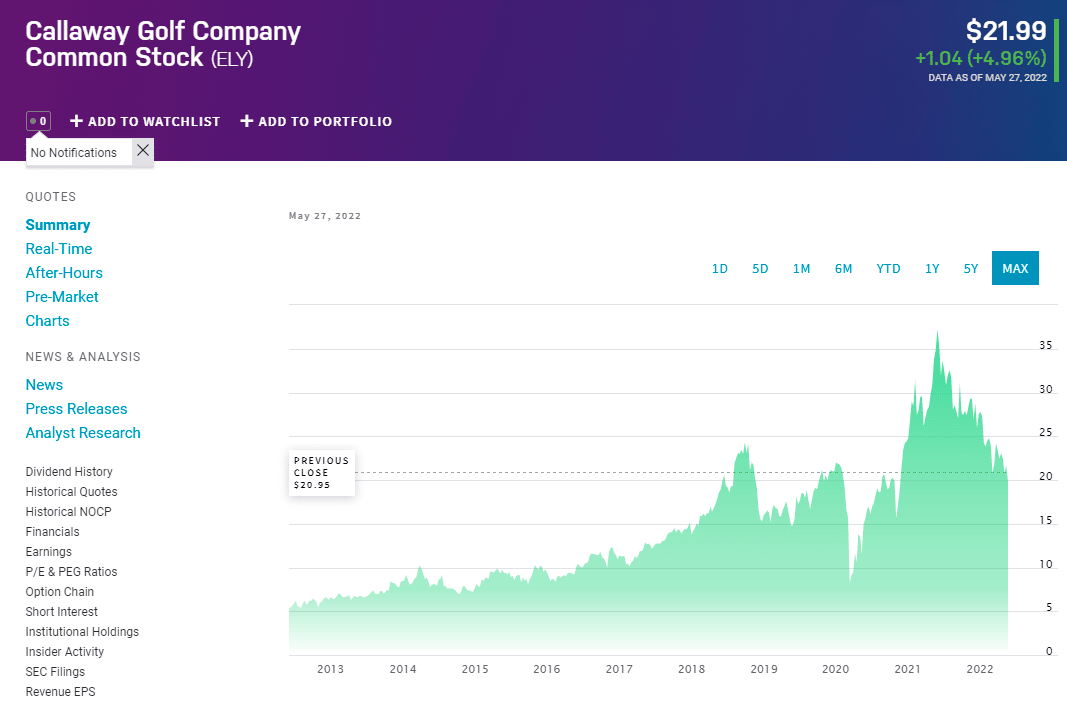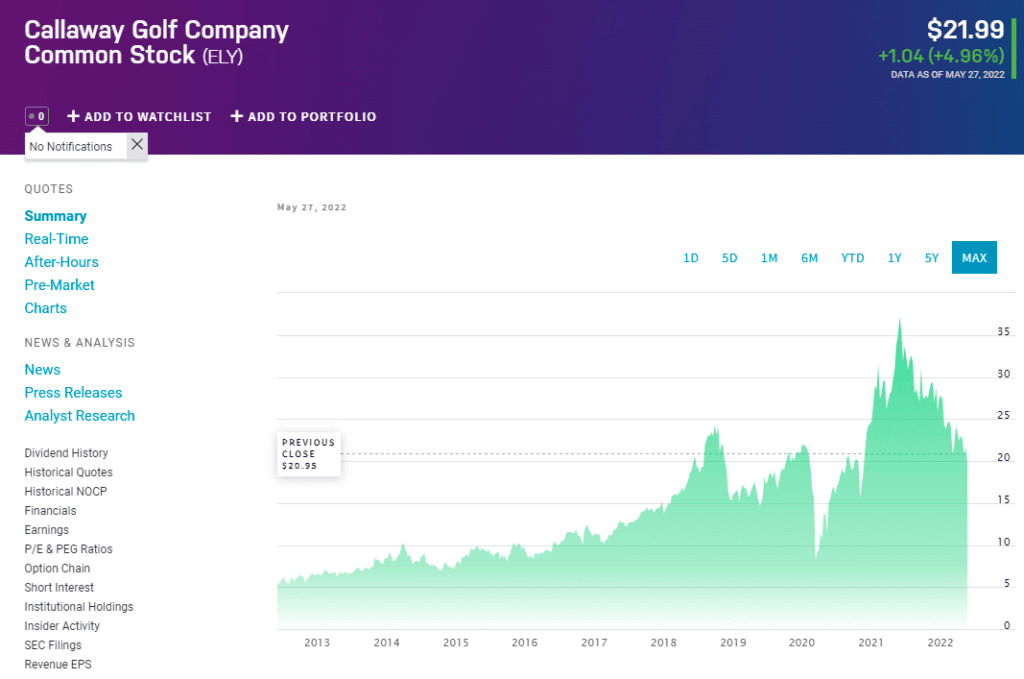 Callaway Golf recovered from the Covid-19 pandemic, achieving great sales and profits as golfers suffering from cabin fever flocked to golf courses worldwide.
Summary
Topgolf, which Callaway acquired in 2021, struggled in the early stages of the pandemic, which reduced visitors to their high-tech golf entertainment complexes.
On May 26, 2022, Callaway Golf announced a scheme to repurchase up to $100 million in common stock. According to the company, the authorization will be valid until the program is completed or discontinued. ELY stock has been up 173% since the pandemic lows but is down 27% year to date.
ELY price forecast 2022
The average ELY stock price projection for 2022 is $36.67, with the highest ELY stock price prognosis at $45.00 and the lowest ELY stock price estimate at $18.88.
ELY price forecast 2025
The average ELY price target for 2025 is $34.20, with a high of $50 and a low of $22.19.
Acushnet Holdings Corp. (GOLF)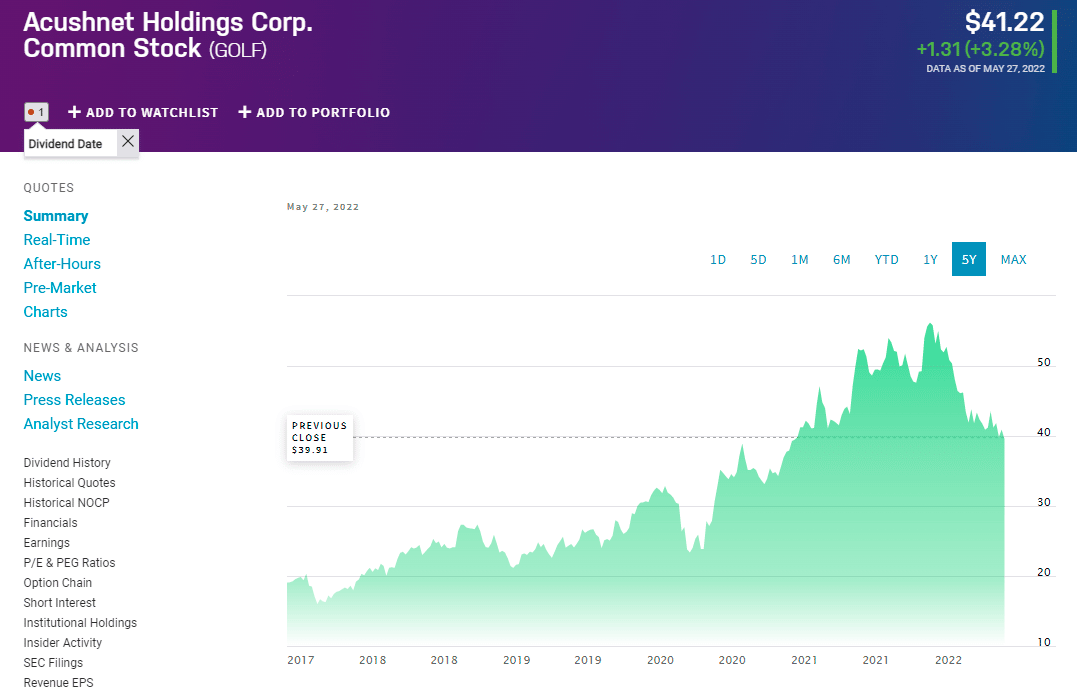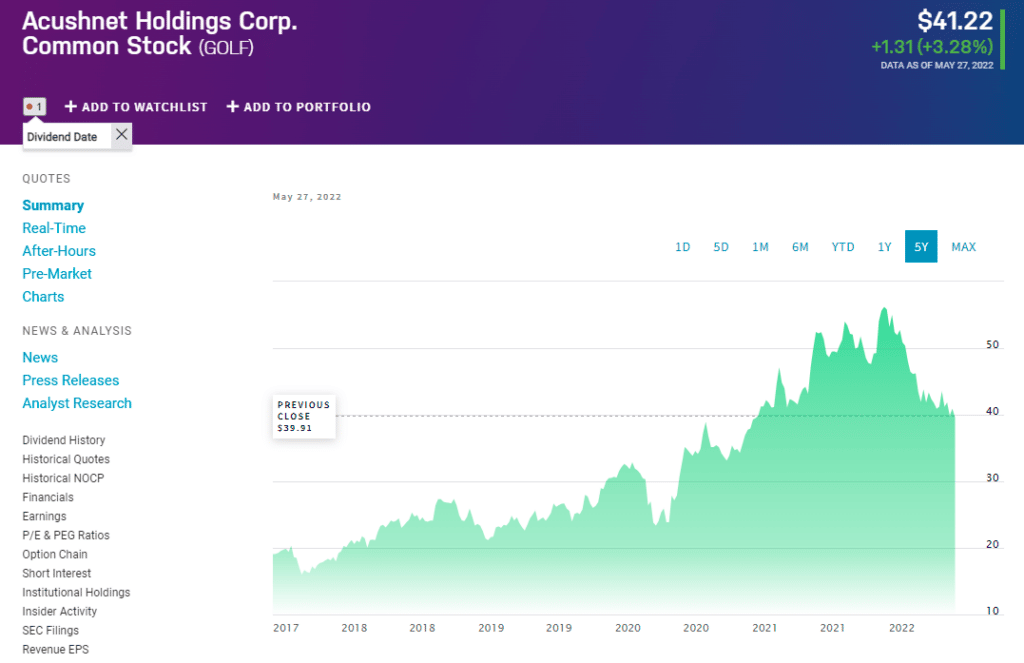 Acushnet Holdings, which owns Titleist and FootJoy, is another golf company that has shown significant improvement.
Summary
Acushnet Holdings Corp. published its first-quarter earnings on May 5, 2022. The golf equipment manufacturer expects adjusted earnings before interest, taxes, and depreciation of approximately $325 million to $345 million on sales of $2.18 billion to $2.23 billion for 2022.
Acushnet also announced on May 5 that the company had maintained its quarterly dividend of $0.18 per share, which will be paid in Jun. 17 to shareholders of record on Jun. 3.
GOLF price forecast 2022
According to market analysis, the highest price for the stock is $52.39, with a low of $37.99 and an average of $43.54.
GOLF price forecast 2025
In 2025, GOLF price can reach $60.45, with a high of $70.87 and a low of $43.76.
Nike, Inc. (NKE)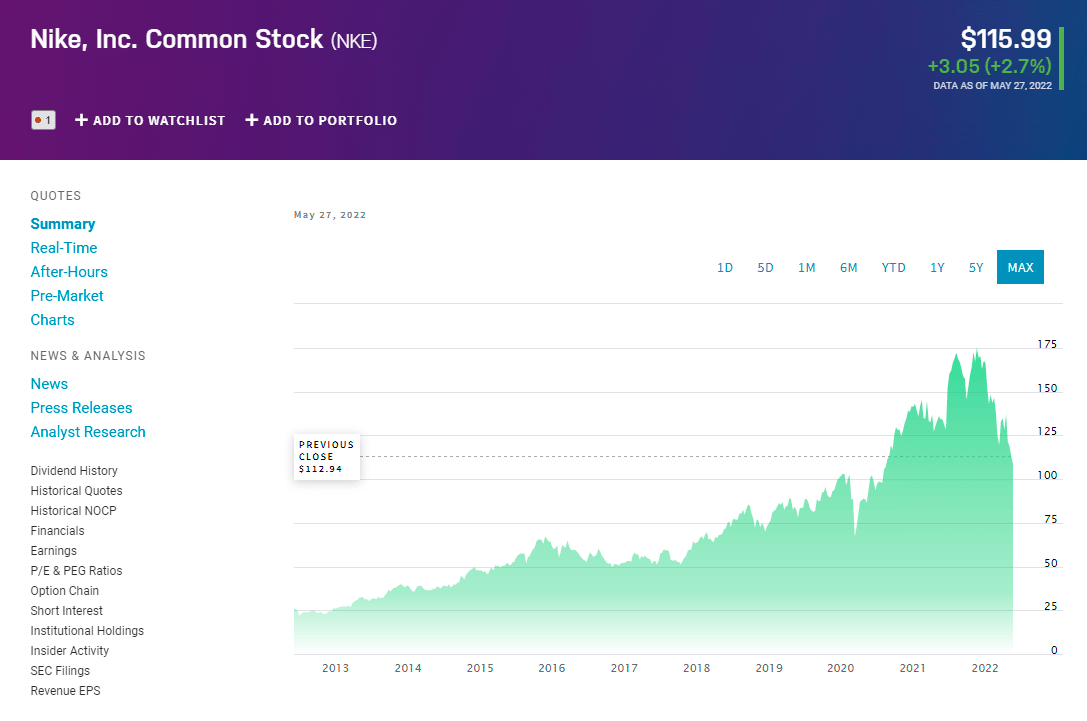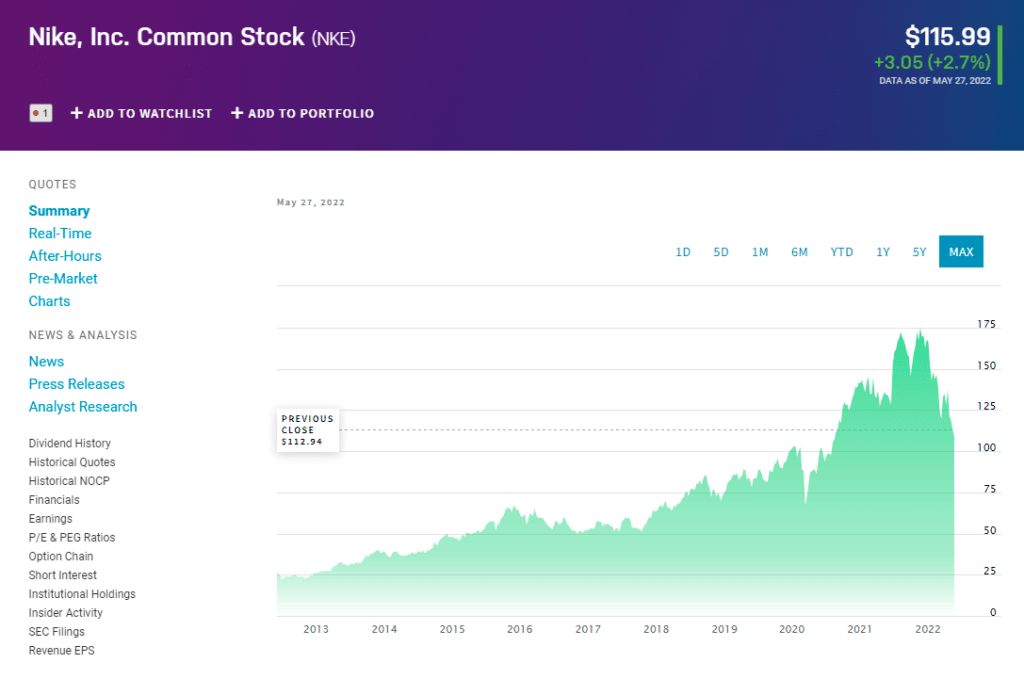 Nike is the market leader in athletic footwear and gear. The company is well-known for using its golf equipment by world-class professional players.
Summary
Nike stock has dropped 34.3% year-to-date and 36.1% over the last six months. NKE's revenues, on the other hand, grew 4.9% year on year to $10.87 billion in the third quarter ended Feb. 28, 2022.
Analysts anticipate that NKE's EPS and sales for fiscal 2023 will rise 23.3% and 12%, respectively, to $4.61 and $52.39 billion.
Nike is also a good stock to consider buying because of the company's well-known brand and expanding internet sales.
NKE price forecast 2022
According to the market analysis, the maximum price for NKE is $177.51, and the minimum price is $109.49. The average price is $126.95.
NKE price forecast 2025
In 2025, the price of NKE can reach $180, with a high of $250 and a low of $150.
Dick's Sporting Goods, Inc. (DKS)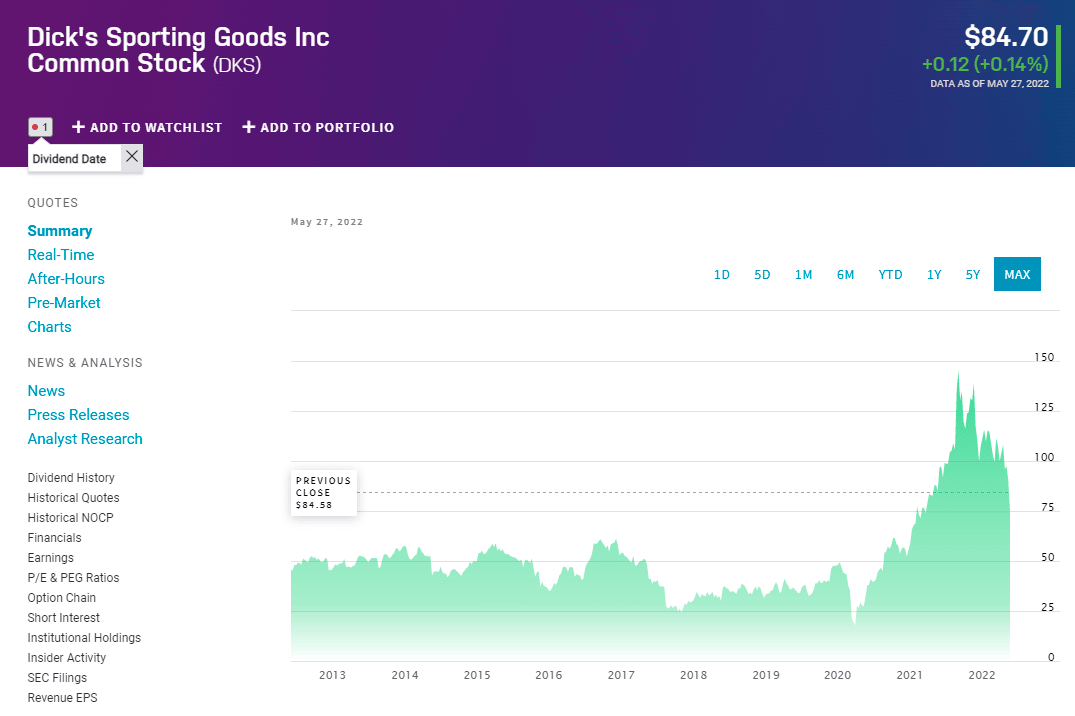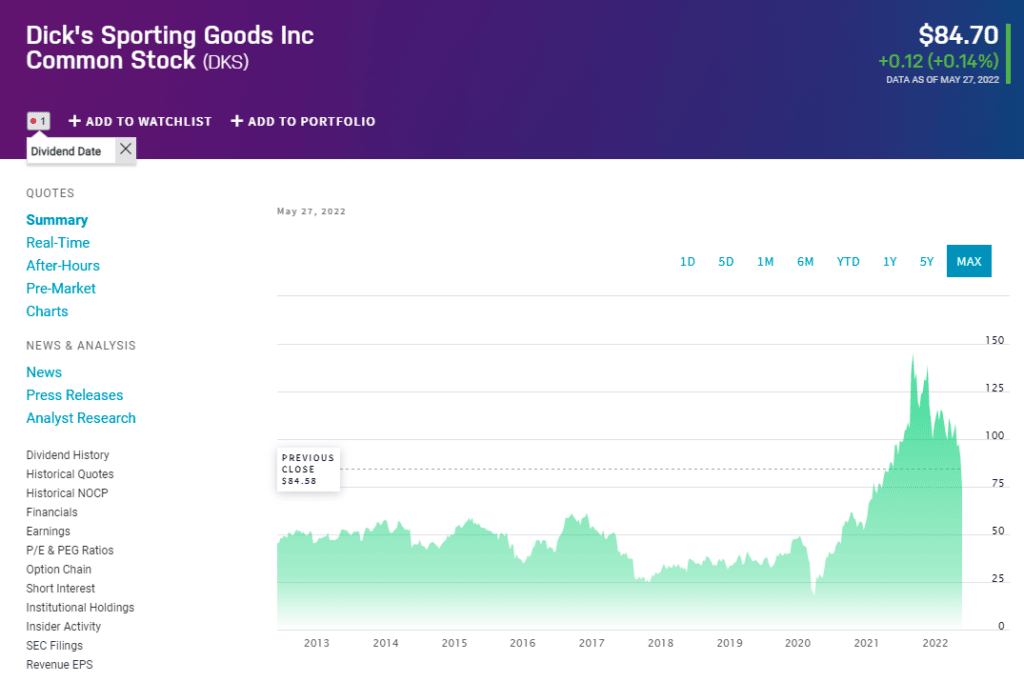 Dick is a US sporting goods company and is America's largest sporting retailer.
Summary
Dick's Sporting Goods stock is trading higher at the time of writing. On May 25, 2022, the corporation posted earnings for the fiscal first quarter.
Dick's started its regular customers accounted for more than 70% of revenues. Dick's stores fulfilled more than 90% of transactions, including online sales, since the company made the most of merchandise sitting in local warehouses.
The overall finances look good for the company, and you can take advantage of the lower stock prices.
DKS price forecast 2022
According to technical analysis, the price of DKS can reach an average of $92.56, with a high of $120.56 and a low of $63.45.
DKS price forecast 2025
In 2025, the maximum price target for the DKS is $147.39, and the minimum target is $91.48.
Hibbett, Inc. (HIBB)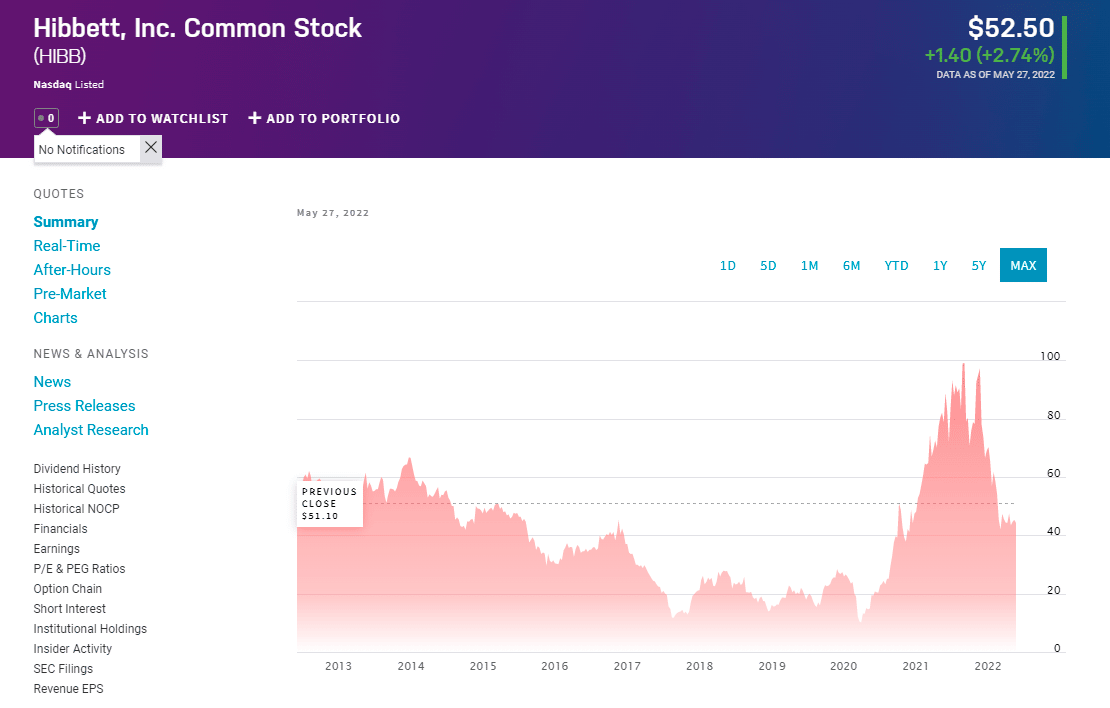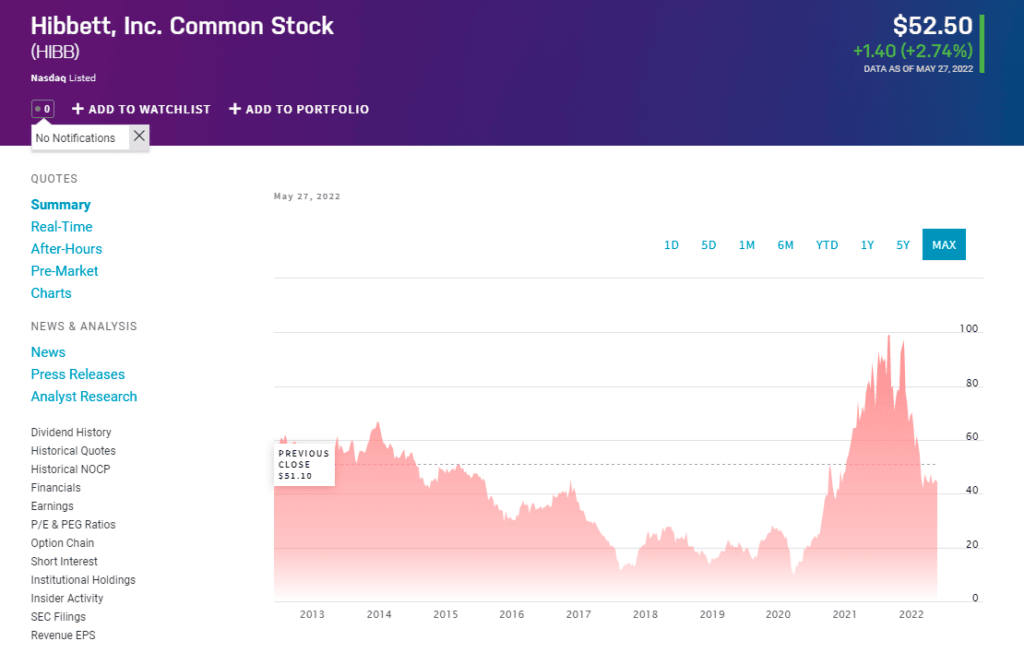 Hibbett Sports, Inc. operates sports goods retail locations in small to mid-sized markets in the United States.
Summary
Hibbett's market price has plummeted in recent months, owing primarily to weaker performance compared to the previous year's numbers. However, the stock has recently shown an upside momentum. Hibbett Sports will release its most recent quarterly results report on May 27.
The bulls will be hoping to hear the corporation outperform the estimate and deliver good guidance or predicted growth for the coming quarter.
HIBB price forecast 2022
For the rest of 2022, HIBB's highest price target is $74.98, and the lowest target is $40.30.
HIBB price forecast 2025
In 2025, the HIBB price can reach a maximum level of $102.17 with a minimum price target of $75.17.
Pros & cons
| | |
| --- | --- |
| Pros | Cons |
| These stocks provide great portfolio diversification. | Golf stocks need a lot of research. |
| They provide a long-term opportunity. | These assets aren't suitable for short-term trading. |
| With the golf industry recovering, golf stocks are worth looking at. | They are prone to market volatility. |
Final thoughts
Pros in golf and investing plan ahead of time and stick to a consistent schedule. Don't take every golf stock recommendation that comes your way.
Do your homework, locate, and adhere to a tried-and-true investment strategy that fits your personality and financial objectives.