The renewable energy sector seems unstoppable, and hydrogen production is one of the stars in its different forms. In contrast to other energies like solar or eolic, hydrogen power is reliable since it doesn't depend on the weather and allows us to store energy. We already know how to make it.
The only thing left to figure out is how to make it cheap. Once that last step is completed, it will change the world, and hydrogen companies will see nothing but their share prices skyrocketing. Do you want to know which options are the best to profit from this energetic revolution? Keep reading to know which are the five best hydrogen stocks.
Can you make real money with hydrogen stocks?
By 2035, the EU will ban the sale of new petrol and diesel cars, opening the market for all kinds of renewable energy to compete. Electric vehicles powered by lithium-ion batteries like Tesla's are ahead to win the race.
However, once hydrogen finally gets a competitive price, lithium-ion batteries will face severe problems matching up with such an efficient and clean energy source. Investing in the right hydrogen companies looks like a safe bet, especially if we notice that governments are strongly supporting the development of this technology.
How to earn with hydrogen stocks?
Of course, not all hydrogen stocks are worth it. Hydrogen is an attractive market that will be relevant in the future, but that doesn't mean that all companies will perform the same. You also need to understand that this kind of move isn't trading, you won't get profit in the short-term, and it could take several months or years to see profits.
How to start with hydrogen stocks?
Before investing in any hydrogen company, you need to research heavily to learn about the project, the economic balance, the field they are working on, and all kinds of things investors need to know before making a move.
Top 5 best hydrogen stocks
Here are the top five hydrogen stocks to watch.
Air Products & Chemicals Inc. (APD)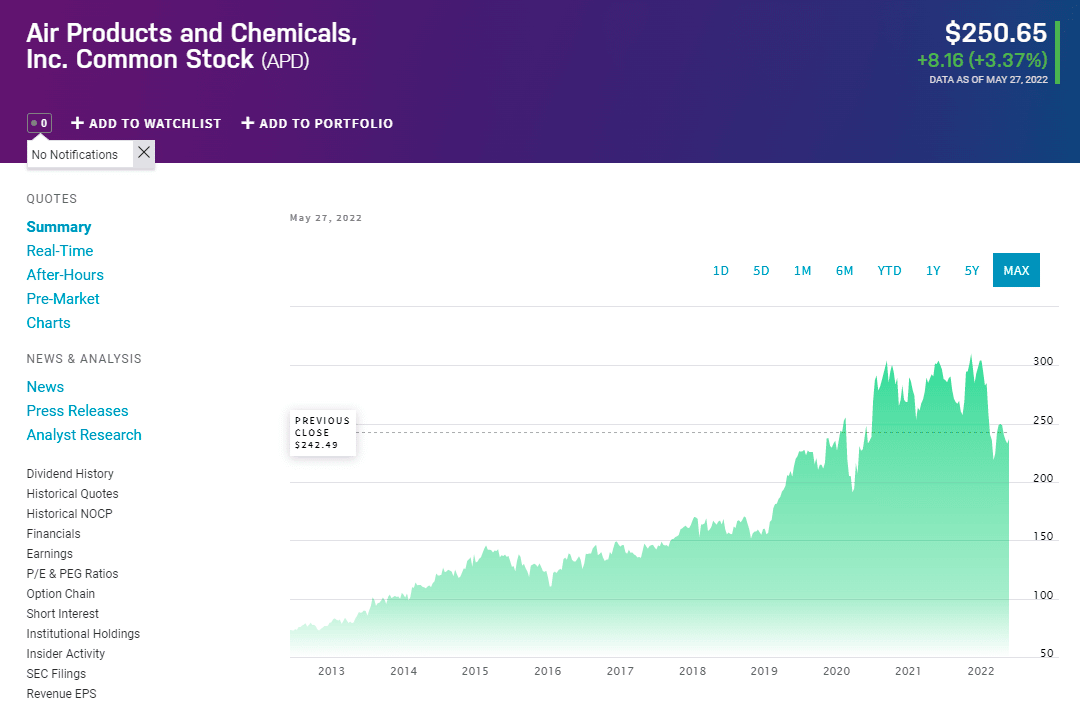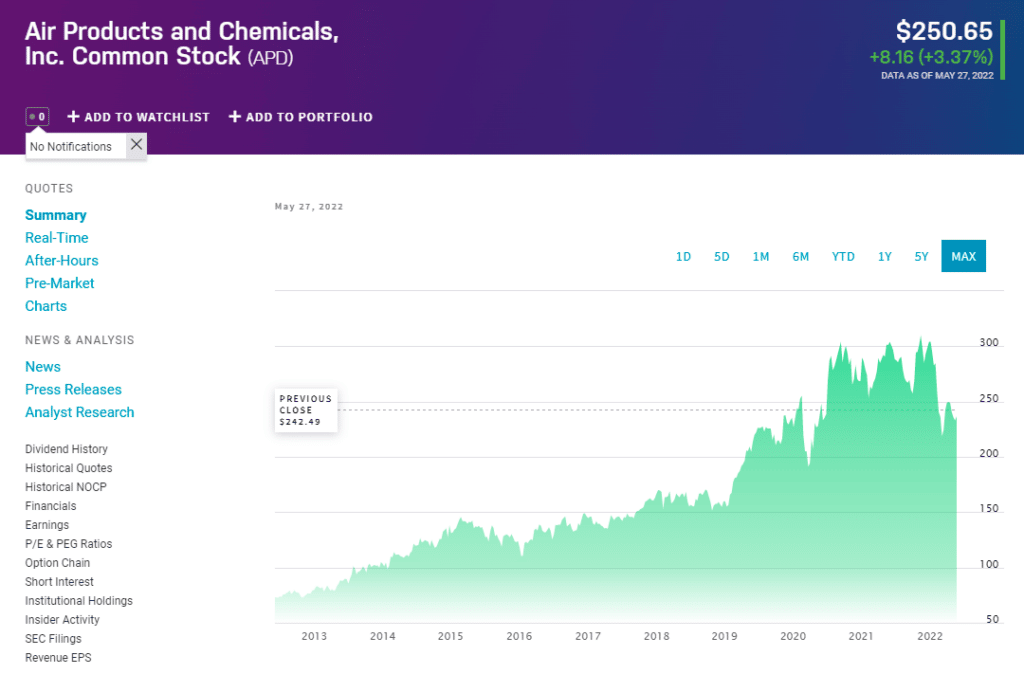 Summary
Air Products is an industrial gas company with a strong presence in the American, European, and Asian markets. The company is a global leader in liquified natural gas and in hydrogen technology and infrastructure.
APD price forecast 2022
Although it doesn't look like it will have a spectacular year, analysts are bullish on its stock and forecast a stock price between $255 and $330. The current price per share is $236.
APD price forecast 2025
By 2025, the company's stock should be worth over $400. This is due to its excellent numbers for the next year, where it is expected to make $12.93 billion and develop its projects.
Bloom Energy Corporation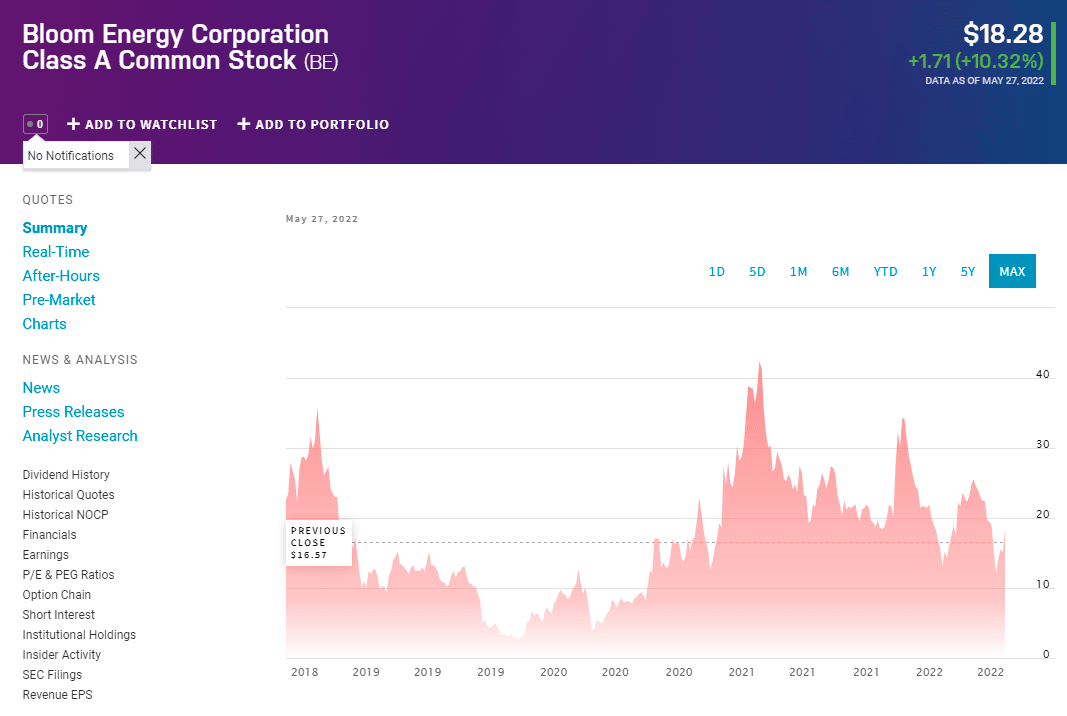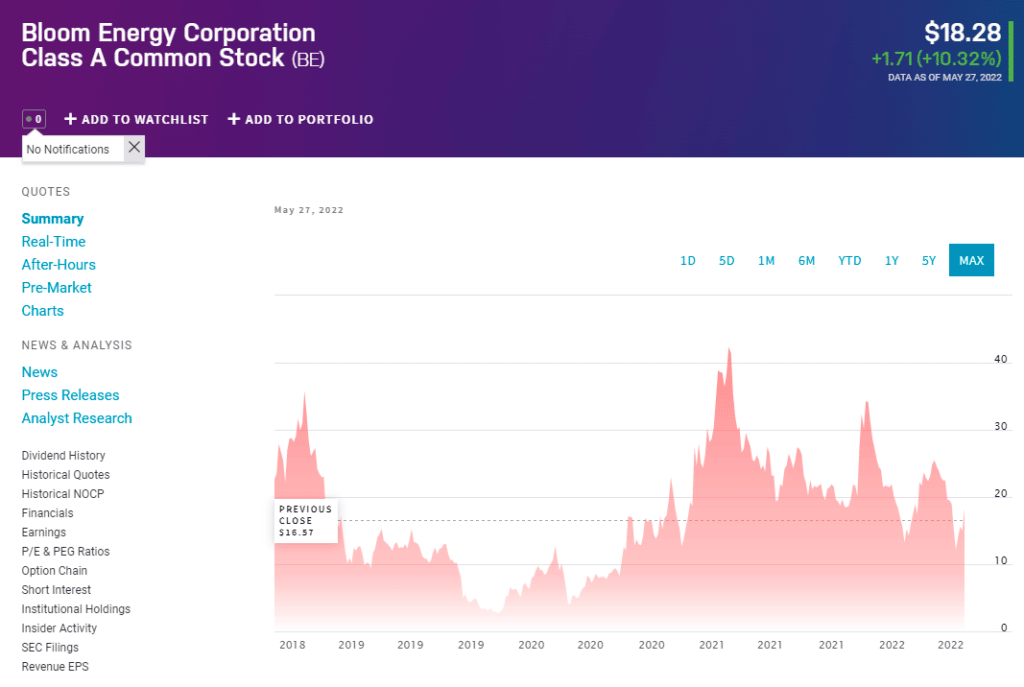 Summary
The company is based in San Jose, California, and engages in the manufacture and installation of products that convert natural gas into electricity without any combustion.
BE price forecast 2022
For 2022, the expectations for this company are between $18.00 and $26.00. Although the next year won't be as good as expected, the market is still bullish for the end of the year.
BE price forecast 2025
The association with Conrad Energy and Electricity North West Limited to help the UK meet its 2050 net-zero carbon goals and the global need for clean energy are why this company will have significant development in the following years. Estimates are around $36.00 and $40.00 by 2025.
Plug Power Inc. (PLUG)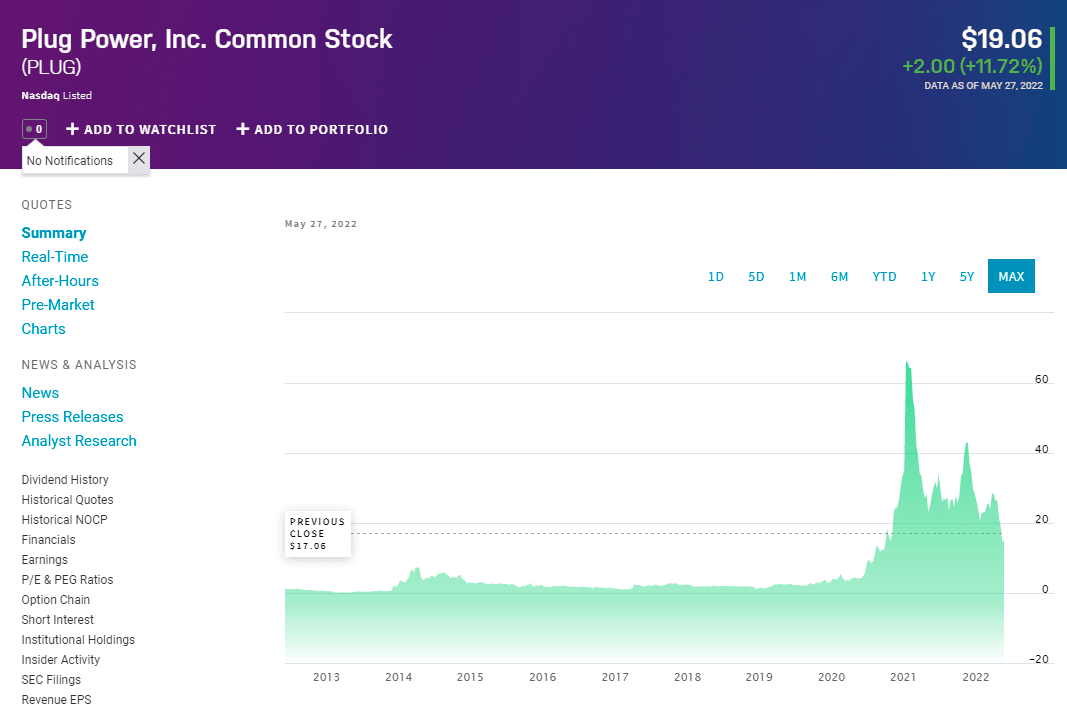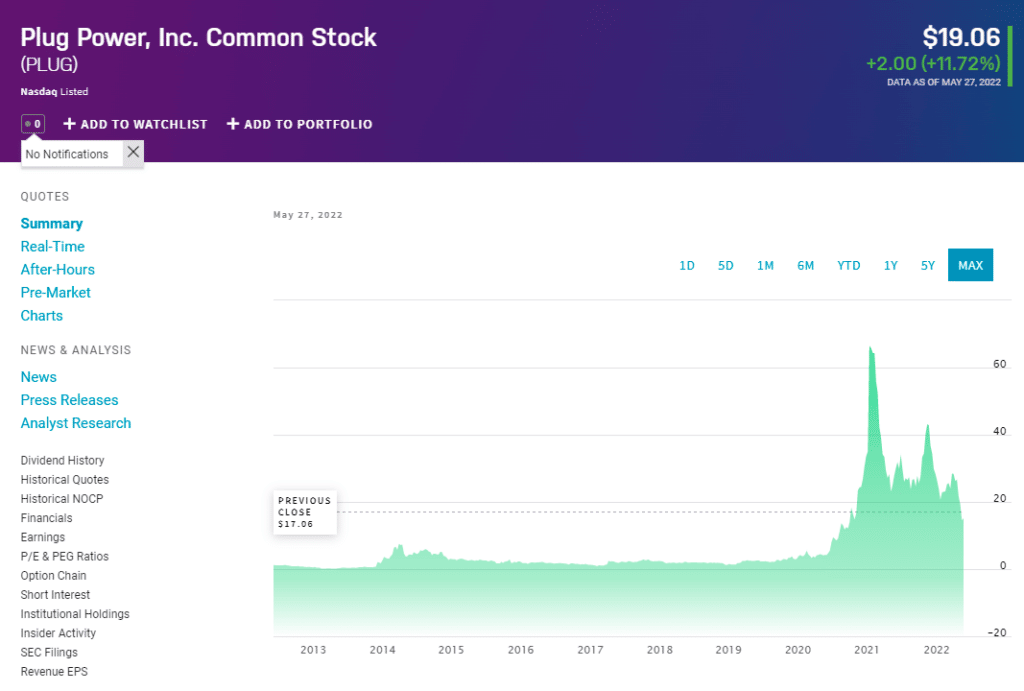 Summary
The company, founded in 1997, is a pioneer in the hydrogen industry. Today, it is one of the greatest buyers of hydrogen, and it owns one of the largest refueling networks. The company seeks to replace lithium-ion batteries in electric vehicles with hydrogen-cell batteries.
PLUG price forecast 2022
The company has never had tremendous economic performance, but things seem to be changing, and in 2021 it reported $502 million, which is a significant improvement compared to the $306 million in 2020. Stock price forecasts are around $18.00 to $30.00 for 2022.
PLUG price forecast 2025
The company's bet to substitute regular electric batteries with hydrogen batteries is bold, and all kinds of projects keep developing for the upcoming year. The company's finances seem to be on the right track, and this year several plants are planned to begin operations. The forecast for 2025 is $60.00 to $65.00.
Fusion Fuel Green PLC (HTOO)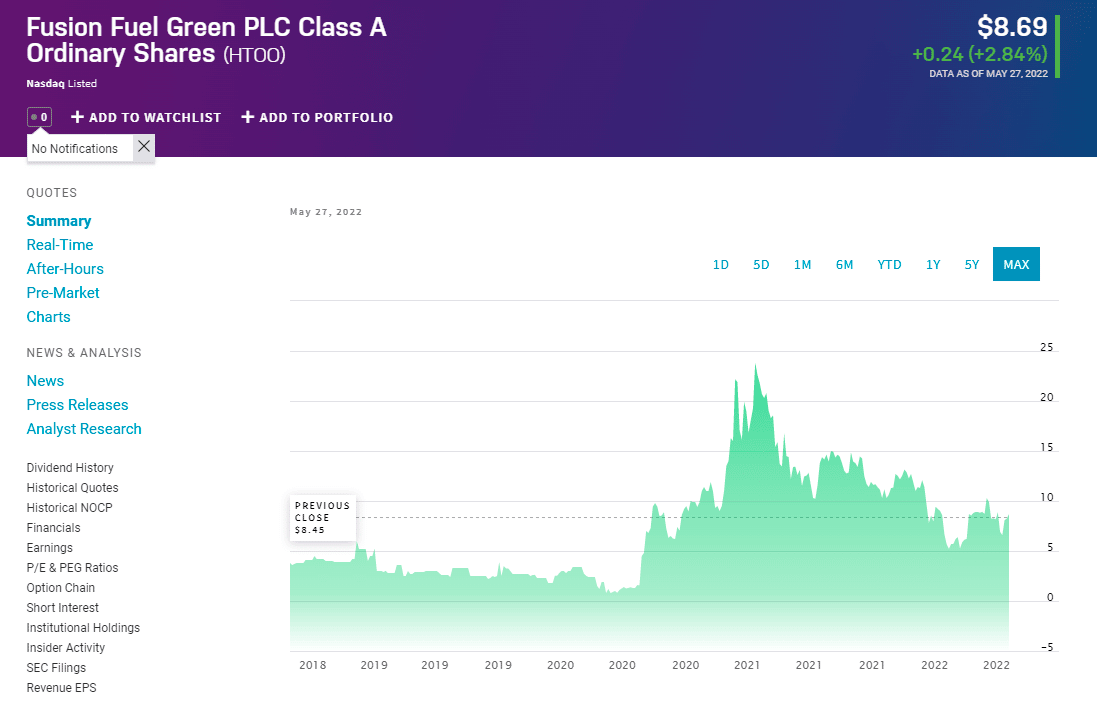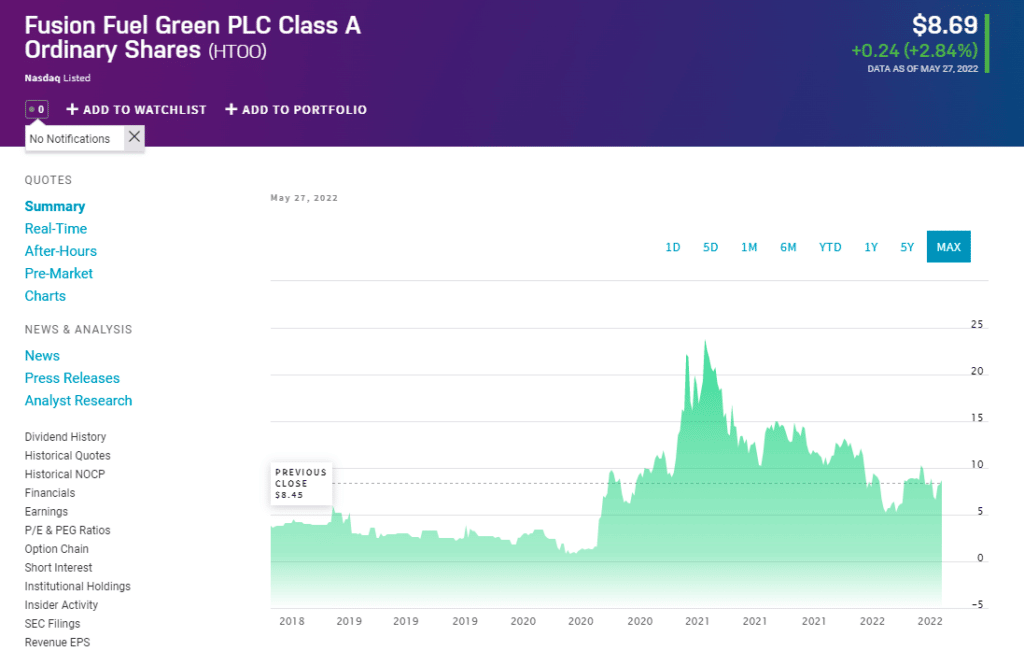 Summary
Fusion Fuel Green PLC is an Irish company engaging in the business of solar energy and green hydrogen development. The company's location may be a good feature since the EU and USA are taking different paths to face climate change.
HTOO price forecast 2022
For the last year, the sector has been downtrending, but now it seems like a good moment to buy, and Fusion Fuel Green PLC is a good choice. For the next year, the forecast puts the company's stock price between $11 and $18.
HTOO price forecast 2025
The company's location gives excellent business opportunities since the Russia-Ukraine conflict has alarmed Europe about the danger of energy dependence. The forecast for 2025 is around $15 to $27 per share.
FuelCell Energy Inc. (FCEL)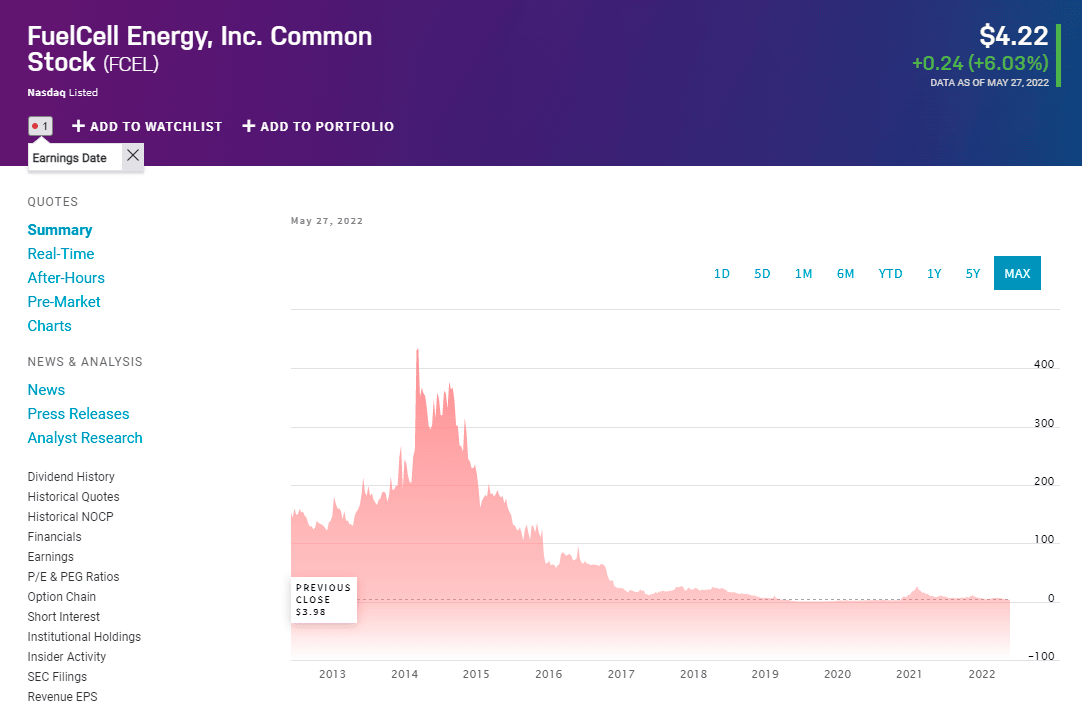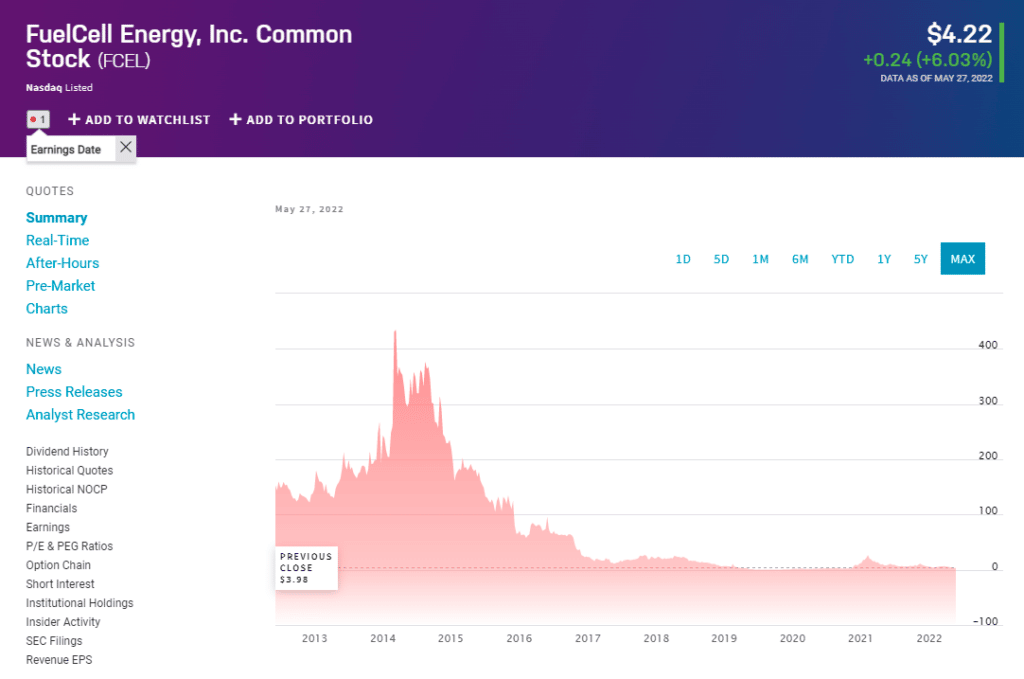 Summary
Fuelcell Energy is a well-known name in the hydrogen business. The company, founded in 1969, provides fuel cell platforms that enable access to clean energy. Among its clients you can count companies, colleges, and governments all over the planet.
FCEL forecast 2022
Fuelcell energy could be classified as a penny stock at today's price. However, this company has a lot of room to grow, and its price will grow with it. The forecast for the end of this year is around $5.00 and $5.30.
FCEL price forecast 2025
The company's finances seem healthy. The results for July 2021 showed a revenue of $26.82 million, surpassing expectations by more than 30%.
Pros & cons
| | |
| --- | --- |
| Pros | Cons |
| Hydrogen is one of the few renewable energy sources that allow us to store energy. This is an excellent advantage over solar and eolic energy. | EVs are already an option to substitute internal combustion vehicles. Today, most EV industries work around lithium-ion batteries. |
| Governments will continue to back up hydrogen developments. | The price of hydrogen is still not attractive. |
| The sector has already suffered a downtrend in the past few months, and now most analysts think it is time for recovery. | Not all hydrogen production methods are 100% clean. |
Final thoughts
Hydrogen is one of the technologies that will soon define how we live. There is no doubt about the use of hydrogen in the future. The question is how long it will take to challenge existing technologies like lithium-ion batteries and how significant the influence of hydrogen will be. These companies are expected to play an essential role in developing the technologies that will make possible the use of hydrogen. By investing in them, you could also take a piece of the rewards in a relatively short time.