We live in a modern world, and crypto is considered the most profitable investment option for investors nowadays. The volume of investors in crypto investment has increased in the last few years. Some coins rose by 10,000% in 2021. So, it seems like an excellent choice to invest in crypto.
In this guide, we'll talk about how you can diversify your crypto portfolio.
What is crypto portfolio diversifying?
Crypto portfolio diversification is investing your money in different crypto projects to minimize the average risk of various projects performing or resulting in a poor result. Every investor's main crucial goal is to uplift and maximize their profits while downsizing the average risks. Therefore, they set investment goals and employ various strategies to be at the top of the market trends.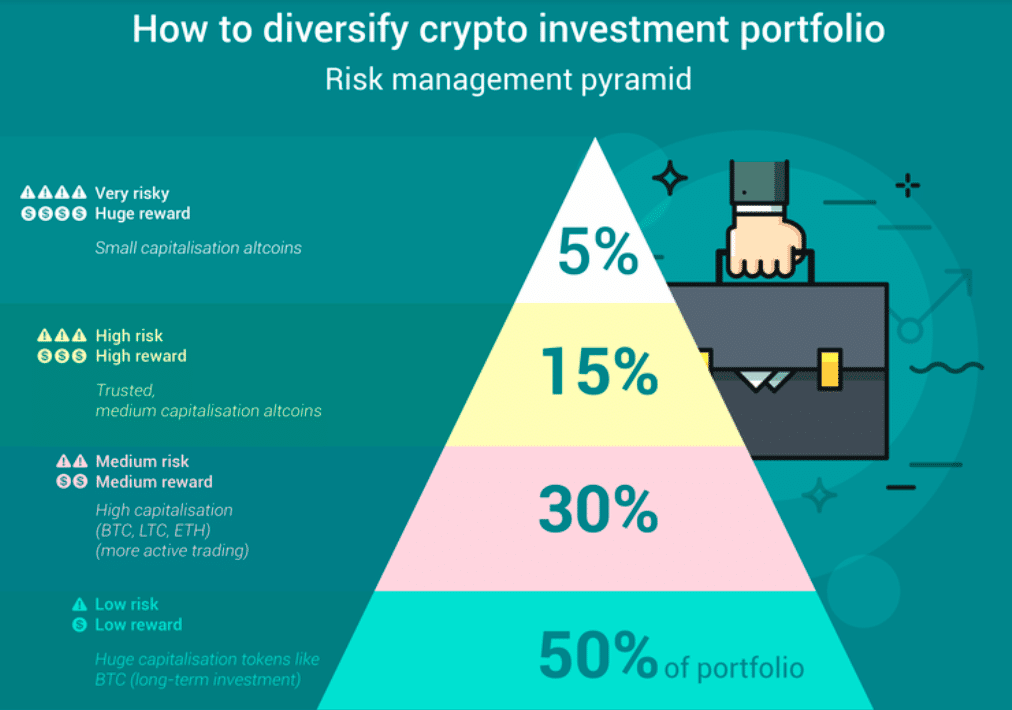 Experienced investors understand that investing all of their monetary investments in a single asset might be risky. Therefore, if you are a beginner or small investor, try investing in two or three crypto assets.
Many investors use the divide and conquer rule; they divide their money and invest in different assets. As a result, the average drop in asset prices does not significantly reduce the profit.
How to diversify your crypto portfolio?
There are tons and tons of cryptos out there, and it is easy to get overwhelmed by them when deciding which one is the right choice to choose. The diversification process of the crypto portfolio is to invest in different types of high-performing, popular and long-lasting cryptos.
There are many different strategies for crypto portfolio diversification. Here are some of the diversification strategies you can apply:
Diversifying by timing
Crypto portfolio diversification by timing seems to be a new detailed concept. However, it is one of the most dependable strategies when done accordingly and correctly. The strategy requires the investor to correctly time the crypto market and buy or sell the crypto assets at the appropriate and suitable time.
As it is impossible to eliminate and reduce all the risks related to the crypto market when investing, you can upgrade the entire value of your crypto portfolio by selecting the appropriate date and time. When prices are low, the time is good to invest in the new cryptos.
Diversifying the investments by timings is a unique and specific interval-based crypto investment strategy.
Diversifying by geography
Another helpful strategy is to invest in crypto assets from around the globe. Depending on the investor's choice, risk and preferences tolerance, the investor can mix and match all the crypto-related projects from Europe, Asia, and the United States.
Before investing in the foreign markets, the investors need to do an extensive study and research on the changing rates of crypto projects in different parts of the world.
It will protect the investment from different regulatory uncertainties and gives you a proper distinct way to balance out the diverse portfolio even in volatile market conditions.
Diversifying by industry
It will help if you look for plenty of crypto options according to different technology. It will help you mitigate all the adverse market effects. For instance, ETH and BTC have other crypto technology. Bitcoin is simply a currency, but Ethereum is a ledger technology businesses leverage to create new applications.
Additionally, both cryptos rely on blockchain technology, while Ethereum's is significantly more solid. Don't put your money into a project about which you know nothing or very little. Instead, spend some time studying and learning about the sector before taking the plunge.
Should you diversify your crypto portfolio?
Diversification is one of the essential rules of investment. Never put all of your eggs in the same basket, as the saying goes. You should not rely just on one coin and expect high profits.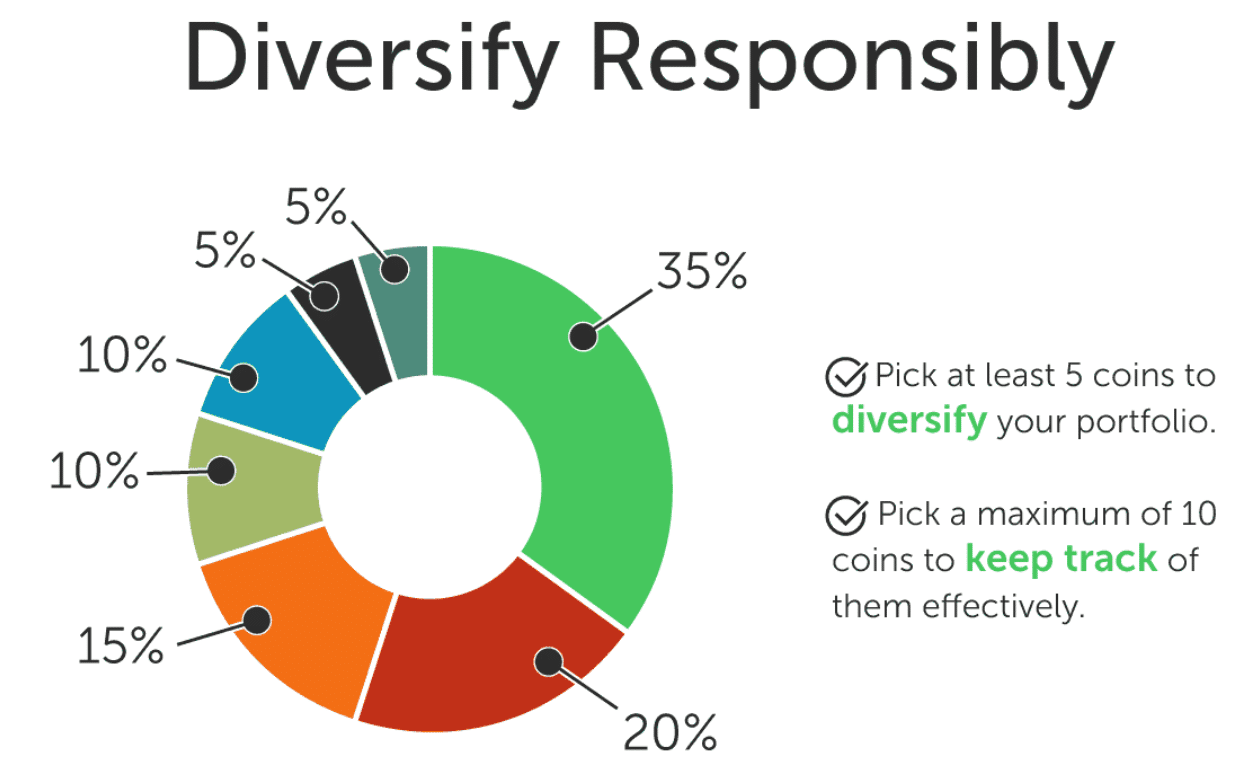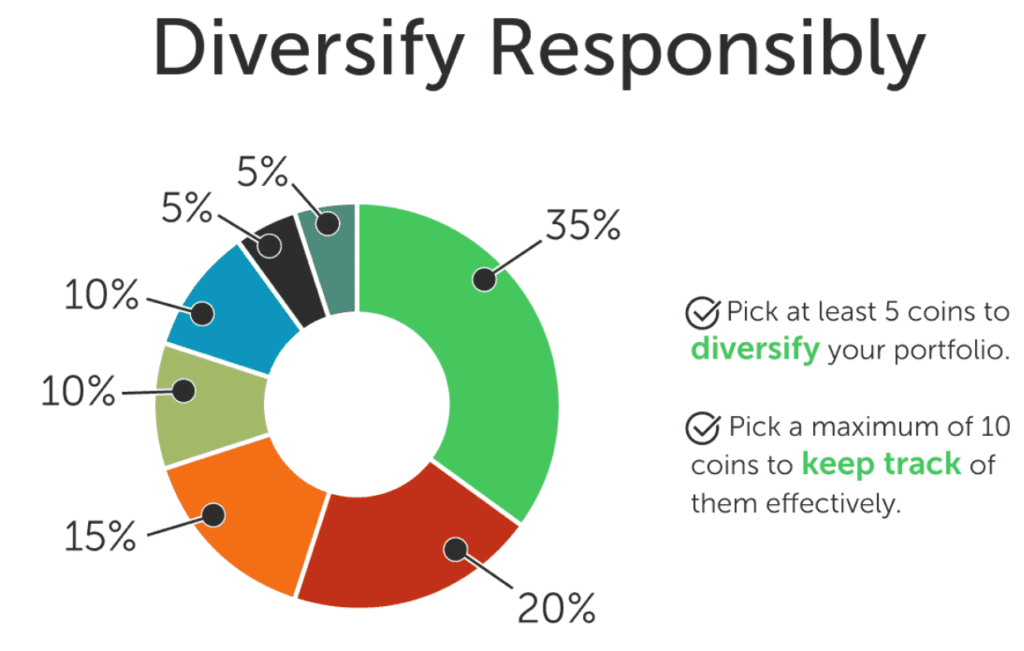 Following are the primary reasons why you should consider diversifying the crypto portfolio:
First, it increases the chances of profitability of the crypto investment.
Second, you cannot rely on one-time cryptos, such as ETH, to always result in profits.
The crypto market is risky and highly volatile; diversification can protect against the unexpected market rush and risks.
Due to sudden crypto price changes, it is mostly advised to use this technique.
Finally, investing in new projects and cryptos whose utility is essential to the DeFi ecosystem is another way to diversify the crypto portfolio.
Pros & cons
Pros
Cons
Leveling out risk and volatility

It is the most significant and obvious advantage of having a diversified portfolio. Leveling out means that the investor can make a profitable one asset while the others are stagnating.
Diminished returns

Over-diversification is also a thing. If you do the polls of the potential risks too carefully, you will not lose any investment, but you also won't be able to gain much profit either.
A broader overview of different markets

Diversifying allows the investors to pay attention to the far markets. By doing this, the investors can better understand the assets and make informed choices later.
Transaction costs add up

It is minor, but it can eat a significant amount of your investment as transaction costs.
Global opportunities

Diversifying is an excellent way for investors to take part in the economic condition in different parts of the world, risking only a small part of their investment.
Exhausting

Trading can be exhausting, and it's a fact. The investor has to keep up with the investing details on top of the everyday workload.
Final thoughts
Diversification is an excellent strategy for the risk management that many users practice in traditional assets and crypto-assets. However, while it does not ensure a 100% risk-free situation, it will not protect you from market-wide correction or any bearish cycle.
Keep in mind that investing itself is a risky process, but those risks can be minimized and managed by diversification.