Inflation is a regular phenomenon that occurs in the global markets and economy. The inflation rates have been consistently increasing for many decades due to the expanding demand for various products and elevated money supply.
The regularly rising inflation levels have become a cause of concern among investors as the investment profits could lose value over time. According to the US Department of Labor, the inflation rate climbed to 6.8% in November 2021, the highest since 1982. Moreover, the US is entering its 9th month of inflation spike due to global disruptions, supply-side turbulence, and wages and demand pressure.
This data points to the acceleration of the inflation wave that can further escalate in the coming years. So, are you interested in learning about some stocks that can cushion against the adverse inflation effects?
Read this write-up to know the best inflation stocks for securing and diversifying your portfolio.
What are inflation stocks?
Inflation stocks refer to a category of stocks that remain consistent or outperform other stocks during periods of inflation. Companies with such stocks do not see a decrease in demand even with the inflationary pressure. Resultantly, inflation stocks have become one of the best assets to strike against rampant inflation.
Generally, banking, metal mining, consumer staples, energy, and pharmaceutical companies are resistant to inflation and perform better with higher interest rates. In addition, some tech giants and large corporations keep stable revenues even during an economic crisis and rising costs.
Top five stocks to hedge against inflation
With the surging living costs, this might be the right time to consider adding some stocks that could cushion against this inflation. A portion of these stocks surpasses the average market returns during inflationary times, proving to be a great hedge against the inflation strain.
Here, we have listed the top five stocks that can guard your portfolio and protect your gains from losing value.
1. Qualcomm (QCOM)
Price: $187.23
Qualcomm Incorporated is a semiconductor company that develops and distributes broadband and wireless technology worldwide. This California-based company has three operating segments, including the Technologies branch (QCT), Technology Licensing (QTL), and Strategic Initiatives segment (QSI).
Qualcomm is rapidly expanding its operations to other domains such as automotive technology, and IoT devices, making its way among the leading companies in the technology sector.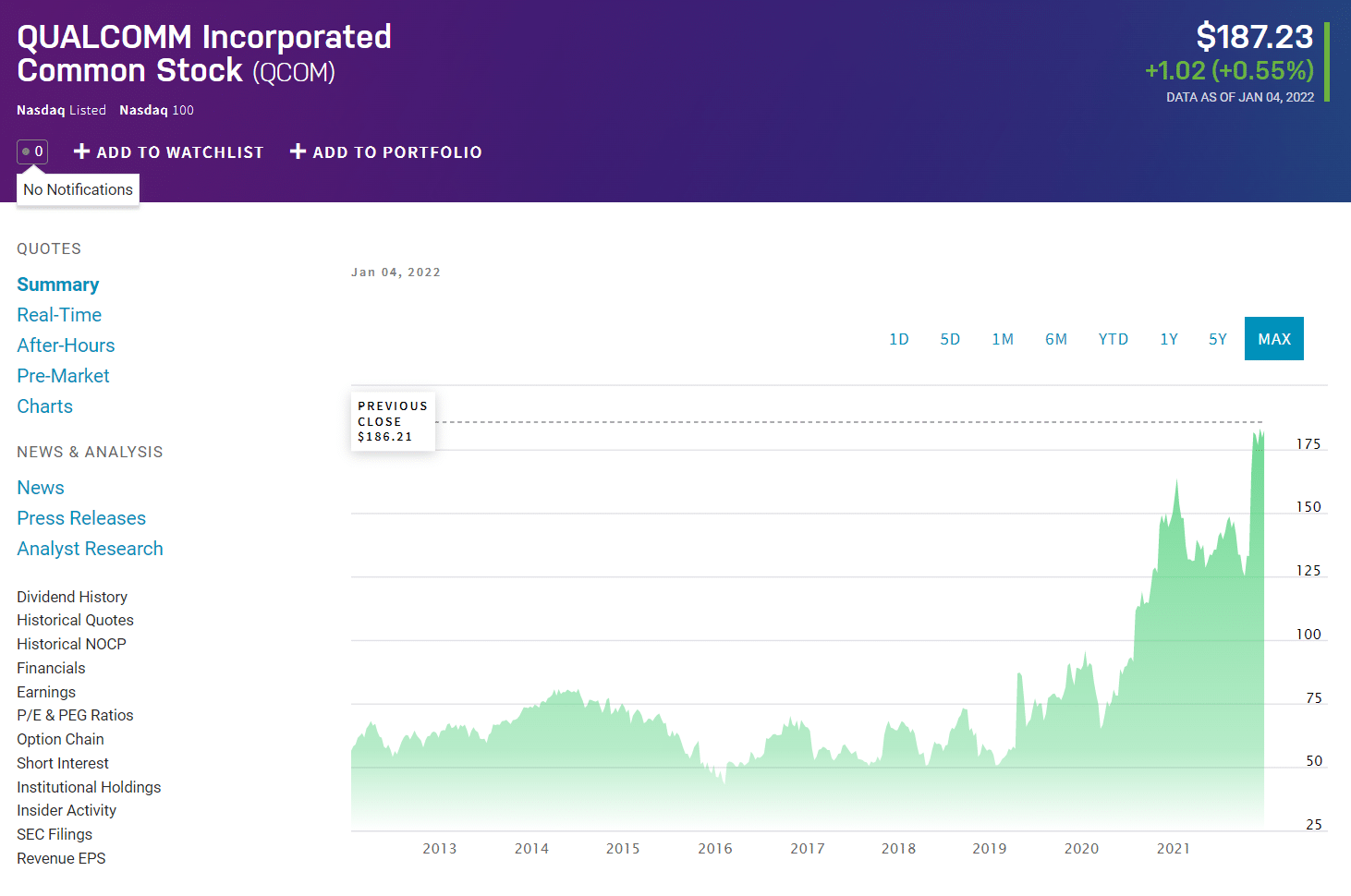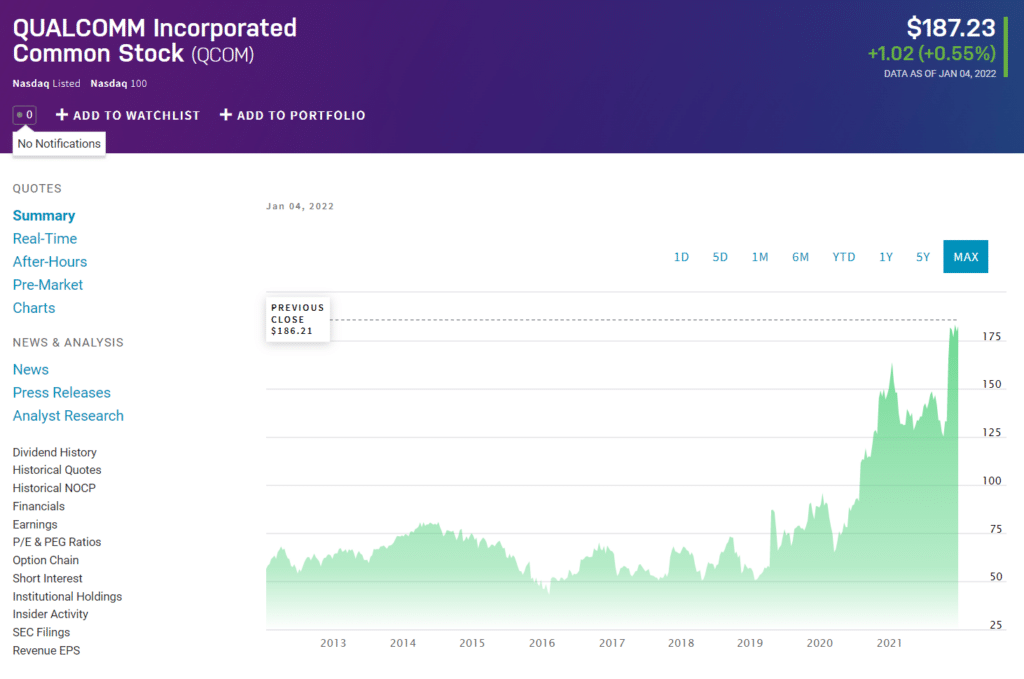 The company has a market capitalization of 197.87 billion with around 1.1 billion outstanding shares. Its P/E ratio and earnings per share currently stand at 22.45 and $7.87, respectively.
Moreover, Qualcomm reported a revenue generation of 33 billion in the last 12 months with a stable revenue growth rate of 11.9%.
2. Newmont Corporation (NEM)
Price: $60.43
Newmont Corporation is a mining company that deals with exploring and producing gold, copper, zinc, and silver. The company is primarily known for its gold reserves that reached 94 million ounces by the end of 2020.
Newmont is one of the most reliable and well-performing companies and performs better during inflation when people rush to buy precious metals.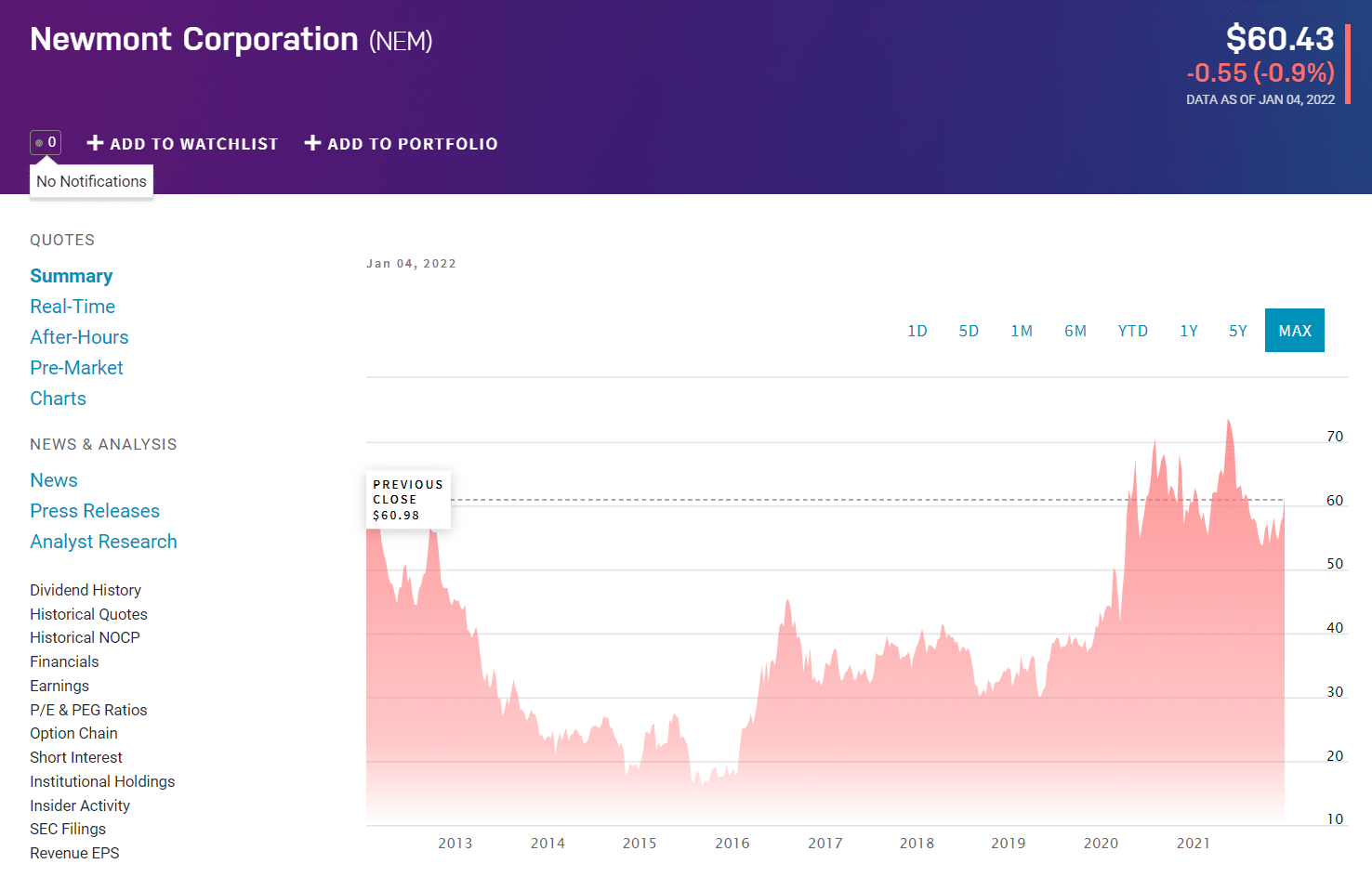 The corporation has a market capitalization of 46.8 billion, with approximately 800 million shares outstanding. Its latest income statement shows more than 12 billion in revenue of the last year with a revenue per share of 15.2.
In addition, the company's annualized dividend yield is $2.20, and its P/E ratio stands at 23.21.
3. Apple Inc (AAPL)
Price: $179.70
Apple Inc. is the largest information technology company that develops and markets various consumer technology products and services, including mobiles, tablets, laptops, and accessories. This multinational company has retained its value amid the pandemic and other adversities, pointing to its well-built reputation and customer confidence.
In addition, Apple Inc. is reportedly working on an electric car project that can further propel the company's sales and revenue.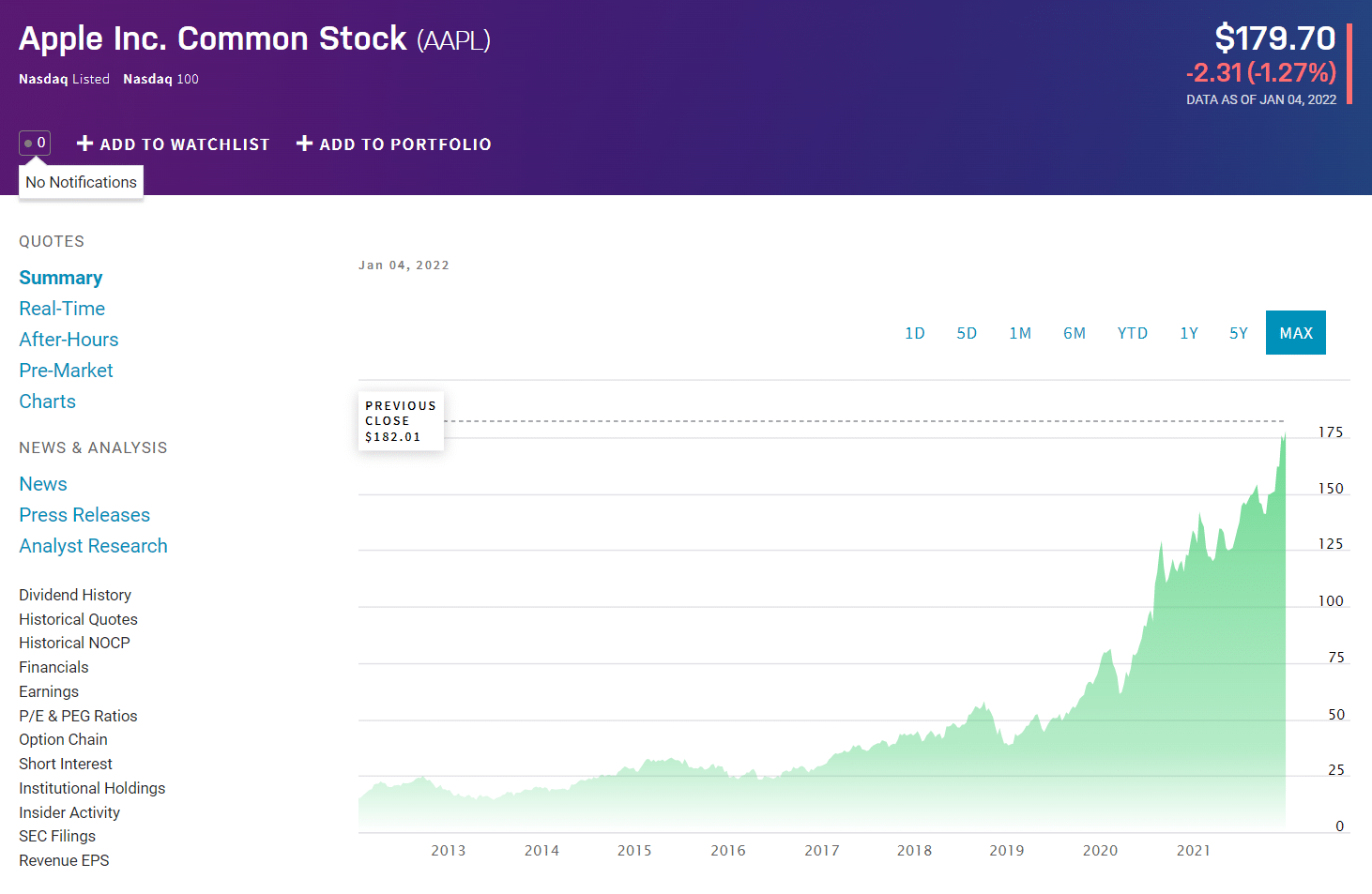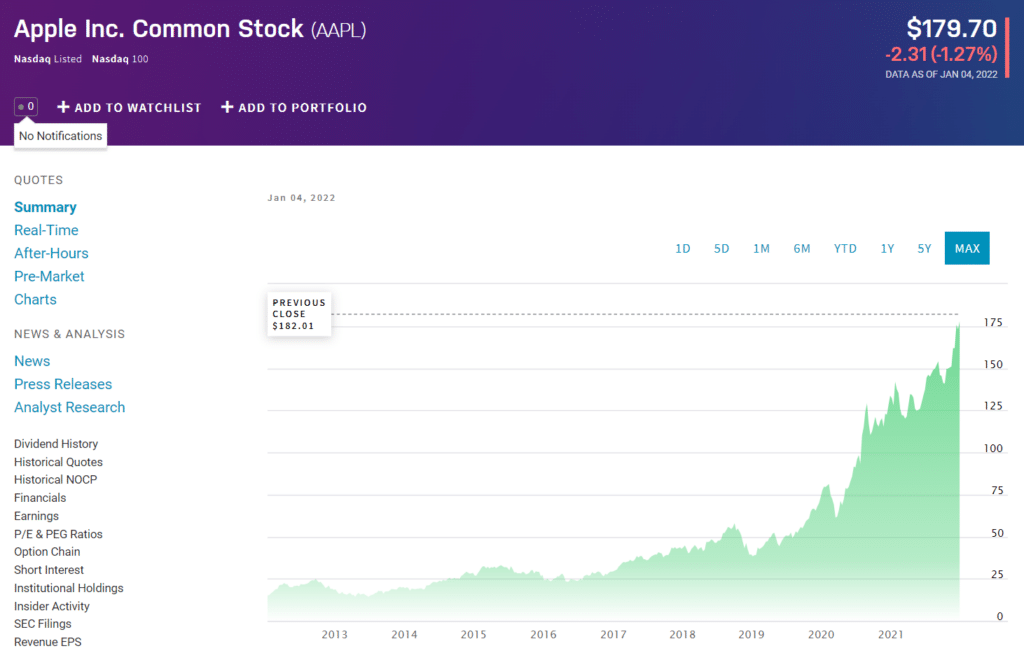 The company has a market capitalization of 2.94 trillion, with around 16 billion shares outstanding. Its latest income statement shows a gross profit (ttm) of 152 billion with a return on assets of 20.18%.
Moreover, the last 12 month's revenue of Apple Inc stands at a remarkable 365 billion with approximately $22 revenue per share.
4. Dollar General (DG)
Price: $233.70
Dollar General is a major discount retailer of consumer staple or consumable products that are the necessities of everyday life. The merchandise products include packaged and frozen food items, drinks, snacks, health and beauty products, OTC medicines, and casual apparel.
Currently, the company manages more than 17,000 stores in 40 states of the US. Dollar General stock can be an excellent inflationary hedge due to the company's lower-priced production of consumer products that do not wane in demand amid any turbulence.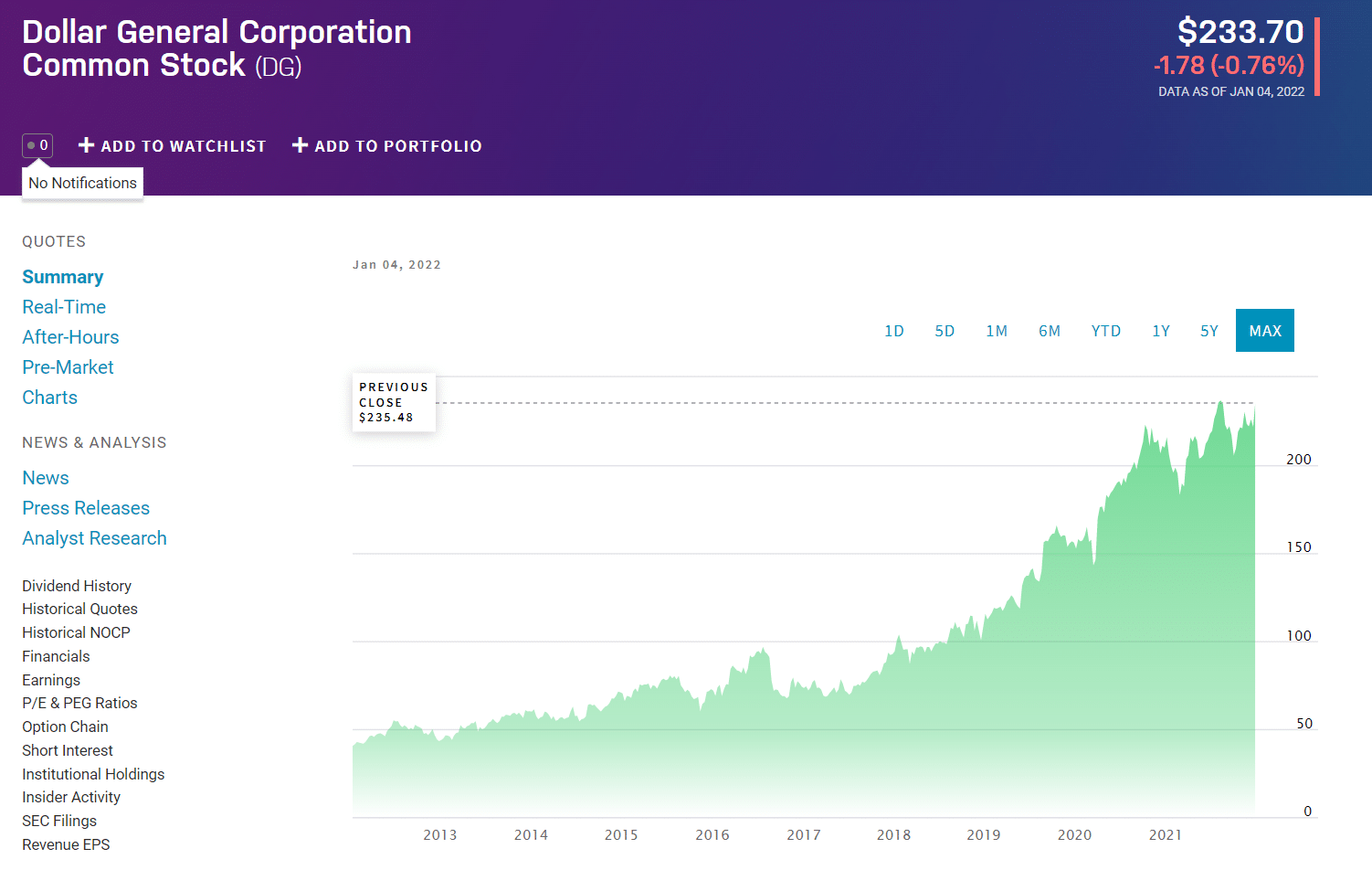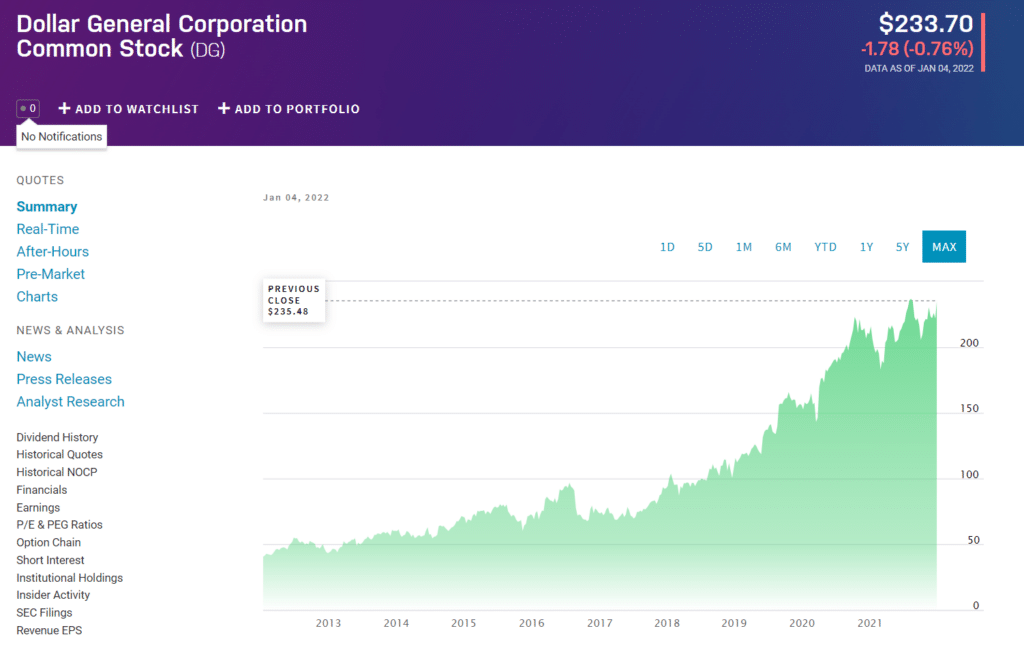 The company has a market capitalization of 51 billion with more than 230 million outstanding shares. Its P/E ratio and earnings per share are 21.59 and $10.21, respectively.
Dollar General has been showing consistent growth for the last five years and displayed the latest quarterly revenue growth rate of 3.90%.
5. Johnson & Johnson (JNJ)
Price: $167.75
Johnson & Johnson is a prominent name in the healthcare and pharmaceutical sectors. The company has been operational since 1886 and specializes in researching, developing, and selling various medicines and medical devices.
JNJ stock can be a good hedge against inflation as the demand for various company's products like life-saving drugs and medical equipment will not diminish under any circumstances.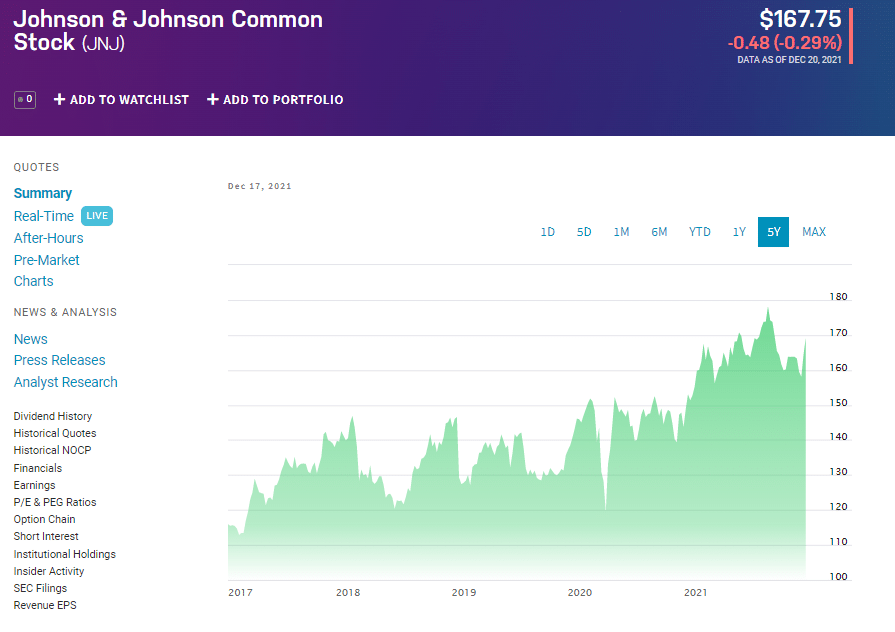 The company has a market capitalization of 441.4 billion with around 2.6 billion outstanding shares. Moreover, its latest earnings per share and P/E ratio are 25.07 and $6.69, respectively. The company also pays dividends, and its annualized dividend yield stands at $4.24.
Pros & cons
Let us look at the various benefits and limitations of investing in inflation stocks.
Pros
Cons
Cushions profits valuation
These assets help investors secure their investment returns and prevent them from losing value over time.
Not give high returns
Such assets are not volatile and give relatively lower returns; hence not suitable for aggressive investors.
Diverse stocks
They can be from various sectors providing diversification to the portfolio.
Long-term holding
These stocks need to be held for longer to gain the profits necessary for hedging against inflation.
Stable growth
Most inflation stock companies are developed and advanced, showing stable, consistent growth.
Slow growth
They show a slow growth rate compared to the other growth and value stocks.
Final thoughts
The current inflation ripple might be temporary or transient; however, it is prudent to make some investment decisions to protect the long-term profits.
Inflation stocks are among the best investment options among other inflation assets like bonds, real estate, TIPS, and gold. They are generally from well-developed and stable companies that can withstand the higher costs and maintain their functionality. In addition, defensive or consumer stocks are also suitable for an inflationary environment due to their absolute demand and necessity.
Nonetheless, investors should carefully examine their investment goals and risk capacity before adding inflation stocks to their portfolios.