Easily reproducible items such as photos, videos, audios, and other digital files are represented through NFTs and deployed over blockchain technology to build and verify the ownership.
According to DappRadar-digital analytics, non-fungible token (NFT) sales went up worth $2.5 billion in the first six months of 2021. This figure shows such a significant demand for digital tokens.
Do you want to be ahead of others and learn the top five NFT stocks to buy in 2022? Read this article and decide for yourself if it has it in your portfolio.
What is NFT?
NFT, standing for non-fungible tokens, are a form of digital art that is unique and kept on the blockchain.
NFTs come in different forms, from memes, pictures, music, imagery, video clips to tweets. The non-fungible in the name means that the asset has numerous units that are alike and interchangeable.
How does NFT work?
The NFT creator keeps their work for sale on the blockchain. Investors interested in buying them can do so by paying the creator the amount they listed for the art through smart contracts on the blockchain. Once purchased, the new owner has the authority to keep it or re-sell it for a profit.
The blockchain here verifies if the artwork is original and not pirated or duplicated.
Reason to use for investors
NFTs are on the blockchain, making it more reliable, trustworthy, and something to invest in. What you hold will be a unique piece of art on its own.
Investors may choose to invest in NFTs as there is a great chance of the market to grow, and the market grows, your investment will grow simultaneously.
Famous NFT stocks
1. PLBY Group, Inc. (PLBY)
Current stock price: $27.60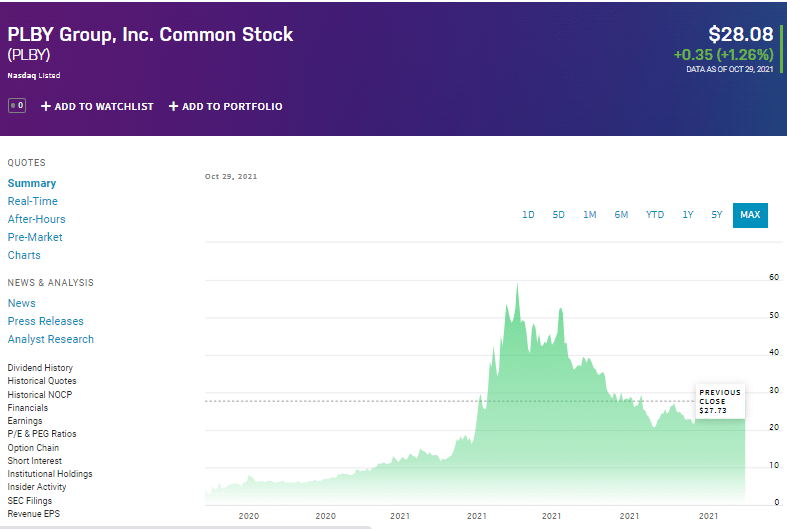 PLBY Group, Inc. is on 1st on our top five list. The company was established in 1953 and had its headquarters in Los Angeles, California. PLBY Group, Inc deals in pleasure and lifestyle. The total market cap is worth above $1 billion.
Playboy, a lifestyle brand from the company on July 9th, declared that it would partner with the Miami Beach Art Collection to present NFT art. After the report, the company's shares climbed over 2%.
After that, the Investment advisory Canaccord on June 14th reemphasized a BUY rating on PLBY Group, Inc. shares with a target price of $52. PLBY can see significant growth in its share price after getting involved in the NFT space. To encourage growth drives, the firm may use cash from recent offerings.
2. Hall of Fame Resort & Entertainment Company (HOFV)
Current stock price: $2.36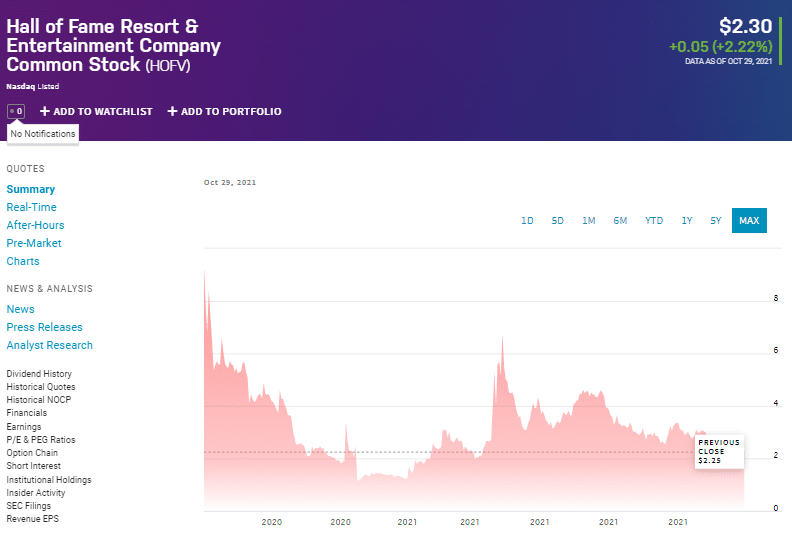 The second NFT stock on the list was established in 2015 and headquartered in Canton, Ohio. The company on its website stated it as a world-class resort and entertainment company leveraging the power and popularity of professional football and its legendary players in partnership with the Pro Football Hall of Fame.
The company, on August 2nd, announced that it went into a partnership with Dolphin Entertainment to launch Playbook, which is an NFT collectible series that will exhibit famous plays of six famous athletes. After the news went public, the firm's share price bounced up close to 6.5%.
In March, investment advisory Maxim raised the price target on Hall of Fame Resort & Entertainment Company stock to $28 from $10, reiterating a Buy rating.
3. Cinedigm Corp. (CIDM)
Current stock price: $2.43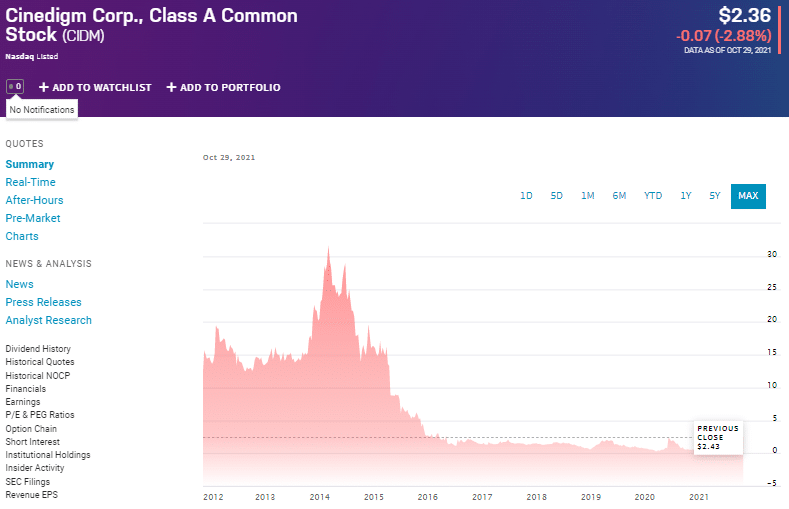 This NFT stock on the list is related to movies, television, content marketing, and entertainment. Yes, the right steps from the company to be in the NFT space. Cinedigm Corp started in 2000 and is an American entertainment company with its headquarters in Los Angeles, California.
In April 2021, the firm declared the launch of Fandor Selects, an NFT film design that would focus on releasing classic movies with limited editions. After the fourth fiscal quarter, the company outperformed the expected revenue.
The stock's price target was raised from $3 to $3.25 by the investment advisory Alliance Global Partners after realizing the firm has good growth in the future. You, after your analysis, may choose to buy and hold Cinedigm Corp. stock.
4. ZK International Group Co., Ltd. (ZKIN)
Current stock price: $2.65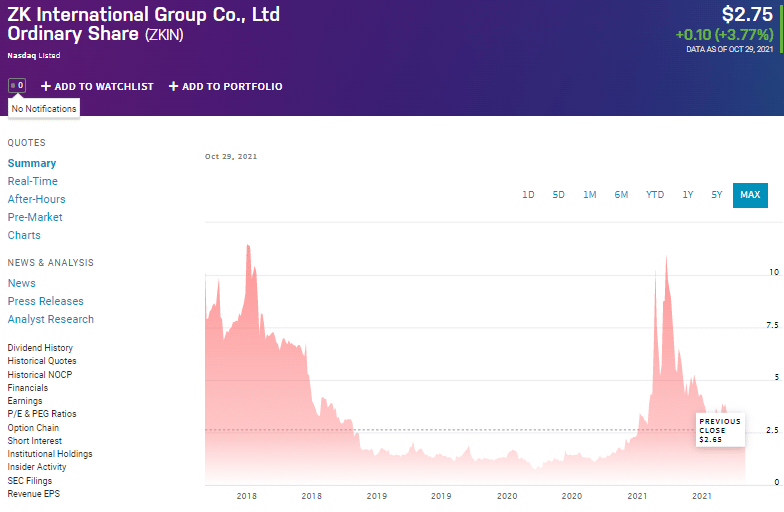 The fourth on the list is the ZK International Group Co., Ltd., founded in 2015. The firm is china-based and deals with the engineering, manufacturing, and designing of patented high-performance stainless steel and carbon steel pipe products.
In July end 2021, the company stated that its subsidiaries, xSigma corporation working on research and development, has made a smart contract to release an NFT marketplace. The major news was the announcement of the smart contract being passed in an audit by Hashex.
ZK International Group Co., Ltd. made more than $86 million in revenue last year, even with a market cap of $81. The company's stock may be one to be kept in your portfolio.
5.Takung Art Co., Ltd. (TKAT)
Current stock price: $7.07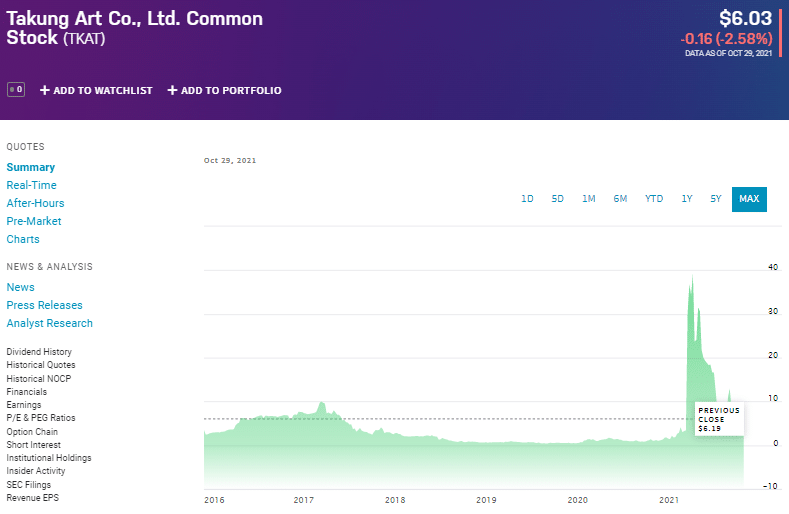 The fifth on our list is Takung Art Co., Ltd. Takung Arts was founded in 2009 and is based in Hong Kong. Takung Art Co., Ltd., through its subsidiaries, runs an electronic online platform that is used by artists, art dealers, and investors to buy, sell and trade artworks in ownership units.
By mid-March 2021, the firm's share price had seen a drastic growth of over 900% in just a week after the crowd started talking about the NFT stocks on social media. Nevertheless, after a week, the shares price started breaking down and reached the lowest before climbing up again.
Takung Art Co., Ltd., on July 8th, shared that it has cracked a deal with an investor to raise $5 million in capital. Also, the Citadel Investment Group is a leading shareholder in Takung Art Co., Ltd.
Pros & cons
NFT can be an excellent investment, but you must consider the pros and cons before getting one.
Pros
Cons
Immutability
NFTs are permanent and cannot be changed as they use blockchain technology to verify whether it is authentic.
NFTs cannot digitalize physical work
When it comes to physical art, you can touch, see and feel it. Digital arts are available only on your devices and can't give you that feeling.
Smart contracts
Smart contacts on the Ethereum blockchain are the heart and soul of any project. NFTs owners and creators use smart contracts to get more out of their assets.
All-speculative market
Any transaction done via blockchain needs to carry out computing that consumes a lot of energy. NFT creating and selling is not an eco-friendly task and harms society.
The new revenue stream for artists
It gives good opportunities to the artists who earlier could not go global, making them limited. NFTs helped them in showcasing their work and making great income streams.
Questionable market value
NFTs are a confusing asset, and even experts agree on it. You can find a lot of copy-paste artwork on the internet where you bought a token by paying thousands of dollars.
Final thoughts
NFTs are interesting. They offer you a way to own something on the blockchain that's not a cryptocurrency.
NFT is a very new concept, and you must do in-depth research before getting into any NFT investing. Investing in them is very risky as it involves cryptocurrency as a medium of exchange for buying and selling.
NFTs are hard to evaluate as no one knows the exact market value and difficult to invest because of their procedure.
Finally, you should only invest in them if your emergency fund is fully funded and you are on top of your retirement contributions.