MyForexPath is a fully automated system that seeks to make your trading in Forex simpler, more accurate, and faster. As per the vendor, the EA has an average win rate of 65-70% for every trade. A drawdown control system and a smart SL calculation feature are incorporated to protect users from unnecessary losses.
Is MyForexPath good?
MyForexPath may be worth the price because it is capable of generating good profits. However, the bot is based on a risky grid strategy that can eat into your income.
Features of MyForexPath
| | |
| --- | --- |
| Trading Terminals | MT4 and MT5 |
| Strategy | Trend following |
| Timeframe | N/A |
| Price | $285 |
| Money Refund | 30 days |
| Recommended Deposit | N/A |
| Recommended Leverage | N/A |
| Money management | Yes |
| Customer reviews | N/A |
These are the additional features of the robot:
The system works on 3 currency pairs, namely EURUSD, AUDUSD, and USDCAD.
It has 4 independent sessions for each trading pair.
The robot offers free updates and 24/7 technical support.
It comes with a detailed manual.
What strategy does MyForexPath use?
The EA opens trades in the direction of the trend. It particularly uses MA and Parabolic indicators to spot trends it will follow and initiate trades. Consequently, the system will close orders when the trend reverses or when it makes unsuccessful entries. The goal is to minimize losses and large drawdowns.
Backtesting vs live trading results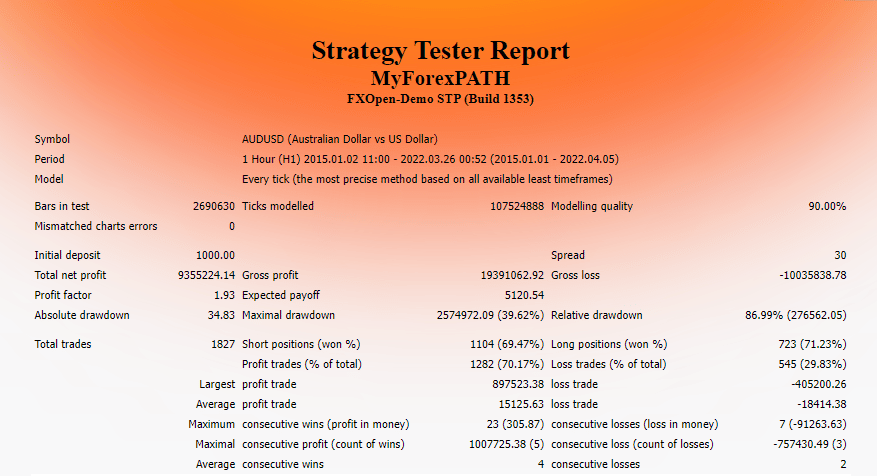 This is a strategy tester report for the AUDUSD currency pair. As such, the EA used this instrument to conduct 1827 trades on the H1 chart using a $1000 deposit. The resulting win rates for the short and long positions were 69.47% and 71.23%, respectively. Subsequently, a total net profit of $9355224.14 was reported, which is impressive. The profit factor, which was 1.93, also shows the high productivity rate of the robot. Unfortunately, the strategy on board was quite risky as it led to a drawdown of 39.62%.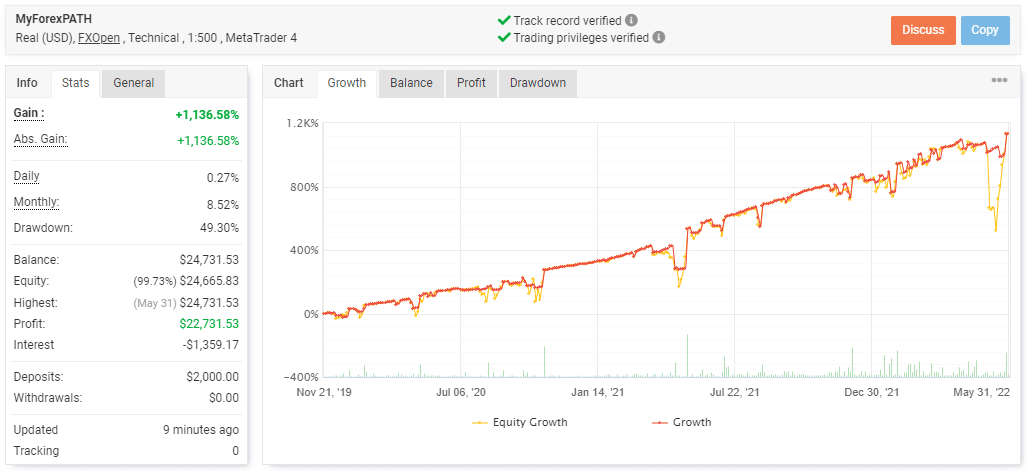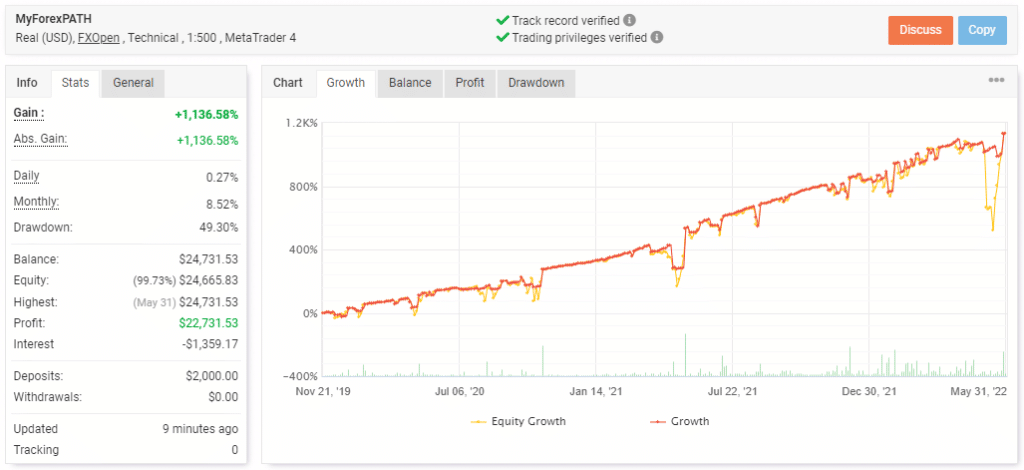 The EA has succeeded in growing this account by 1136.58% after trading on it for two and a half years. So, the user's investment has jumped from $2000 to $24731.53, following a $22731.53 profit. On average, the system has been making a daily profit of 0.27% and a monthly profit of 8.52%. Sadly, MyForexPath is a risky trader, given it has eaten away nearly 50% of the initial capital.


The EA has conducted 676 trades with 214.30 lots so far. The loss rate produced is quite high compared to the profits. That's why we have an average loss of -72.45 pips, which is uncomfortably higher than the average win (33.17 pips). The average trade length is 3 days while the profit factor is 1.49.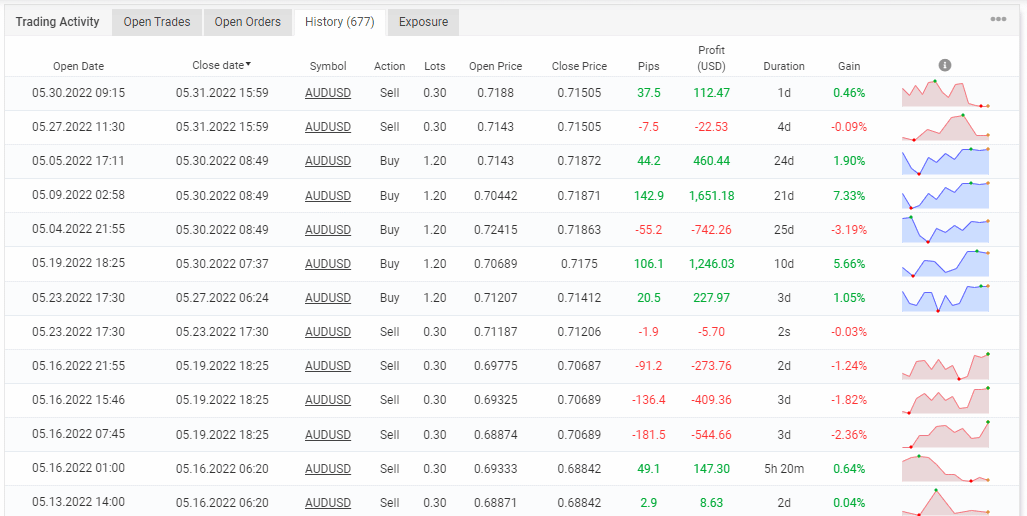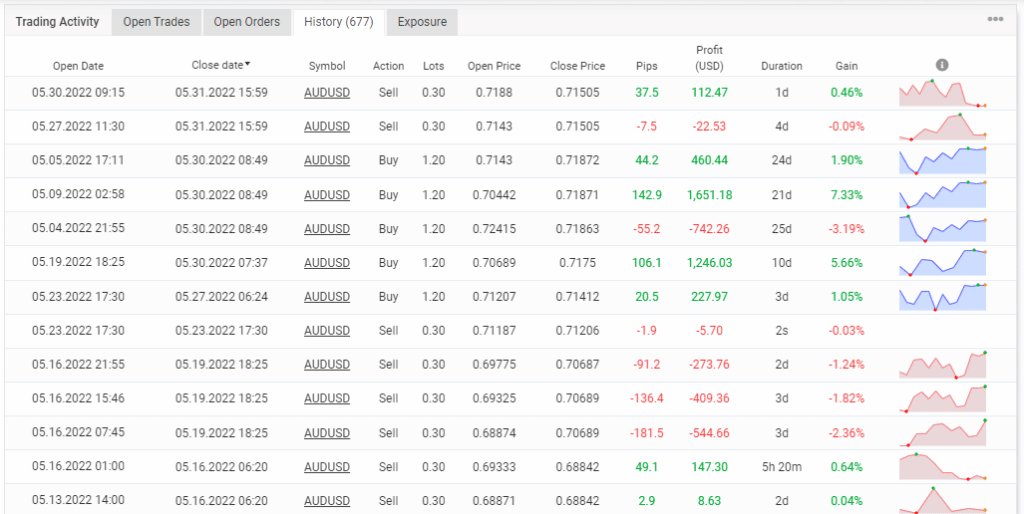 As you can see above, the robot applies that grid strategy and works with big lot sizes.
The core team
Information about the developers who built this EA is not divulged. There are no names, biography details, location, address, trading experience in the market, etc.