Coins or tokens that are cheap and worth less than $1 are called penny cryptocurrencies. It is suitable because you can buy it quickly as it is available for less than $1.
These cryptocurrencies are worth investing in as they have high returns. Thus one of the altcoins, Dogecoin, has given a significant return of 8000% in the last six months.
If you check and analyze correctly, the undervalued penny cryptocurrencies can allow you to own the right asset in your wallet for the future that can give you insane returns.
Let's look into the best penny cryptocurrencies that you can invest in 2021.
What are penny cryptocurrencies?
They are digital coins that have a market value of under $1, similar to penny stocks. Investors find penny cryptos very attractive because they have volatility, and some are known to rise in value very quickly.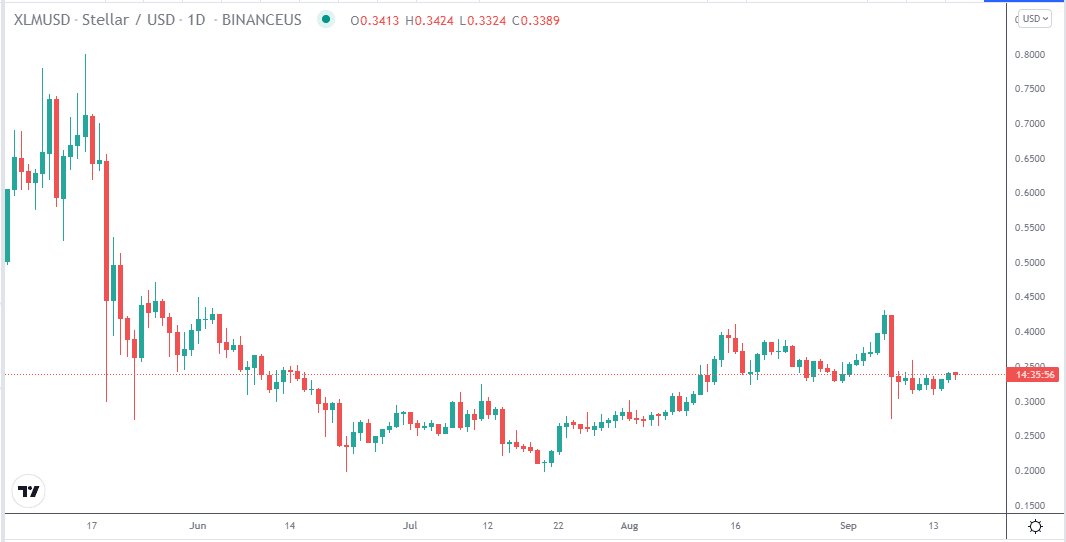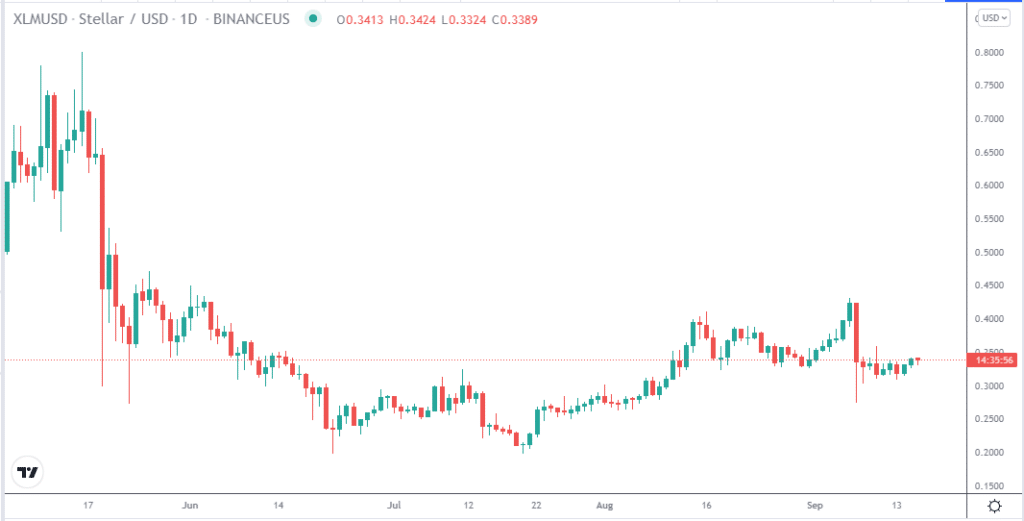 The Stellar coin is an example of penny crypto, which has a value under $1.
There are four categories of penny cryptos:
Newly minted
Fallen
Stagnant
Plentiful cryptos
Newly minted crypto, as the name suggests, are new coins and are not yet popular. Coins that had a sudden rise in value but declined are fallen crypto.
Plentiful are high in supply cryptos, and stagnant coins are those whose value has not fluctuated for a long time.
Before investing in penny coins, we need to know the market cap since it indicates the coin's popularity. Furthermore, you should evaluate the price of the token as well.
Market capitalization vs. token price
The market capitalization of a cryptocurrency refers to the total value of the mined coins. It is the number of coins in circulation multiplied by the current market price. The token price is the market value of a single coin.
Market cap or token price?
You might ask the question, which one is more important? Since the market cap represents the stability of a coin, it also indicates the portion of the coin's value concerning the rest of the market.
Here is an example to consider. XCoin has a $250, and there are currently 100,000 coins in circulation. Therefore, the market cap of XCoin is 25,000,000.
On the other hand, YCoin has a value of $0.75 and has 1,000,000 coins in circulation. YCoin has a market cap of 750,000,000, which is higher than XCoin, due to the high volume of YCoin.


It further shows the market cap, daily trade volume, coins in circulation, and the trend in price over the last seven days.
Therefore, the token price is not the only relevant aspect; the total market cap is also essential.
This is valuable information to an investor since coins with large market caps are a more stable investment, irrespective of their price. In simple terms, coins with a low market cap have no interest from the market and would therefore not be a lucrative investment.
How to choose a penny cryptocurrency?
There are thousands of penny cryptos in existence, making a choice extremely hard for new investors. However, it would help if you considered a few things to choose the best penny crypto.
Number of coins in circulation
Always consider how many coins are in circulation, especially if it is not a newly launched coin. A good number to gauge from is a supply of between 10 million to 1 billion coins. Furthermore, there should be at least 25% of the coins mined already.
Market cap and trade volume
You also want to pay attention to the market cap and trade volume. The coin should, at minimum, have a market cap of $20 million. In addition, the daily trading volume should exceed $1 million.
Exchange platform
Another essential criteria is the platform where the coins are listed. You would want to invest in coins available on popular platforms like Binance, Coinbase, BitMex, etc.
Performance
An important point to check is the coin's rise in value, as you would want to invest in a coin that is not stagnant or declining continuously. Cryptocurrencies are volatile and can fall in value as quickly as they gain. However, penny cryptos usually increase rapidly, and the popular coins follow the trend of Bitcoin in most cases.
Social media presence
This might be unconventional criteria for investors; however, social media plays a significant role in their popularity in the cryptocurrency world. You would want to monitor the trends on social media to give you an idea of which the most popular penny cryptos are to buy.
Which 5 penny cryptocurrencies under $1 are worth investing in Q4 2021?
Now that we covered the essential aspects to consider before investing in penny coins. Let's take a look at the current coins under $1 which can be worth your while.
1. Dogecoin (DOGE)
Billy Markus and Jackson Palmer are software engineers who created the Dogecoin cryptocurrency in December 2013. The coin garnered massive social media popularity and reached a market cap of $85 billion, and its value exceeded $0.73 in May 2021.
The listing spurred the sudden boost in value on Coinbase in April 2021. In May 2021, SpaceX announced their mission to the Moon would be funded by Dogecoin, causing the price to rise rapidly. Dogecoin is among the top ten cryptocurrencies and is ranked 9th on CoinMarketCap.
Market cap: $32.124 billion
Price: $0.2446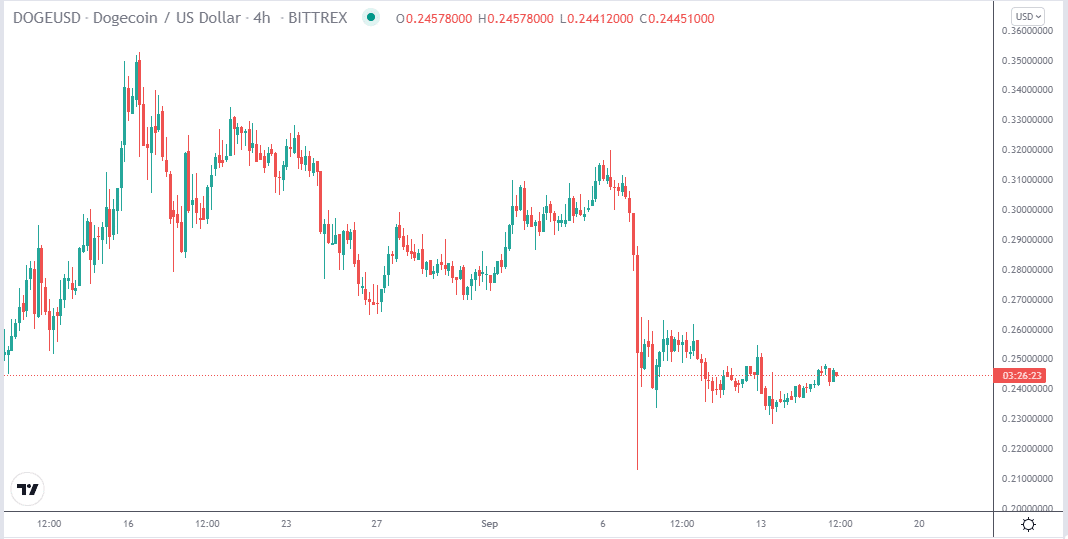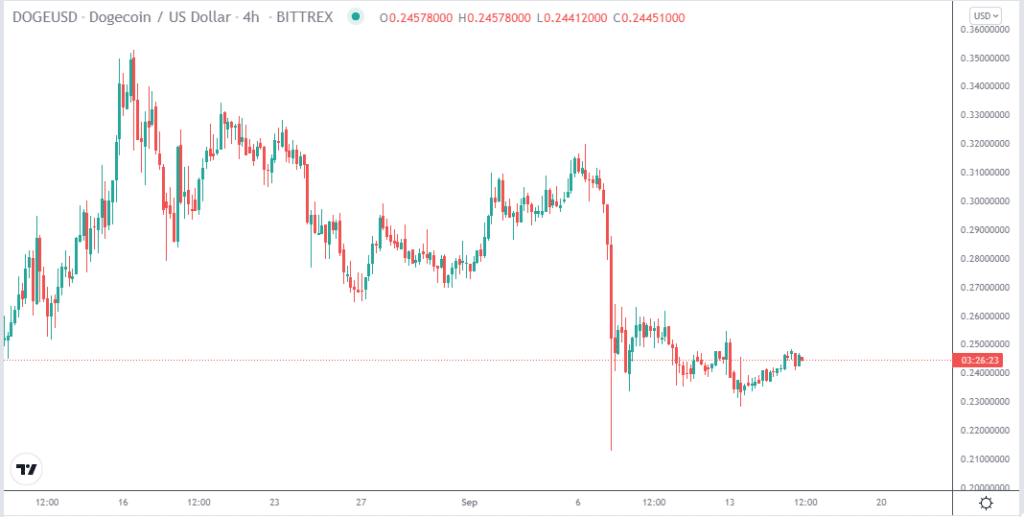 As per the one-year Dogecoin price prediction, the DOGE price might cross $1 by the end of 2021. The predicted high for 2021 might be around $1.07, and on the downside, the low might be approximately $0.91.
2. Shiba Inu (SHIB)
The Shiba Inu coin's inception was August 2020, and the creators are unknown. The coin's price reached a high in May 2021 of 0.00003503.
The meme coin also attracted investors and gained popularity due to its comparisons to Dogecoin. The Shiba Inu protocol follows the Ethereum proof-of-work network, which is in the process of transitioning to a proof-of-stake blockchain.
Market cap: $2.6 billion
Price: $0.000006683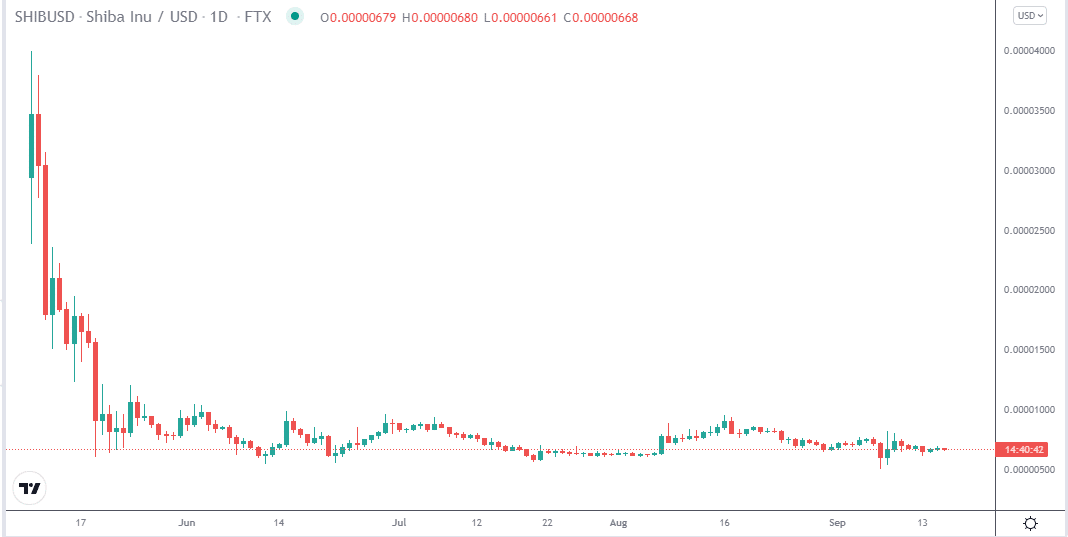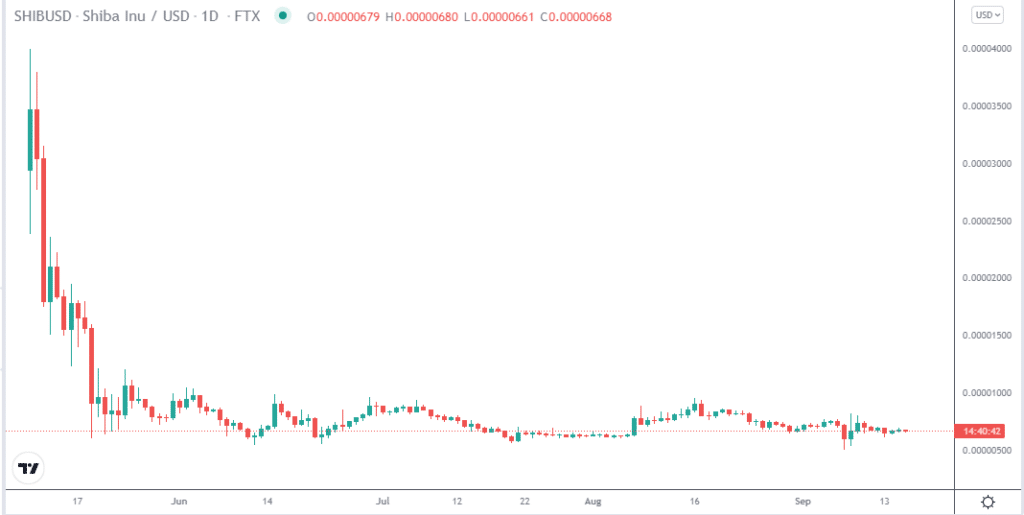 Unfortunately, it's improbable that Shiba Inu will ever reach $0.01, much less $1. This is due to the incredibly high maximum supply of SHIB tokens, which comes in at one quadrillion. But it's possible to see extreme gains without Shiba Inu reaching the coveted $1 price tag.
3. Decentraland (MANA)
The MANA coin is a virtual reality platform under the Ethereum blockchain. The platform allows its users to create, experience, and monetize content and applications. Gaming applications use the coin to a large extent.
The coin launched in 2017, and in May 2021, the price exceeded $1 to reach $1.50 but declined soon afterward.
Market cap: $1.54 billion
Price: $0.86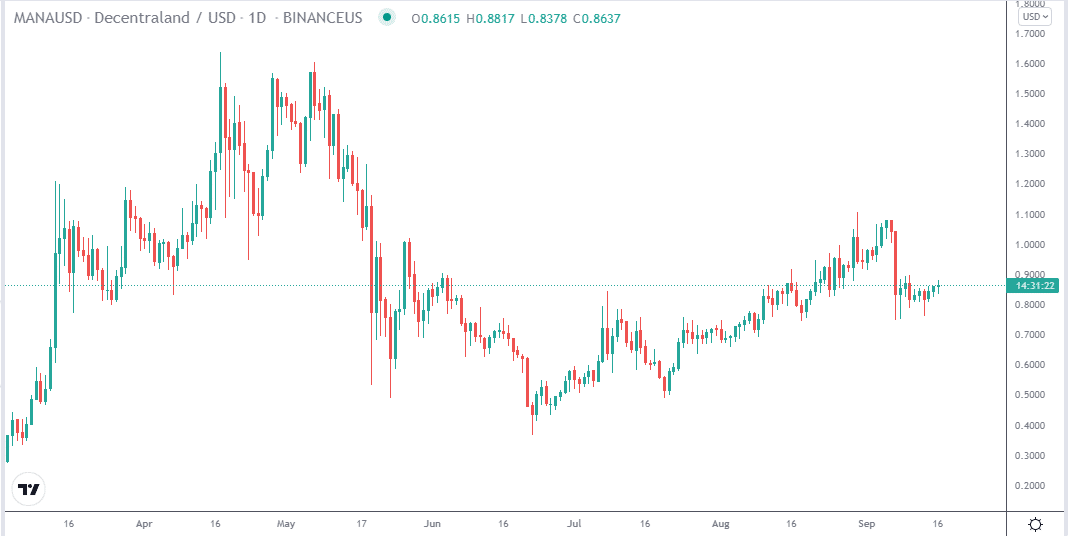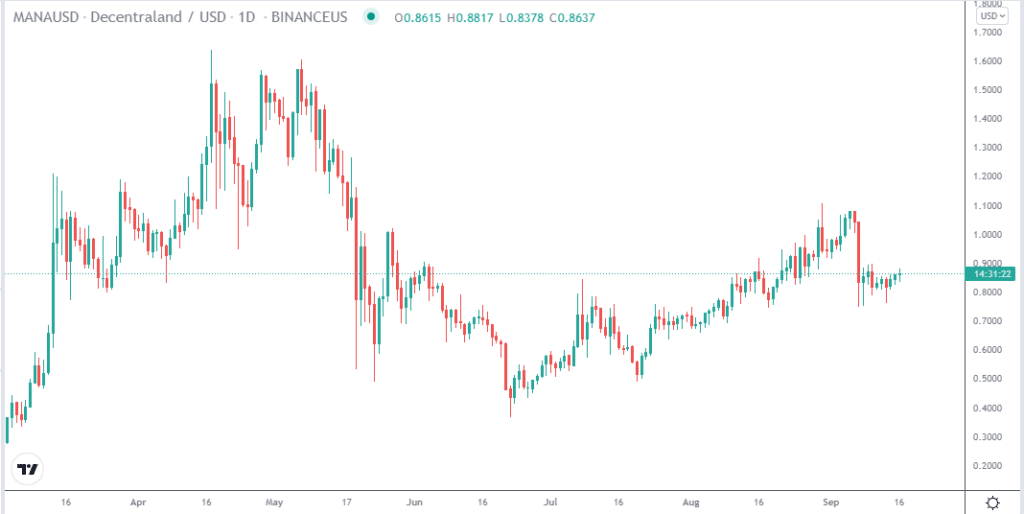 In the long-term, 2021 MANA price prediction is bullish. In addition, MANA has a high possibility of surpassing $1.18 and highly likely сan reach above $2 by the end of 2021.
4. Basic Attention Token (BAT)
The BAT powers a blockchain-based advertising platform. It rewards its users for their attention, and at the same time, the platform gives advertisers exposure to increase their return on ad spend.
The BAT coin launched in 2017, and during its initial coin offering, the platform raised $35 million in less than a minute. The coin exceeded $1.50 in April 2021 during the crypto market rally.
Market cap: $1.18 billion
Price: $0.79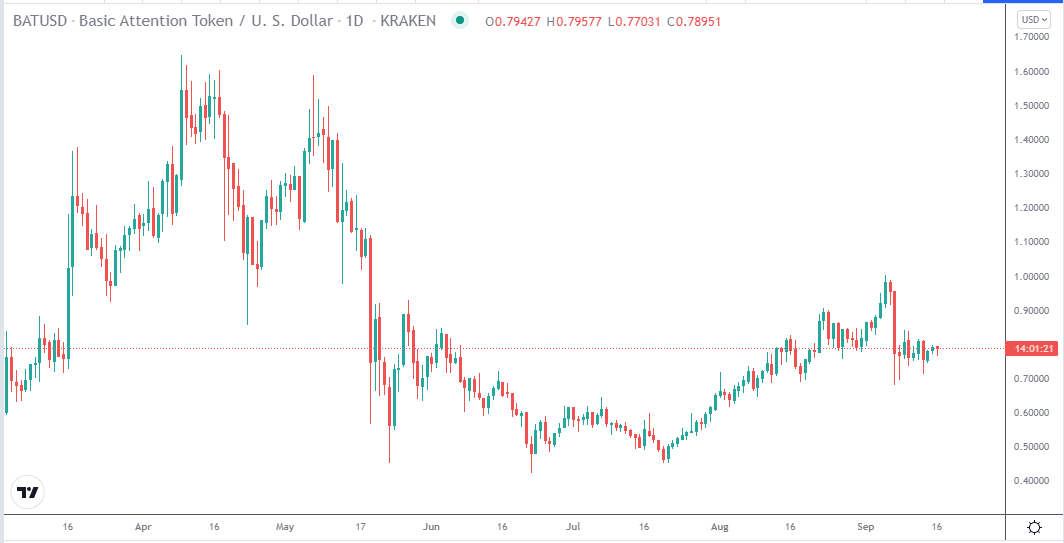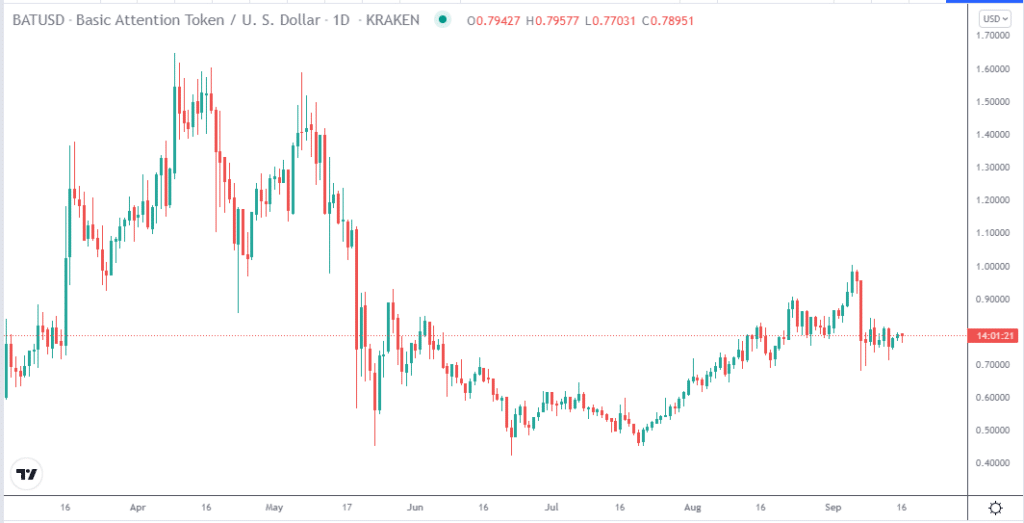 As a revolutionary phase in online advertising precedes this year, the possibilities look quite bullish, taking the BAT token's value to reach 2.50 USD.
5. The Sandbox (SAND)
The SAND is also a gaming coin; the coin was launched in 2017 as a development by Pixowl. The concept exists in a virtual world where users can create, build, buy, and sell digital assets in the form of a game. The coin reached a record high in April 2021 and exceeded $1.
Market cap: $0.73 billion
Price: $0.80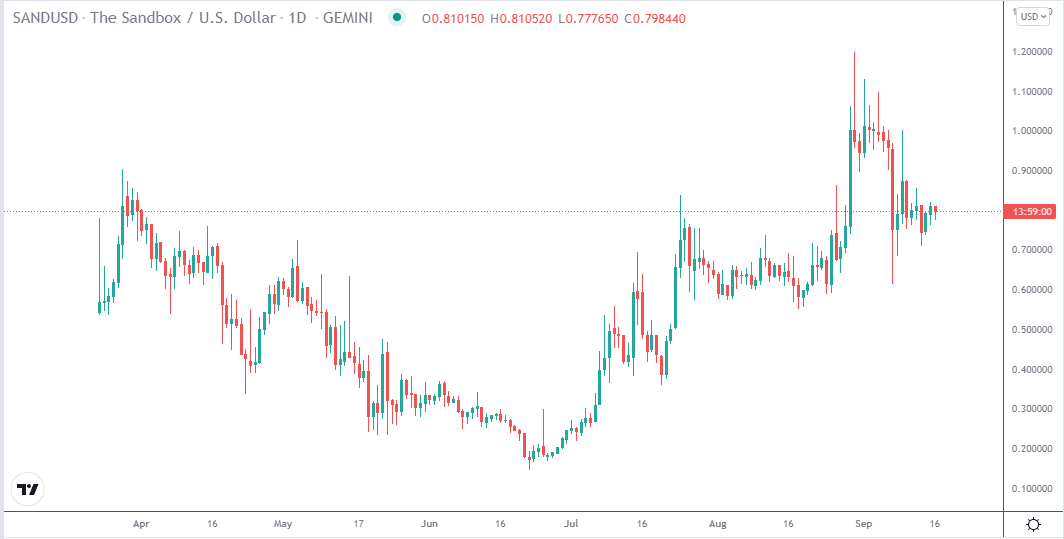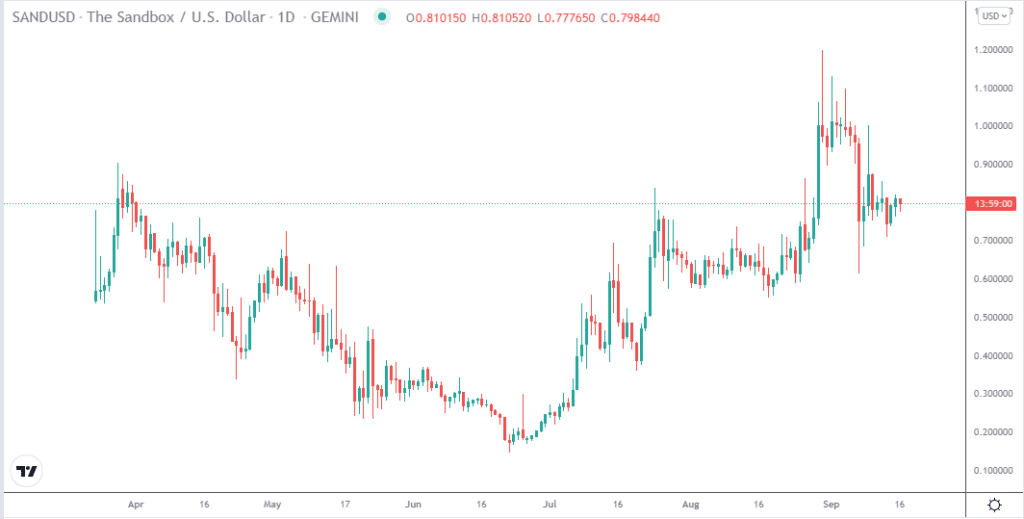 According to some market analysts' forecasts, Sandbox's price may hit $2 by the end of 2021.
Pros & cons

Pros

Cons
Can make you rich
Penny cryptos are cheap, and if you get hold of good crypto, it can make you rich.
Probability of losing all the capital
Small investors buy it, and then big investors dump it all, making the coin worth nothing.
Value is less
You can buy several penny cryptos as their value remains less than $1. A small price move can be of great advantage.
Poor quality
A large number of penny cryptos are of low quality and do not have real-life usage.
Rapid speed
These penny crypto show rapid gains in their price primarily because of the large crowd discussing it.
Low liquidity
Most penny crypto has low liquidity and can make it challenging for investors to cash out or sell for profit.
Final thoughts
Investing largely depends on you and your goals. As investing is risky, penny cryptocurrencies are riskier. But at the same time, it has the probability to make you rich even if only one of the penny crypto hits a good return.
It is always important to diversify your penny cryptocurrency portfolio. It will be a wise decision not to put all your investment in one single coin.