Card games are pretty popular nowadays, with millions of people playing them daily. Age of God, a card game in which you may play and win tokens, is nearing completion at Juego Gaming Studios, a mobile game firm that has worked with customers such as Netflix, Warner Bros., and Disney.
Players may create or join a guild, complete tasks, level up, get NFT gear, climb the Arena ladder, engage in PVP battles, and compete in global PVP tournaments while earning goodies that can be sold for tokens.
The whole income stream will be utilized to purchase tickets from the market, subsequently burnt, reducing the total circulating quantity and increasing the Age of Gods token value.
Let us take you through the details of the Age of Gods game and how you can start with it?
What is the Age of Gods game?
A new generation of NFT action card games uses a play-to-earn concept that allows you to own all in-game items and encourages you to keep playing and progressing, making it more enjoyable. As the name implies, AOG tokens power Age of Gods, which can be used to level up Gods, purchase Gear and In-Game products, and much more. Playing Age of Gods is like playing AFKArena but with a blockchain token economy and idle gameplay mechanics thrown in for good measure.
Who created the Age of Gods game?
Since the team has extensive experience in crypto, they have the necessary blueprint and skills to execute the business plan. A growth powerhouse is created with a robust game development studio and a team of exchange and marketing experts.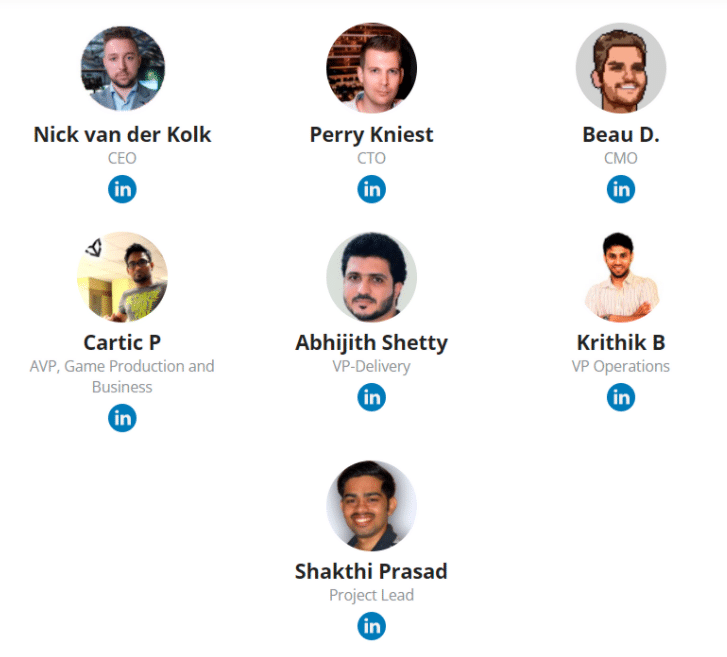 What is an AOG token?
The Age of God game token is called Age of Gods token, which has a ticker as AOG, it's a utility token based upon the BSC blockchain network, and the token standard is BEP-20. Currently, there are around 270,000,000 AOG in circulation.
AOG's current price is $0.0767. Only 270.00 Million AOG tokens will ever be created, and the current amount of AOG in circulation is 9.28 million tokens. An average of $ 162.15 thousand is traded each day in the Age of God's market. It is sold on two marketplaces and two exchanges, Gate.io being the most popular.
Age of Gods has a market valuation of $711.29 thousand with a current market share of 0.00 percent.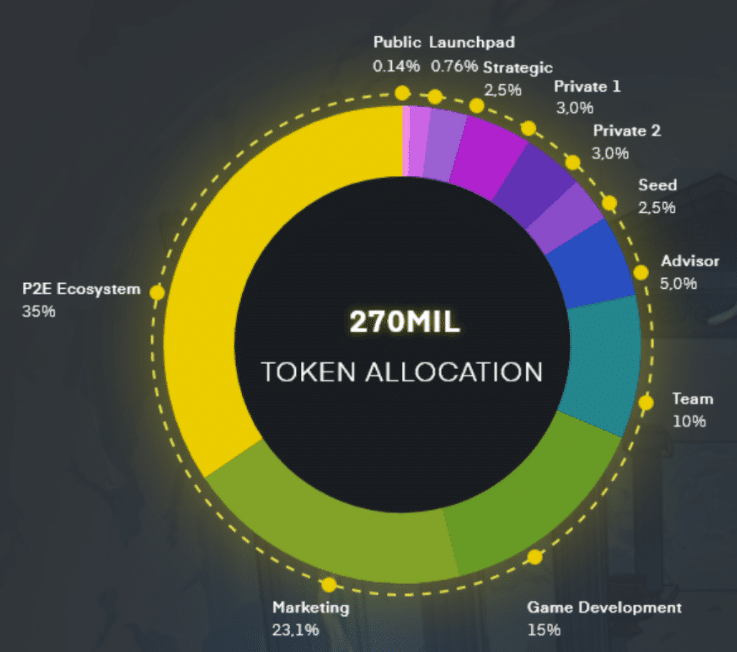 You may get tokens by:
Playing in the Global ESports Tournament, which takes place every two weeks.
Defeat the game's bosses to advance.
Weekly and monthly Guild advancement bonuses for daily logging in and auto-farming.
Fundamentals of token growth
Tokens may be earned in several methods inside the game, guaranteeing player retention and progress.
Delayed gratification encourages consumers to keep tokens for a long time, increasing token value.
Invite and earn passive money by encouraging people to join Age of Gods and incentivize future participation.
A 100% of net revenue buyback program will be committed to maintaining the Age of Gods coin value.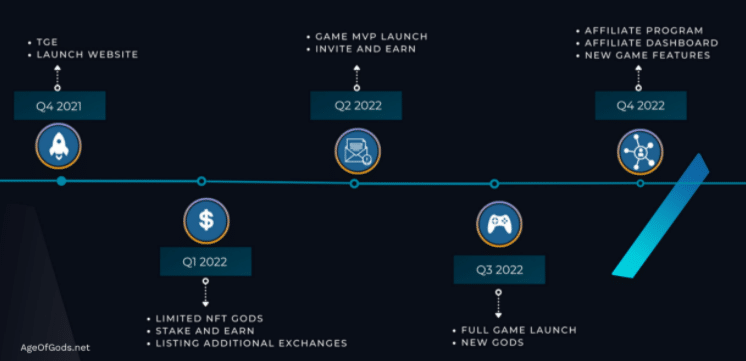 How to start with the Age of Gods?
To begin, you have the option of playing one of two game modes.
Campaign PvE
Achievements and new areas are discovered as you go through the story. You can assess how you're progressing concerning your peers and the rest of the Age OfGods community by looking at your global rating.
PVP / ESports Tournament
PVP in AgeOfGods is all about climbing the ranks. Before the seasonal reset, participants compete against offline duplicates of each other's teams to climb the ladder (14 days).
How does the Age of God work?
Throughout your adventure, you will have the opportunity to earn and purchase more rare God NFTs, with a maximum of 1,000 per God. As you continue, the rarity of your God will increase, enabling you to obtain an even more precious NFT as a result. You will then be able to list them for sale on the Marketplace. Ex-players will enjoy the rewards, while newcomers may be assigned to a formidable squad with which to fight and win.
Blockchain of the Age of Gods game
The excellent fame game Age Of Gods, based on a play-to-earn model, is made on a BSC blockchain.
How can you make money with Age of Gods?
AgeOfGods may be purchased, traded, and sold on open secondary markets like OpenSea and Enjin. However, players have two alternatives when it comes to collecting their winnings. One method uses an AOG/BTC coin, while the other uses a limited number of NFTs. Naturally, you'll need the NFTs to unlock the later game's more valuable treasures and additional story points and difficulties for your bounty hunting adventures.
Is the Age of Gods a legit game?
Yes, the Age Of Gods game is legit. It is safe and secure to play and earn.
How much could you earn with the Age of Gods game in 2022?
There is no limit on the earnings while playing the game. The earnings primarily depend upon the playing strategy, time constraints, and initial investments. In other words, you can say the sky is the limit.
Final thoughts
Age of Gods is a brand-new video game that uses a "Play-to-Earn" business model. This implies that you may earn tokens by playing the game and that players have full ownership rights to in-game things, incentivizing them to play and advance. This website's content serves as general market commentary only and does not represent investment advice. Before investing, we recommend that you do your research.