New technological developments and play-to-earn games have pushed blockchain gaming to new heights. Take a closer look at the NFTs and gaming infrastructure beyond individual games.
Explore the infinitely different possibilities from our day-to-day existence: worlds that are far beyond our ordinary experiences. Through gaming, we can tell immersive stories that scale internationally. Playing games allows us to take on any role we desire.
This appeal, combined with the power of blockchain technology, has led to blockchain gaming coins becoming a multibillion-euro industry. Explore the five best of these below.
Can you make money with crypto games?
Like Bitcoin or Ethereum, they can gain value, and their earnings are available in real life. As far as the actual operations go, these battles are similar to mining on other blockchains. Taking part in a fight, winning a prize, and perhaps doing some mining in the process.
How to earn with crypto games?
Before cryptocurrencies, we could not prove the scarcity of digital assets trustworthy. There was an attempt to offer an internal currency in many online games, but the issuing company determined the supply and control of these digital assets. Furthermore, you might be able to revoke or modify your ownership of these coins.
The crypto-collectibles industry is an excellent example of how blockchain principles bring value, scarcity, and self-sovereign ownership to the digital gaming industry.
A crypto collectible is a non-fungible token. In other words, it is not exchangeable like crypto, in the same way, that all tennis balls are interchangeable until they are signed by Roger Federer and become unique collectibles. At that point, you can sell them for money.
How to start making money with crypto games?
Choose a suitable game to play and learn from your mistakes.
Many good options are available, such as Axie Infinity, Decentraland, the Sandbox, and more. NFTs sell for more than $1 million on these games, some selling for hundreds of thousands.
The purchase of in-game NFT virtual land can be pretty profitable these days, although you should never invest money in crypto or NFTs that you aren't willing to lose.
Best five gamecoin crypto to choose
Here are the best five crypto games coins to improve your portfolio.
Decentraland (MANA)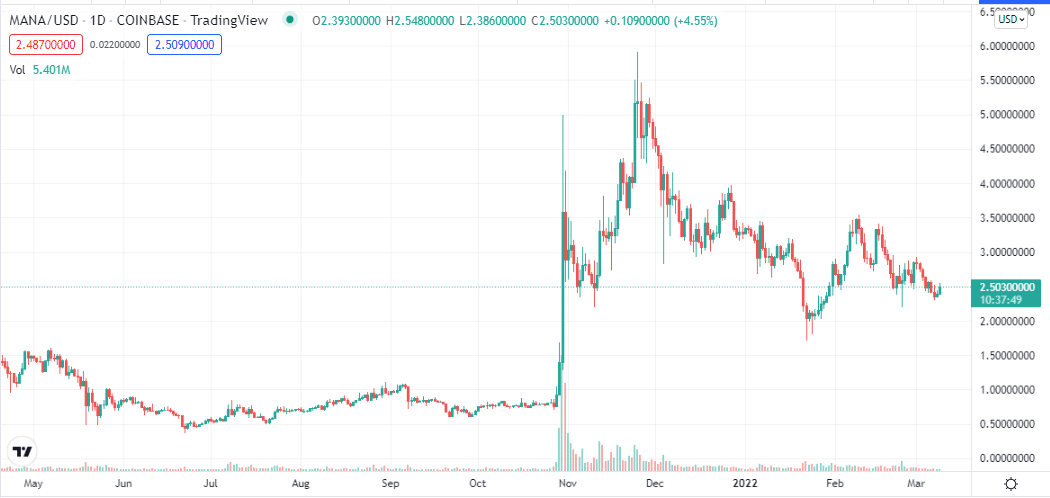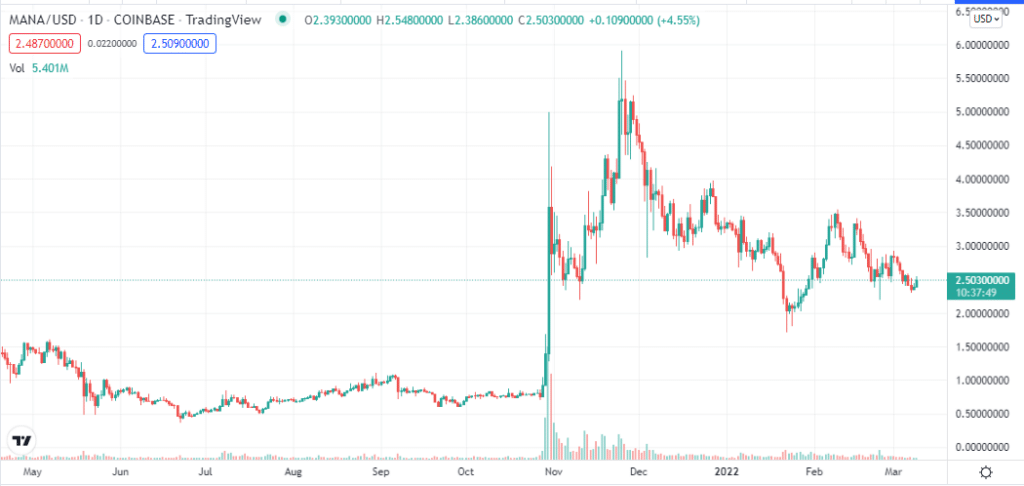 Summary
MANA is a cryptocurrency created by Decentraland, a blockchain-based virtual world built on the Ethereum blockchain. The virtual world debuted in 2017 to explore and create multiplayer games. This 3D Builder is an easy-to-use tool that lets you create almost anything in Decentraland as a game token.
Price forecast 2022
According to the March 2022 average price, the minimum price is $1.99, and the maximum price is $2.16; this suggests that this coin will be a long-term investment and an asset you need to add to your portfolio. Experts believe that Decentraland's price will reach a minimum level of $3.21 in 2022. With an average price of $3.30, MANA can get a maximum cost of $3.71. The game is getting famous amid the concept of virtual reality.
Price forecast 2025
Decentraland has a projected price of $9.88 by 2025. Throughout 2025, MANA will reach a maximum cost of $11.72 and an average price of $10.23.
Enjin (ENJ)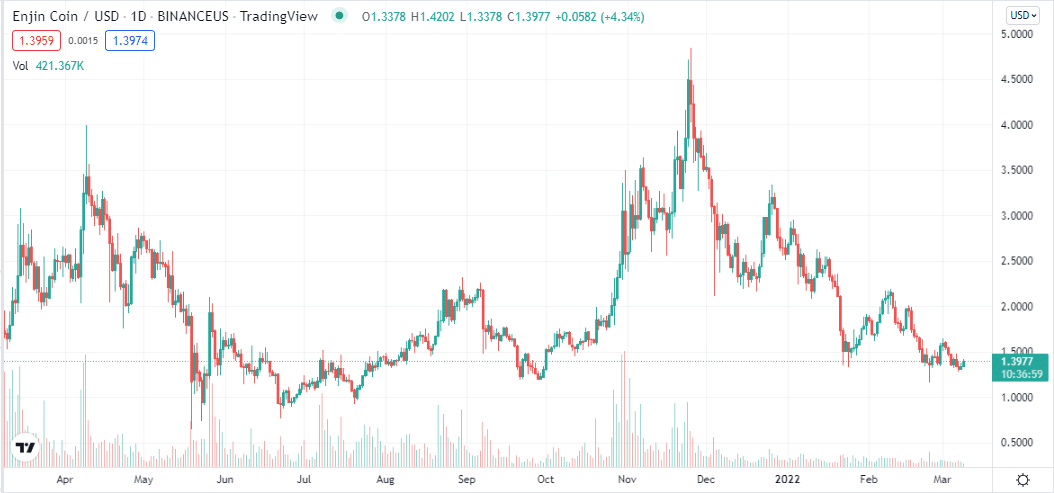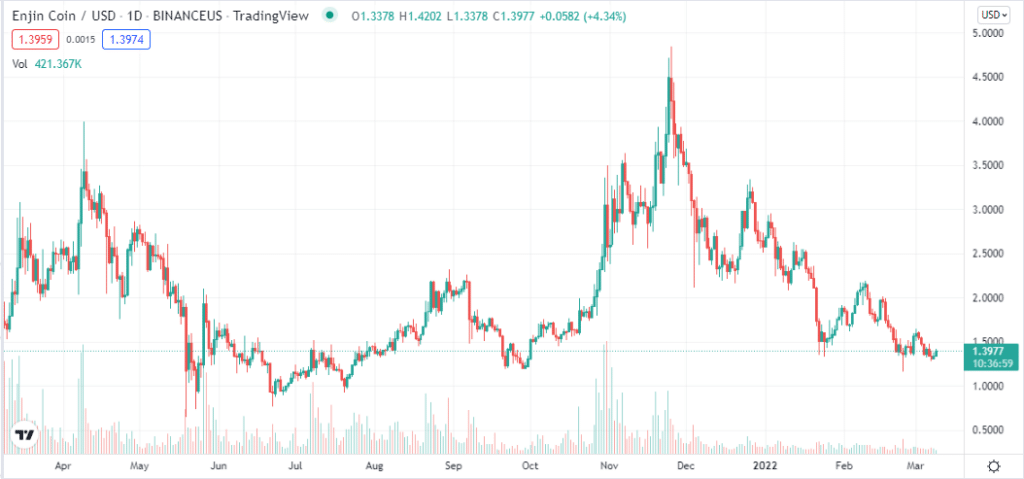 Summary
NFTs are the heart of Enjin's technology. Creating, buying, selling, and storing NFTs, makes it easy. Enjin allows people to develop NFTs that can trade between different games. That's a fascinating aspect of blockchain gaming. Thus, you could spend hours playing a game, but you'd lose all the items or points you earned afterward. Today, blockchain games offer people the chance to sell or trade their assets.
Price forecast 2022
ENJ's price dropped by 40.69% during the first quarter of 2022, removing $0.96 from its current value on average. Because the coin has suddenly dropped, it is an excellent opportunity for quick investment, meaning that it is in a dip at the moment. According to our forecasts, the ENJ price will reach a minimum of $1.72 in 2022. With an average trading price of $1.78, ENJ prices can compare a maximum of $2.05.
Price forecast 2025
According to Enjin's projections, its minimum price in 2025 will be $5.28. By 2025, the cost of ENJ could reach $6.32 at its apex, with an average of $5.47.
Axie Infinity (AXS)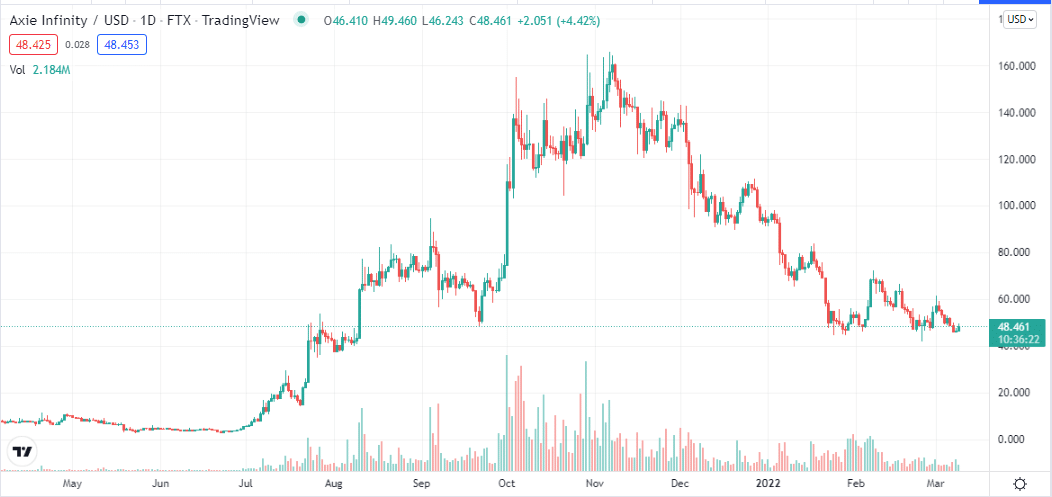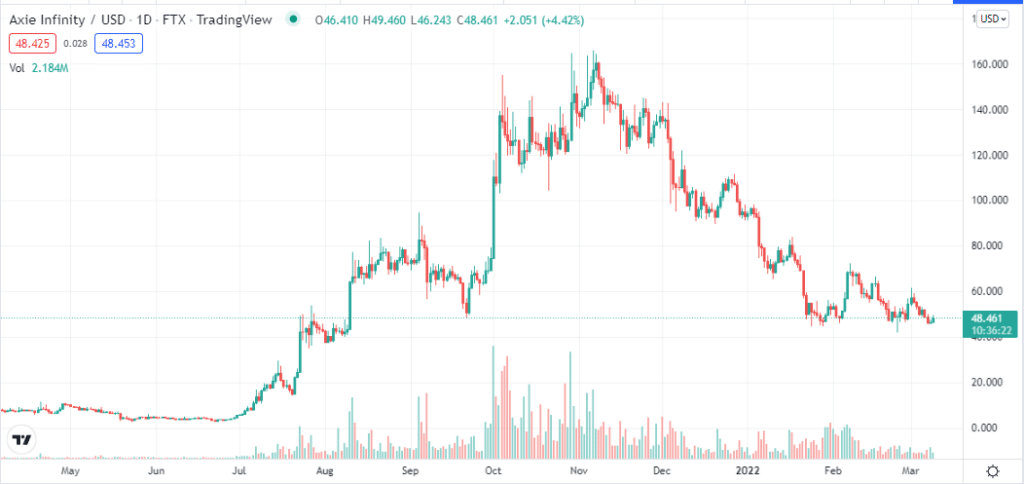 Summary
Axie is a blockchain-based game best known for its AXS, emerging as one of the most popular games in the world. In recent months, AXS (Axie Shards) has seen a range of pump and dump cycles, but it's still one of the best platforms for crypto gaming and earning, supported by the Ethereum blockchain.
Price forecast 2022
The price of AXS dropped by -11.492% over the Q1, 2022, removing $6.30 from its current value on average. It could be an excellent time to buy the coin right now since it is dip. In 2022, it seems likely that the AXS price will reach a low level of $62.03. While the average trading price is $64.35, the maximum price is $71.21.
Price forecast 2025
By 2025, each Axie Infinity should cost at least $182.93. By 2025, the AXS price will reach a maximum of $217.35 with an average of $188.06.
Star Atlas (ATLAS)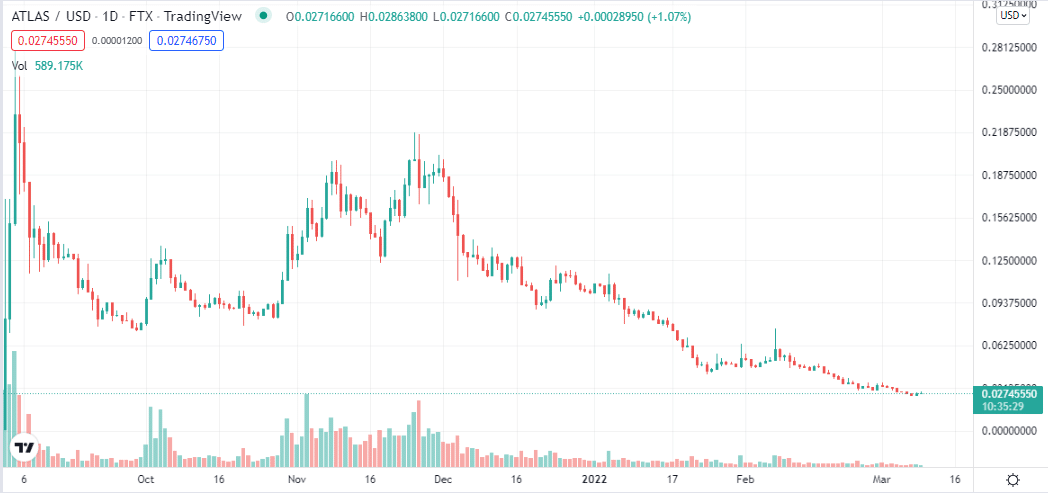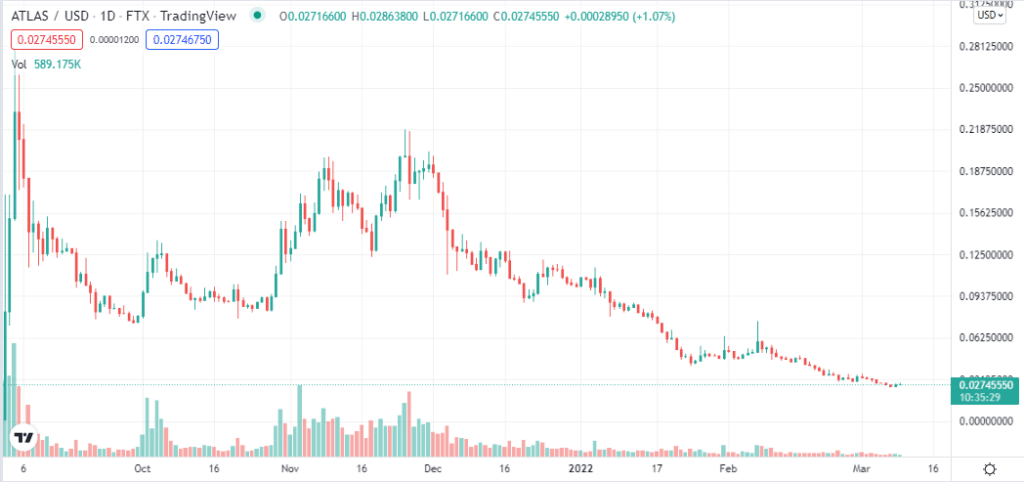 Summary
ATLAS cryptocurrency has a great deal of potential in the future, especially after it has been climbing since last month, bringing the popular space game as an opportunity to earn.
Price forecast 2022
In 2022, Star Atlas will reach a minimum price of $0.037 based on our analysis of past price data. The concept of space exploration is quite stunning for the users.
Price forecast 2025
By 2025, the price should reach $0.11 for 1 Star Atlas. At its peak, ATLAS can be purchased for $0.14, while it will be priced on average at $0.12 until 2025.
Illuvium (ILV)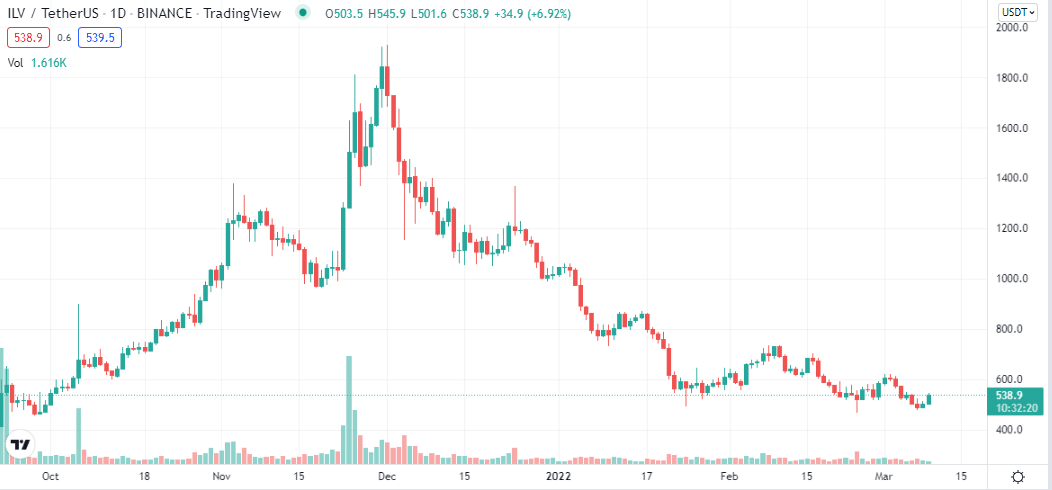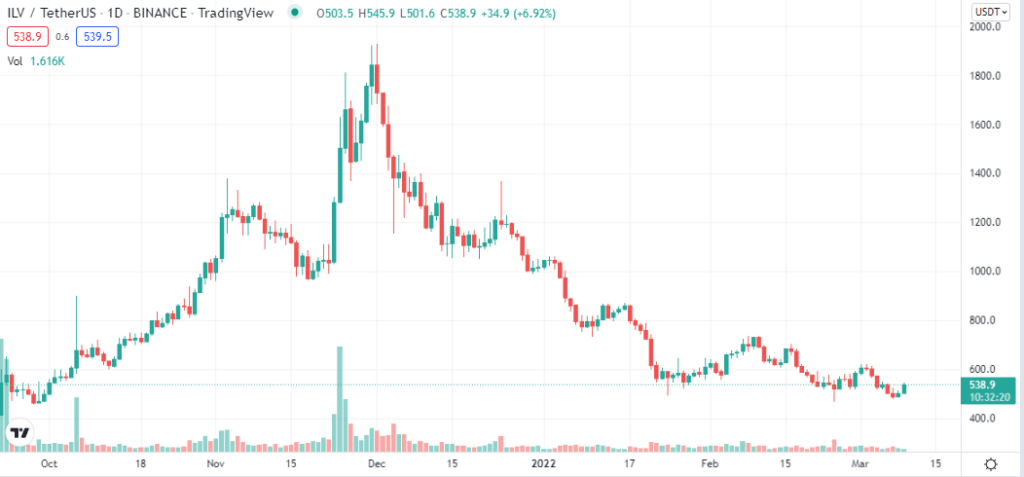 Summary
Illuvium (ILV) enjoys one of the most significant rises in the crypto and non-traditional gaming sectors today, mainly since it revolves around its RPG open world, reminiscent of "Pokemon."
Price forecast 2022
The free-to-play model is a point of attraction for many users, making it a common medium of exchange for the players. An average trading price for ILV is $674.48, with a maximum level of $784.13. In 2022, we anticipate that Illuvium will reach a minimum price level of $654.40 based on our analysis of past price data.
Price forecast 2025
In 2025, we expect the price to reach $2,202.97 for one Illuvium. Throughout 2025, the ILV price is likely to get a maximum level of $2,596.43 and an average of $2,279.93.
Final thoughts
Investing in gaming cryptos in the US can be challenging because many gaming cryptos do not trade on most US exchanges. A decentralized exchange may provide investors with access to more tokens. However, you must know the risks involved before going that route because there is less investor protection.
Crypto gaming investors have a broader issue due to the number of crypto tokens available. In addition, several play-to-earn games are flooding the market, inspired by the success of Gala Games and Axie Infinity.