In the classical definition, dip implies rapidly immersing anything in a liquid. In cryptos, a dip is an act of purchasing an item after its value has decreased. Buying a dip suggests that you have a chance to invest in a currency whose value has fallen in the short or long term.
When it comes to dips, there's a name for it: "buy the dip." Going long on an asset after seeing a short-term decrease in several ways is what this word alludes to. Buying this dip might benefit long-term up-trends, but it is unprofitable in downtrends.
This guide will talk about a crypto dip investment strategy and how you can trade it.
What is the crypto dip investment strategy?
"Buy the dip" investment strategy does not imply everywhere when an asset's price is falling; rather, average in as it falls and purchases after it settles.
Furthermore, when the general trend is up or sideways in a bull market, this method is far safer to employ.
To that end, to buy the dips, one may perform one or more of the following:
Buy in tiny increments as the price falls, establish an average position, and try to buy more as the price drops.
Wait for the price to stabilize and maybe even show indications of recovery before buying. Buy a reaction off of support.
Set lower-priced buy orders and let them fill. It is particularly successful in placing buys precisely before historical support levels, key "buy walls," and psychological levels, as prices tend to do at least a quick bounce off these levels.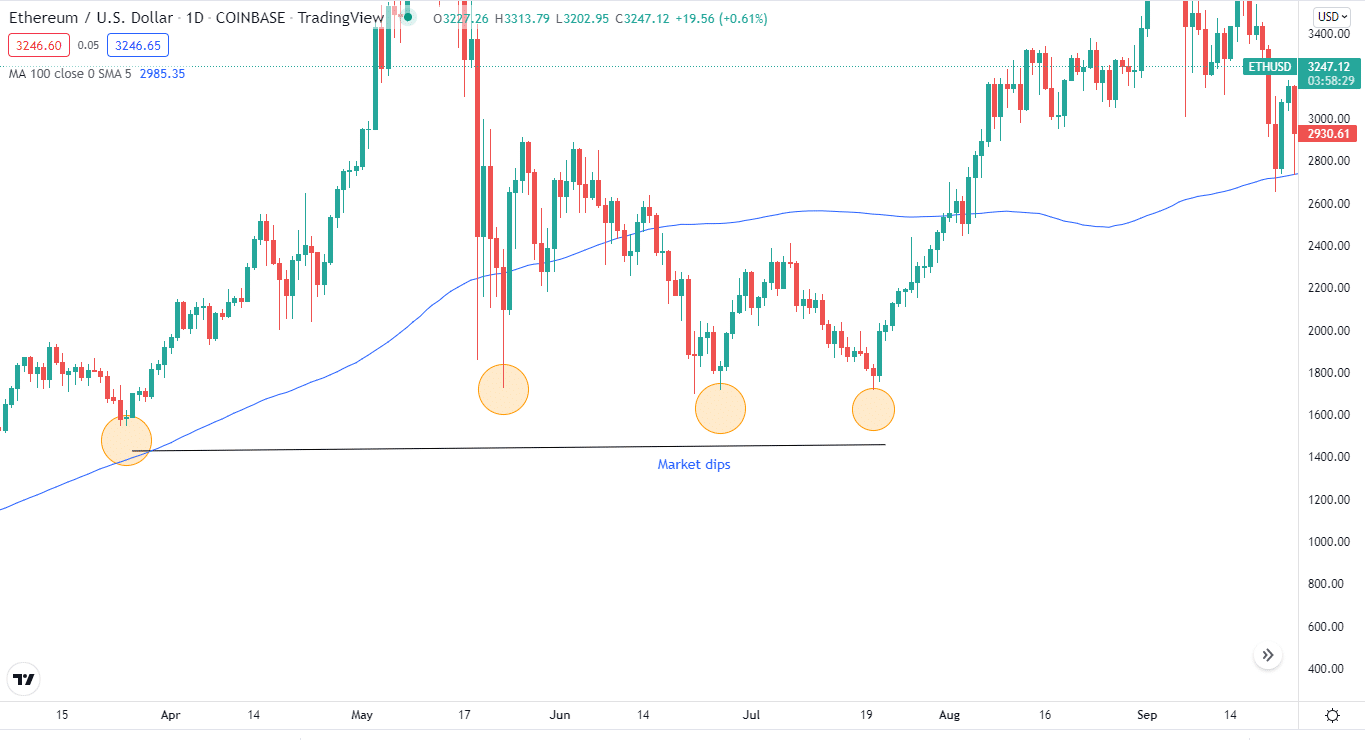 When a crypto price drops, it's a good time to invest in a crypto network. Staking is another name for this practice. Buying the dips in a staking network allows you to begin reaping at a lower price. The price fall will also correlate with an uptick in trade volume inside that network.
Here's something to remember when trying this strategy:
Various factors can cause a crypto price drop. A tweet from the world's richest man, some whale trying to take over, and others.
When a major firm announces its acceptance of cryptocurrency, it's usually a hint that the price of that coin will climb. However, if the same company decides to cease taking cryptocurrency in the future, its value would most certainly plummet.
Before buying the dips, determine what triggered them and whether the market will right itself later.
How to trade using the crypto dip investment strategy?
Trading in this strategy suggests you buy when the price is lower than the previous high. At its most complicated, it entails examining charts, paying attention to short and long-term moving averages on various time horizons, detecting historical support levels, and establishing stops.
However, regardless of your degree of skill, the premise is typically the same. As a result, we witness numerous little dips in crypto, followed by significant declines every few weeks or months.
Depending on your investing strategy, you may wish to buy on minor or significant drops. For example, little dips are ideal for purchase if you are a range trader; more significant dips might be profitable for a long-term investor.
Bullish crypto dip strategy
A fairly basic investment strategy is the "buy the dips" strategy. This crypto means that you buy an asset after its price has dropped or settled. The "dip" or the lower price is short-term, and the price can rise back up anytime.
Entry
It is best to use this strategy when the market is bullish. Here, the trend would be going sideways or up.
One way to enter using this strategy is by creating an average position and choosing to buy as the price decreases. Another way is waiting until the price is stagnant and then buying. The price may also appear to recover at this point.
Depending on what type of trade you are looking for, the dip strategy can come in handy. For example, short-term traders prefer to "buy little dips."
Stop-loss
Set stop-losses as you feel necessary. Not every trade is perfect. But, to avoid losses, place a stop when you have collected enough profits.
If the timing of placing the stop is good, a trader will only be risking a small amount of loss by closing off the trade at a decent time.
Take-profit
Investors and traders set this value according to their needs. Some may set a threshold at 20 percent. They will then start investing when the market drops to this level and continue until it returns to a new high after a few months. Long-term traders usually prefer this.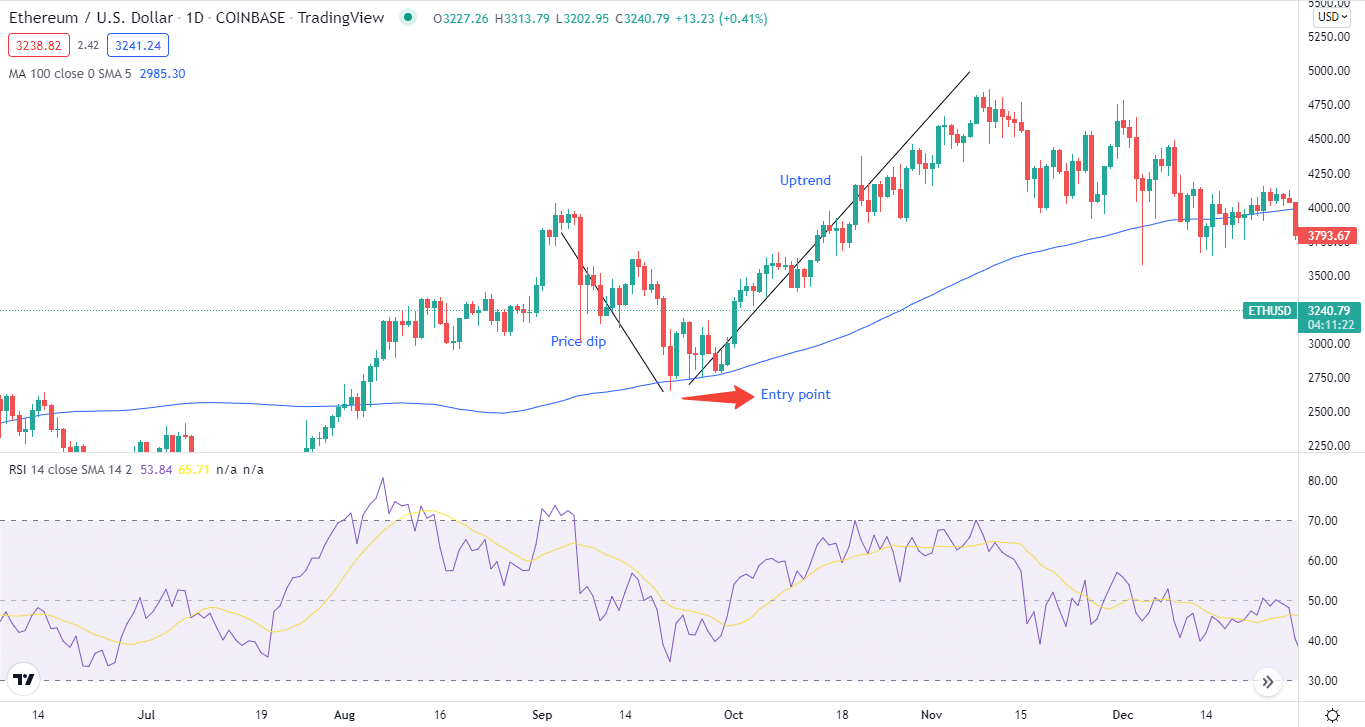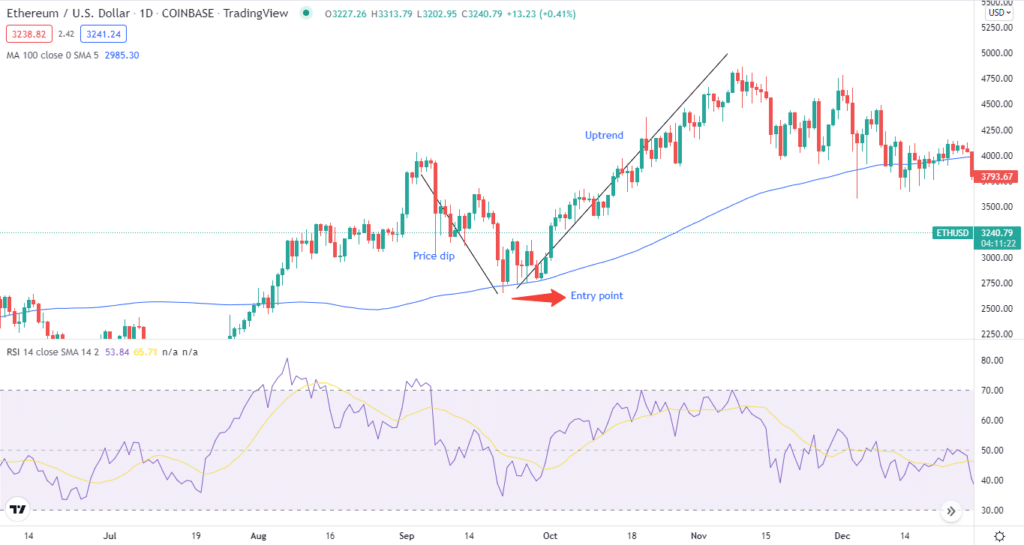 Bearish crypto dip strategy
In the bearish market, we don't have any market dips. Instead, we have highs. So, the crypto dip strategy isn't for the bearish trade setups.
How to make $500 from this strategy?
To make $500 with the crypto dip strategy, the first thing to do is market research. You can pay attention to the rise and fall of crypto. Let's use ETH as an example. The price goes below 3000; it is an excellent low price point.
Sell for Ethereum if your trading is to sell above your buy price, so if you buy at $3000 and sell at $3100, you just made $100. If you buy at $3000 and sell at $3500 ETH, you just made $500.
Final thoughts
Remember to use the dip strategy in a bullish market and not in a bearish market. If you are unaware of the market trend, take it slow. It is easier said than done, but remember that dip buyers are not rewarded as well as they did in the past. So, make your move accordingly.