Hashing power distribution has recently been shaken up amid the recent price rise. After the Chinese government banned Bitcoin mining last summer, the price of Bitcoin (BTC) has been climbing to another all-time high. This has resulted in substantial profits for BTC mining operations.
Equity investors looking to add Bitcoin exposure to their portfolios might do well to consider adding a bit of exposure to Bitcoin mining companies. The following list of Bitcoin and crypto mining stocks provides promising opportunities.
Can you make real money with crypto mining stocks?
Every ten minutes, the BTC network generates an estimated number of new Bitcoins. As long as only a few people are mining Bitcoins at any given time, the web will share Bitcoins readily to reach the predetermined limit. However, with so many BTC miners now, the network is selective about disbursing Bitcoins.
Bitcoin miners must solve increasingly challenging problems to confirm transactions so that the network can control what number of Bitcoins generates each second. Therefore, miners have to increase their equipment's power to remain competitive. Miners today need to adopt either of the following strategies if they hope to be profitable:
Purchase specialized mining hardware.
Join one of the cloud mining pools.
How to earn with crypto mining stocks?
Cryptocurrency mining has become a bit like an arms race. As early as 2009, a simple PC was all you needed to mine some Bitcoin.
Cryptocurrency mining is more profitable than other forms of cryptocurrency mining. But it differs from crypto to crypto and can even change daily. For example, the profitability of your business will depend in part on the cost of your energy consumption. As well as your "hash rate," or how quickly your computer solves problems. Various online calculators, including whattomine.com, can assist you in estimating your profitability based on the specific variables you enter.
How to start crypto mining?
A computer with special software that solves complex cryptographic equations is required to mine cryptocurrencies. When the technology was early, Bitcoin could be mined on a home computer using just a CPU chip. However, the difficulty level of most cryptocurrencies has made it impossible to mine them with CPU chips over the years.
The process of mining cryptocurrency requires either specialized GPUs or application-specific integrated circuits (ASICs). In addition, a reliable internet connection must be available at all times on the GPUs in the mining rig. Crypto miners must also join an online mining pool as part of this requirement.
Top crypto mining stocks
A few mining companies trade on exchanges in the US, Canada, and Europe that you can buy shares in.
Below are seven Bitcoin and crypto mining companies, ranked by market capitalization, price performance, and relevance to the industry.
1. Hut 8 Mining Corp (HUT)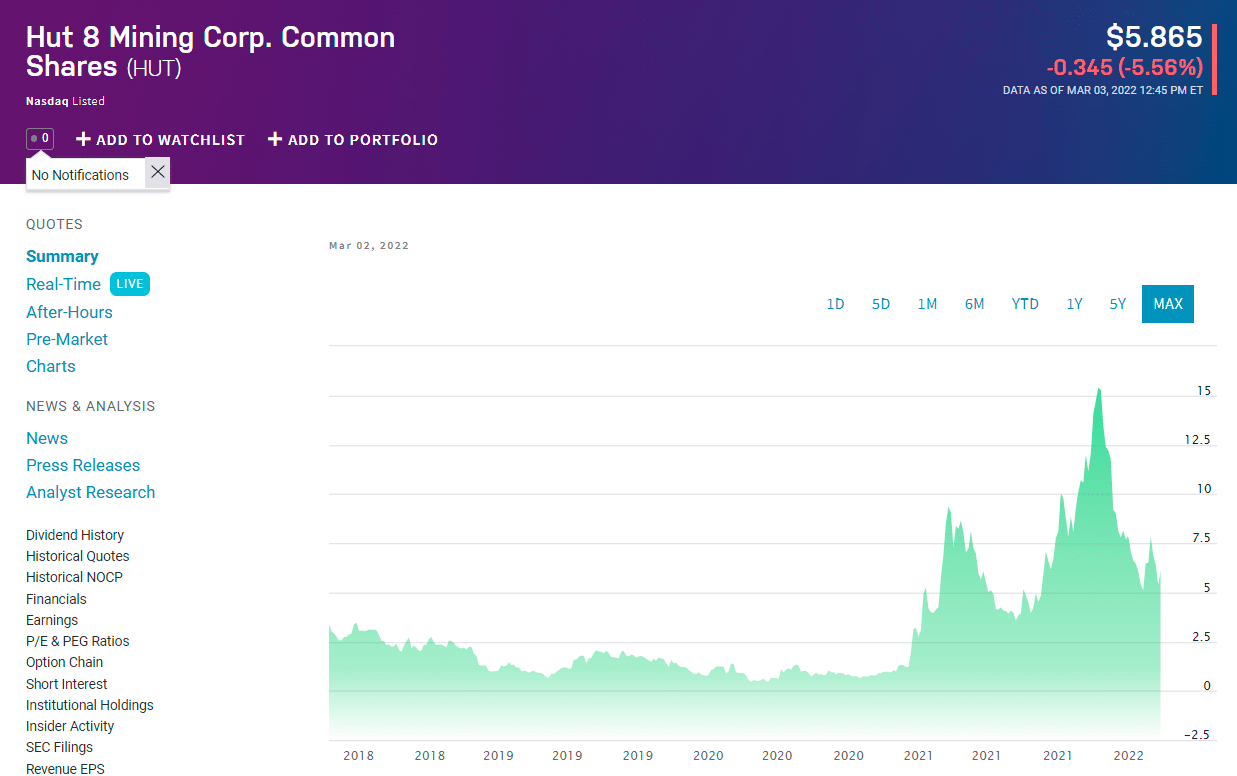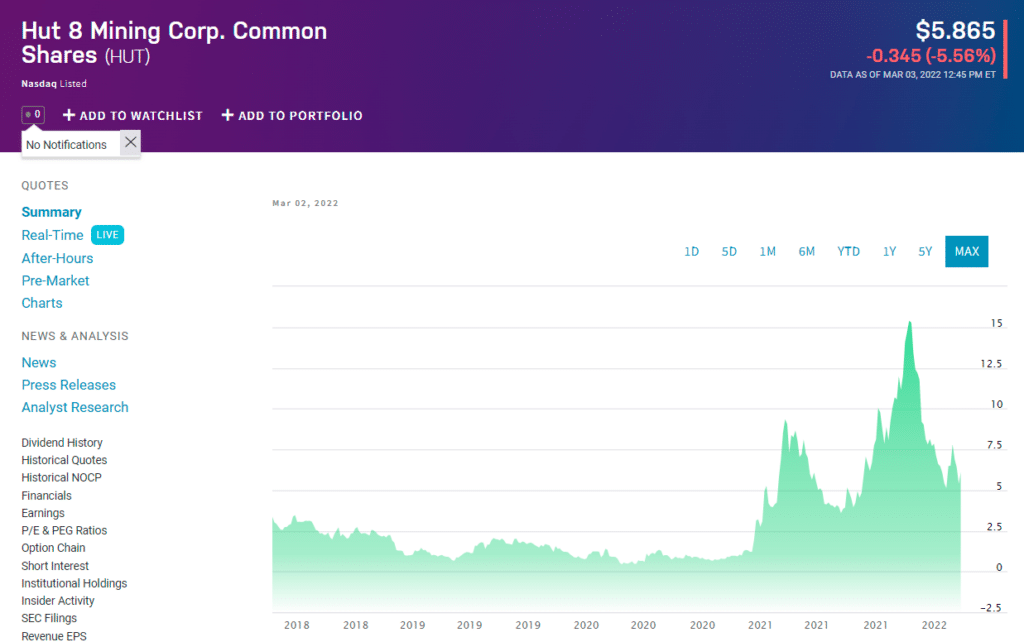 Summary
A North American company called Hut 8 holds a significant amount of self-mined Bitcoin. Moreover, the company's stocks have been rising significantly since the company adopted a mine-and-HODL strategy in 2021.
Based in Canada, this Bitcoin mining company appears on the NASDAQ. Hut 8 increased its revenue by 263.5% year over year during Q2/2021 while increasing its operating income by 230% to ($6.35m). Its market cap is currently $1.56 billion.
Price forecast 2022
Hut 8 Mining's shares are likely to encounter positive dynamics with expected volatility of 4.236 percent. The price prediction suggests that the stock could rise by $7.67.
Price forecast 2025
The company is continuously engaged in the production of Bitcoins on an industrial scale. So, according to future forecasts, the weighted average target price for Hut 8 Mining is $20.16 in 2025.
2. Bitfarms (BITF)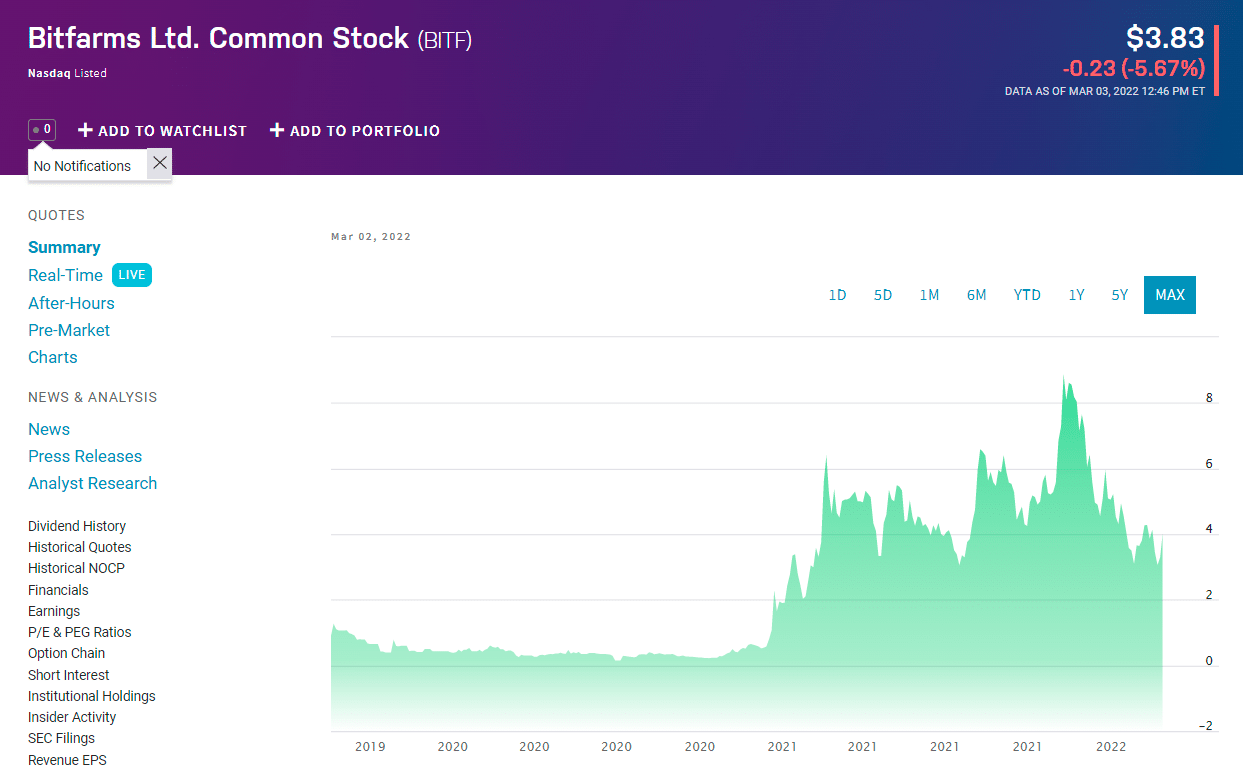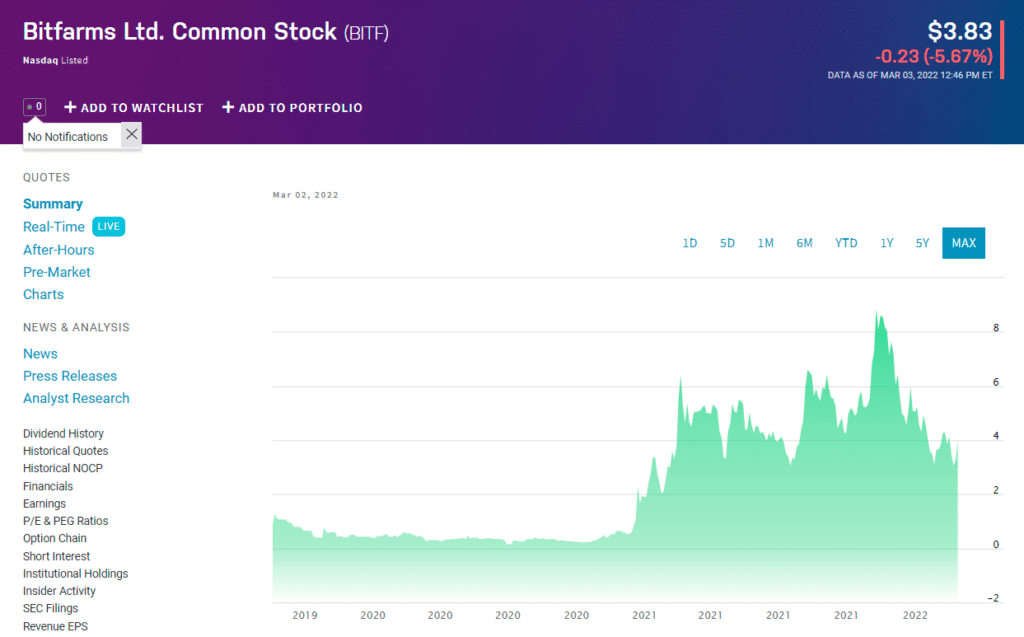 Summary
As measured by market capitalization, the least valuable crypto miner on this list is Bitfarms (BITF, $4.19).
BITF provides processing power and security to cryptocurrency networks, collecting a fee for each transaction processed by each network.
With the purchase of a new facility in Washington state in late-2021, Bitfarms has acquired six facilities worldwide. Dede anticipates that the majority will be online by the end of 2022. According to the company, this could support 11.8 EH/s with 3800 kW and 100 TH/s.
Price forecast 2022
Stock price predictions for Bitfarms Ltd anticipate an upside potential of 214.47% from the current share price of $3.83.
Price forecast 2025
It is the first such project in the US crypto mining companies can access 404 megawatts. So, according to the forecast, Bitfarms shares will trade at an average price of $3.81 in 2025.
3. Canaan (CAN)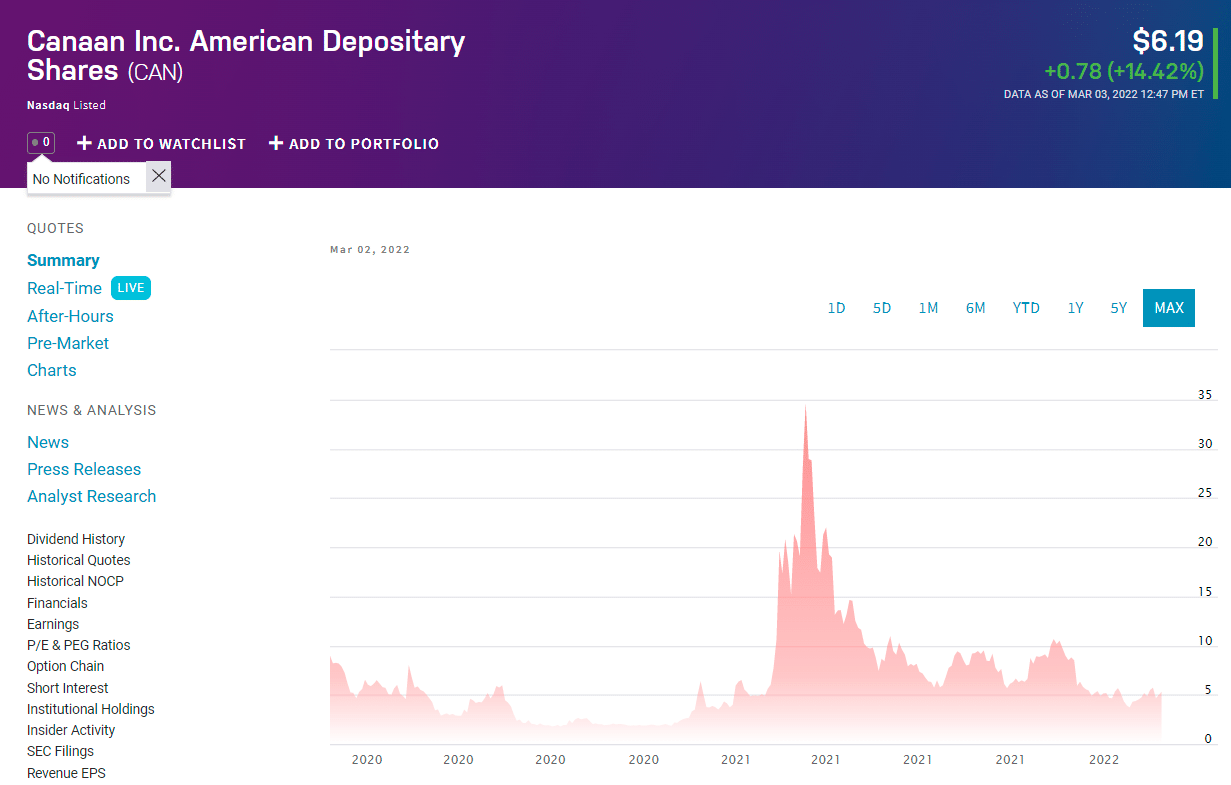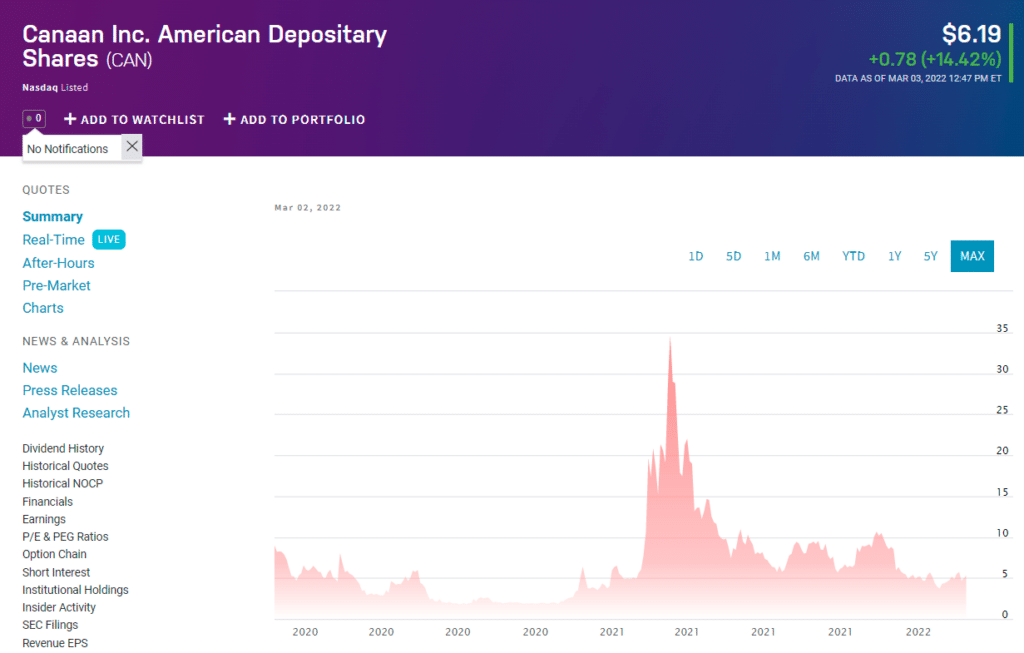 Summary
Through the provision of crypto mining hardware, Canaan assists Bitcoin mining companies in increasing their mining capacity.
Two products that the company developed in 2018 changed the face of Bitcoin mining. ASIC chip with 7nm technology and RISC-V architecture built for commercial application. With the ASIC chip, mining becomes more energy efficient, while the RISC-V chip enhances the ASIC's potential for making computing even more efficient.
Price forecast 2022
Record revenue of $167.5m in Q2/2021 by Canaan was unexpected, and the company's value is at $1.03 billion currently. So the company has the potential to exceed more this year. The weighted average target price per Canaan share in Aug 2022 is $6.87.
Price forecast 2025
This technology company specializes in producing ASIC high-performance computing chips, conducting chip development, manufacturing computing equipment, and providing software services. These products are the future demand, so for January 2025, the average forecasted Canaan price is $9.33.
4. BIT Mining Ltd (BTCM)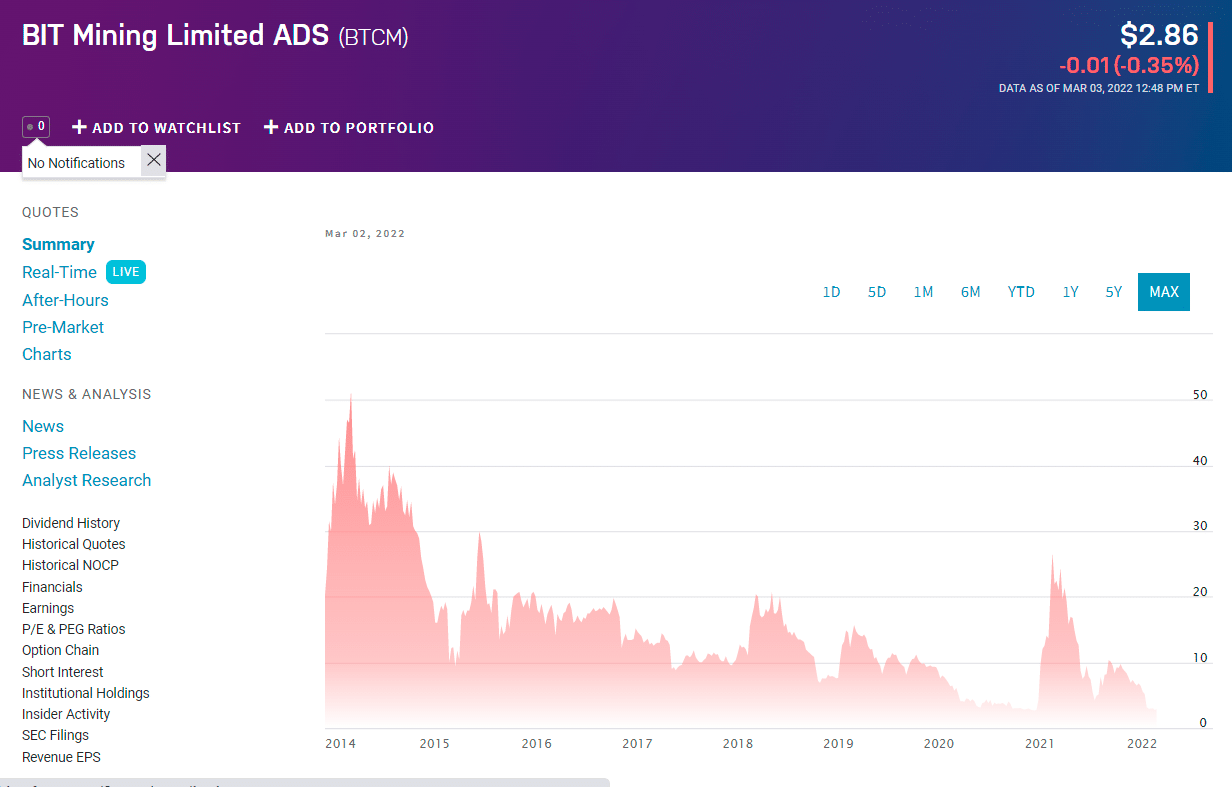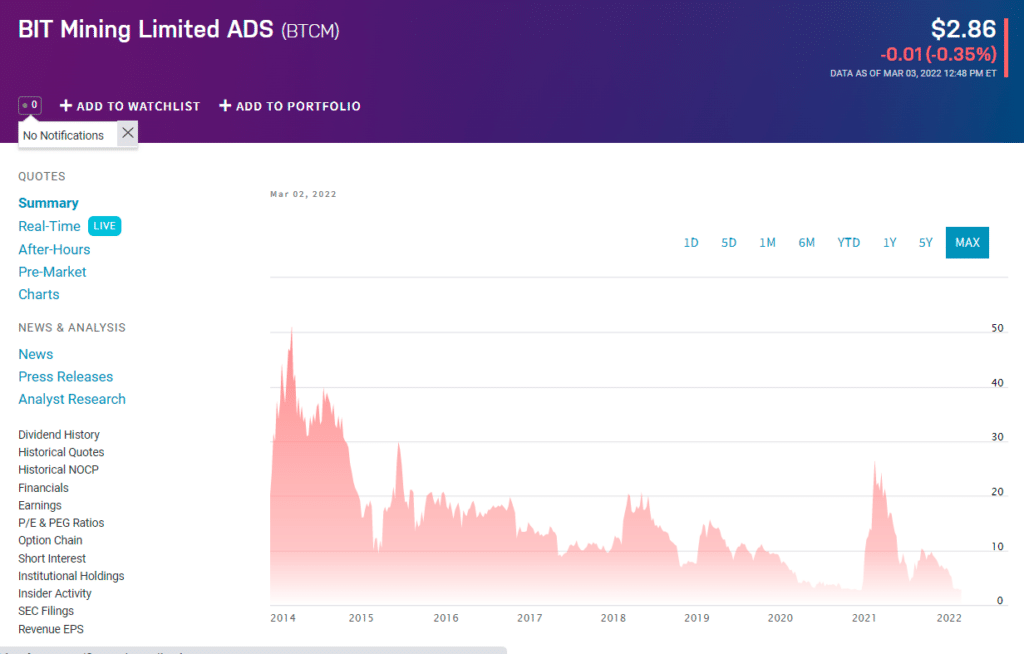 Summary
BIT Mining is a cryptocurrency mining company based in Hong Kong. Its activities include cryptocurrency mining, data centers, and mining pools. Mid-November 2021 saw the announcement of BIT Mining's financial results for its third quarter (Q3) in its fiscal year (FY) 2021, which ended September 30, 2021. In the year-ago quarter, the company lost $6.3 million, losing $41.7 million in the current quarter.
Price forecast 2022
Based on money flows, the history of the internet, and the company's history, BTCM's stock price can increase from $8.17 to $8.82 in one year.
Price forecast 2025
Furthermore, it owns BTC.COM, a blockchain browser. So, BTCM will have a future stock price of $6.62.
5. Riot Blockchain (RIOT)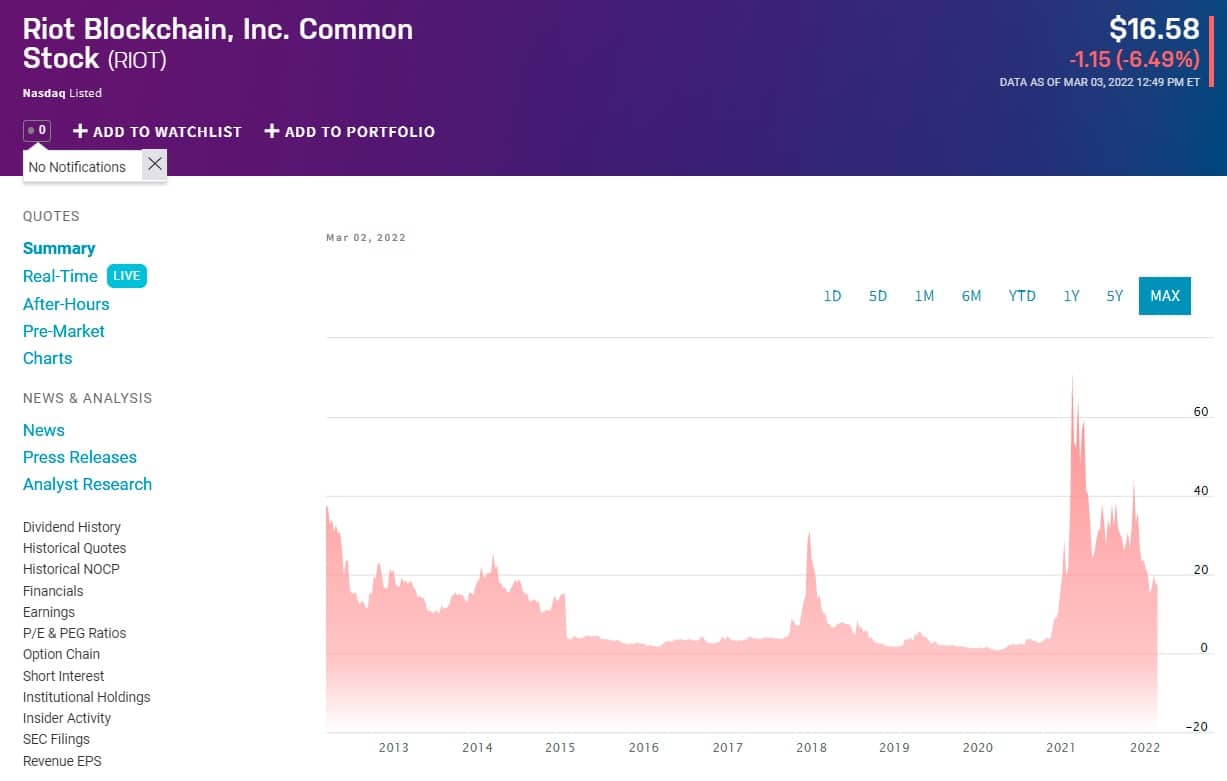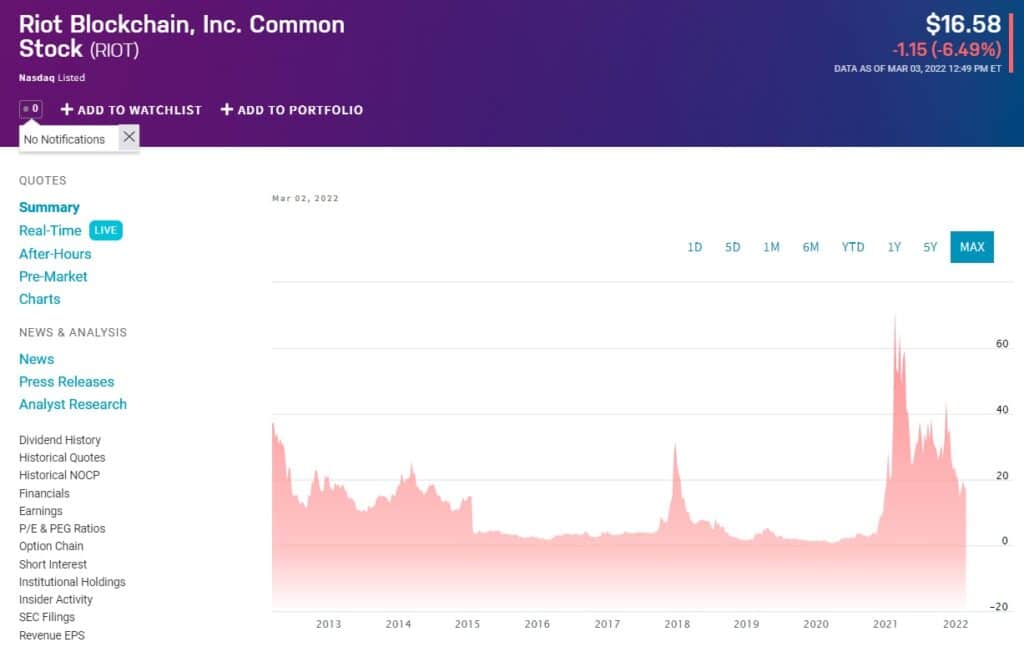 Summary
Riot Blockchain has also significantly corrected its highs. However, RIOT's price has held steady for the past year and increased by 120%. During this current phase of correction, it is considered an ideal time to buy for healthy returns in 2022.
According to company reports, direct costs were $10,096 for Q3 2021. Although its prices were relatively higher, the company reported $64.8 million and an EBITDA of $37.6 million.
Price forecast 2022
As of today, Riot is capable of mining 3.0EH/s. The mining capacity will increase by 9.0 EH/s this year. The company Riot also plans to overgrow by 2022. So in one year, the stock price of RIOT can rise from $15.05 to $17.86.
Price forecast 2025
A comparison of Riot and Marathon shows that it has a higher cost per Bitcoin mined. The future stock price for RIOT is $22.695.
Pros & cons
| | |
| --- | --- |
| Pros | Cons |
| Crypto mining is a much faster process, so it doesn't involve another party. | It comes with many risks, and it's not easy to handle. |
| You can get complete control and authority over your money with crypto mining. | There are fair chances of losing cash With high volatility. |
| Its transaction fee is affordable. | Crypto mining stocks require hardware energy consumption. |
Final thoughts
Putting it simply, crypto mining companies offer an excellent complement to investing in the highly profitable but highly volatile crypto market. Due to cryptocurrency prices' volatility, investors looking to allocate portions of their portfolio to crypto should likely consider buying shares of companies that mine crypto. Of course, buying cryptocurrencies directly is still the best strategy for traders looking to make a quick buck.