Forex Pip Shooter promises to take your trading to the next level. The system's ability to eradicate emotions from trades enables it to implement an optimized strategy flawlessly in every trading session. This is apparently the best way to conduct trading in Forex. The devs estimate that the robot produces a profit of 7,200 Euros annually when it works with a deposit of 10,000 Euros. We evaluate the above claims to see if the system can be trusted.
Is Forex Pip Shooter good?
Forex Pip Shooter works with numerous currency pairs and a wide range of trading strategies. This makes it a flexible tool that can meet the unique needs of different users. However, you need to be aware that the robot struggles to make profits for the user.
Features of Forex Pip Shooter
| | |
| --- | --- |
| Trading Terminals | MT4 |
| Strategy | Advanced analysis technology, pip shooter technology, average execution speed, hedging, and breakout |
| Timeframe | Any |
| Price | €800 |
| Money Refund | N/A |
| Recommended Deposit | $1000 |
| Recommended Leverage | N/A |
| Money management | Yes |
| Customer reviews | N/A |
Additional features of the system are highlighted below:
Free updates
Ease of use
Support of 28 currency pairs: AUD/CAD, AUD/CHF, AUD/JPY, AUD/NZD, AUD/USD, CAD/CHF, CAD/JPY, CHF/JPY, EUR/AUD, and many more
Compatibility with the following brokers; Key To Markets, Klimex, TrioMarkets, and TopFX
Rapid customer support
What strategy does Forex Pip Shooter use?
The EA works with multiple strategies. One of them is the advanced analysis technology strategy that focuses on gaining profits from the market trend. The pip shooter technology strategy is also executed, and it entails monitoring the market for prospective trend inversions. After a trading opportunity is spotted, the robot controls the trading parameters to maximize returns from every trade.
We have the average execution speed strategy as well. This one takes advantage of small spread operations and quickly modifies the trading parameters to enable them to adjust to markets when they become highly volatile. Other applied strategies include hedging and breakout.
Backtesting vs live trading results
The backtest results for this system have not been posted. This test can assist traders to know how a strategy works under different market conditions prior to investing. Fortunately, live trading statistics are available.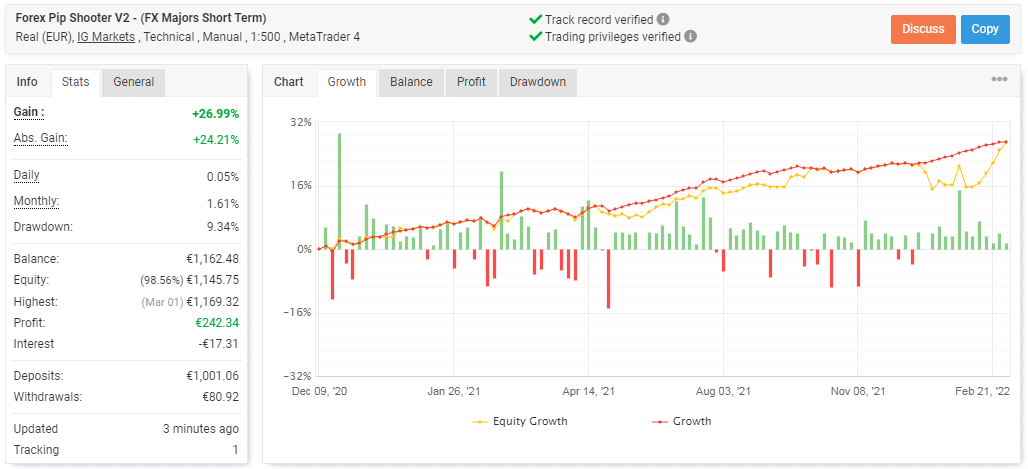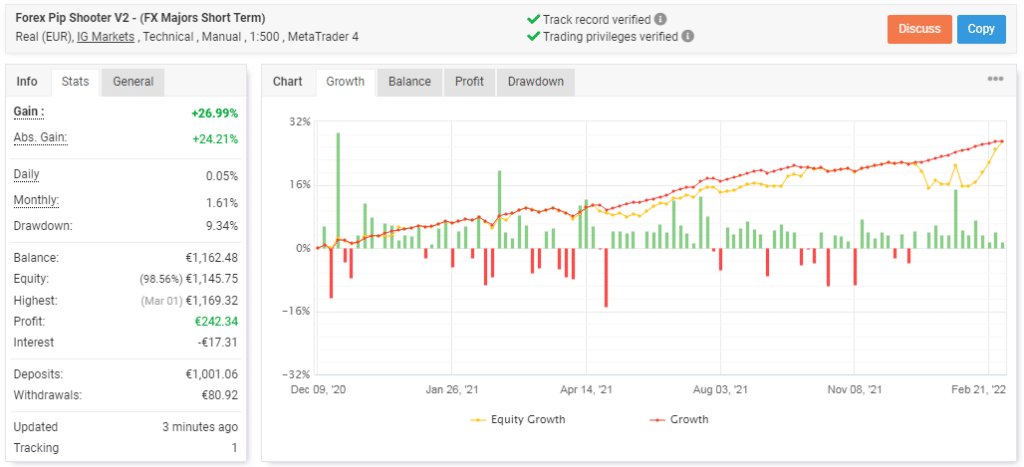 This is a real EUR account that was deployed in December 2020. With a deposit of €1001.06, the system has only managed to produce €242.34 for the account. In essence, about 0.05% profits and 1.61% profits are made daily and monthly, respectively. Obviously, these returns are quite low and grow the account at a slow pace. That's why we only have a total gain of 26.99% so far. Safe trading is applied as shown by the low drawdown (9.34%) generated.


The system can hold a trade for a long period (6 days). This doesn't allow it to trade frequently, so the trades implemented to date are only 165. The profit factor produced is 2.28. Win rates achieved for long (75%) and short positions (70%) are not extraordinary.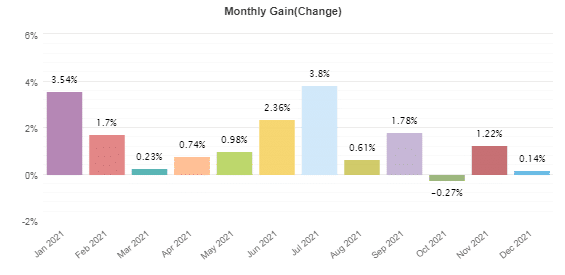 The robot made small return rates ranging between 0.14% and 3.8% in 2021.
The core team
The team behind Forex Pip Shooter is unidentified. Though the EA's presentation is detailed, the vendor's info is conspicuously missing. Clearly, the professionals don't want us to know who they really are or what qualifications they hold. Consequently, we cannot determine their reputation.