Historical data in trading or even investing is a crucial viewpoint to consider and look at. Seasonal investing is one such strategy that uses historical data while investing.
Confidence in a seasonal trade increases with the frequency of profitable trades. A seasonal investment, by definition, is promising more than 50% of the time. A confidence level for a seasonal trade exceeding 70% is preferred. A confidence level of 90-100% is sporadic.
Consistency in profit through investment is the want and need of the investors, but this could only happen if they use a good strategy. Seasonal investing is a great investment strategy but knowing how to use it is essential.
Let's learn and understand how to take advantage of seasonal investment strategies for acquiring consistent profit.
What is investing?
It is an art that helps you put your hard-earned money into something that can give you periodic returns or profit in the future.
As you can see, it's an art meaning anyone can learn how to invest their money into something that has the potential to give profit. There is no firm rule that restricts or limits you from investing, and it depends on your amount and the risk and returns you are targeting.
What are the types of investing strategies?
There are many investment strategies out there in the market, and a few are listed down.
Value investing
It is a strategy used by many investors. Its main reason is to find and invest in the stocks of companies that are presently trading at a lower price than what it has to be.
Value investing, as the name suggests, focuses on the company's value. This strategy is quite tricky and takes time. The main reason is that you have to do research and find those underrated companies' stocks.


The Vanguard Value ETF holds a group of value stocks. The ETF tracks the CRSP Large-Cap Value Index by investing directly in its component companies.
Dividend growth investing
Every investor builds their investment portfolio. You buy and hold shares of promising companies with a good track record of financing your steady and growing dividends every year. It is known as dividend growth investing.
Here the main criteria are to make a steady and constant source of passive income through the dividends you get paid by the companies invested in.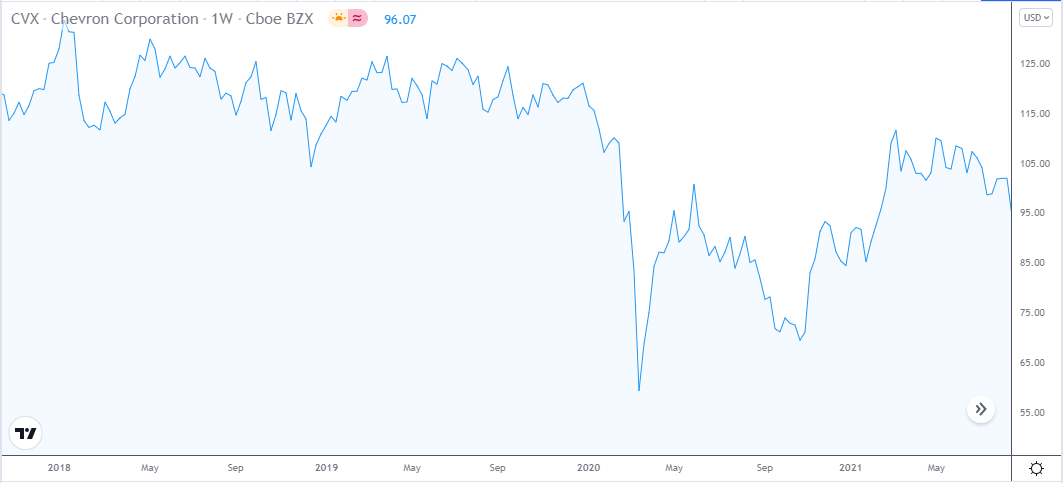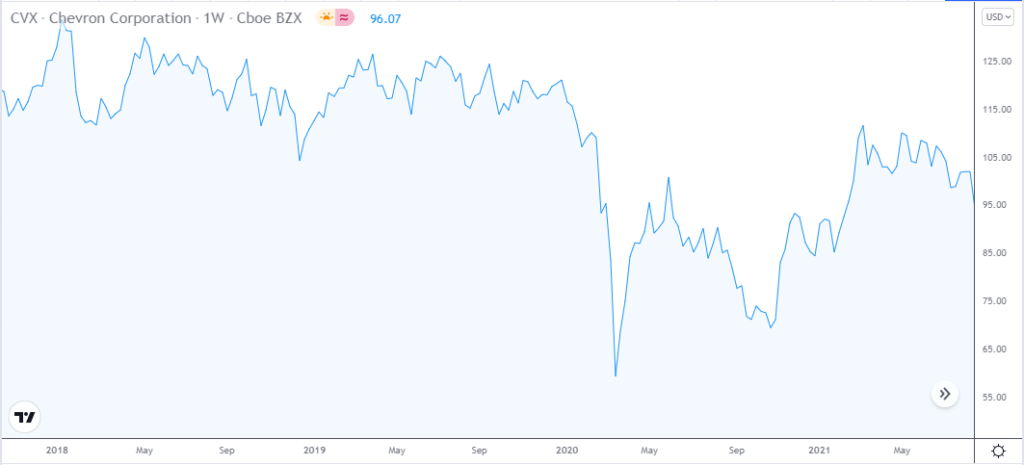 The Chevron Corporation pays one of the most considerable dividends to investors, with a dividend yield of 5.54%.
Index investing
Investing in an indexed market is a passive investment method in which you try to create returns related to a broad market index.
Investors use this buy-and-hold strategy to replicate the performance of a specific index — by buying the index's segment contracts or investing in an index mutual fund or exchange-traded fund that itself closely tracks the underlying index.


The Vanguard S&P 500 tracks the performance of the S&P 500 index.
ESG investing/sustainable investing
Investing in any company that is involved in green energy is called sustainable investing. It is also called ethical or green energy.
It is a reliable and reasonable practice to use ESG investing, as you seek to acknowledge both financial return and the good that comes into the environment.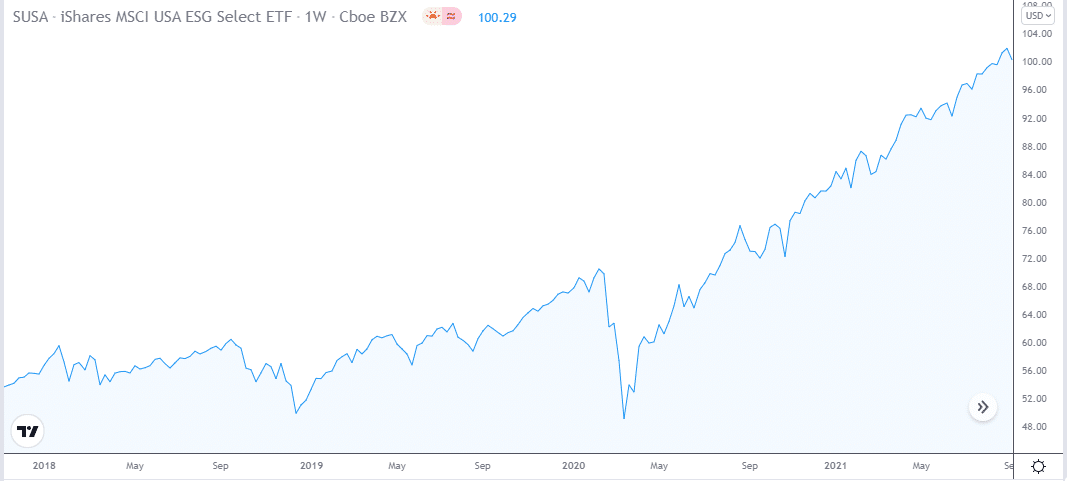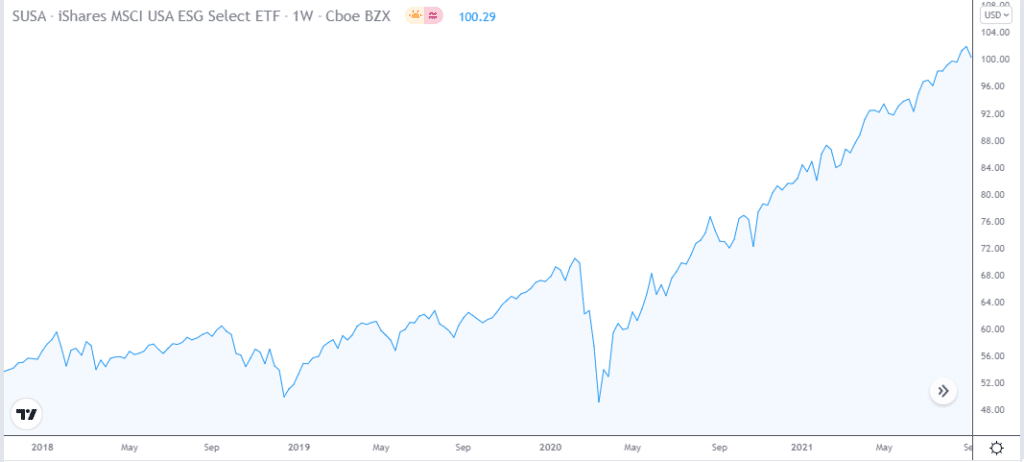 The iShares MSCI USA ESG Select fund tracks the MSCI USA Extended ESG Select Index.
Seasonal investing
It is a tactic of investing by studying and understanding companies' historical data. The main motto is to foretell how an analyzed company stock will perform over a particular time.
The prediction is purely on the backed data that is around 10-20 years old. The strategy works by selecting and picking specific companies' stock that is more likely to follow a similar trend and outperform other stocks in the season.
This investing style is enriching when done in the right way. Let us look into the section below its current importance.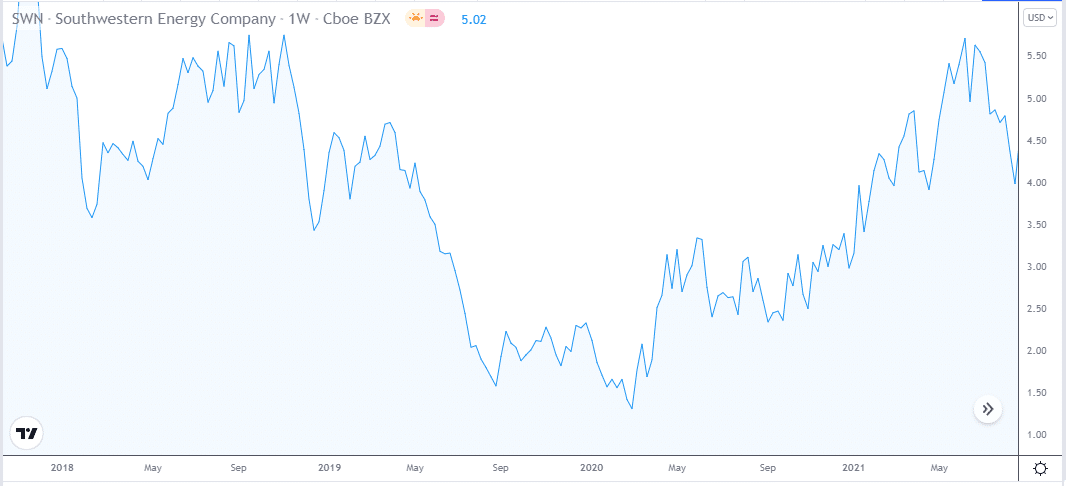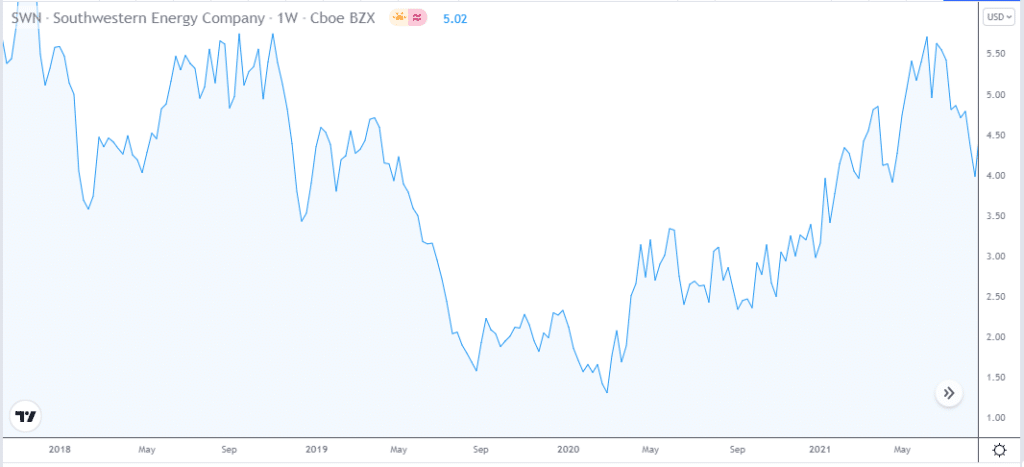 Southwestern Energy is a seasonal stock that sees historical gain during April.
What is seasonal investing?
You can think of it as a trick of investing in a stock or industry that will profit depending on a particular season.
Here, the primary role is the use of historical data to predict the certainty of their performance.
Taking an example to understand this in a better way, let's assume the energy market performs better from March to July, then you may choose to invest in it and get good returns during this time. Here the investing sentiments are obtained from historical data that shows how the energy market has performed.
How to profit from seasonal investing?
To understand how and which industry to choose in which season, we have given below a list. You can follow the list and decide the trends for specific industries and where particular industries outperform others.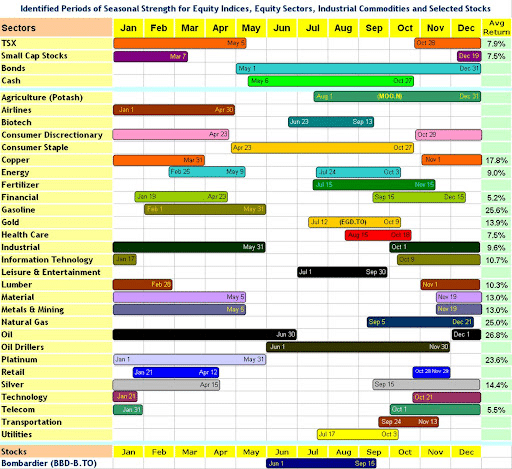 You need to study and research which industry to invest in and which time or period to do seasonal investing.
Certain stocks behave differently depending on the season; for example, agricultural stocks are historically trending during winter. Deere & Co is such a stock. They manufacture agricultural equipment like tractors and forestry machinery.


We can see from the stock's chart that the stock trends upwards at the start of the fall season. Historical data shows that the stock has been bullish at the beginning of the last four fall seasons (2017 — 2020).
The price starts ranging from July, and then towards the end of August, it breaks out. We can see the trend lasting for a few months until it peaks and pulls back.
This is an excellent example of how a seasonal stock behaves and gives us a good indication of when to buy. While doing seasonal investing, you need to keep changing and updating your portfolio constantly.
Pros & cons
Seasonal investing is good, but it also has some disadvantages that you must know before getting into it.
Pros
Cons
•Data to support the decision
You can easily predict the trends by using historical data as support for seasonal investing.
•Timing limitations
Timing is the most crucial part to look into while doing seasonal investing. Timing is unpredictable, and any asset can outperform any other asset.
•Good diversification
You have a good diversification option like copper, sugar, natural gas, etc. patterns and seasonal weather influence these options here.
•Need to be an action taker
It would help if you were very quick on deciding which stock to buy or sell and when. 
•Effortlessly anticipated
There are industries that you can easily predict if it is worth investing in; for example, amusement parks will make more profits in the summers, or retailers will make more money during holidays.
•Easy influence by fundamentals
Seasonal investment is highly affected by fundamentals.
Final thoughts
Deciding on any investment strategy, you want to try. You must get complete information and knowledge as investing is always risky.
As we know, nothing is full proof, so is the case in seasonal investing. Here you do get the liberty of having the historical data, and the probability of getting the investment is also high, but there are drawbacks.