The silver price has been steadily ascending for the past several years. It trended up from $12.25 to $22 per ounce by the end of 2021. Similarly, silver stocks have flourished over the same period, and many believe there's much more upcoming. So, when searching for the next significant investment, do you find it difficult to conduct your research? Listed below are some of the most reputable silver players.
Before investing in silver, people must understand their risk tolerance and do their due diligence. So let's find out the top silver mining stocks to hold in 2022.
Can you make real money with silver mining stocks?
The price of silver can fluctuate remarkably more than traditional stocks and bonds. Nevertheless, commodities and silver can give a portfolio some diversification from equities and bonds, and a good starting point is to allocate approximately 5% of a total portfolio to commodities.
When the goal is to own physical metals, Thomas recommends buying silver regularly so that investors can benefit from dollar-cost averaging. In addition, you can moderate the volatility of silver's moves by purchasing a fixed amount each month.
How to earn with silver mining stocks?
By owning the stocks of companies mining silver, you can also profit from an upswing in the metal's price.
Having a miner provides you with two benefits. In the first place, if silver's price increases, the company's earnings should go up along with it. Unless something else changes, silver miner profits will rise faster than silver's price. Second, the miner can raise production with time, increasing profits. So you have another way to win with silver than just betting on its price alone.
Before investing in a particular company, you should do an in-depth analysis of it to make sure that it's a solid investment. The mining industry is risky, and some miners have never dug a hole, let alone mine silver. A mining company's stock price can also fluctuate since its profits are dependent on the fluctuating silver price.
How to start investing in silver mining stocks?
Silver can be invested indirectly by buying the shares of companies that mine silver or own underground reserves. When silver prices rise, silver mining company stocks usually rise with them. However, they do not usually move in a one-to-one relationship. As a result, prices for silver and silver miner stocks could diverge substantially over time.
Mining companies are not the best place to invest to profit from silver price movements since idiosyncratic factors can often outweigh underlying price movements. Another way to acquire silver mining shares is to invest in an ETF. The only downside of ETFs is that the funds may have management costs and be illiquid. Still, ETFs also allow investors to own a broader portfolio of companies, which reduces company-specific idiosyncratic risk.
Top five silver mining stocks
The top silver mining companies ranked by their silver production growth potential are the following.
1. Blackrock Silver Corp. (BKRRF)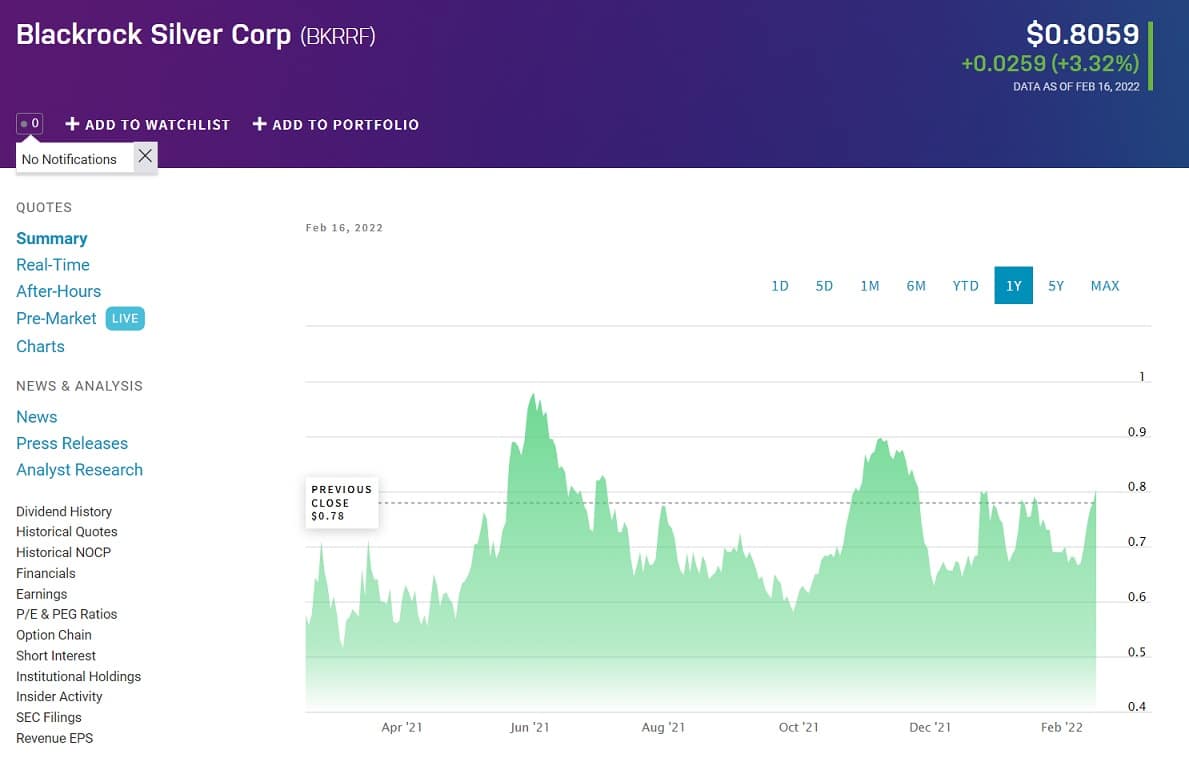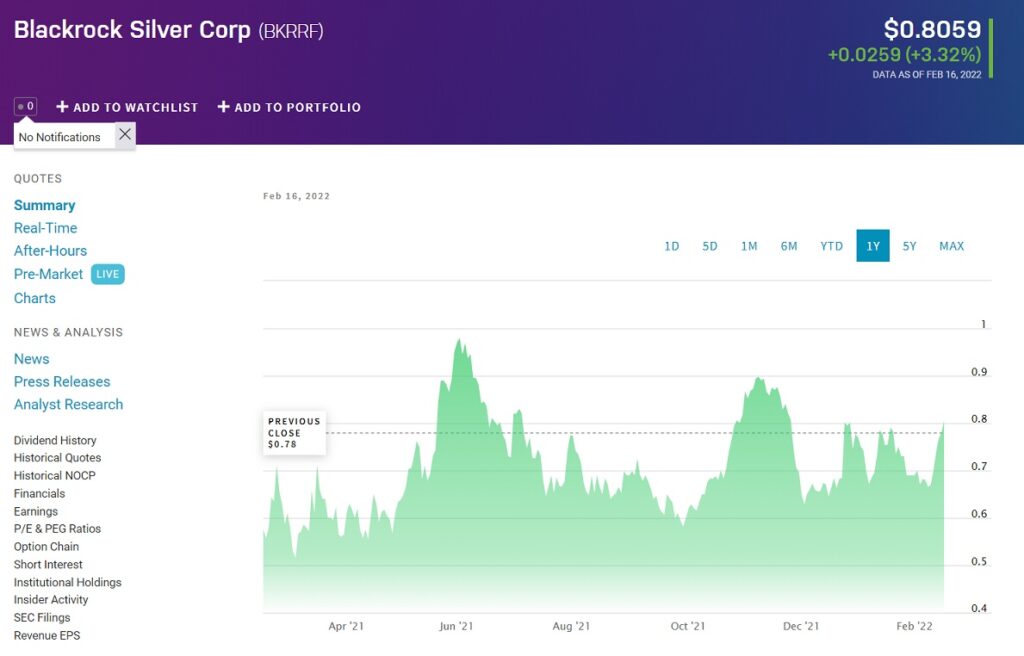 Summary
Blackrock Silver Corp. is an exploration company solely focused on precious metals, which is on a quest to make a significant economic discovery.
A highly experienced Board of Directors guides the company as it develops its Nevada portfolio of properties, including low-sulfidation epithermal gold and silver deposits along the Northern Nevada Rift in north-central Nevada and the Walker Lane trend in western Nevada. The company plans to deliver a first resource estimation in Q1, 2022, based on 110,00 meters of drilling at their flagship Tonopah West silver-gold project.
Price forecast 2022
Over one year, the price of BKRRF's stock can increase from $0.80 to $1.90.
Price forecast 2025
In 2025, the stock price of BKRRF may go up to $3.50.
2. Pan American Silver Corp. Common Stock (PAAS)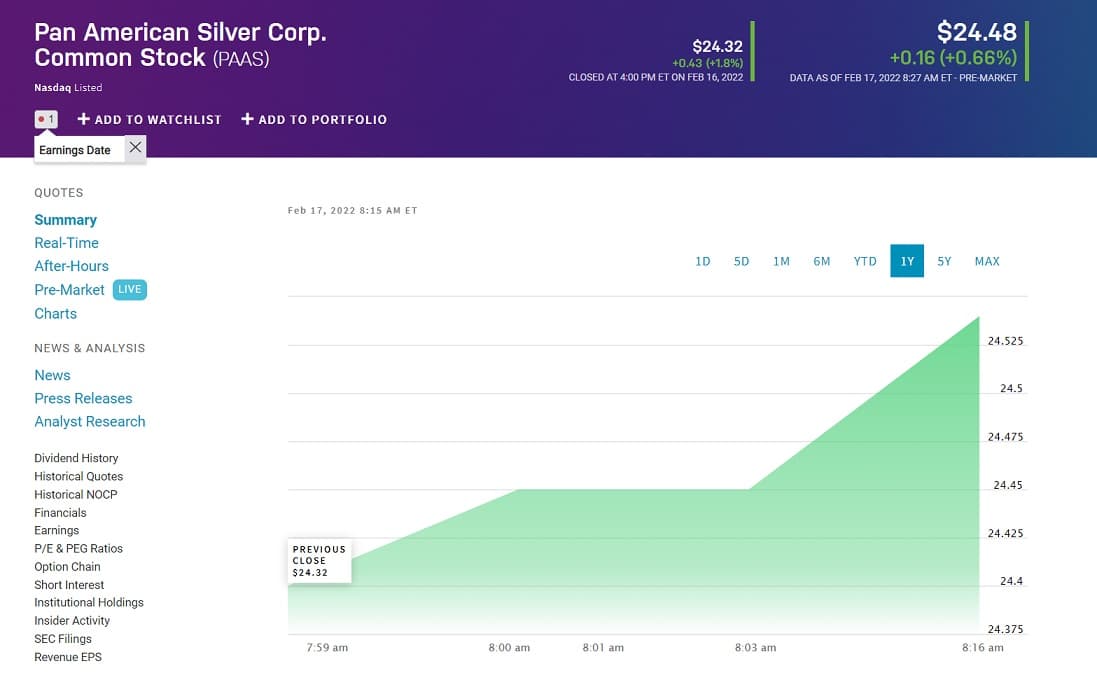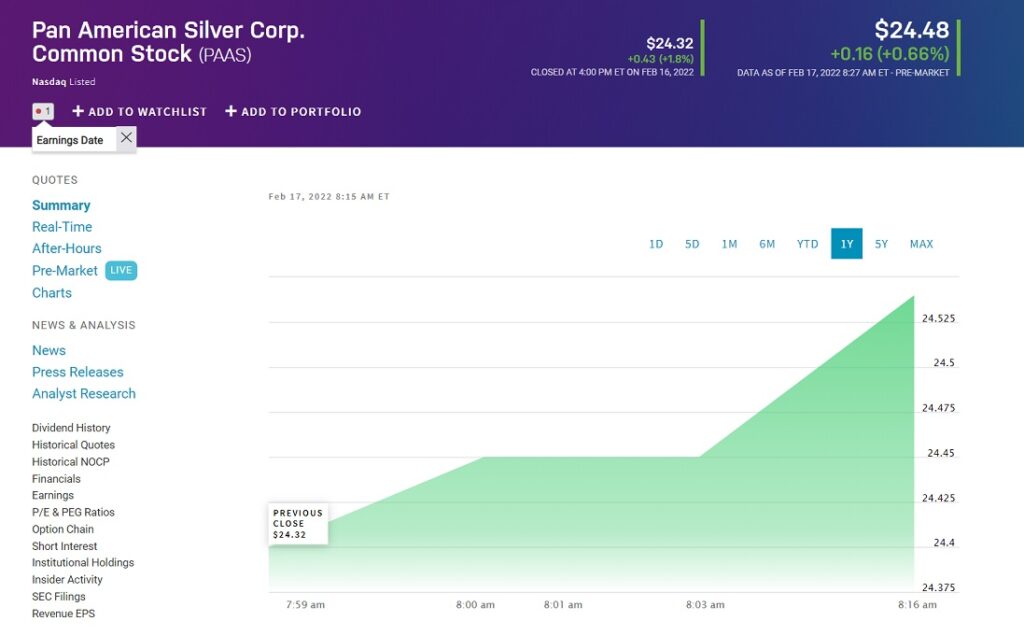 Summary
Pan American Silver owns and operates nine mines in North and South America. At the moment, its silver production contributes less than 30% of overall revenue, but its market cap exceeds C$8.5 billion.
Price forecast 2022
Over a year, the PAAS stock price can rise from $24.32 to $26.67.
Price forecast 2025
The future stock price for PAAS ("PAAS") is $43.16.
3. Hecla Mining Company Common Stock (HL)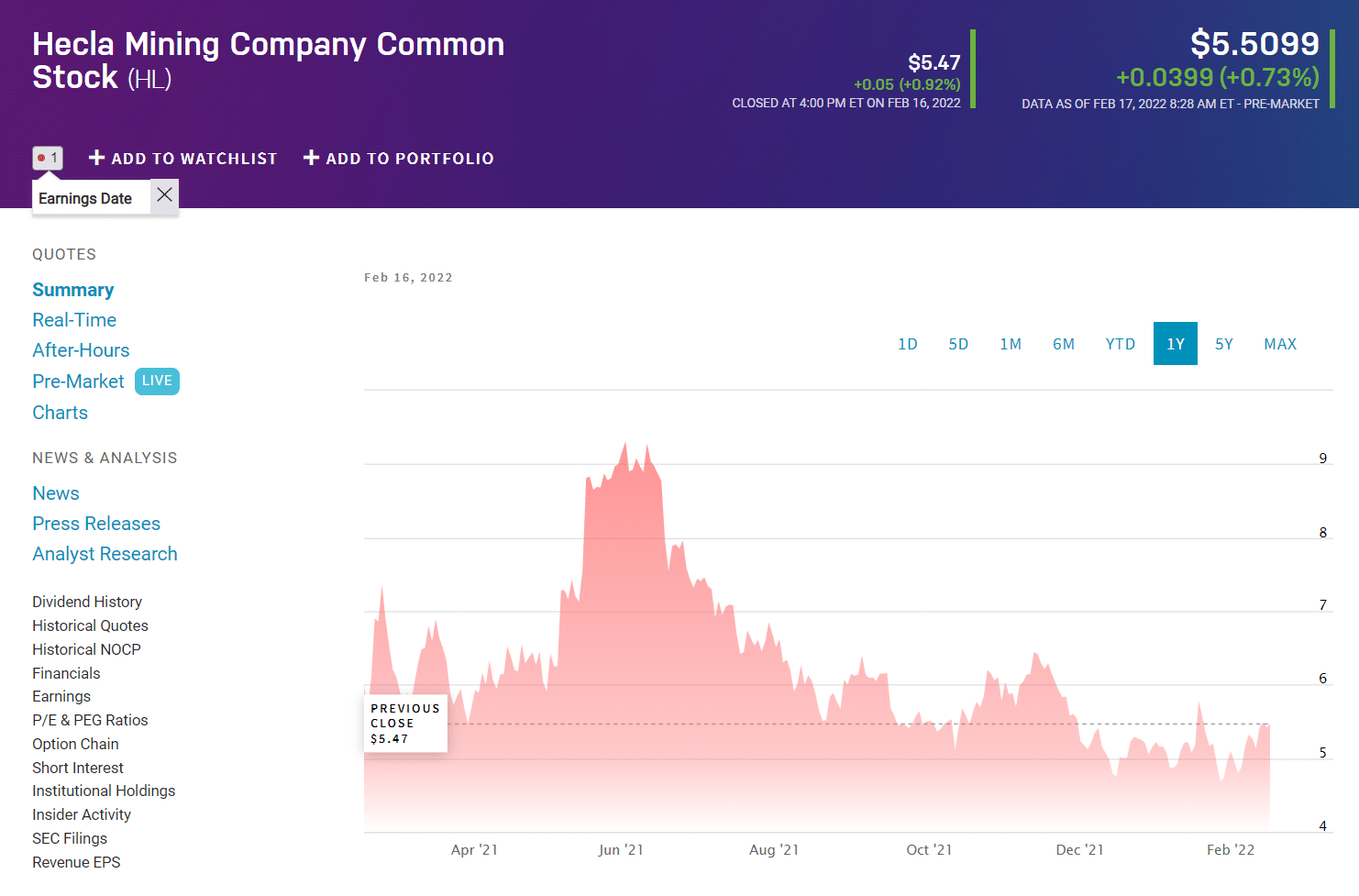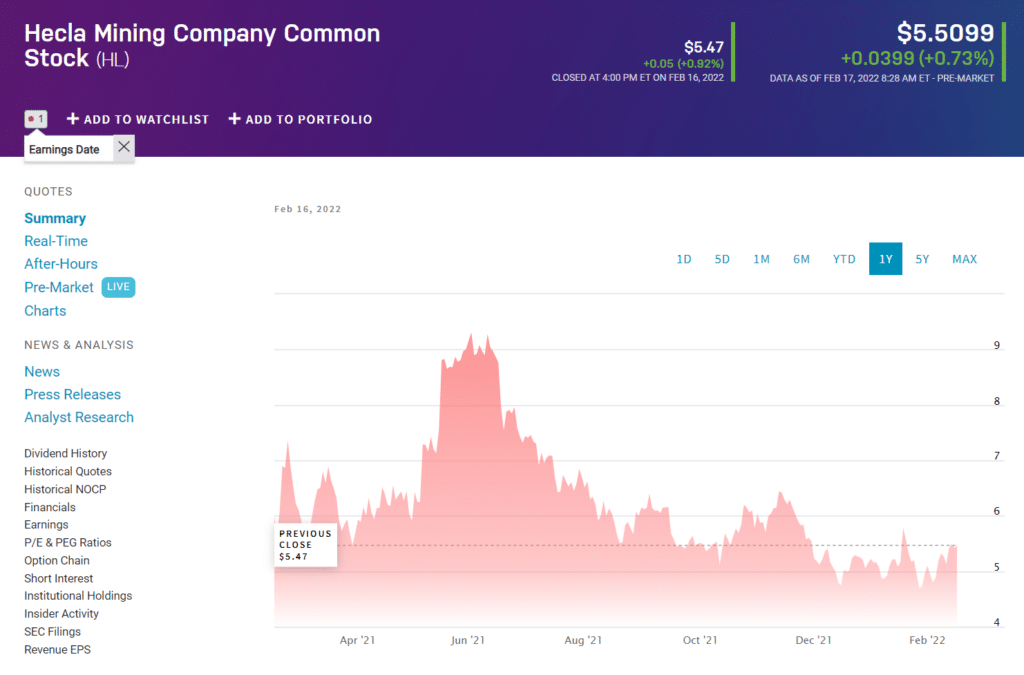 Summary
Hecla Mining was established on the New York Stock Exchange in 1891 and is the oldest precious metals mining company. In addition to producing 1/3 of all silver in America, the company has the country's largest silver reserve and resource.
As of Q2 2021, Hecla has produced 3.4 million ounces of silver and 59,982 ounces of gold, with a 24% increase in revenue compared to Q2 2019. It has operations in Alaska, Idaho, Nevada, Mexico, Canada, and mines throughout the United States.
Price forecast 2022
HL stock could rise from $5.47 to $5.79 over the next year.
Price forecast 2025
The future stock price for HL is $8.50 by 2025.
4. Coeur Mining, Inc. Common Stock (CDE)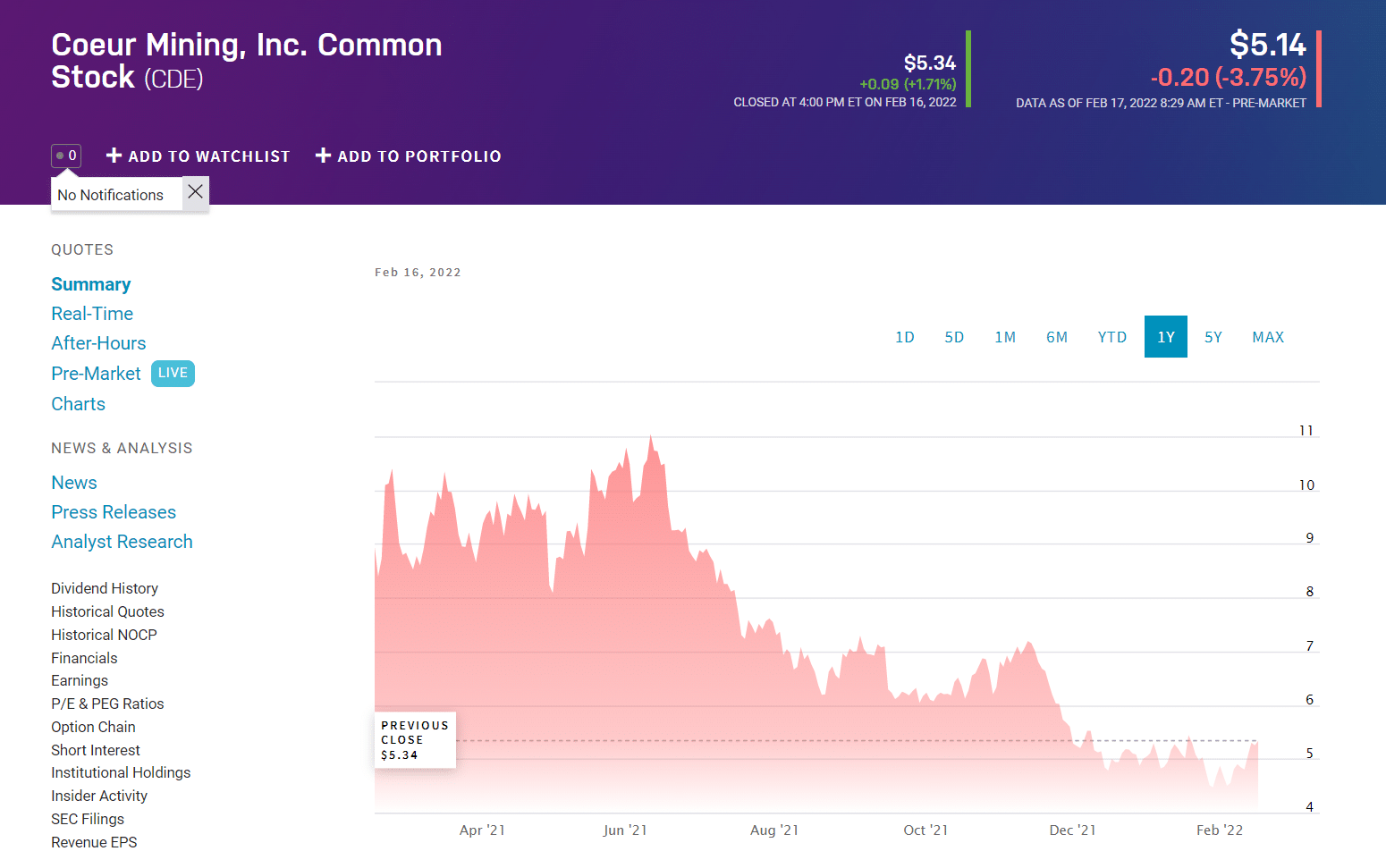 Summary
Coeur Mining has five mines across North America. Although its market capitalization is approximately $1.4 billion, silver production only accounts for about 26% of its revenue.
Price forecast 2022
Coeur Mining's share price could decline from $5.14 to $4.5.
Price forecast 2025
Its price will increase to $7.88 by 2025.
5. Fortuna Silver Mines Inc. Ordinary Shares (FSM)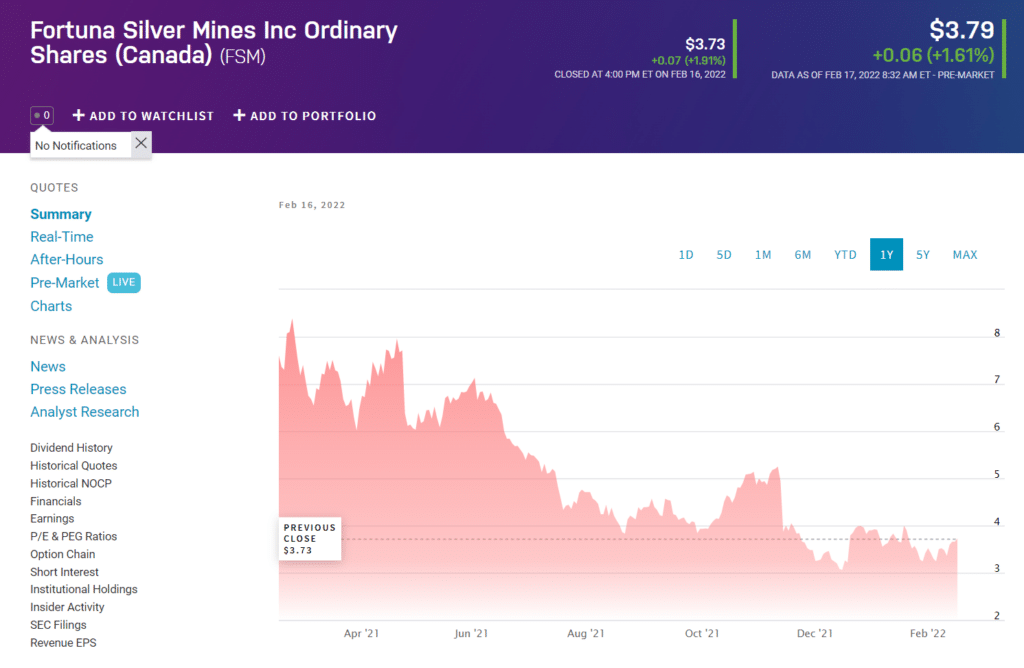 Summary
Fortune Silver Mines Inc. is a Canadian miner of precious metals with mines in Peru, Mexico, and Argentina.
Price forecast 2022
Fortuna Silver Mines stock worth $3.73 may fall to $3.50.
Price forecast 2025
Its price will be $4.78 by 2025, according to an estimate.
Pros & cons
| | |
| --- | --- |
| Pros | Cons |
| Investing in silver has the most significant advantage of being decoupled from the return of other prominent financial instruments, such as stocks and bonds. | Physical silver typically involves a substantial bid/ask spread and requires secure storage. |
| Silver is a physical asset with a finite supply since the world's silver reserves are limited. | Silver itself does not generate any income for investors. |
| Advertising precious metals based on their value is common. | Rolling over silver futures positions frequently is another way to avoid out-of-control situations. |
Final thoughts
Silver is one of the most popular precious metals globally, and for several good reasons. Aside from being a great store of value, silver is relatively inexpensive compared to other precious metals, such as gold, platinum, and palladium. Therefore, silver is more accessible to everyday investors.
As with any other industry, investing in silver stocks is essential to remember that not all companies are alike. Investing in some will be more successful than others, while others can result in losses. Before making a purchase, it is vital to research what you're purchasing.