Volatile stocks are becoming a popular choice for many investors. Some are even opting to put all their capital in these companies' phenomenal growth potential.
Take Tesla, whose stock price was around $590; its shares recently surpassed the $1,200 mark. This is a growth rate of over 200%. As an investor, you can calculate the profits you can potentially make had you bought Tesla shares last year.
However, some may have been cautious about investing and opted for safer, less volatile stock but less growth potential.
It is not too late, volatile stocks are a specific class of companies, and there are always opportunities to purchase shares and benefit from their immense growth rate.
Read further about the top five most volatile stocks to buy in 2022.
What are volatile stocks?
In the stock market, volatility refers to the extent to which a stock's price fluctuates from its mean price.
Volatility is equivalent to risk; when a stock's price has high volatility, it means the dispersion or fluctuation in price is more significant. This means the risk is also high. The lower the volatility, the lower the dispersion and risk; however, the lower returns.
The beta value indicates a stock's volatility and is a statistical calculation. A beta of greater than 1.0 is considered highly volatile. Furthermore, if the value is more than 1.0, it means the stock's volatility is significantly greater than the market.
For example, if a stock has a beta value of 1.10, it is 10% more volatile than the stock market. The benefit of volatile stocks is that the probability of making significant returns is greater.
Top five volatile stocks to invest
1. Block Inc. (SQ)
Price: $167.19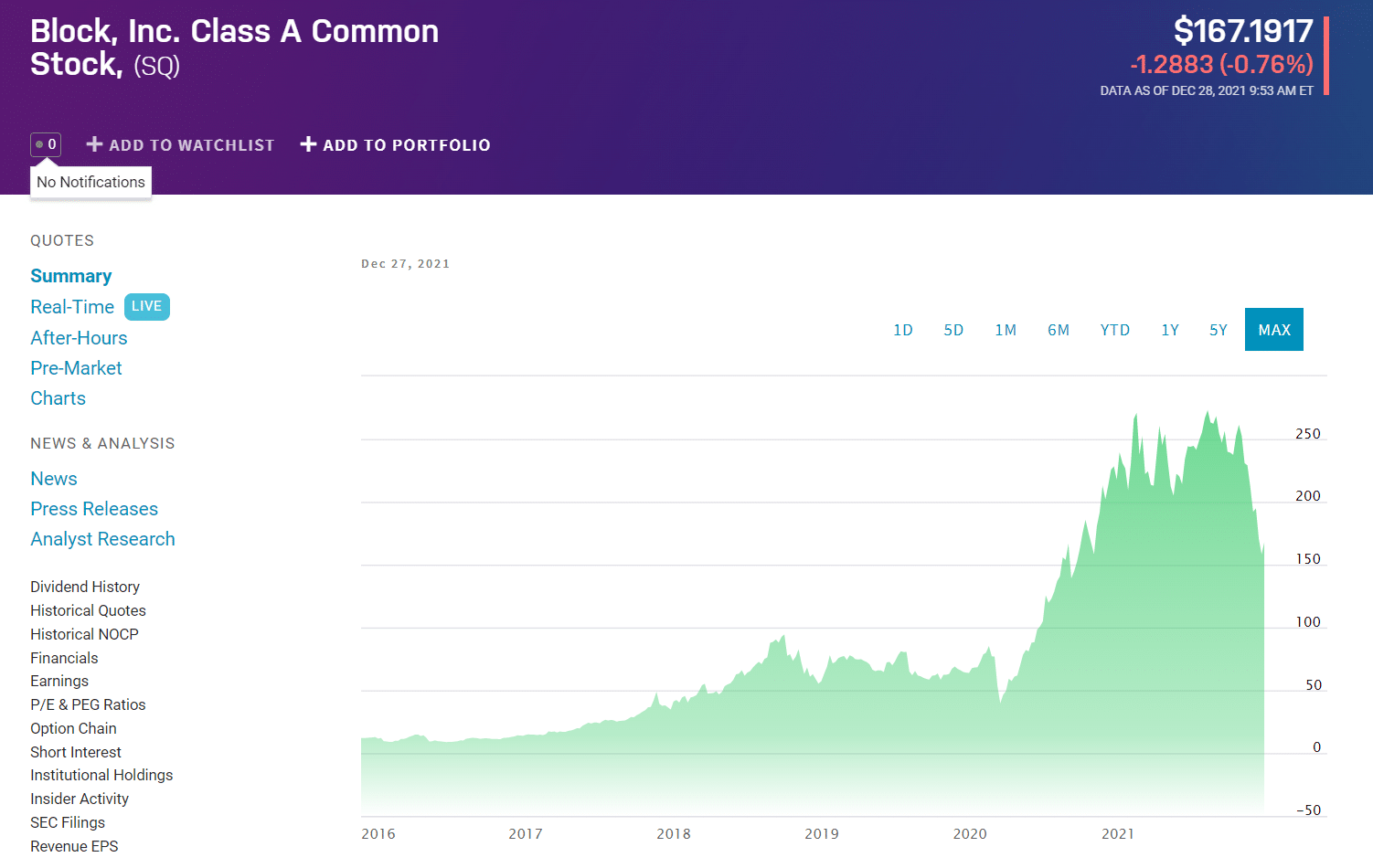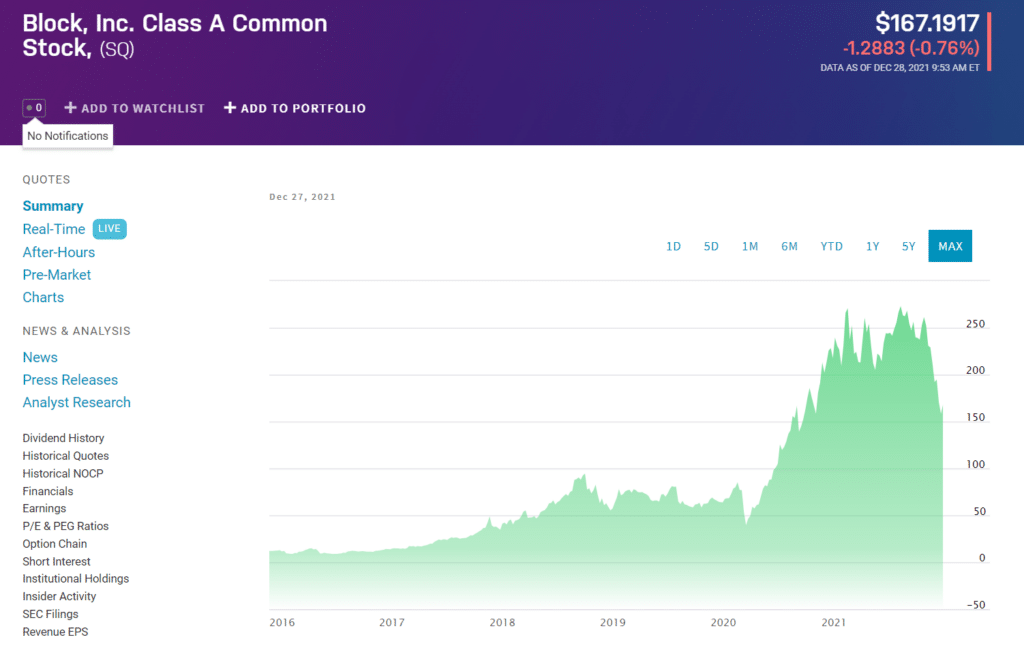 First on the list of most volatile stocks is Block Inc., formerly known as Square Inc. The company changed its name on 1 December 2021. The financial services and digital payments company is expanding its business into blockchain technologies. However, it still retains the ticker symbol SQ on the New York Stock Exchange.
Block Inc. has a market cap of $78.786 billion, and it has a price-per-earnings ratio of 298.68. The stock has a beta value of 2.38, which means the stock is twice as volatile as the overall stock market.
Block Inc. is currently trading at $170.78 per share; it made its record high of $272.75 per share in February 2021.
2. Tesla Inc. (TSLA)
Price: $1100.46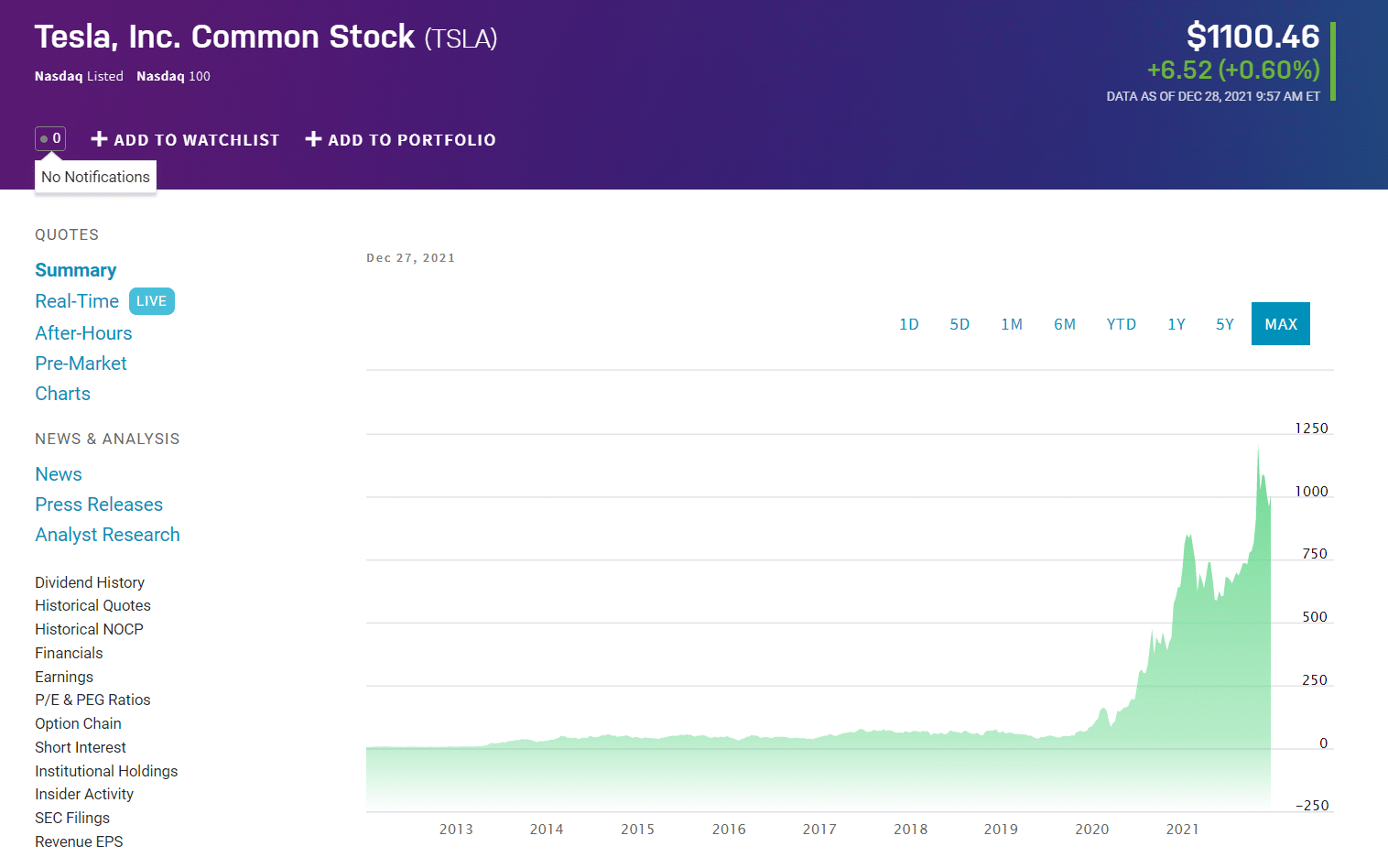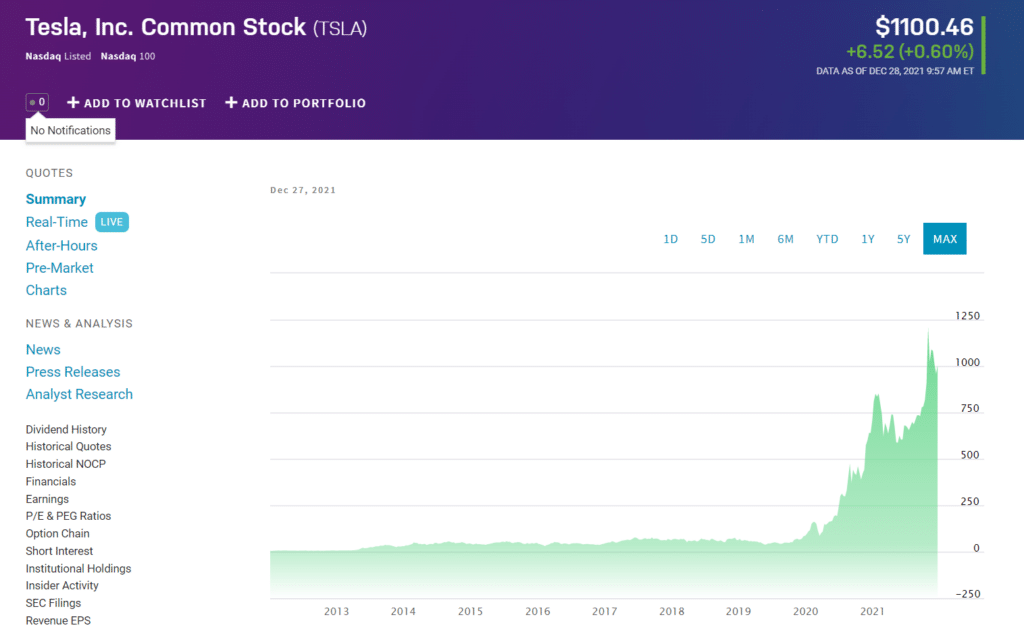 Tesla Inc. designs and manufactures electric vehicles, batteries, energy storage from home to grid-scale, solar panels, and solar roof tiles.
The company launched its first electric sports car, the Roadster, in 2008, which attracted much attention globally. Since then, Tesla has released the Model S, the best-selling plug-in electric vehicle.
Tesla has a market cap of $1.011T and a price-per-earnings ratio of 328.63. The company's stock volatility is relatively high, and it has a beta value of 2.04.
Tesla's stock price reached a high of $1,243.49 in November 2021, and the stock is currently trading at $1,006.33 per share.
3. NVIDIA Corporation (NVDA)
Price: $290.19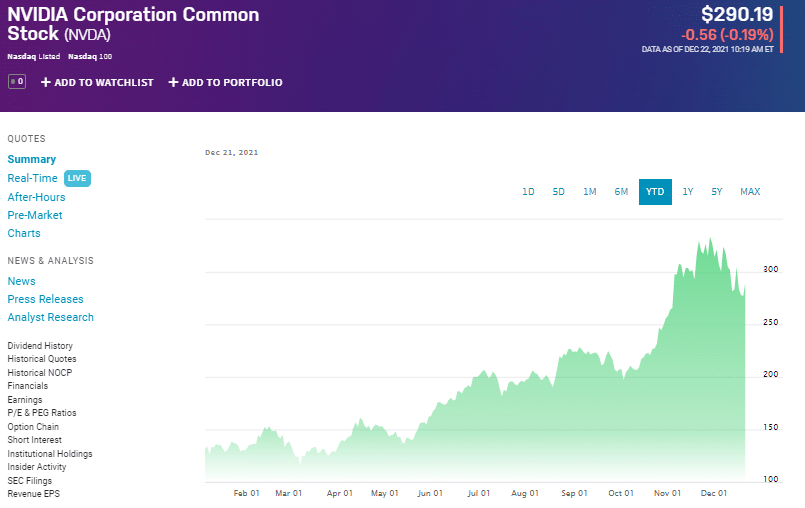 Nvidia Corp. trades on the Nasdaq Stock Exchange and is one of the top 100 technology companies in the USA.
The company's core business is designing graphics processing units for the gaming and professional markets. Furthermore, they also produce chip units for the cellular computing and automotive industries.
Nvidia has a market cap of $723.228 billion and a price-per-earnings ratio of 89.49. The beta value of volatility is 1.37.
Nvidia's stock is currently trading at $290.19 per share, and it reached its record high of $346.46 in November 2021.
4. Meta Platforms Inc. (FB)
Price: $332.97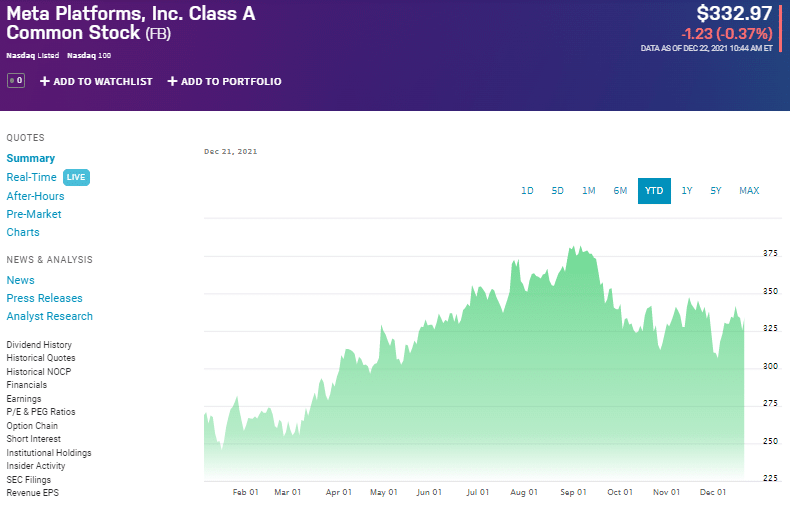 Meta Platforms Inc., formerly known as Facbook Inc., is a US multinational technology corporation. The company is the parent organization of social media platforms Facebook, Instagram, and WhatsApp.
The organization's growth ambitions beyond social media were the main reason for the name change. They have a vision of expanding into the virtual, Metaverse world.
Meta Platforms Inc. has a market cap of $925.105 billion and a price-per-earnings ratio of 23.80. Furthermore, the beta volatility measure is 1.29. Meta is currently trading at $332.97 per share, and its record high was $384.3. in September 2021.
5. Alibaba Group Holding Limited (BABA)
Price: $122.64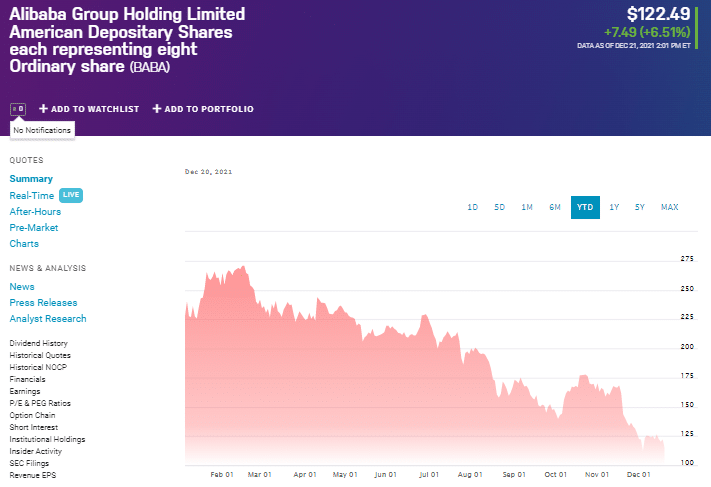 Chinese company Alibaba Group Holding Limited has its main business in technology and e-commerce. The company is a New York Stock Exchange component and trades under the ticker symbol BABA.
Alibaba Group has a market cap of $338.891 billion. Furthermore, it has a trailing price per earnings ratio of 17.53. In terms of volatility, the stock has a beta value of 0.92.
It is currently trading at $122.64 per share, and it reached its all-time high of $274.29 in March 2021.
Pros & cons
As volatile stocks can be beneficial, there are downsides to these investments, which we list here.
Pros
Cons
High returns
Volatile stocks can produce high returns in a short space of time.
High volatility equals high risk
Although highly rewarding, stocks with higher than average volatility are also very risky. The prices can move too erratic and result in losses.
Diversification
Volatile stocks can be a way to diversify a passive investment portfolio to make up gains in a shorter period.
Not passive income investments
These types of stocks are not ideal for long-term passive income investments since their prices fluctuate too wildly, returns will fluctuate as well.
Liquidity
Volatile stocks have high liquidity, making them ideal for quickly entering and exiting the market without holding for too long.
No dividend pay-outs
Not all volatile stocks pay dividends, like Tesla, for example. They usually use the revenue to reinvest in the growth of the company. Therefore, investors should take note of the companies that do pay dividends.
Final thoughts
Investing in itself is a risky venture. However, volatile stocks add much more risk to any portfolio. These stocks' volatility is much higher than the overall stock market. This is the reason why they are alluring to investors.
However, it is suitable for investors looking to enter and exit the market quickly and have no vested interest in holding for many years.
The top five companies we listed here are the leading technology stocks globally. Although they are highly profitable, the volatility of their prices brings about many opportunities and risks.