Carbon capture — whether from the air, oceans, or factory smokestacks, has gained considerable support among those who see it as a revolutionary idea that could one day reverse CO2 emissions.
Among the best stocks to buy in the carbon capture sector are NRG, EQNR, KRBN, and others on the list. Last year, the carbon capture sector raised $336.5 million in VC funding, setting a modest record.
Some of the following options may be considered many undervalued stocks that offer investors a great chance to participate in the green energy revolution.
Can you make real money with carbon capture stocks?
Coal-fired power plants, chemical plants, and biomass power plants are among the large carbon sources that often use carbon capture as a means to reduce their environmental impact. According to analysts, the market will grow from $2 billion to $7 billion by 2028, representing a growth rate of 19.5%. Additionally, China and the United States aim to reach peak emissions by 2030.
If you're looking for an investment that does good, as in addressing our planet's climate crisis, or are investing for your portfolio, carbon capture equities may be right for you.
It does not matter your investment goals, whether funding a golf course for retirement or helping combat climate change — carbon capture investments can play a crucial role.
How to earn with carbon capture investment?
Major oil and gas companies dominate carbon capture and storage, such as Shell, Chevron, Total, Equinor, and Occidental Petroleum. Exxon Mobil stores carbon emissions in nine million tons of carbon per year, and the company plans to invest billions in CCS facilities.
Oil company Occidental Petroleum plans to offer CCS services to other companies. Profits from oil companies are derived from refining oil and not from sequestering carbon. Therefore, oil stocks are not effective carbon capture investments.
How to start investing in carbon capture?
Both Aker Carbon Capture and Delta Cleantech sell carbon capture technologies publicly. Alternatively, carbon credits could become futures through Carbon Streaming Corp or ETFs like KRBN, which track carbon credit futures.
It is not possible to invest in direct air capture. There are no public stock exchanges for companies like Climeworks or Carbon Engineering. Philanthropists and venture capitalists instead fund these organizations.
Top five carbon capture stocks
The following are the full trending carbon capture stocks to invest and hold in 2022.
1. Aker Carbon Capture ASA (AKCCF)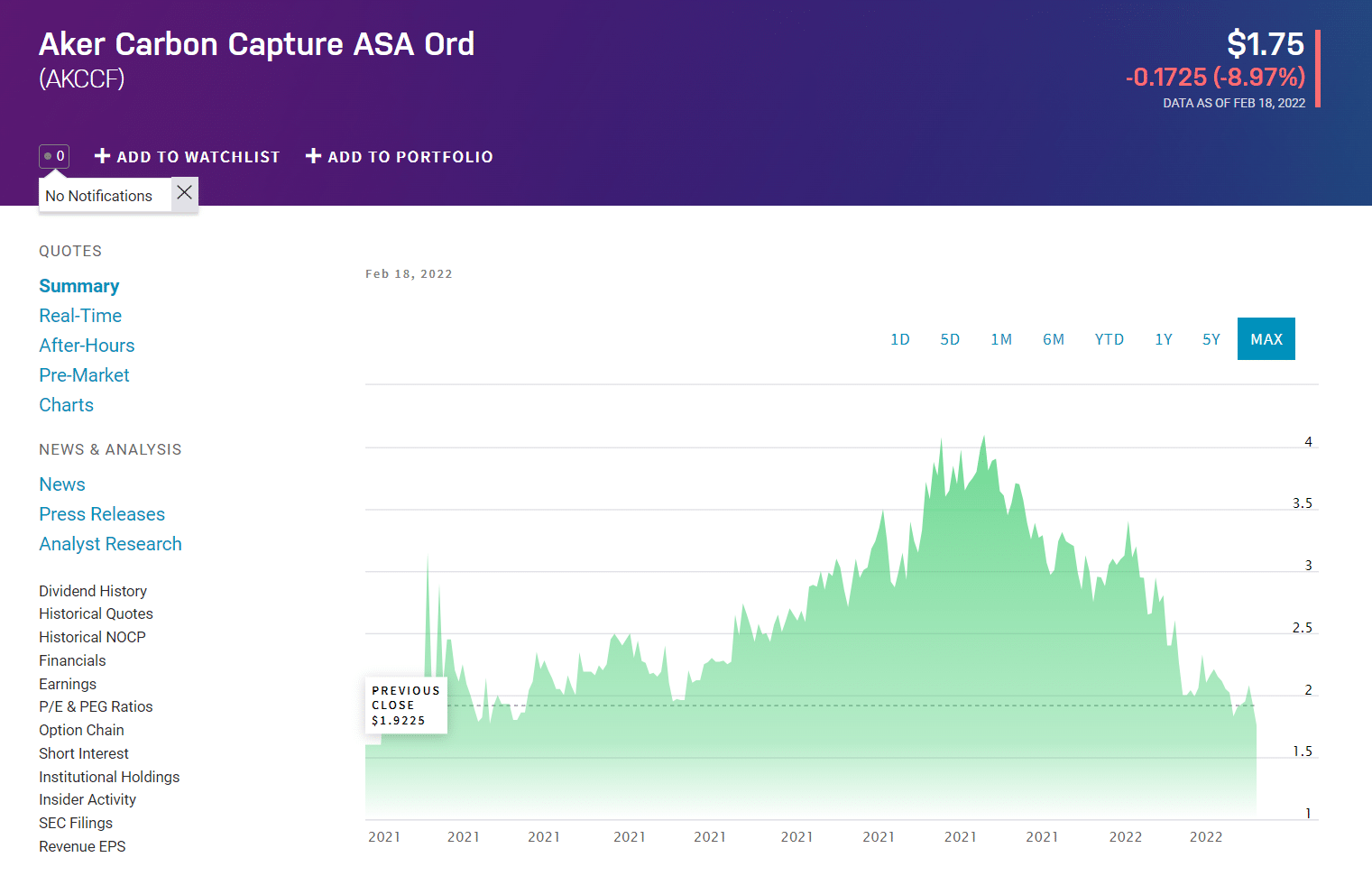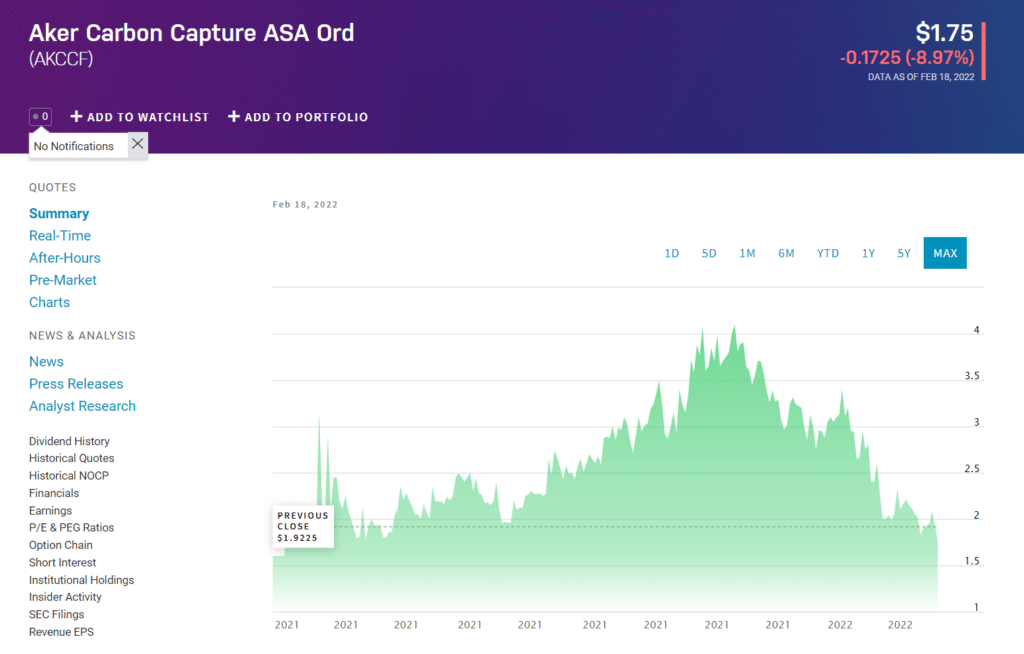 Summary
Aker Carbon Capture is the only carbon capture pure-play that provides energy solutions and enables emission-free industries. ACC primarily focuses on the lucrative North American market but will shortly expand into northern Europe. The company has identified 700 emitters in Europe. Moreover, the company expects to acquire contracts covering ten million tons a year by 2025. Its market cap has been $1.3B recently.
Price forecast 2022
The AKCCF stock price might increase from $1.901 to $3.392 in one year as the demand for emission-free technology has flourished rapidly. Moreover, the company has expanded, making contracts with several other entities.
Price forecast 2025
According to some experts, the future stock price for AKCCF might reach $8.32. For AKCCF, the 2025 price forecast is $8.32. The average forecast price is $6.75, while the low forecast is $4.5. The stock is expected to rise 15-20% a year.
2. Equinor ASA (EQNR)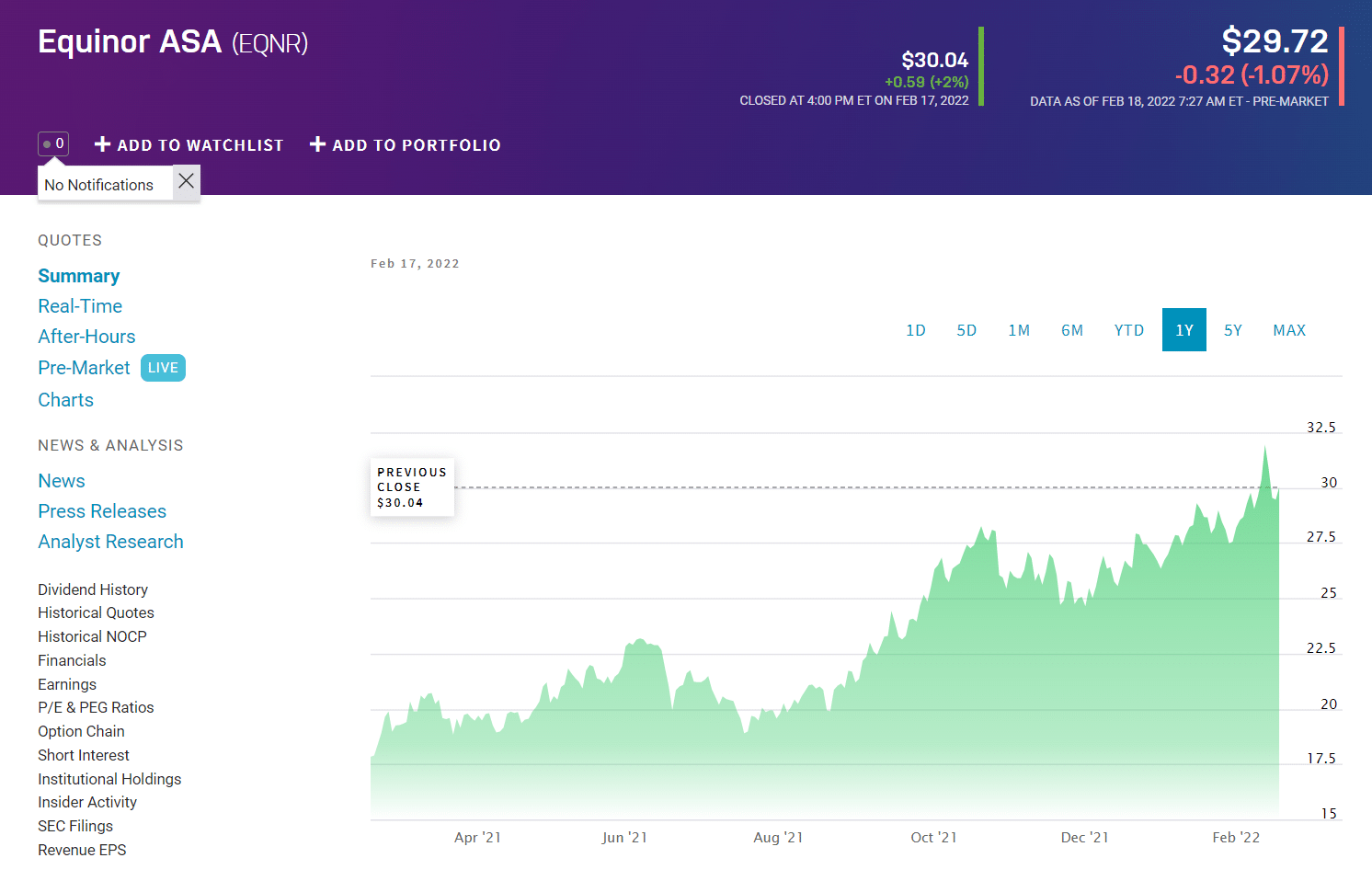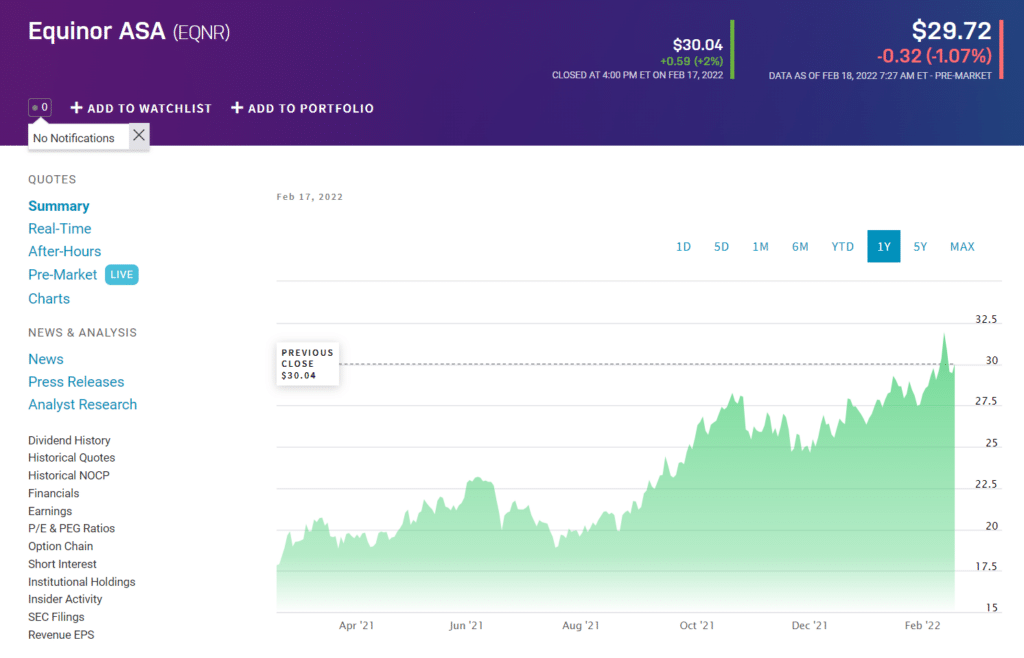 Summary
The company has rapidly expanded its renewable energy portfolio. For example, wind power generated 304 GWh worth over $100 million in the third quarter.
The oil and gas giant has continually built up its assets and added new ones in the last decade. This company's operating performance metrics are positive, and its top and bottom lines have grown by double digits in the past year. Cash flows have reached a staggering $16.4 billion for the year so far. Its market cap was $104.02B recently.
Price forecast 2022
Over one year, the price of EQNR can rise from $30.04 to $39.115 as the uptrend remains intact over the past 18 months. The same is expected to continue as the company's assets are growing, so are the projects.
Price forecast 2025
The future stock price of EQNR is $76.365. The average stock forecast for the EQNR is $76.35, while the low stock forecast price is $60.50, and the high price forecast is $88.50. The expected yearly growth on average is 20%.
3. Occidental Petroleum (OXY)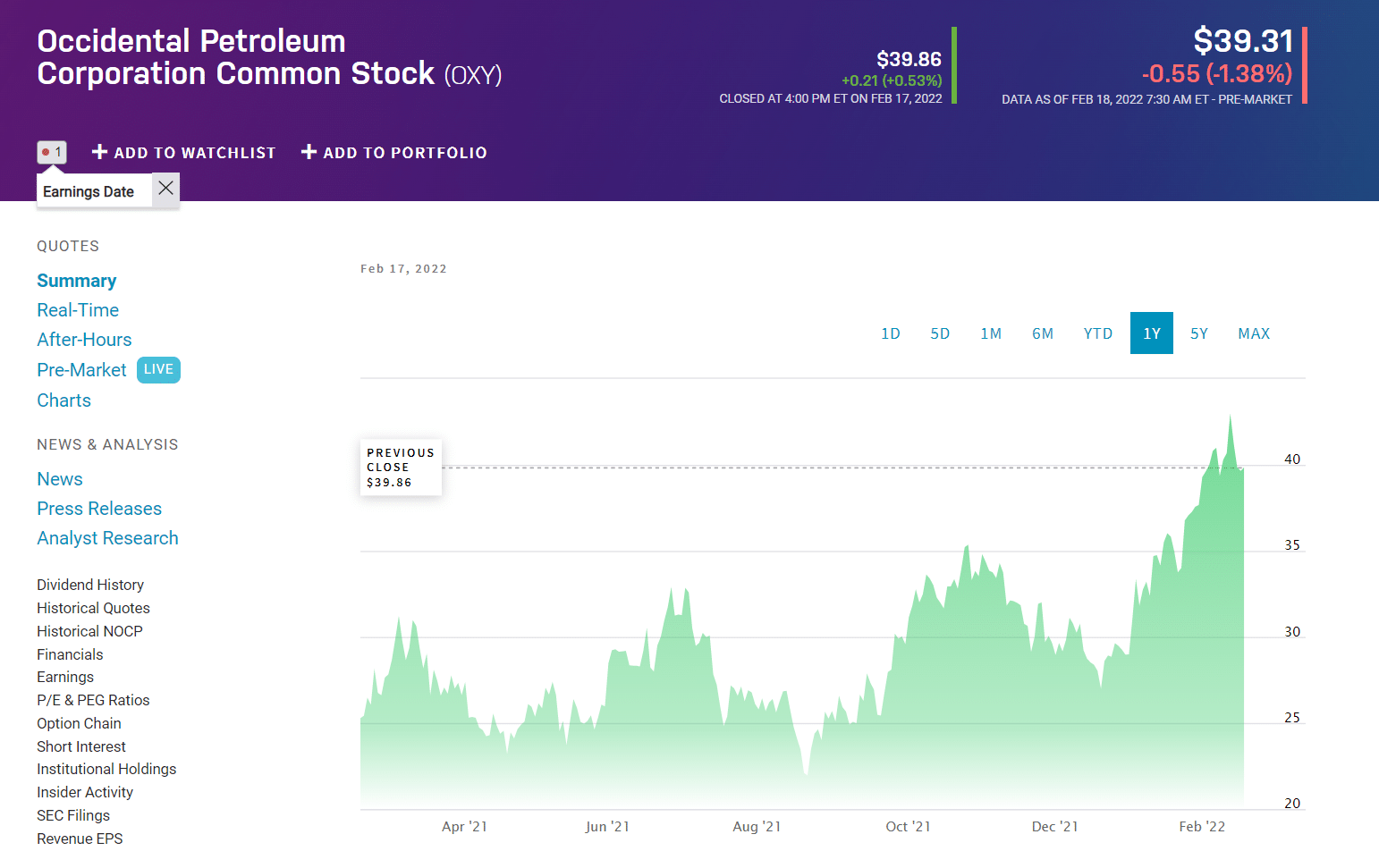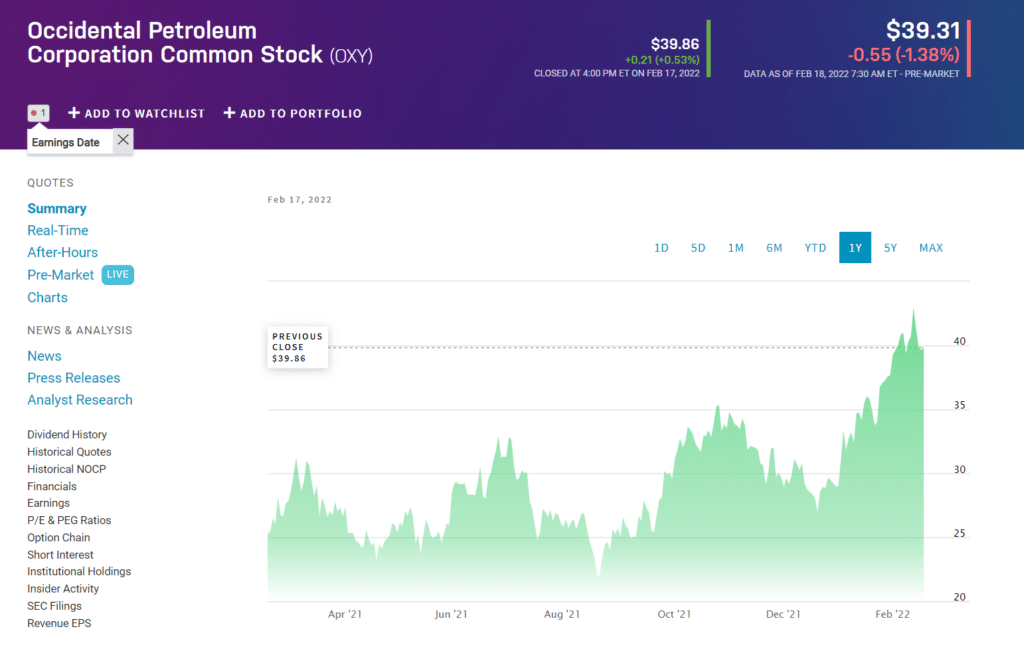 Summary
Occidental Petroleum ranks among the biggest North American shale industry players. It strives to transition to a clean energy future in the same vein as its peers in the oil and gas sector. Through this, Occidental has emerged as one of the most promising players in carbon capture. Its market cap was $40.14B recently.
Price forecast 2022
Occidental Petroleum's stock price will likely drop from $39.86 to $26.892. This amount represents a reduction of 37.430%.
Price forecast 2025
For Occidental Petroleum's stock forecast for 2025, average stock forecast of $48.65, a high forecast of $49.9, and a low forecast of $44.95. The average Occidental Petroleum stock forecast 2025 represents a 22.05% increase from the last price of $39.86.
4. Exxon Mobil Corp. (XOM)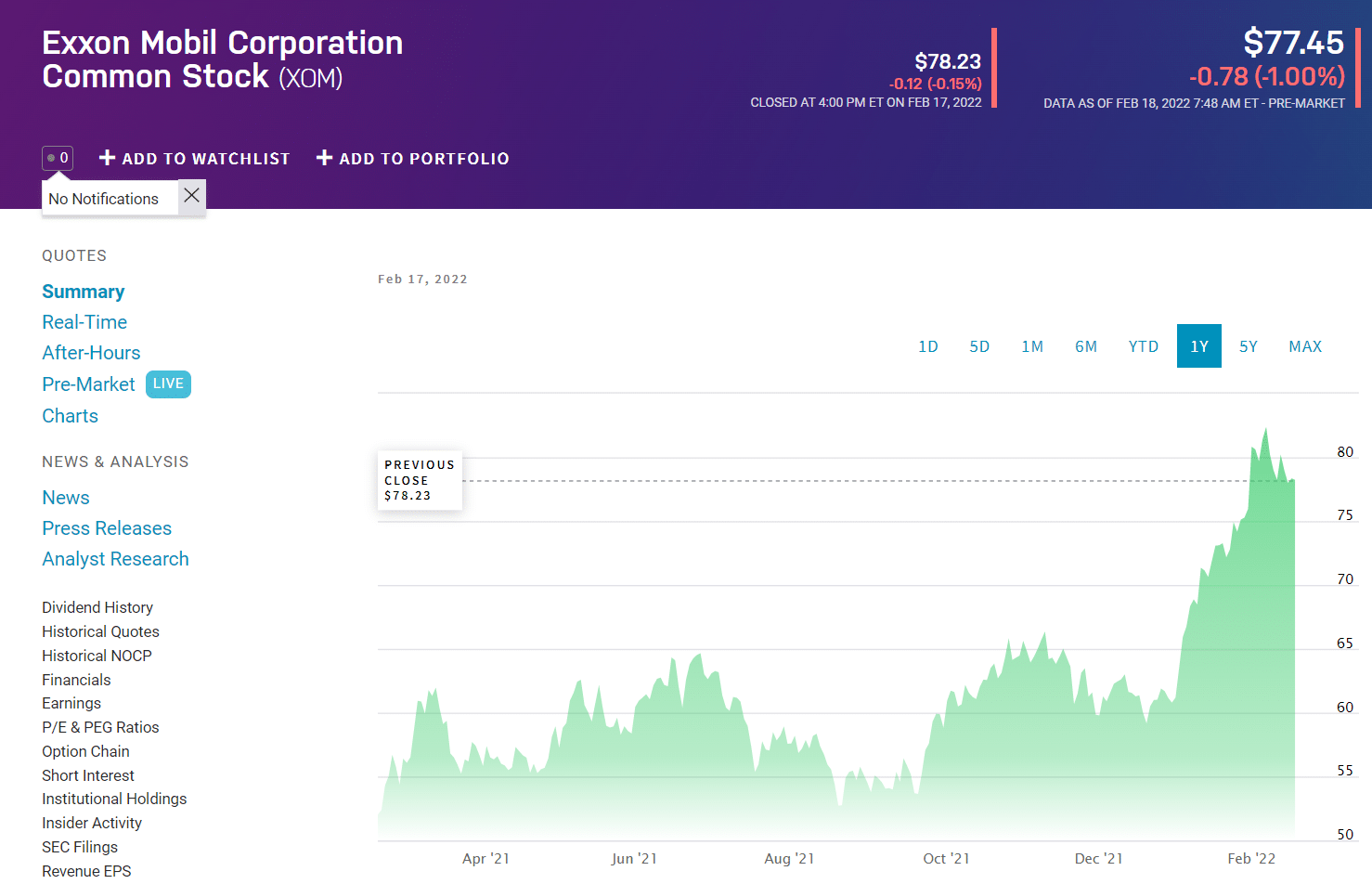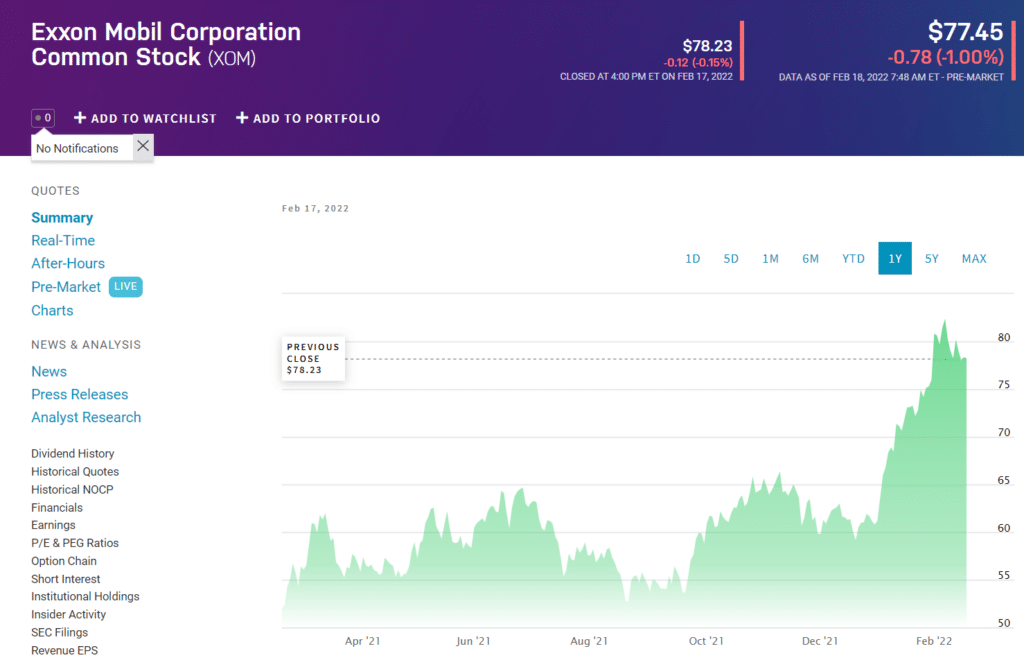 Summary
An oil giant like Exxon Mobil made a list that may surprise some, but Exxon Mobil captures the most carbon in the world. The market capitalization of this oil company is over $259 billion, and it has returned over 49 percent so far in the current year (YTD).
Price forecast 2022
Stock prices for Exxon Mobil could reach an estimated value of $90.00 by 2022. This accounts for an average of 10-12% rise in the prices.
Price forecast 2025
The average stock price forecast for the stock is $75.00, while the average high forecast for 2025 is $105. Meanwhile, the low forecast is $65.00.
5. Delta CleanTech Stock (DCTIF)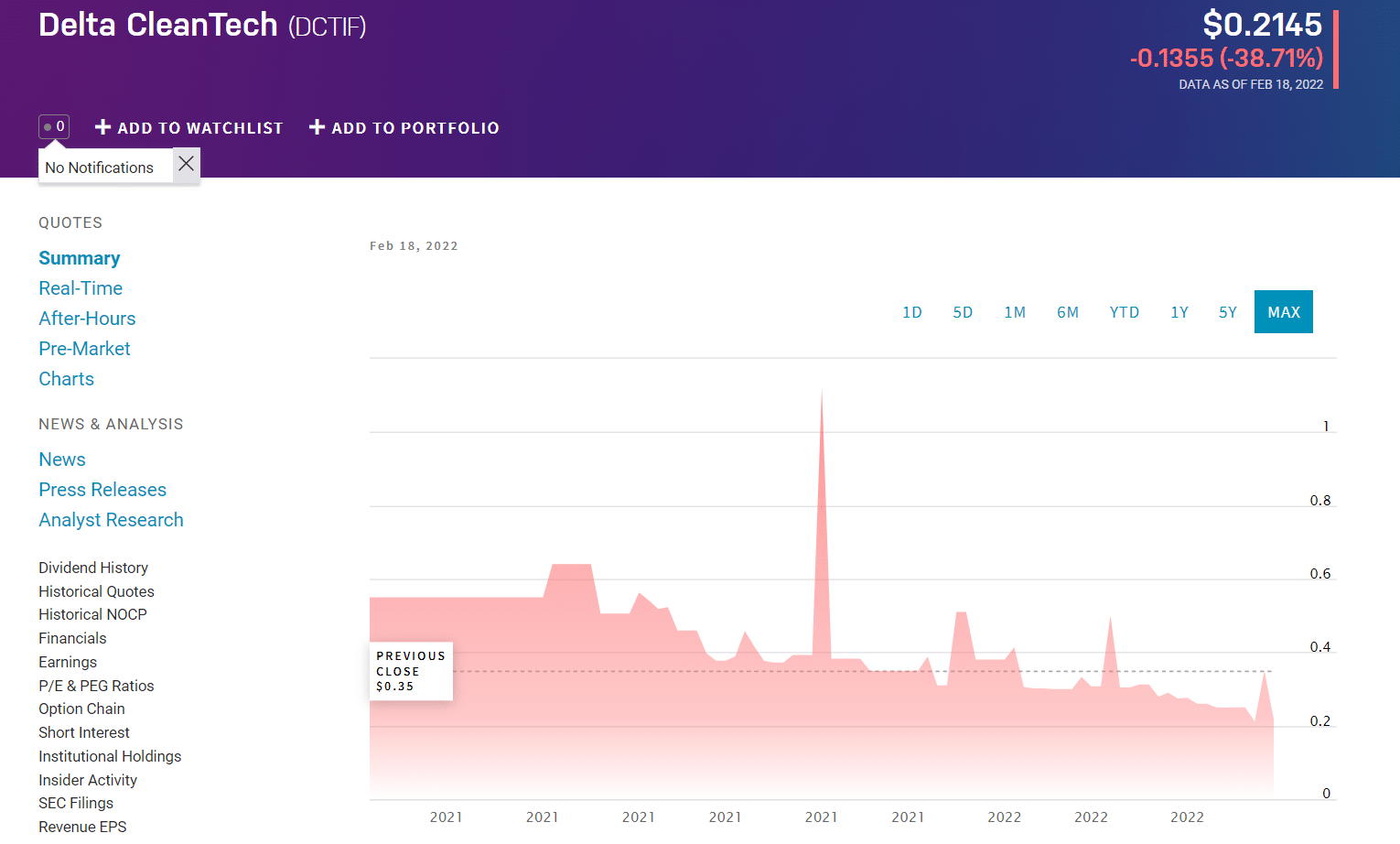 Summary
Delta CleanTech filed a prospectus with Canadian securities regulators on March 29th to list its securities on the Canadian Securities Exchange (CSE). In March, the company raised $7.5 million in funding to expand its sales and engineering teams after spinning off its parent company, HTC Extraction Systems. Its market cap has been $16.15 mn recently.
Price forecast 2022
This stock is likely to reach $0.42 in 2022 as the sales figures are expected to incline amid a $7.5 mn gain in the funding. The listing on CSE may also boost the capital gains for the company.
Price forecast 2025
The average price forecast for Exxon in 2025 is $1.00, while the low forecast for 2025 is $0.60, and the high forecast is $1.10. The expected yearly growth for the stock is 15%.
Pros & cons
| | |
| --- | --- |
| Pros | Cons |
| Investing in carbon capture stocks provides passive income through a consistent dividend. | There is a high cost to CCS. |
| According to some analysts, energy assets are not small and have room for growth. | Carbon capture and sequestration aren't directly involved with most holdings. |
| Leading investment analysts have forecast an increase in energy stocks in the future. | There may be more volatility in this asset than in others. |
Final thoughts
Carbon dioxide emissions could be instantly eliminated from the atmosphere using carbon capture and storage (CCS). Carbon capture stocks are extremely pertinent in an energy environment where coal-fired power stations play a major role.
Carbon capture stocks can become highly lucrative investments in the long run because multiple governments worldwide want to produce 100% carbon-free electricity.
Until 2050, there will be about 50,000 carbon-capture plants. It is undoubtedly an enormous investment, but one that has big potential returns – outside of saving the planet, of course.