The essential information while storing your cryptocurrency is the private key. Hardware wallets are a type of crypto wallets used to store your private keys securely.
The crypto space is getting better, and technology needs to make better coin storage systems. Hardware wallets keep your crypto offline so that it can be immune to online hacking.
Do you desire to learn about one of the popular hardware wallets, the Trezor wallet? If yes, then read the article to understand the full in-depth review.
What is the Trezor wallet?
SatoshiLabs is the inventor of Trezor, a hardware wallet used to store Bitcoin and other cryptocurrencies offline.
The first sale of the Trezor One device happened in 2014, and they launched the next-gen Model T in 2016 and was for sale in 2018.
The wallet is available as a desktop or browser app, linkable to the device.


We like
These wallets come with the topmost security features.
They support over 1600 cryptocurrencies.
Trezor made provision for a backup and recovery function.
Ability to store GPG keys on a Trezor device instead of your computer.
The open-source architecture allows for the decentralization of your digital currencies.
We don't like
The devices are expensive.
The only real benefit is if you hold a large number of cryptocurrencies in your wallet.
Frequent customer complaints regarding poor support services.
You have to replace it with a new one at the same price if the device is lost or stolen.
The Trezor One model does not support Ripple and Cardano coins.
What is worth knowing before you start?
1. Trezor wallet functions
The Trezor One and Trezor Model T are the two models currently available. The Trezor wallet is a cold storage wallet that works offline. However, users can verify private keys without internet connectivity.
The device has high-end security features, and it is robust against possible hacking. The user controls the private keys, and the unit has a 24-word phrase that backs up the unit. The device uses RNG to generate the 24-word passphrase. The 24-word phrase can recreate your wallet entirely if it is lost or stolen. Furthermore, you are required to use a PIN for all transactions.
In the past, Trezor managed funds via a web portal; however, due to hacking attempts, they have introduced the Trezor suite software. The software is downloadable on your desktop and allows you to transact in a safe and secure environment.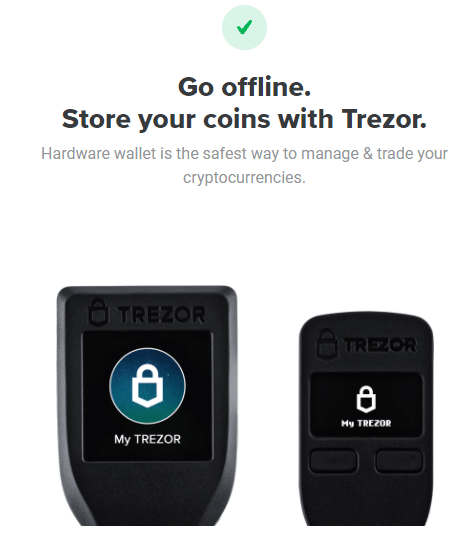 2. Trezor Wallet features
The Trezor hard wallets are small compact devices roughly the size of a car key. The device connects to a computer with a USB cable.
It is considered the gold standard and supports over 1000 crypto coins. The device has a monochrome display. The device can be accessed securely via mobile or desktop using a PIN or passphrase to recover the device.
Other security features include encrypted cloud storage, U2F authentication, encryption via GPG, and SSH. Furthermore, customers will receive premium support from the Trezor support staff.
The Trezor One device dimensions are 60mm x 30mm x 6mm, and it weighs 12 grams. The device has a bright OLED screen of 128 x 64 pixels, and it can display six lines of text.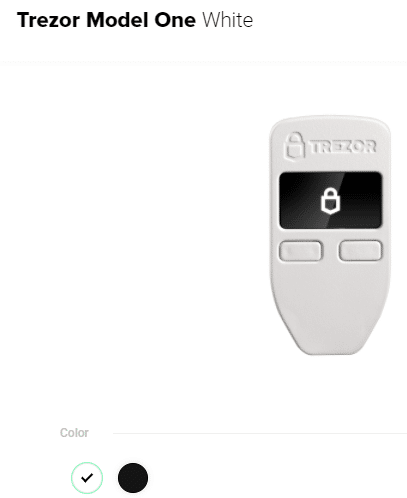 For crypto enthusiasts looking for a premium choice, they can upgrade to the Trezor Model T. It supports over 1000 crypto coins, in addition, tokens like Cardano, Ripple, Monero, EOS, and Tezos, which are not available for Trezor One.
The Trezor Model T comes with a full-color touchscreen and has a user-friendly interface. The touch screen is a bright color LCD and 240 x 240 pixels.
A secure PIN or passphrase gives you access to the Trezor Model T device, and there is no need for a computer or mobile.
The Model T includes extra features such as Bitcoin-only firmware, Shamir backup, Encrypted cloud storage, U2F authentication, FIDO2 authentication, encryption via GPG, and SSH. Users also receive a micro-SD card with the device. Furthermore, Trezor customers receive premium support.
The Trezor Model T device is 64mm x 39 mm x 10mm in size, and it weighs 22 grams.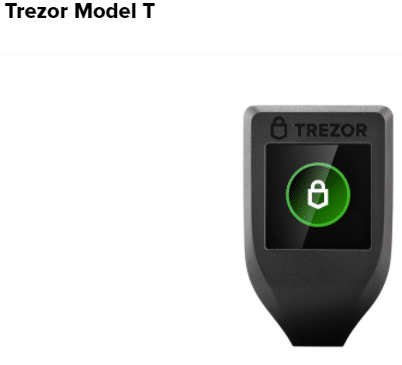 3. Trezor wallet fees & pricing
Trezor hard wallets are available for purchase via the Trezor website. The design and manufacture of the wallets take place in Europe.
The Trezor Once model sells for €53 and is available in white or black colors.
The Trezor Model T sells for €53 and is only available in black.
When you purchase a Trezor hard wallet, you will receive the device, a micro-USB cable, 2 x recovery seed cards, and Trezor stickers.


4. Trezor wallet safety
The wallet has numerous safety features, which makes it a challenge to hack. When it comes to storing money, whether digital currencies or cash, we all want to be assured that safety is a priority.
SatoshiLabs ensures that they use various safety protocols to keep users' funds safe at all times. They enable the usage of PIN authentication for operating the wallet. Furthermore, the passphrases recover your wallet should it be stolen or lost.
If the software is vulnerable, the operating system removes the device's memory, making it impossible to use.
5. Trezor wallet alternatives
Binance offers an exchange-based crypto wallet that has robust security features like two-factor authentication. Because it is a Binance product, the platform keeps cryptocurrencies in cold storage. The wallet supports many functionalities like exchanging, storage, and transfer of cryptocurrencies.
It is a hardware crypto wallet, and it comes in various ways of securely holding your crypto in wallets like Ledger Nano S and Ledger Nano X. The hardware is obtainable from Ledger, and users can buy, sell, exchange, and stake coins by linking to the Ledger app via their computer or smartphone.
It is a non-custodial wallet that supports multiple blockchains. The ShapeShift wallet allows you to send, receive, exchange, and store crypto. The wallet is available as an app for mobile or desktop. The app is entirely free to use.
Is the Trezor wallet worth using?
It is ideal for individuals who conduct large crypto transactions and are looking for a safe and secure cold wallet. Customers have complained about Trezor support service being slow and not up to standard. Furthermore, the devices are pricey, and if lost, you have to replace them with a new device.
However, SatoshiLabs developed the devices to ensure high-level security, backup, and recovery mechanisms, and the Trezor wallets are pretty popular in the crypto communities.
Final thoughts
The best feature of the Trezor wallet is the offline storage of cryptocurrency in a safe and secure device. It is a unique product that has received high reviews from popular online publications like Forbes, CNN, and Coinbase.
Users of Trezor wallets are serious about their crypto holdings and transactions. Therefore, they are willing to part with quite a bit of money to obtain the devices. The devices are compact in design, secure, and easy to operate, making them a convenient gadget to acquire.