With the emerging era of cryptocurrency, investors and traders constantly search for better cryptocurrency exchanges and wallets with superior services and security. The race has escalated as there are over 300 million users of cryptocurrency worldwide as of 2021.
This surfacing interest of individuals/businesses has prompted many blockchain networks and companies to introduce new cryptocurrency exchange platforms with advanced features.
So, are you a beginner thinking about diving into the crypto world? Or are you a professional crypto trader gauging various exchange platforms?
Let's get to know about Binance, a leading cryptocurrency exchange and wallet that has significantly developed its place among professionals and beginners due to its advanced characteristics.

What is a Binance wallet?
Binance is a cryptocurrency exchange platform with an integrated crypto wallet serving users from over 200 countries worldwide. Within four years of its inception, the platform has become the largest cryptocurrency exchange arena concerning the daily trading volume.
Binance caters to over 500 digital tokens, providing access to a wide range of cryptocurrencies to its user base. In addition to standard exchange functions, the platform has progressively launched its brokerage and various trading services.
Binance has its own native BNB token for utilization on thousands of facilities and applications running on the Binance chain. Furthermore, the Binance network has dramatically expanded by introducing various functionalities, including loan facilities, saving accounts, Binance chain and Binance smart chain (BSC), Binance Dex, and Trust wallet.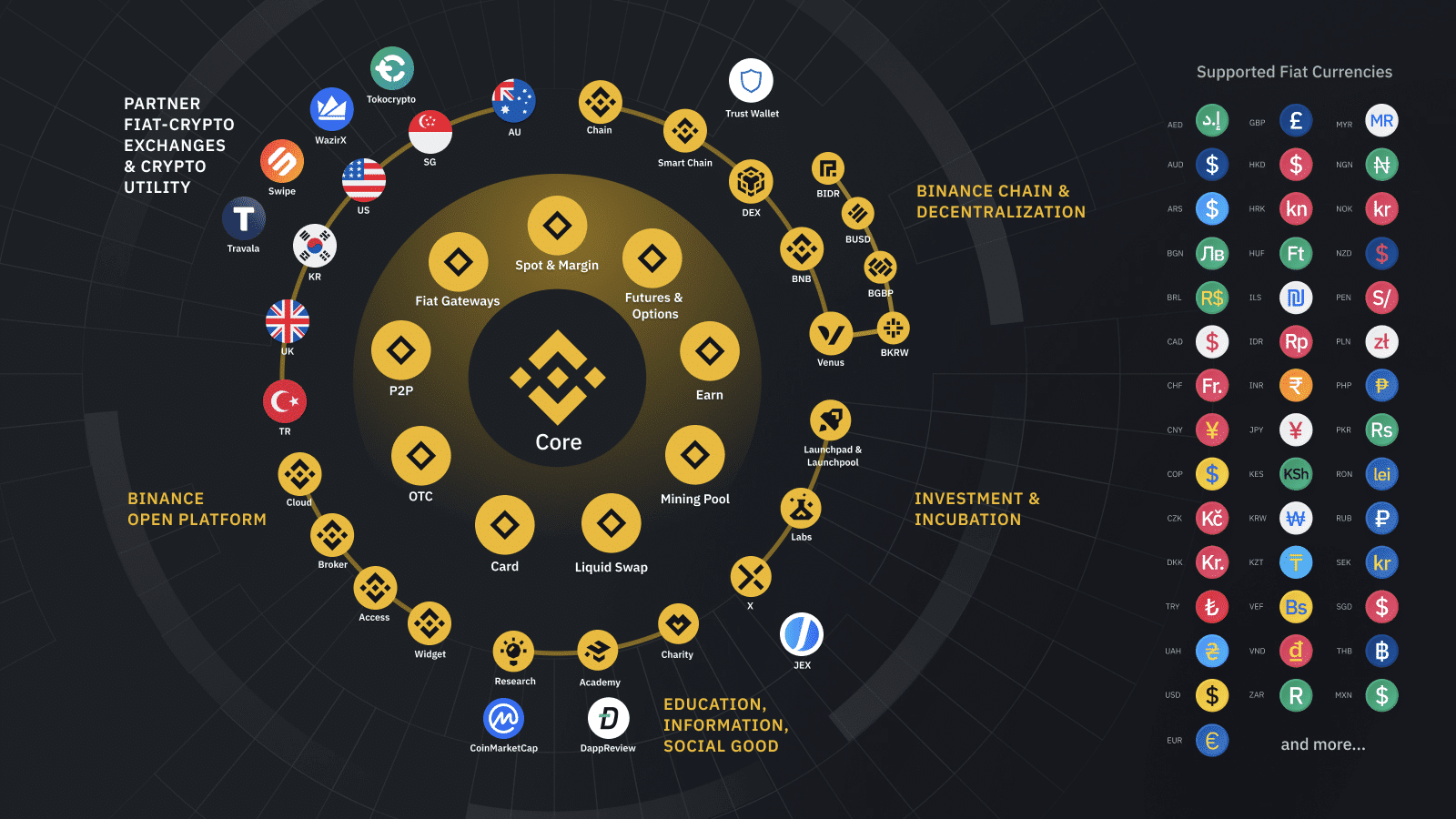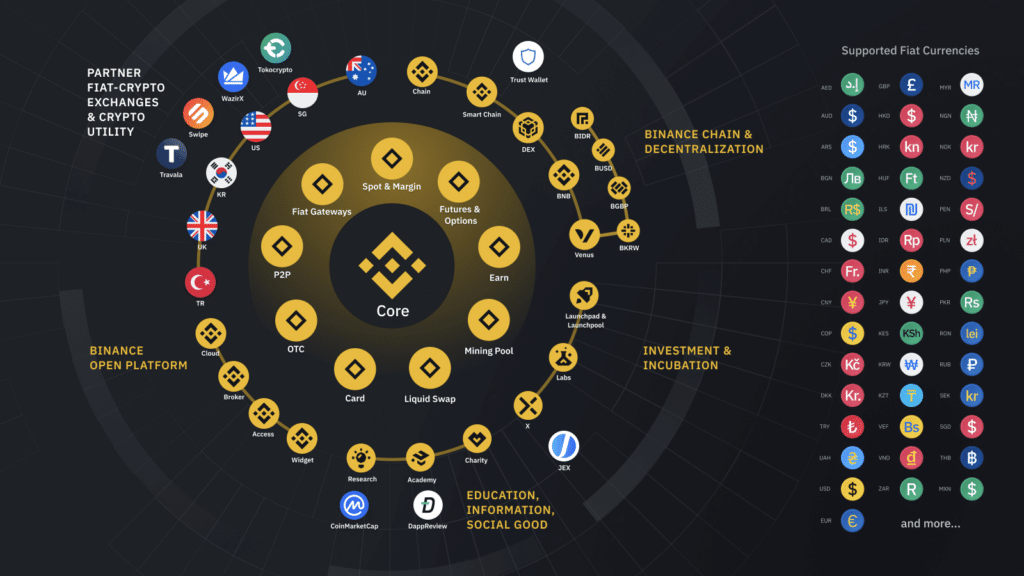 We like

Binance offers traders to execute their trades on several markets, including spots, margin, P2P, and Binance futures.
Traders can access basic and advanced Tradingview charts interface on Binance. In addition, they can draw layouts and use all analysis indicators.
Binance has specialized insurance called a SAFU fund that may reimburse the users in case of compromised Binance security due to hacking or other invading attempts.
Binance provides detailed free education regarding crypto glossary and Binance features on its "Binance academy."
Binance supports SegWit and Native SegWit (New Bitcoin addresses) that execute faster transactions.

We don't like
Recently, Binance has faced regulatory clampdown due to accusations of market manipulation, money laundering, and tax evasions.
The Primary Binance platform does not operate in the United States. A separate chain, Binance US, offers limited digital currencies to US users and has halted services to major seven USA states.
Binance can be overwhelmingly complex for beginners due to excessive options and tangled features.
Binance has various reported complaints about delayed responses by customer support.
It does not support stocks and other commodities exchanges. Recently, Binance has terminated its controversial stock tokens due to legal action.
What is worth knowing before you start?
Before getting into Binance, there are few pointers you must know. We have listed all of them below.
1. Binance wallet functions
Binance supports a wide range of cryptocurrencies and provides fiat-to-crypto and crypto-to-crypto exchange options. Users can buy Bitcoin and other altcoins using credit/debit cards, SEPA, or bank transfers.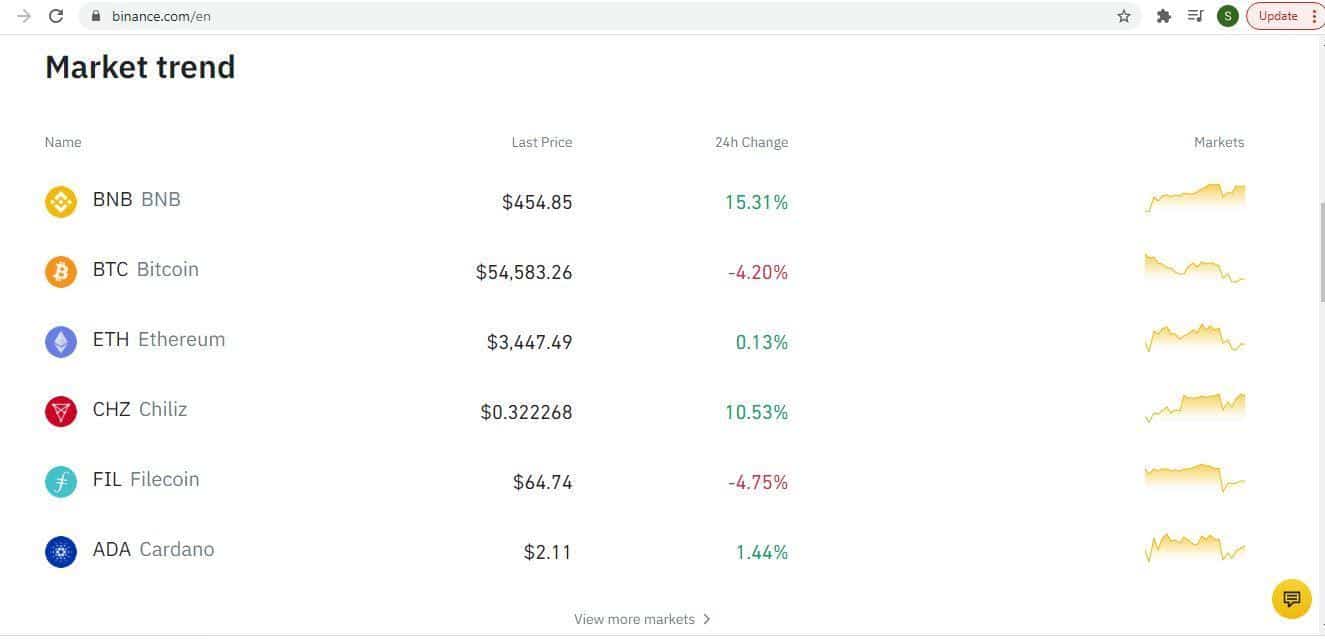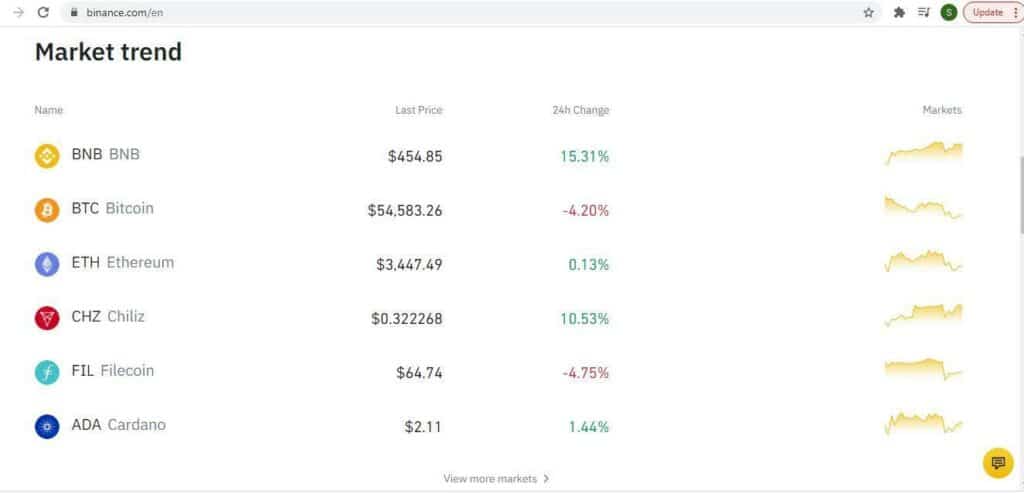 In addition, peer-to-peer trading connects buyers and sellers directly, giving them authority to regulate their transactions according to preferences. Furthermore, Binance savings and stake financing allow users to yield a significant return on their coins.
2. Binance wallet features
Binance offers various trading markets like spot trading, margin trading, and Binance futures. In addition, these markets incorporate crypto/crypto pairs as well as some fiat/crypto pairs.
The classic or advanced chart windows let the users place orders without any complex requirements. Furthermore, Binance extends numerous trading options to its users, including market and limit orders, stop orders, OCO orders, or trailing stop orders.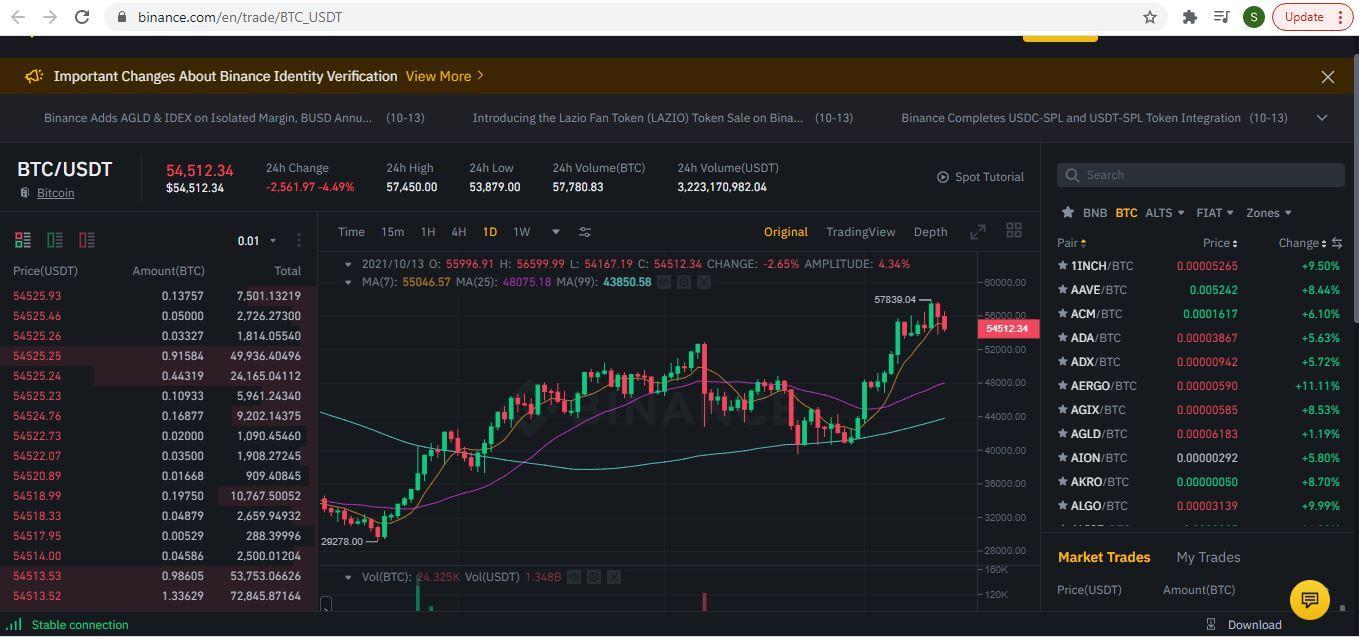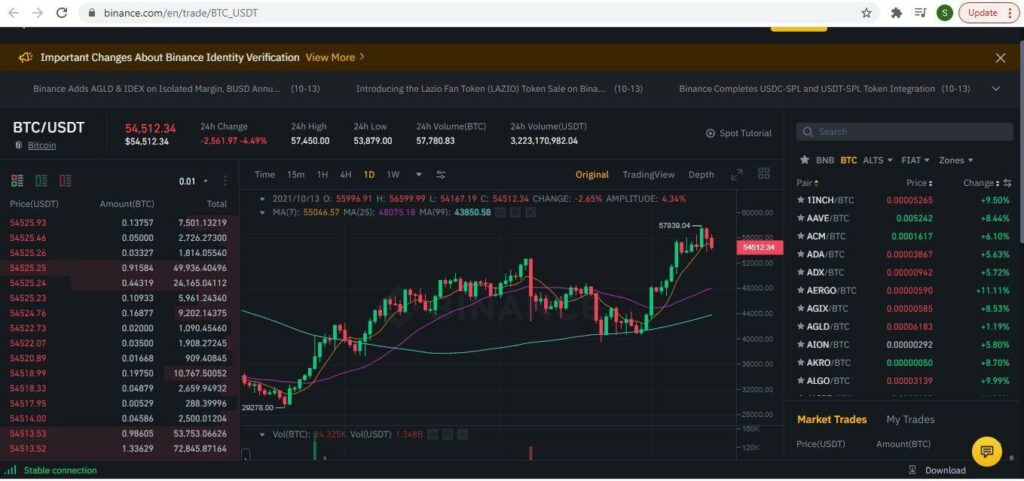 Binance actively arranges crypto airdrops and giveaways to promote their user participation. Another unique feature of Binance is its exclusive Visa card, which users utilize for their fiat dealings as the platform performs the crypto exchange behind the scene.
If you are new to the cryptocurrency world, you can gain basic and detailed knowledge about blockchain, DeFi, and crypto technology through the "Binance Academy."
3. Binance wallet fees & pricing
Binance is providing reasonable fees and transaction rates as compared to most of its competitors. Users feel comfortable with a flat 0.1% trading fee and an additional fee reduction if they use native BNB tokens.
It reduces the fees further if you execute large volume trades. Furthermore, deposits are free of cost as most blockchains and withdrawals are charged differently concerning various platforms.
4. Binance wallet safety
Binance wallet is considerably safe with the recent introduction of KYC (Know your customers) verification, resulting in broader adoption of this ecosystem. In addition, you can secure your account with frontline security like 2FA authentication.
Binance stores a substantial amount of users' assets in a cold wallet – that has no connection to the internet, guarding it against online attacks. Furthermore, SAFU fund insurance provides security assurance to users.
Binance also offers an "address whitelisting" feature. You can define the specific addresses that can access your funds through it — whitelisting blocks all unknown addresses from accessing your account assets.
5. Binance wallet alternatives
Ledger wallet
It stores the private keys of individuals for blockchain transactions and storage of applications. It is a cryptocurrency device-based (USB type) hardware wallet that secures crypto assets offline. Ledger Nano S and Ledger Nano X are two forms of this wallet with slightly different features. Ledger supports above 1500 tokens and 30 prominent digital coins.
Trezor wallet
It is also a cryptocurrency hardware wallet that secures your private keys in cold storage. Trezor devices have a touch display screen to enhance user experience. It also features Shamir backup, which is a private key security system with a cryptographic algorithm.
It is an open-source and decentralized cryptocurrency wallet that was initially an ECR20 wallet but now stores other crypto coins. It does not hold any user funds or personal information. Furthermore, it charges no fees except the validators and miner fees. Currently, it is only available as a mobile application on the play store or iOS.
KeepKey wallet
It is a hardware cryptocurrency wallet with a display screen and boasts its recovery and security features. After its integration with ShapeShift, the wallet can execute crypto exchanges also. Moreover, it supports all the major digital coins and various altcoins.
Is the Binance wallet worth using?
Though many competitive exchanges wallets have become available now, Binance still stands at a top pedestal among active traders and investors. It is an appealing platform with a comprehensive collection of primary and new cryptocurrencies and diverse trading options. Hence, this all-in-one wallet is beneficial for users who don't want to change wallets regularly for exchanging different altcoins.
Moreover, Binance has boosted its security features by incorporating multi-level security, including KYC, U2F, and 2AF, making it a worthy option for many users.
In addition, users can enjoy low fees, multiple trading options, fiat-crypto exchange, crypto loans, and many remarkable functionalities by Binance.
In conclusion, this wallet is worth using in all aspects, but it depends on your personal preferences and convenience.
Final thoughts
Binance is a widely accepted crypto exchange used by millions of users worldwide. Its popularity is due to the diversity of the Binance ecosystem and its regularly updated features. Users are constantly looking for crypto wallets with enhanced security and recovery features to secure their digital assets.
However, investing and trading in cryptocurrency has its risks and perils, and users should specify their risk tolerance and manage their assets before entering this sphere.