The stocks that arrived at the lower price point are no longer equal to their original value. Generally, an oversold stock suffers from overreacting traders. Suppose a stock value suddenly falls because of issues in the company, bad reports, or any mass withdrawals of traders believing that the stock may be overpriced. In that case, the stock value dips down very rapidly.
Besides, plenty of shares on the open market escalates the supply decreasing the demand impulsively. Moreover, if the stock keeps falling and overstepping its true value believed by the investor, it will be deemed the oversold stock.
Can you make real money with oversold stocks?
Oversold companies do not change their original value or the business model even in oversold situations. Rather the oversold company's stock is deemed much cheaper than it should be. That is where a great buying opportunity appears. Traders may buy their preferred stocks at a discounted price; it also notes that an oversold situation does not trigger any automated buy signal.
However, spotting an oversold stock is opinionative. It relies on the value you consider for the company or what you prefer to be the suitable price of the representative of its stock. Still, it is more critical for you to believe in what you have in front of you. Moreover, you must have a solid comprehension of fundamentals, functioning process, past performance, target statements of your preferred company aforehand investing in it.
How to earn with oversold stocks?
Before investing in any stock, the main focus for the trader is to evaluate the potency of market trends. Essentially, the fundamentals of generating money in the stock market are choosing the right stocks. Hence, traders should do their indicator-based analysis to quickly figure out which trading technique will be the best fit.
Furthermore, talking of the indicator-based analysis, the RSI is one of the indicators traders may use for determining the oversold or overbought condition of certain assets.
If the RSI value of any stock is lower than 30 indicates the oversold condition of that stock or index.
On the other hand, if the RSI value goes above 70, it is an overbought indication.
How to start with oversold stocks?
To start with oversold stocks, first, you have to understand the technical and fundamental factors of the market. It is significant to comprehend both of the analysis methods though they are exceptionally mainstream. However, both analysis methods have distinct characteristics in determining the oversold situation for any stock.
According to the traders relying on technical analysis, if stock arrives at a pre-decided level on a technical indicator, it signifies the oversold condition. Technical indicators pay heed to the historical data and price action instead of fundamentals covering the stock's original value.
Conversely, as per fundamental analysis, when a stock value dips below its inherent value, it is deemed the oversold condition. In this case, any negative news declaration or bad income report plays a role beyond the oversold situation get triggered. As being impacted by negative news or bad income reports, many buyers may close their position that ended up to sell-off.
Top five best wildly oversold stocks in 2022
International Business Machines (IBM)
The Walt Disney Co. (DIS)
PayPal Holddings Inc. (PYPL)
Peloton Interactive Inc. (PTON)
Twitter (TWTR)
International Business Machines (IBM)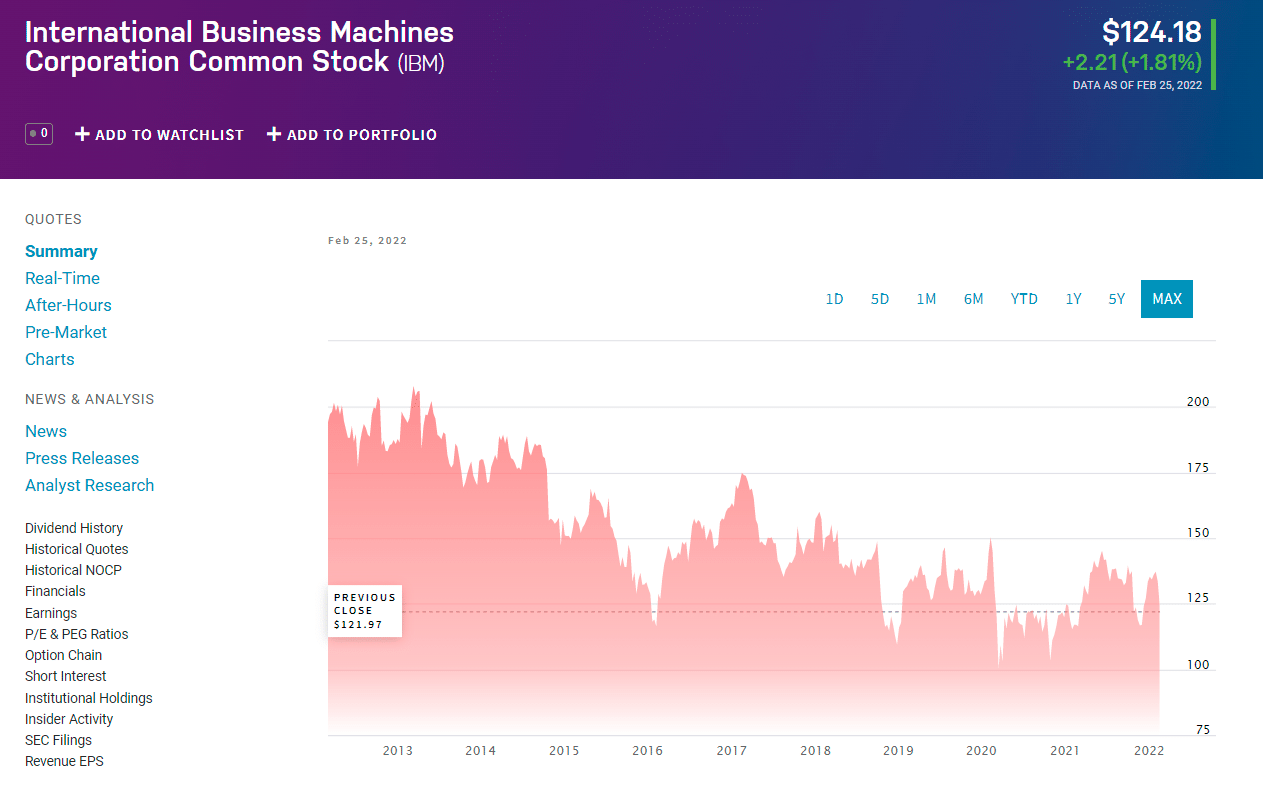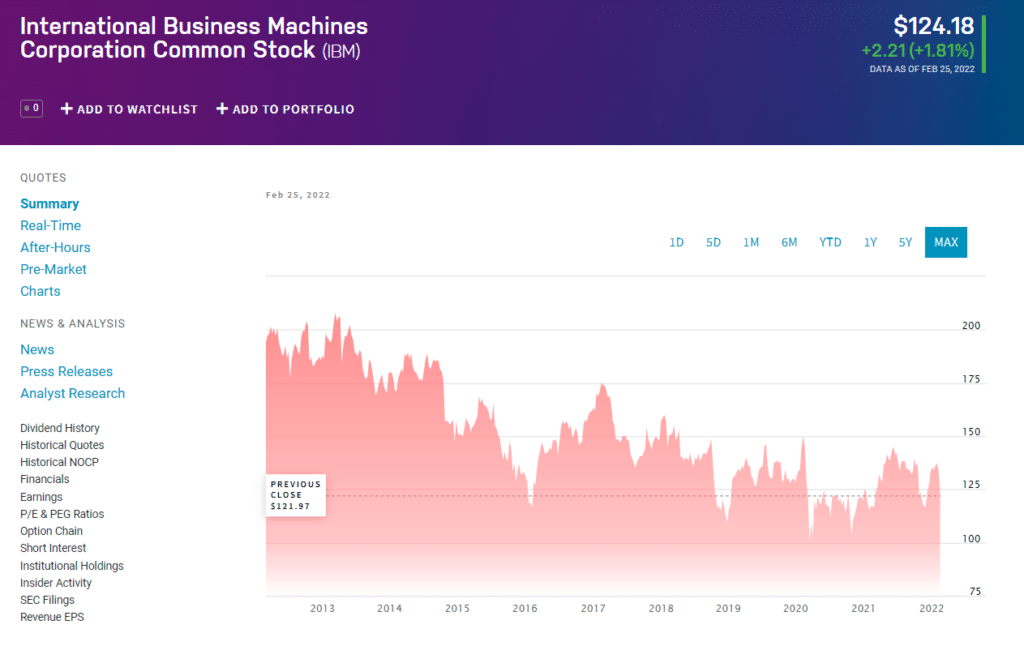 Summary
IBM has the impression of being a component of every countenance of the IT necessities of any company. International Business Machines (IBM) merchandises IT services, hardware, software, and consulting for the most part.
IBM has a resilient listing of 80,000 business companions for providing services to their 5,200 clients. The listing covers around 95% of all Fortune 500 companies. However, being a B2B company apparent influence of IBM is significant since it supervises 90% of the global transaction of credit cards. Also, IBM manages 50% of all wireless connections throughout the world. The company runs in 175 countries with approximately 350,000 of its employees.
Price forecast 2022
IBM stock may reach $160 in 2022.
Price forecast 2025
IBM stock may reach $200 in 2025.
The Walt Disney Co. (DIS)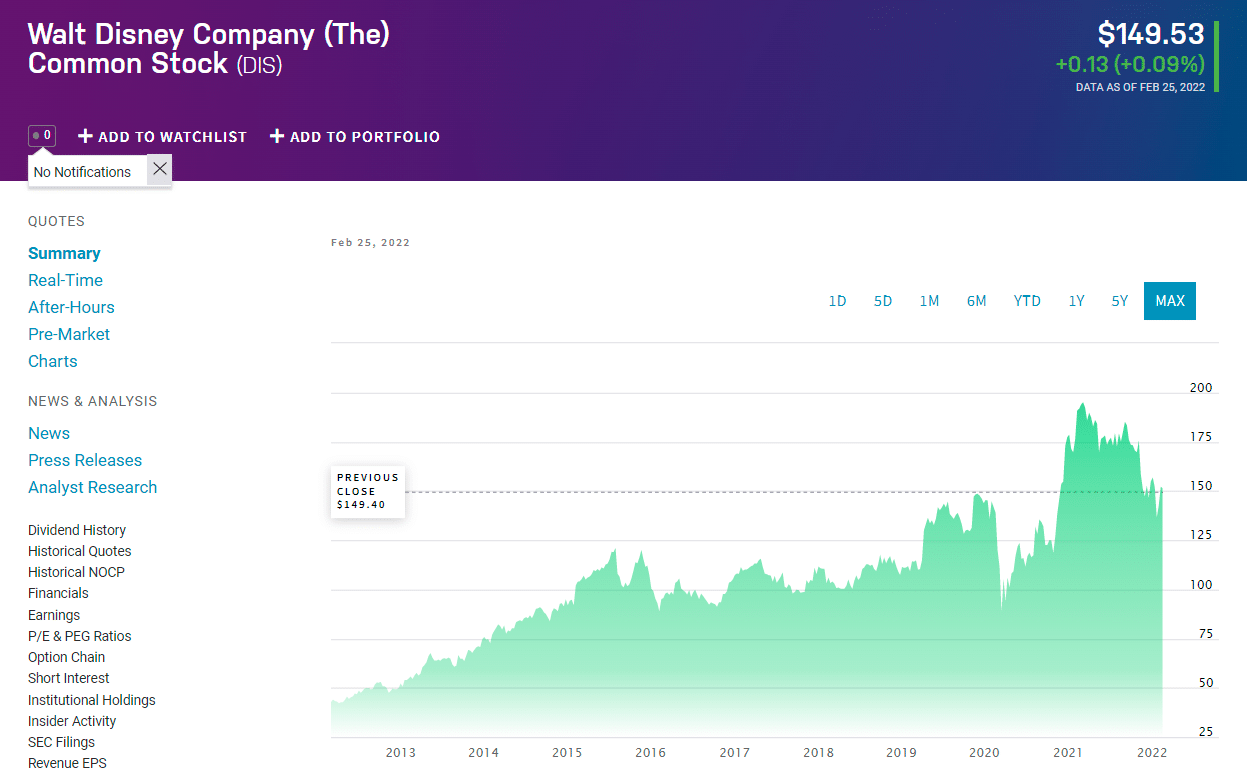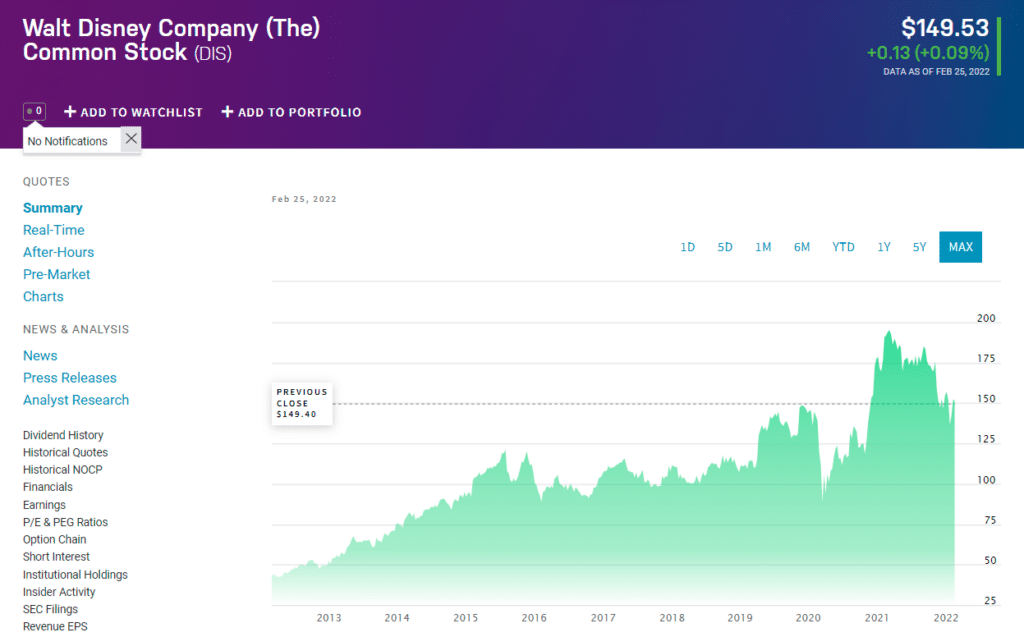 Summary
For most of the globally acknowledged characters, from Mickey Mouse to Captain Jack Sparrow and many more, Walt Disney owns the rights of these characters. Also, other characters appeared in various Disney theme parks worldwide. Disney crafts animated and live-action films through studios like Marvel and Pixel.
The company also runs ESPN's media network and a few more television production studios. Recently, Disney has introduced a new division- D2C and international along with it, the company was redeployed into four divisions. The new section comprises two declared OTT offerings: the Disney SVOD service and ESPN+.
However, they also planned to make one section conjoining these sections with consumer products and resorts- parks. Moreover, the studio division holds the assets of film production. And the media network segment comprises ABC and U.S. cable channels.
Price forecast 2022:
Walt Disney stock may reach $180 in 2022.
Price forecast 2025:
Walt Disney stock may reach $270 in 2025.
PayPal Holdings Inc. (PYPL)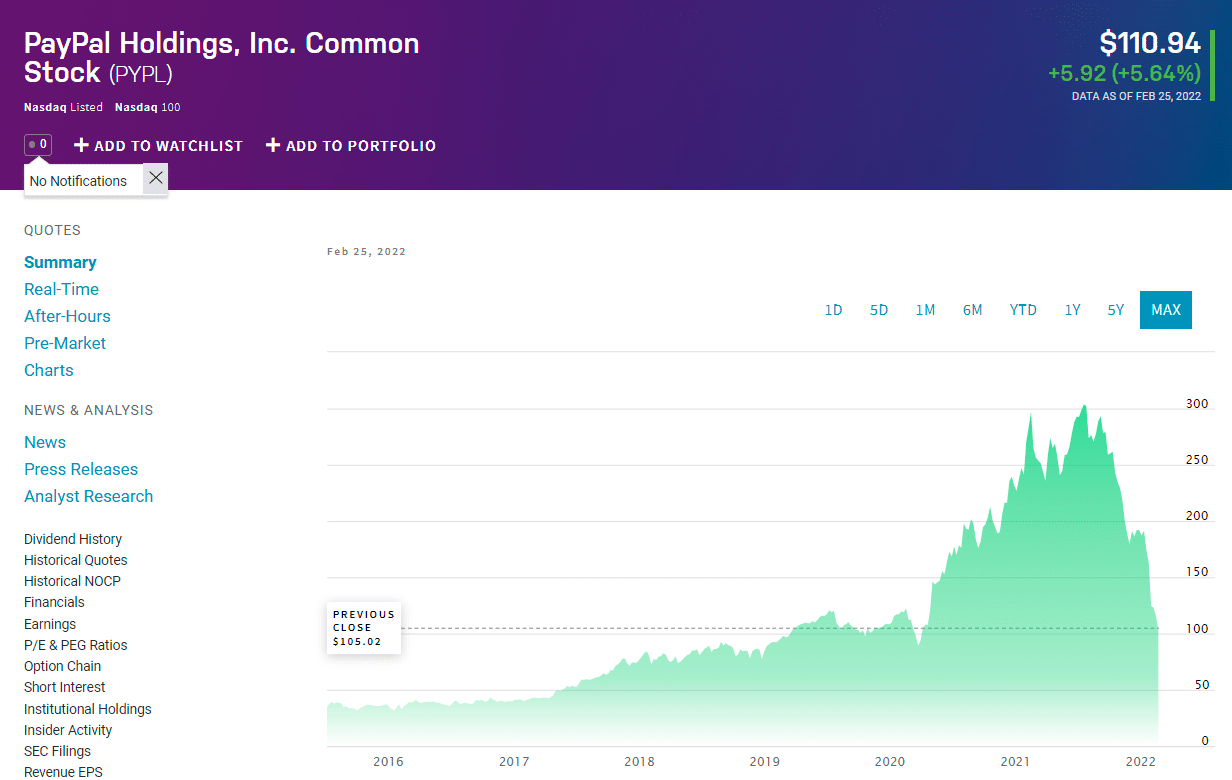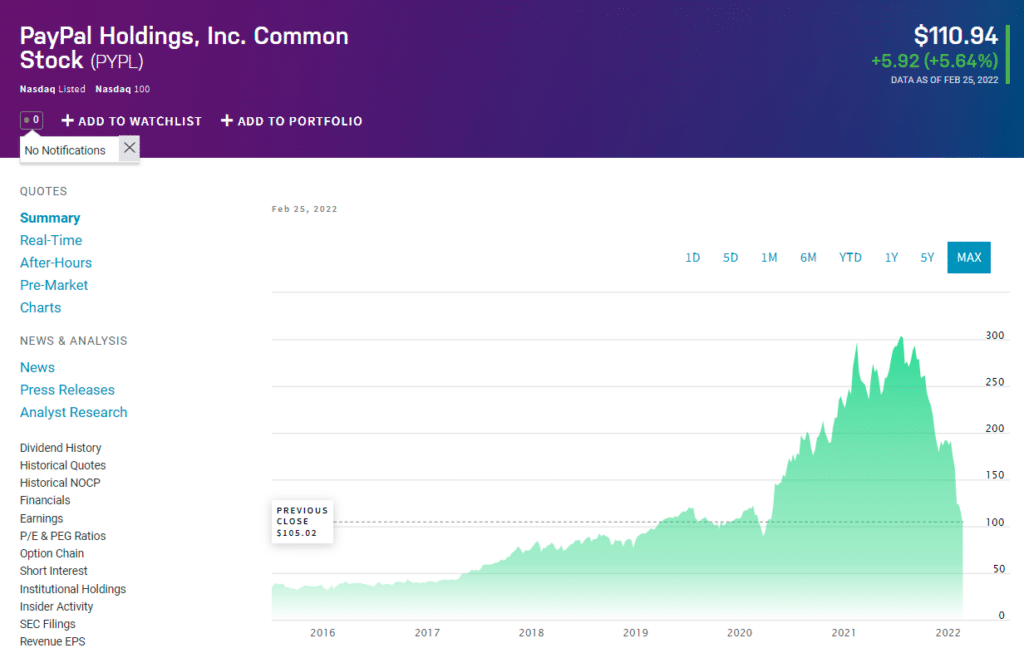 Summary
PayPal was a descendant of eBay that offshoot in 2015. The company offers solutions for electronic payments of merchants and consumers along with online transactions. PayPal had 426 million active accounts in the 4th quarter of 2021, along with inclusive 29 million merchant accounts. The company owns another international money transfer business, a person-to-person payment platform named Xoom and Venmo, respectively.
Price forecast 2022
PayPal stock may reach $180 in 2022.
Price forecast 2025
PayPal stock may reach $220 in 2025.
Peloton Interactive Inc. (PTON)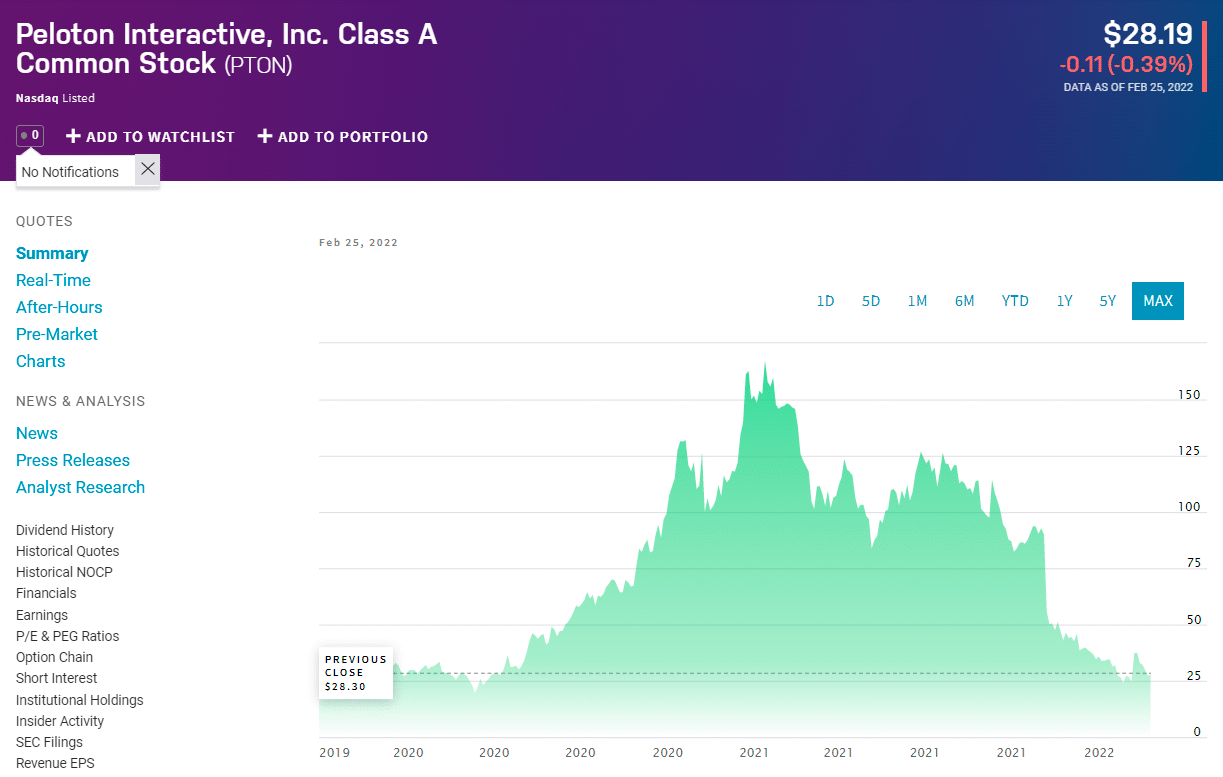 Summary
Peloton Interactive Inc. runs an interactive fitness platform in two reportable sections. The first is the Connected Fitness Product, and the other one is the Subscription.
Yet the majority of Peloton's revenue comes from Connected Fitness Products sales. The revenue of Connected Fitness Product comes from selling treads, bikes, and accompanying accessories, related delivery and installation fees, and warranty renewal agreements. On the other hand, the Subscription revenue is generated from the monthly Subscription of Connected Fitness and Digital Subscription.
Price forecast 2022
Peloton stock may reach $90 in 2022.
Price forecast 2025
Peloton stock may reach $150 in 2028.
Twitter (TWTR)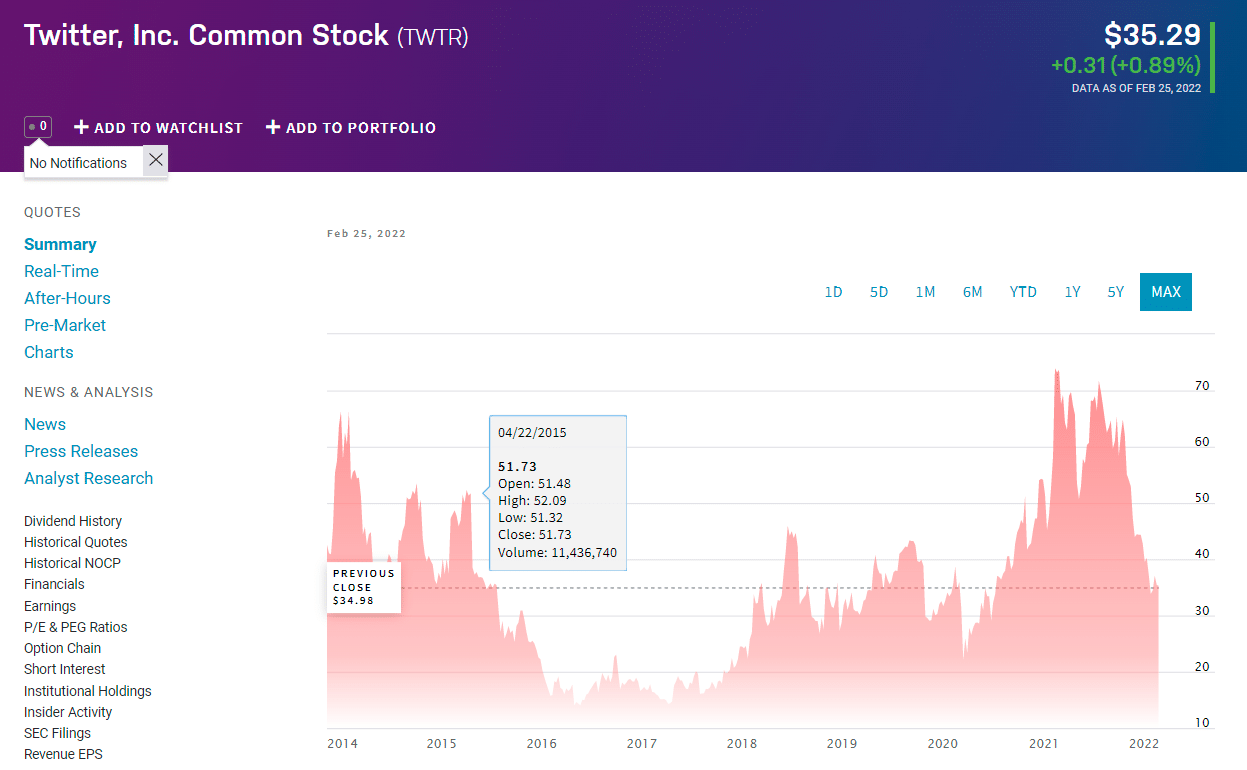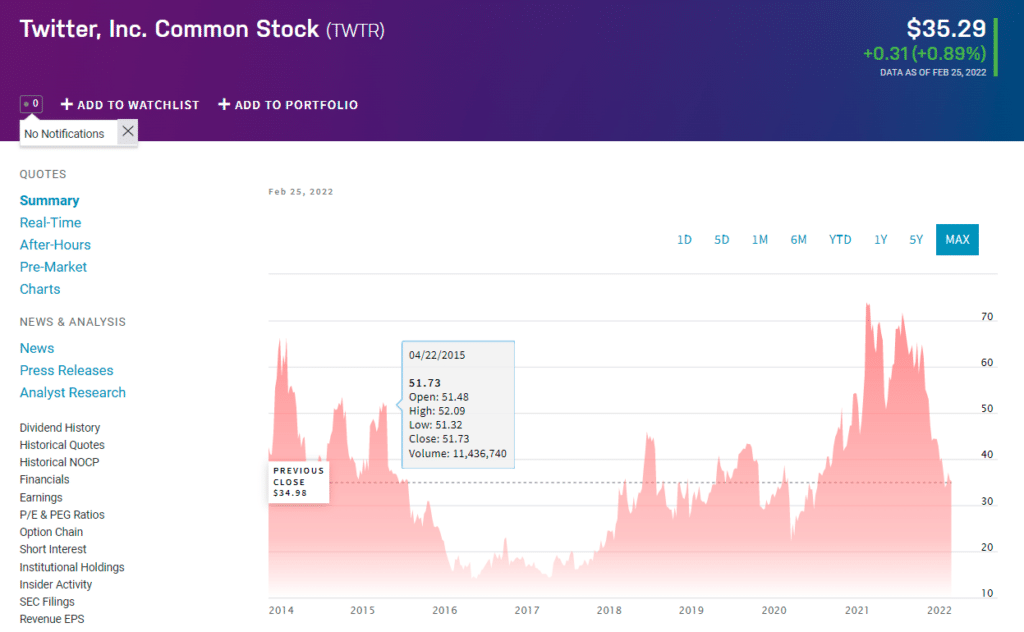 Summary
Twitter is a platform for open distribution and a short conversation with a maximum of 280 characters and videos and images. Twitter users are allowed to create various social networks according to their interests and needs, which develops a graph of interest. Many famous public figures and celebrities have their Twitter accounts. Advertising and licensing the user data are the revenue-generating source of the company. Besides, 90% of the generated revenue comes from advertising and 10% from licensing the user data.
Price forecast 2022
Twitter stock may reach $40 in 2022.
Price forecast 2025
Twitter stock may reach $70 in 2025.
Pros & cons
| | |
| --- | --- |
| Pros | Cons |
| Buying an oversold stock may generate a handsome amount of profit. | An oversold condition does not entirely mean the price will go higher; sometimes, stock value may dip more than the oversold price. |
| In most cases, oversold stocks may impulsively move upwards, increasing the profit potential. | Traders often mix up the oversold condition with a buy signal. |
| An oversold condition creates the opportunity of buying stocks at a lower price than usual. | Investing in an oversold stock may lock the trader's money for an extended period. |
Final thought
Finally, investing in oversold stocks may bring you the opportunity to buy a company's shares paying comparatively lower prices than its actual value, yet the company has a positive countenance. Therefore, doing personal level research to figure out why buyers decide to close their positions is significant since the share price may always reasonably plunge.