Forex Truck is an expert that was designed to make profits on the Forex market. The developers provide us with an average level of explanations about features, settings, and performance. They try to convince us that it's a reliable and trustworthy trading solution. We have decided to take a closer look at the system to be sure it's a good option to work with in 2022.


We have simple pricing, as it's usual for powered by Forex Store advisors. The robot is available for as low as $329. The package is featured by a license for a real account, many licenses for demo accounts, switching them many times online, user manual, MT4 and MT5 versions, and a 30-day refund policy.
Is Forex Truck good?
The system looks viable if you accept trading using a Grid of orders.
Features of Forex Truck
The presentation provides us with information about features, settings, and other details. We have systemized them in the list.
The system can help us with executing our orders completely automatically.
So, we are free to do whatever we want.
We can work from MT4 and MT5 terminals.
The only pair to trade is USDCAD.
We are allowed to trade through any broker we want.
It's possible to work with fixed lot sizes.
Our orders will be protected by proper SL and TP levels.
If the market goes against the orders the system tries to close them asap with a short profit or a loss.
The system doesn't work with deep stop loss levels.
| | |
| --- | --- |
| Trading Terminals | MT4 and MT5 |
| Strategy | Grid and conservative Martingale |
| Timeframe | H1 |
| Price | $329 |
| Money Refund | 30 days |
| Recommended Deposit | N/A |
| Recommended Leverage | N/A |
| Money Management | Yes |
| Customer Reviews | No |
What strategy does Forex Truck use?
The system uses a Grid of orders and Martingale, most likely, based on a Price Action strategy.
We can work with USDCAD only.
The time frame wasn't mentioned, but it can be H1.
Backtesting vs live trading results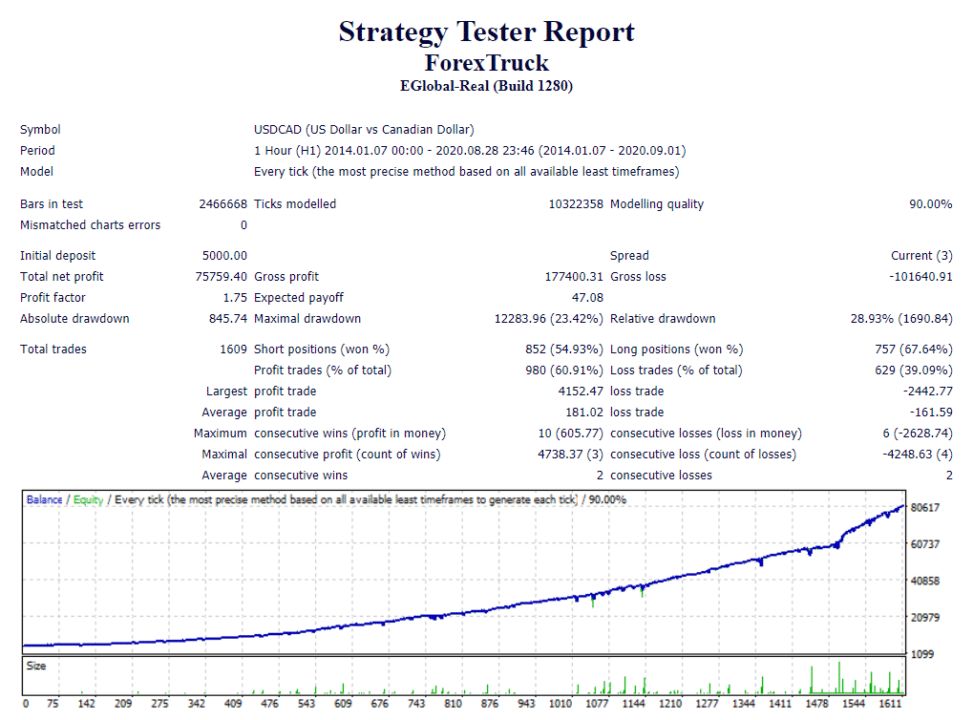 There's a backtest report that informed us USDCAD that was tested on the 6-year data on the H1 time frame. The modeling quality was 90.00% with 3-pip spreads. The deposit was set at $5000. It turned into $75,759 of the total net profit. The profit factor was 1.75. The maximum drawdown was a bit high, 23.42%. The robot has executed 1609 orders with 54-67% of the win rate.
Forex Truck trading results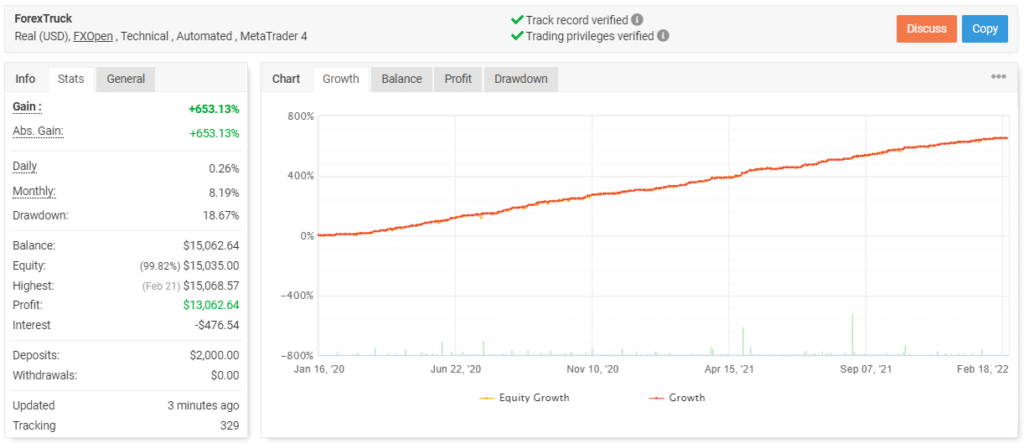 The advisor executed orders on a real account on a well-known broker–FXOpen. The platform to trade is MT4. We don't know details about leverage. The account has a verified track record. It was created on January 16, 2020, and deposited at $2000. Since then, the total gain has grown to 653.13%. An average monthly gain is 8.19%. The maximum drawdown is 18.67%.


The system has traded 490 deals with 2988 pips obtained . An average accuracy is 55% for long and 58% for short trading positions. An average trade length is two days. The profit factor is 1.95. This number is pretty acceptable.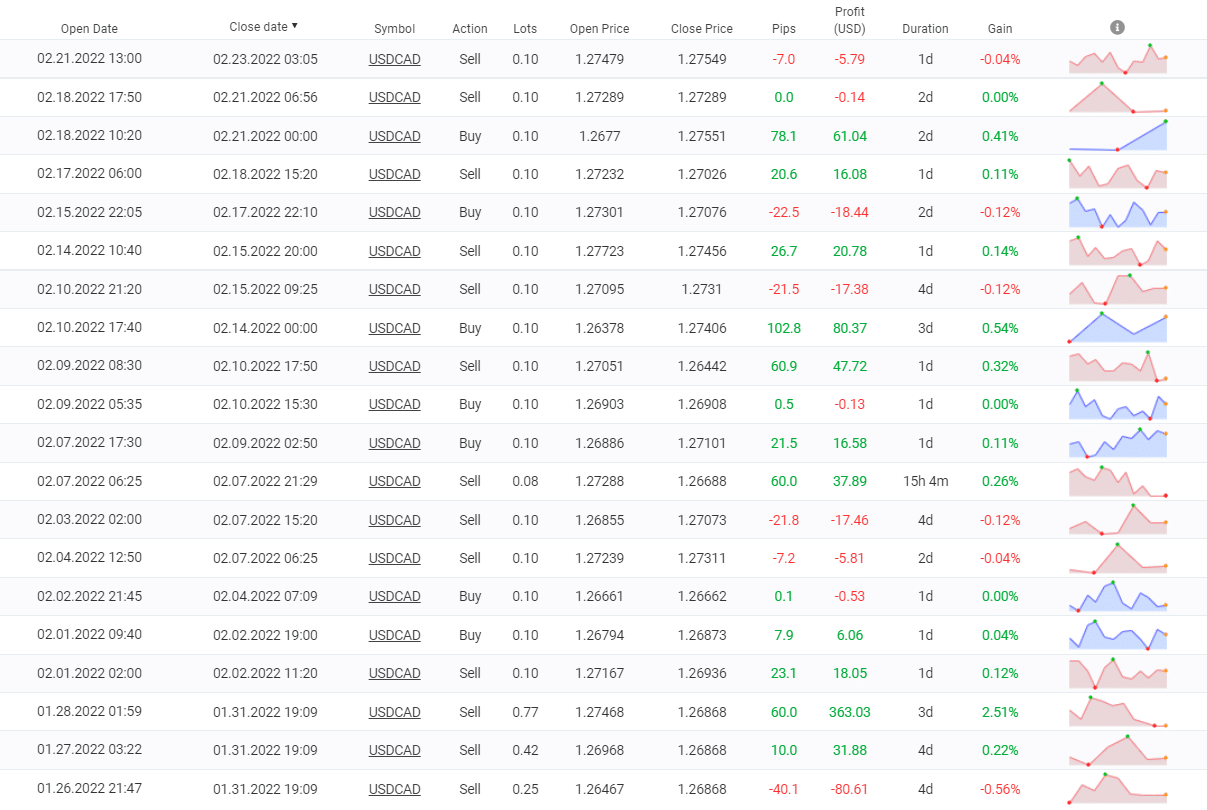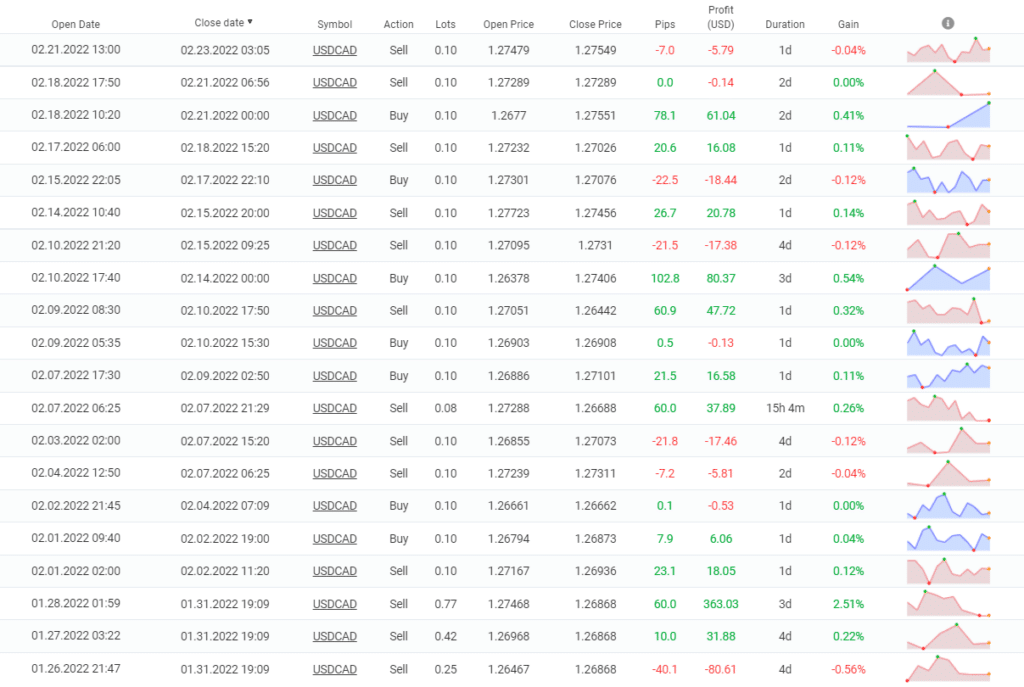 The advisor mostly wins rather than losses. The advisor uses x7.7 Martingale when needed.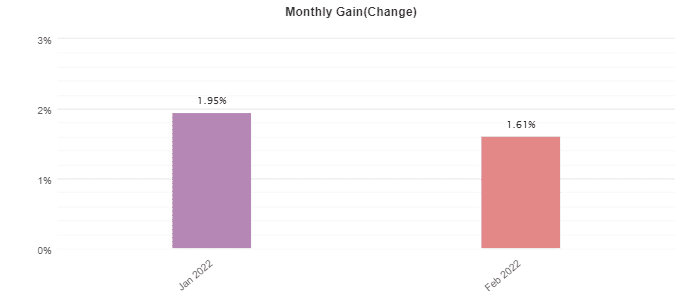 The robot provides short monthly profits for the first two months of 2022.
The core team
The developers provide us with no information about themself. So, we have to just guess if they have proper trading experience.