The rise of decentralized systems through blockchain is gaining immense popularity. Cryptocurrency, or Bitcoin to be specific, is the first implementation of it. A crypto wallet address is a need to keep your cryptocurrency safe and have the claim that you own it.
Trust Wallet is a crypto wallet that is reliable and is used to hold, exchange, buy and sell cryptocurrencies. According to cointelegraph.com, it has 5M users.
Every crypto enthusiast is constantly looking out for a trustworthy and secure wallet. And even you may be one of them.
You might be curious to know and learn everything about this wallet before becoming its user. If yes, then here is an article for you. Read it thoroughly and understand it yourself.
What is a Trust Wallet?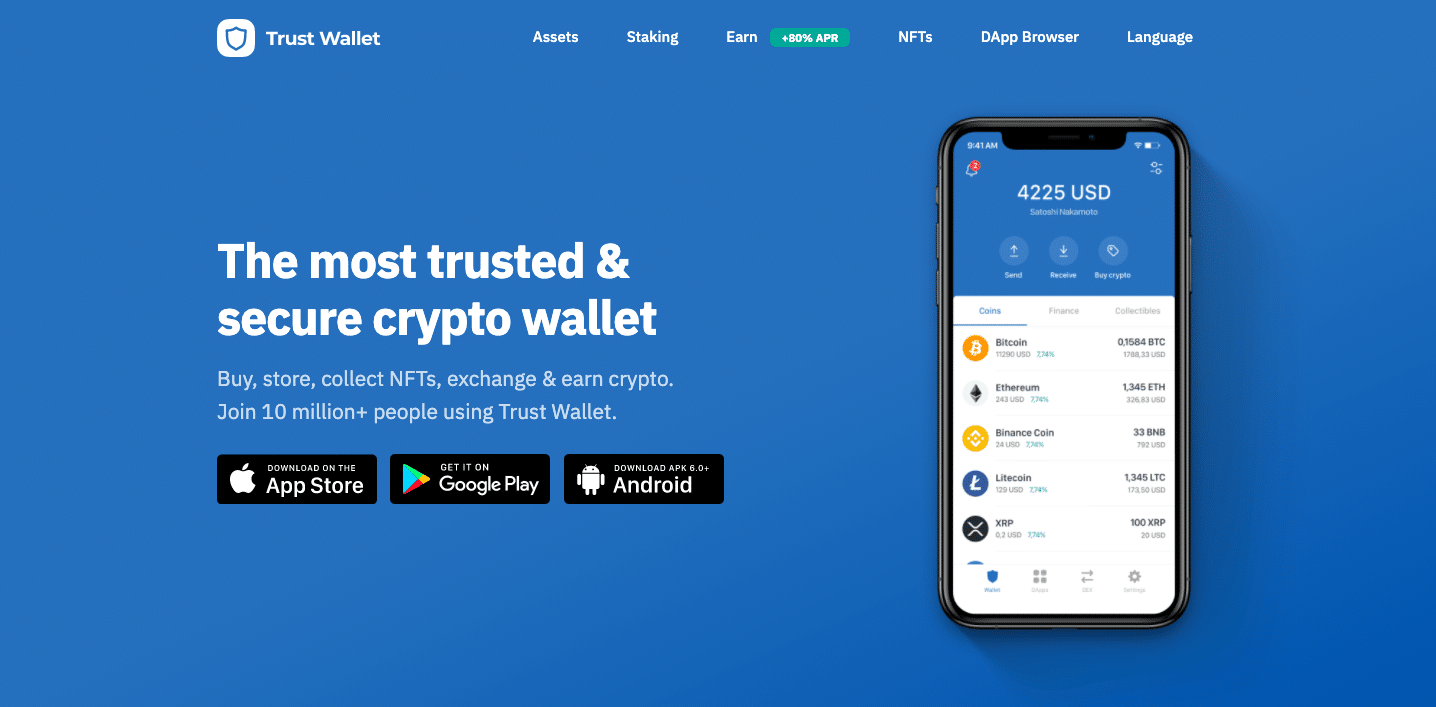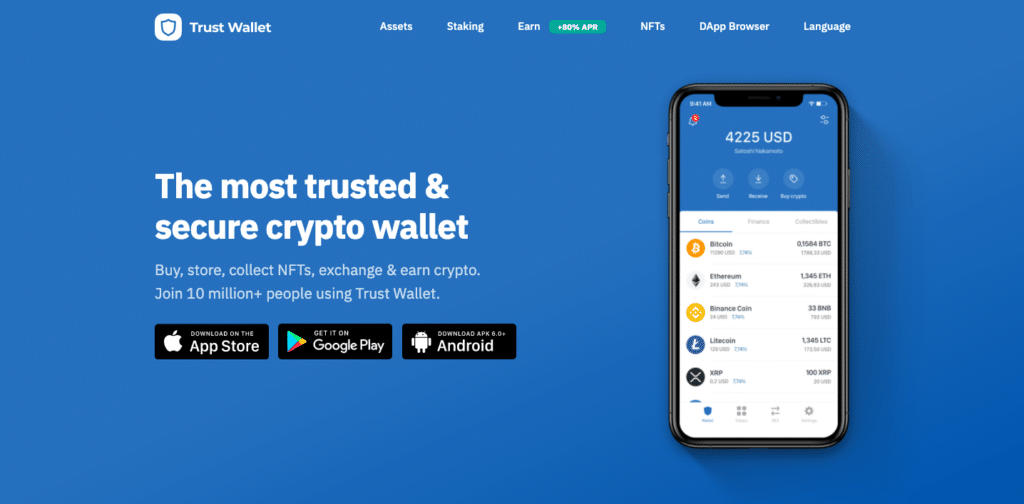 Every crypto investor needs a place to keep their investment secure. Trust Wallet is one of the mobile crypto applications used to buy, receive, and send digital coins and tokens.
It empowers transactions of over one million crypto assets and more than 53 blockchains.
Trust Wallet sustains the leading blockchains of the ETH ecosystem; in addition, it works with any ERC20, BEP2, and ERC721 tokens. The platform also added support for Binance Smart Chain, and the development team is continually adding support for other digital currencies monthly.
It is also relatively easy for anyone to use it by downloading it from the google play store and app store for their IOS and Android devices.
We like
It allows its users to stake coins allowing users to use the app's Defi services; this, in return, gives passive income as an interest to its skaters.
Its primary motto is to give complete security and ownership to the individual. Private keys are the most crucial part of the login criteria. Hence the app allows its owner to keep and manage their private keys.
These wallets have a large section and variety of crypto coins and tokens that you can buy, sell, exchange, send and receive.
It offers ways for users to store their NFT tokens in one single place.
The app supports functions like Web3 browser, which can interact with any decentralized app.
We don't like
It does not allow 2-factor authentication.
It is not as safe as a hardware wallet.
You can use it only with the app.
Fees charged for the exchange of coins change according to market pricing.
It does not perform KYC for clients because it is a non-custodial wallet.
What is worth knowing before you start?
1. Trust Wallet functions
It provides Web3 browser functionality that is congruous with any decentralized application (DApp).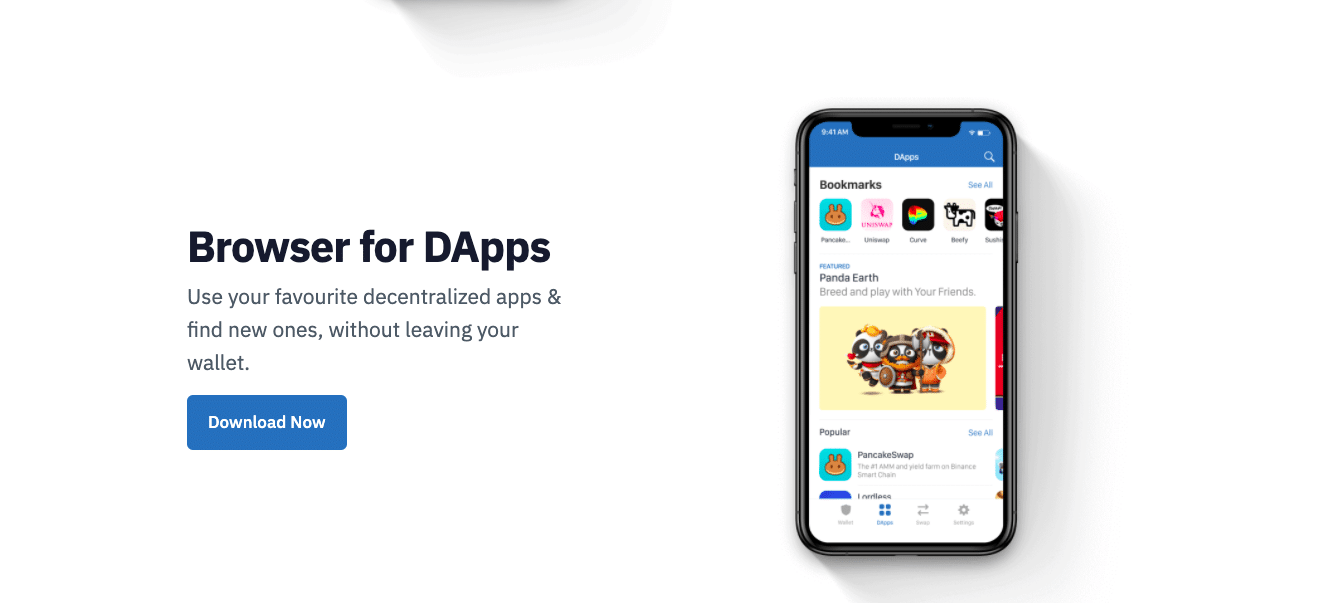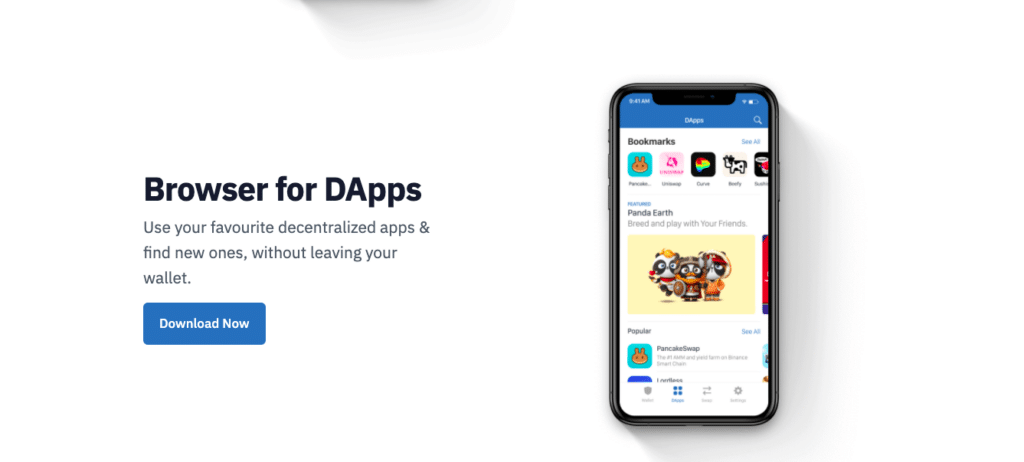 Also, The app provides a secure connection to decentralized applications on Binance Smart Chain or the Ethereum network.
2. Trust Wallet features
Its specialties include the transfer of crypto tokens, staking, and earning. The staking feature allows users to hold coins in their wallets. Trust Wallet users can generate an income from the coins held in their wallets using proof-of-stake mechanisms.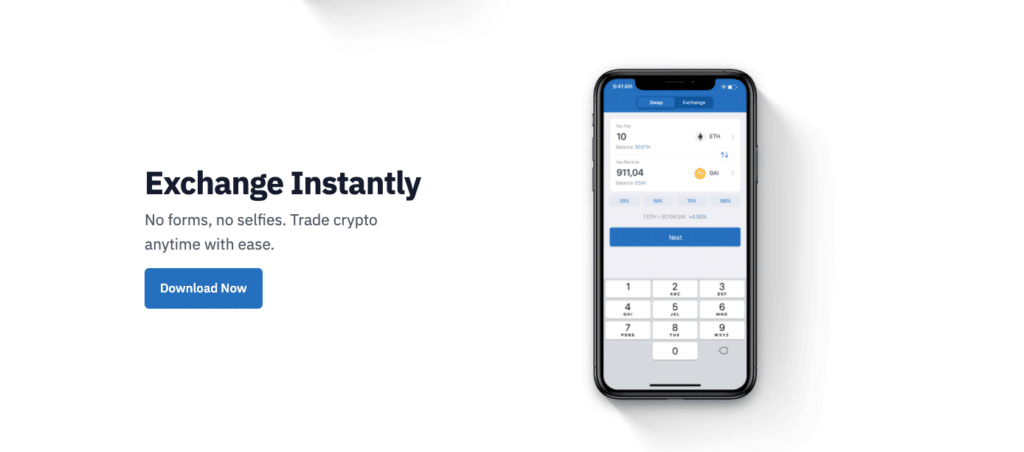 Users can earn up to 80% APR on staking, and this wallet does not charge any fees.
It supports over one million crypto coins, allowing users to transfer and exchange cryptocurrencies from the wallet. The Trust Wallet feature is easy to download and navigate.
3. Trust Wallet fees & pricing
The wallet's app is free to download, and the platform does not charge any fees for its features or services. The only fees users are required to pay are the exchange of crypto to other wallets. The fee categories are cheap, regular, or fast.
4. Trust wallet safety
This app does not require KYC of their users; therefore, they don't have any personal data. Furthermore, the wallet is non-custodial, which safeguards users' keys, making it inaccessible to anyone else.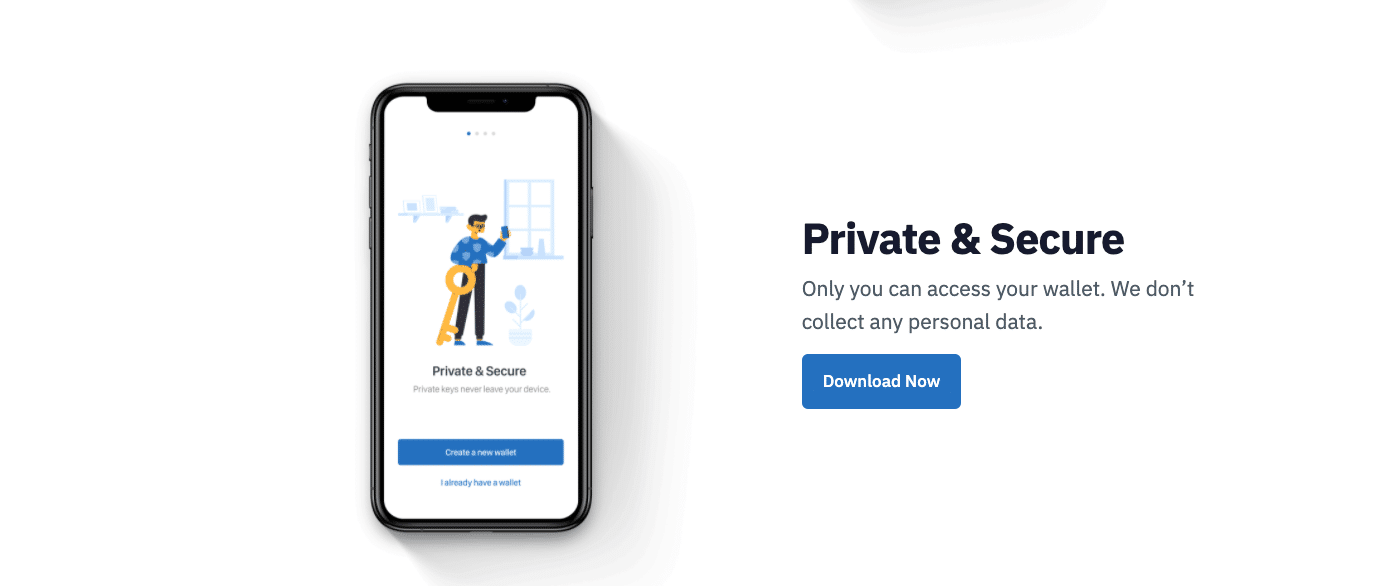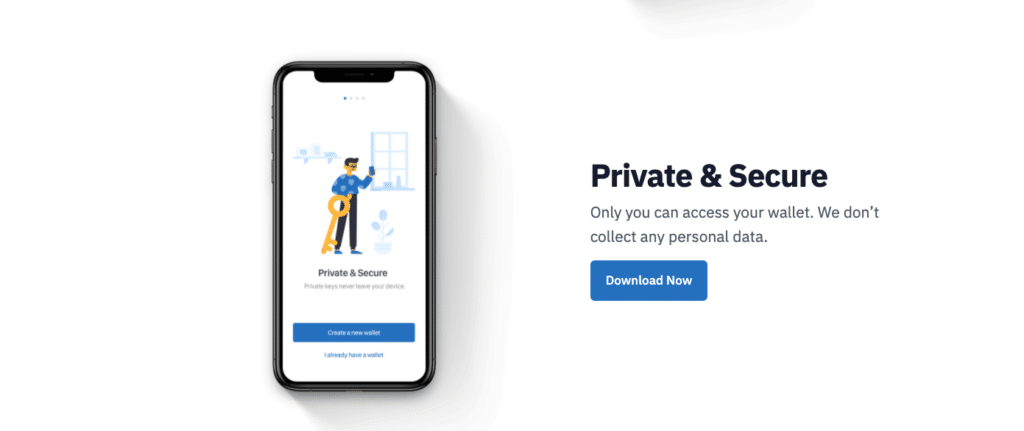 The wallet made provision for a backup feature to recover users' funds. Furthermore, to secure the login for the app, it allows biometric fingerprint scanning or a secure PIN.
5. Trust Wallet alternatives
It is not the only crypto wallet of its kind, and perhaps you would be interested in the following alternative apps.
Binance offers an exchange-based crypto wallet that has robust security features like two-factor authentication. Because it is a Binance product, the platform keeps cryptocurrencies in cold storage. The wallet supports many functionalities like exchanging, storage, and transfer of cryptocurrencies.
It is a hardware crypto wallet, and it comes in various ways of securely holding your crypto in wallets like Ledger Nano S and Ledger Nano X. The hardware is obtainable from Ledger, and users can buy, sell, exchange, and stake coins by linking to the Ledger app via their computer or smartphone.
It is also a hardware crypto wallet that allows users to store Bitcoin, tokens, keys, and passwords. The Trezor Model T is available for purchase at €164. Furthermore, they offer back models to secure your cryptocurrencies.
Is it worth using?
This wallet offers features that are not unique, and many other applications offer the same. However, users find it straightforward to use, which is a plus since many crypto wallets can be complex to new users.
The wallet does not perform KYC; therefore, transactions are completely anonymous, which will appeal to users looking for discretion. The app does not charge any membership fees, and it has received high ratings in terms of security and efficiency of transactions.
It might be worth using if the features mentioned above appeal to your needs.
Final thoughts
Before even getting into the conclusion part, you must understand that any form of investing is risky; in addition, crypto is way more volatile than other assets in the market.
After reading this article, you now know that Trust Wallet has already had its foot on the ground and is firm. This wallet is secure, fast, and has everything you will need.