With the increasing utilization of cloud and digital technology, companies are actively trying to implement cybersecurity protocols within their networks for protection against data breaches. The cybersecurity space's significance has expanded as the Covid-19 pandemic shifted the balance towards remote work and online data handling.
According to IBM, $3.86 million is the global average cost of data infringement. Moreover, the rate of cybercrimes surged to more than 600% during the ongoing pandemic. As a result, this industry is likely to flourish to counter these cyber threats in the upcoming years.
Analysts point that the value of the global cybersecurity sector can cross the $345 billion mark by 2026, representing a CAGR of 9.7% from 2021. So, as an investor, are you eager to capture this upward trend?
Let's learn about some cyber security stocks that have substantial growth potential.
What are cybersecurity stocks?
They are the shares of companies that deal with the protection of online networks and sensitive digital information. These companies manage the security of internet-connected devices and systems to prevent data breaches and malicious cyber-attacks.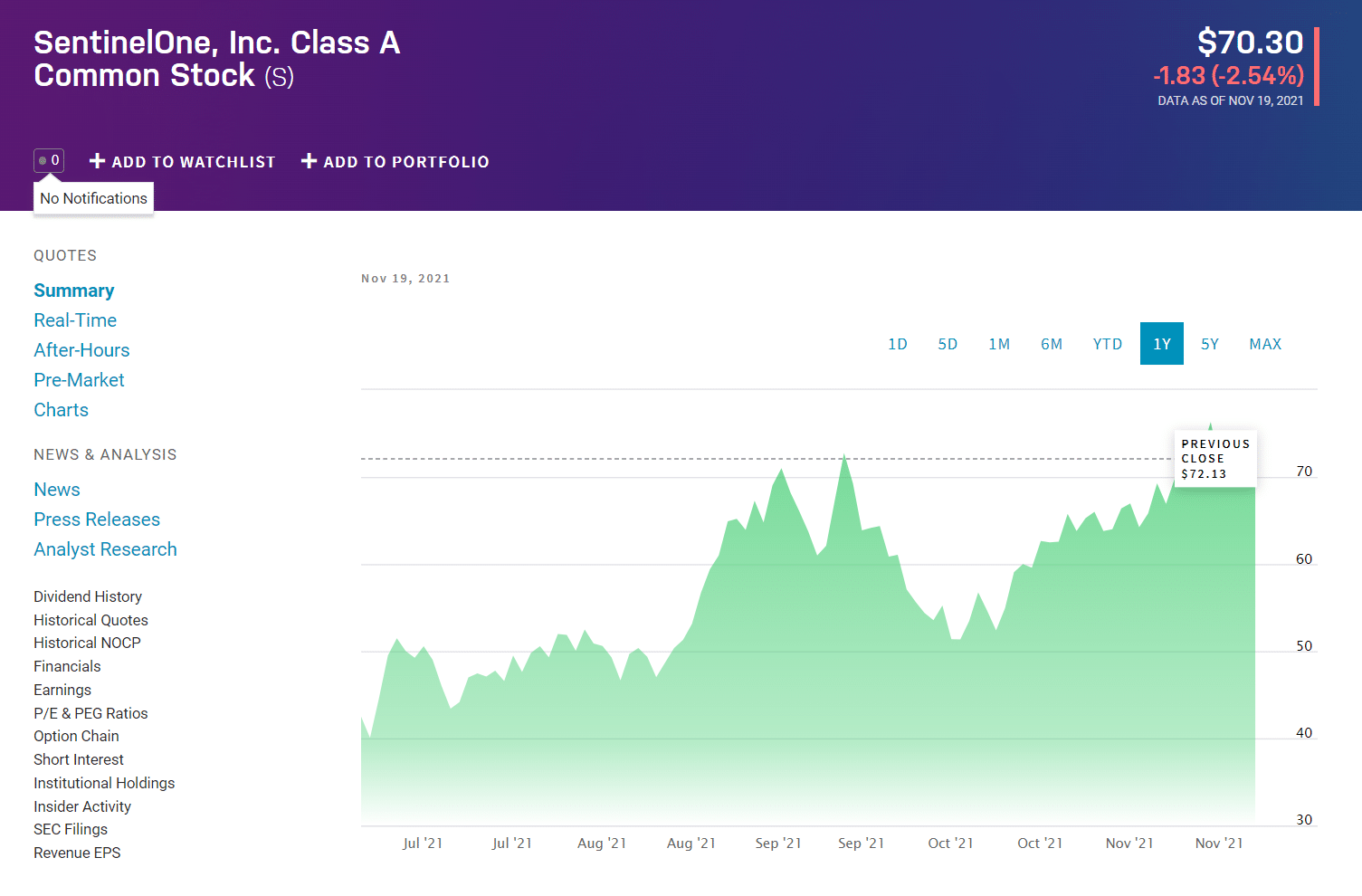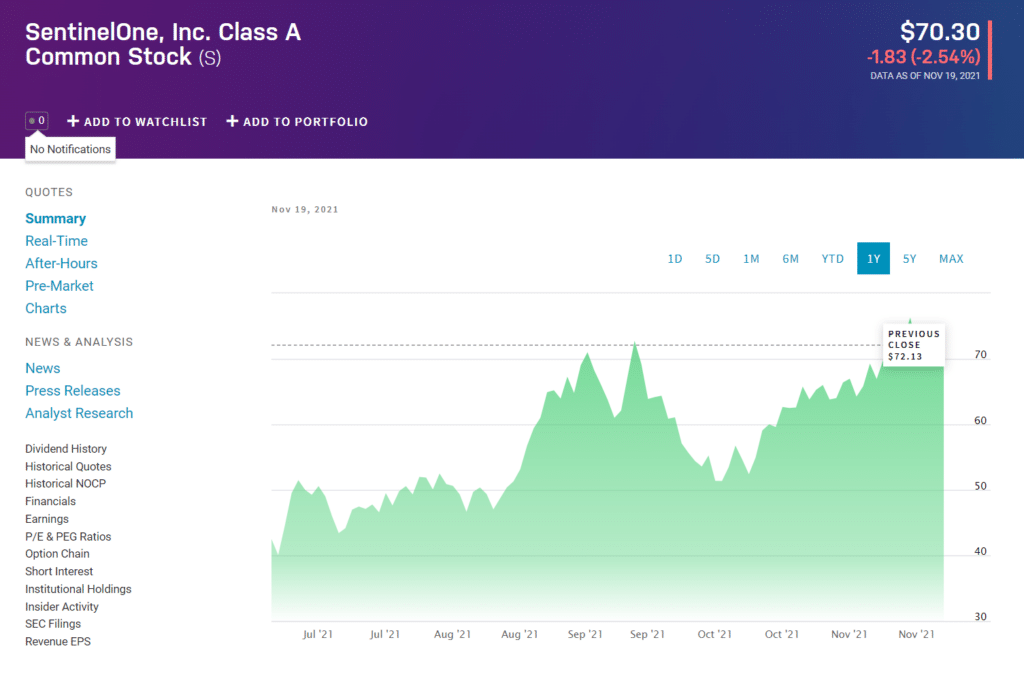 SentinelOne is a cybersecurity company that provides automated cloud-based and endpoint security services.
Cybersecurity stocks can be an excellent long-term investment as they have the potential to represent the technological innovations of the future. Moreover, cybersecurity companies are constantly trying to level up their security systems and networks, stipulating the promising prospects of this sphere.
How to invest in cybersecurity?
Cybersecurity is a lucrative investment department gathering the interest of retail and institutional investors. Investors can benefit from cybersecurity developments by the following methods.
Cybersecurity stocks
They refer to the shares of cybersecurity companies. Brokerage platforms facilitate the buying and selling of cybersecurity stocks that trade on the stock exchanges. Investors can profit from this multi-billion dollar industry by trading its stocks.
Cybersecurity ETFs
They track the performance of cybersecurity indices. You can invest in these funds to diversify your portfolio holdings. Moreover, cybersecurity ETFs are suitable for risk-averse investors.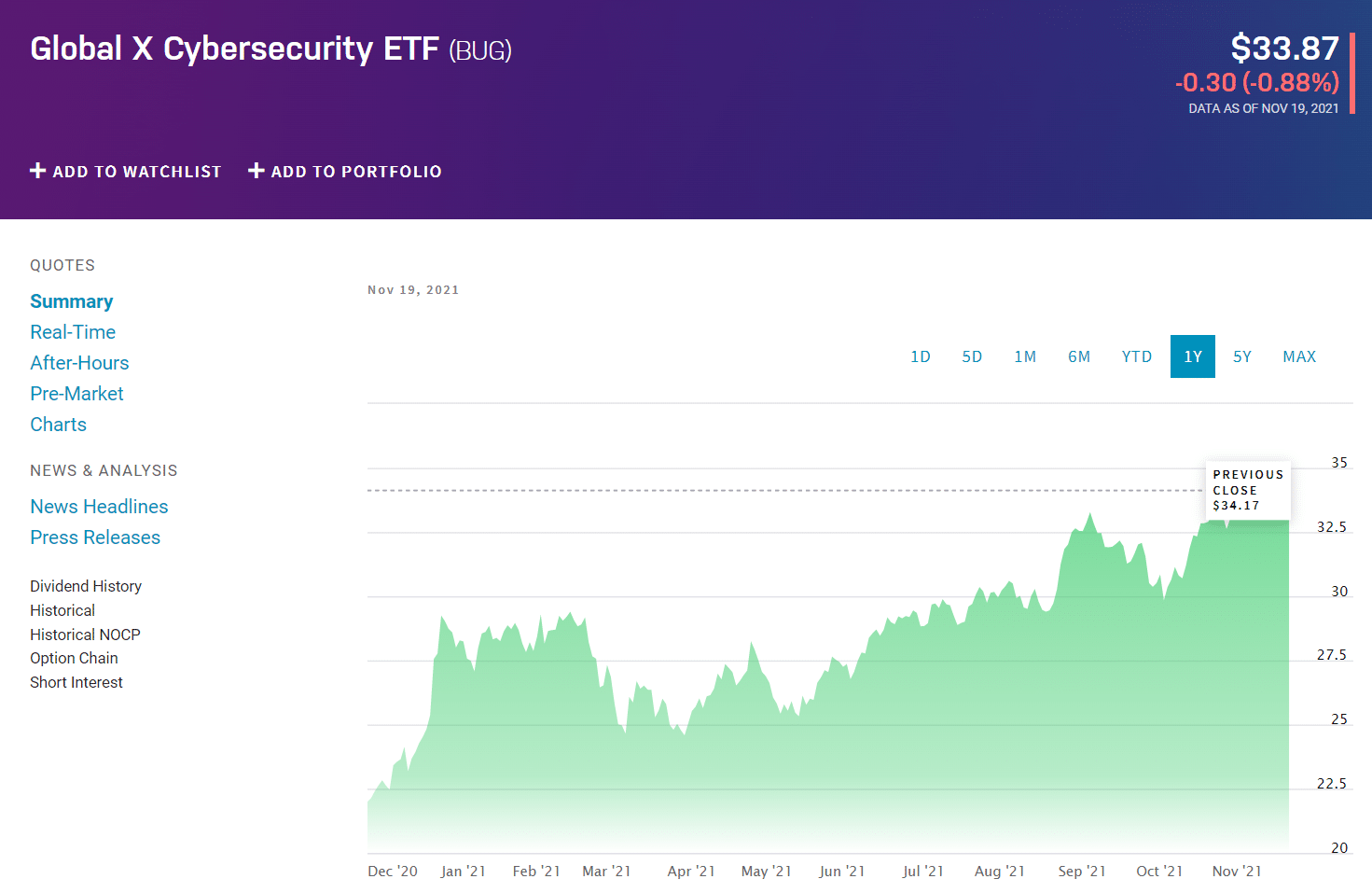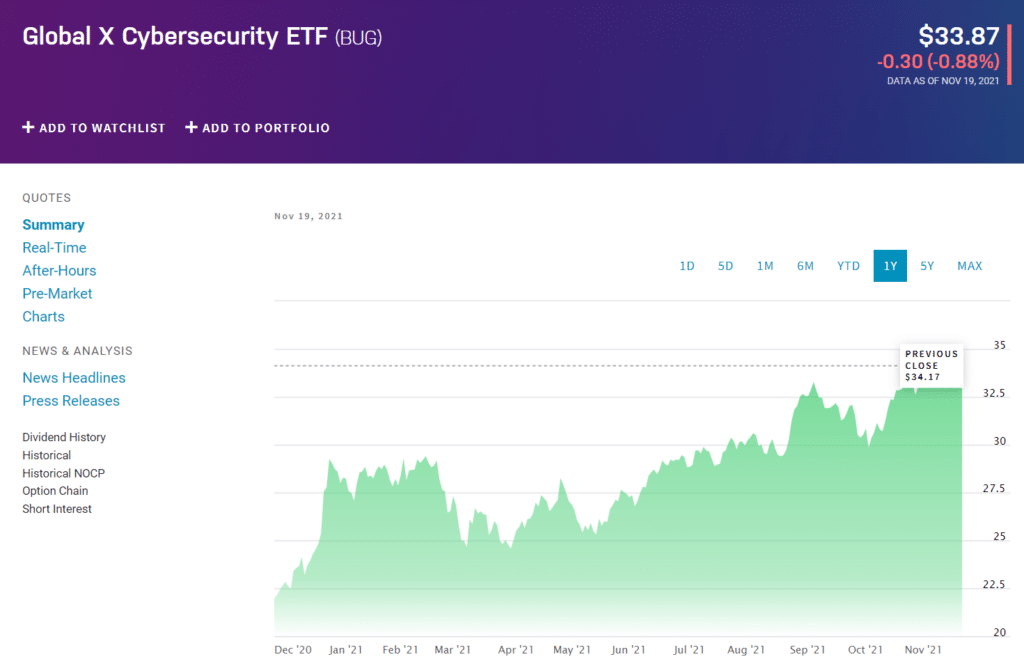 Global X Cybersecurity tracks the performance of 40 cybersecurity companies that are on the frontline against cyber-attacks and threats.
Spread betting or CFD trading
Spread betting or CFD trading are leveraged products that allow the investors to capitalize on the price action of cybersecurity stocks.

What to consider when buying cybersecurity stocks?
Profitable investment requires substantial knowledge and research to acquire profits from this speculative sphere. Before investing in the cybersecurity sector, determine your investment goals and risk tolerance.
The selection of a suitable cybersecurity stock involves consideration of many factors and aspects. First of all, you should select a company with a competitive advantage and fair stock prices.
Moreover, you need to examine the relevant company's performance records, leadership, projects, revenue generation, earnings growth, and market capitalization for choosing a worthy stock.
Here we have compiled a list of well-performing cybersecurity stocks with stable historical records that can significantly increase their value.

1. Fortinet (FTNT)

Price: $343.51

EPS: 3.32

Market capitalization: 56.1 billion

Fortinet, Inc. is a California-based company that delivers cybersecurity services, including intrusion prevention, anti-virus and firewall facilities, and web filtering. Fortinet also provides endpoint protection, real-time post-infection protection, secure wireless networking, and risk detection services.
Moreover, this cybersecurity solutions company operates through various segments, including FortiSwitch, FortiAp, FortiWeb, and FortiClient. The company generated a revenue of more than three billion in the last 12 months. In addition, It has around 165 million shares outstanding with 19.17 revenue per share.
As of November 2021, Fortinet reported a gross profit (ttm) of 2.02 billion and a price-to-earnings ratio of 103.47.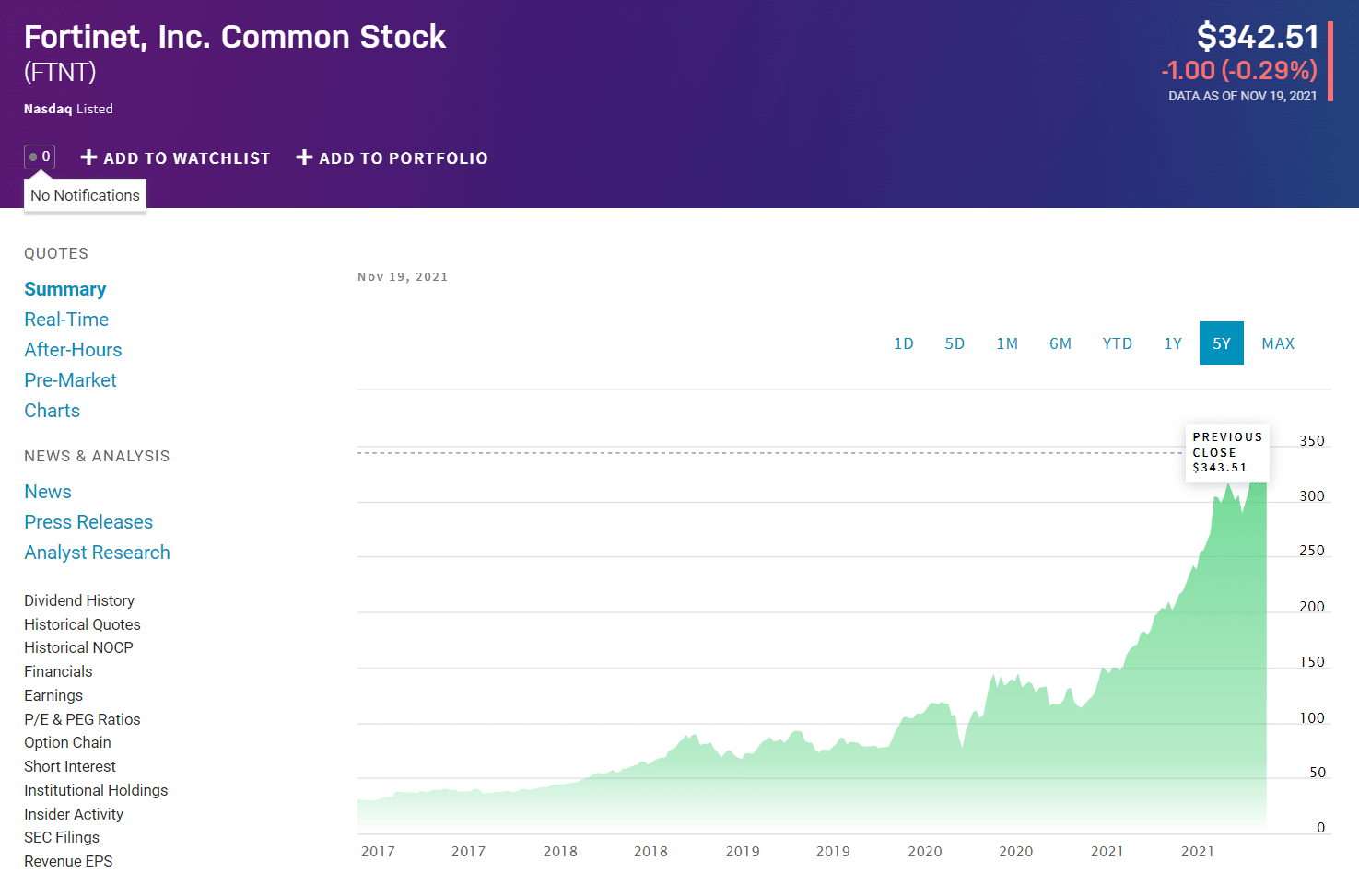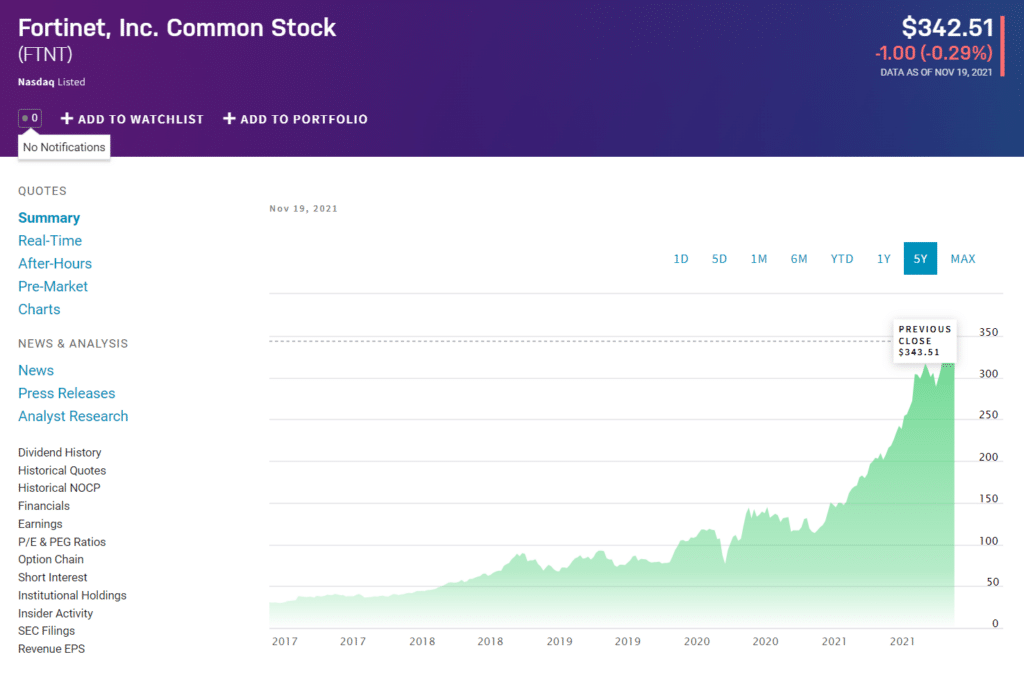 Fortinet stock price forecast 2022
According to professional analysts, FTNT will retain its upward momentum in the upcoming years. The price of this stock can reach up to $422 by the end of 2022.


2. Zscaler (ZS)

Price: $365.65

EPS: -1.93

Market capitalization: 50.7 billion
Zscaler Inc. is a cloud computing company specializing in managing IoT devices' secure connection to SaaS (software-as-a-service) applications. This California-based company also provides workload segmentation solutions that offer secure app-to-app connections and prevent data breaches.
Zscaler is a leading cloud security company that generated more than 670 million in revenue in the last 12 months. In addition, the company showed quarterly revenue growth of 56.5% and a gross profit (ttm) of 524 million.
Currently, Zscaler has about 138 million outstanding shares with a 4.96 revenue per share.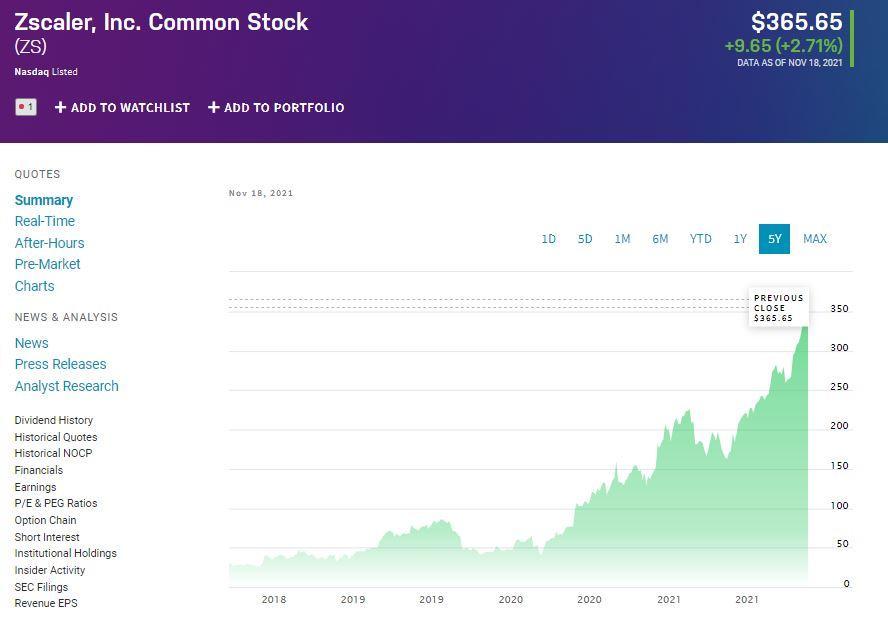 Zscaler stock price forecast 2022
Zscaler Inc. shares accommodate a remarkable growth potential. According to Wallstreet, the ZS price can reach up to $497 by the end of 2022.

3. CrowdStrike Holdings (CRWD)

Price: $264.72

EPS: -0.83
Market capitalization: 60.4 billion
Crowdstrike Holdings, Inc. is a cybersecurity technology company that offers services in the US, UK, Australia, Germany, India, and Israel. This California-based company provides endpoint and cloud workload security and utilizes artificial intelligence for detecting data breaches.
In addition, CrowdStrike also deals with vulnerability management and security, IT operations, identity protection, threat detection, and corporate security. Currently, CrowdStrike is the largest cybersecurity company according to market cap, with 205 million outstanding shares.
During the last 12 months, the company generated 1.14 billion in revenue, presenting a quarterly revenue growth of 69.7%.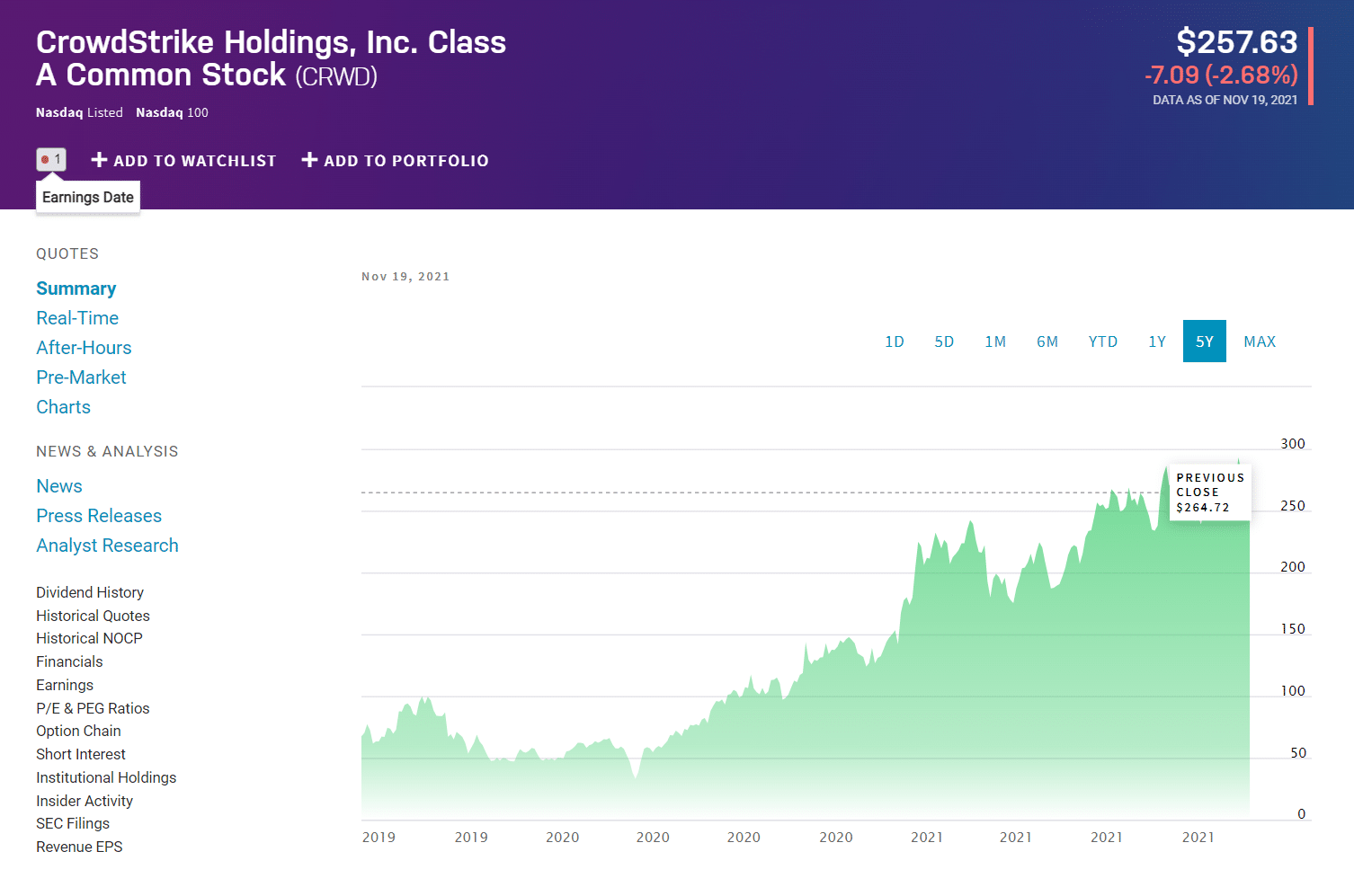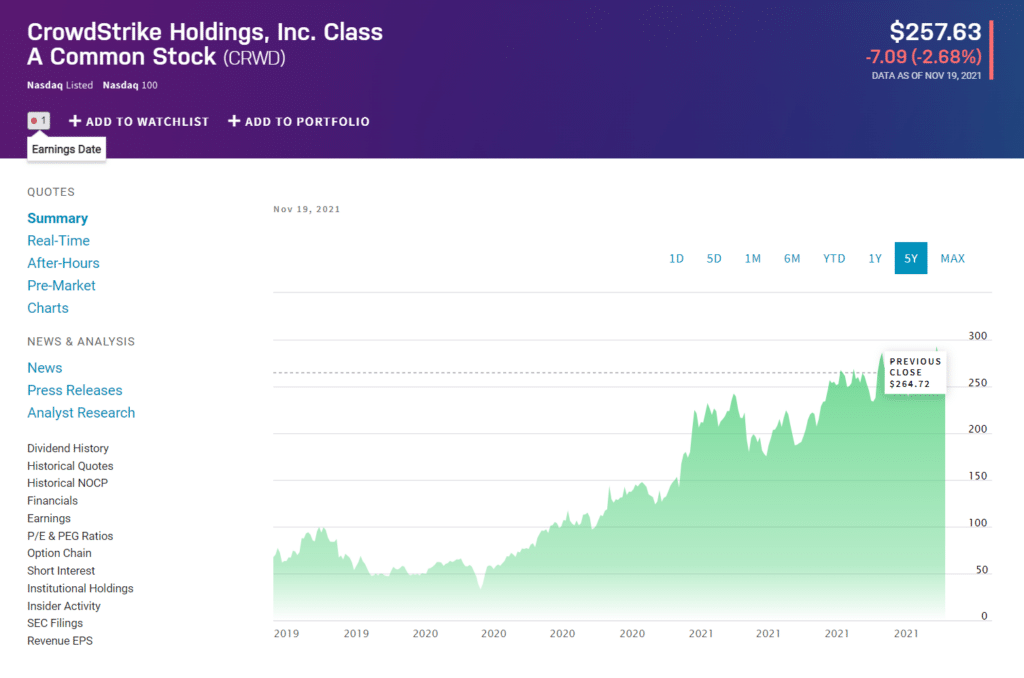 CrowdStrike Holdings stock price forecast 2022

CrowdStrike Inc. has been operational since 2011 and displays stable performance records. CRWD stocks are most likely to gain an upward momentum and cross the $400 mark by the end of 2022.

Pros & cons of cybersecurity stocks
Like any investment product, cybersecurity stocks have various advantages and limitations associated with them. Let us have a look at some of the pros and cons of these stocks.

Pros
Cons
High trading volume
These stocks show high trading volumes and a liquid market, representing the massive interest of investors.
Time-consuming investment
It can take several years to achieve the targeted profits from cybersecurity stocks.
Capacity to gain value
They hold a substantial capability to flourish and increase in value.
Reliant on the company's direction
Poor company management and performance can adversely affect its stock valuation.
Exposure to technology
Investors can gain exposure to technological advancements by investing in cybersecurity stocks.
Competition
As the cybersecurity industry is progressing, so does the competition. New companies with innovative ideas can replace their peers.
Final thoughts
Due to the increased use of IoT devices, cyber threats like ransomware attacks and phishing practices have become prevalent in today's era. As a result, numerous companies are busy introducing more advanced and sophisticated cybersecurity systems.
Furthermore, this sector accommodates a high growth potential by actively addressing the security concerns associated with remote work and online data storage. Investors can gain from the cybersecurity boom by investing in stocks of steady and stable companies.