Automic Trader is developed by Leap FX for trading on multiple currency pairs and providing a monthly gain of more than 20%. The algorithm uses account protection features and comes with a 30-day money-back guarantee. We will take a look at the backtesting records on the website and the live records on Myfxbook to review the robot.
Is Automic Trader good?
Automic Trader uses martingale and grid strategies that can cause a high risk on the account. The developer does not detail the backtesting records efficiently, which makes the algorithm a risky choice for investment.
Features of Automic Trader
The algorithm has the following features:
Trades on more than six currency pairs
Account protection feature enabled
Beginner-friendly
Settings can be adjusted to manage the profitability
| | |
| --- | --- |
| Trading Terminals | MT 4 |
| Strategy | Trend |
| Timeframe | N/A |
| Price | $697 |
| Money Refund | 30 day |
| Recommended Deposit | N/A |
| Recommended Leverage | N/A |
| Money Management | Yes |
| Customer Reviews | N/A |
What strategy does Automic Trader use?
The developer states that the robot trades using trend analysis based on momentum and volatility. It can work on AUDUSD, EURGBP, EURUSD, GBPJPY, USDCAD, and USDJPY trading multiple times a day. From the live records on Myfxbook, we can clearly observe the use of risky grid and martingale strategies. The lot sizes multiple after each losing trade. Currently, the average holding duration of the algorithm is three days conforming to a swing approach.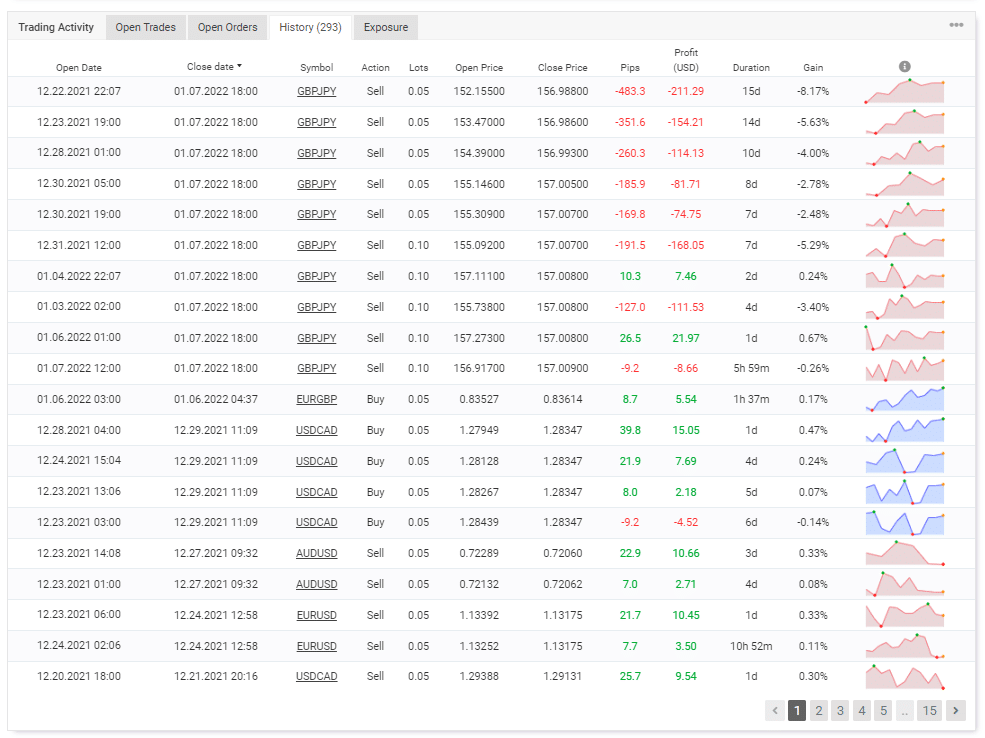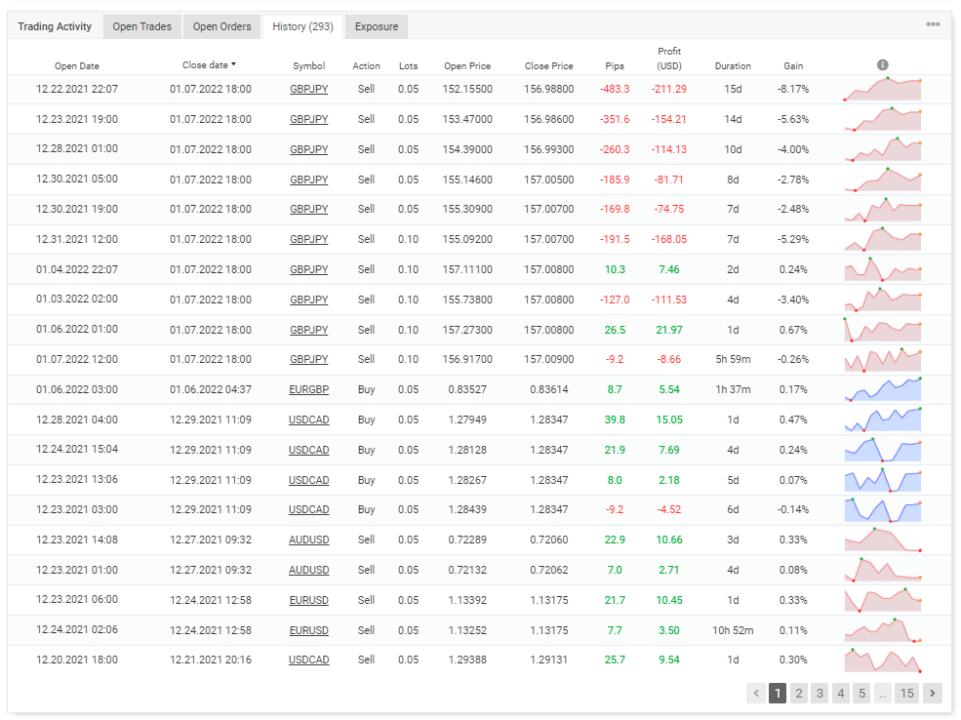 Backtesting vs live trading results
Statistics are available from 2015 until 2021, during which the robot had a maximum drawdown of 10.7% and turned an unknown initial amount into $44167.05. It had a winning rate of 76.35% with a profit factor of 2.79. The average amount of profitable trades was 1.57%, while the average amount of losing deals was 1.81%. There were a total of 960 trades executed during this period.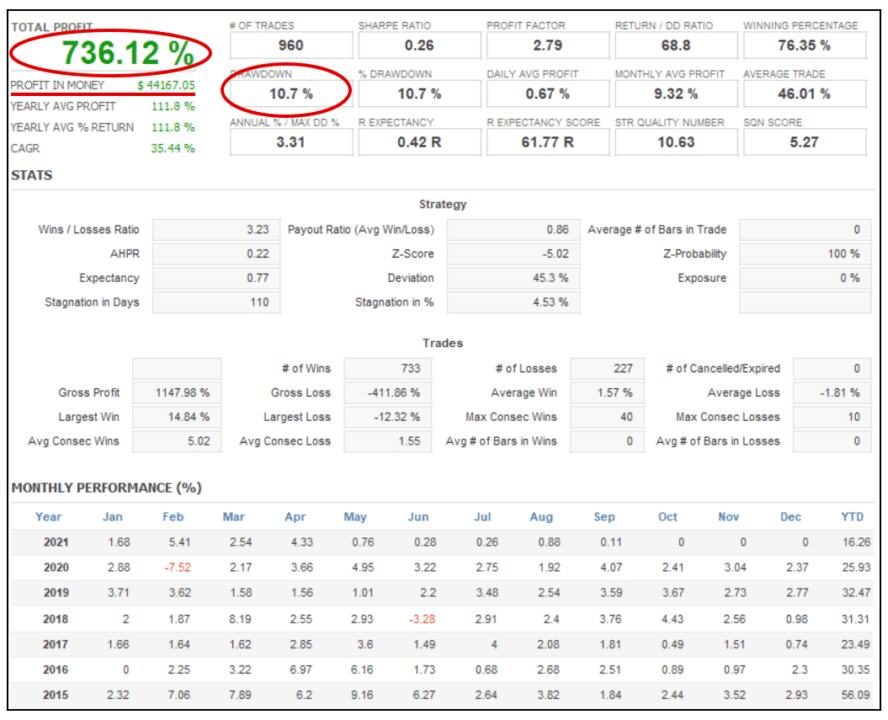 Verified trading records are available on Myfxbook. We have a performance from April 07, 2021, till the current date. For the duration, the robot makes an average monthly gain of 9.85% with a drawdown value of 49.62%. This provides us with a poor risk-reward ratio of 5:1 and tells us that while trading, it can lose nearly half the account balance.
With a winning rate of 75%, the algorithm had a profit factor of 1.59. In a total of 293 trades, the total gain was 137.23%, where the best execution turned in $139.97, and the worst was -$483.3.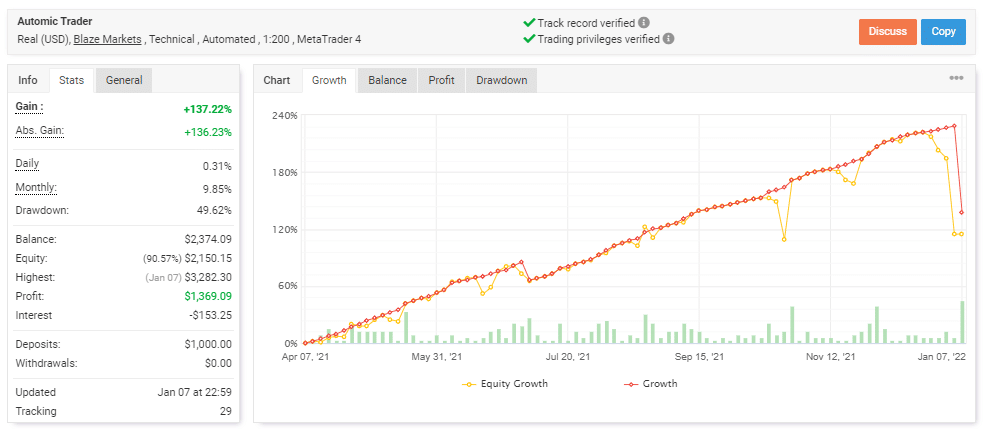 The core team
There is no information on the names and experiences of the developers. Leap FX is the company behind the product, and they are not willing to share the knowledge of their whereabouts.
Leap FX has a total rating of 3.156 or 16 reviews on Forex Peace Army. One of the traders states that they have lost $1500 in money after the company had set their algorithm for him. Traders should stay away from them.