The surging popularity of cryptocurrencies is evident from their tremendous circulating supply and overall value. The combined worth of major cryptocurrencies like Bitcoin, Ethereum, Litecoin, and several others has reached approximately $2 trillion.
The majority of the investors believe in the inherent potential of crypto tokens considering their significant financial value. In addition to capitalizing on the regular buying or trading of crypto from exchange platforms, investors can engage in crypto staking to generate steady gains.
Understanding the concept and nuances of staking can widen your investment options in the crypto sector.
This article has discussed the working procedure of staking and the best crypto coins to stake in 2021-22.
What is crypto staking?
It is the process of utilizing the proof-of-stake crypto coins to validate the blockchain transactions, resultantly gaining rewards. For validation purposes, the network coin holders randomly select persons (nodes) who carry a specific amount of coins in their staking wallets.
It is important to note that the proof-of-stake consensus protocol is distinct from the proof-of-work mechanism, which utilizes a high computational power for mining new crypto coins. The PoS protocol allows individuals to validate the transactions or add blocks proportional to the value of their staking coins.
The miners receive extra cryptocurrency or transaction fee rewards for managing the process and securing the transactions. There is no fixed reward ratio of staking as it is dependent on various underlying factors. Generally, different PoS coins bestow varied gains; however, the average annual profits can range from 4% to 10%.
How to invest in crypto staking
Investors need to have a certain minimum balance to be eligible for the staking process. Users can individually participate in the validation process, join a staking pool, or utilize a crypto exchange platform according to their expertise and commitment.
Most investors select exchange platforms staking services due to their simple and uncomplicated procedure. The exchange networks stake your coins for you and charge a specific commission from your rewards.
On the other hand, investors can join a pool of validators to stake coins with higher thresholds. However, it is essential to search for an established and reputable pool before entrusting your coins.
Investors who prefer to take things into their own hands can set up their own validating framework with suitable equipment and software. But the overall expenses, cryptocurrency staking amount, and managing costs can be very high in this case.
What to consider when buying staking coins
The PoS mechanism is a great leap forward in the crypto arena, dissipating the limitations of the PoW protocol. This staking mechanism has maintained the decentralized nature of blockchain networks alongside slashing the need for specialized ASIC machines to mine new blocks.
Investors should consider various factors before selecting an exchange or pool for staking their capital. The minimum staking balance requirement and payout rates vary from one exchange to the other. Look for platforms with reasonable fees that do not outweigh your gains.
Moreover, select staking coins with higher rewards history and stable past performance. Here, we have listed some of the best staking crypto coins with reasonable return rates.
1. Avalanche (AVAX)
Price: $126.00
Market cap.: 26.6 billion
Avalanche is an open-source, proof-of-stake blockchain network that utilizes smart contracts technology for decentralized applications and Defi. Avalanche is famous for its scalability, high transaction output, low cost, and customized blockchain features.
Moreover, Avalanche has taken decentralization to the next level by creating a model of three interoperable blockchains. AVAX, the native token of the platform, is one of the best staking coins that has shown a remarkable staking annual yield of about 9.38%.
You can begin staking and claim rewards by delegating 25 coins to the AVAX platform. However, to be an individual validator, you need to stake more than 2000 AVAX. This relatively high staking amount is to prevent monopoly of the validators and other fraudulent activities.
ALGO staking brings from 5% to 10% of new coins per year, depending on the platform used for staking — a native wallet or crypto exchange.
ALGO coin is available on all global exchanges, including Binance, Coinbase, Kraken, OKEx, Huobi, etc. Also, ALGO staking does not require freezing coins on the wallet — they can be withdrawn from staking and sold at any time.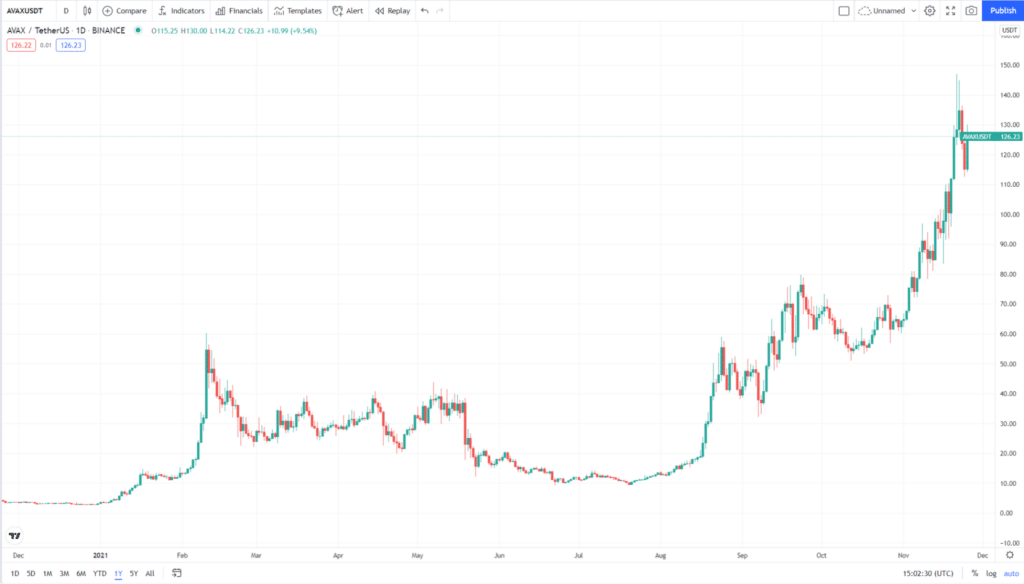 AVAX price forecast 2022
During November 2021, AVAX price climbed to around 130$ from the $60 range. This bullish momentum will likely continue in the upcoming years. AVAX price can cross the $210 mark by the end of 2022.
2. Algorand (ALGO)
Price: $1.81
Market cap.: 11.4 billion
Algorand is a decentralized, PoS blockchain platform that supports smart contract technology as well as other applications. Silvio Micali introduced the Algorand network in 2019 with increased scalability and efficiency than proof-of-work blockchains.
This blockchain is famous for its high transaction speed along with lower transaction fees. ALGO, the native coin of Algorand, is the best staking coin for investors with low capital as staking starts from as low as one ALGO.
Different platforms and wallets designate varied staking rewards; however, the general average yield can range from 5-6%.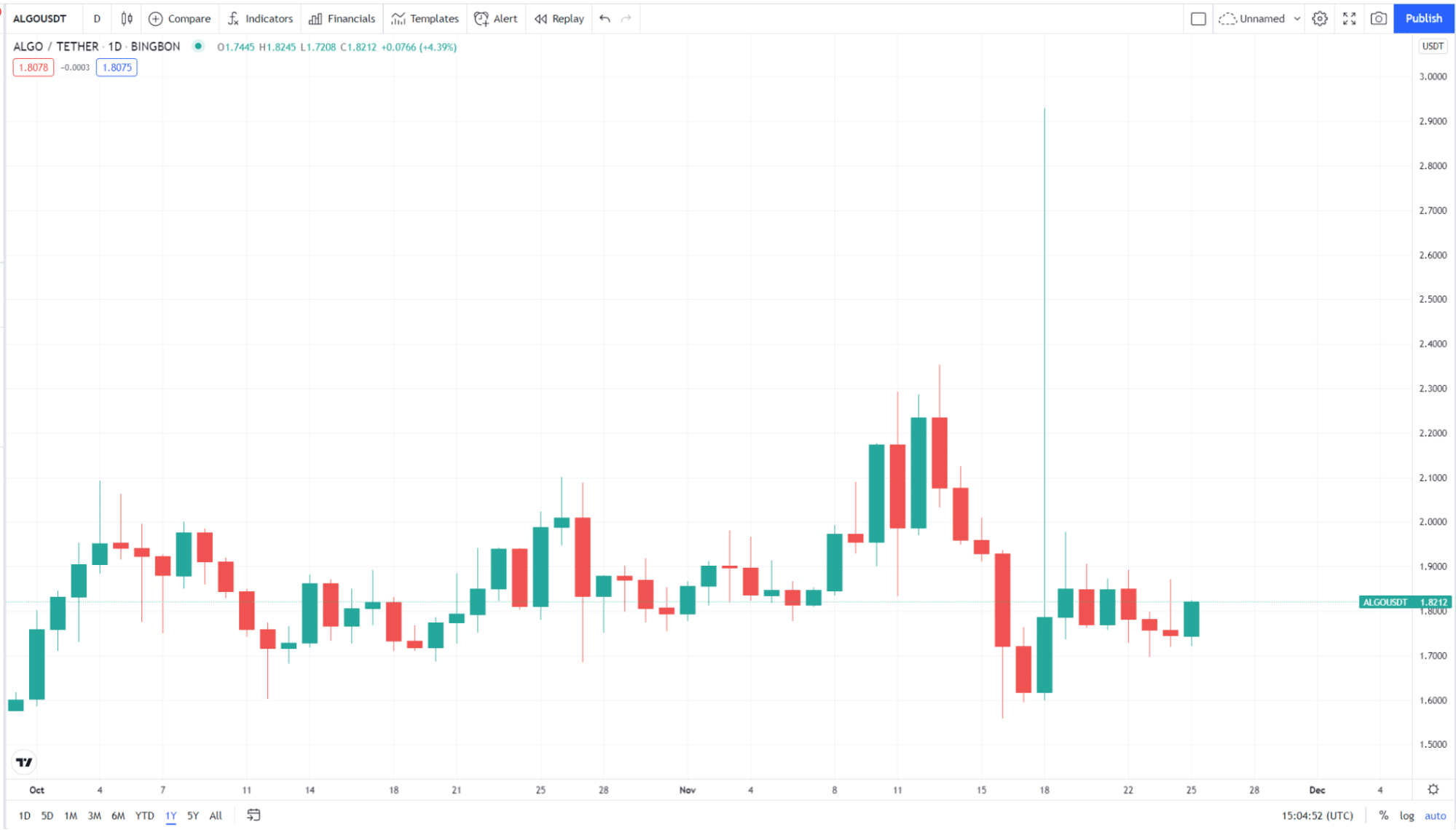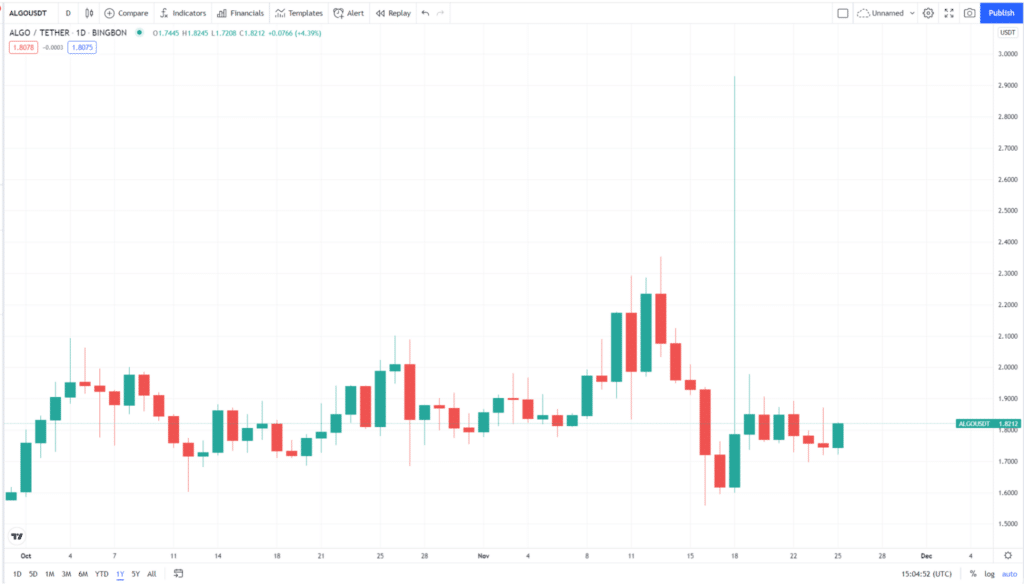 ALGO price forecast 2022
It has a promising future outlook, and its native token can cross the $3.5 mark by the end of 2022.
3. Polkadot (DOT)
Price: $40.23
Market cap.: 38.9 billion

It is a multichain blockchain platform that connects various "parachains" to establish a decentralized network. The Polkadot interoperability allows various blockchains to share transactions and information.
Through the Polkadot framework, institutions can customize their blockchains with great flexibility and adaptiveness. DOT, the unique currency of Polkadot, is a remarkable staking option due to its incredible annual reward ratios (up to 14%).
You can start staking by delegating a minimum of 40 coins. However, to be an individual validator or node, you need to contribute around 350 DOT.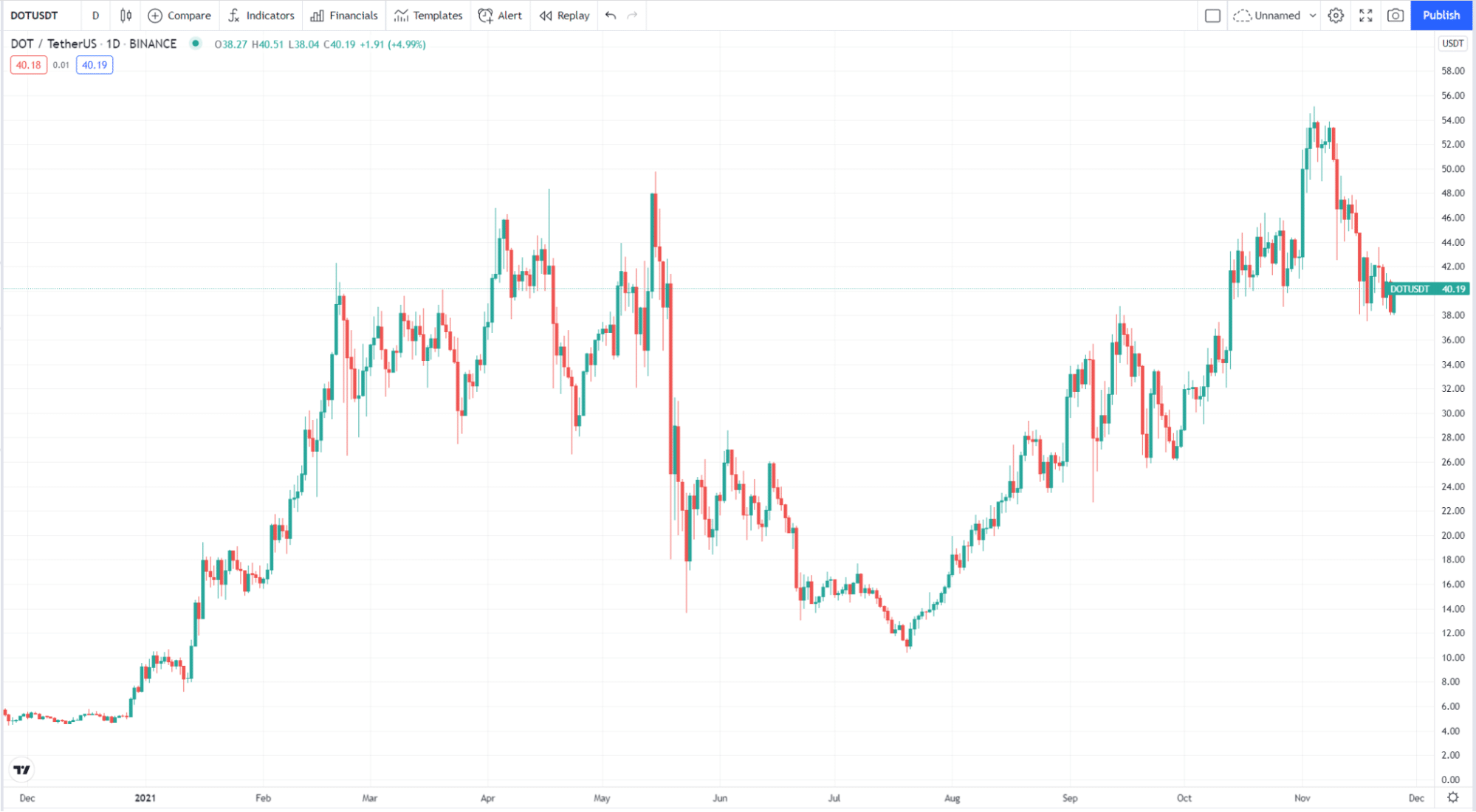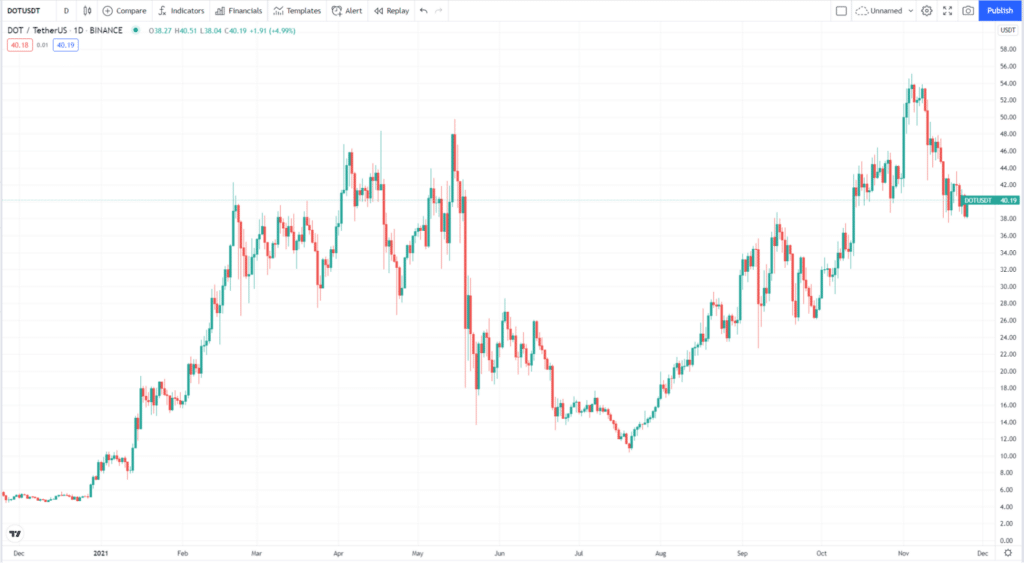 DOT price forecast 2022
According to forecasts, the coin price would most likely settle on upward momentum in the upcoming years. By the end of 2022, the price of DOT can cross the 100$ mark.
Pros & cons of crypto staking
Though staking is a lucrative concept, there are several risks associated with it.
Pros
Cons
Easy and cost-efficient procedure
Crypto staking does not require advanced machines and massive computational power. Moreover, staking through exchanges is cost-effective.
Locked staking coins
The staking crypto coins get locked into the system for a specific amount of time and become inaccessible.
Substantial passive income
Staking is a good source for generating a secure passive income that does not require constant attention.
Risk of depreciation
The cryptomarket is highly volatile that can result in coins devaluation, offsetting your potential profits.
Higher security
Cryptocurrencies with PoS consensus protocol have higher protection from cyber-attacks.
Relatively low profits
Staking is not suitable for aggressive traders as the returns generally do not exceed 5-10%.
Final thoughts
Investors are increasingly becoming interested in crypto staking and for all the right reasons. Staking does not involve the price speculation of traditional trading and generates relatively steady rewards. Moreover, various crypto exchange platforms have further simplified the process by decreasing the staking threshold and commission fees.
However, cryptocurrencies are volatile financial securities that can plunge in value, rendering your staking worthless. A skillful approach with strong knowledge is essential to procure gains from validating the PoS transactions.