Due to the recent technological innovations, the video games industry has remarkably developed and progressed. The old game designs with slow and pixelated interfaces have transformed into a seamless and immersive gaming configuration.
In addition, people have also directed their attention to the booming mobile game industry. According to a forecast by Newzoo, the global video game market could generate $175.8 billion in revenue in 2021 and surpass $200 billion in 2023. Mobile gaming accounts for an estimated 52% of the total game revenue in 2021.
The video games revolution has introduced immersive, realistic, and advanced games for people of all age groups. Moreover, online professional games streaming and social gaming have become billion-dollar industries.
In this article, we have discussed some gaming stocks with significant growth potential.


What are gaming stocks?
They are the shares of companies associated with the gaming sector. These companies can include gaming software or hardware companies, design and graphics companies, and distribution and publishing companies.

The gaming sector is one of the largest entertainment domains, as developers are pouring millions of dollars into this industry.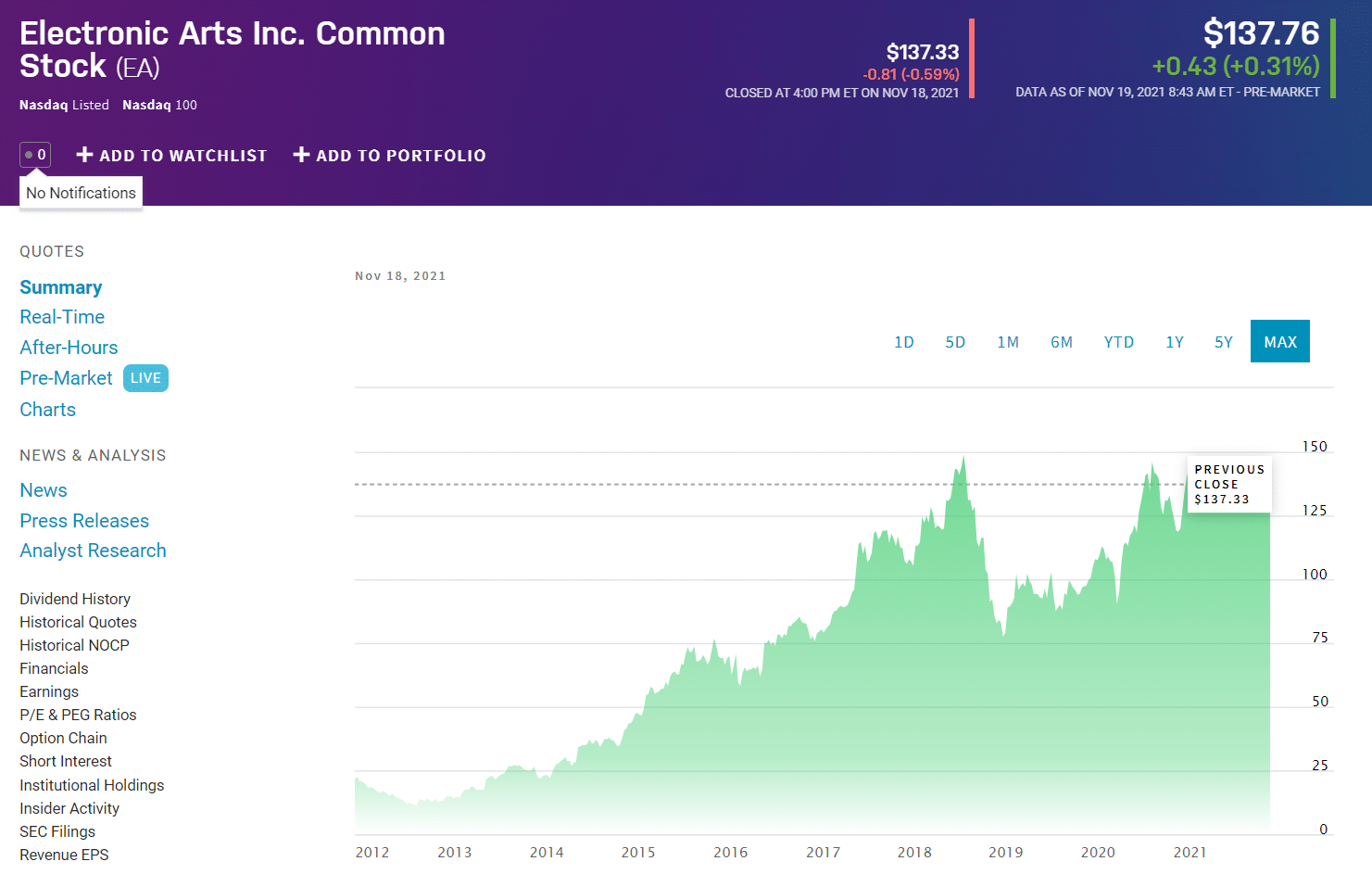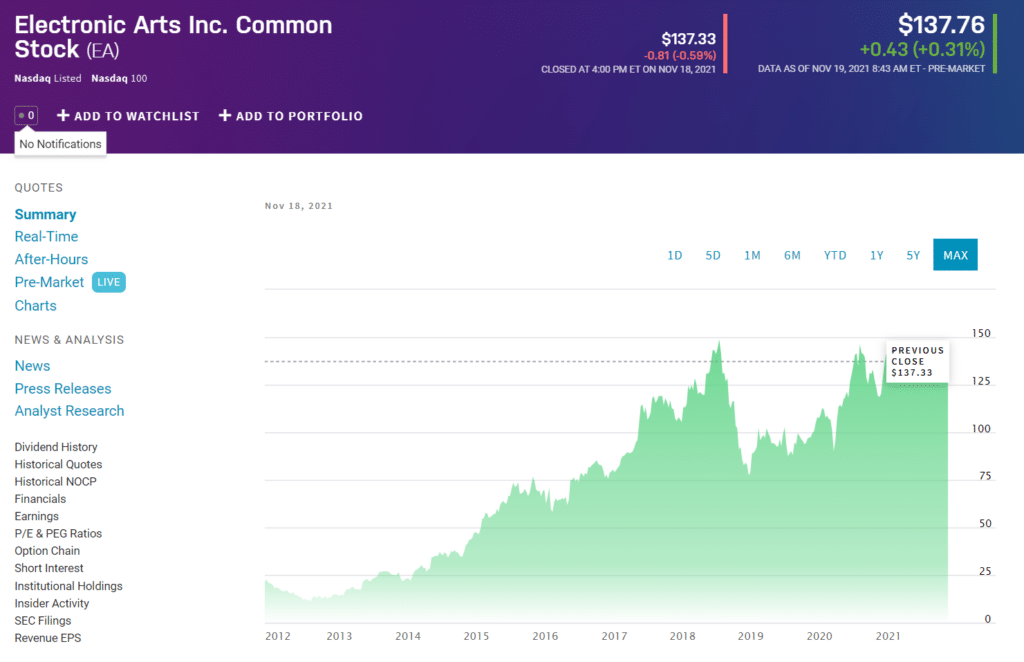 A California-based game company develops and publishes role-playing, action, sports, and racing games.
Many companies are working on producing interactive and innovative games incorporating virtual reality and gesture mechanics in the games. As a result, these growth and technology stocks can be an excellent addition to the investors' portfolios.
How to invest in the gaming sector?
There are various options available to invest in the gaming sector. Some of them are:
Gaming stocks
Investors can buy stock shares of the gaming companies listed on the stock exchanges. Brokerage platforms serve as an intermediary party that facilitates the trading of stocks.
Gaming ETFs
Gaming ETFs are a basket of securities that allow investors to diversify their portfolios. These EFTs track game indices and consist of various gaming companies and departments.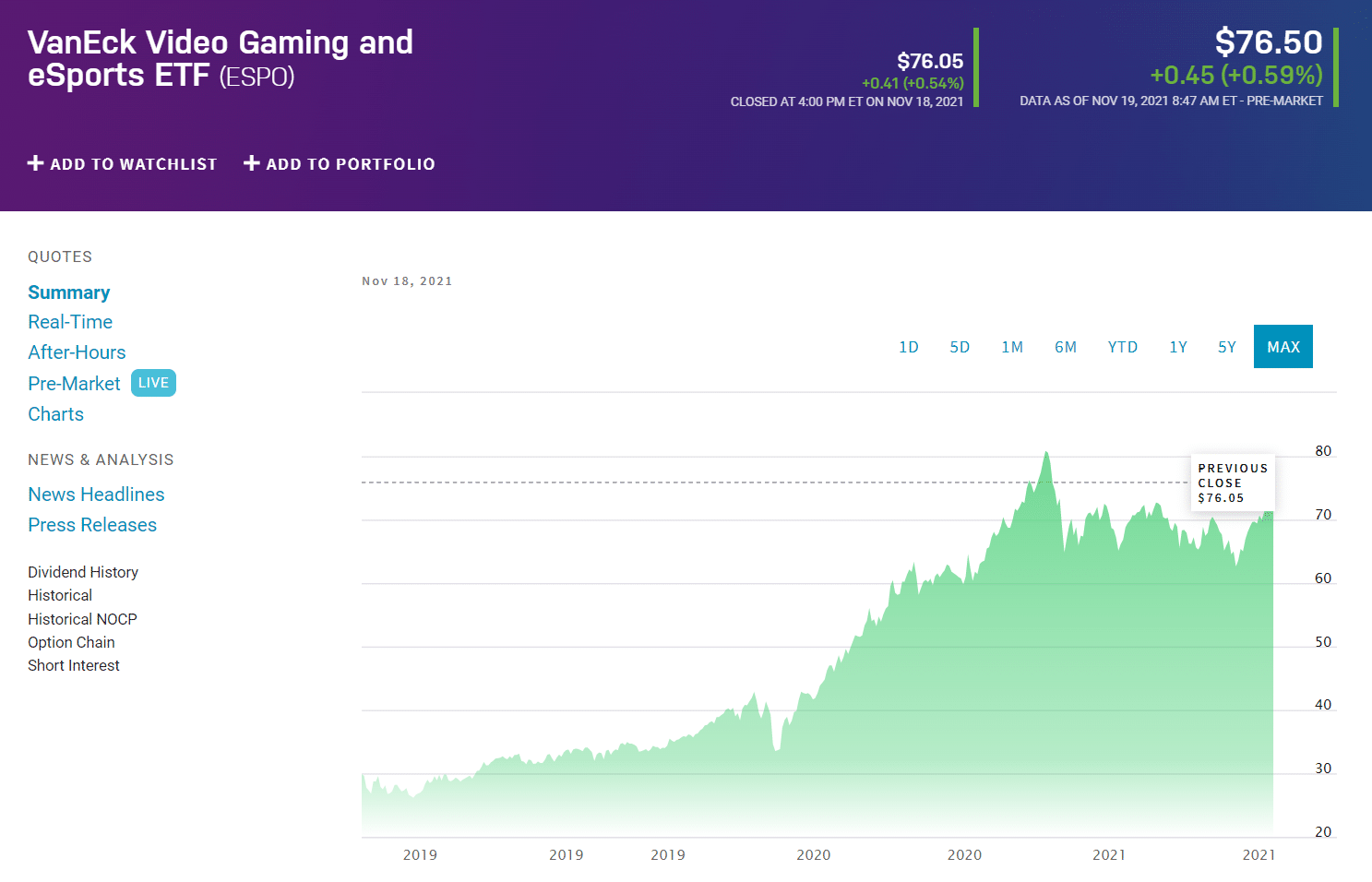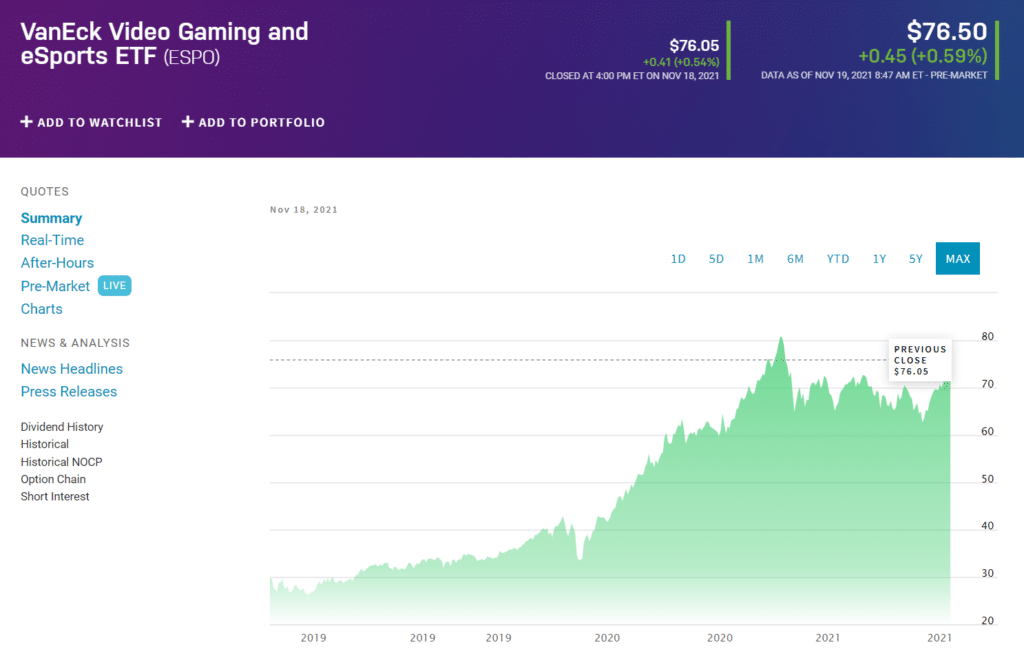 VanEck Video Gaming and eSports ETF tracks the investment results of the popular US gaming companies, including Nvidia, Two-take Interactive, and Activision.
Contracts for difference trading
Investors can engage in CFD trading to benefit from the short-term price movements in the gaming market. This leveraged product also allows generating profits from short selling.
What to consider when buying gaming stocks?
The gaming industry has been undergoing a gradual reconstruction and reorganization over the last few years. Companies strive to maximize their gains by expanding the gaming craze among people of all regions, ages, and genders.
Furthermore, developers also enhance revenue generation by "merchandising" the game products, popular among the fan base. All these factors point towards the pent-up potential of the gaming arena; however, an investor should consider some aspects before buying a gaming stock.
Look into the past and future projects of the companies and determine their profitability, potential, and relevance. Moreover, search for the earnings growth, debt-to-equity ratio, historical performance, and a price-to-earnings ratio of the related companies.
In addition, ensure the stability of a company's management and effectiveness of its leadership before deciding to invest there.
Here is a list of well-performing gaming stocks with steady past performances and bright future outlooks.
1. Capcom Co Ltd. (CCOEF)

Price: $28.86

EPS: 1.39

Market capitalization: 6.02 billion

Forward annual dividend yield: 1.12%
It is a Japanese developer and distributor of video games, mobile games, and arcade games worldwide. This Osaka-based company operates through four major departments. These segments deal with the development and sales of digital content, hosting of arcade events, sales of gaming equipment, software, and merchandise, and publishing of strategy guides.
Moreover, Capcom owns many popular game franchises, including Monster Hunter, Street Fighter, Resident Evil, and Mega Man. The company showed a revenue generation of 123.2 billion in the last 12 months with quarterly revenue growth of 17.60%.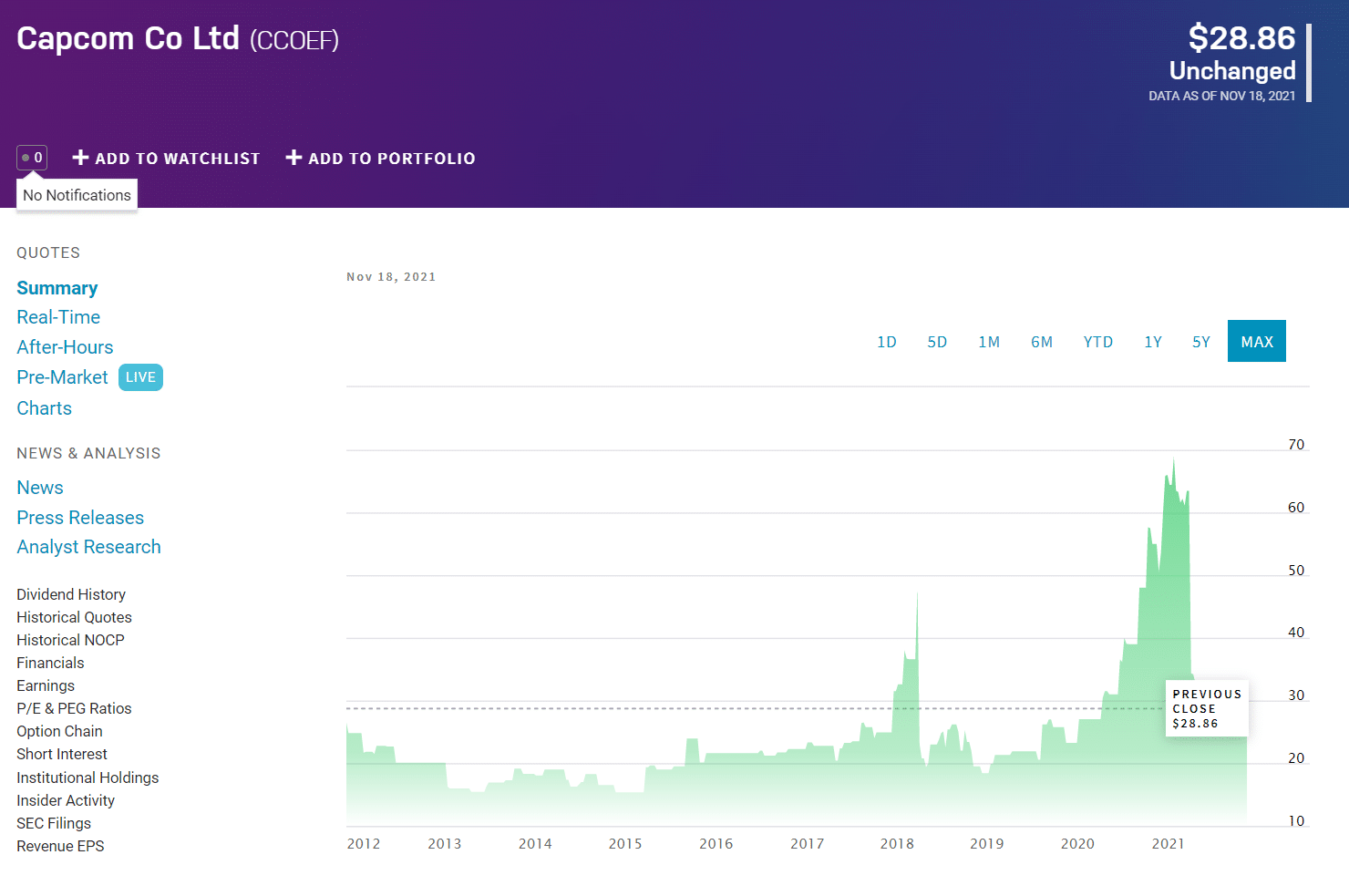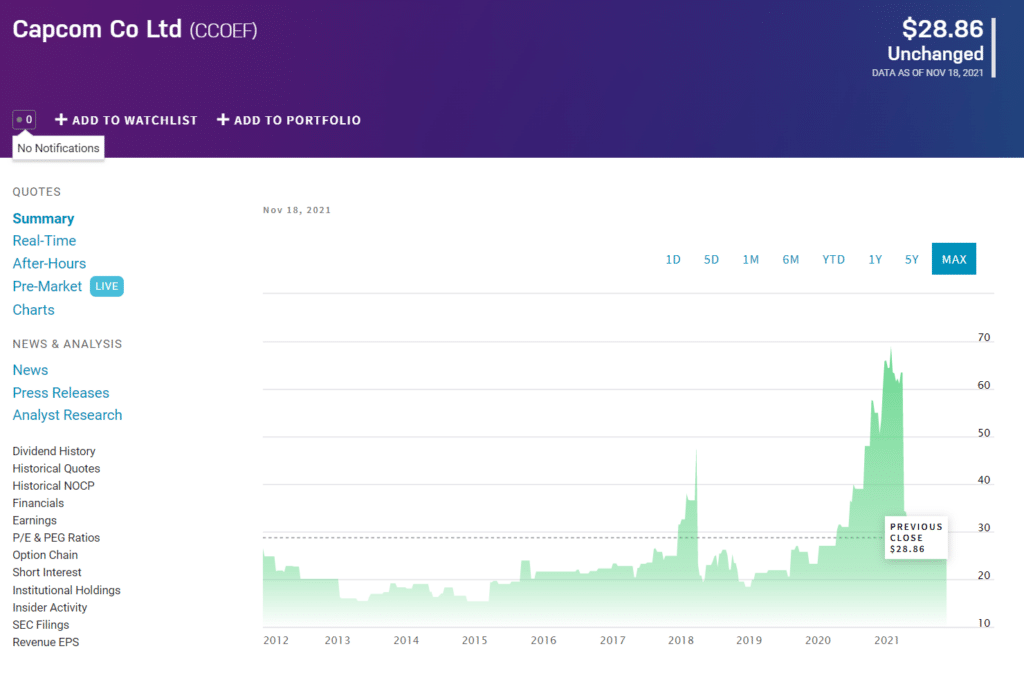 Capcom stock price forecast 2022
CCOEF is a good investment option for gaining exposure to technologically innovative stocks. According to Wallstreet, Capcom's stock price can reach up to $39.45 by the end of 2022.


2. Take-Two Interactive Software,Inc. Common Stock (TTWO)

Price: $174.04

EPS: 4.84
Market capitalization: 20.4 billion
Take-Two Interactive Inc. holds a significant reputation in the gaming industry as a developer of successful gaming series like Grand Theft Auto, NBA 2K, and BioShock. This New York-based company operates under the 2K, Playdots, and Rockstar Games labels.
Take-Two Inc. makes and publishes interactive action or adventure games, sports simulation games, and free mobile and PlayStation games. The company generated more than three billion in revenue in the last 12 months and showed quarterly revenue growth of 2.00%.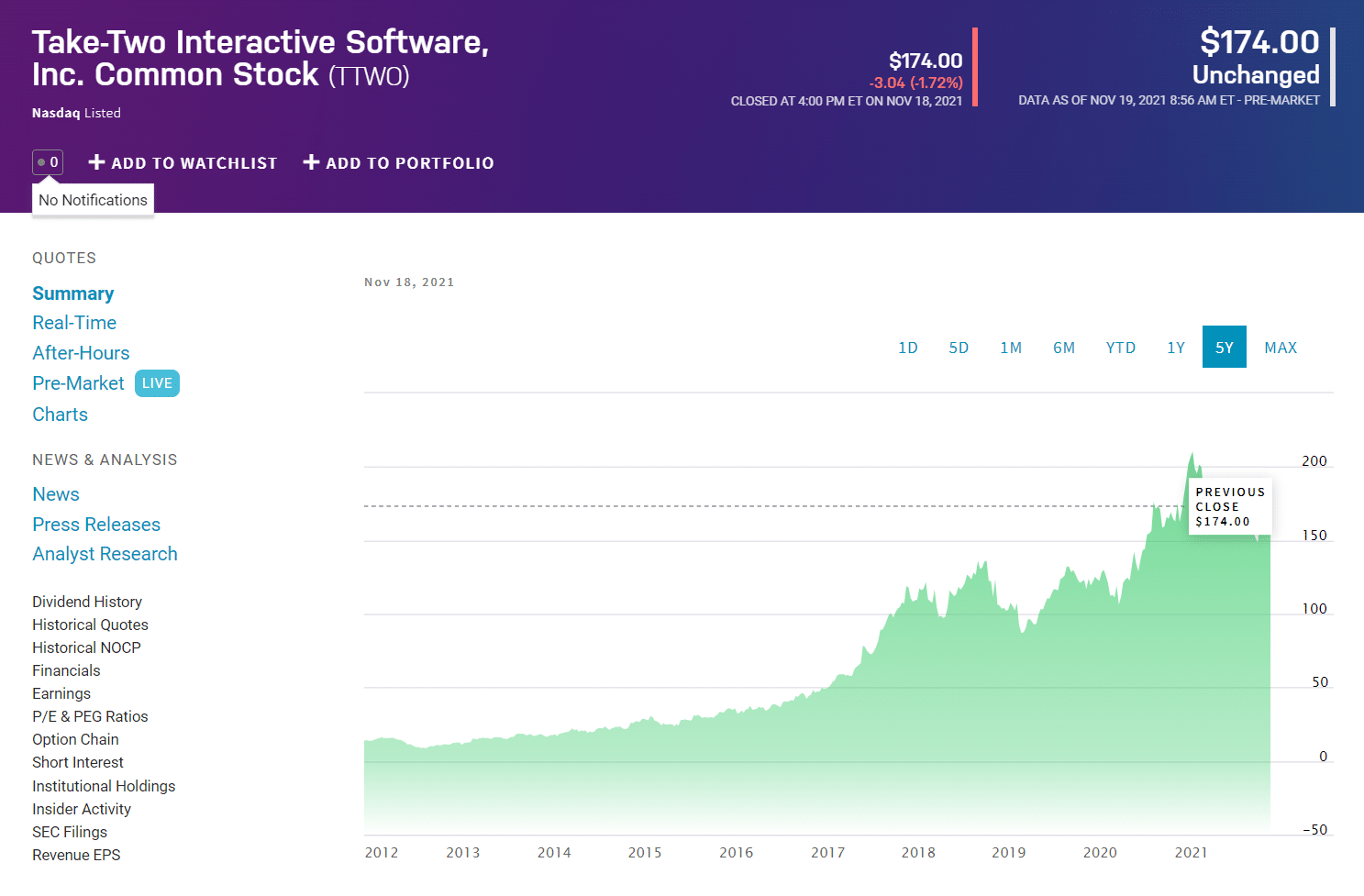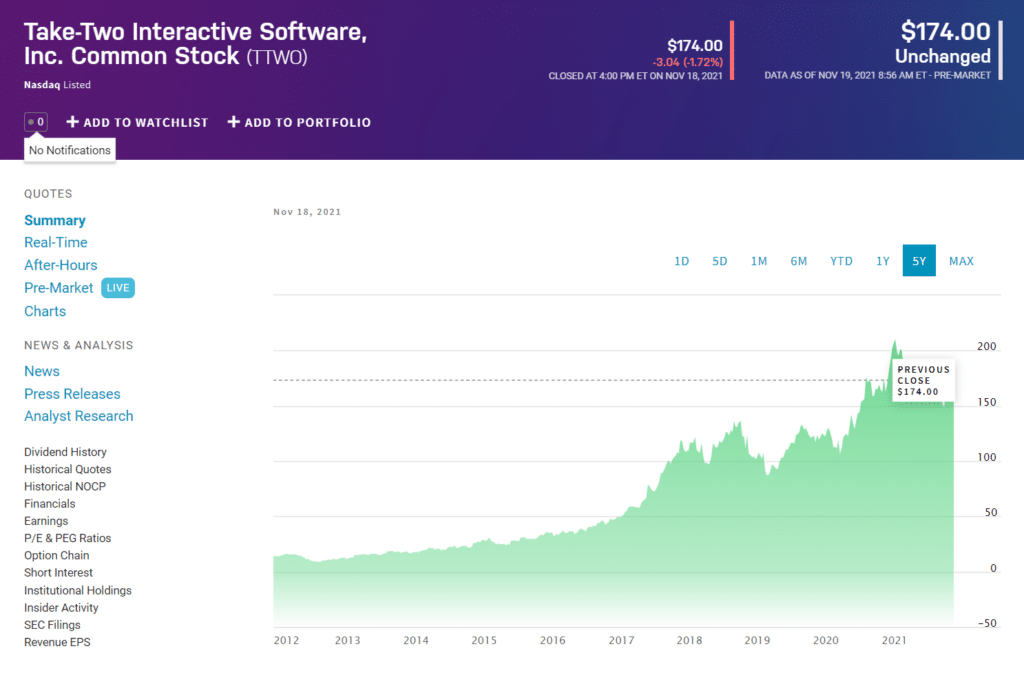 TTWO stock price forecast 2022

Take-Two Interactive stocks have an outstanding performance record. The price can reach up to $264 by the end of 2022.
3. Zynga Inc. Class A Common Stock (ZNGA)

Price: $6.96

EPS: -0.09

Market capitalization: 7.79 billion

Dividend yield: 0.00%

Zynga Inc. specializes in developing and operating social games on various platforms, such as mobile devices, social media platforms including Facebook and Snapchat, and computer consoles. This California-based company also provides advertisement services and markets game products internationally.
Zynga is the developer of numerous popular games, namely Farm Ville, Zynga Poker, Mafia Wars, and Hit it Rich! The company has around 1.12 billion outstanding shares with 2.50 revenue per share. In addition, ZNGA has a forward price-to-earnings ratio of 29.48 and a quarterly revenue growth rate of 40%.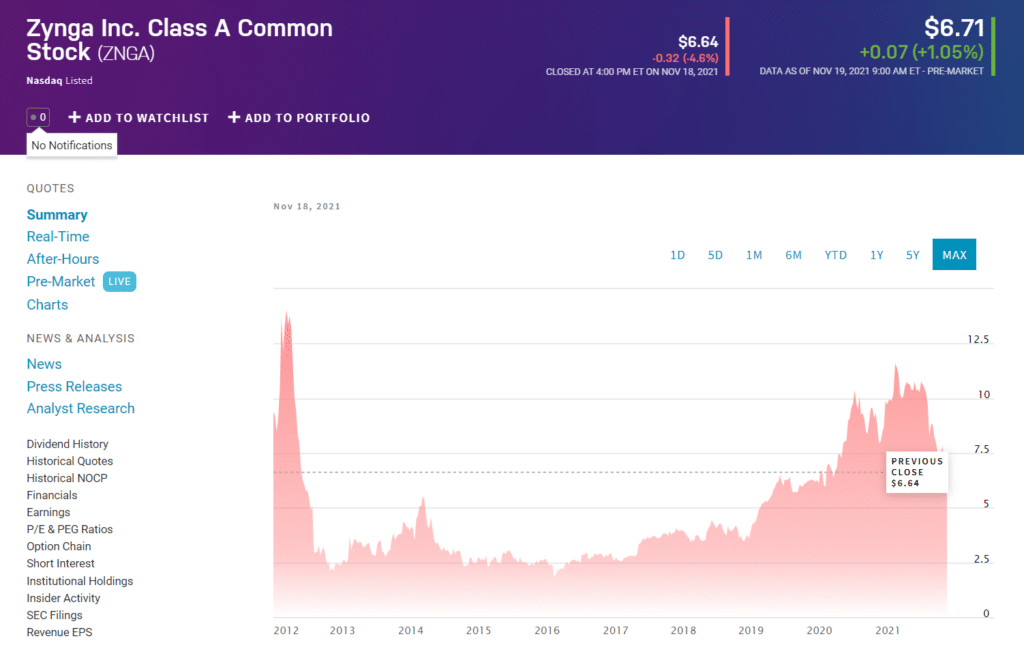 ZNGA stock price forecast 2022
Zynga is a leading company among mobile games developers and publishers. Its stock price has the potential to reach the $15 mark by the end of 2022.

4. Activision Blizzard Inc. (ATVI)
Price: $64.19

EPS: 3.38

Market capitalization: 50 billion

Annual dividend yield: 0.71%

Activision Blizzard Inc. is one the largest market cap gaming companies and holds a 3-tier structure for its operations. This California-based company engages in the development of various PC and mobile games and operates online gaming services and e-sports leagues.
Additionally, Activision Blizzard Inc. is the originator of various popular gaming franchises, including World of Warcraft, Call of Duty, Sky Landers, and Candy Crush. Currently, the company has above 750 million outstanding shares and displayed 9.05 billion in revenue in the past year.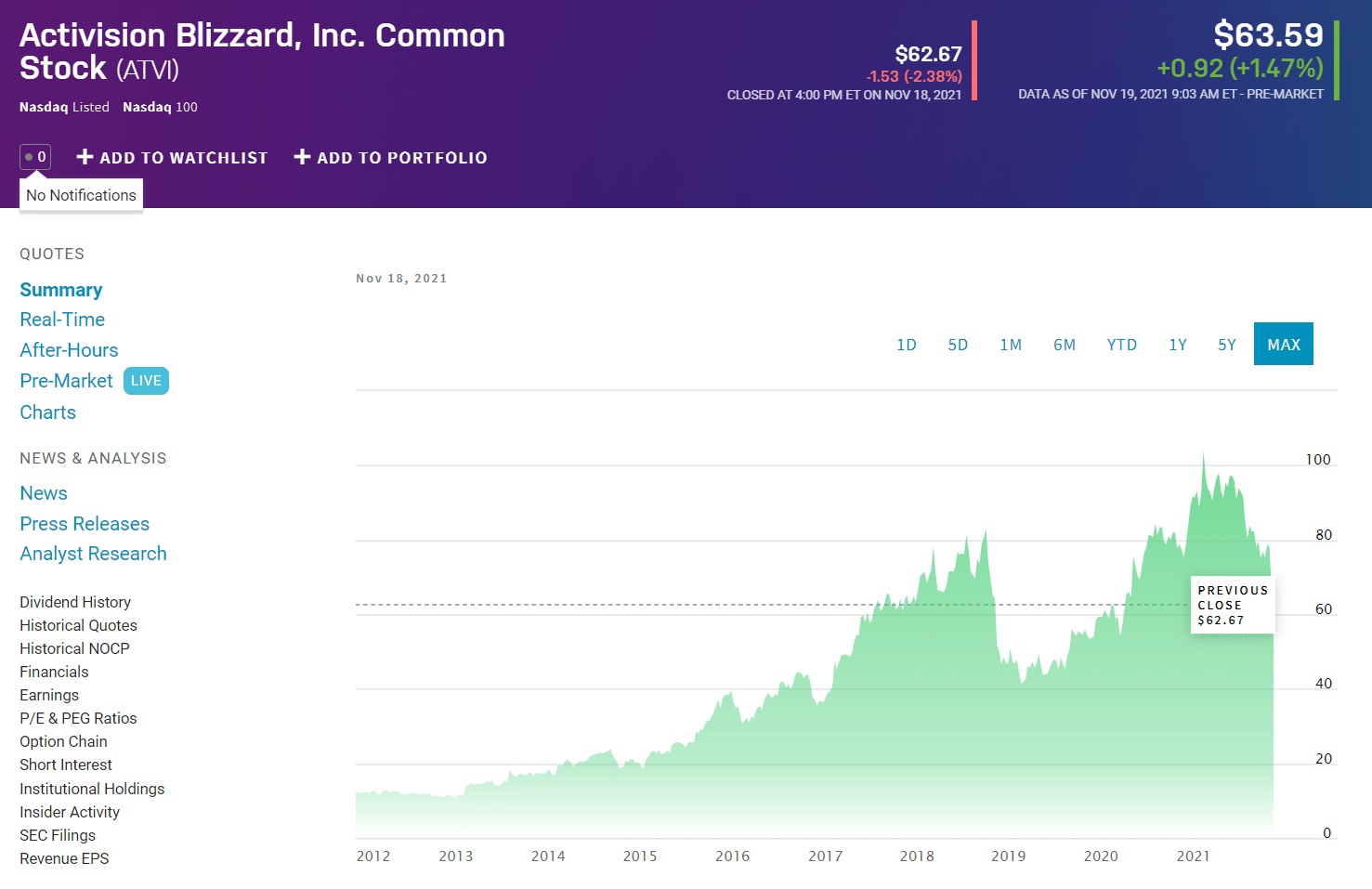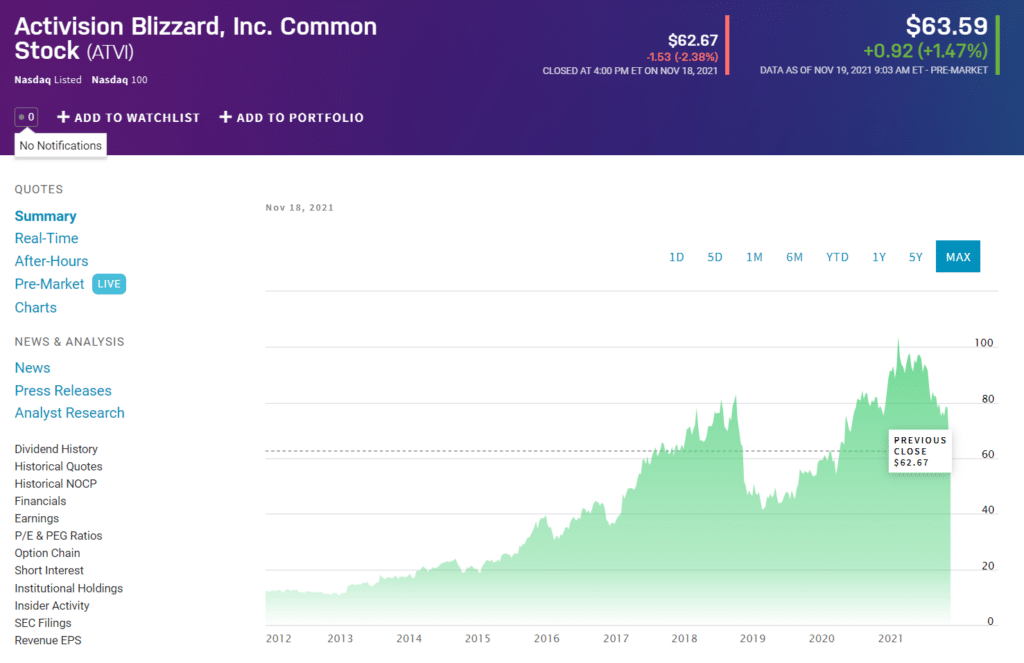 ATVI stock price forecast 2022

ATVI is a relatively safe investment choice due to the sound management and projects of this company. According to an estimate, ATVI's price can reach up to $100 by the end of 2022.

Pros & cons of gaming stocks
Every investment involves certain benefits and a degree of risk. Let us have a look at the pros and cons of gaming stocks.
Pros
Cons
Exposure to innovative industry
Game stocks are investments of choice for gaining exposure to a technological and innovative sector.
Risk of shifting public interest
The introduction of any new products and platforms can cause the shifting of public interest to that industry.
Liquid market
Gaming stock markets have high liquidity and trading volumes, indicating the investors' interest in this industry.
High volatility
Gaming stocks are highly volatile and may face wild price swings.
Dividend payouts
Some of the gaming companies distribute dividends to their shareholders.
Dependent on the company's management
In addition to the overall gaming sector's performance, game stock prices depend on the relative firm's performance.

Final thoughts
The gaming industry boom is likely to continue in the upcoming years due to the massive public interest. Relevant companies and firms are continuously formulating entertaining and interactive games for exquisite user experience. According to Statista, as of 2021, there are above three billion video gamers worldwide.
This figure manifests the promising prospects and potential of the gaming arena. In addition, investors have begun to realize the immense capability of this industry, which can achieve milestones in the coming years.