Big Poppa EA is a Forex robot launched in 2021. It promises a monthly return of 30-50% and a maximum drawdown of 15-20%. It is sold for the price of $99, which makes it quite cheap compared to other systems. You can also get it as a part of the 4-EAs Combo package which is priced at $120. Unfortunately, there is no money-back guarantee for this expert advisor.
Is Big Poppa EA good?
This EA is quite affordable and is supported by verified trading statistics. It has a money management feature and is able to work in tandem with other EAs developed by the same company. Nevertheless, the live performance is not up to the mark. Also, there is not enough information on the parent company.
Features of Big Poppa EA
This EA is a combination of the Shizuka and Benderv2 EAs from the same developer. It has money management features that it claims help secure the trader's profits without risking their capital. Some of these features include equity stop, hedging limit number of trades, and trailing stop.
There is an option to boost the backtesting performance for finding your own set files. The developer team used genetic algorithm techniques to obtain the set files for the EA. According to the seller, these techniques optimized the trading parameters to enhance the profit factor and reduce the drawdown. The minimum balance required for this EA is $500. By purchasing this EA, you can open an unlimited number of accounts under your name.
| | |
| --- | --- |
| Trading Terminals | MT4 |
| Strategy | Fibonacci retracements and price action |
| Timeframe | M15 & H1 |
| Price | $99 |
| Money Refund | No |
| Recommended Deposit | $500 |
| Recommended Leverage | 1:500 |
| Money Management | Yes |
| Customer Reviews | N/A |
What strategy does Big Poppa EA use?
Big Poppa EA uses a Fibonacci strategy where it combines Fibonacci Golden Zone with probabilistic zones. The EA is able to capture the retracements and analyze the extensibility over a certain time period. For making its trading decisions, it also relies on Price Action. Rather than relying entirely on the crossover, it makes sure that it has a win probability exceeding 75%.
Backtesting vs live trading results
Unfortunately, the vendor has not shared the historical test results for this EA. Backtests expose automated systems to various market scenarios, thus testing their durability. Without backtesting results, it becomes difficult to analyze the long-term performance of the system.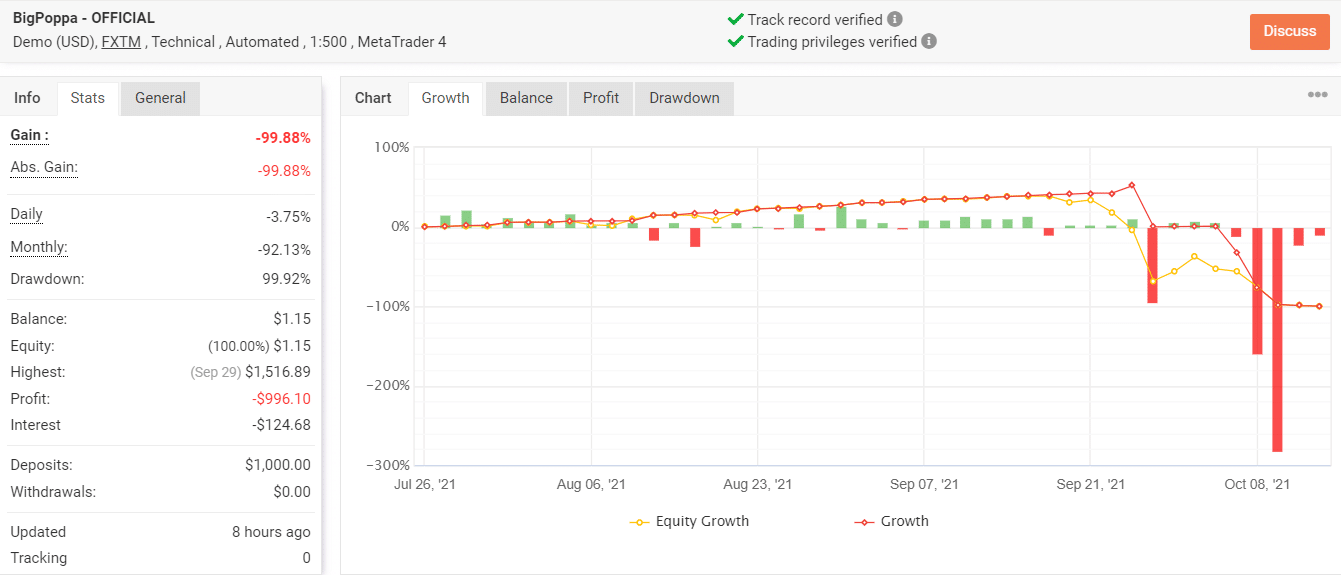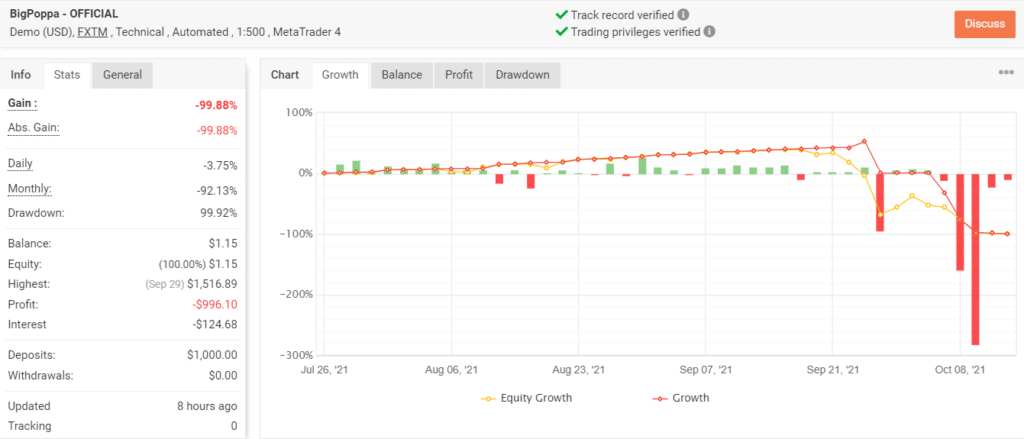 This is a demo account on Myfxbook that has been active since July 26, 2021. To date, the EA has conducted 180 trades through this account, winning 113 out of them. This means it has a healthy win rate of 63%. In spite of this, the account is currently running at a loss of $996.10 and its time-weighted return is -99.88%. This tells us that the EA has suffered some heavy losses along the way.
The daily and monthly average gains for this account are -3.75% and -92.13%, respectively. It has a low profit factor of 0.43 and an extremely high drawdown of 99.92%. Thus, we suspect the robot follows a risky strategy.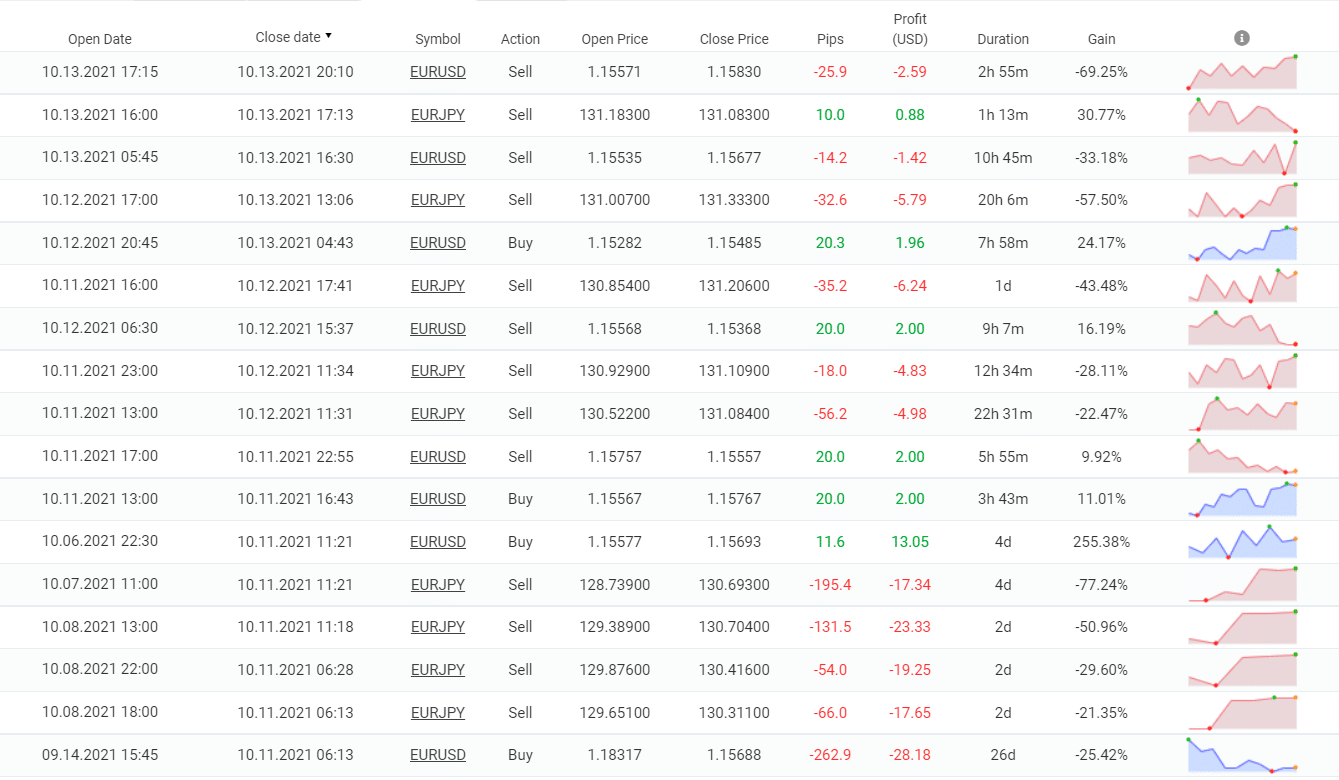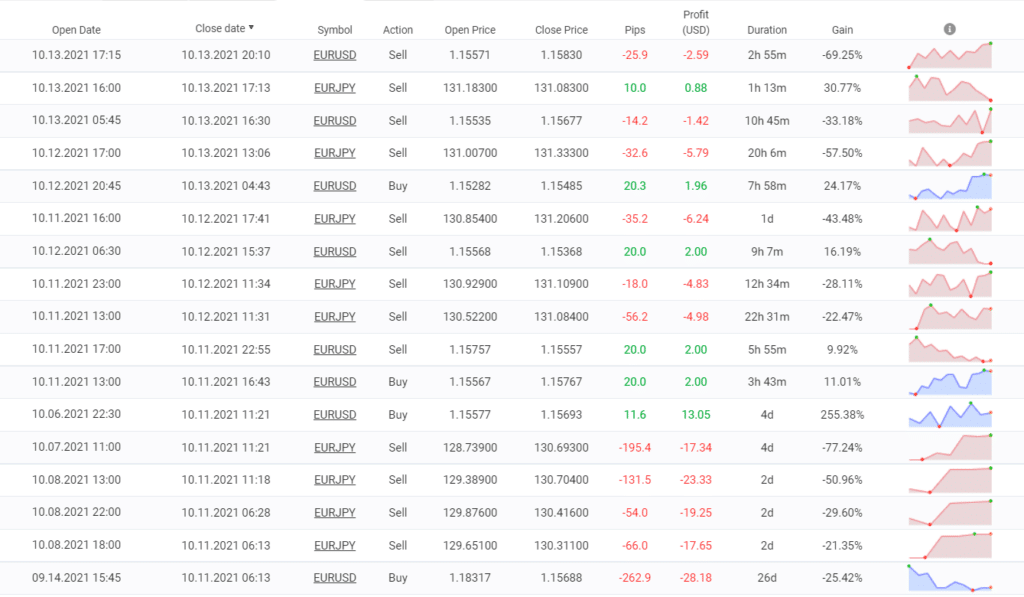 We can confirm our suspicion by looking at the trading history. Here, we can see several consecutive losses, some of which are devastating. On October 8, 2021, it suffered a loss that emptied more than half the account balance. No trades have been placed through this account since October 13, 2021. Therefore, we can consider the trading results discontinued.
The core team
The core team of Big Poppa EA consists of three members specializing in areas like Development, Machine Learning and Genetic Algorithms, and Data Analytics. We don't know where the tram is located and the vendor has not revealed their identities. Also, we don't know how much experience they have. There is no official contact information, but the vendor has shared the link to the official Telegram channel.