Botsfolio is a crypto trading bot that helps traders benefit from the crypto market movements. Botsfolio features self-learning analytical tools. These tools can assist you in spotting the best time to buy an asset and the ideal time to sell it. They can perform even when markets change direction. The software devs state it can execute numerous strategies with a broad portfolio. Is that really so?
Botsfolio overview
Botsfolio is a cloud-based trading platform that includes automated bots. Most crypto bot services offer automatic trading instructions with a hedging bot and investment allocations.
Key features
The bot is compatible with three different exchanges: Binance, OKEX and Coinbase Pro.
The software applies a risk management strategy to minimize losses.
You can customize risk parameters to fit your trading style.
It uses API keys that are available on the market.
You can utilize four available strategies:

Hedge trading
Futures trading
Fixed income
Value investing
How does Botsfolio work?
The system calculates an asset's intrinsic value using a variety of models. For example, one popular model for Bitcoin is the stock to flow model. They run bots to monitor prices and buy when they dip. Using the Botsfolio value investing fund, investors may purchase large cap cryptos at a discount, boosting their long-term growth possibilities. Botsfolio only invests in cryptocurrencies with a large market capitalization. This helps it eliminate vulnerability to market manipulation, common in small cap cryptocurrencies.
Ease of use vs complexity
For one, it removes the need for prior trading expertise. This is because the market requirements indicated in the introductory questions already include some form of pre-screening mechanism that generates a strategy matching your personality and trading style. It also eliminates the requirement for coding from the trading process, which will benefit everyone who isn't a programmer.
What exchanges does Botsfolio integrate with?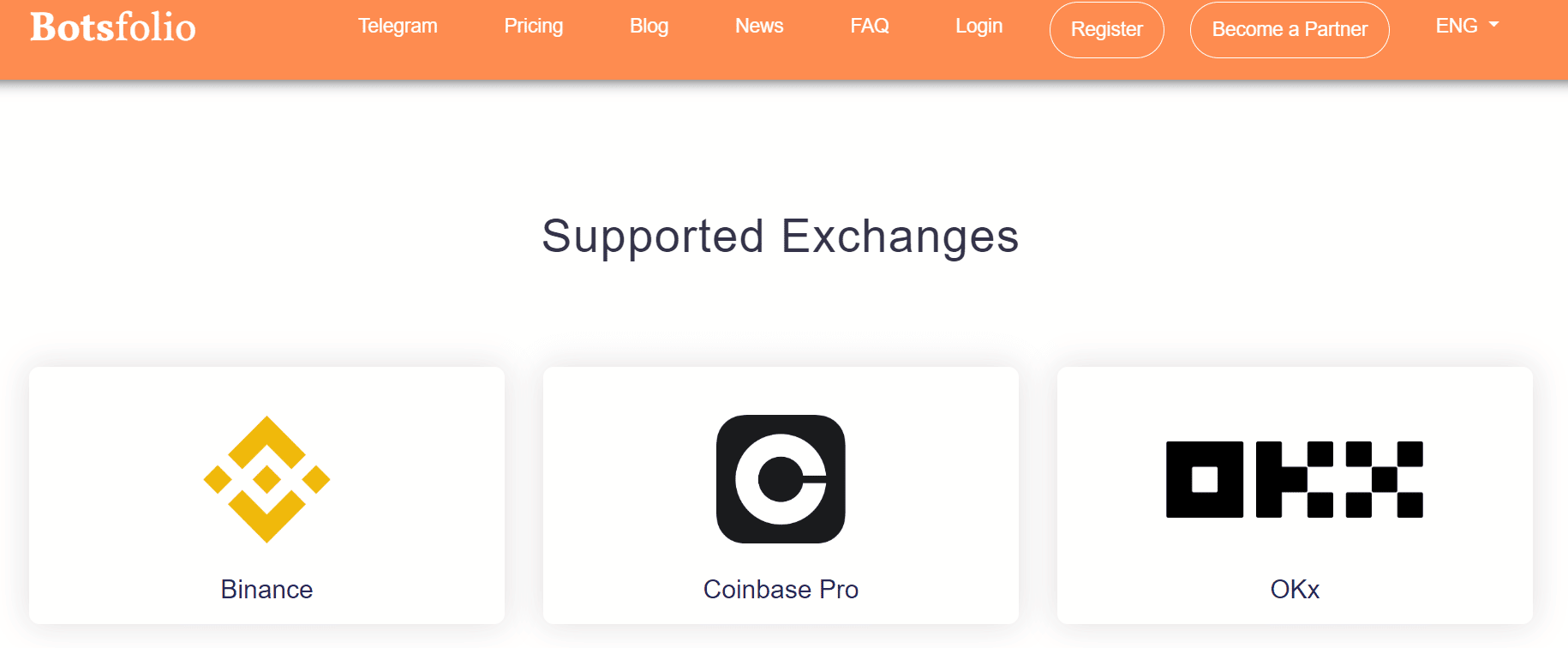 It is compatible with Binance, Coinbase Pro and OKx.
Botsfolio strategy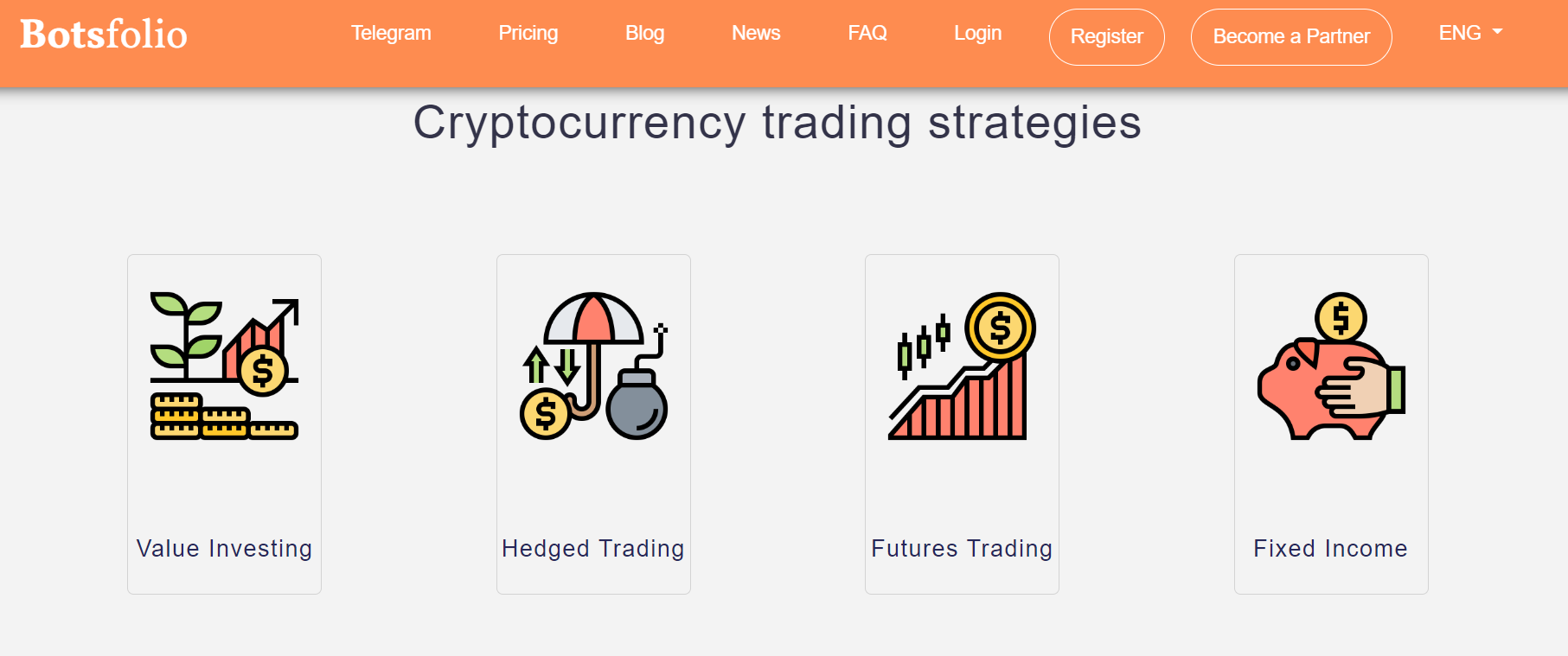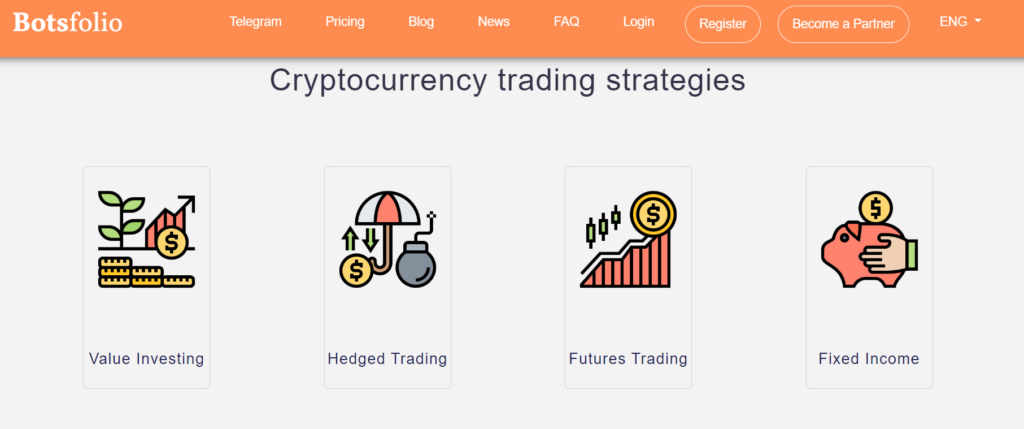 It involves buying an 80-20 mix of large and small cap cryptos at a price that undervalues them in the market.
It entails using a combination of spot and futures trading instruments to minimize potential losses while increasing ROI by exposing yourself to leveraged positions.
It involves automated active trading of large-cap cryptos on futures instruments utilizing a variety of trading algorithms.
It involves growing wealth at a fixed rate of 6 to 8% per year on dollar pegged USDT.
Botsfolio interface
It features an intuitive interface.
Botsfolio company overview
Headquartered in Carmel, Indiana, Botsfolio is a private company which serves several countries including UK, Canada and Germany. Its developers are from KribX Inc. US.
Time in business
Founded in 2021, the company has only been in existence for less than a year.
Security
Trading takes place on the exchange, so assets are retained there. Botsfolio claims to have disabled the withdrawal feature from the API, ensuring that no funds are stolen. The API keys are stored in an encrypted form as the platform uses SSL certificates to ensure security.
Pricing details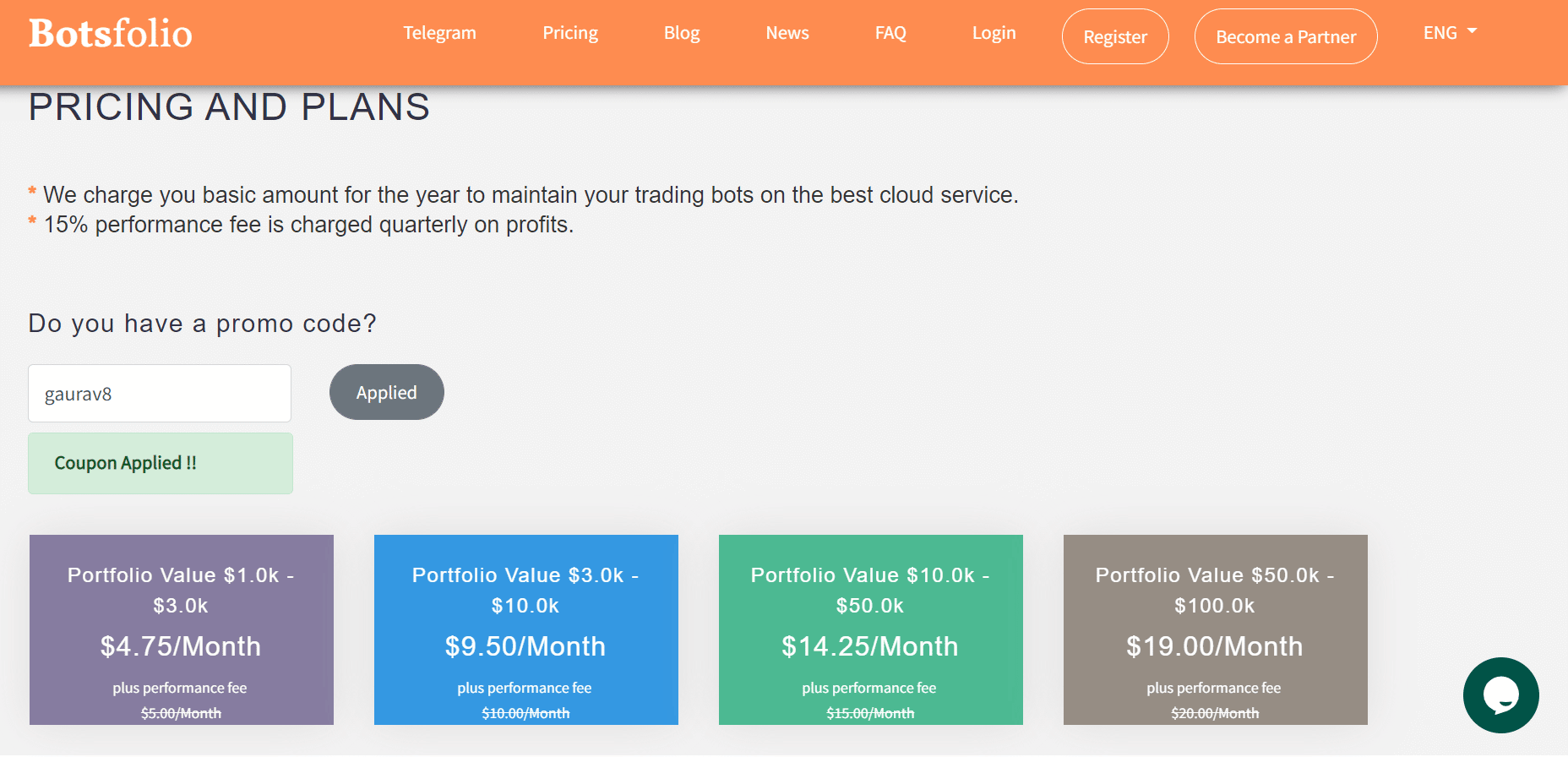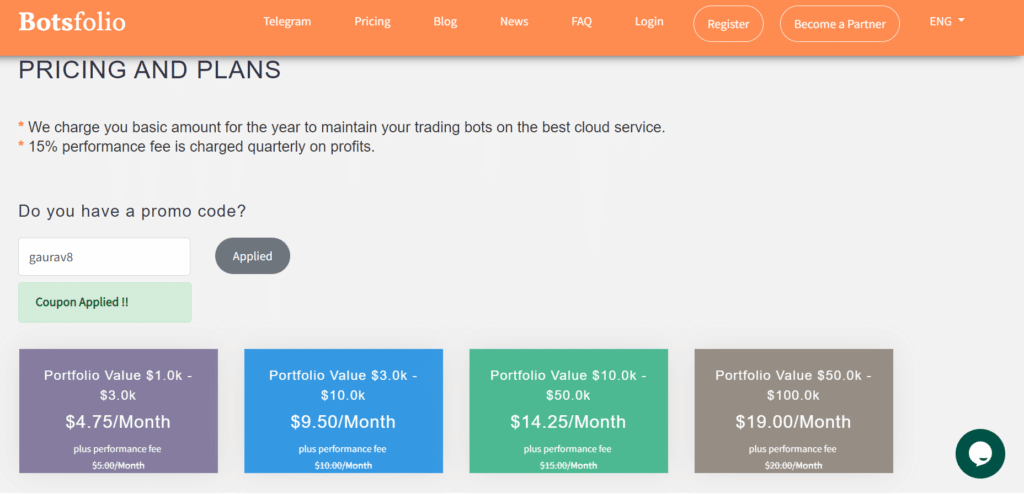 It has 4 payment plans.
Portfolio Value $1,000-$3,000–$4.75/month
Portfolio Value $3,000-$10,000–$9.50/month
Portfolio Value $10,000-$50,000–$14.25/month
Portfolio Value $50,000-$100,000–$19.00/month
Are there any fees or commissions with Botsfolio
The bot charges a 15% fee on profits quarterly. There is no mention of any trading commissions.
Does Botsfolio have an API?
It has an API system that only allows the robot to trade and not make withdrawals from your account.
Botsfolio performance metrics
According to its official website, the bot makes an average of 7.95% in monthly gains. Below is a chart of their monthly performance thus far.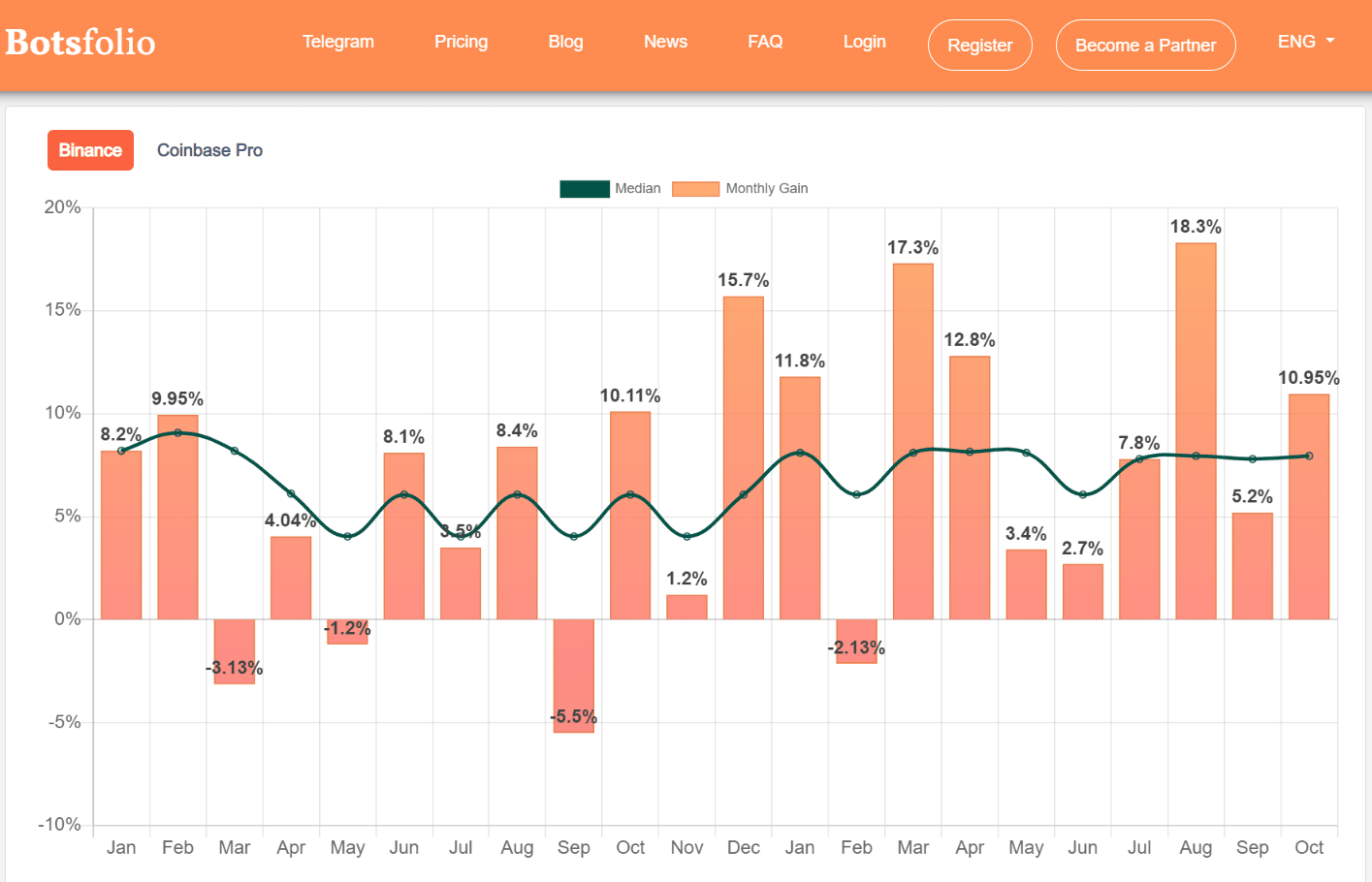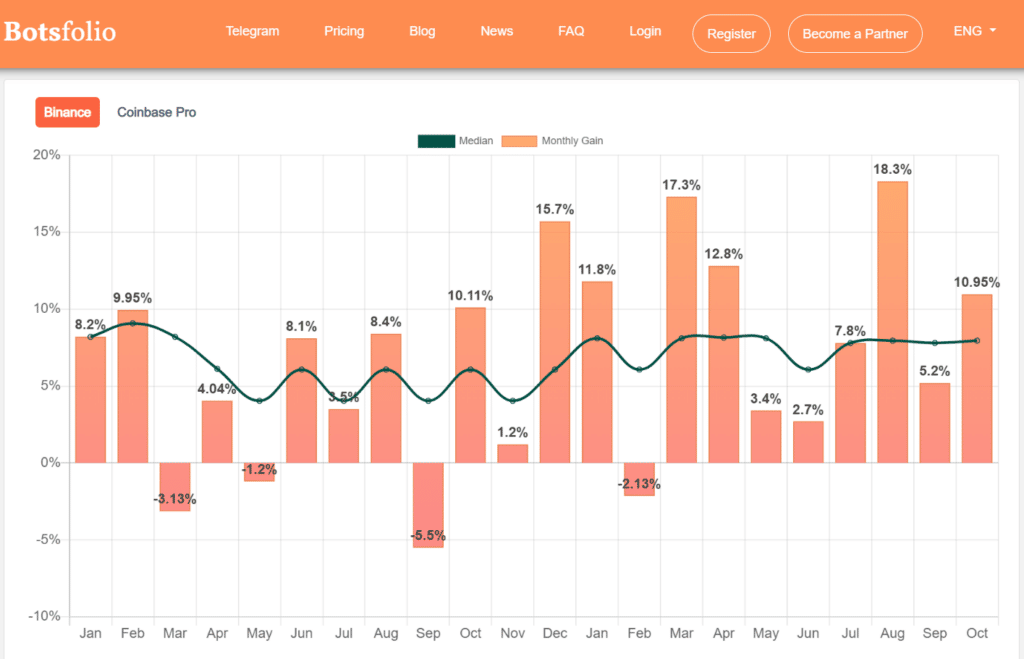 High win rates with Binance is what the developers team choose to show the potential buyer. However, even in the median value, we can see the gradual decrease of the gain. That is not to metion the complete absence of the calculation methodology. Is this the company profit or the one made per user account?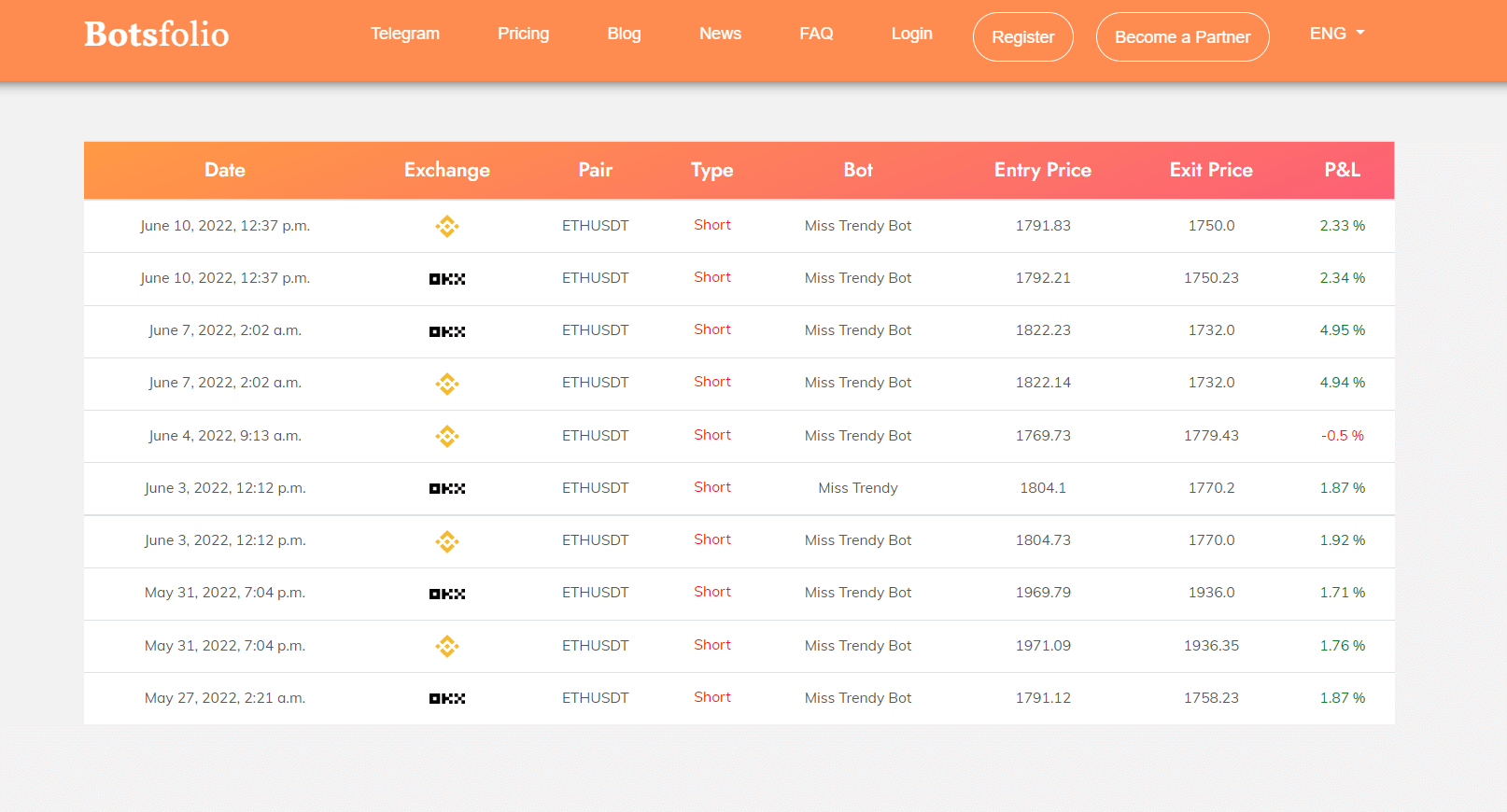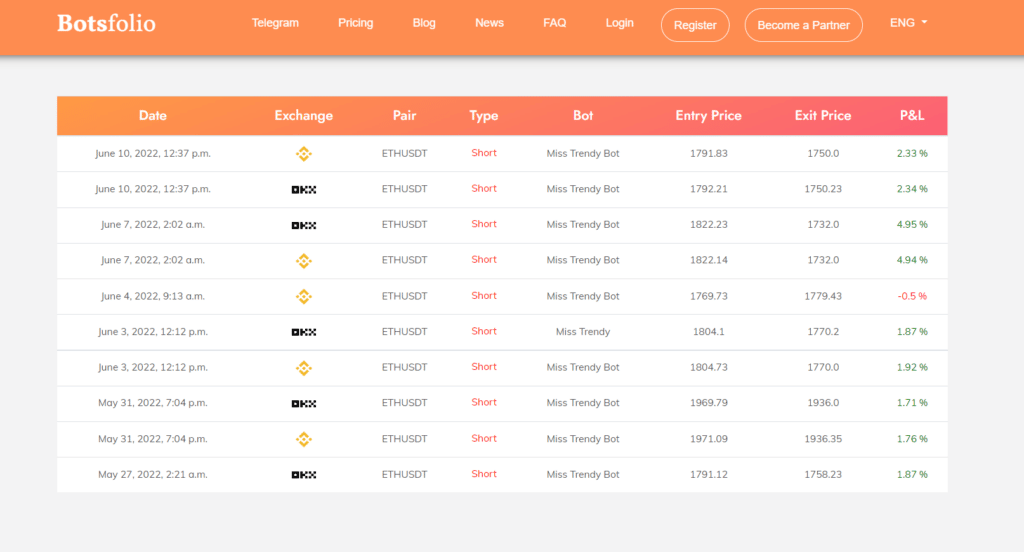 Out of 10 short trades only one made a loss of -0.5%. The rest made profits ranging from 1.71% to 4.95% which is significant for short trades. Sounds good enough to make you suspicious? It definitely does so to us. Unfortunately, we cannot verify any of the data posted on the official site. There are no live trading results on third party websites like Myfxbook or FXBlue.
What kind of support options does Botsfolio offer?
It offers two emails for support: one of the marketing department one and one of a private person named Jasmin Singh. They also have a Telegram channel. According to the customer reviews on Trustpilot, they never answer (see the next section).
Reviews of Botsfolio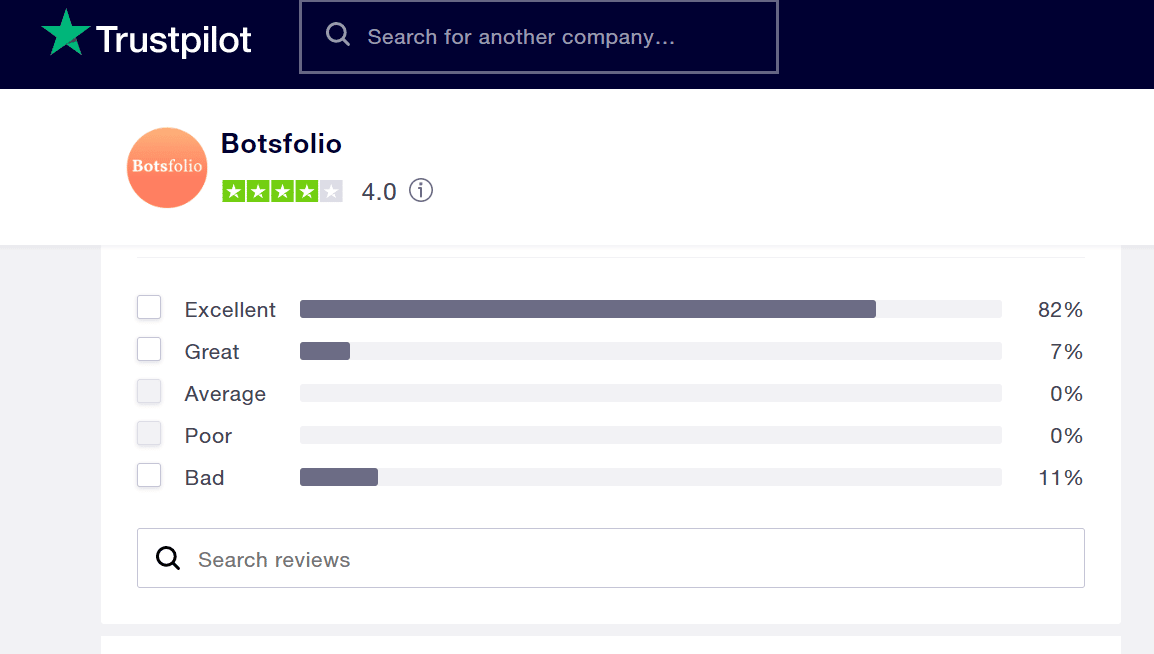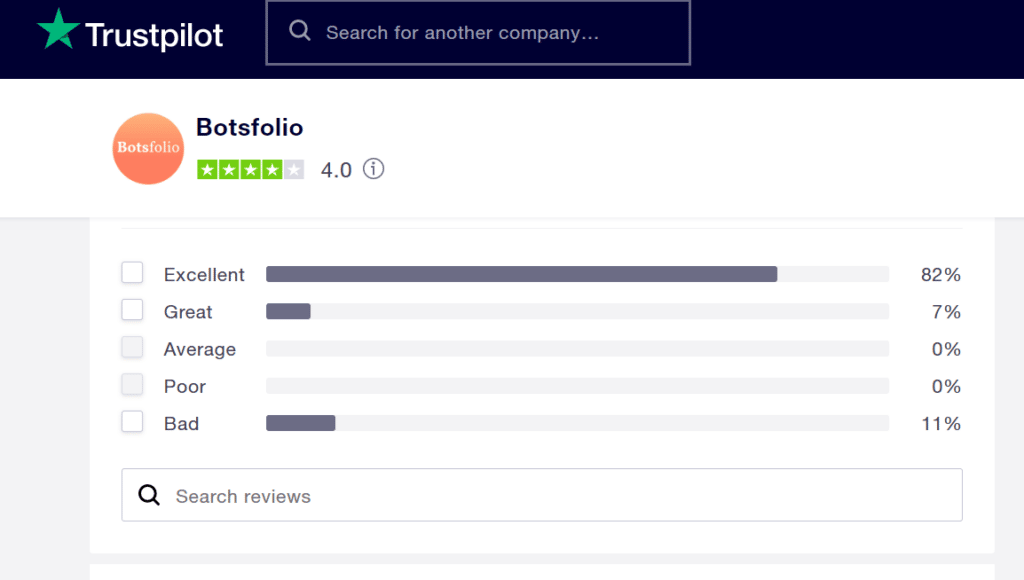 On its website, there is a shared link to the Trustpilot page. Here, it has an overall rating of 4. 82% of the users rate it as excellent, 7% as great and only 11% as bad. It has both positive reviews and negative ones, and a rating of 4 out of 5 stars.
Despite that, the reviews are mostly negative. Unhappy customers say they were lured into signing up and could never get any reply from the custiomer support.