BuySellSeriesEA has a Forex-related trading solution that should help us generate stable income. However, their presentation doesn't look convincing. There's no main claim written about how lucky we could be with this system. Nevertheless, let's check what we have on the plate.
Is BuySellSeriesEA good?
No, it's not. Trading results showed almost 100% drawdowns. It's so risky to allow the system to trade like this.
Features of BuySellSeriesEA
We have prepared a list of details that would help us to understand if the system can help us with being profitable.
The robot knows how to handle market conditions fully automatically. 
If we work with acceptable risks we still can rely on the best monthly profits. 
It was designed to open orders on the market when it's needed. 
The advisor seeks for a significant trend to trade it all the way. 
The candlestick pattern is behind the system. 
There's a news filter applied that could help us with trading experience. 
It opens trades every day. 
We have to decide what risks we are comfortable with. 
We can rely on welcome and extended support. 
The deposit should be $100 or higher.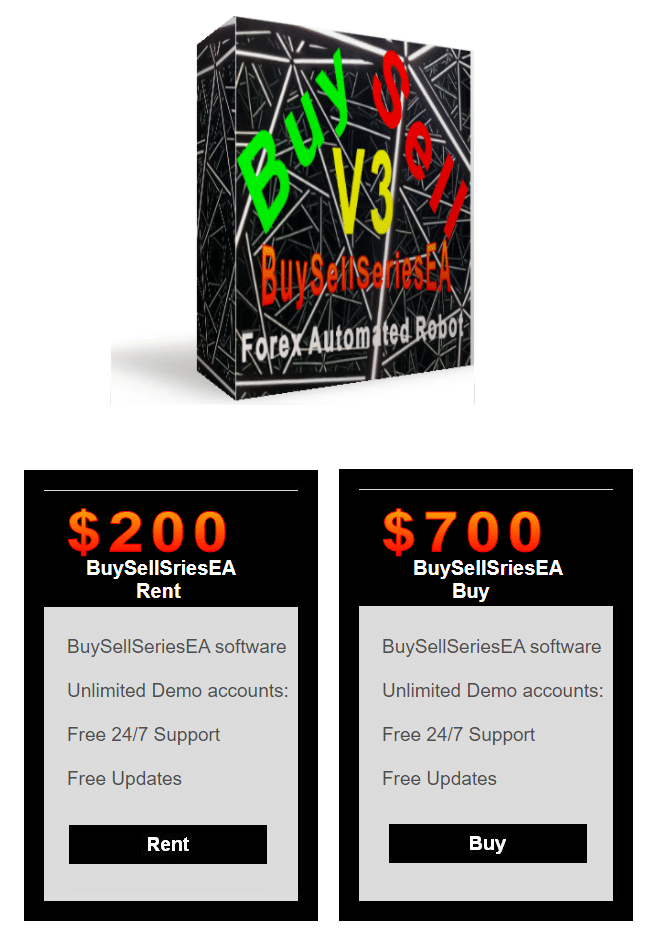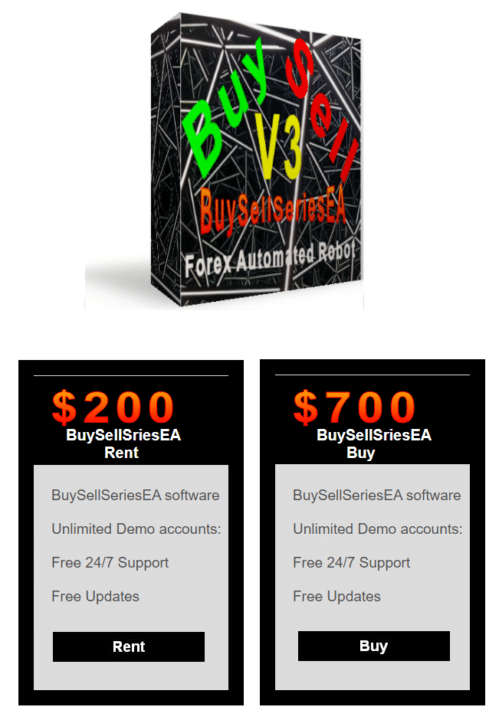 There are two offer options. We can rent the system for $200 a month. It's a high price. The lifetime package costs $700. Both packages include an unlimited number of products, free support, and updates. There's no money-back guarantee provided.
| | |
| --- | --- |
| Trading Terminals | MT4 |
| Strategy | Trend |
| Timeframe | N/A |
| Price | $200, $700 |
| Money Refund | N/A |
| Recommended Deposit | $100 |
| Recommended Leverage | N/A |
| Money Management | Yes |
| Customer Reviews | N/A |
What strategy does BuySellSeriesEA use?
It works with a trend strategy.
The system looks for a big trend to open an order in its direction to cut some profits when it's possible.
Backtesting vs live trading results
The presentation doesn't have backtest reports. So, it's impossible to compare something that doesn't exist with real and verified trading results.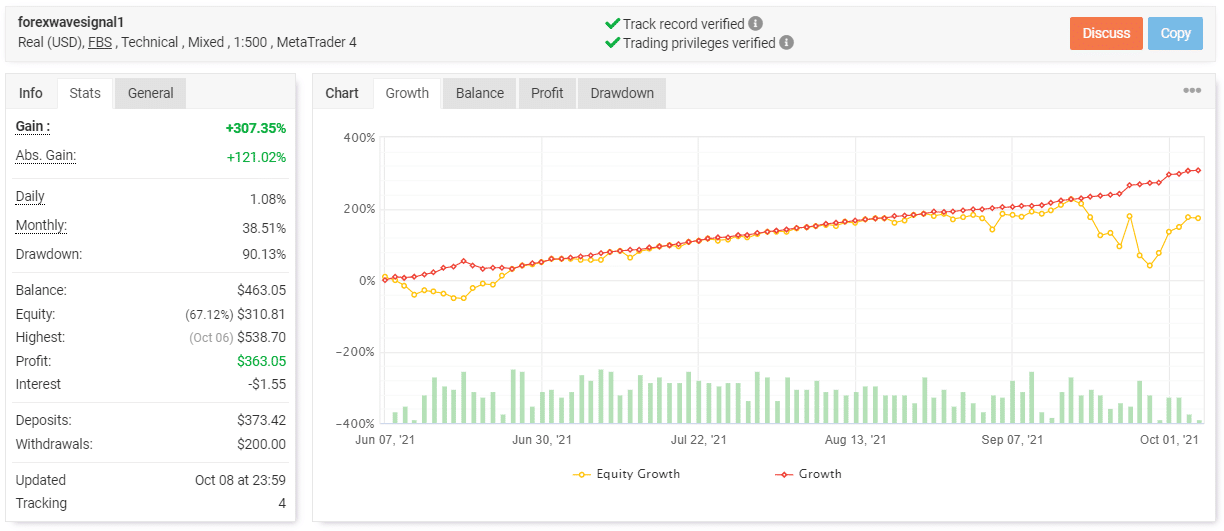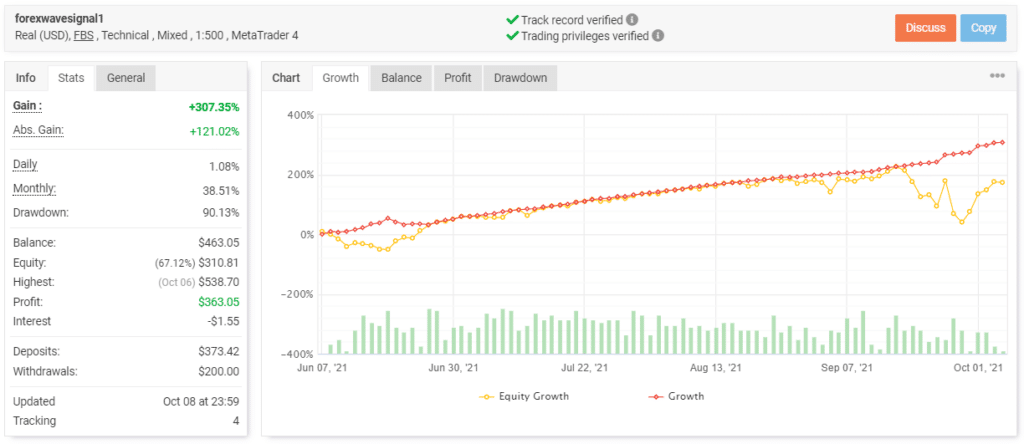 Verified trading results are a good sign that the developer understands what we need to choose the system wisely. The robot executes orders on a real USD account on FBS. It trades automatically with 1:500 leverage on MT4. The account has a verified track record and verified trading privileges. It was created on June 07, 2021, deposited at $273.42, and withdrawn at $200. The total gain has become 307.35%, when an average monthly gain has grown to 38.51%. The maximum drawdown is 90.13%. It's impossible to work safely with this system.

There were 914 orders with 3630.7 pips traded. An average win is 8.91 pips when an average loss is -15.98 pips. The accuracy rate is 76% for longs and 83% for shorts. An average trade length is 13 hours and 31 minutes. The profit factor is 2.23.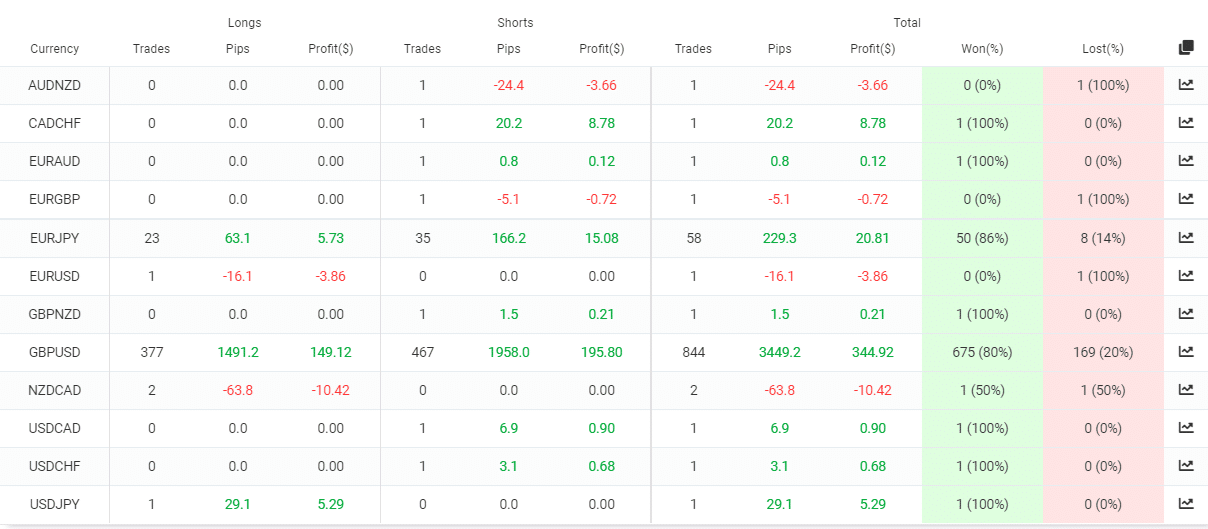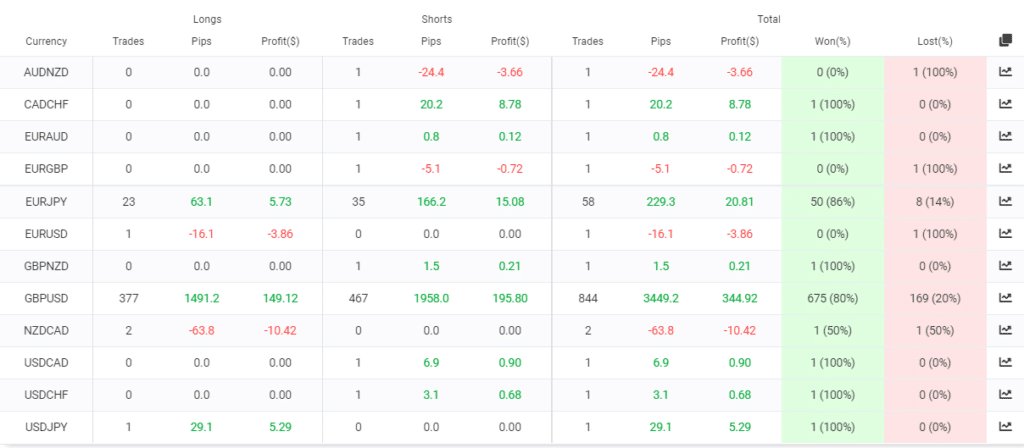 The advisor focuses on opening orders only on GBPUSD. There were 844 deals closed with $344.92.


The system trades during all sessions almost equally.


The same picture we have looking at daily activities.


The advisor trades with average risks to the account balance.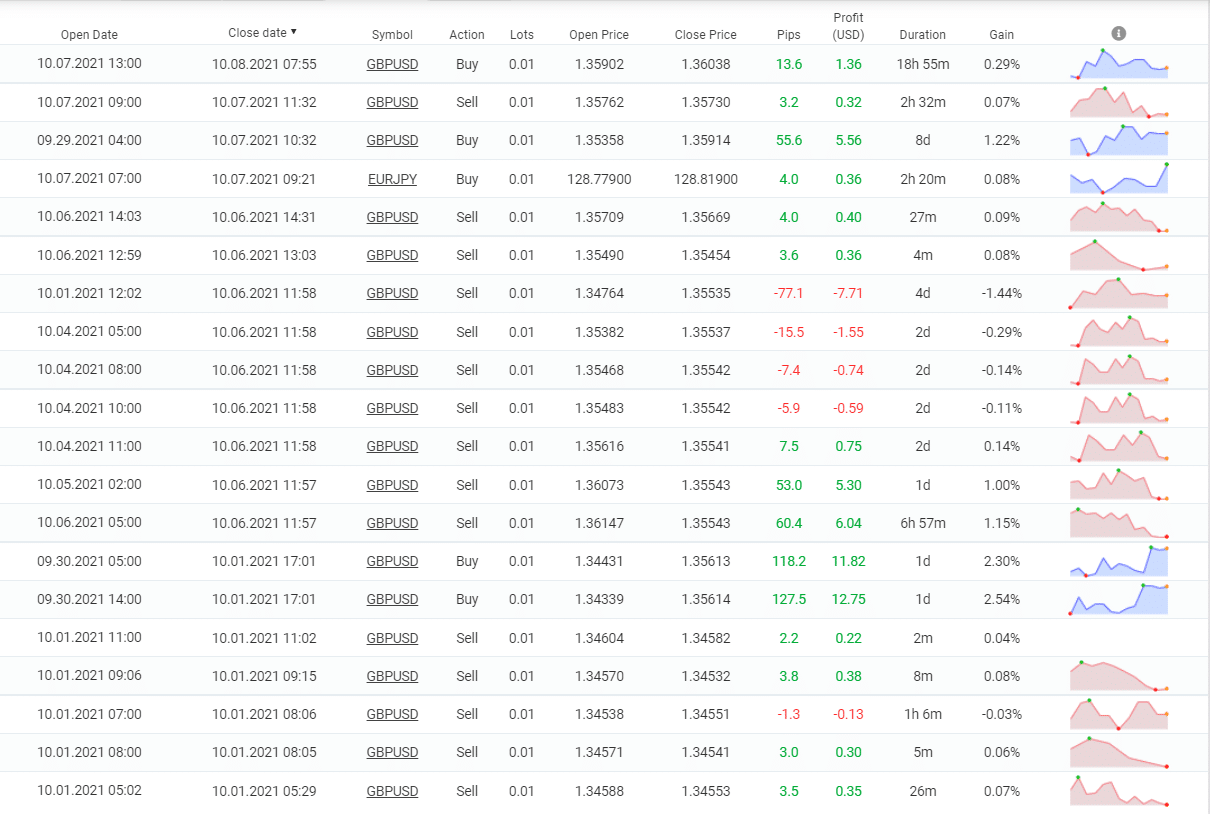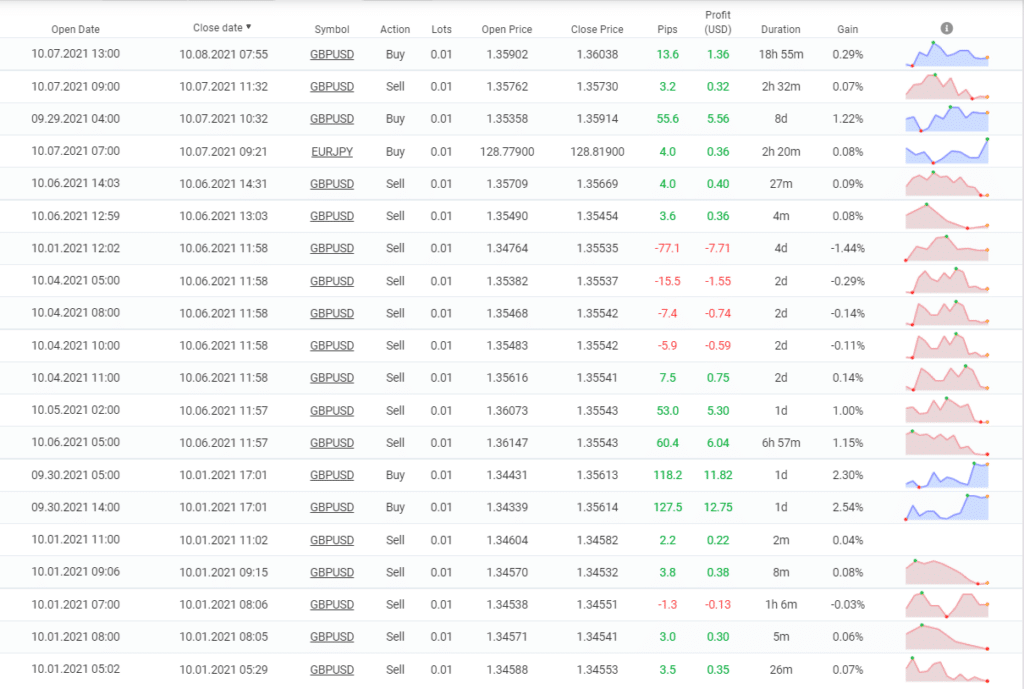 The system trades without using Martingale to recover.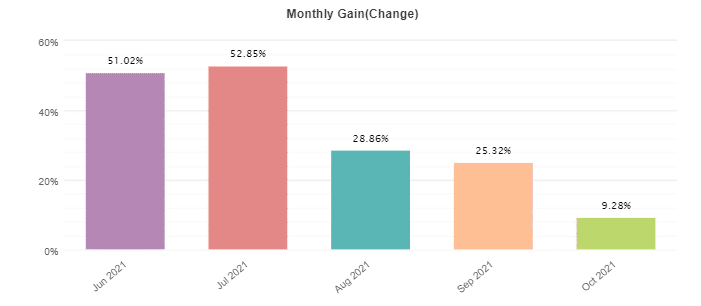 We may note that profitability went down at least twice. The robot should be updated.
The core team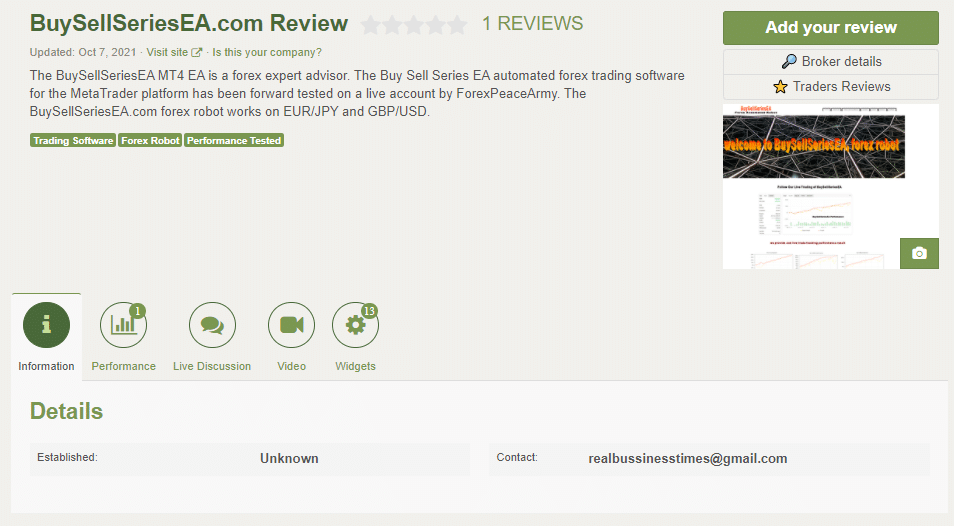 We have a page of the company on Forex Peace Army. There's a single comment written.

This client wasn't happy with using this service.