Easy Forex Pips is a signals provider promising a near perfect accuracy with its signals. Subscribers get access to buy and sell signals that assist them with their live trading operations. The signals contain all the vital information and are generated by a team of experienced market analysts.
There are four paid plans for this platform. The 1-month plan costs $45, while the 3-months, 6-months, and 12-months plans can be availed for $75, $105, and $100, respectively. All of the packages come with 4-7 signals, daily chart analysis, 1-3 targets per trade, and over 4000 pips per month.
The refund window is only open for 14 days, which makes it difficult to test the performance of the signals. We don't exactly know when the system was launched, but the live trading account has been active since April 26, 2019.
Is Easy Forex Pips good?
This system offers various types of signals with clear trading logic. The vendor has shared the live trading results, but they have hidden the trading history along with other key parameters. We have no background data on the parent organization and there are no contact details.
Features of Easy Forex Pips
With each signal, you get clear entry and exit points and innovative ideas related to Forex trading. You also get access to signal analysis and new strategies. Each day, experienced analysts employ various manual strategies for trading the Forex market. They use technical indicators to make their decisions. Every signal has the possible targets, stop loss, and entry points outlined.
The signals are suitable for all market sessions. They are posted whenever there is a lucrative trading occasion from 8 AM to 5 PM for the UK and US trading sessions. The signals are delivered via email or Telegram. They tell you the best time, the best technique, and which pair to trade. It is recommended that you sign up with the XM broker for best outcomes.
| | |
| --- | --- |
| Trading Terminals | MT4 |
| Strategy | N/A |
| Timeframe | N/A |
| Price | $45 |
| Money Refund | 14 days |
| Recommended Deposit | N/A |
| Recommended Leverage | 1:30 |
| Money Management | Yes |
| Customer Reviews | Good (4.7 out of 5 rating based on 336 reviews on Trustpilot) |
What strategy does Easy Forex Pips use?
On the official website, the developer has mentioned that the signals are based on manual strategies. However, we have no idea what these are. We don't know which indicators the system uses for making its decisions, so it is difficult to gauge the potency of the strategies.
Backtesting vs live trading results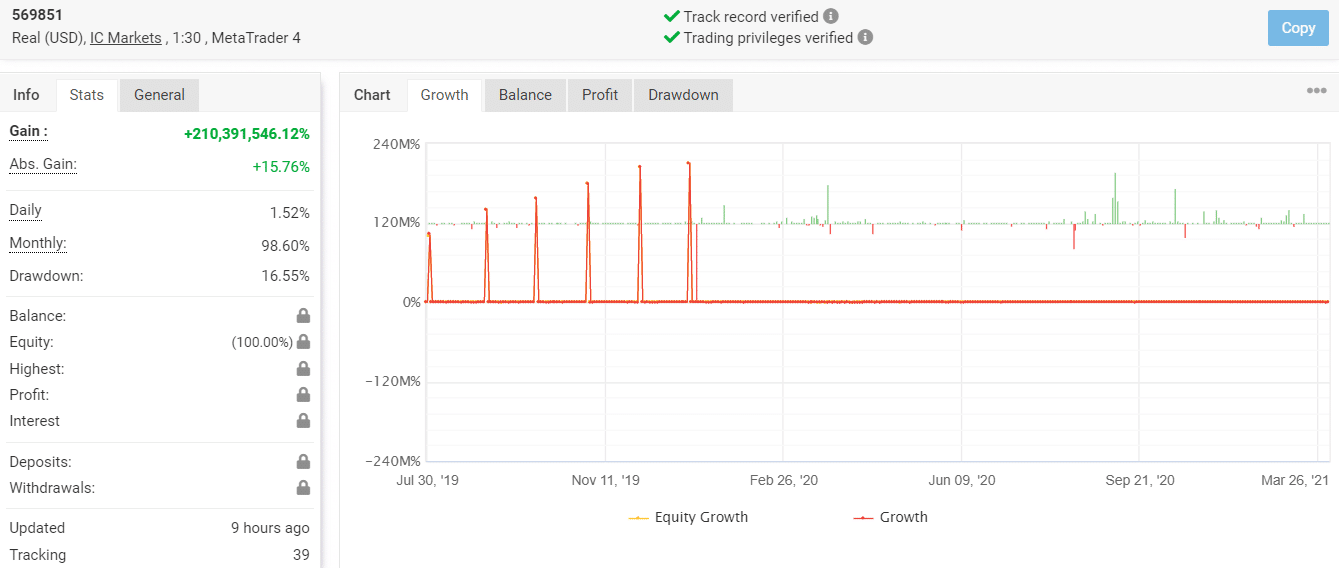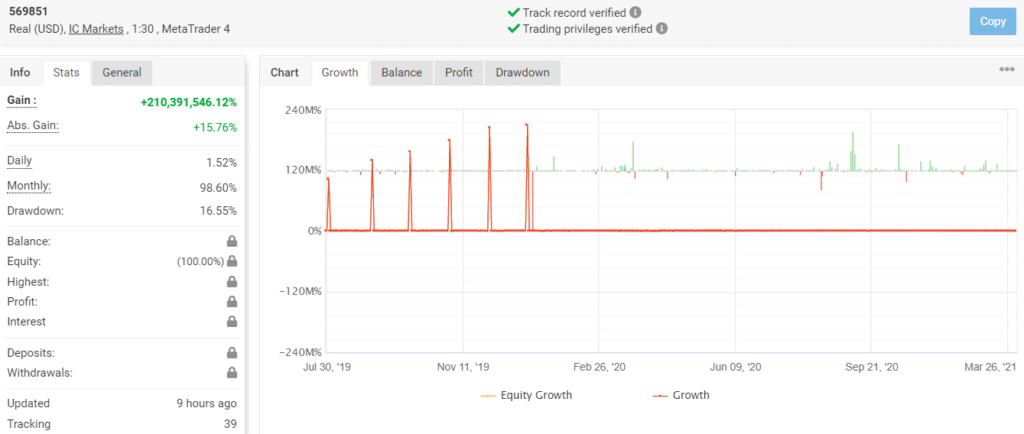 EA vendors often conduct backtests to test their strategies using historical data. These tests reveal the long-term performance and tell the developers whether the system can generate live profits. Since this is a signal provider and not an EA, we don't need to analyze the backtesting results.
Here we have a live trading account on Myfxbook that was launched on April 26, 2019. To date, the EA has conducted 15,043 trades through this account, winning 70% of them. The win rate is quite high compared to other systems and the profit factor is quite satisfactory at 1.71.
Here, we should mention that the account owner has hidden some of the key figures related to this account. Therefore, we are not able to see the Balance, Equity, Profit, Interest, Deposits, and Withdrawals. Also, the trading history is hidden for this account.
The core team
The team claims to possess over five years of experience in the financial markets. However, we don't have any background information on the team members. The vendor has not revealed their identities and we don't know where the company is based or when it was founded. We don't have the contact details, but you can send a message to the service team using the contact form. Easy Forex Pips also has an official Telegram channel.