Forex Cyborg is alleged to be a complicated and creative fully-automated Forex trading robot. According to the vendor, the EA has shown it can make real money on a real account. Furthermore, the system was backtested, and the results revealed that it could generate high win rates on multiple currency pairs across thousands of trades over a long period. We will have to see if these assertions are true by evaluating the different elements of the system.
Is Forex Cyborg good?
It depends. As we evaluated the system, it became apparent that the EA trades with low risks to the balance. However, these risks may increase with time and threaten the viability of a trading account.
Features of Forex Cyborg
| | |
| --- | --- |
| Trading terminals | MT4 |
| Strategy | Technical analysis |
| Timeframe | N/A |
| Price | €499.99, €599.99 |
| Money refund | 30 days |
| Recommended deposit | Any |
| Recommended leverage | Any |
| Money management | Yes |
| Customer reviews | Good (5 out of 5 rating based on 1 review on FPA) |
What strategy does Forex Cyborg use?
On matters strategy, the information is that the EA applies technical analysis. This ensures you get an impressive win rate in backtesting and dynamically adapt to market conditions. All conditions of trading are built within the very long and complex trading algorithm in the EA. This strategy description is vague and leaves a lot to be desired. The vendor should do everyone a favor and explain it exhaustively.
Notably, a money management feature is included to help you manage your risk. So, there's no hedging, martingale, and arbitrage.
Backtesting vs. live trading results
The vendor has provided several backtest reports for the currency pairs it trades on. We will analyze the results of the AUDUSD currency pair.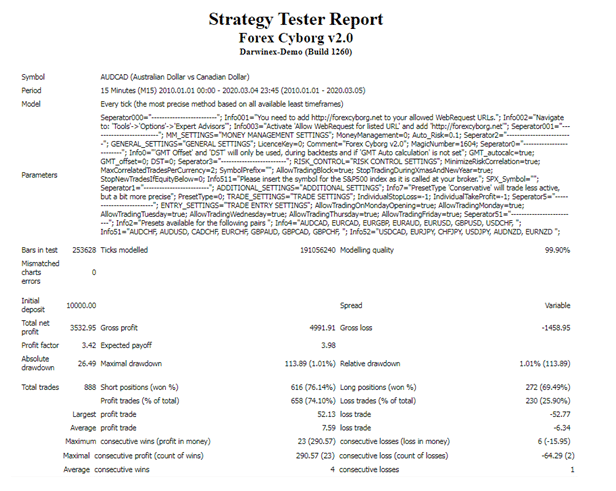 This test began in January 2010 and ended in March 2020. During this period, the EA used a $10000 deposit to execute 888 trades. The resulting win rates for short and long positions were 76.14% and 69.49%, respectively. A total net profit of $3532.95 was generated, which is a small amount, given that the historical data covered a 10-year period. The profit factor was 3.42, while the drawdown was 1.01%. This meant that the loss rate was lower compared to the win rate. Therefore, the capital was safe.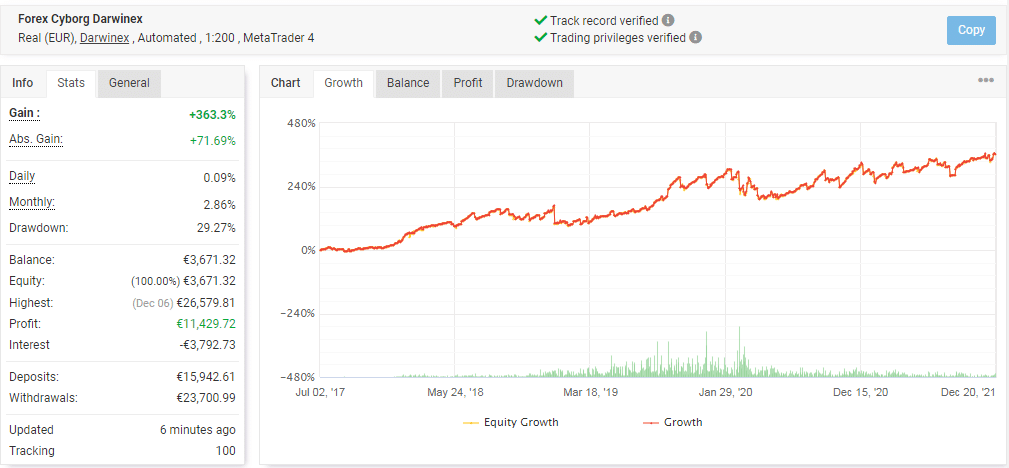 The above account was launched in July 2017, and to date, the EA has led to a growth rate of 363.3%. This is after it has made a total profit of €11,429.72 from a deposit of €15,942.61. A drawdown of 29.27% is reported and is not worrying unless it surpasses the 30% mark. The monthly gain is 2.86% and much lower compared to the drawdown rate. So, we have a poor risk/reward ratio of 10:1.

The number of trades completed during this trading period is 3186. A profit factor of 1.18 has been recorded. The value is average and hence not impressive. Up till now, the robot has traded with 1845.55 lots. Out of the 1635 long positions placed, only 67% of them have been successful. The win rates for short positions are a bit better (70%). There's an average trade length of 10 hours and 30 minutes.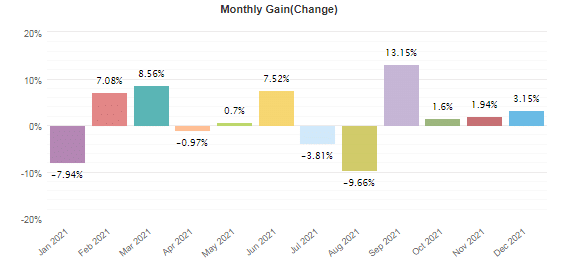 The most lucrative month was September, with a 13.15% profit. Unfortunately, the EA has failed to maintain this high profitability rate, as it has only made <4% gains the last 3 months.

The worth of this account has deteriorated over the years. So, it can blow up any time from now.
The core team
We have no idea who the creators of this robot are. This information is hidden. Therefore, we don't know their names, qualifications, location, contact details, or trading experience in the Forex market.