Forex GDP is a signals provider that claims to have a winning ratio of 80-95%. According to the vendor, the team believes in providing high-quality signals rather than trading in large quantities.
There is a free plan for this service, along with a couple of paid plans. With the paid plans, you get higher monthly targets and a greater number of signals per month. While the Premium plan costs $74/month, the Supreme plan can be availed for $147/month. There are no refunds offered by the vendor. The platform was launched in 2015, but the live trading account on Myfxbook has been active since June 3, 2021.
Is Forex GDP good?
The pricing plans for this system are not very cheap. There are verified trading results, but they have been discontinued for quite some time. Also, there is not enough information on the technical team generating the signals.
Features of Forex GDP
With each signal, you get chart analysis and the logic behind placing the buy or sell trade. The signals are generated by a group of traders with more than two decades of experience in Forex trading. There are different types of signals on this platform. Big Trade Signals deal with major market movements, while News Trading Signals rely on economic factors like unemployment rate, interest rate, and GDP growth.
With Jackpot Entry signals, you get low-risk, high-reward trade recommendations with a risk-reward ratio of 1:5 or 1:10. The analysts also generate Trend Reversal signals where they identify a primary reversal in the trend. It is recommended that you sign up with top brokers like IC Markets, FXTM, Exness, IG, Swiss Quote, and Forex.com.
| | |
| --- | --- |
| Trading Terminals | MT4, MT5 |
| Strategy | Carry Trading, Position Trading, Range Trading, Trend Trading, Day Trading, Swing Trading, Scalping, Price Action, Transition Trading, Retracement, Grid |
| Timeframe | N/A |
| Price | $74 or $147/month |
| Money Refund | No |
| Recommended Deposit | Any |
| Recommended Leverage | 1:200 |
| Money Management | Yes |
| Customer Reviews | Good (4.8 out of 5 rating based on 197 reviews on Trustpilot) |
What strategy does Forex GDP use?
This platform uses 11 different Forex trading strategies, namely Carry Trading, Position Trading, Range Trading, Trend Trading, Day Trading, Swing Trading, Scalping, Price Action, Transition Trading, Retracement, and Grid. It takes into account three main factors which are volatility, liquidity, and volume.
Backtesting vs live trading results
Unfortunately, the backtesting results are not available for this expert advisor. As such, it is not possible to compare the historical test results with the live statistics.
This is a live trading account on Myfxbook that has been active since March 16, 2022. Since it was launched quite recently, we have a very small sample size of trades, which makes it difficult to accurately gauge the profitability.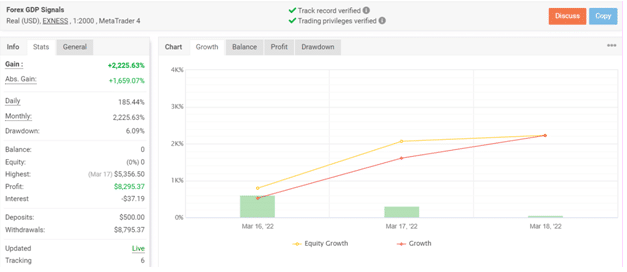 To date, the EA has conducted only 40 trades through this account, winning 62% of them and generating a total profit of $8,295.37. The win rate is quite decent and the profit factor stands at 56.62, but it is expected to go down over time. Currently, the daily and monthly gains are 185.44% and 2,225.63%, respectively, so it is obvious that the EA has made substantial profits in a time span of a few days.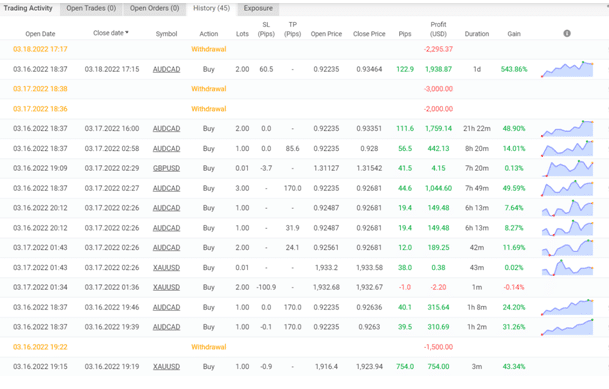 We can see from the recent trading history, that the EA has used a lot size of 0.01-3.00 for the last 20 trades. It keeps changing the lot sizes significantly for each trade and generates profits at a steady rate. The average trade length is 2 hours and 36 minutes, while the average win and loss are 98.44 pips/$337.78 and -107.25 pips/-$9.94, respectively.
The core team
We don't have any background information on the analysts generating the signals. Also, we don't know where the company is based. On the official website, you can find the email address and the Skype ID.