Forex Gump EA has been in the market since 2018. Like other automated trading systems, the vendor asserts that it is not influenced by feelings, negative situations, or daily physical demands. So, it works 24/5 looking for lucrative opportunities. Sad to say, the EA goes to great lengths in search for these opportunities even if it means exposing your investments to unnecessary market punches.
Is Forex Gump EA good?
No it's not. The system executes the grid approach while applying sizable lots that will put your investment at high risk of loss.
Features of Forex Gump EA
| | |
| --- | --- |
| Trading terminals | MT4 |
| Strategy | A trendy candle & in-built news filter |
| Timeframe | M1 |
| Price | 199 and 399 Euros |
| Money refund | 30 days |
| Recommended deposit | $40 |
| Recommended leverage | 1:100 and above |
| Money management | Yes |
| Customer reviews | Good (4 out of 5 rating based on 1 review on FPA) |
| Currency pairs | AUDUSD, EURCHF, EURGBP, EURJPY, EURUSD, GBPUSD, USDCAD, USDCHF, and USDJPY |
What strategy does Forex Gump EA use?
The EA is said to use a trendy candle and news filter. It is also able to adjust to market conditions as well as apply take-profits to optimize gains. To our disappointment, the vendor does not explain this strategy exhaustively.
Backtesting vs. live trading results
The developers have not posted the backtesting results for this robot. This data plays a vital role in persuading traders that the strategy used is fundamentally sound and is likely to produce profits when executed in real life. This is especially true for a backtest that yields positive results. Since these statistics are missing in our case, it is easy for traders to think that the system didn't perform well in the past and this is why the vendor is reluctant to showcase them.
Fortunately, the vendor has shared the live trading results from FXBlue.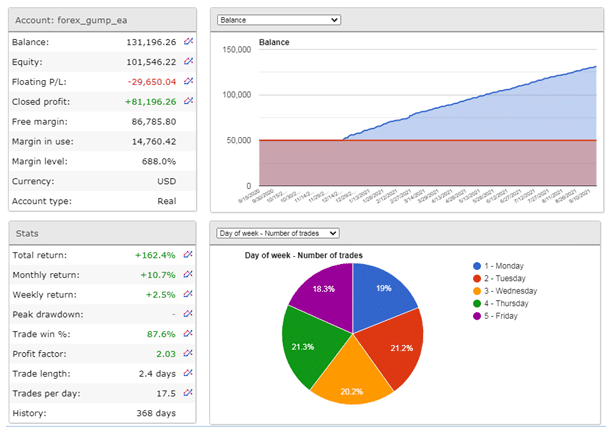 From this screenshot, we can see that the account has been active for 368 days, and has attained a total return of 162.4%. The closed profit is $81,196.26, and as a result, the balance has increased from $50,000 to $131,196.26. However, the loss made is quite large — -$29,650.04. The free margin is $86,785.80.
The EA makes monthly profits at a rate of 10.7% and has succeeded in winning 87.6% of the trades it has made. The profit factor is promising – 2.03. Furthermore, the stats show that the system is very active on Thursdays.

The average loss of -$99.20 is three times higher than the average win of $28.43. It means that the robot trades with a high risk/reward ratio – 1:3. It is apparent that the EA made more losses than profits in all trades completed.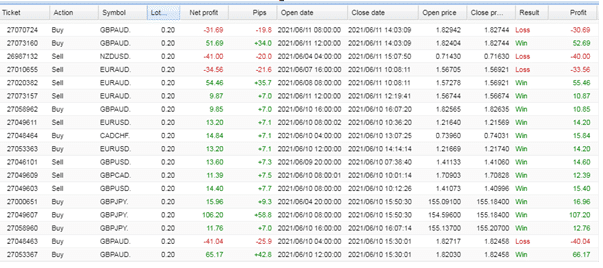 Data on the trading history table clearly shows that the software placed a grid of orders and used a big and fixed lot size – 0.20.
Through the analysis of the live stats above, we have determined that this trading tool is risky for a trader. This is because it applies grid, a dangerous approach that is capable of running an account down when the market moves in an unfavorable direction.
The core team
The company and the developers responsible for the creation of this robot are concealed. The lack of transparency in this area is a disturbing habit that we have noted among other Forex EA vendors. The failure to indicate their real names, experiences, qualifications, achievements in this market has served to fuel mistrust, which is, in turn, causing transparency inclined traders to channel their investments elsewhere.