Forex Pulse Detector is an expert advisor that is compatible with the Metatrader 4 trading platform. The vendor claims that the system is ideal for individuals looking to make profits while following a high-frequency approach.
You can purchase this robot for the price of $39 which makes it quite cheap compared to others. This gives you access to 1 real and 2 demo accounts. You can try the system on a demo account for one month without paying any fee. The vendor offers lifetime updates and a 60-day money-back guarantee. We don't know exactly when the robot was launched, but its live trading account has been active since April 14, 2020.
Is Forex Pulse Detector good?
While this EA is available at a cheap price, its live trading performance is not too impressive. Also, it suffers from a lack of vendor transparency. We don't know much about the strategy followed by this system.
Features of Forex Pulse Detector
Forex Pulse Detector currently supports the EUR/GBP and GBP/USD currency pairs. It works on the M15 timeframe, and the vendor claims that this allows the robot to gain pips at a faster rate. This EA has a hybrid system that lets you conduct trades manually by clicking the BUY and SELL buttons. Due to this, the trading system manually manages all open trades.
Forex Pulse Detector supports Windows and MAC and has separate versions for each. The MAC version is compatible with Linux as well. This is a fully-automated expert advisor with a built-in loss recovery system. It has an integrated advanced account and money management system as well as high spread and slippage protection features, which according to the vendor, protects your account from unfavorable market conditions.
You can run the EA on all brokers. It can hide your take profit and stop loss levels from brokers, thus protecting you from the deceptive techniques of unscrupulous brokers.
| | |
| --- | --- |
| Trading Terminals | MT4 |
| Strategy | N/A |
| Timeframe | M15 |
| Price | $39 |
| Money Refund | 60 days |
| Recommended Deposit | $1000 |
| Recommended Leverage | 1:500 |
| Money Management | Yes |
| Customer Reviews | N/A |
What strategy does Forex Pulse Detector use?
On the official website, the vendor has not clearly explained the trading strategy of the robot. It conducts 1-2 trades on a daily basis. The vendor recommends using a stable internet connection so that the EA can work continuously, 24 hours a day, from Monday to Friday.
Backtesting vs live trading results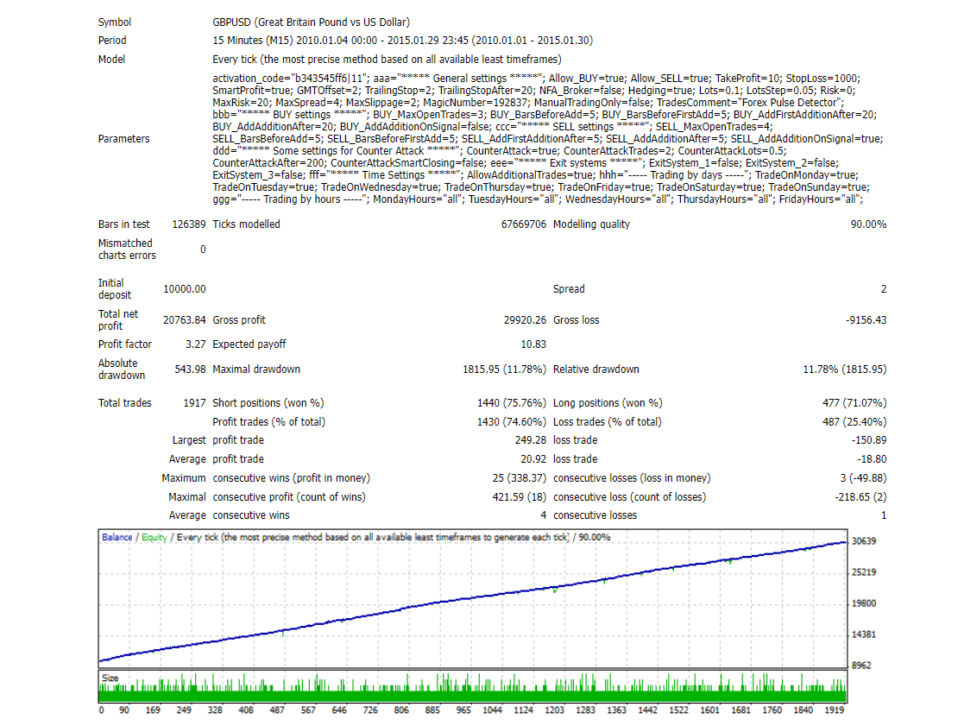 This backtest was conducted on the GBP/USD pair from 2010 to 2015 with 90% modeling quality. Here, the robot used an initial deposit of $1000 to place 1917 trades, winning 74.60% of them and generating a total profit of $20763.84. It had a profit factor of 3.27 and a relative drawdown of 11.78%. There were 25 maximum consecutive wins and 3 maximum consecutive losses during the testing period.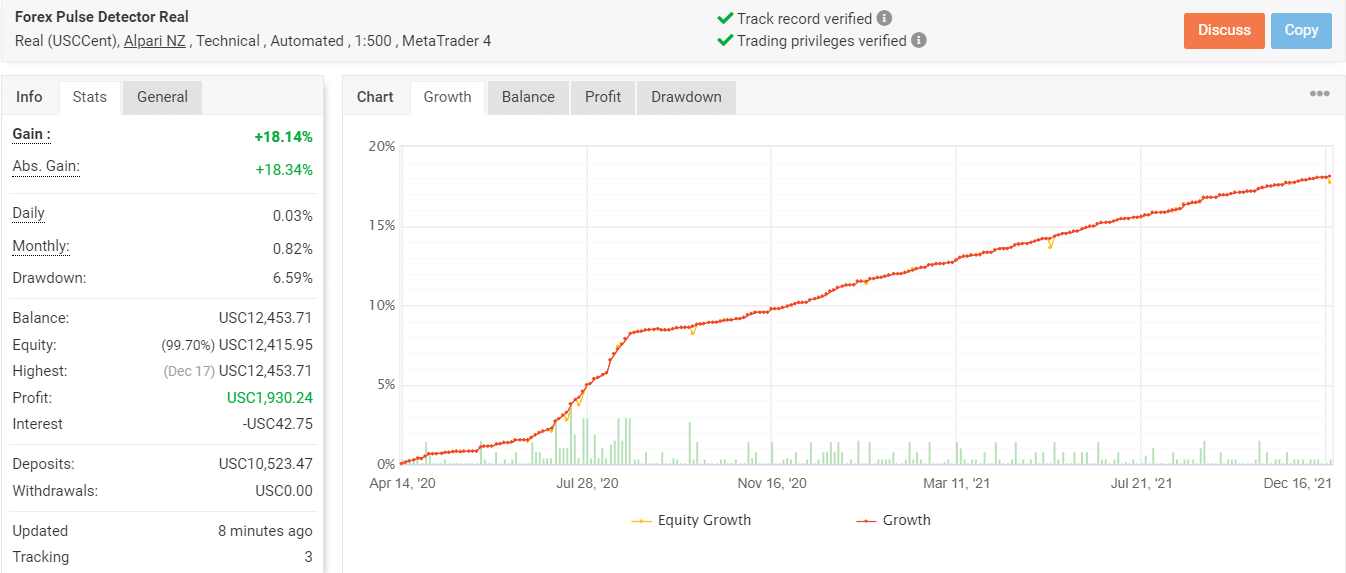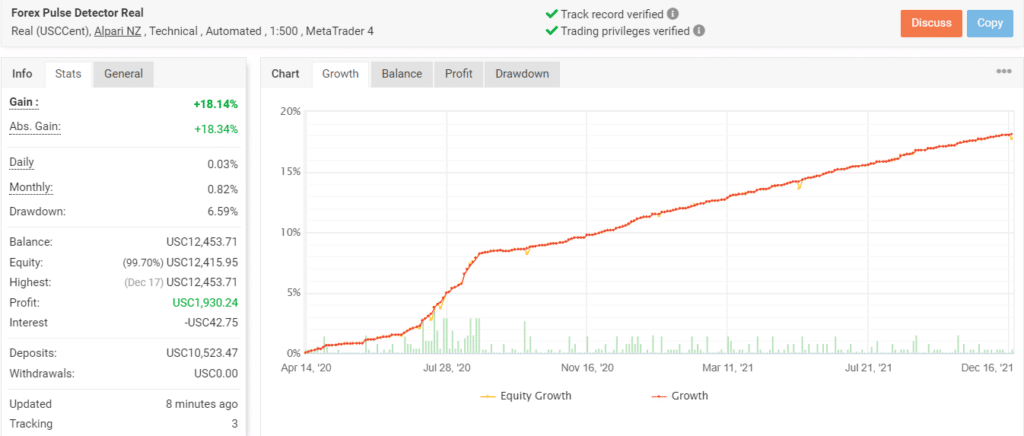 Since April 14, 2020, Forex Pulse Detector has placed 513 trades through this account. It currently has a win rate of 67%, which is significantly lower compared to the backtest. This is a cent account, and the total profit generated through it is currently USC1,930.24.
The daily and monthly gains are both quite low at 0.03% and 0.82%, respectively, and the drawdown is 6.59%. This account has a profit factor of 2.36.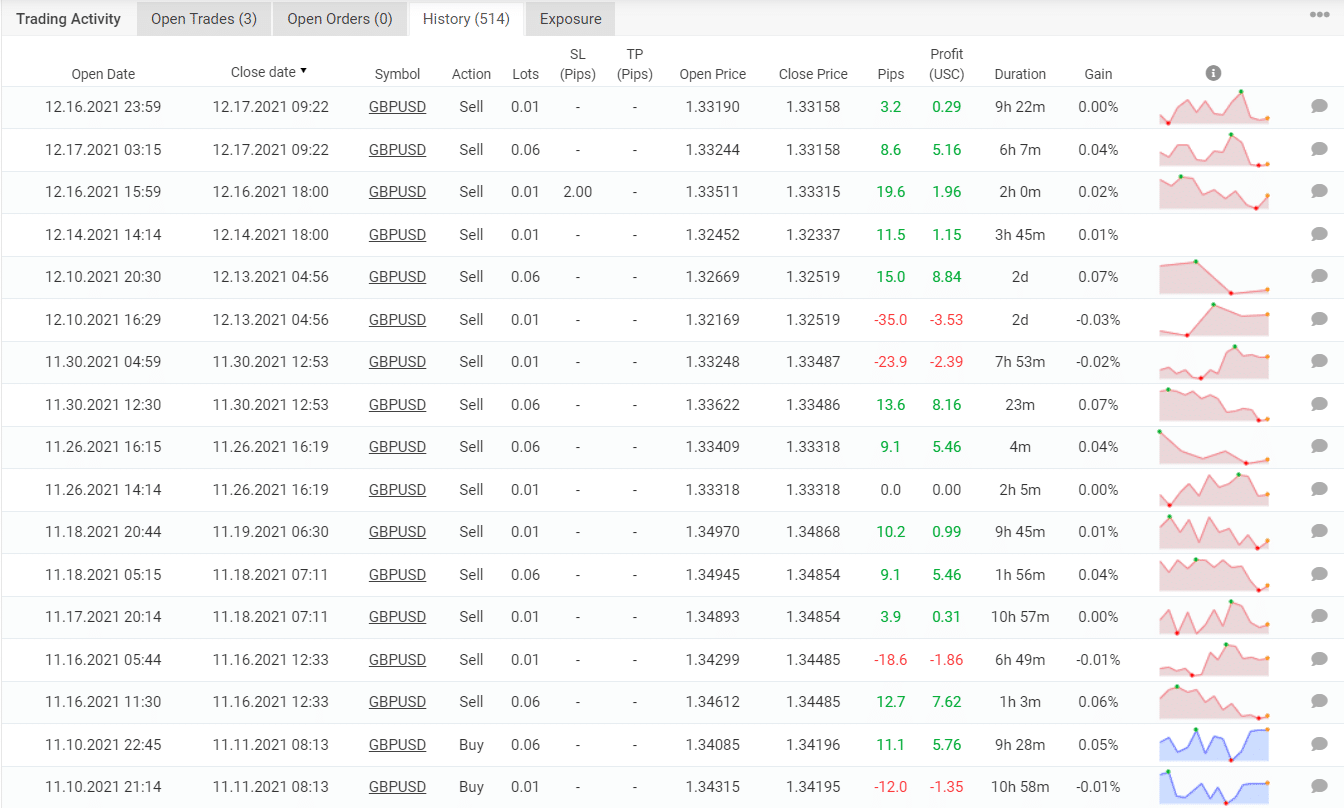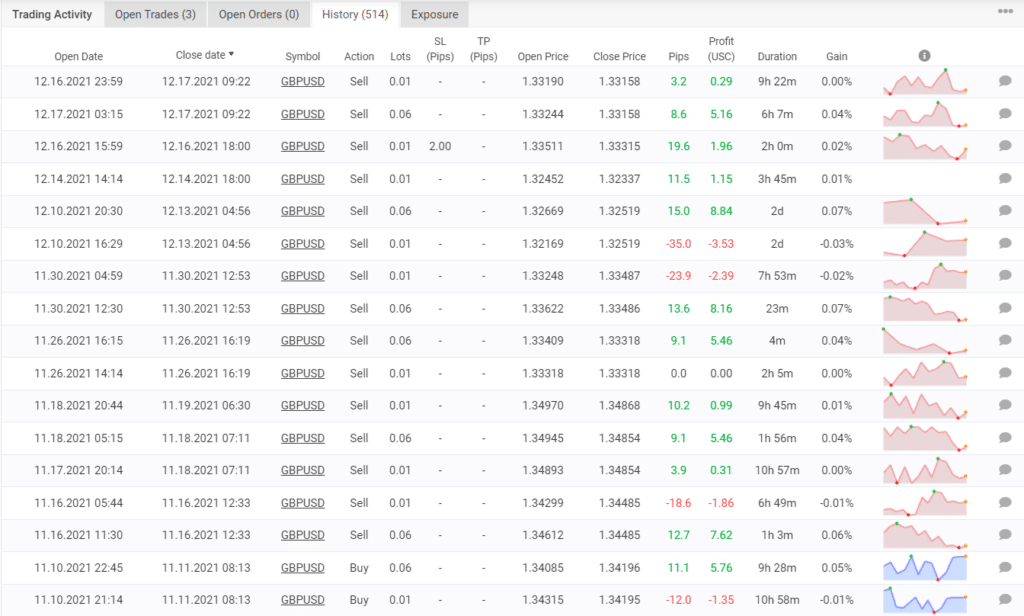 As you can see from the trading history, the robot only generates small profits for each trade. In recent times, the highest gain for a single trade was 0.06%. The losses are approximately of the same size. It might take quite some time to make a sizable profit through this robot.
The core team
There is virtually no information on the developers behind this robot. It is a product from the Automated Forex Tools team. We don't know where this company is located or since when they have been building Forex EAs.