Forex Real Profit EA is an automated trading system that claims to deliver more profitable wins than losses in the long run. It has ten years of verified results on real-money accounts. You can run this robot on the MT4 trading platform.
There is only a single pricing plan for this EA which costs $199 per year. In case you are satisfied with the performance you can ask for a refund of the first installment within 30 days of making the payment. Users get access to a single real-money account and an unlimited number of demo accounts. Additional live trading accounts cost $99 each.
Is Forex Real Profit EA good?
Forex Real Profit EA is a robot sold by an unknown developer. We don't have the details of the trading strategy used by this robot. Also, it trades with a high drawdown and is prone to suffering heavy losses during live trading.
Features of Forex Real Profit EA
This EA trades in the EUR/USD and GBP/USD currency pairs. You can run it on any broker, but the vendor recommends using an ECN broker. It uses dynamic stop loss and take profit with each trade. The vendor promises a steady rate of 61%.
For all its strategies, Forex Real Profit EA keeps the safety stop-loss values between 50 and 200 pips. It uses a dynamic lot size that is automatically adjusted to the market conditions. When the volatility is above the normal level, the robot automatically decreases the lot size. It has slippage and large spreads protection as well.
Traders have the option of trading with fixed lots or enabling the money management functionality. The EA can perform automatic GMT adjustment of the trading time and can operate with micro-lots. For optimal performance, the vendor recommends starting with a balance of $1000.
| | |
| --- | --- |
| Trading Terminals | MT4, MT5 |
| Strategy | Scalping, Breakout |
| Timeframe | M15 |
| Price | $199/year |
| Money Refund | 30 days |
| Recommended Deposit | $1000 |
| Recommended Leverage | 1:500 |
| Money Management | Yes |
| Customer Reviews | N/A |
What strategy does Forex Real Profit EA use?
This robot uses six different strategies. Out of them, two are for scalping on the Asian session, one is for trend scalping, and the remaining three are breakout strategies. We don't know the minute details of the strategies, since the vendor has not explained any of them. It has no recovery mode and it does not trade over the weekend.
Backtesting vs live trading results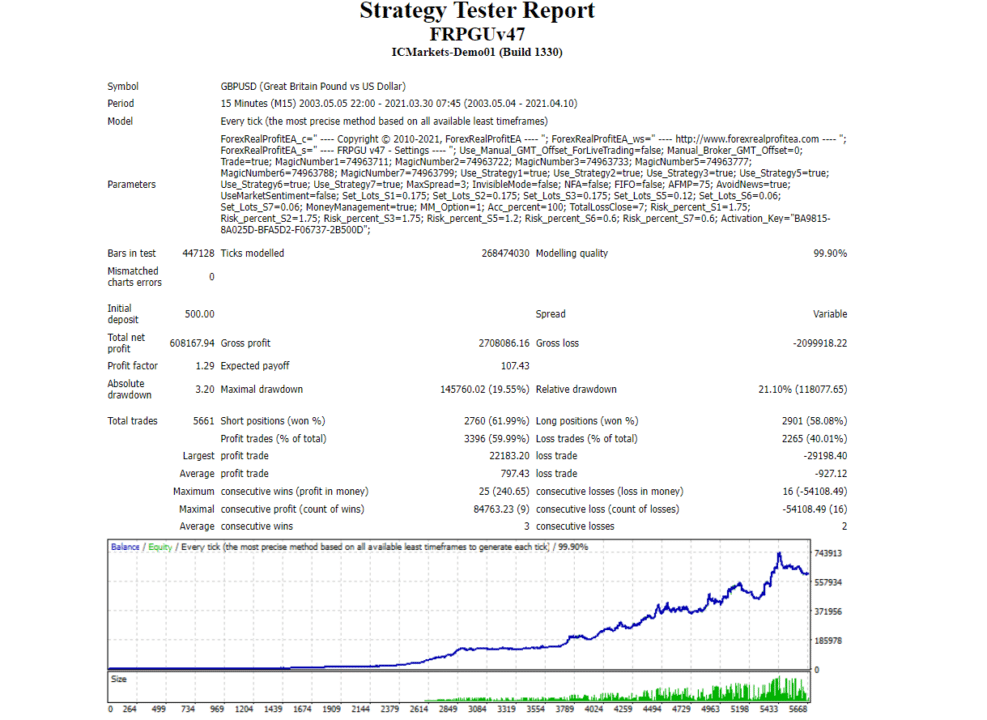 This backtest was conducted on the GBP/USD pair from 2003 to 2021 using an every tick model. The EA conducted 5661 trades using a deposit of $500. It won 59.99% of all trades, thus generating a profit of $608167.94. The relative drawdown for this backtest was a bit high at 21.10% and the profit factor was quite decent at 1.29.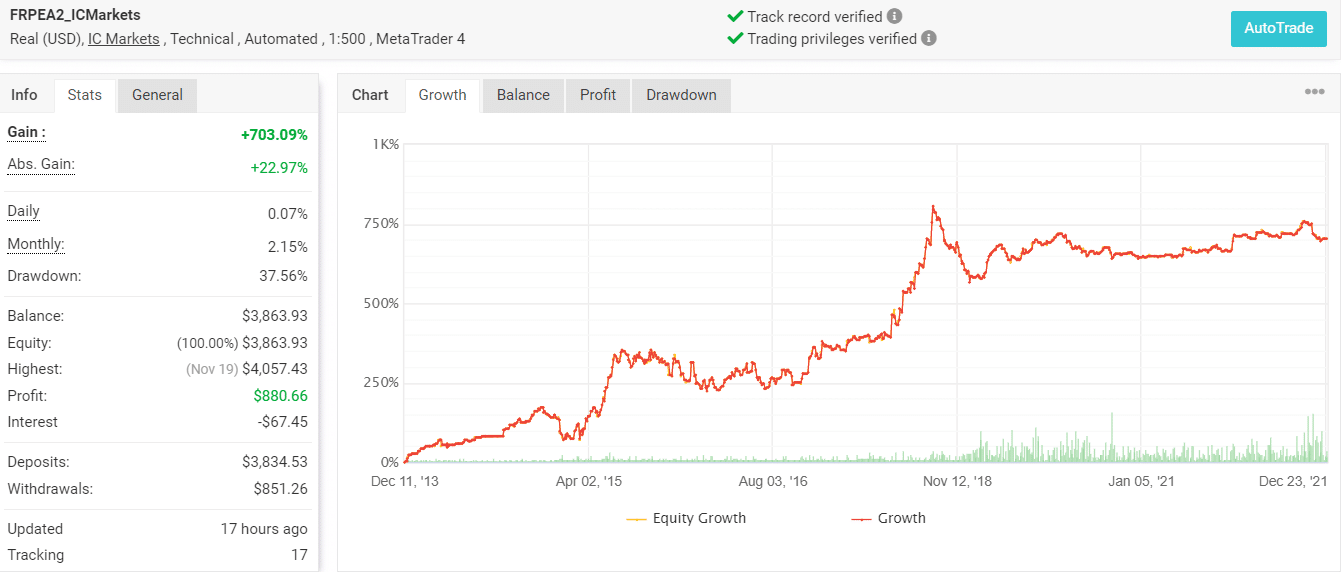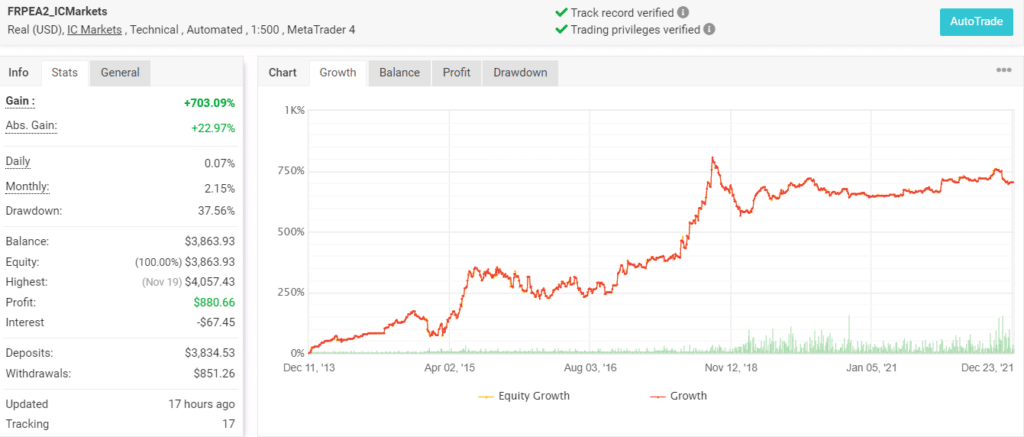 This account has been active since December 11, 2013. To date, the EA has conducted 1758 trades, winning 56% of them and making a total gain of $880.66. Considering the fact that the account has been active for so many years, the total profit is quite low. The daily and monthly average gains are 0.07% and 2.15% respectively, while the peak drawdown is 37.56%.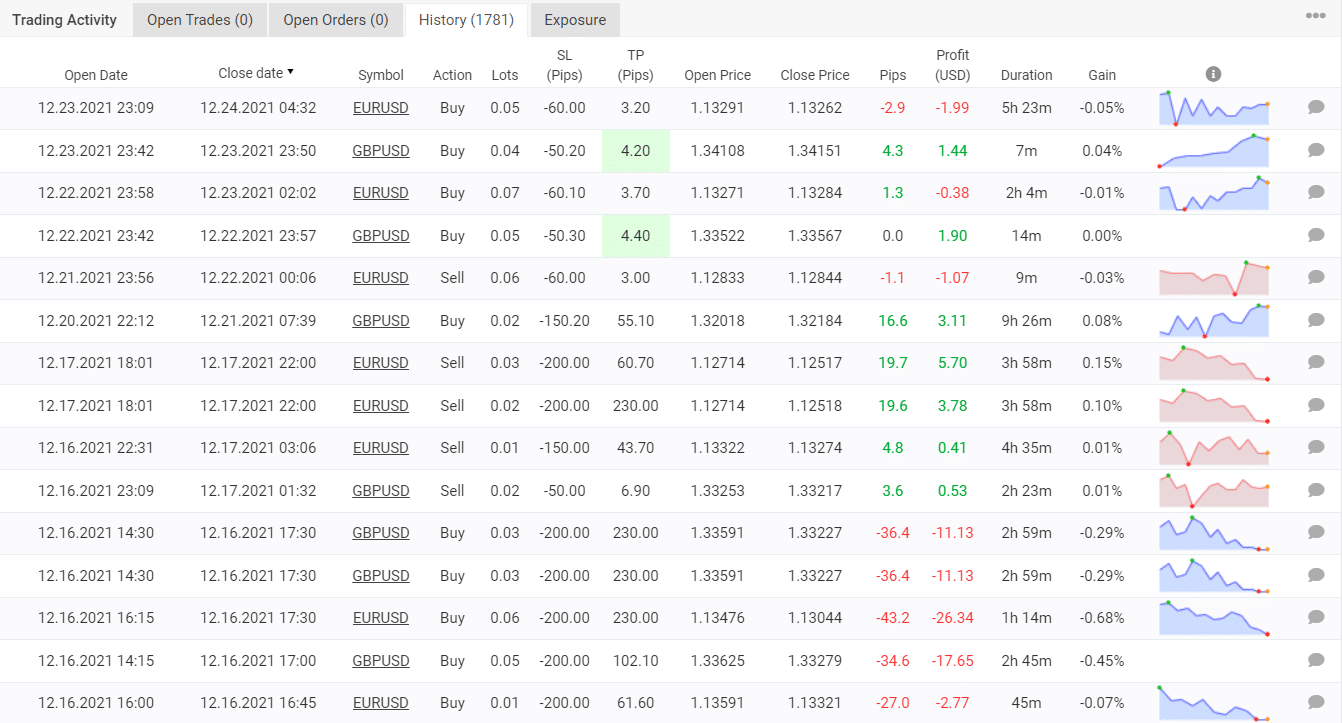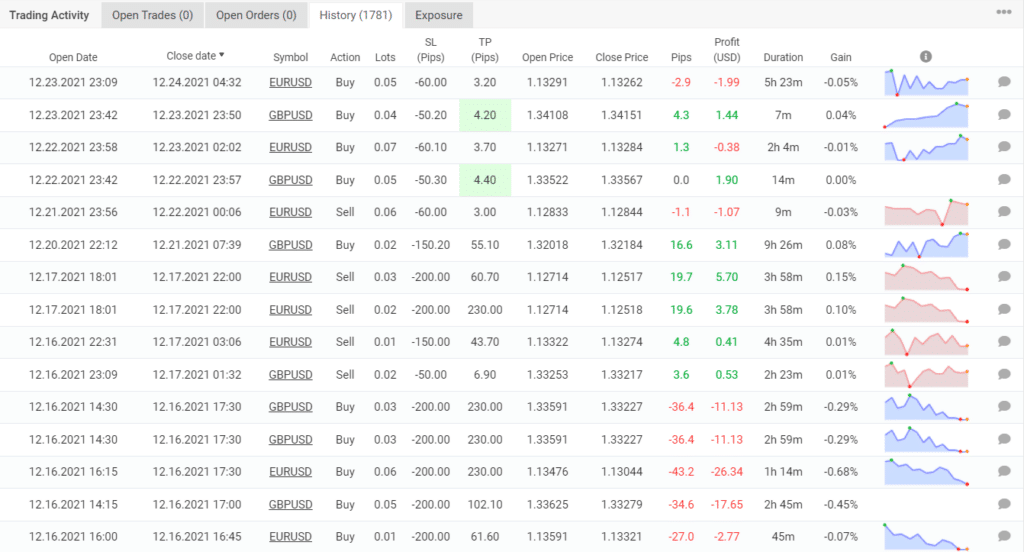 The system uses a grid of orders approach and trades with different lot sizes. Additionally, the high drawdown indicates a high-risk strategy and we can confirm this by looking at the trading history. As you can see, the EA is prone to suffering consecutive losses. The system generates very small profits for each trade.
The core team
The vendor has shared the official email address using which you can contact the support team. We don't know who the devs are or what kind of trading experience they have. There is no official address provided, so we don't know where the headquarters of the parent company is located.