Forex Trend Detector claims to have been developed by professionals who have more than 15 years of experience in the market. The robot comes with multiple backtesting records and presents results on a live account to attract traders. It uses a volatility breakout strategy which we will analyze in our article alongside performance output to see if it can be good for us.
Is Forex Trend Detector good?
Forex Trend Detector is not worth its price due to the high drawdown compared to the monthly profitability. This gives us an inferior risk-reward ratio. It can cause a good loss of money, affecting the mindset of a trader.
Features of Forex Trend Detector
Forex Flex EA has the following features:
It has a 60-day money-back guarantee.
There are multiple backtesting records available.
Traders can put it on both MT4 and MT5 brokers.
The robot has a high spread and slippage protection system.
| | |
| --- | --- |
| Trading Terminals | MT4 and MT5 |
| Strategy | Volatility breakout |
| Timeframe | N/A |
| Price | $237 |
| Money Refund | 60 days |
| Recommended Deposit | N/A |
| Recommended Leverage | N/A |
| Money Management | Yes |
| Customer Reviews | 0 for 1 review on FPA |
What strategy does Forex Trend Detector use?
The developer states that the algorithm utilizes a market volatility breakout approach and a drawdown compensating system to help avoid losses. It waits for a rapid market session to end and identifies the volatility borders bracketing the market trend. It then sets the positions based on the respective points. Through the records on Myfxbook, we can see that it utilizes a combo of grid and martingale approaches for the markets.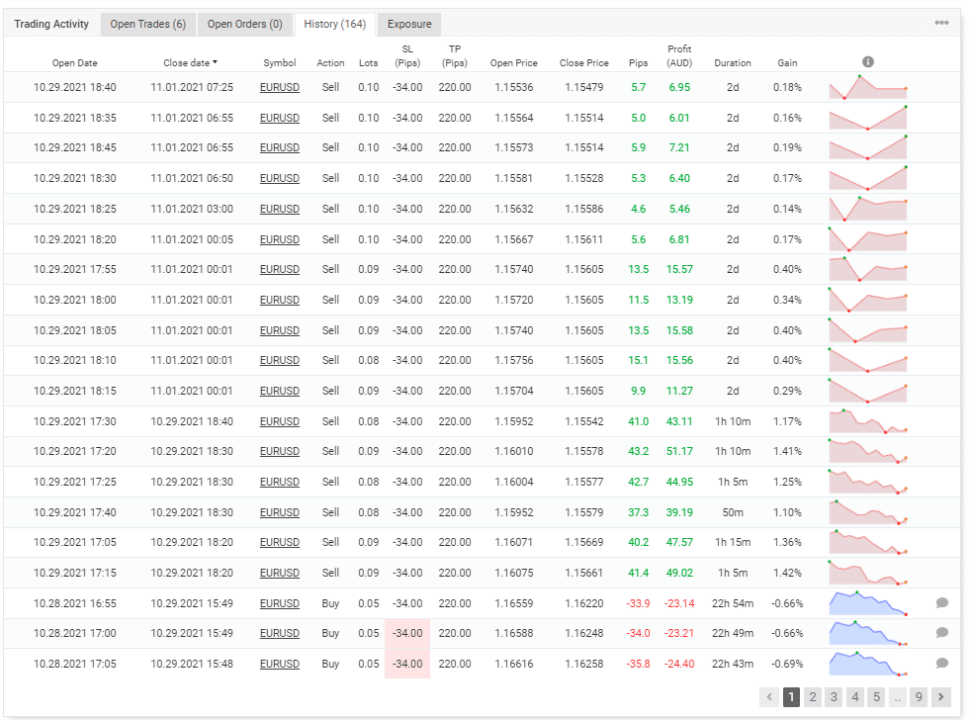 Backtesting vs live trading results
Backtesting results are available for EURUSD 2% risk. The relative drawdown was around 25.27%, and the winning rate was 71.35%, with a profit factor of about 1.67. All the tests were done on the 5 minutes chart with a starting balance of $5000. The robot tanked an average profit of $1939651.626 during this period. There were 2262 trades in total in which the best trade was $18176.40, while the worst one was -$19637.69.

Live trading results are available on Myfxbook, which show performance from April 14, 2021, till the current date. The robot had an average monthly gain of 6.73%, with a drawdown of 32.62%. The value of drawdown is high, giving a bad risk-reward, so traders should be beware. There were 167 trades in total, with 10.06 lots traded. The expert advisor traded with a winning rate of 67% with a profit factor of 2.80. The average winning trade was $21.33, while the worst one was -$15.52.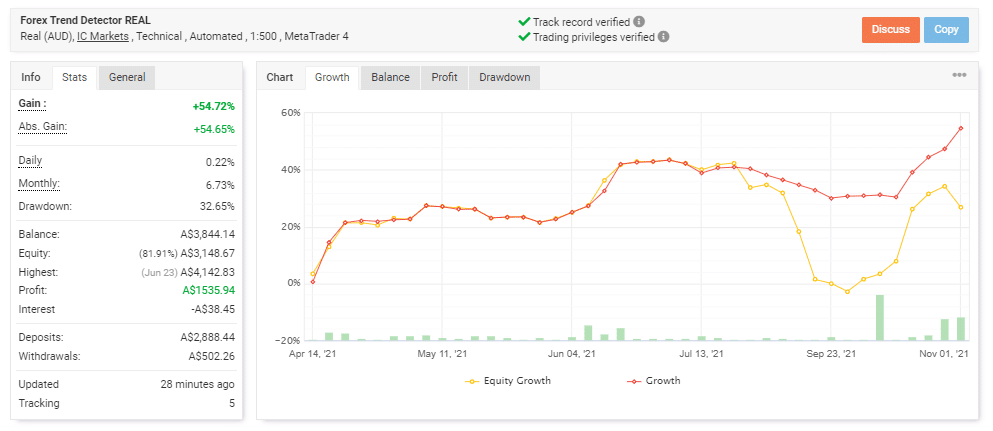 The core team
The developers are not keen to share the records of their market experience and state that they have a combined knowledge of more than 15 years in finance. FXAutomater is the company behind the algorithm and there is little to no information on their whereabouts which is quite poor.
There are two reviews present on Forex Peace Army. A customer says that the robot is not impressive as the trading frequency is low along with the win rate. It is quite strange that there has been no review after 2018. Maybe the traders became aware of the fact that the robot is not profitable after reading the reviews on FPA.