FX Scalper X is a next-generation trading software compatible with the Metatrader software. According to the vendor, this system allows more than 10,000 traders to profit on a daily basis. It is supported by verified trading statistics.
We don't exactly know when this robot was launched, but the live trading account has been active since January 12, 2021. There are four pricing plans for this expert advisor, with durations of 3-months, 6-months, 1 year, and lifetime. You can purchase these plans for $115, $155, $195, and $295, respectively. With the lifetime plan, you can use an unlimited number of trading accounts. The prices are pretty close to the market average, however, the vendor does not offer a money-back guarantee.
Is FX Scalper X good?
While this robot is affordable, we don't have enough information on the parent company. From the live results, we can see that it is prone to suffering consecutive losses. Furthermore, we don't know what strategy this robot uses.
Features of FX Scalper X
Since this is a 100% automated system, you don't need to manually intervene for it to work properly. According to the developer, the system is capable of profiting on autopilot. The pairs compatible with this system include AUD/USD, EUR/GBP, EUR/USD, GBP/USD, and USD/CAD.
All users are eligible to free active product upgrades and 24/7 support. It is not a broker-sensitive EA, so you can sign up with any broker that supports MT4. You can set the robot up on Mac as well as Windows computers. The minimum required deposit is $100. However, the vendor recommends investing at least $500 for best results.
| | |
| --- | --- |
| Trading Terminals | MT4 |
| Strategy | N/A |
| Timeframe | N/A |
| Price | $295 |
| Money Refund | No |
| Recommended Deposit | $100 |
| Recommended Leverage | 1:300 |
| Money Management | No |
| Customer Reviews | Average (3.2 out of 5 rating based on 31 reviews on Trustpilot) |
What strategy does FX Scalper X use?
On the official website, the vendor has not explained the trading strategy. We don't know what indicators this EA uses or how it identifies profitable trading opportunities. This makes it very difficult for us to gauge the profitability of the system.
Backtesting vs live trading results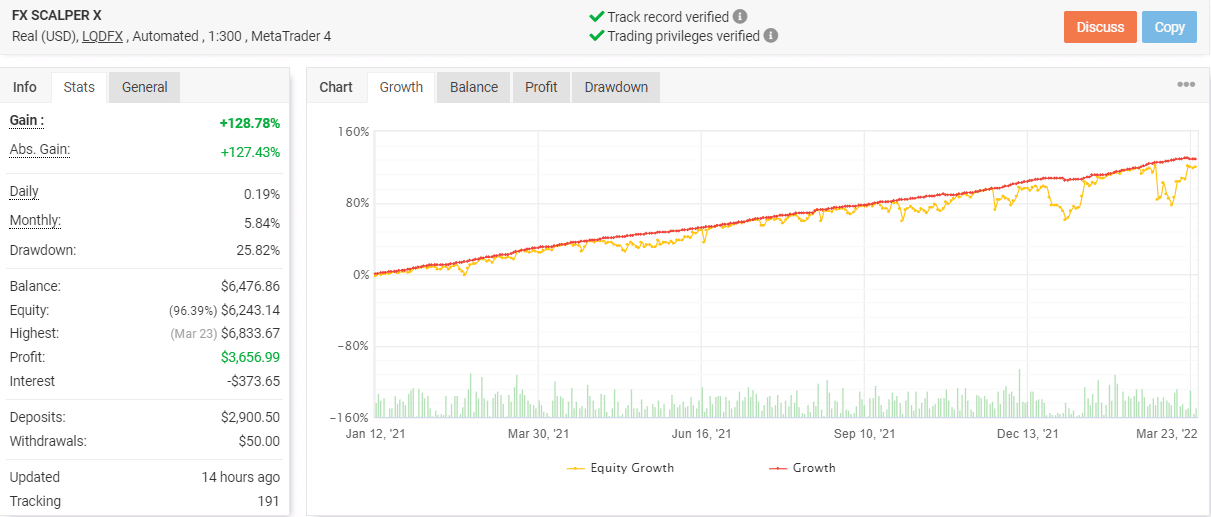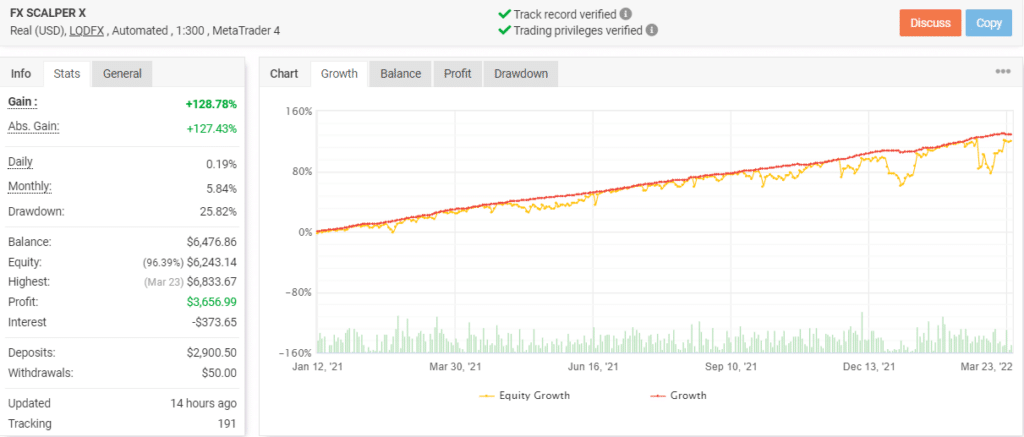 On the official website, the vendor has not shared the backtesting results for this EA. As such, we have no idea about the historical performance of the robot. Also, we are not able to compare the historical and live results to a clearer picture of the performance.
Here, we have a live trading account on Myfxbook that was launched on January 12, 2021. To date, the EA has conducted 8382 trades, winning 75% of them and generating a total profit of $3,656.99. The win rate is quite high compared to other systems and the profit factor is quite satisfactory at 1.55.
Currently, the daily and monthly gains for this account are 0.19% and 5.84%, respectively. We can see that the drawdown is slightly high at 25.82%, and this indicates a risky trading strategy. This account has a time-weighted return of 128.78%.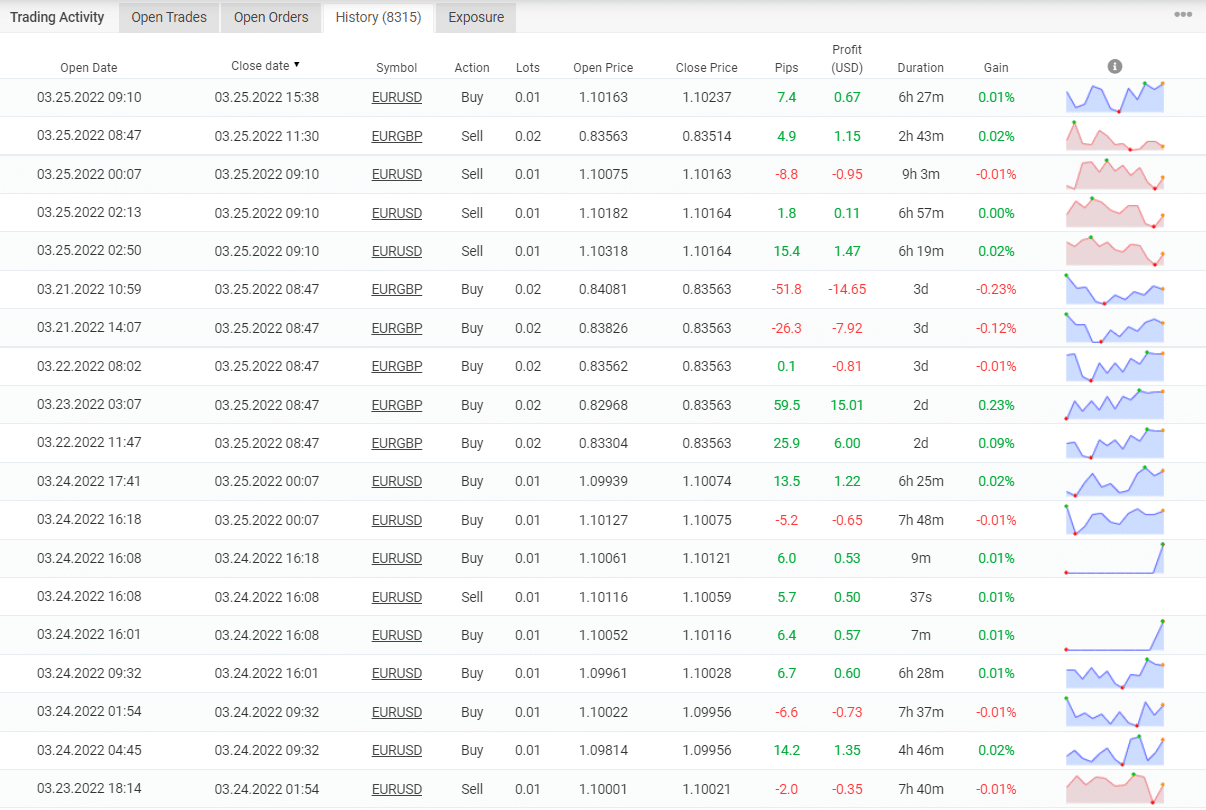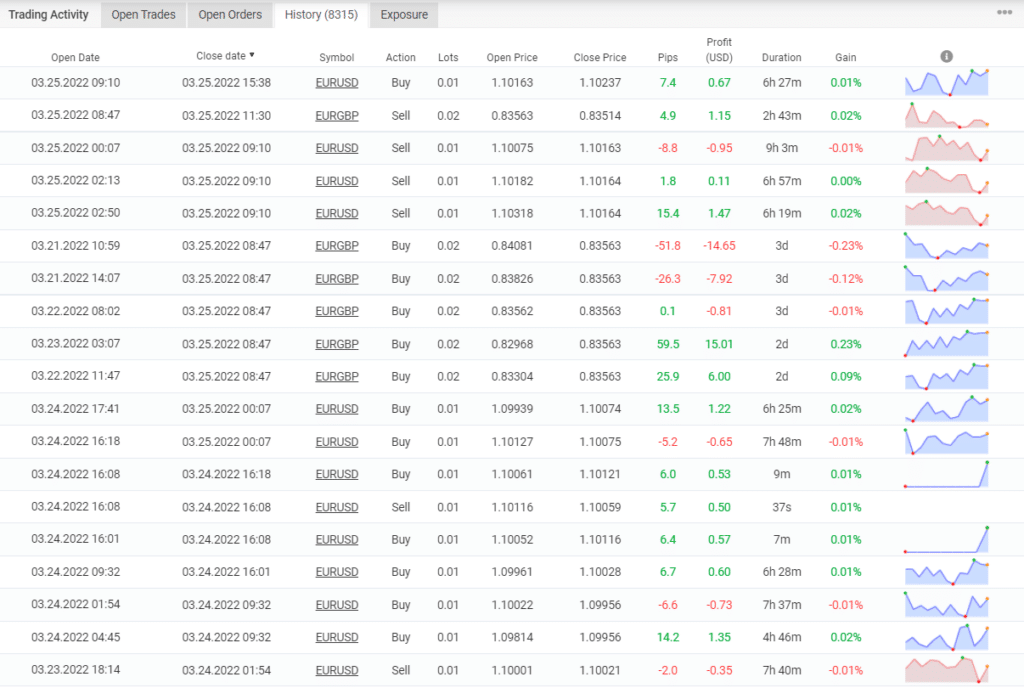 Here you can see the recent trades conducted through this account. For the last 20 trades, the EA has traded with a lot size of 0.01-0.02. We can see that it is prone to suffering consecutive losses. The robot conducts multiple trades on a daily basis, holding each order for an average of 24 hours. Currently, the average win and loss for the account are 12.55 pips/$1.65 and -24.65 pips/-$3.20, respectively.
The core team
Unfortunately, there is no information on the parent company behind this robot. We don't know when it was founded or where it is located. The vendor has not revealed the identities of the team members. Also, we don't know if this team has built other expert advisors in the past.