The vendor believes that FxStabilizer is simply the best Forex robot because it has good profitability and proven reliability. The EA has been trading since the beginning of 2015, and to date, it has made profits consistently, with no single loss. The trading results prove otherwise. By reading this review, you will learn that the robot is unable to identify profitable opportunities, causing it to make numerous losses instead.
You can get FxStabilizer Pro for $739. The ultimate version is cheaper as it goes for $539. The only difference between these plans is that the Pro edition comes with an extra license of an unlocked version of the EA and allows you to trade more currency pairs.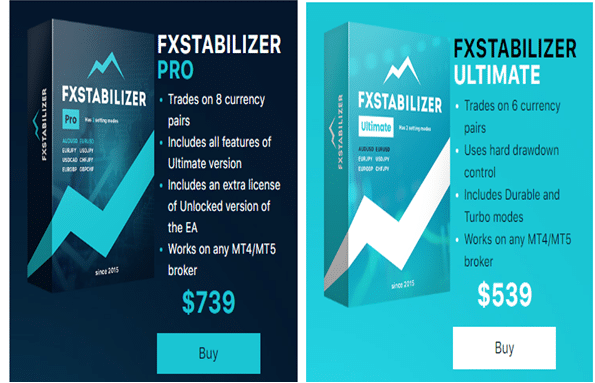 Is FxStabilizer good?
FxStabilizer is not worth its price. This is because it uses dangerous trading strategies that not only bring poor returns but also attract many losses. In the worst case scenario, you can end up with a margin call on your trading account.
Features of FxStabilizer
| | |
| --- | --- |
| Trading Terminals | MT4, MT5 |
| Strategy | Grid plus Martingale combo |
| Timeframe | N/A |
| Price | $739, $539 |
| Money Refund | 30 days |
| Recommended Deposit | N/A |
| Recommended Leverage | N/A |
| Money Management | N/A |
| Customer Reviews | Good (3 out of 5 based on 7 reviews on FPA) |
We have listed the other features of the EA below:
Hard down control
Customer support
Trades on multiple currency pairs; EURUSD, AUDUSD, EURJPY, USDJPY, USDCAD, CHFJPY, EURGBP and GBPCHF
Works with any MT4/5 broker
Easy to use
Comes with two modes-Durable and Turbo
What strategy does FxStabilizer use?
The vendor doesn't tell us exactly how the robot works. All we have is the claim that the system accurately computes the best situations to initiate trades and does everything to close trades in profit. We later realized that grid and martingale are included in the trading algorithm.
Backtesting vs live trading results
The devs acknowledge that they tested the EA's strategy for some years, with the earliest backtesting beginning in 1997. In this regard, they have published the statistics for multiple currencies. In this respect, we will look at the data for the EURUSD pair.
For this instrument, the testing began in 2009 with a deposit of $10,000. The 60 minutes chart was used to carry out 1849 trades. Unfortunately, not many of them were successful — 58.95%. The resulting profit was $176789.20. There was a high drawdown of 33.11%, which raised serious concerns about the safety of the strategy involved. We had a profit factor of 2.10.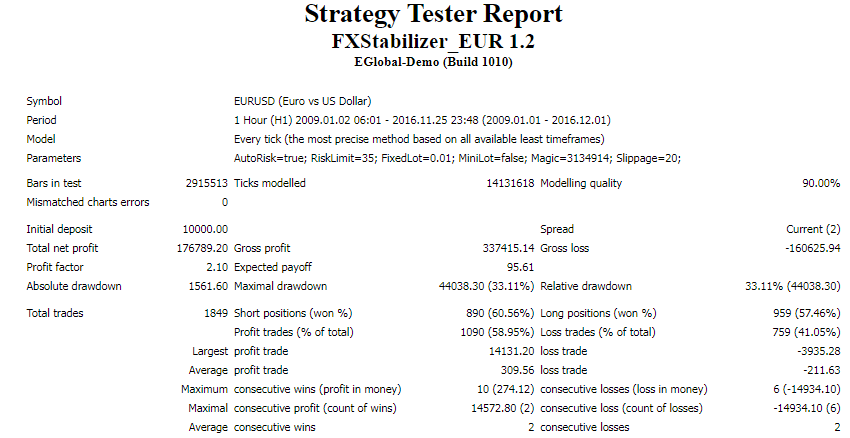 As we scoured through the live records, it became clear that the performance of the EA today is worse compared to the historical data showcased above. For instance, the drawdown value (39.51%) was higher, while the profit factor (1.80) was lower. This tells us that the robot accrues more losses in real market conditions compared to profits.
Since August 6, 2016, a total profit of $74509.90 has been made from 681 trades. Consequently, the balance has increased from $10,000 to $84,509.90.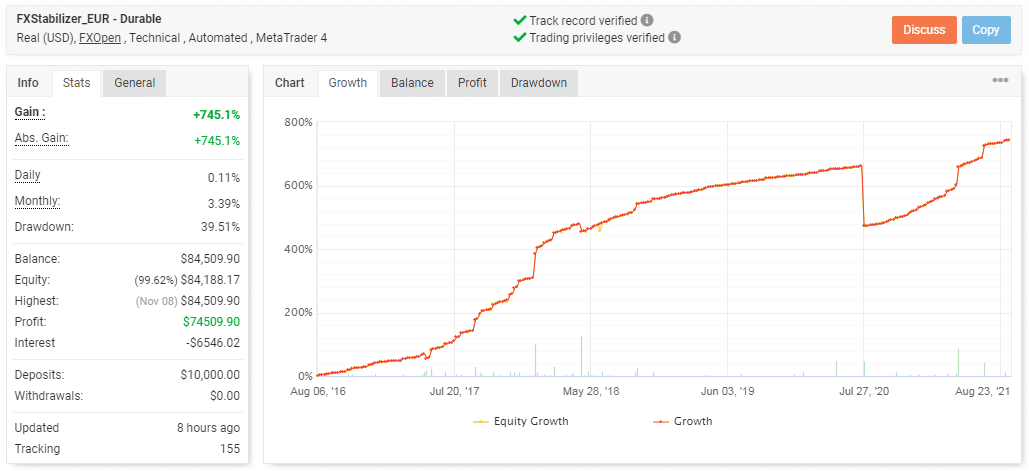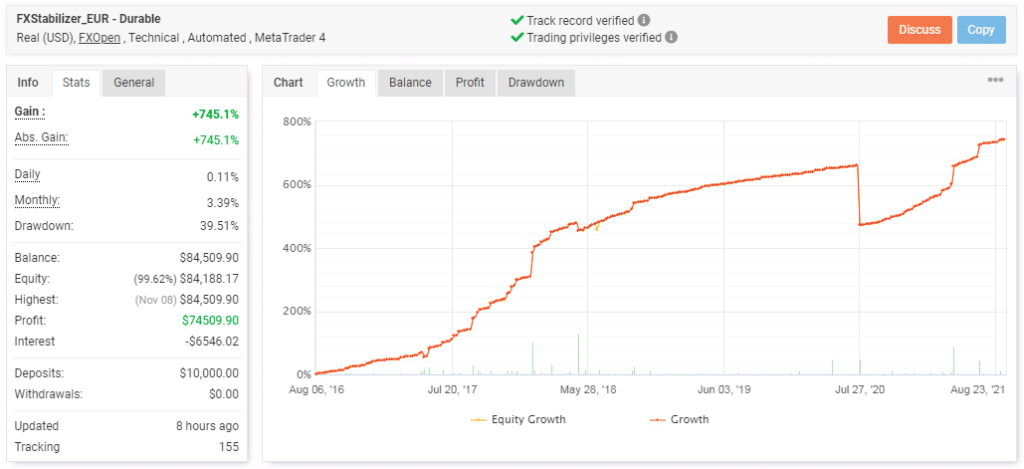 The high number of lots traded (490.28) is a sign that the EA uses large lot sizes that expose the account to many risks. That's why we have more losses than wins, as illustrated by an average win of 46.99 pips and an average loss of -66.73 pips. The poor win rates for long positions — 58% and short ones — 62% further proves our point.


The robot conducted 681 trades. Thursday is the most active day — 143 deals performed.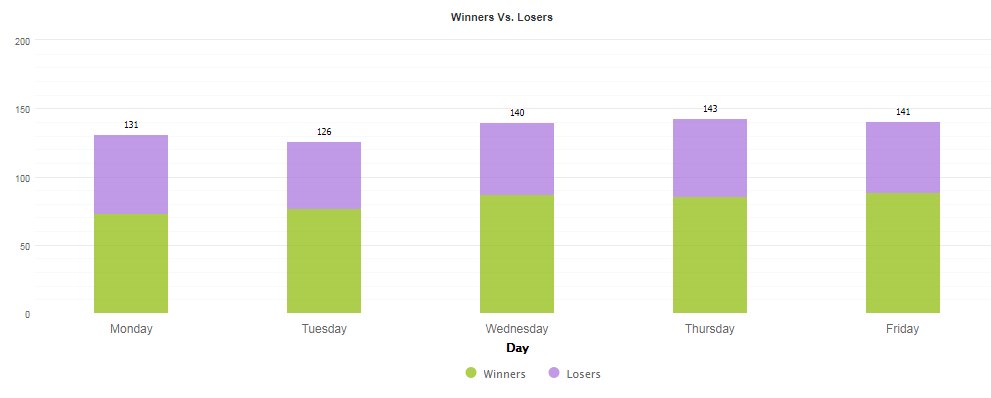 From the stats below, we can see that the robot worked with a grid of orders, martingale, and huge lot sizes. As a result, the account suffered many losses. It is disturbing that the EA skipped trading for many days, even remaining inactive for close to two months.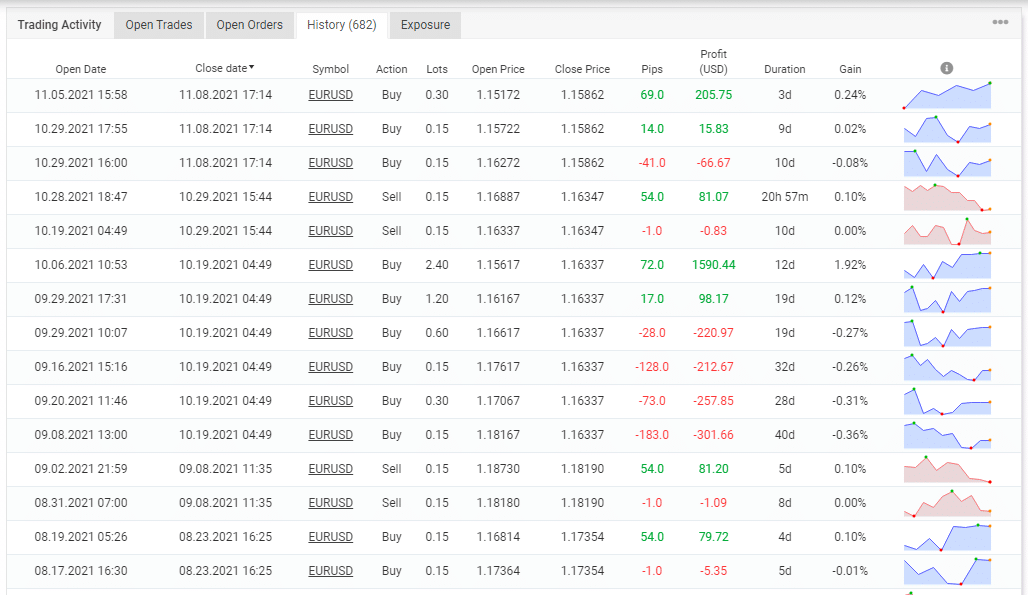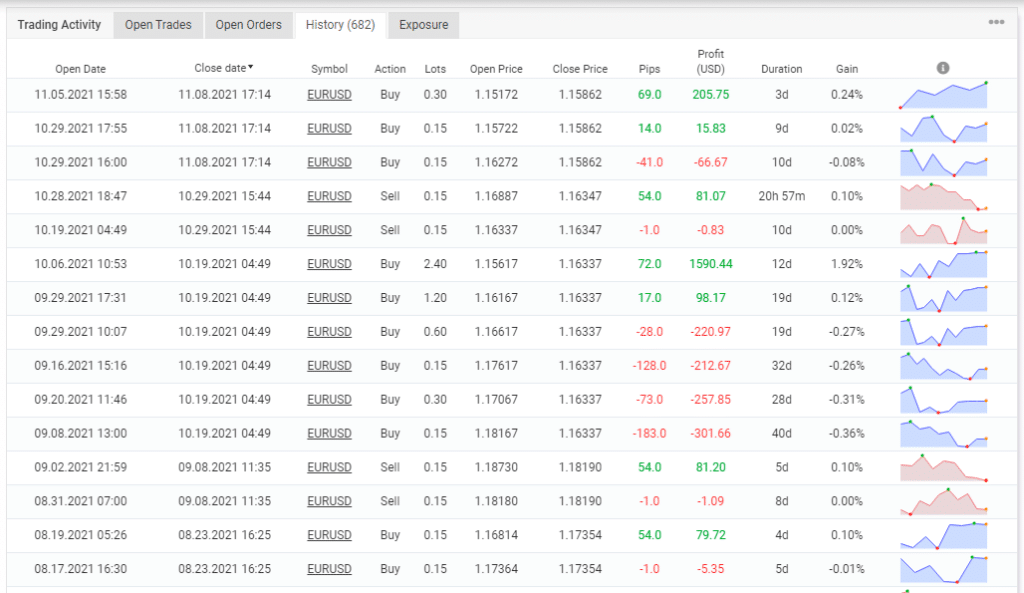 The core team
FxStabilizer is being marketed by ForexStore, but even then, we are not introduced to the people who made it. This is a poor practice, which we have noticed among most Forex robot sellers. In many of these cases, they hide their identity to escape responsibility when traders realize that the product offered is unreliable. In other instances, the devs lack trading experience and do not want to be found out. In light of this, it wouldn't be wise to trust this vendor.