Golden Million is an expert advisor that is being sold on MQL5 at $499. It is user-friendly, and the vendor has hidden all the unnecessary parameters for easy installation. Your only job is to select the risk setting you want and run the advisor. The vendor doesn't guarantee any profits because the Forex market is very unpredictable. However, he says he has tried to put as much effort as he can into this tool.
Is Golden Million good?
Golden Million is pretty expensive. Since the vendor fails to supply any live trading data proving the EA's performance, it may be difficult to determine if it is worth this money. But as we examined the customer reviews on MQL5, we realized that most traders are not impressed by the tool. These are some of the factors that you should consider before purchasing the EA.
Features of Golden Million
| | |
| --- | --- |
| Trading Terminals | MT4 and MT5 |
| Strategy | Hedging |
| Timeframe | H1 |
| Price | $499, $199, or $399 |
| Money Refund | N/A |
| Recommended Deposit | N/A |
| Recommended Leverage | 1:100 and higher |
| Money management | Yes |
| Customer reviews | Average (2.67 out of 5 rating based on 18 reviews on MQL5) |
What strategy does Golden Million use?
Golden Million was created to trade on the XAUUSD currency pair on a hedge account. So, even though the developer doesn't say it, we believe that the hedging strategy is the main trading strategy applied. The method focuses on protecting a user's position in a currency pair from an unfavorable move.
Backtesting vs live trading results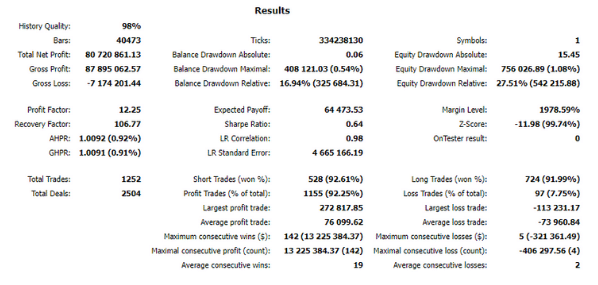 The EA was backtested using real tick data and had a 98% historical quality. A total of 1252 trades were carried out for this period. As a consequence, a total net income of $80720861.13 was realized. The drawdown (1.08%) generated was very low, meaning that the system traded safely. There was an impressive profit factor of 12.25, indicating Golden Million was very productive.
The live trading results for this EA are missing. We are beyond disappointed. The developer really hypes the product, suggesting that it is very profitable, and one of the creations that have helped grow his portfolio by several million dollars. Therefore, the public obviously expects him to provide tangible data to back up his claims. The lack of trading data thus raises some serious concerns about the real profitability of the system.
The core team
A Russia-based developer known as Aleksei Bordak is responsible for creating this trading tool. He is also selling another solution, namely New Million on mql5. Aleksei purports to have more than 15 years of finance and programming experience. He has also traded in the crypto and Forex markets for quite a while now, doing a lot of groundwork and creating both successful and unsuccessful algorithms.