Smart Scalper Pro is a trading solution that was designed to execute trades on Forex. There's plenty of information that can be used by us to decide if the robot is good to go. The devs insisted that it is "one of the most successful expert advisors." Although it sounds good, we can not trust the dev blindly. Therefore, we have prepared this detailed Smart Scalper Pro review.
Is Smart Scalper Pro good?
The system doesn't work smoothly at all. So, it's not a good and reliable trading tool.
Features of Smart Scalper Pro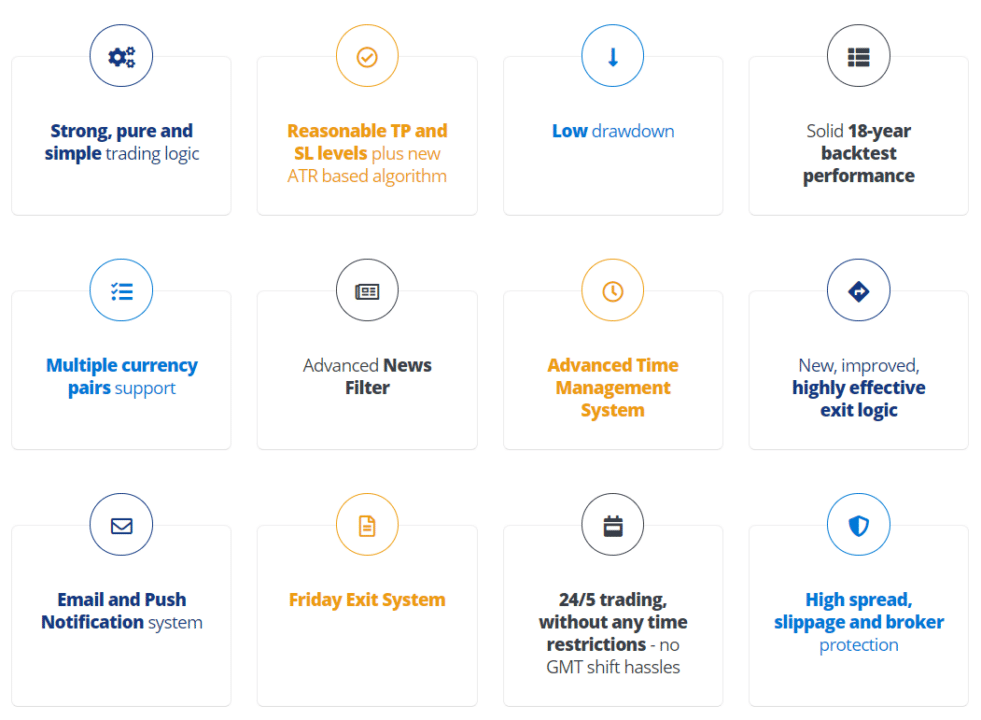 We have some details explained about how everything works and what we have to expect from the system's performance on our account.
It can execute orders on the owner's terminal automatically.
The main strategy is scalping.
The system avoids "curve-fitting from trading."
We can work with SL and TP levels placing.
The system can work with low drawdowns.
There's a news filter feature applied.

The data flow should be allowed.
We can use Exit Logic.
The advisor is delivered with push notifications.
There's a Friday exit system that allows closing orders before the Monday session is opened.
There are High Spread, High Slippage, and Broker protections.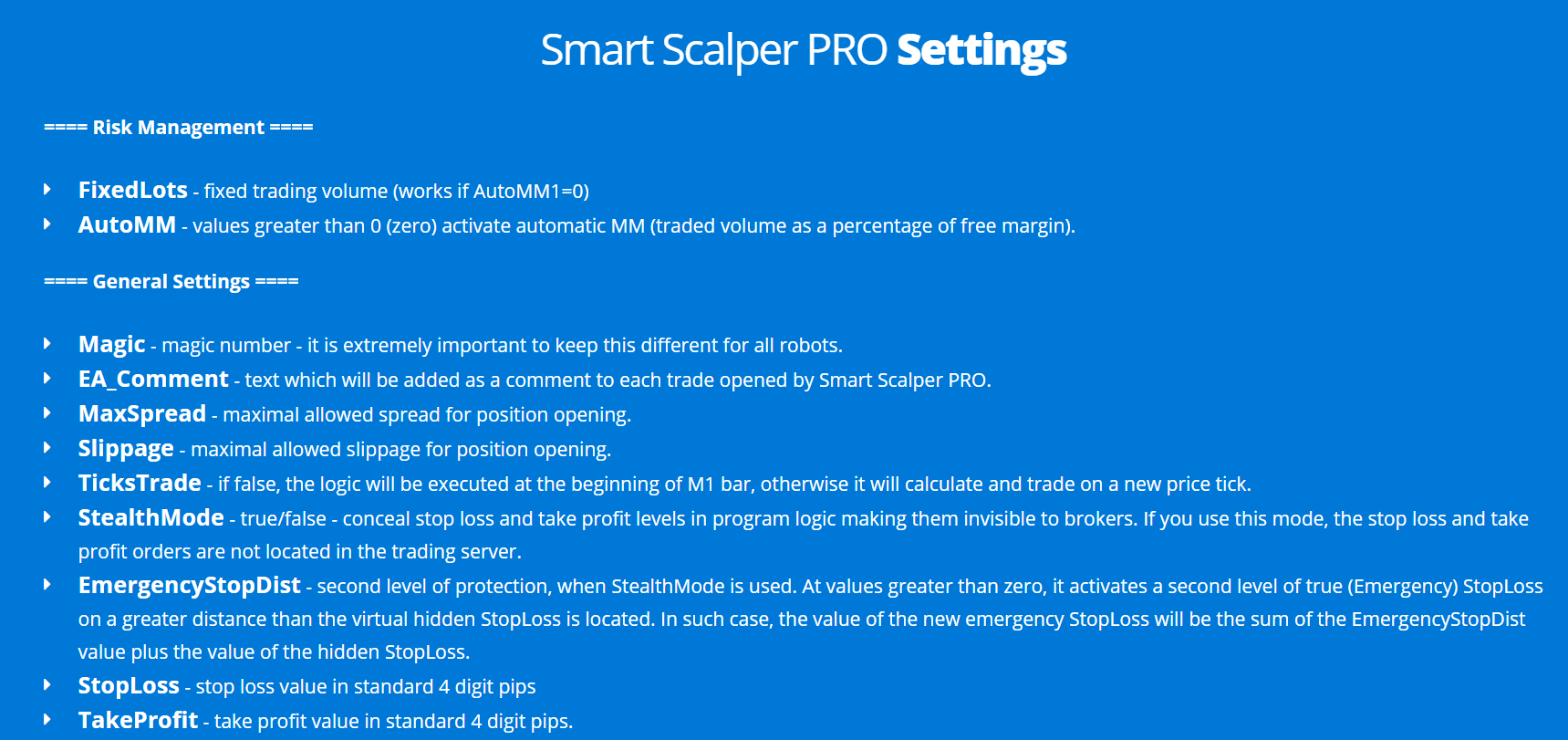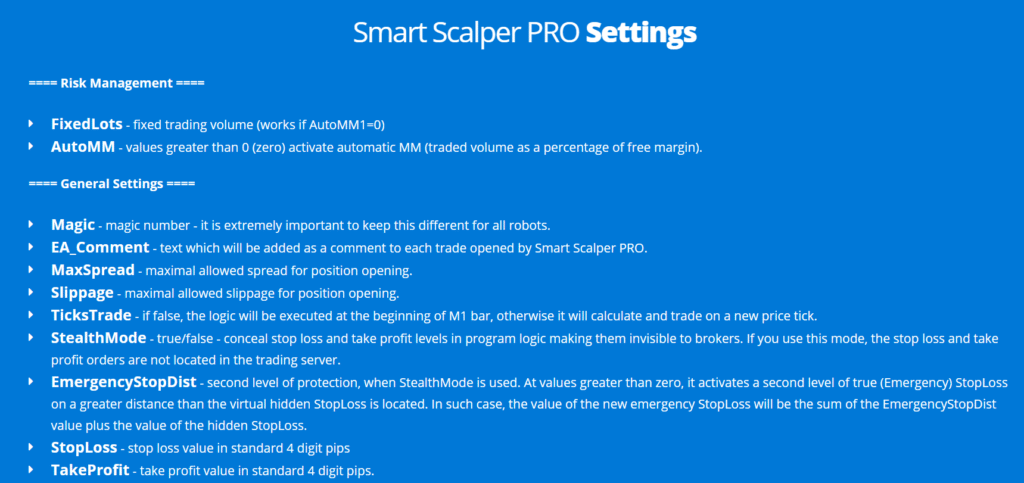 The system has many settings to customize.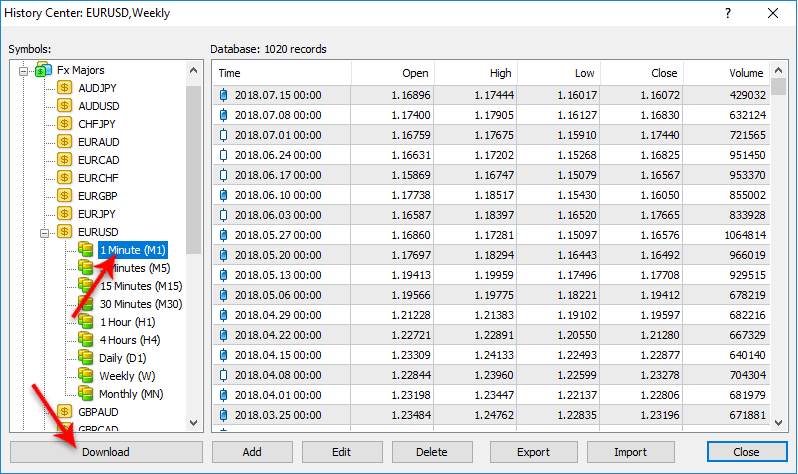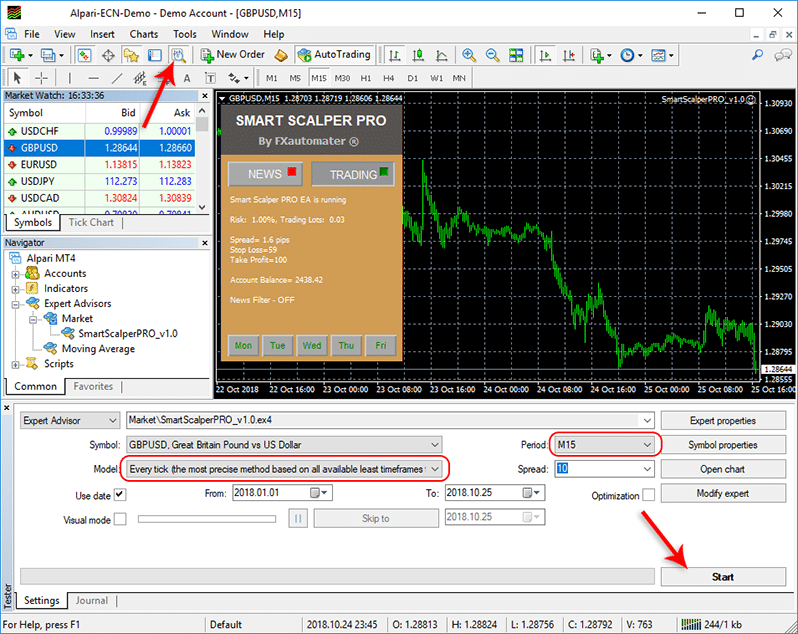 We have explanations provided about how we should test the advisor.


The settings pack is provided as well.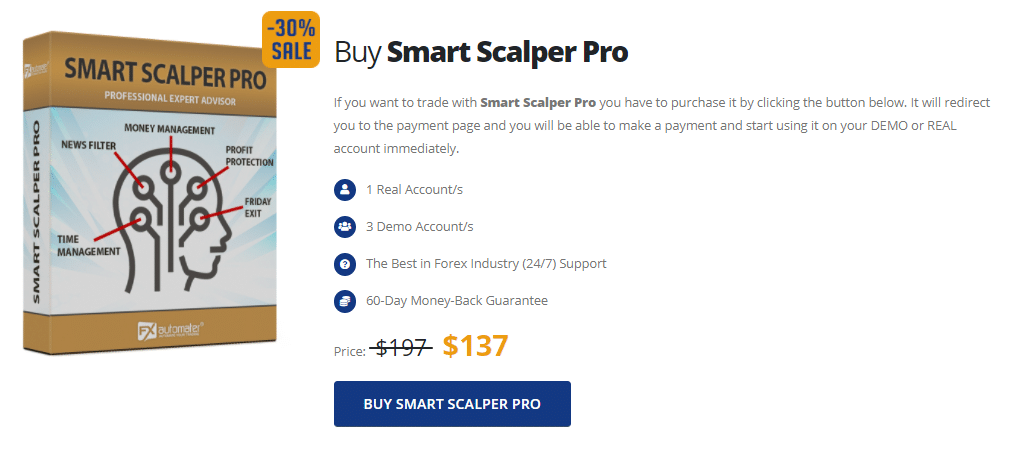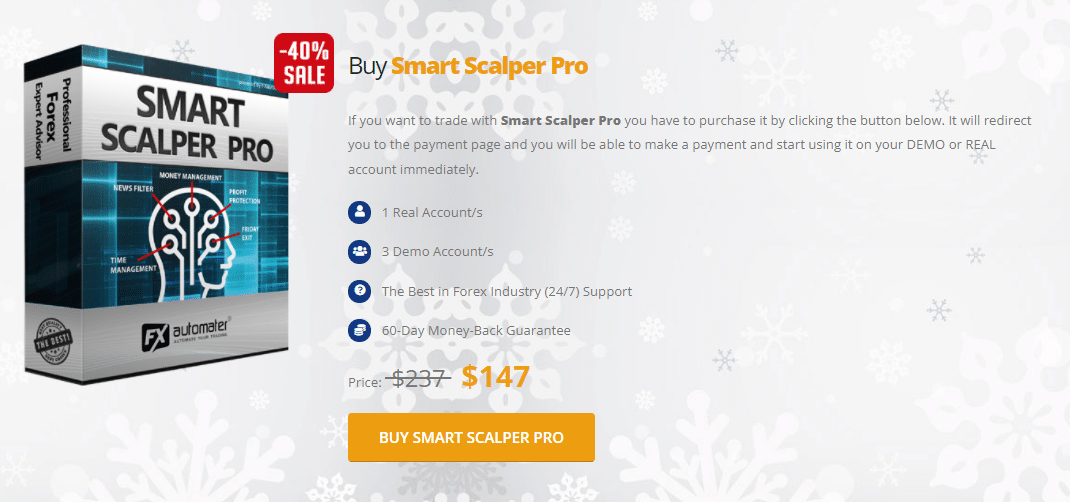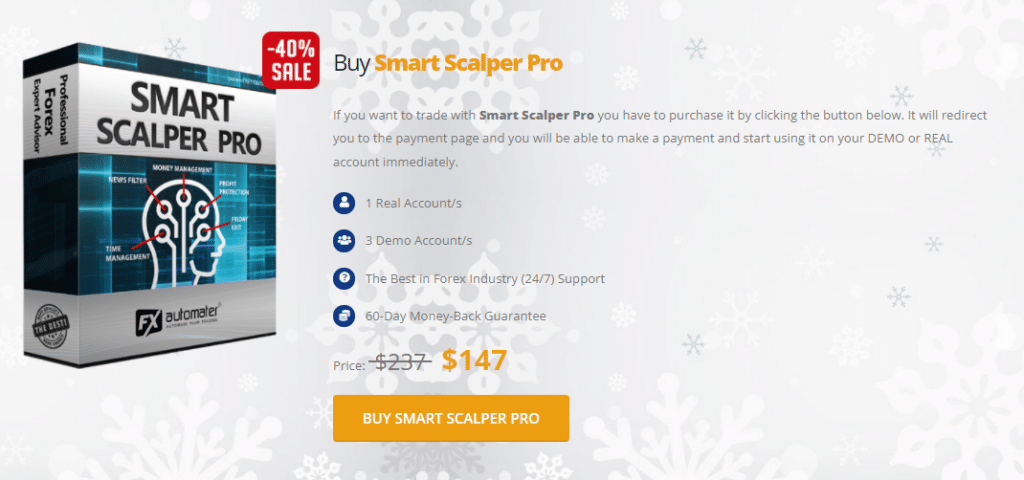 The pricing was $197, but the devs changed it to $237. They like using this scam's way to increase discounts. The current price is $147. The pack includes a single real account license, three instead of unlimited demo accounts, and the best 24/7 support. We have a 60-day period to check the system.
| | |
| --- | --- |
| Trading Terminals | MT4 |
| Strategy | Scalping |
| Timeframe | M1, M5, M15 |
| Price | $147 |
| Money Refund | Yes |
| Recommended Deposit | N/A |
| Recommended Leverage | N/A |
| Money Management | Yes |
| Customer Reviews | Yes |
What strategy does Smart Scalper Pro use?
The system uses a scalping strategy.
We can execute orders on EUR/USD, GBP/USD, USD/CHF, and USD/JPY.
Trading is allowed on M1, M5, and M15 time frames.
Backtesting vs live trading results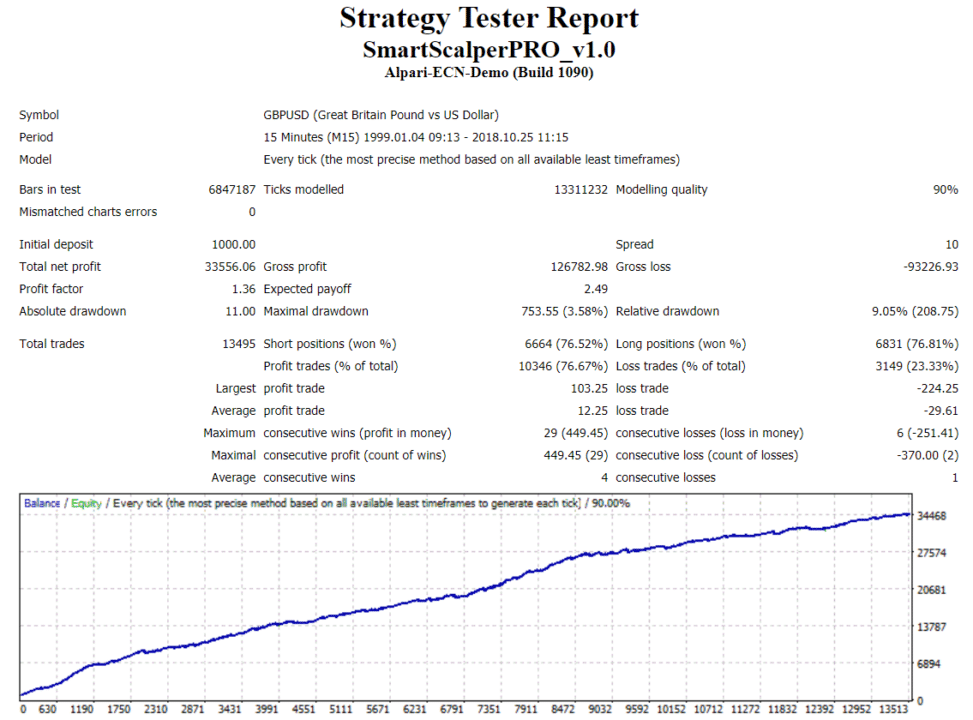 We have a GBPUSD report on the M15 time frame based on nineteen years of tick data. The modeling quality was 90% with a 10-pip spread. An initial deposit was $1000 that has become the $33,556 total net profit. The profit factor was 1.36. A maximum drawdown was 3.58%. It's such a low number. The advisor executed 13,495 trades with a 76.52% win rate for shorts and 76.81% for shorts.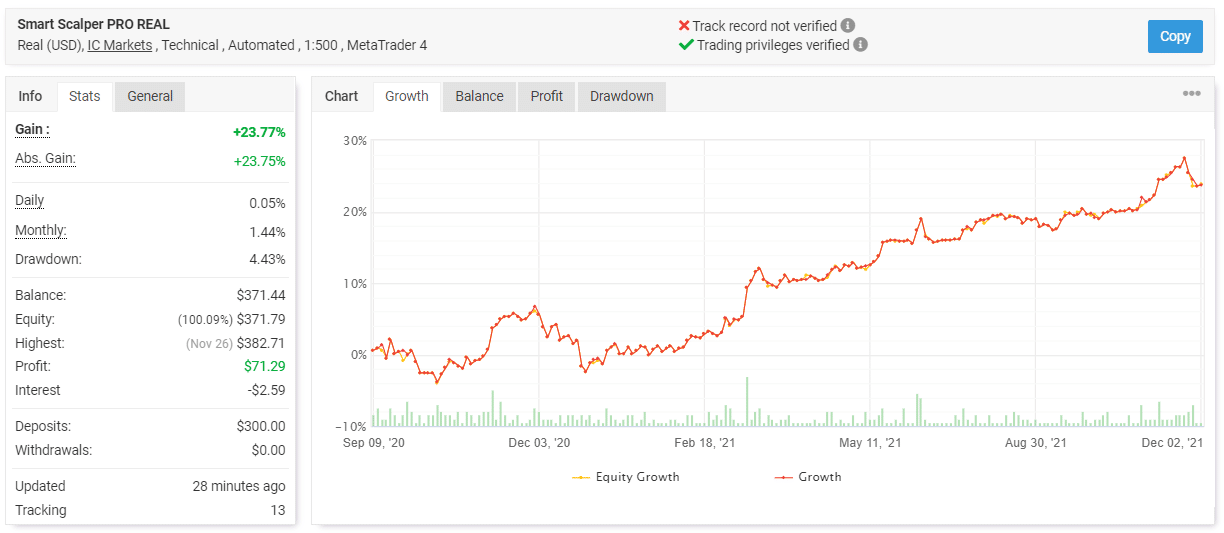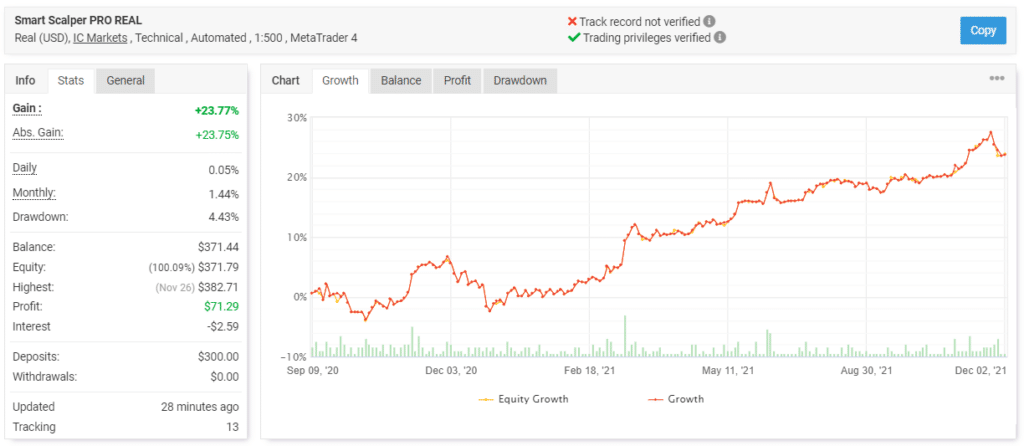 Smart Scalper Pro runs an IC Markets based real account automatically with 1:500 leverage on the MT4 platform. The track record is not verified. It means that the devs can easily manipulate the data that we see. The account was created on September 09, 2020, and deposited at $300. Since then, the total gain has grown to 23.77%. An average monthly gain is 1.44%. The maximum drawdown is only 4.43%. We have only 13 clients tracking this account.


The system executed 482 deals with 1074.2 pips. An average win is 9.37 pips when an average loss is 16.32 pips. The win rate is 70% for longs and 73% for shorts. An average trade length is 4 hours 43 minutes. The profit factor is 1.31. An average number for a good advisor is 1.6.

GBPUSD is the most traded pair with 285 trades and $26.48.


The advisor almost doesn't open orders during the European session.


Monday is the most actively traded day with 104 orders.

It works with low risks. There's a 1.51% chance to lose 10% of the balance.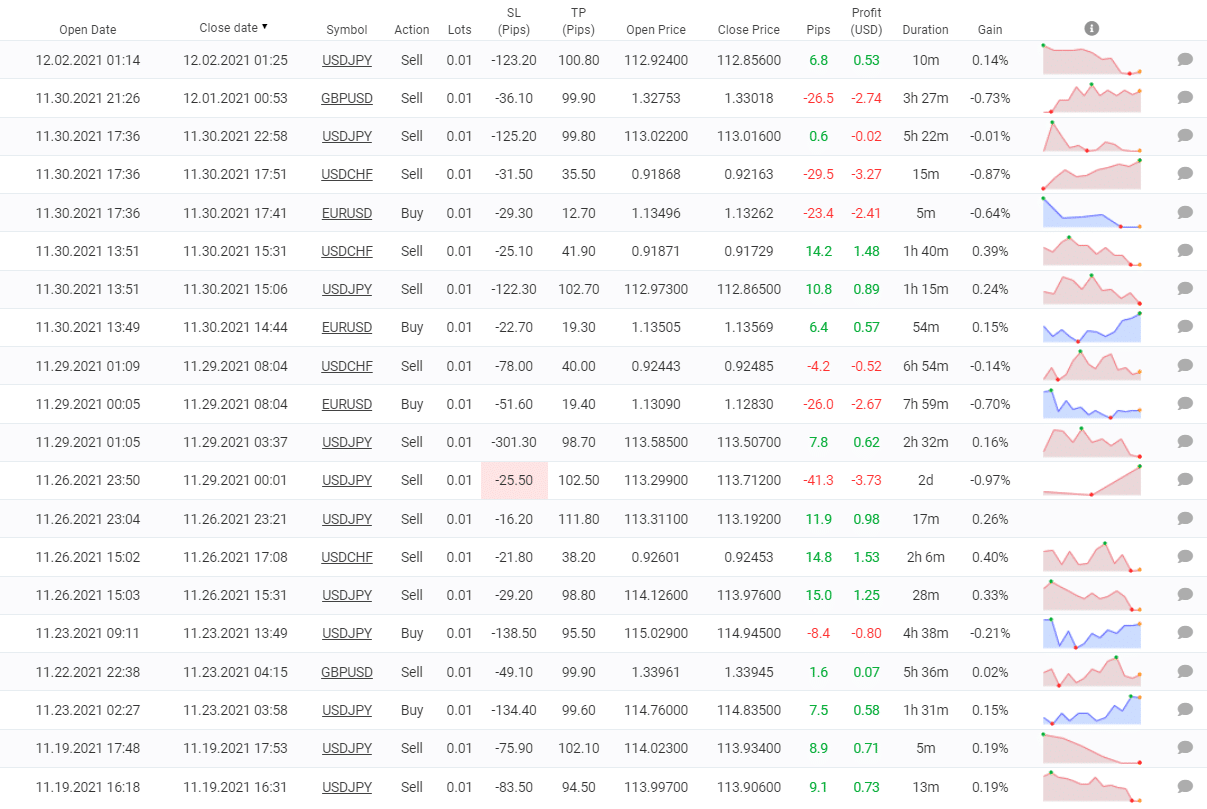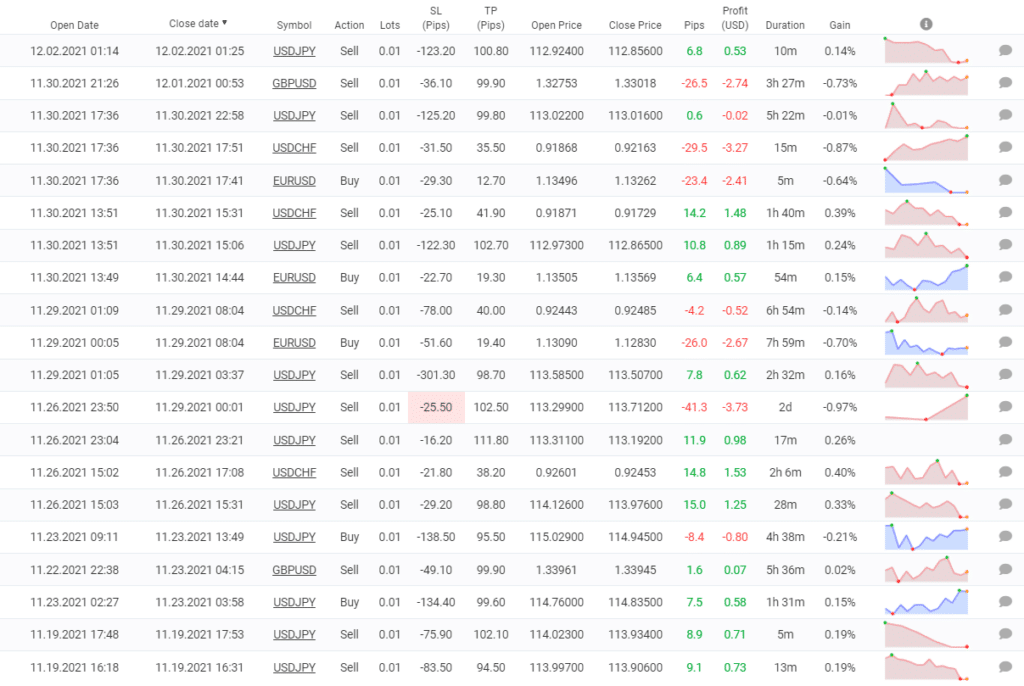 The robot works with the minimal lot sizes without Martingale.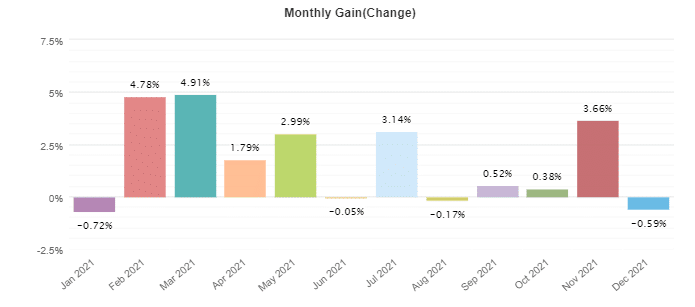 We may note that we couldn't talk about stability of trading performance.
The core team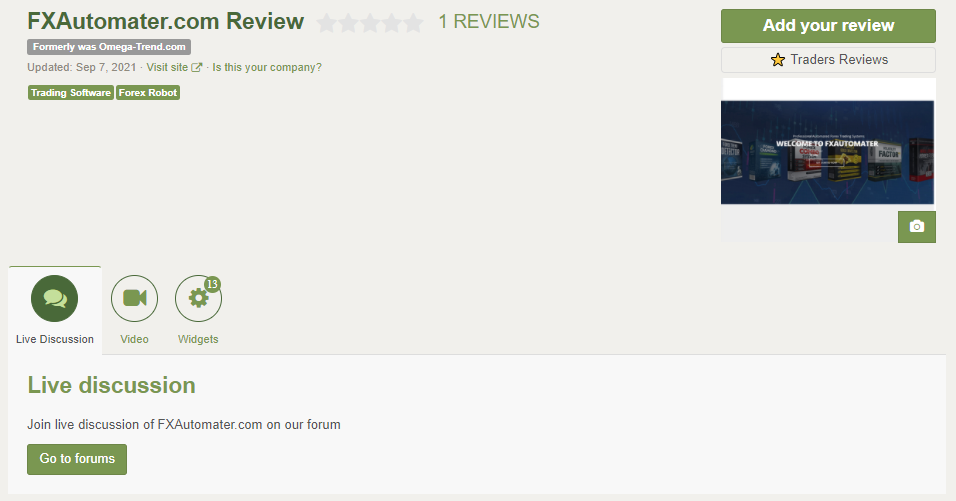 There's a page of the main company on Forex Peace Army with a single rate written. We have no accounts connected.

A single comment shouldn't be relevant because it mentioned another advisor.