Stealth Trader is a system that has great claims on the first page of the presentation. The dev claims that we can expect a great performance on the GBPJPY chart where the system consistently finds hidden daily setups. t.
The robot is available for renting out for as low as $347 annually. We can purchase a copy of the system for $597. The devs applied the following features: Stealth Trader software, free updates and upgrades, customer support, best recommendations. The system is supported by a 30-day money-back guarantee.
Is Stealth Trader good?
The developer is good, but the system doesn't look great in May 2022.
Features of Stealth Trader
The presentation includes plenty of information about the system and what we have to expect from its performance.
The system can execute deals on our terminal completely automatically.
The core platform to trade is MT4.
It manages trading with low drawdowns on a real or demo account.
There's a combo of a Grid with Martingale strategies.
It delivers daily profits.
It trades GBPJPY only.
The developers created a feature that calculates and places SL and TP levels for all our trades.
There will be precise entry points for every order.
The owners provide us with screenshots of backtest reports and verified trading results.
It was delivered with all possible settings to keep our account profitable.
We can manage risks to work better.
There's a user guide provided.
We are allowed to customize risk levels as we want for better performance.
The robot will be delivered with the best recommendations.
If we don't know something, the developers will help us with welcome support.
We can get a copy of the robot pretty quickly within minutes.
There are free updates and upgrades.
The system will receive updates when needed.
| | |
| --- | --- |
| Trading Terminals | MT4 |
| Strategy | Grid and Martingale |
| Timeframe | N/A |
| Price | $347 and $597 |
| Money Refund | 30 days |
| Recommended Deposit | $1000 |
| Recommended Leverage | N/A |
| Money Management | Yes |
| Customer Reviews | N/A |
What strategy does Stealth Trader use?
The robot works with Grid and Martingale strategies.
It places orders only on GBPJPY.
The core time frame isn't revealed.
Backtesting vs live trading results

Stealth Trader was tested on the tick data from the 2018-2022 period. The time frame was M5. The absolute gain has become 106.09%. An average monthly gain was 1.43%. It worked with a low drawdown of 10.49%.
Stealth Trader trading results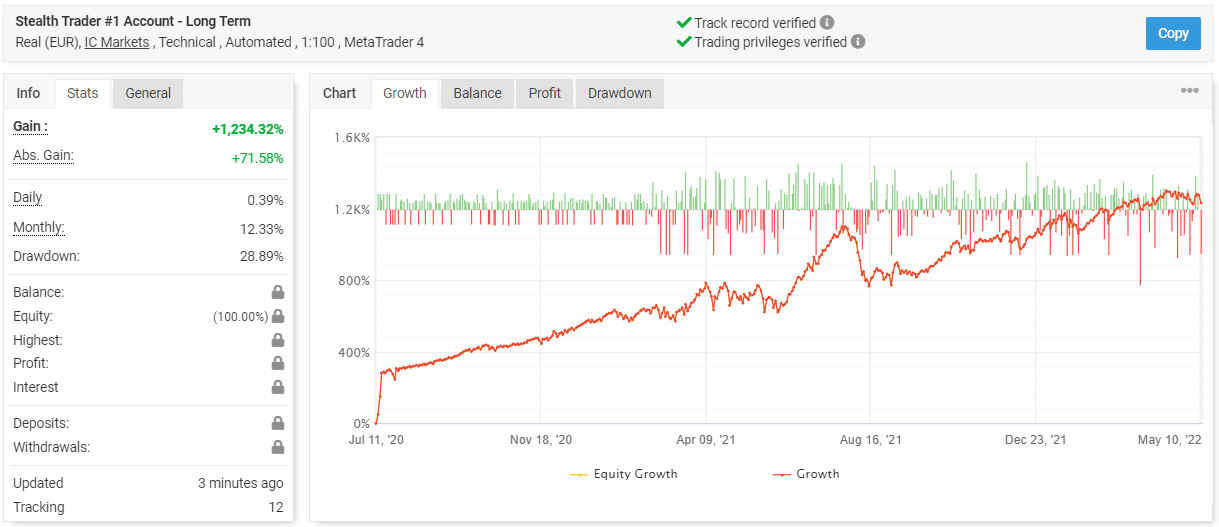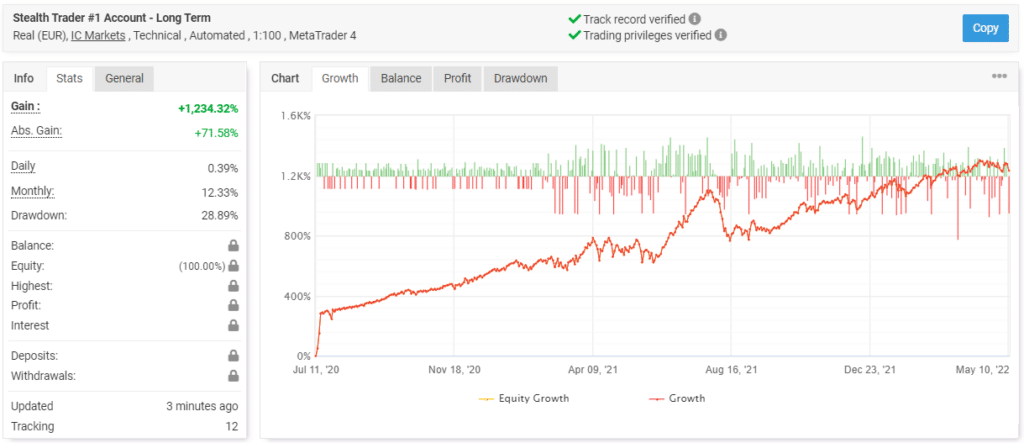 We have a robot that manages deals on a real account nominated in EUR. The system trades automatically through IC Markets with 1:100 leverage on MT4. The account has a verified track record. So, the data should be relevant. It was deployed on July 11, 2020. We don't have many details revealed, because of a low account transparency. The total gain is 1234.32%, while an average monthly gain is 12.33%. The maximum drawdown is 28.89%. We have twelve investors who check the trading results.


Stealth Trader performed 993 deals. There were 1472.9 pips obtained. An average win is 12.89 pips when an average loss is -24.87 pips. We can work with accuracy that varies from 67% to 72%. An average trade length is 1 hours and 12 minutes. The profit factor is low–1.35.


The advisor tardes directions almost equally in trading frequency.


It's clear that the robot works with high risks. There's a 70.04% chance of losing 10% of the balance.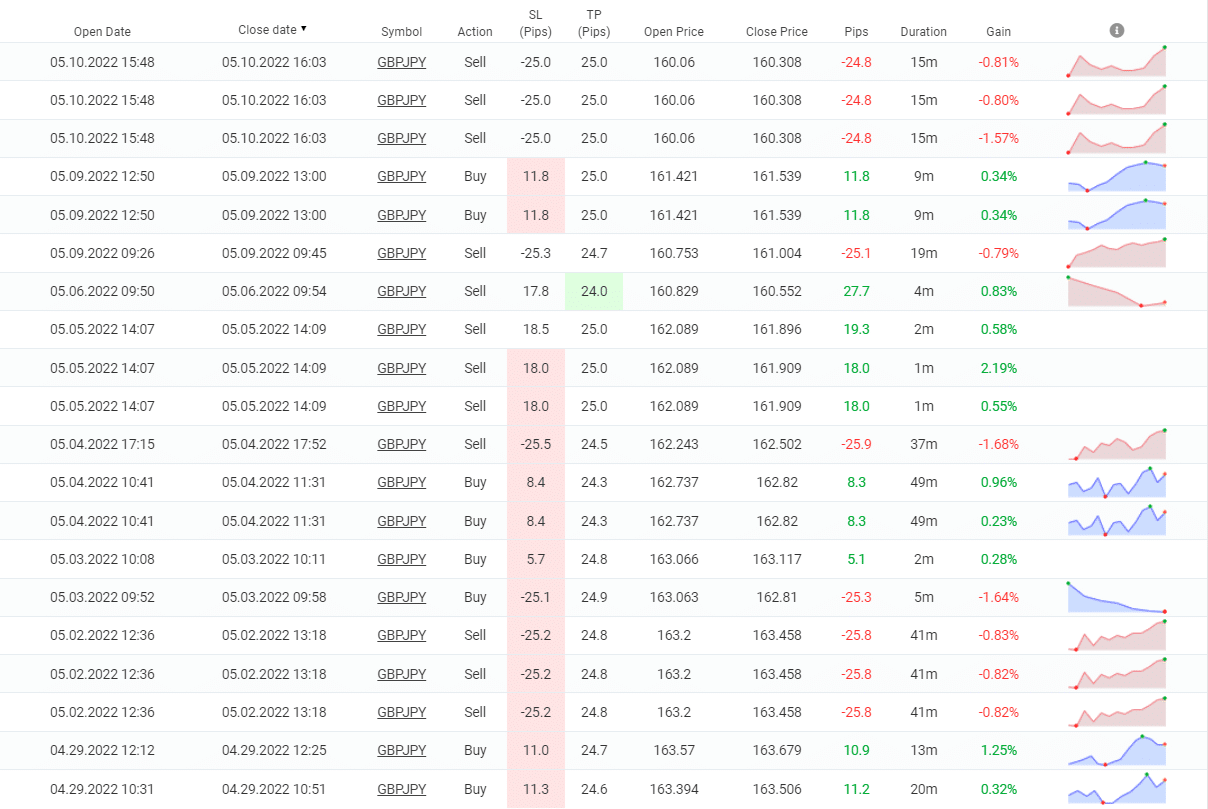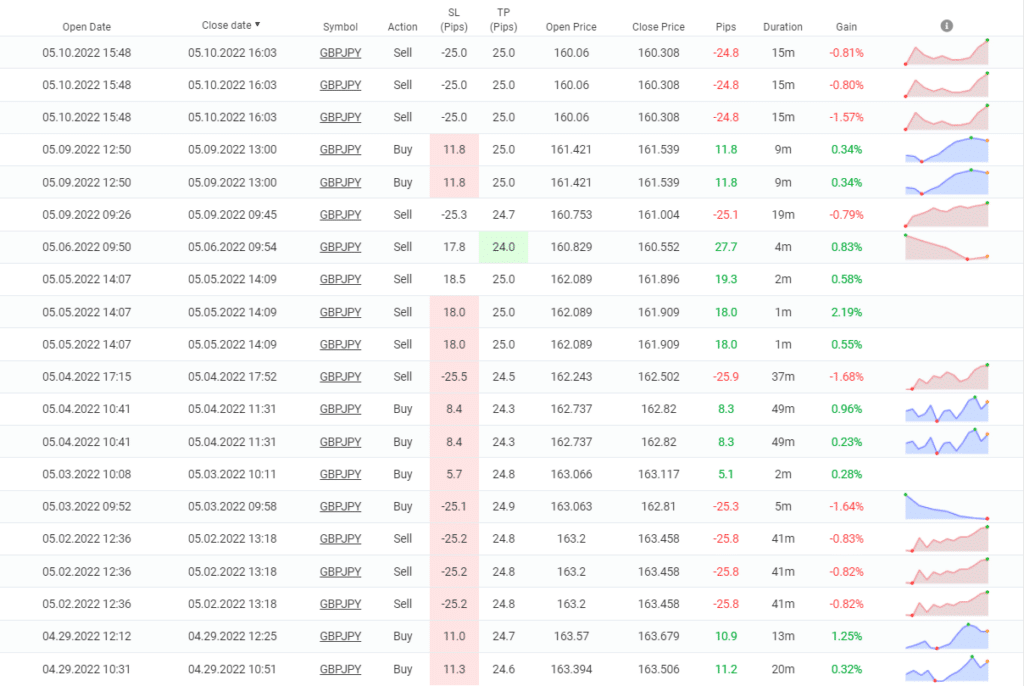 The last Grid of three orders where closed in 15 minutes after started by reachins SL levels.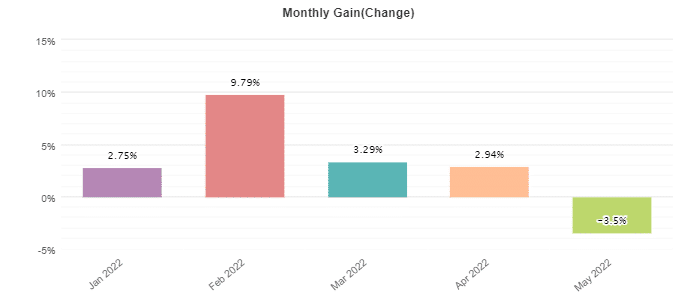 The robot has some troubles with performance in May.
The core team
LeapFX doesn't reveal who they are. We just know that they release brand-new solutions from time to time.