Lack of money is the primary reason why people cannot start investing, although they may want to. Are you aware that you can create your investment plan with 100 dollars? Yes, you heard it right. With only $100, you can begin your journey toward financial freedom.
Once you have started your investing journey, you will come to realize a vast amount of opportunities. Your first option is traditional investment vehicles, which can be more affordable than you think.
Also, you might find unconventional investment options with great potential for high returns. It would help if you looked for them, and you can start your search online.
Where to invest your $100?
Your $100 might not amount to much, but it will get the ball rolling. The important thing is to get started, and this is the most challenging part of every endeavor. Once you take the initial steps and press on, ideas will come to you and propel you toward your goals.
The tips outlined in this article are not conventional, but they could help to make real money. They have great potential to multiply your $100 ten times or 100 times in the future.
№ 1. Micro investing
What if you do not have $100 or anything at all? There is a way around this problem. You need to save first and then invest. There are free apps out there that will allow you to do both at the same time. These apps are called micro-investment or micro-savings apps. Even if you do not have extra money right now for investing, these apps will help you get started.
Acorns are possibly the most widely used micro-investment app. Every time you buy something, Acorns will round up the purchase amount to make the purchase and save at the same time. The first thing you need to do is to connect your check account to Acorns.
An example will clearly illustrate the concept. For instance, you buy an item at a department store, and the selling price is $10.25. What Acorns will do is round up the purchase amount to $11 so that you pay higher than the marked-up price. Next, Acorns will pay the $10.25 to the merchant and put the $0.75 into your Acorns account. When your account has accumulated five dollars, Acorns will transfer the money to your investment account.
Acorns provide a robo-advisor that can manage your investment. The robo-advisor will develop a portfolio of securities under your name. These securities are generally stocks and bonds. Then it will reinvest dividends paid to your investment. The robo-advisor will also rebalance the portfolio to achieve the desired asset allocation.
№ 2. Stock fractional shares
Many people would invest in stocks familiar to them. Since these brands have been around for so long and are well known to many, their price might not be affordable to you. Think about Amazon, Google, Apple, and other familiar names. Each share of these stocks might cost hundreds or even thousands of dollars.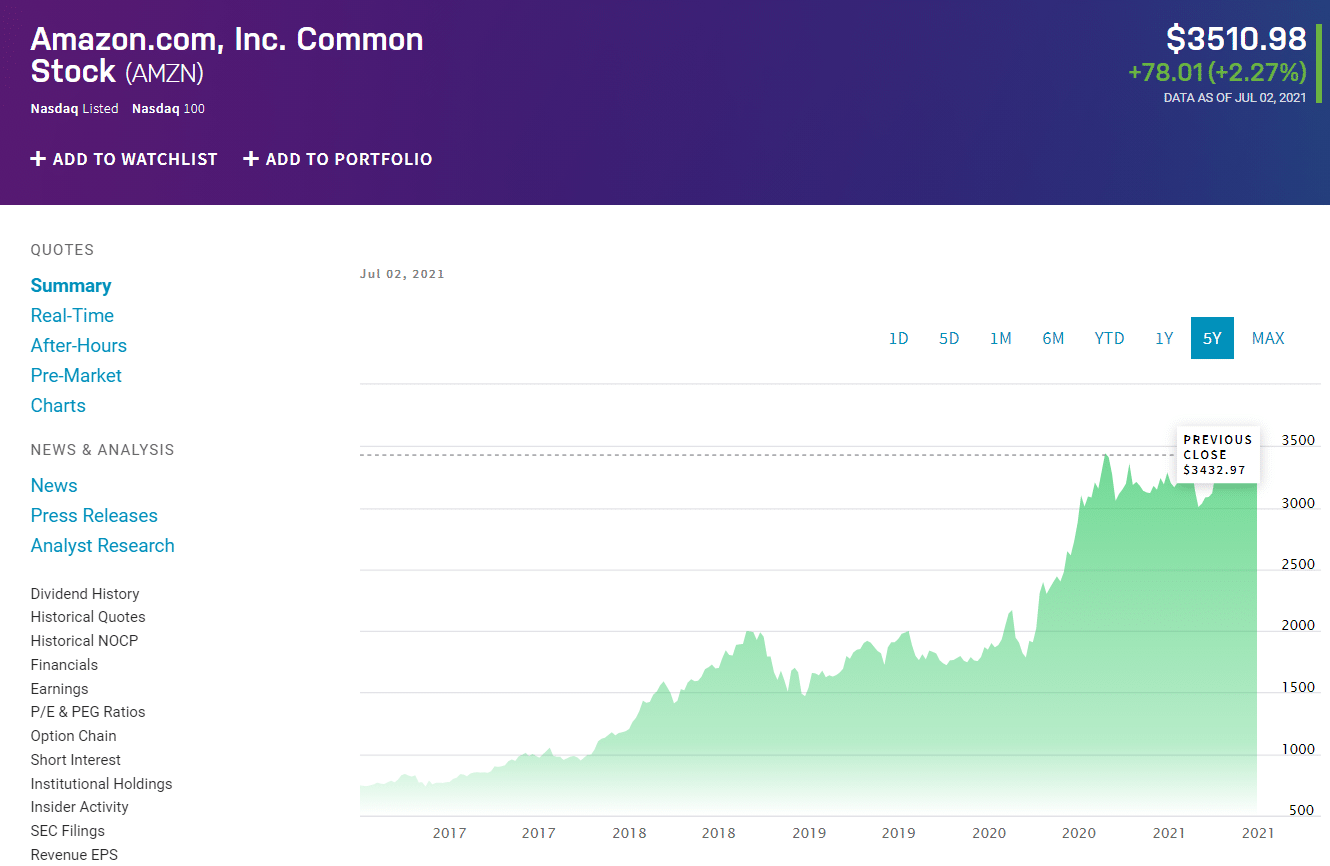 If you want to go with familiar stocks like Amazon but have 100 dollars only in your pocket, there are available options. With apps like Public and Robinhood, you can get a piece of your favorite stocks by owning fractional shares. In addition, these apps can guide you in your investing journey by providing a user-friendly platform.
For example, the Public promotes social interaction that allows you to know which stocks are favored by other users and even ask for advice.
№ 3. Online savings accounts
You can find several online banks giving interest rates higher than local banks. The average annual percentage yield (APY) among the top-rated online banks is 0.60 percent, which is much greater than the average for a normal savings account. Most of them do not charge monthly fees and have no minimum initial deposit, although the maintaining balance varies by the bank chosen.
Consider the three examples in the table below.
| | | | |
| --- | --- | --- | --- |
| Bank | APY | Minimum deposit | Maintaining balance |
| Affirm | 0.65 % | None | Any amount |
| Monifi | 0.60 % | None | Any amount |
| Sallie Mae | 0.70 % | None | $0.01 |
№ 4. Build a portfolio via robo advisors
You can use $100 to build a portfolio of investment using robo-advisors. With this investment amount, a robo-advisor can develop an investment portfolio and monitor it for you. As your investment grows, the robo-advisor will balance your portfolio and reinvest it for a minimum fee.
Some robo-advisors give you the option to exercise greater control of your portfolio. This is done through the use of an investment scheme known as pie. Either you create your pies or choose from a selection of pre-built pastries. Each pie may contain, at maximum, 100 individual stocks or exchange-traded funds (ETFs). Then you can start investing with $100.
№ 5. Build a portfolio via ETF
If you plan to take part in the stock market, your $100 will only get you so far if you want to buy individual stocks. With this capital, you can still participate in the stock market through an ETF. If you are familiar with mutual funds, ETFs are much the same, except that the latter has lower fees. The good thing is that an ETF is a passive type of investment. You wait for harvest time while you do something else worth your time.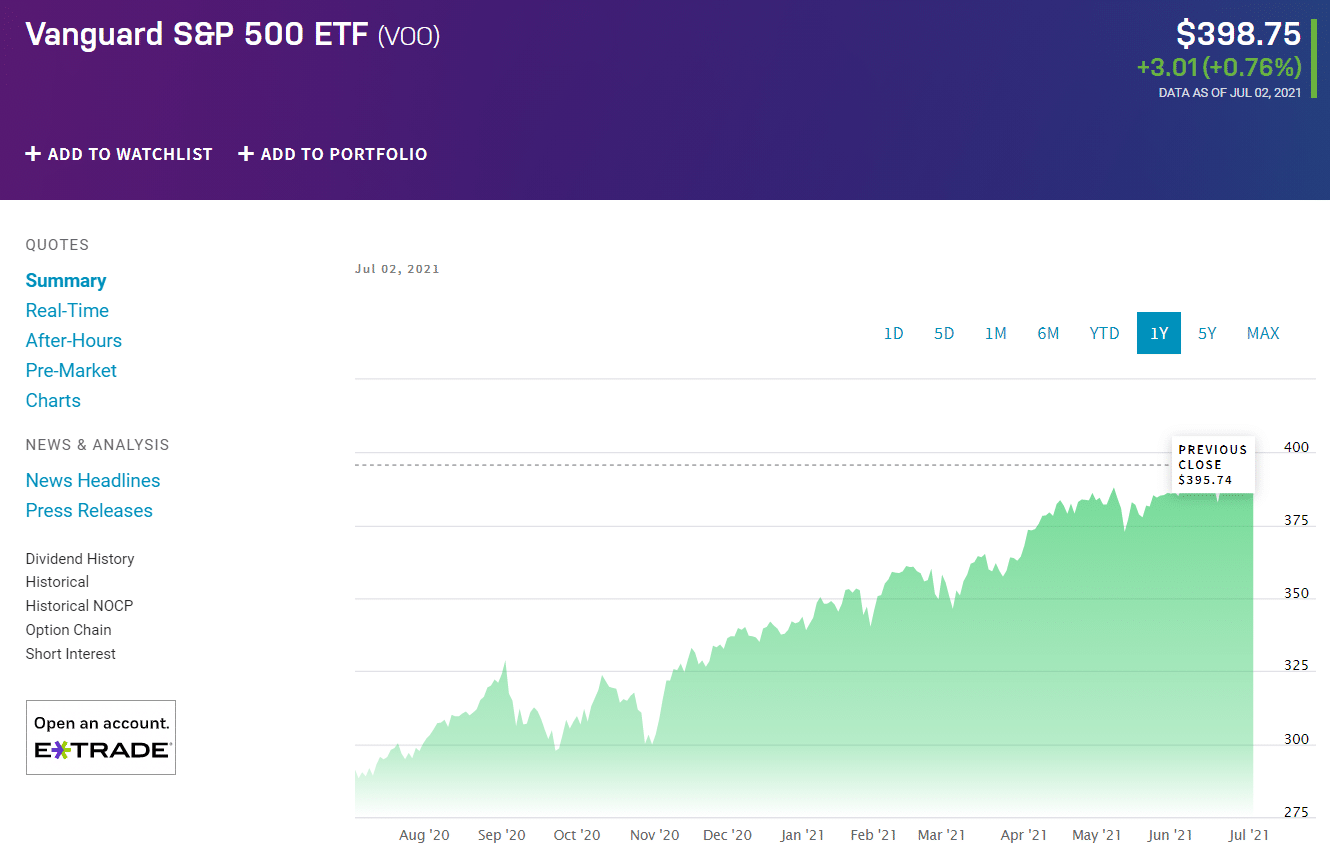 One good example is the Vanguard S&P 500 ETF (VOO). See above chart. As you might have guessed, the ETF invests in the S&P 500 index. This means that the ETF holds an equal share to more than 500 stocks. This index spans the 500 biggest publicly traded companies in the US. With an ETF, you can own shares of an entire market with a capital of $100. Since ETFs are similar to stocks, you can buy an ETF through an investment broker.
Final thoughts
You can invest $100 to earn money in any of the options offered. Do not listen to those who will repeat about the futility of such investments. Indeed, $100 cannot magically turn into a million. However, every business starts small. These funds will allow you to gain invaluable investment experience and lay the foundation for the formation of your future capital.